More Inventory Management Topics
What do you want to learn?
Benefits of Shopify Inventory Management
The Best Shopify Apps & Integrations
What Software Features Should I be Looking For?
Shopify recently announced that the company has surpassed over one million merchants worldwide on its platform. These businesses, located in more than 175 countries, turn to Shopify to run their online stores because of the flexibility and tools it provides to help businesses of all sizes scale.
The proof is in the numbers — Shopify merchants' online sales growth was 59%, more than double the growth of the global ecommerce market.
One of the most important aspects of a Shopify merchant's success is its inventory management. Inventory management is a critical aspect of any ecommerce company, and those that don't establish a solid foundation for tracking inventory and accurately reflecting availability on online stores can run into several problems.
Why is inventory management important on Shopify?
Having a clear and organized idea of inventory helps prevent loss from misplaced items, returns, and spoilage. It also reduces overall inventory costs, optimizes fulfillment, and paves the way for better customer service.
Ecommerce inventory management gives insight into:
Customer behaviors and preferences
Financial performance and overall profitability
Business opportunities and new product ideas
Consumer interests and buying trends
The best inventory management software for Shopify (like Extensiv Order Manager) provides structure for brands of all sizes, giving them the framework needed to run a successful retail business.
As brands expand to become multichannel merchants and adopt omnichannel marketing practices, they also need an omnichannel inventory management strategy to match.
Shopify's online and point-of-sale (POS) capabilities, coupled with the expansive app store, enable brands to be everywhere their customers are shopping, but it is still on the brands to implement the operations structure to support this.
While many brands choose Shopify as their ecommerce platform, there are some challenges you might face if you use it as your primary inventory management software. We decided to take a closer look at the Shopify inventory management capabilities and the tools brands can use to optimize their inventory management strategies and practices.
5 benefits of Shopify inventory management
There's a reason why Shopify is so popular: it has a large number of benefits for its users.
Any sized business owner — from a mom-and-pop shop to a multi-store company — can have a Shopify ecommerce store up and running in no time. Shopify provides several native tools including inventory control and tracking to manage inventory, but these tools start presenting challenges when you start to scale and expand your operations to new channels.
Shopify's basic functions track inventory per each individual listing, making it beneficial for businesses that have a simple inventory flow. This is ideal for businesses who purchase finished products directly from a supplier and don't require a number of complicated steps in their inventory management process.
As brands scale and begin to add multiple channels, they can implement some level of multichannel inventory management via Shopify's App store (check out our guide on the best Shopify apps for more). Companies can use inventory management solutions like Extensiv to sync, automate and compare their Shopify ecommerce data to their performance on marketplaces, big-box retailers, and even Shopify POS.
1. Inventory tracking on individual listings
Set up individual listings for each product and organize them by category, type, season, and more. Each listing includes an inventory field which can be adjusted manually.
2. Product variations inventory
Manage variations of a single product all in one place. You can create any number of versions for a single product to reflect different sizes and colors, and customize the SKU, pricing, weight, and inventory number for each variation of product you sell on Shopify.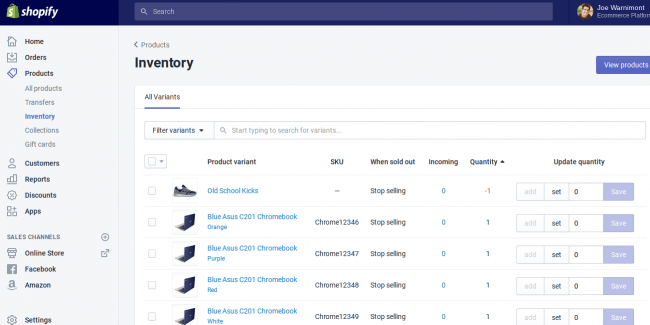 Inventory tracking on Shopify


3. Bulk inventory updates
By using the bulk editor, merchants can change the inventory quantities for multiple product variants and locations appearing on your Shopify store. When you import inventory adjustments in bulk, they'll be shown in rows and columns of data, similar to a spreadsheet.
4. Inventory transfers
Log, track, and receive transfers between your warehouse locations and suppliers. But while you can transfer inventory between any active locations, it's important to note you cannot create transfers for products that use third-party fulfillment services (you will need a tool like Extensiv for that).
5. Inventory history
Merchants should have visibility into a Shopify store's inventory history for a product or variant. This history includes the date, who made the change, the adjustments made, and the updated quantity from the event.

Inventory history on Shopify
3 challenges of Shopify inventory management
For retailers with complex workflows or supply chains, a few of Shopify's native inventory tracking functions may present some unexpected challenges. Whether your store has a true direct-to-everywhere approach, or you have unique needs related to multichannel sales, it's important to recognize these challenges and find solutions tailored to your specific situation.
1. Products that don't integrate into Shopify
Shopify has one of the longest lists of prohibited and restricted items. If your business sells products that do not integrate into Shopify, the challenge comes in having to manually implement multichannel inventory management on more than one platform. What this means is, you'll have to work with Shopify and your other channels separately, rather than having everything managed in just one place.

This can be a tedious and often time-consuming process and holds the potential for your company to oversell due to inconsistencies in inventory levels across channels (which can then directly affect customer experience).
2. Automated replenishment of inventory
When a Shopify store begins managing a larger SKU library, its inventory replenishment process inevitably becomes more involved. It's not hard to see why, though, as more SKUs opens up more opportunities for stockouts, miscounts, or other inventory errors.

The challenge is to find a system that automatically generates purchase orders whenever stock is low and to recommend order quantities that will streamline replenishment while also eliminating errors along the way. It should take the velocity of your current sales orders into account not just on Shopify, but any other sales channel you may sell on.
3. Functionalities across channels
Multichannel brands need to have a unified view around their inventory and business analytics, including being able to customize how inventory is shared across listings and awareness around the profitability of each SKU. Channel-by-channel profitability is a must to see how your products perform on each channel beyond Shopify like Amazon, Walmart, Etsy, Target, and more.

This can be a challenge when you understand that some of these functionalities are not innate within Shopify. Still, that doesn't mean they're completely unavailable. With the Shopify app store, merchants have access to the tools they need to make inventory management a much smoother, more efficient process including things like barcode technology and dropshipping.
5 best Shopify inventory management apps & integrations
Shopify integrations are designed to make ecommerce accessible for everyone, and to help retailers effortlessly build their business. The following are five of the best Shopify inventory management apps to optimize your site and reach those stretch goals you've had your eye on.
1. Extensiv Order Manager (formerly Skubana)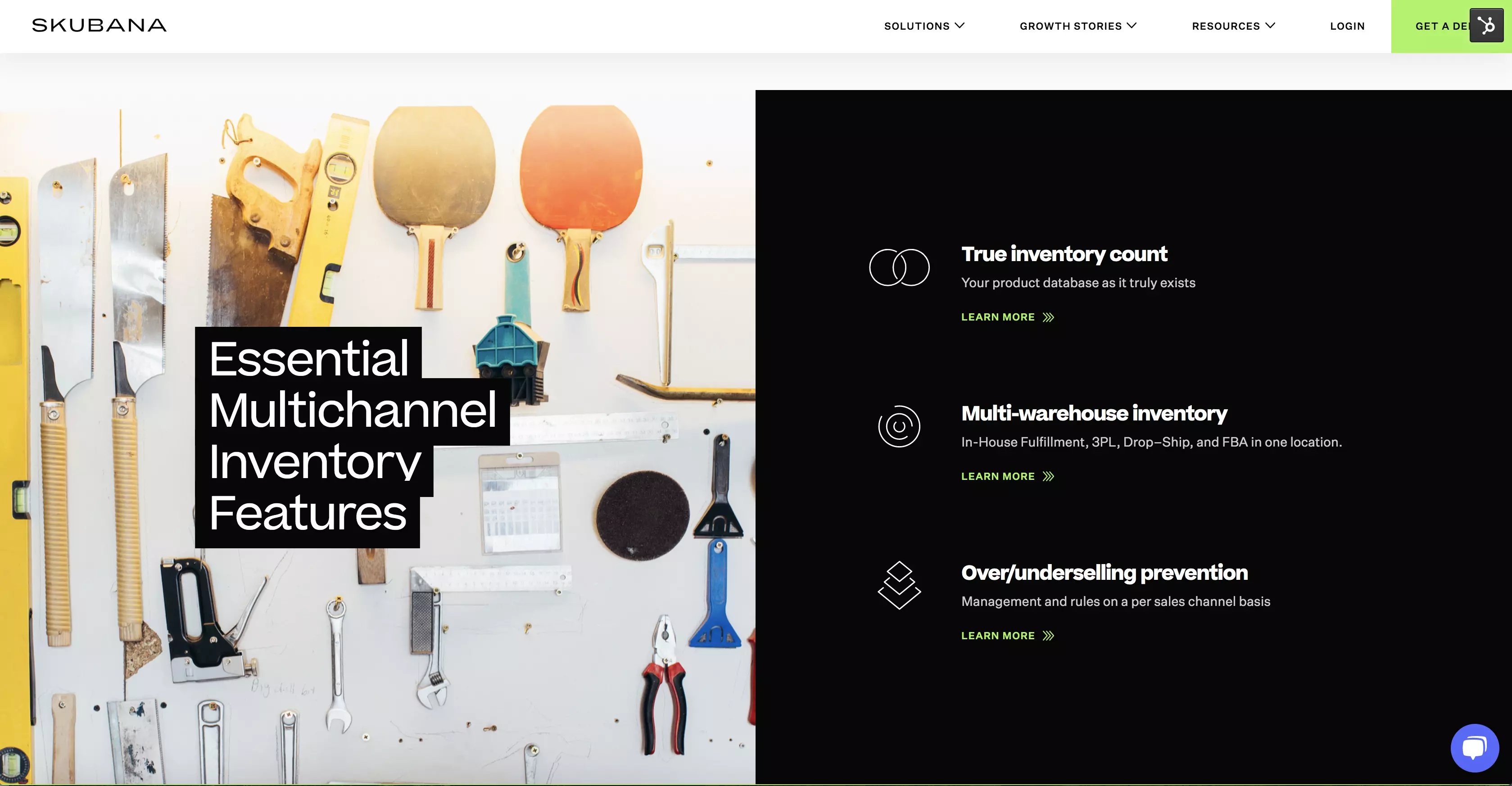 Going multichannel is a key ingredient to your success; spreading out across channels provides multiple revenue streams, maximizes your profits, and gives you the advantage you need to grow your ecommerce empire. But while multi-marketplace selling is generally a smart move, it can get overwhelming if it's not handled properly.
With the Extensiv Order Manager app for Shopify, you can easily organize data directly from your Shopify or Shopify Plus account and sync everything up in a central, convenient system. What's more, this cloud-based inventory management makes your sales, inventory, and analytics accessible within a single dashboard, removing the need for error-prone manual excel inventory management and data transfers.
Extensiv Order Manager's inventory and order management software is the best for leveraging your inventory across all channels, so you can enjoy faster order fulfillment, fewer sell-outs, integration with Quickbooks, and less lost sales due to backorders or similar fulfillment delays. Not only does Extensiv Order Manager's integration help you make better decisions (thanks to its automated purchase order creation), but you'll keep shoppers happy with customized packing slips and return labels, as well.
When you merge Extensiv Order Manager with Shopify, you'll benefit from real-time, up-to-date information on sales, payments, and orders, translating to much stronger, more reliable results. Plus, you can also use Extensiv Order Manager's cross-channel analytics to discover your most profitable products to sell on Shopify — a notable asset, not all integrations offer.
2. Inventory Planner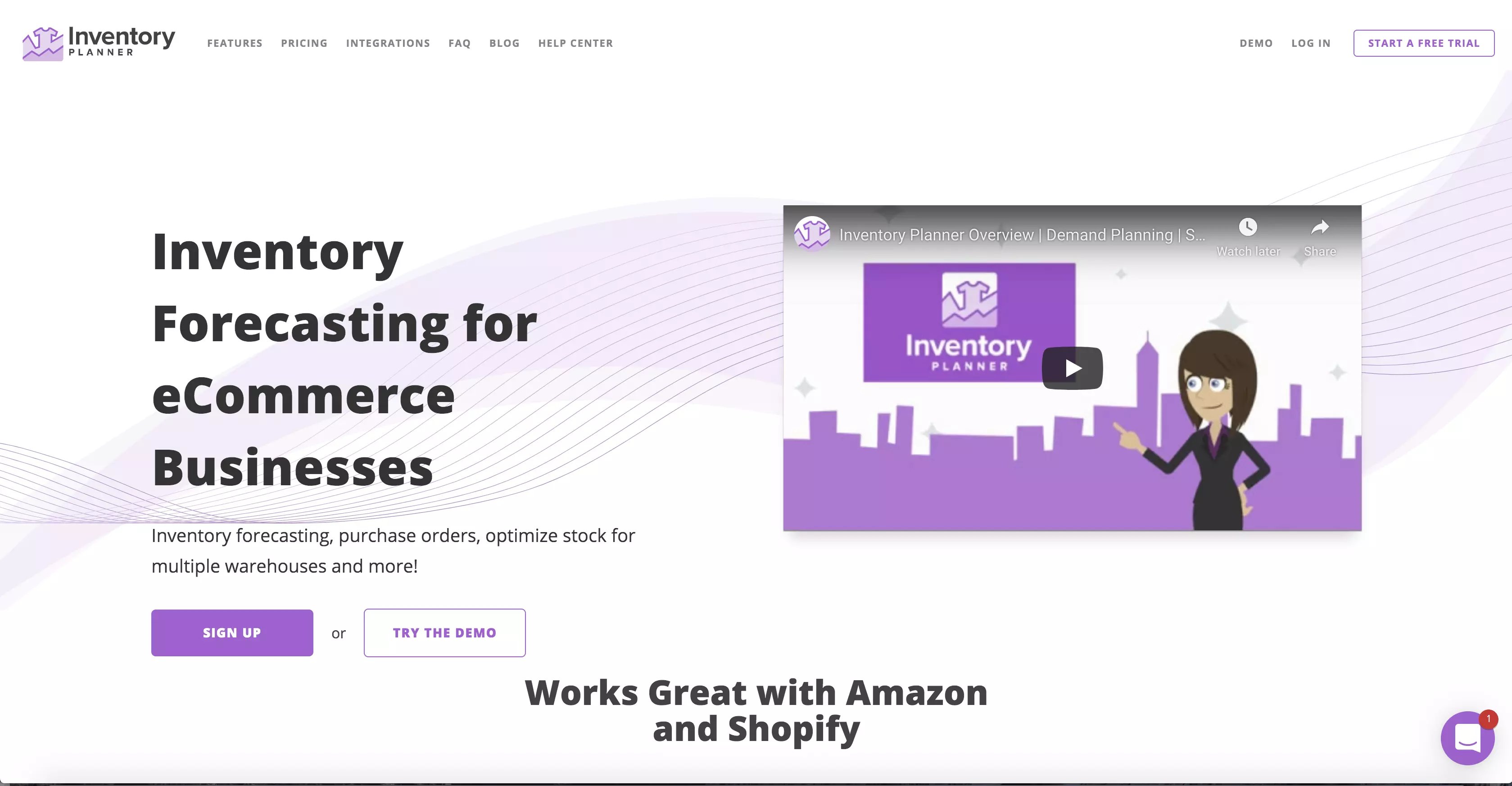 Inventory Planner is a leader in inventory forecasting for your ecommerce business. This software's automatic replenishment recommendations simplify and speed up the reordering process, not to mention computing the sales forecast for thousands of products in mere minutes. In addition, Inventory Planner identifies trends and delivers powerful reports showing what's happening with your business, so you can put your time and money in the right places.
Syncing Inventory Planner with Shopify will also help you save time on purchasing by sending POs directly to suppliers, and by keeping track of outstanding orders, expected arrival dates, and received inventory items. With the Inventory Planner app for Shopify, you can optimize your cash flow and view all of your sales trends and inventory needs in one place, making it easy to control what products to replenish at each warehouse for all sales channels.
3. SkuVault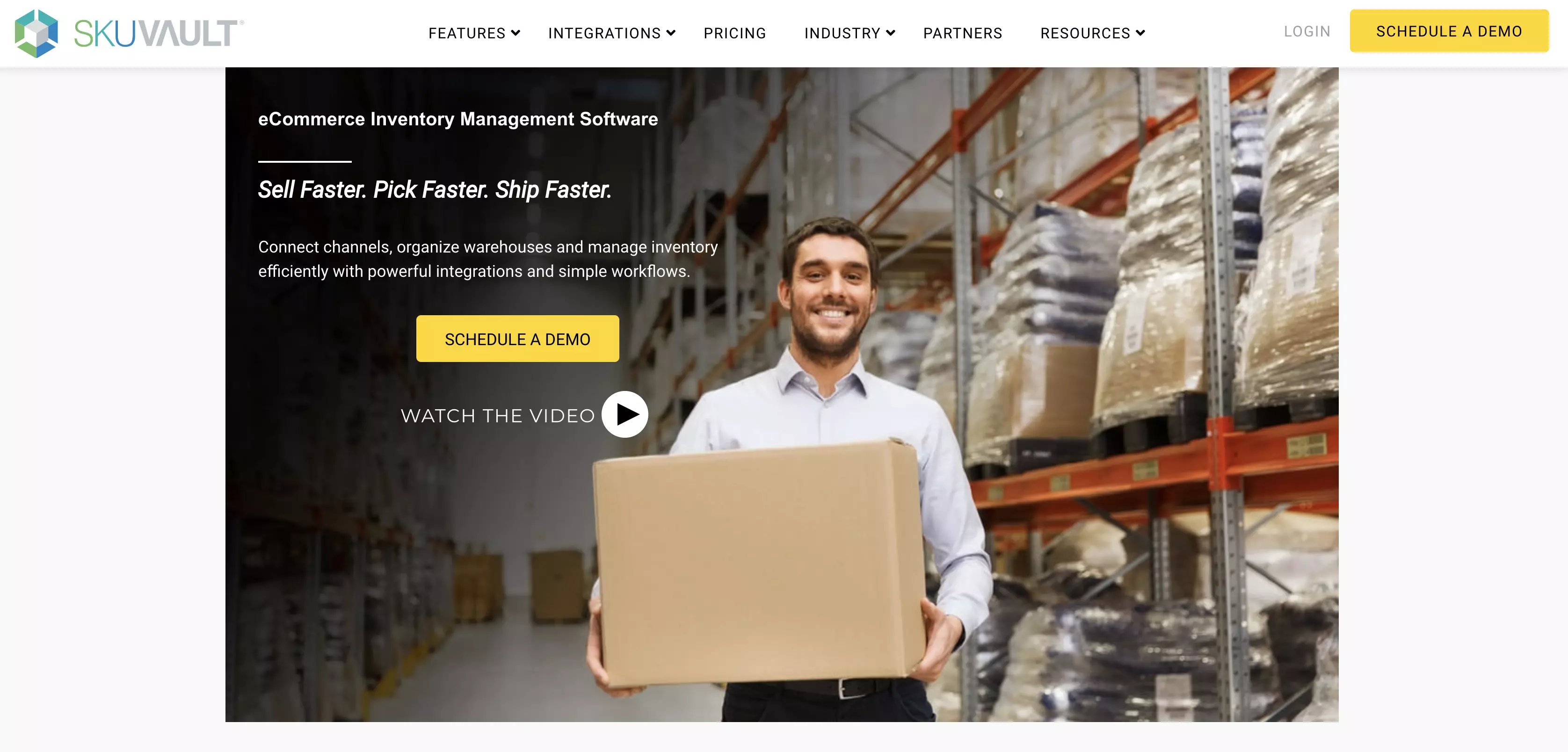 The inventory management software from SkuVault helps online stores sell, pick, and ship faster to ensure customers have the best possible experience. This platform connects all of your channels, organizes your warehouses, and manages your inventory with powerful integrations and simple workflows. SkuVault's cloud-based data sharing, data-driven decision-making, and increased accuracy in fulfillment can drive your growth at every level.
The Shopify inventory management integration with SkuVault lets users easily sync quantities, sales, and products to enhance your workflow and prevent overselling. Additionally, by pairing these two systems, you can sync both your web orders and your POS orders to SkuVault. This synchronization allows you to automatically remove quantities from your retail location, or to connect unfilled orders to your warehouse so they can be properly picked and packed.
SkuVault's Shopify integration is the key to accessing the inventory data you need to construct powerful reports, and to guarantee you never oversell or run out of stock on your most popular (and profitable) products.
4. StoreAutomator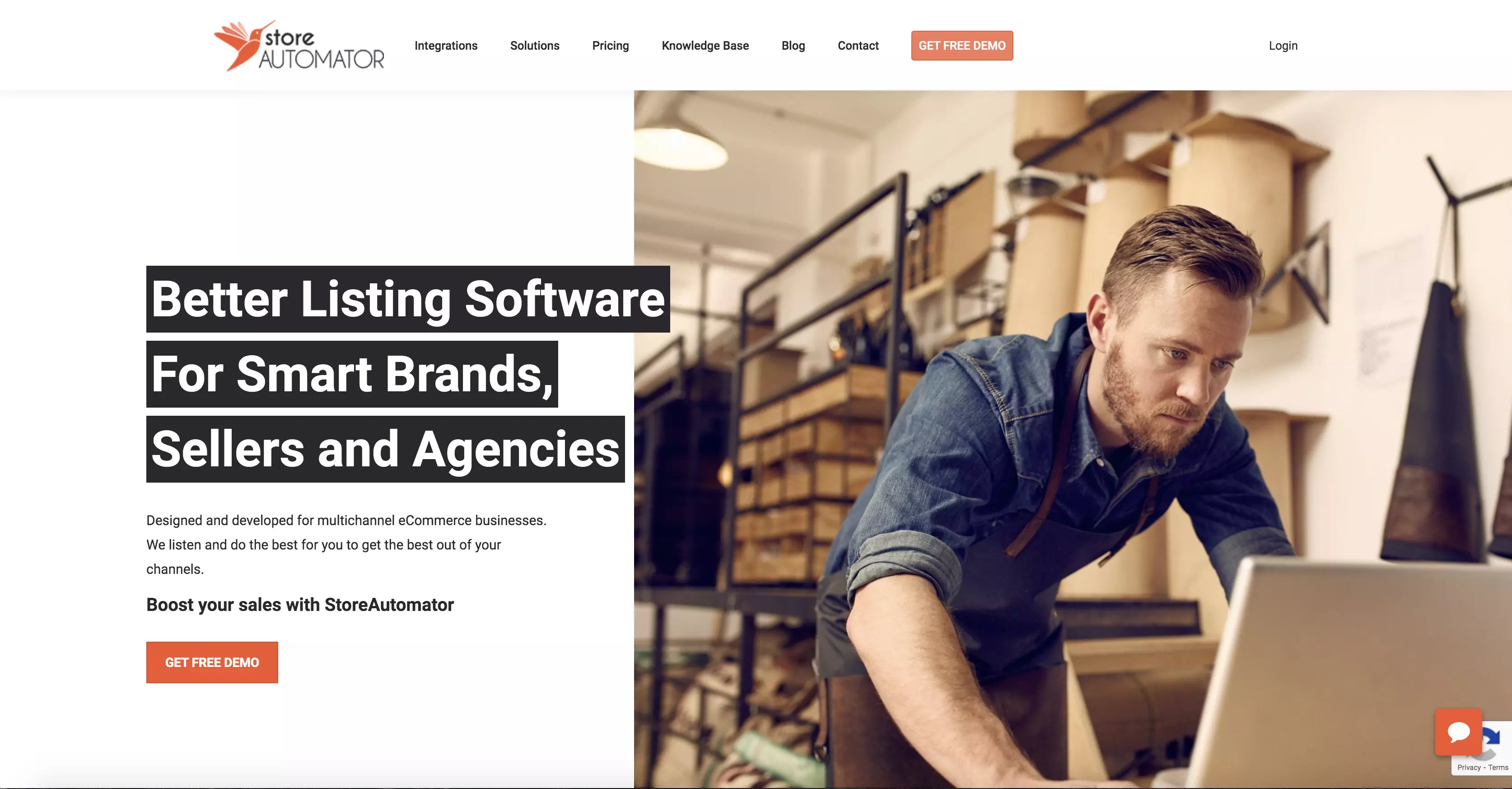 StoreAutomator has been designed and developed for multichannel ecommerce businesses, with a mission to help users boost sales and get the best out of their channels. This software gives you the ability to create product listings from scratch, enjoy flexible and smart selling for inventory with multiple listings, take control of available inventory with catalog management, and adapt to various marketplaces through data templates and mapping.
Shopify merchants who install the Store Automator app are able to sell their products to customers all over the world by way of sophisticated listing features and inventory management opportunities. You can leverage this integration to create product listings on Amazon, eBay, Walmart, Etsy, and Google Express, to then grow your business and acquire new customers.
The collaboration between Shopify and Store Automator also makes it simple for you to organize and update product data, build bundles, multi-packs, and kits, and automatically adjust and sync inventory across multiple channels. Plus they have special pricing for Extensiv customers.
5. Inventory Source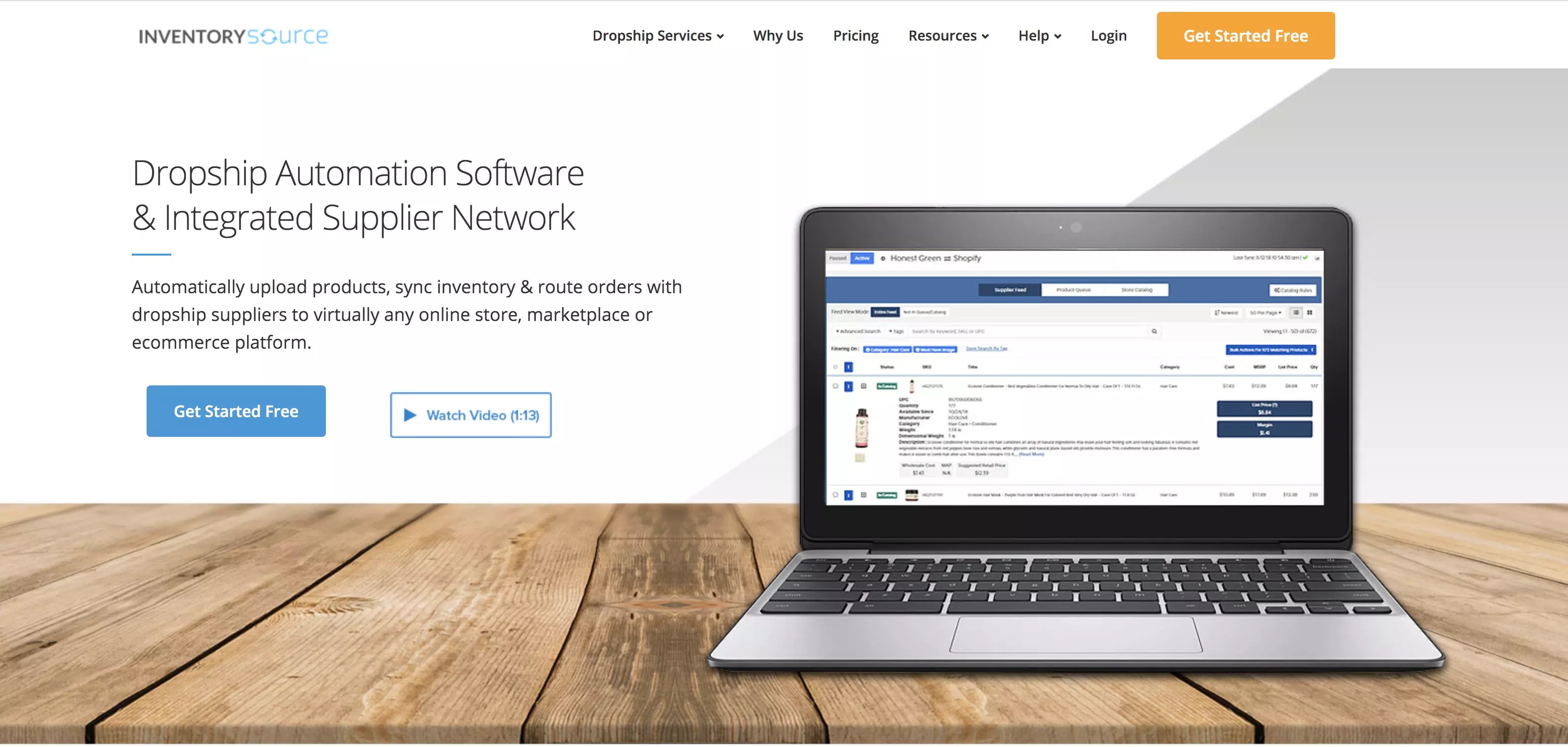 Retailers who need dropship automation and an integrated supplier network can benefit greatly from Inventory Source. This platform enables you to automatically upload products, sync inventory, and route orders with dropship suppliers to virtually any ecommerce enterprise. More specifically, you can integrate your supplier's inventory to instantly upload product data and connect inventory quantities with more than 25 different online stores, marketplaces, and multichannel management platforms.
When Inventory Source and Shopify work together, you can merge thousands of dropship products and orders seamlessly, automatically route orders to your dropship suppliers, and sync shipment tracking into your Shopify store. And since the Inventory Source app has such user-friendly tools and reliable integrations, you'll start seeing results in no time at all.
9 important features to look for with Shopify inventory management software
As we've just outlined, Shopify has a number of apps available that can be integrated into ecommerce stores to provide advanced inventory control features. These third-party apps offer increased functionalities as compared to the native Shopify inventory management system.
Inventory management apps are central to a brand's Shopify operations because they optimize the fulfillment and inventory tracking process.
These apps expand the list of sales channels you can integrate into Shopify, as well as directly connect to third-party logistics companies, POS systems, and warehouses.
Multichannel merchants can use these applications as a 'single source of truth' for their operations and logistics data, channel profitability, return management, vendor communications, revenue information, and sales data.
Inventory management apps also improve a merchant's operations by mitigating the risk of over-stock or overselling scenarios. Over-stocking can lead to inflated costs while overselling can cause a merchant to miss potential sales opportunities.
Layering a single, unified multichannel inventory management software with Shopify is a best practice used by several major Shopify and Shopify Plus brands.
While Shopify's marketplace offers several inventory management apps, it's recommended to choose one application with a comprehensive feature set, in order to avoid conflicting applications and to streamline how many apps are connected to your store. Selecting an inventory management app encompasses many aspects of your business, but some of the features to prioritize include:
1. Multi-warehouse and multichannel functionality
Sync your inventory across all of your sales channels and warehouses to make sure it is accurate. Updates to inventory should reflect on your sales channels in less than 15 minutes.
2. Order routing and automation
Automatically route orders to the best shipping provider and warehouse. This can be done based on warehouse locations, delivery dates, or inventory availability across your warehouses.
3. Inventory control features
Control and adjust the number of units shown on your listings based on your stock levels. This prevents overselling by limiting how many units appear on faster selling channels, so you don't process an order you can't fulfill.
4. Comprehensive analytics and reporting
Gather up-to-date data across all of your channels and warehouses, such as stock levels, profitability, and sales margins.
5. Automated purchase orders
Automatically create POs based on sales velocity and lead time, which includes recommended reorder quantities optimized to continue sales or adjust according to forecasted demand.
6. Shared inventory across listings for the same product
While Shopify permits inventory tracking of variations under one listing, it might be difficult to manage multiple listings that pull from a single inventory resource.
7. Automated inventory replenishment
As mentioned above, once a brand begins managing more SKUs, its inventory replenishment process may become more complex. Systems that automatically generate POs and recommend order quantities are paramount in streamlining this replenishment.
8. Locked inventory
Merchants who offer pre-order sales or special promotions may want to hold certain units from showing on listings. These companies need a system that will show total inventory, but also differentiate this locked away inventory from the rest.
9. Cross-channel functionalities
As discussed with the challenges of Shopify inventory management, multichannel brands need to have a cohesive, complete view of their inventory and business analytics. This looks like customizing how inventory is shared across listings, full visibility into all warehouse inventory, as well as insight into the profitability of each SKU across each channel.
Remember, the more apps you have connected to your store, the slower your site may be. Make sure to weigh all of Shopify inventory management app options and select the software that meets your specific needs.
Extensiv Order Manager is an excellent example of an inventory tracking system that unifies and automates all inventory management operations.
Extensiv Order Manager's tools and functionalities are tailored to multichannel businesses and expand on many of the powerful native inventory management features available in Shopify.
When it comes to updating multiple listings on Shopify with the same inventory source, Extensiv Order Manager can update all of them simultaneously and in real-time as inventory changes, minimizing any inventory management mistakes.


NOMAD + Extensiv Order Manager: Free Cable for the Planet Case Study
NOMAD was looking for an innovative way to move aging inventory for their Rugged Cables while acquiring new customers. Tapping into their Modern Nomad philosophy, they launched 'Free Cable for the Planet.'
NOMAD offered two SKUs with high levels of aged inventory for $0, as long as customers provided a donation to fund reforestation in the Amazon.
NOMAD used Extensiv Order Manager's Listing SKU functionality to push inventory quantities for the Rugged Cable product to three listing variations ($5, $10, and $20 donation listings) at the same time.
Each time a purchase was made on one variation, all three were updated to reflect the latest quantity, providing peace of mind that they wouldn't oversell throughout the campaign.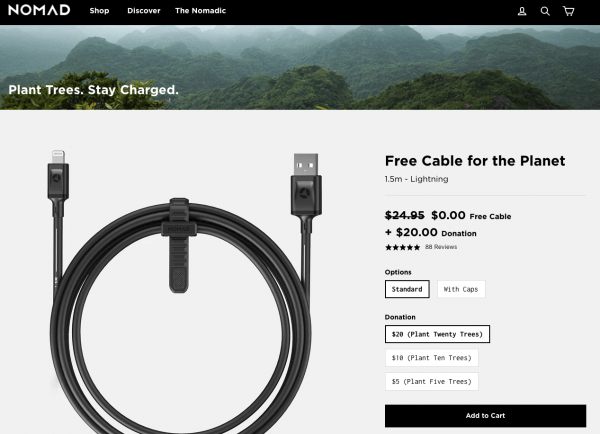 The only 'loss' NOMAD recorded was on the COGS of the cable, but this value was made up for in brand reputation through an environmentally friendly initiative and email capture of all new customers.
Here are some quick results from this successful campaign:
1,732 units moved over 35 days (average of 346.4 units/week)
1,261 new customers
Check out how Extensiv Order Manager kickstarted NOMAD's marketplace expansion
Extensiv Order Manager was built to help consumer brands synchronize fulfillment, inventory, and product intelligence. It automates redundancies in fulfillment and inventory workflows and allows brands to sell across multiple sales channels.
Extensiv Order Manager's proprietary Orderbot technology lets users automate repetitive tasks relating to order fulfillment, inventory management, warehouse operations, and shipping.
This can be done across a robust network of sales channels ranging from marketplaces like Amazon, eBay, and Jet.com, to ecommerce hosted platforms like Shopify.
Extensiv Order Maanger also automatically calculates shipping rates from a variety of shipping providers and 3PL fulfillment companies to determine the most cost-effective method to use.
The system even features its own plug-and-play app store, automatic PO generation, enterprise-grade shipping, and in-depth SKU-based reporting and analytics so brands can send their products direct-to-everywhere.


Final Thoughts
Ecommerce business owners who use Shopify can access several inventory management features on this platform. But when companies expand to multichannel operations, it becomes difficult to track inventory across multiple channels. That's because manually updating numbers, reordering stock, and inputting SKUs into individual listings is incredibly meticulous work.
Fortunately, Extensiv Order Manager can integrate with Shopify to automate your multichannel inventory management and make your ongoing inventory tasks much simpler and more streamlined. With Extensiv Order Manager, your business can maximize its profits and operating efficiencies, and remain a step ahead in a crowded, competitive market.