More than just a simple piece of paper, packing slips can play a crucial role in your branding, logistics, and the growing popularity that is the product unboxing experience. Here's how to capitalize on a vital but often underutilized extension of your brand.
What is a Packing Slip?
A packing slip is a shipping document that lists everything that is included in a shipment. Packing slips also include shipping details like contact information, SKU numbers, package dimensions and weight, and the itemized units in the package. For buyers, packing slips function as a document to cross-check that they have received the right items from their order. For shippers packing slips are used to determine the accurate inventory needed to complete the order.
Packing Slips: An Underrated Growth Opportunity
Packaging and shipping is easily one of the most underutilized aspects of ecommerce customer engagement.
Considering all the time that goes into driving customers to make a purchase, it hardly seems right to leave the packaging and shipment process out of this effort.
Why?
Everything you do is an extension of your brand and an opportunity to market and sell to an audience.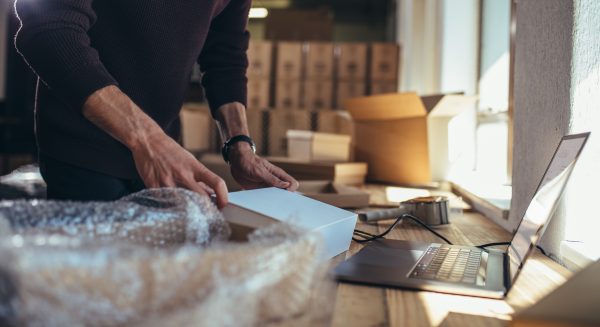 Your logo, your website, your communications, your social media, and your brick and mortar stores – everything you use to attract, sell, and deliver to customers is an opportunity to engage them.
And yes, that engagement also extends to your fulfillment process - how you do it, how efficient it is, and how your customers experience it.
Customers and the influencers they follow are paying more attention to package shipping, delivery, and the subsequent unboxing of products. So much so, there's an entire subculture to document the experience.
If you're a bit skeptical, type in "unboxing" in YouTube's search function and spend a few minutes scrolling through the endless results. There are even YouTube channels dedicated to unboxing.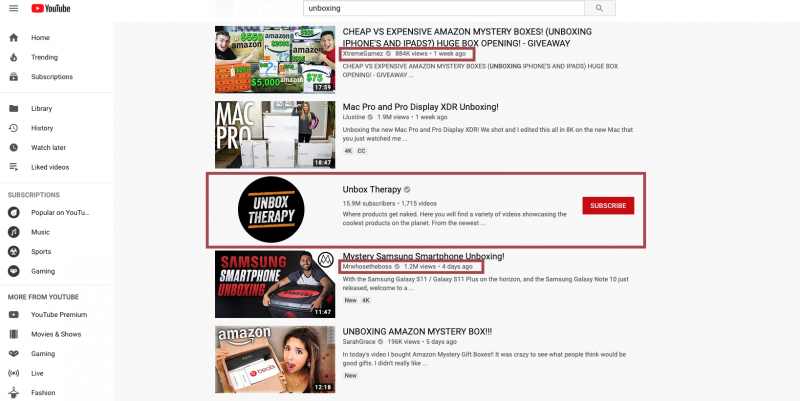 Or take note of the simple, yet promotion-heavy tactics of Amazon which use their boxes to push their Amazon Prime TV shows or newly acquired brands such as Whole Foods.
Subscription box companies like BarkBox, Trunk Club, and FabFitFun, who only have their unboxing experience to interact with their customers, also score big with their unique shipping and packaging.
It all feeds into the idea that the ordering, shipping, and unboxing of a product are equally as exciting as the product itself.
If you've never thought of using packaging as an extension of your brand, then there's a good chance the packing slip was viewed only as a necessity instead of an opportunity.
But it shouldn't be.
Far from a throwaway piece, the packing slip is another chance to improve customer engagement in the hyper-competitive ecommerce market.
As a critical step in the unboxing process - every customer will at least touch and glance at the packing slip - you should strive to make your packing lists something they will notice.
Let's explore the ins and outs of packing slips and how to make the most of this underrated opportunity.
6 Things to Include on a Packing Slip
It's an essential aspect of order fulfillment, with the primary inclusions on a packing list featuring:
Recipient name
Shipping address
Company name
Brand contact information
Order details including order date and order reference number
Package itemization including the SKU, UPCs of the items, quantity, and in some instances price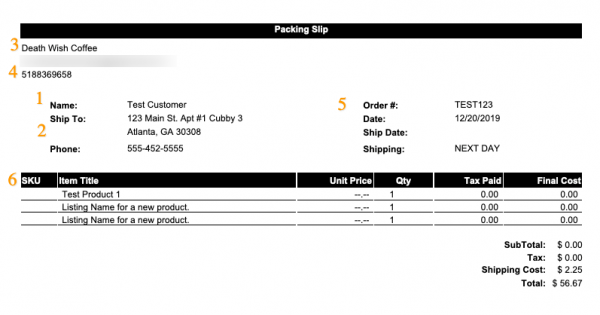 You can get hyper-specific for large product shipments or wholesale orders with details like product weight or measurements, or feature both purchaser and recipient names (for example, if a master account orders for a network of sub-accounts).
While this general information isn't elaborate, it does serve several important purposes.
First, on the fulfillment side, it's a checklist for what a shipment contains. A printed packing list is a vital tool in streamlining your fulfillment process. It aides your logistics team in completing the boxing process quickly and accurately.
Next, it proves that the products the customer ordered are what was shipped and received. It also provides transparency to the customers by noting products that were part of a single order but sent separately or from different locations.
Finally, the packing slip helps simplify the identification of any products that might have been lost or damaged in transit. Additionally, if the main shipping label is separated from the box or becomes indecipherable during the shipping process, the shipping provider can open the box, verify the address, and get the package to the recipient.
One thing a packing slip is not, however, is an invoice.
Although similar in appearance, many invoices as well as purchase order templates are interchangeable with packing slips and conveying information about a given purchase, a packing slip only details what's in the box.
An invoice is a financial record of the transaction indicating price and payment terms and methods.
Put another way, if a customer buys a family member a gift and ships it directly to them, they'll get the shipment and packing slip, and you'll receive the invoice.
Packing Slip Tips: How to Grow Your Brand
Given how straightforward packing slips are, you might be asking yourself how an ordinary slip of paper could help extend your brand.
At face value, a packing list is just a document you print that recaps an order.
But remember, anything your customers touch or see that represents your brand is an opportunity for engagement - and you want to capitalize on every opportunity.
Just as you work to achieve the perfect image and messaging on your web store, in marketing emails, or through social media, give your packing slip the same attention. It all serves to grow your business.
A well thought out packing list, in concert with everything else in your brand's order fulfillment process, reflect attention to detail, an understanding of your customer, and a commitment to provide the best product and service possible.
If you're looking for ways to infuse your packing slip with more branding, here are five easy, creative ways to do it:
Make Your Packing Slips On Brand
The first step is to make your packing slips feel less transactional.
Regardless of the company sending them, many packing slips look identical - dull, devoid of color, and seemingly impossible to discern one company's list from the next. They resemble spreadsheets more than they do a consumer-facing marketing piece.
This is an opportunity to design your own packing slip. It's as simple as including your company logo and brand elements to remind the customer of your brand during their unboxing experience. This creates an emotional connection to your brand and builds loyalty.
If you want to make an impression, don't stop at the logo. Give your slips splashes of color. Add a watermark of a secondary logo, additional e-commerce branding motifs, or your company's slogan. Make sure the copy resonates with your audience, even little hints of it can go a long way. Here's a great example from Outdoor Voices: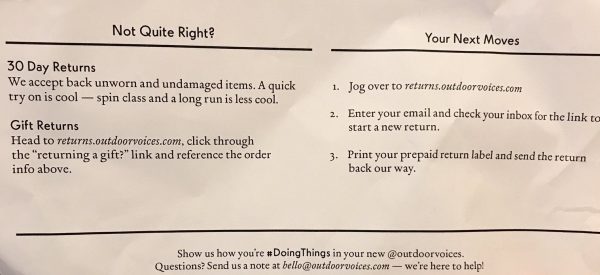 Is it winter? Mimic a holiday greeting card. Summer? Incorporate a patriotic nod to Memorial Day or the Fourth of July. Or honor every month with its motif. You can create a packing slip format for February and Valentine's Day or August or September and Back to School.
In tandem with your colorized logo, include full-color pictures of the products on the itemized list. These images give your packing slip extra pop while at the same time extending how a customer experiences your brand. The final details they saw when placing their order, are now front and center when receiving it.
Small attention to details can go a long way in customer retention, and customers will connect the dots. Creating a great order and shipping experience when the product arrives establishes a lasting impression.
Connect with Customers Using Packing Slips
As a retailer, you want to create a genuine connection with your customers. The packing slip is a lowkey way to build up that relationship.
Foremost, highlight your presence on social media. Include prompts at the bottom or in the customer notes section of your slips that encourage them to take pics and videos of them with their newly received product - your product - and upload it to their Facebook, Instagram, Pinterest, or Twitter accounts.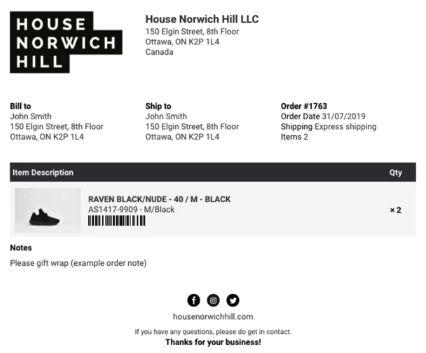 You can spur further engagement, and sales, through hashtags. Offer customers exclusive discounts if they use an accompanying hashtag in photos featuring your products.
From that jumping-off point, you'll draw current customers closer to your brand, and cast a wider net for those who've yet to engage with you directly. All thanks to a few cues on your packing slip.
Run VIP Promotional Offers on Packing Slips
More than visual cues, though, your packing slip is an undervalued promotional piece.
The white space on these inserts is prime real estate for enticing repeat business. Customers are happiest when their package arrives, and if they enjoy your product, they'll be more open to the idea of purchasing again.
Offer a discount or free shipping on their next purchase by entering a code included on the packing slip. Or turn the list into something even more tangible by making a portion of it into a gift card worth $5, $10, or $20.
Do you have a brick-and-mortar location with a brand-driven layout? Offer up an exclusive coupon that can only be redeemed in-person to drive them to your store. The in-store purchase becomes another curated, intimate touchpoint in their journey with your brand.
Unable to spare discounts? Utilize your packing slips as miniature billboards promoting new or featured items, products that complement what's in the box, or specials on clearance or hard to move products.
Along those same lines, if you aim to build momentum towards upcoming sales or seasonal promotions, do so months in advance on your packing slips.
Even if you opt to maintain a straightforward packing slip, with nothing more than your company logo, it is always a good idea to leave a note of thanks. There is often space at the bottom of most packing slip templates for a message to your customers. Make sure to use it.
Note that if your current templates don't have this space, customize them to ensure its included.
Even if its nothing more than "Thank you for your business," small personal touches can score you a customer for life and positive word of mouth.
Bring Branded DetailsTogether on Your Packing Slips
A final strategy includes giving your entire packaging presentation a cohesive appearance.
To make the biggest splash customize your packaging, packing materials (tape, paper, filler), shipping label, packing slip, and any add-in print promotional materials like business cards, samples, newsletters or flyers.
Source:
Lumi
You don't need to go overboard. Do what makes sense for your products, your brand, and the client base with whom you want to connect. Just make sure its uniform and is a good representation of your brand.
Professional Packing Slips
There are multiple tools you can use to generate your packing slips.
DIY templates in Excel and Google Sheets
Labeling services
Outsourcing development to a 3PL that include slip functionality service
Inventory management software with packing slip template features and HTML customization
When it comes to your 3PL providers, you'll want to inquire about the level of service they provide when it comes to their packing slip formats, especially if you're going to feature them as part of your post-purchase marketing. Not every 3PL company offers the same attention to detail you might be seeking.
When developing your packing list template and overall packaging strategy, it's critical to partner with an inventory or order management system that offers a high-level of customization. Look for platforms that provide HTML formatting so you can generate highly-designed packing slips.
If you're a multichannel seller looking to gain efficiency, look into distributed inventory management software that allow you to automate and expedite fulfillment. Packing slip template function is a huge benefit for brands with divergent marketing and engagement approaches across various customer touchpoints.
Final Thoughts on Packing Slips
In the grand scheme of your ecommerce business, a packing slip is but one small, minor element. However, devote time and resources to the design and use of your packing slips (along with your overall shipment and packaging scheme). That small piece of paper becomes an important tool in promoting your brand.
Who knows, the next unboxing on YouTube might feature something ordered from your company. You'll want the experience, including your packing slip, to look and feel as good as possible.