Inventory management is vital to any e-commerce business. If you don't establish an effective inventory management approach, you risk frustrating customers, losing vital sales or investing in inventory that doesn't sell. The following article is part of our Inventory Management Blog Series which covers all aspects of developing an effective inventory management strategy so you can optimize your sales and profit.
Many small businesses can effectively manage their inventory using spreadsheets. While it is an older method of inventory management, it has merit for those businesses without a large warehouse structure where inventory might be sitting in multiple locations.
However, as a company grows, product portfolios expand and multiple warehouses are added, manually tracking inventory can be a daunting, time-consuming task. If you want to scale your business, you can't do it buried in spreadsheets and formulas.
If you don't have the right ecommerce inventory management tools to help you properly manage your time and resources, you might find yourself too stretched to focus on what really matters — nurturing and growing your business.
If this sounds like your current situation, then that might mean it's time to move your inventory management strategy — and your business — forward.
Using specialized inventory management apps can give your strategy a much-needed boost. Unlike spreadsheets, the technology is built to address the unique challenges of managing your inventory, including inventory tracking, storing data, and automating certain functions and forecasting calculations.
These features can improve efficiency and refine inventory demand planning (also known as inventory forecasting). With a better handle on your inventory, you can also improve your relationship with your customers, mitigating the chance for overselling or missing anticipated delivery dates.
With all of these benefits, the software can ultimately reduce and even eliminate stress for you.
But how do you get started?
In this chapter, we'll cover all you need to know about choosing and implementing the right inventory management software. Let's begin with a look at how to choose the right inventory management solution.
How Do You Know If You've Chosen The Right Inventory Management System?
The global Internet of Things (IoT) devices market in the supply chain and logistics sector is predicted to grow to $2.4 billion by 2020. This means your inventory management system needs to keep up.
Finding the right fit depends on several things; considering your budget first will help you refine your search and save you time and effort.
Below are four more questions to ask when choosing an inventory management software:
1. What are your business challenges?
Consider your business's needs and challenges. Have you outgrown an outdated inventory management system, or are you a small business that is growing slower than anticipated?
Are your inventory levels across your sales channels inconsistent? Are you running out of stock quicker than anticipated? Are you able to track inventory KPIs and meet your goals? Do you need to improve your inventory tracking so you know where your units are at any given point?
Are you spending a lot of time exporting spreadsheets from different sources and trying to cross-reference data to build your purchase orders? Do you keep finding yourself with slow-moving or dead stock, despite all of your number crunching and forecasting?
Pinpointing your pain points will help with prioritizing the functionality your inventory management software needs.
2. Do you need server-based or a cloud-based inventory management?
Cloud deployment has been firmly established over the past decade. Even so, many businesses still purchase server-based management systems. Would you prefer to own your software and server on location, or would you choose a cloud-based inventory management software to avoid large capital expenditures?
3. What are your inventory management policies?
Various factors will affect your inventory control policy. This policy determines the movement of the inventory, how you track costs, and how to prevent losses and shortages.
Being aware of the product cost, lead time, handling requirements and other policy needs will help decide what inventory management software best fits your business.
4. What additional features do you need to run your business?
Do you need to track stock using lot control, radio-frequency identification (RFID) tags, serialization, or bar codes? Or does your industry have specific requirements you need to meet?
You need to assess what tracking methods and the level of data that can be captured in an inventory management system before you purchase it.
The right software for your business needs to suit your budget and do what you need it to do. Assess it for scalability, capability, and quality as much as price.
Choosing the right inventory management software can maximize your ROI and facilitate more rewarding relationships with your employees, customers, and vendors. More benefits include:
Real-time access — When your inventory is integrated with your back-end systems, you can offer your customers real-time visibility to your products availability.

Comprehensive reporting — If you have multiple warehouse locations or multiple employees who oversee inventory, they can reference real-time data of units in transit and inventory across your warehouses.

Improved service — Customers will have access to delivery and stock status online. They can place an order and check the status of that order whenever they want, putting less of a burden on your support team.

Reduced costs — You could communicate updates directly through the software, reducing manual labor costs. Using data captured in the software, you can also optimize your purchase orders so you can prevent purchasing too many or too few units.

Inventory integration — When your inventory is tracked through your back-end system, inventory levels across your channels become consistent. When a purchase is made on one channel, the reduction in inventory is reflected on the others as well.
Ideally, your inventory should be connected with your back-end systems and the integration between the two should be seamless. If it doesn't connect, you will need to enter data manually for excel inventory management, which can cause delays. Read on to find out more about integrations.
Multichannel Ecommerce Integration Across Marketplaces, Shopping Carts, and More
What is a multichannel ecommerce integration? It's when you connect all of your sales channels to one central back-end system.
These integrations are usually required for companies that adopt a multichannel selling strategy where customers can purchase from them through multiple channels. This includes all of your ecommerce marketplaces, ecommerce platforms (Shopify, BigCommerce), and your offline or traditional commerce channels.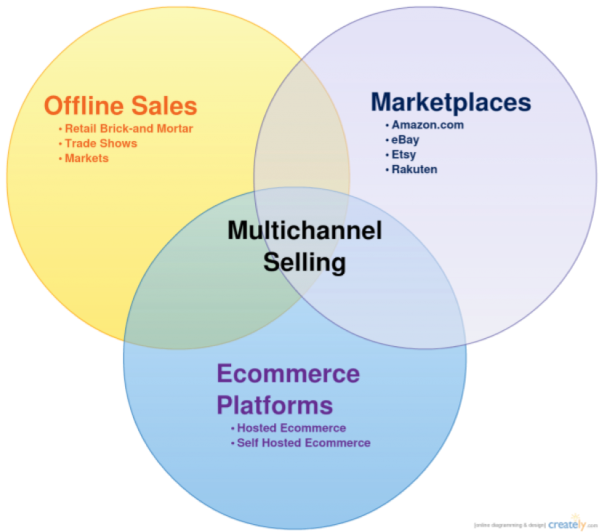 Multichannel inventory management allows the data between your sales channels and your inventory management system to flow bidirectionally. This means you'll no longer need to enter inventory or shipment information manually on each sales channel. From now on, your data will be entered automatically by the back-end system.
There are multiple ecommerce integrations:
Customer information and communication

Order fulfillment

Payment gateways

Product inventory
If you don't have your system integrated, each time you sell an item online you must manually adjust your inventory count on all channels so the numbers are correct. This is time-consuming, can lead to overselling if not done immediately after a sale, and is vulnerable to human error. It can become even more complicated if you want to reserve inventory for specific uses, which might get missed between updates.
If you have integrated your systems, the inventory counts across all your systems are updated automatically after each sale. You can also use an inventory control system to lock inventory, preventing it from showing on your channels for sale.
There's no need to spend hours or dedicate whole teams to manually updating your systems. This is needlessly costly, time-consuming, and your processes are subject to human error. Just one mistake can lead to a miscount.
If your business is prone to running into these situations, you should consider integrating your systems to pull from one source. This can be another driver for moving away from spreadsheets and using inventory management software instead.
Multichannel integrations can reduce your margin of error, improve relationships with your customers and provide a platform to expand your sales channels without becoming stressed or witnessing a slowdown in performance and efficiency.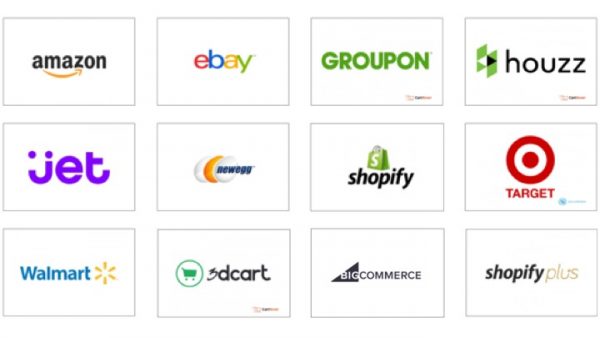 If your company chooses not to use multichannel ecommerce integrations, several issues may occur:
Buyers can be presented with incomplete or inaccurate information if there is a delayed requisition of pricing and order history in your enterprise resource planning (ERP) system.

Orders between sales channels might be missed as your staff switches back and forth between platforms instead of having one platform to manage all orders and inventory from.

Your company is unable to calculate or accurately track shipping costs in real time. This frustrates customers.
By integrating your online sales channels into one back-end system, you will be able to streamline vital processes and tasks to track your data and regulate your operations seamlessly.

Related content: NetSuite Implementation Steps & Comparing The Easier Option

Seamlessly Connect the Dots In the Supply Chain
Digital supply chain management is about how systems can be intelligent enough to optimize how products are produced and distributed to customers. Ideally, what a merchant should be looking for is a system that seamlessly connects the dots between warehouses, inventory, orders, shipping, and suppliers.
In other words, you want a system that runs smoothly with zero hitches from the moment an order is placed to shipping. If it doesn't run smoothly, there'll be delays, mistakes in fulfillment, or shipping miscommunications — and this can erode consumer trust.
In a study by Aberdeen Group, researchers noted the top priority of supply chain officers is to improve cross-departmental workflows and collaboration.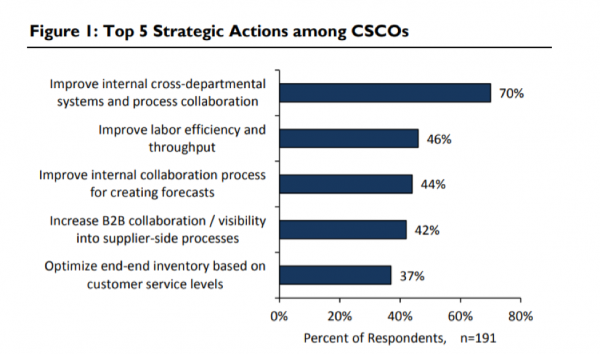 Inventory management systems help facilitate this collaboration by giving all departments one consistent source of information. Each department references the same inventory data, and they can share messages or updates about orders using one platform.
Managing your orders and fulfilling them with efficiency is key in an age when the customer experience is so important. They expect a fast turnaround, which is why it's so important to have an inventory system in place that effectively runs itself and enables your different teams to stay on the same page.
The best order management software simplifies the whole process so everything — even the trickiest of orders — runs smoothly. There are also distributed order management systems that allow you to manage order and inventory across multiple channels. Your relationship with both your customers and your suppliers is good, turnaround and lead times are fast, friction among your internal teams decreases, and you get to build customer loyalty via a solid service that works.
Automatically Track Incoming and Outgoing Inventory Throughout the Supply Chain
When you automatically track your incoming and outgoing inventory throughout the supply chain, you are better managing the profitability, performance, and efficiency of your inventory. The whole process, from the first purchase of the stock to its storage, and then to the fulfillment of orders improves.
The supply chain process itself is usually very fast, and the aim is to reduce lead times between incoming stock and outgoing stock. The more efficient your operations are, the more your costs will come down.
Supply chain challenges are caused by complicated processes, especially if you sell a plethora of unique items across your sales channels.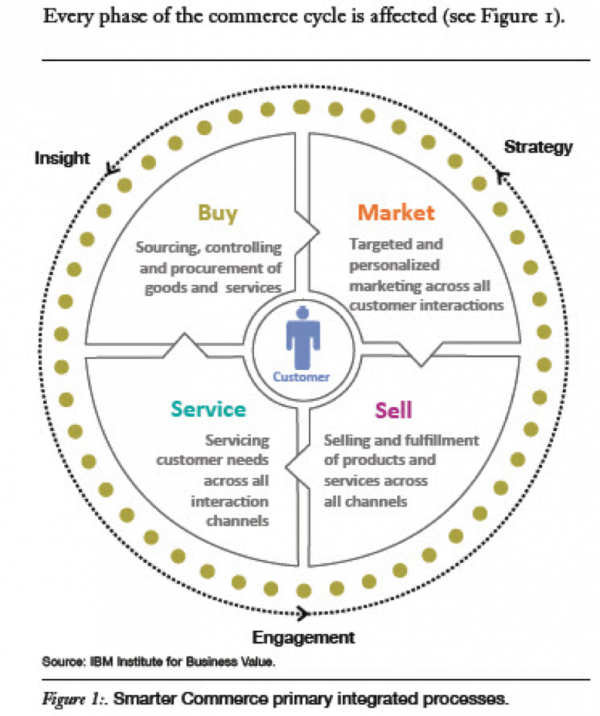 Source: IBM Institute for Business Value.
When you implement a strategy with inventory management systems, the following processes can be tracked automatically:
Incoming Items
As a merchant, it's imperative to purchase the right amount of stock to satisfy customer demand. Without sophisticated software, it can be hard to calculate supplier lead times, safety stock levels, your reorder point, and other inventory data.
Sophisticated inventory management software, on the other hand, automates these metrics and crunches the numbers for you.
Inventory forecasting is essential for both small businesses and large enterprises, and excess or obsolete inventory can massively impact your bottom line for all the wrong reasons.
Outgoing Items
You never want a situation where a customer is left with a back-order problem. If an order is delayed or missed altogether, the repercussions can be felt in the form of negative reviews or lost customers.
Inventory management software can help with forecasting stock levels with greater accuracy so you can better anticipate spikes in sales, factor this into your purchase orders, and request the stock necessary to fulfill all potential orders.
Historical sales data, demand patterns and safety stock calculations all help to automate the process so your customers aren't left frustrated by delays or out-of-stock items. The right software ensures that not only do you have items in your inventory when they're needed, but also you know what your reorder point is.
Fulfillment Complexities Software can Automate
Your Inventory management software should be able to handle the following types of tracking and fulfillment complexities:
Track inventory across multiple warehouses.

Pinpoint the position of products within a warehouse by assigning sublocations.

Synchronize inventory in real-time.

Assign orders that fit certain criteria to be fulfilled by specific warehouses

Automatically set package weight and dimensions.

Manage inventory of bundles and kits.

Set a shipping carrier and service and print the corresponding label

Specify FBA SKU.
Knowledge of Warehouse Constraints
Warehouse inventory management is a key part of any merchant's inventory operations. Without the use of software, however, there can be clear constraints:
High costs.

Wasted time.

Loss of productivity.

Disorganization.
The key to good warehouse inventory management is a system that ensures you know where everything is. If your team struggles to locate items in time, it slows the whole operation down and can cause delays. Worse still, it can cause items to go missing.
Inventory management software speeds up and improves your warehouse inventory management processes. Wireless networks, automatic identification, RFID systems, scanners and barcodes are key components of inventory management systems that boost accuracy and improve the flow of products.
For example, labeling software enables you to print out your location and product labels so it's easier than ever for your pickers to find the correct inventory.
More ways inventory management software can help with multi-warehouse order fulfillment:
Print packing slips, pick lists, and shipping labels all on the cloud.

Connect to your Third-Party Logistics (3PL) warehouse.

Set multiple pick locations for fulfillment.

Import your FBA orders and inventory.

Automatically multichannel fulfill (MCF) non-Amazon orders.

Connect to your dropshipper's File Transfer Protocol (FTP) server and set run-times to export orders, import tracking and shipments.
All these features help improve the relationship with your customers.
Customer Relationships
Your customers are number one, and proper inventory management is one of the best ways to keep them satisfied. As research has shown, 70% of companies say it's cheaper to keep an existing customer than it is to go out and find new ones.
And unfortunately, only 18% of companies focus on customer retention as opposed to the 44% that focus on customer acquisition.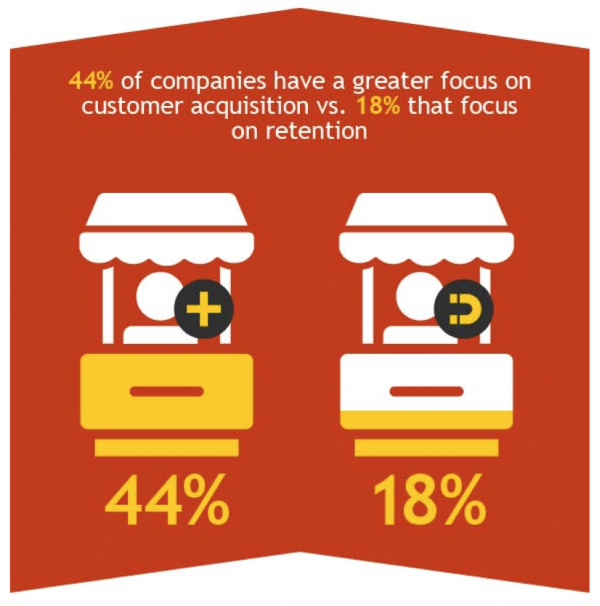 Customer confidence increases if you can ship an item just a few hours after they've placed an order. This is why the fulfillment time is crucial. It optimizes the time between order and fulfillment.
Avoiding an out-of-stock situation is imperative. The problem for some companies that haven't invested in an inventory management system is an out-of-stock situation can happen without them realizing it.
What happens is a customer places an order, only to be told via email the next day their item isn't currently in stock. This is embarrassing for the merchant but worse still, it means the merchant has probably lost a potential long-term, loyal customer.
An inventory management system ensures the available quantities you have in your warehouse are properly reflected in your marketplaces.
Key Takeaway
An inventory management system backed up by sophisticated software makes your job so much easier. It can streamline data analysis and inventory forecasting, maintains consistency of data and inventory updates, and streamlines processes from procurement to customer shipping.
This all results in keeping your customers happy, saving you time and money, and allowing your business to grow.
If you feel like your company's growth is severely hindered by spreadsheets, explore taking a step forward by adopting new and current technologies.