Shippo
Shippo is the leading API and dashboard for shipping that empowers platforms, marketplaces, warehouses and ecommerce stores with the building blocks they need to succeed. We process millions of shipments every month for over 25,000 businesses. With instant access to multiple shipping carriers for real-time rates, label creation, automated international paperwork, package tracking, and facilitating returns, companies around the world trust Shippo to power their shipping.
Streamline multi-channel ecommerce
Automatically sync orders and tracking numbers
Manage all orders on one platform
Send customer email notifications
Built-in address validation
Access a global network of shipping carriers
Rate shop across carriers and services
Use Shippo's built-in accounts or bring your own
Generate international customs forms within one workflow
Shipment tracking inside the dashboard
No extra fees.
All order sources are included with all plans.
---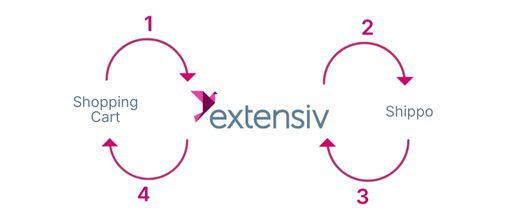 About Extensiv's Shippo Integration
Order Destination Integration Functions Supported:
Sales Order Download from Order Source to CartRover
Sales Order Delivery from CartRover to Shippo
Shipment Tracking from Shippo to CartRover
Shipment Tracking from CartRover to Order Source
Choose a destination to integrate with Shippo
Choose a source to integrate with Shippo
110+ Ecommerce Integrations, 80+ EDI Retail Partners, 90+ Warehouse Systems, 1000+ 3PL Integrations, Millions of Orders!
"3PL Central has taken a pivotal role in our growth — which was 247%. We are at maximum efficiency, 99.9% inventory accuracy, and customers are ecstatic."
— LMS Logistics Solutions
"3PL Central has taken a pivotal role in our growth — which was 247%. We are at maximum efficiency, 99.9% inventory accuracy, and customers are ecstatic."
— LMS Logistics Solutions