More Inventory Management Topics
What do you want to learn?
4 questions to ask before investing in a system
Features to look for in an IMS
Managing inventory requires a high level of accuracy, as any errors within your tracking, counting, or forecasting can ultimately lead to unnecessary purchases, inadequate stocks, and shipment delays. While manual inventory tracking leaves considerable room for mistakes to be made, inventory management systems streamline your day-to-day operations and greatly limit the errors associated with supply chain processes. With the best inventory management software, you can avoid the pitfalls of profit loss and disappointing your customers, and instead fulfill orders correctly and on time, every time.
What is an Inventory Management System?
An inventory management system is the combination of technology, processes, and procedures to support the monitoring and maintenance of stocked items.
Inventory management systems allow retailers to oversee and organize their products, whether those are raw materials or finished goods ready to be delivered to vendors and end consumers.
Why It's Critical to Have a Sound Inventory Management System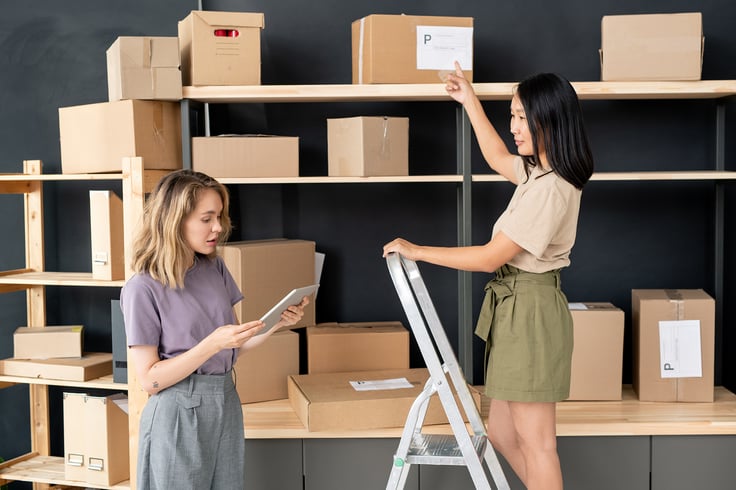 The value of a company's inventory is usually one of its largest assets, which makes having a reliable system to manage inventory equally as valuable. Managing inventory is a critical part of the supply chain process, and the following are just a few of the ways inventory management systems can help your business meet goals and exceed expectations.
Closely track incoming & outgoing inventory
When you automatically track incoming and outgoing inventory within the supply chain, you'll be better at managing the profitability, performance, and overall efficiency of that inventory, as well. By incorporating inventory management systems, the entire product lifecycle improves — from its pricing, to its point of sale, and eventually on to its fulfillment.
The supply chain process is typically very fast, with a goal to reduce the lead times between incoming and outgoing stock; the more efficient your operations are, the more your costs will come down. The problem is, supply chain processes can be quite complicated, especially if you sell a number of unique inventory items across your sales channels.
But when you execute with inventory management systems, you can automatically track metrics related to lead times, safety stock levels, reorder point, and various other data on your incoming inventory. Likewise, these systems help with precise forecasting of inventory levels, so you can better anticipate spikes in sales, factor this into your purchase orders, and request the stock necessary to fulfill all outgoing orders.
Automate to simplify fulfillment complexities
By investing in automation, retailers can avoid many of the common complexities encountered by fellow merchants, and instead reap the benefits of a smooth supply chain process. A solid inventory management system for ecommerce can handle a range of tracking and fulfillment challenges, from monitoring inventory across multi-channels or multiple warehouses, to synchronizing inventory in real-time.
Retail businesses who trust inventory management systems can pinpoint the exact position of products (by way of sublocations), and assign orders that fit a certain criteria to be fulfilled by a specific warehouse. What's more, this software also automatically creates settings for package weight and dimensions, manages stock of bundles and kits, and determines the shipping carrier or service, all of which contribute to more accurate and consistent results.
Streamline warehouse management
Warehouse management is an essential part of any merchant's inventory operations. Without a focused approach in this department, you're bound to experience a few fulfillment constraints, whether it's high costs, wasted time, loss of productivity, or general disorganization.
The key to good warehouse management is a system that ensures you know where everything is at all times. If your team struggles to locate a product, it slows down the whole operation and can bring about shipping delays (or worse, it can cause items to go missing). Thankfully, inventory management software boosts your warehouse management processes, as well.
Wireless networks, automatic identification, RFID systems, scanners, and barcodes are crucial components of inventory management systems that increase accuracy and improve the flow of products. In addition, this software can also help with multi-warehouse order fulfillment by connecting to your third-party logistics (3PL) warehouse, importing your FBA orders and inventory, setting multiple pick locations for fulfillment, and more.
Streamlining these actions is one of the easiest and most effective ways to enhance your warehouse management workflow, while minimizing your margin for error at the same time.
Maintain strong customer relationships
Your customers are a top concern, and keeping them satisfied is often the driving force behind ecommerce success. As research has shown, 70% of companies say it's cheaper to keep an existing customer than it is to go out and find new ones — and yet, only 18% of companies focus on customer retention, as opposed to the 44% who focus on customer acquisition.
Customer confidence exponentially increases when you're able to ship an item only a few hours after they've placed their order. With proper inventory management systems in place, you can optimize the time between a customer's purchase and the order's fulfillment, and make sure the receiving, packaging, and shipping of said order is done as efficiently as possible.
Avoiding an out-of-stock situation is also imperative to keeping your customers happy. But without investing in a quality inventory management system, retailers sometimes encounter stock outs without even realizing it. When a shopper places an order and is notified the following day that their item is out-of-stock, it's not only embarrassing for the merchant, but it might mean the loss of a loyal customer.
An inventory management system ensures the exact quantities in your warehousing spaces are reflected in your marketplaces, so orders are picked correctly, fulfillment times remain low, and you maintain positive, long-term relationships with your customer base.


4 Questions to Ask Yourself Before Investing in a System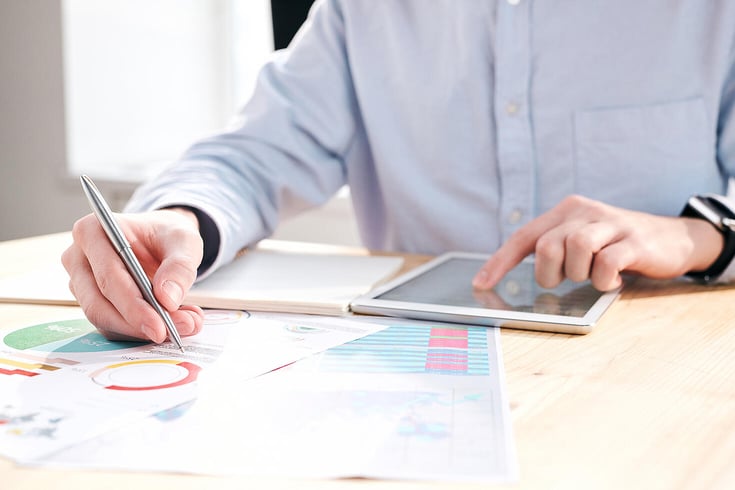 Finding the right inventory management system hinges on several factors, and often involves taking a close look at your business as it is now. The following are four of the best questions to ask when deciding on inventory management apps and software and on your broader inventory management techniques, as their answers can provide clarity and better direction moving forward.
1. What are your business challenges?
A good place to start in determining which program is right for you is by assessing your business's needs and challenges. Could it be that you've outgrown an outdated inventory management or enterprise resource planning system, or your small business is growing slower than expected?
Are inventory levels inconsistent across your sales channels, or maybe you're running out of stock faster than you'd anticipated? Do you have the ability to track inventory KPIs to meet your goals, or do you need to improve your tracking so you know where units are at any given point?
Thinking through questions related to your current challenges will help locate your pain points and gauge the functionality your inventory management software must have.
2. Do you need server-based or cloud-based inventory management?
Even though cloud deployment has been relied on for years now, many companies continue to purchase on-premise, server-based management systems. When searching for a new inventory management program to implement, it's important to consider whether you'd benefit more from a server-based or cloud-based inventory management system.
Do you want to own your software and server on location, or would you prefer a cloud-based software to avoid large capital expenditures? It's good to weigh your options alongside your specific needs, so you can make an informed decision on which is the right fit for you.
3. What are your inventory management policies?
Your inventory control policy dictates the movement of your products, how you track costs, and how to prevent losses or shortages. A clearly defined policy (e.g. FIFO: first in first out) can maximize the efficiency of your supply chain and fulfillment processes, so if yours hasn't adapted in conjunction with your company's growth, an update might be in order.
Being aware of product cost, lead time, handling requirements, and other policy needs will help decide what inventory management software is best suited to your business.
4. What additional features do you need to run your business?
The right software should suit your budget and do what you need it to do, which means you're wise to evaluate it for scalability, capability, and quality (as much as price). That's also why it's so important to find out which additional features are required to run your business.
Do you need to track stock using lot control, RFID tags, serialization, or bar codes? Or does your industry have specific requirements you must meet? Will your team be using mobile devices to scan barcodes? Perhaps you need real-time visibility regarding your products' availability, or comprehensive reporting on your inventory across warehouses or wholesalers?
Be sure to confirm what tracking methods and level of data can be captured in an inventory management system before you purchase it, as the right software can maximize your ROI and facilitate more rewarding relationships with your employees, customers, and distributors alike.


Inventory Management Systems for 3PLs
Third-party logistics (3PL) providers play a crucial role in the supply chain by providing warehousing, transportation, and value-added services to businesses. With the logistics landscape constantly evolving and e-commerce expanding, it is vital for 3PL owners and professionals to invest in the right inventory management system to meet the demands of their clients and remain competitive.
Efficiency for 3PL Providers

Efficient inventory management is crucial for 3PL providers as they handle goods from multiple clients with varying requirements. An effective inventory management system enables 3PLs to streamline their operations, reduce human errors, and optimize warehouse space. It provides real-time data on inventory levels and locations, enabling companies to make informed decisions, reduce costs, and improve customer satisfaction.
Benefits for 3PLs
One of the primary benefits of inventory management systems for 3PLs is the ability to integrate with other software and systems. Integration with transportation management systems (TMS), warehouse management systems (WMS), and enterprise resource planning (ERP) platforms allows for seamless data sharing and communication across various operations. This connectivity helps in reducing data entry errors, improving inventory accuracy, and minimizing delays in order processing.
Selecting an Inventory Management System
A key feature to consider when selecting an inventory management system for 3PLs is scalability. As a 3PL provider grows and expands its services, the chosen system should be able to adapt to the changing needs of the business without requiring significant investment in upgrades or additional infrastructure. This adaptability allows 3PLs to better serve their clients and quickly respond to market fluctuations.
Customization is also an important aspect of inventory management systems for 3PLs. Each provider has unique operational requirements, and a one-size-fits-all approach may not deliver the desired results. An inventory management system that offers flexible customization options ensures that 3PLs can tailor the software to meet their specific needs, helping them optimize their processes and deliver exceptional service to their clients.
Choosing the Right System for Your 3PL
Investing in an inventory management system that meets the needs of 3PL providers is crucial for their success. The right system can help streamline operations, reduce errors, optimize warehouse space, and improve customer satisfaction. When selecting an inventory management system, 3PLs should consider integration capabilities, scalability, and customization options, such as those offered by Extensiv 3PL Warehouse Manager. With the right inventory management system, 3PLs can unlock significant benefits and remain competitive in the constantly evolving logistics landscape.
8 Features to Look for When Choosing a System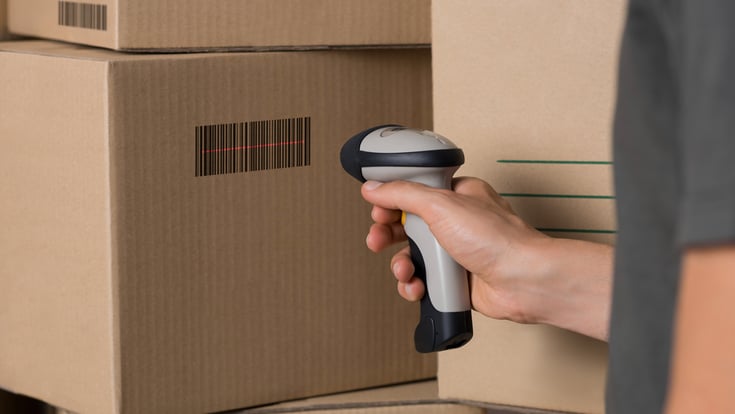 Finding the best inventory management system for your business is a big task, but if you know what to look for, you'll be better prepared than most. Take your time and be strategic with your decision, and don't forget to keep these features in mind during your search.
1. Inventory tracking
In order to implement an inventory control system, you have to be able to track the status of raw materials and finished products within the supply chain. With the help of inventory management systems for ecommerce, you can apply automation to inventory tracking, and eliminate the need to manually complete tedious and time-consuming tasks. For instance, many systems automatically generate tracking numbers when they create a receipt or invoice, saving valuable minutes and mind power to be used elsewhere.
And thanks to automated tracking, you can also enjoy better engagement with your customers, by readily sharing what's in stock or offering updates when products have shipped.
2. Inventory barcoding
Handwriting or manually keying SKUs can be exhausting, which is part of the reason why barcoding is such a popular method to manage and control inventory. Barcode scanning not only puts an end to data errors commonly experienced with manual entry, but it automates functions that require communication with other parts of the inventory management system.
When you collect, store, and organize your data digitally, it makes inventory operations much more cohesive. With the help of barcode scanners, you can instantly improve inventory accuracy, speed up stock replenishment, and enable paperless documentation of your work.
3. Analytics
Analytics play a significant role in understanding business performance and customer habits. But beyond simply collecting data, inventory management solutions need to present information in a palpable and practical manner. After all, what's the use in having data you can't comprehend or leverage to your benefit?
Many inventory management systems offer pre-defined reports to provide the essential metrics you need, while others may actually take things a step further, letting you customize reports so you can really dig into the insights that are unique to your business.
4. Perpetual updates
Perpetual updates within an order management system means the program is consistently refreshing with the latest information. In other words, the inventory counts are live, and indicate what is in stock at any given moment.
The alternative to this approach is periodic updates, wherein stock takes happen at specific intervals (daily, weekly, monthly). Since these numbers only reveal what was in stock when the count was completed, perpetual updates are often preferred. Having real-time inventory counts ensures out-of-stock items cannot be ordered, and allows you to oversee the levels of your raw materials, so you can reorder just-in-time to meet customer demand.
5. Integrations
Chances are, you're using a number of management tools to run your business. Ideally, your inventory should be connected to each of the back-end applications you utilize; if these platforms aren't integrated, you'll wind up entering data manually (causing serious delays).
Inventory management systems are commonly integrated with warehouse management, accounting software, and purchasing systems. When these various apps can talk to one another via integration, the more streamlined your supply chain becomes, and the more time and money you'll save as a result.
6. Usability
While cost will certainly impact your purchasing decisions, don't underestimate the importance of ease of use. This point is often overlooked by business owners, and yet, the usability of inventory management software determines how effective the entire system will be.
For example, if it's going to take hours on end for your team to learn the program, it's probably not a good investment on your part. You're looking for a solution that'll simplify your processes, not complicate them further. If the learning curve is too high, it's likely to cost you time, money, and energy in both the short and long-term.
7. Accessible support
Once you've figured out which inventory management system to go with, having access to quality customer support is vital to your success with this software. When you run into a situation where you can't find your purchase transactions, or when your team doesn't know how to set up stock notifications, having someone available to help is paramount.
Without accessible customer support, your issues may remain unresolved, and lead to an unfortunate bottleneck in your supply chain management. For this reason, make sure you'll receive complete support from your vendor, including training, warranty, and 24/7 assistance.
8. Designed to grow
When deciding on an inventory management system, you may not have an unlimited cashflow to allocate to this software. You want to find a system that is highly-functional and stays on budget, but you should also look for one that's designed for the future.
While you may not be able to afford a ton of extra features right now, you still want something you can upgrade later on as you execute smart, scalable growth. Look for software that meets your needs as they are today, but that can expand and advance for greater optimization down the road, in the same way you hope your company will do.
Conclusion
The bottom line is, too many business owners wait until they're faced with missing, lost, or damaged products before they consider investing in software solutions. Inventory management systems are designed to help companies of all sizes automate their processes and improve their operational efficiency across the board.
Thanks to automation, human errors are greatly reduced (and sometimes eliminated altogether). And the significance of this is wide-reaching, from better profit margins, to increased customer retention, to fewer stockouts, and beyond. Inventory management systems are truly the premiere way for you to save countless hours and avoid excess spending, so you can focus more on your customers and dream up even greater goals.