More Inventory Management Topics
As ecommerce competition tightens, so does the race for merchants between marketplaces. At the forefront are Walmart, Amazon, and eBay.
Amazon and eBay, both digitally native marketplaces, have taken the spotlight in recent years as the top-performing ecommerce platforms with appealing fulfillment processes and savvy inventory management (check out our guide on expanding from eBay to Amazon for more info).
However, Walmart has made strides to become a worthy competitor to both. Walmart reported a 37% increase in online sales for the second fiscal quarter. It intends on becoming a leading omnichannel retailer with investments in supply chain startups and continued additions to their armory of services, like grocery deliveries, to keep up with Amazon.
Walmart's ecommerce inventory management and ecommerce platform are different from its competitors, and the ongoing innovation and rivalry will inevitably impact the ecommerce space for multichannel retail brands.
In this article, we explore an array of inventory management practices amongst Walmart, eBay, and Amazon, while keeping Walmart at the forefront of our attention.
How Is Walmart Inventory Management Different from Amazon and eBay?
If you want to make the most of your multichannel retail approach, you need an in-depth understanding of Walmart's inventory management practices and how they differ from eBay and Amazon. Though selling on Walmart vs Amazon is in many ways similar, there are also key differences.
Whether you are considering becoming a Walmart retailer or are already one, learning in detail about how the marketplace excels in shipping fulfillment and management will allow you to harness the most of your opportunities with the retail giant.
To make the comparison practical and straightforward, we will cover five points. A little off-topic from inventory management, we wanted to compare the process of getting started as a seller on eBay, Amazon, and Walmart.
Becoming a seller
Ranking and exposure
Product fulfillment
Supply chain and logistics
Delivery speed and collections (free two-day delivery and local collections vs. Prime and locker collection)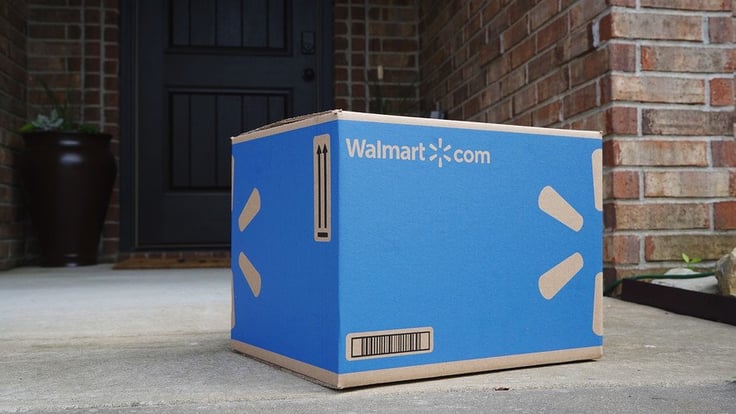 How To Become A Walmart Seller & Get Your Products Listed
Registering as a seller is a crucial aspect of working with an ecommerce platform, and we find it just as important to consider when discussing general inventory management services. First, let's talk about fees.
Referral Fees
Amazon charges a $39.99 per month subscription fee for sellers (not including additional referral fees). If you are an individual, then you will not be subject to a monthly fee and will only be liable for per-product costs.
eBay has an entirely different pricing model to both, charging a small flat listing fee, as well as a percentage of your final product sale price up to 10% with a maximum fee of $750.
With Walmart, you don't pay any monthly or annual fees to list your products. However, you do pay a referral fee, which is entirely dependent on the category of the product you are selling.
It is fair to say that Walmart is the most cost-effective since Amazon's monthly pro sellers' fee is not inclusive of their additional referral fees. Then again, it is advisable to calculate exact payments before you decide to opt-in for a new sales channel as a multi-channel retailer. Referral fees are usually around 15% on both marketplaces.
Listings
The listing process itself is simple enough as all three ecommerce platforms share an intuitive merchant interface. Before you can get started with product listings, all three require you register as a seller.
Amazon and eBay allow you to list items immediately, while Walmart has an approval time after the initial request to become a Walmart seller.
If you need tips on how to build listings on all three marketplaces, check out some of our additional resources:
Registration Process
The process of becoming a Walmart seller is more rigorous than its competitors. As a measure of performance and compatibility, Walmart has a structured screening process for future sellers. The process ensures that only legitimate brands can sell on the platform.
They will take into account your:
Brand reputation
Compatibility of values and practices
Sales projections
eBay and Amazon do not perform such screenings, leaving their marketplaces open to low-quality brands. This careful process gives brands on Walmart a better reputation. Selling on Walmart gives your brand some validity, improving customer trust.
Alongside a generally cheaper and simpler seller pricing structure, Walmart has established a form of accreditation with their seller screening process.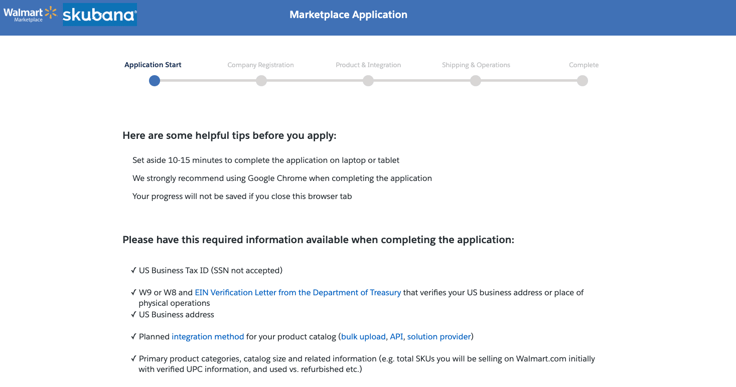 Ready to register for Walmart? Sign up through our portal to get priority review of your account

Product Ranking and Exposure
In terms of your product's visibility, Walmart and Amazon have similar practices, while eBay is the black sheep.
eBay's Cassini Search Engine
eBay's listing algorithm has been an object of "hacking and cracking," where many retailers have found smart ways to attain fast, top-of-the-page listings to help move their inventory.
The hacks are incredibly simple. eBay will push your products to the top based on good feedback, appropriate keywords in your title and subtitle, attractive pricing, and variable shipping options (to name a few). These are very similar requirements to Amazon and Walmart, with one difference – new sale metrics.
Due to the platform's emphasis on "recent sale" metrics, sellers have exercised a price-drop tactic with eBay's Cassini search engine. The price-drop tactic involves dropping the price of a product, often to levels of no profit, until it reaches high enough sales to climb to the top of the page. Once the product ranks, they re-adjust the price.
While these hacks may seem like viable strategies, they are not sustainable for an ecommerce brand.
Some brands might have large SKU portfolios, making it difficult to keep track of which products were price-dropped. This strategy makes it extremely easy for listings to slip through the cracks and slowly drain potential profit once you are ranking.
While this sacrifice might be feasible for larger brands, it is challenging for newly established brands to do this. All in all, price-dropping is a risky strategy and a problematic approach for them to utilize.
Amazon and Walmart SEO
The Amazon and Walmart SEO algorithms are more rigorous and far less biased in terms of a single factor's significance. Both Walmart and Amazon value in-depth, relevant descriptions with all available fields filled in, along with easy-to-read summaries and bullet points in item listings.
Product attributes are important on Walmart and Amazon since they make it easier for your prospective customers to find you. Both platforms also incentivize competitive pricing with their sellers' box feature.
Each product page on the marketplaces has a box that lists other sellers of the particular item in order of pricing and reliability.
Both Amazon and Walmart incentivize lower prices with their seller boxes in exchange for increased exposure to millions of customers. Customer reviews also impact the degree of exposure, though the exact formula to this is unclear.
Overall, both Amazon and Walmart offer delivery costs, seller information, shipping date, shipping fulfillment method, and an "add to cart" option.
Walmart exclusively offers the ability to choose product quantities, while Amazon allows used items to be sold, indicating its condition in a separate feature box.
Product Fulfillment
"Fulfillment by Amazon" (FBA) has been a great success, with more than one million new Amazon sellers in 2019. The FBA model takes care of the fulfillment process end-to-end for sellers, allowing them to leverage Amazon's fulfillment centers via their Merchant Fulfillment Network (MFN).
On the other hand, Walmart's working to further build its fulfillment process known as "Fulfillment-by-Walmart" (FBW). While Walmart encourages vendors to use Walmart fulfillment partners, the FBW program will eventually grant vendors access to its fulfillment centers, store distribution centers, 4,500 stores, and the company's transportation fleet to ship online orders.
According to Bloomberg, three out of four Amazon sellers employ the current fulfillment model, meaning that Walmart is targeting a highly active vendor's marketplace.
In no way is eBay fulfillment lagging. The San Jose, California-based company is also launching its fulfillment model named Managed Delivery. Unlike Amazon and Walmart, eBay will not be using its warehouse network but instead will work with new and existing logistics partners. The service is said to launch in the U.S in 2020 following a set of exhaustive trials to test its capacity among eager vendors and customers.
For brands that are not interested in any of the marketplace-provided fulfillment services, all three channels have integrations with order and inventory management software like Extensiv Order Manager. Extensiv Order Manager simplifies Walmart's inventory management, automatically updating your inventory and routing orders to your warehouses.
Whether you are selling on one channel or all three, using tools like Extensiv Order Manager to serve as a bridge between your inventory and fulfillment, limits errors, and opens the door to increased levels of automation.
Understanding Walmart's Inventory Management Practices for 3PLs
Walmart, the world's largest retailer, relies on an efficient and effective inventory management system to maintain its competitive advantage. For third-party logistics (3PL) providers working with Walmart, understanding the intricacies of their inventory management practices are essential to ensure seamless integration and maximize the potential for business success.
Cross-Docking Strategy
A key component of Walmart's inventory management system is its cross-docking strategy, which enables the efficient movement of products from suppliers to distribution centers and ultimately to the stores. For 3PLs, this approach presents both opportunities and challenges. Logistics professionals must have the capacity to handle large volumes of inventory in a time-sensitive manner, as well as the ability to coordinate effectively with Walmart's suppliers and transportation networks. Success in this area will help 3PLs cement their relationship with Walmart and potentially attract other retail clients.
Data-Driven Decision-Making

Another crucial aspect of Walmart's inventory management is its focus on data-driven decision-making. By utilizing sophisticated data analytics and real-time inventory tracking systems, Walmart is able to optimize its supply chain and minimize stockouts or excess inventory. For 3PL providers, this means that there is a strong emphasis on data management and the ability to provide accurate, up-to-date information on inventory levels and movement. Logistics professionals should be well-versed in Walmart's data management practices and be able to collaborate effectively to ensure that their own systems are aligned with the retailer's expectations.
Commitment to Sustainability
Walmart's commitment to sustainability and reducing waste is also reflected in its inventory management practices. The company works to minimize excess stock and to efficiently manage product returns and disposals. This presents an opportunity for 3PLs to demonstrate their own commitment to sustainability and showcase their expertise in handling reverse logistics. By partnering with Walmart and effectively managing these processes, 3PLs can not only improve their environmental footprint but also enhance their reputation as responsible, forward-thinking logistics provider.
Conclusion

Walmart's inventory management practices present a unique set of challenges and opportunities for 3PLs and logistics professionals. By understanding and adapting to Walmart's cross-docking strategy, data-driven decision-making, and commitment to sustainability, 3PLs can position themselves as valuable partners in the Walmart supply chain. Extensiv 3PL Warehouse Manager can help logistics professionals meet Walmart's inventory management expectations and excel in the competitive world of retail logistics.

Walmart Supply Chain Management and Logistics
Walmart is also innovating in the supply chain space by redesigning an all-new omnichannel structure. Leaning heavily on automation, Walmart has made significant investments to create a far more efficient supply chain.
The omnichannel directive falls in line with Walmart's vendor-managed inventory model, which helps the retailer minimize operating costs. Walmart has also recently invested in a new supply chain startup Flipkart bringing with it smoother payment solutions and paving the way for new business in India.
Walmart employs more than 8,000 drivers and has over 60,000 trailers that deliver their products to most of its 4,700 U.S stores. With the upcoming omnichannel upgrade, their process will likely continue to improve.
In comparison, Amazon's FBA makes the most of the supply chain shortcuts offered by the slim fulfillment model. The company's warehouses are placed near major population hot spots and use a variety of methods to get products to customers. Amazon's network ranges from a fleet of branded trucks to Amazon-branded drones that land on your outside window sill.
eBay relies on third-party logistics partners to support its supply chain. They have recently partnered with a Shanghai-based logistics company to aid their overseas market movement in China.
All-in-all, Walmart covers more than 75% of the U.S population. With the restructuring of its already robust supply chain system to match Amazon's, it will be interesting to see how the logistics landscape changes in the years to come.
Fast Shipping
Perhaps one of the most competitive aspects of the online ecommerce platform's inventory management wars is the speed of order delivery and the availability of alternative collection methods.
For new customers spending in the lower-mid ranges, Walmart is an ideal option to lean on. Walmart offers free two-day shipping on eligible orders over $35. Brands who partner with their Walmart fulfillment partners, like Deliverr, can also have their listings enabled with a "two-day shipping" tag, which drives more conversions on listings.
Walmart's next-day delivery is only available in selected postal codes and also requires no membership for customers to access. Like the two-day delivery, it is free for orders over $35, and eligible items receive a "Next Day eligible" tag.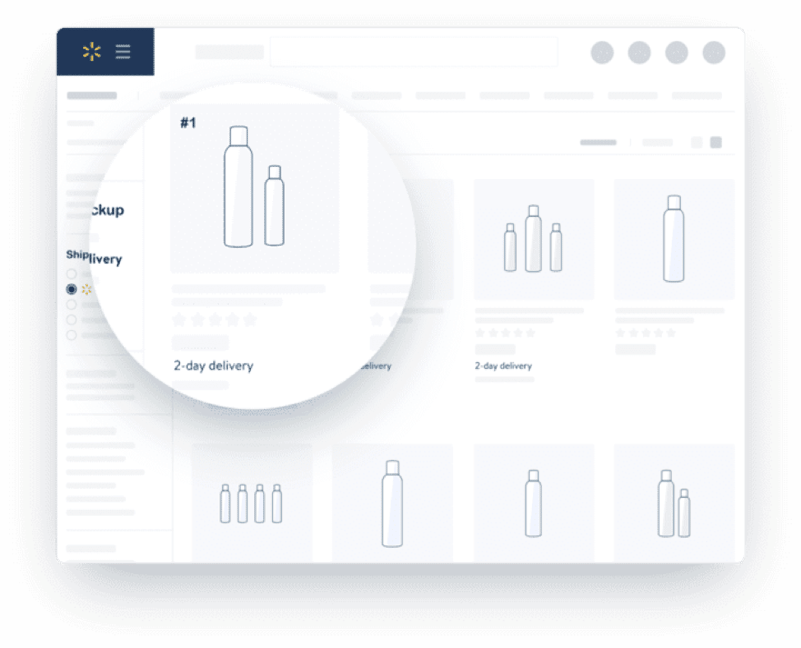 Source: Deliverr


The option to access fast-shipping tags on listings has enormous implications for brands trying to sell and move inventory out of their warehouses.
Amazon's free two-day delivery (soon to be next-day delivery) is only available with Prime membership, which most buyers may not opt-in for immediately, if ever. Third-party sellers are also eligible to get Seller Fulfilled Prime tags on their listings, which indicate to shoppers that they can also guarantee a two-day turnaround on shipments.
Lesser-known when it comes to fast fulfillment, eBay also has a Fast 'N Free program that brands can participate in if their listings meet the requirements. The Fast 'N Free tags indicate to buyers that a product will ship for free and is likely to arrive within four business days.
Collection-In-Person
While online retail continues to grow, many customers still prefer to collect their items in-person. It helps them save on shipping costs, prevents potential theft, and guarantees packages will arrive at a secure location.
Walmart offers pick-up towers across more than 2,200 of its retail locations. The pick-up towers allow customers to pick-up their packages directly within a Walmart store. While it might seem like a limitation that the towers are only located in Walmart stores, it also allows customers to make last-minute purchases instead of placing new orders.
Walmart's towers compete directly with Amazon's lockers, which follow the same concept. However, Amazon has lockers installed in thousands of retail locations in more than 70 cities across the U.S.
Both Walmart and Amazon allow shoppers to return online purchases through these in-store locations, addressing another common pain point of online retail.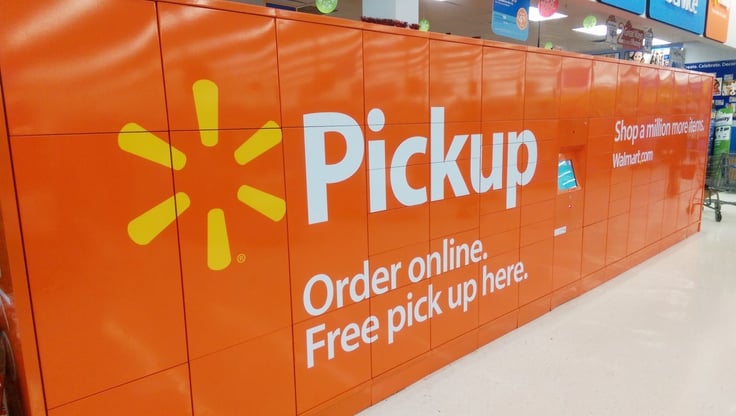 How Will Walmart's Ongoing Shipping War with Amazon Impact Brands?
All ecommerce marketplaces are scrambling to get brands on their platforms by offering increasing incentives on enormous scales. The most prominent line drawn in the sand is in regards to shipping.
Both Amazon and Walmart are putting more resources in their third-party fulfillment services. Their goal is to convince brands to join the platform by offering access to faster delivery services through their broad distribution networks.
How will this affect multichannel brands? As best-selling, quick-shipping products rank higher, merchants and brands must act to avoid falling behind. Customers are willing to pay a premium price to get two-day or even same-day shipping.
With both Amazon and Walmart offering fast shipping options for free, consumers are quickly becoming accustomed to quick shipment turnarounds. The shipping war between the ecommerce giants is resulting in the standardization of same-day delivery.
Where does this leave you as a retailer if you don't want to utilize their fulfillment networks?
Optimizing Your Supply Chain
It means you need to optimize your supply chain for same-day delivery. That includes:
Assessing your demand: Make sure to evaluate your current staffing and delivery channels in place. Demand forecasting can help determine if you can pay dividends when considering future supply or shipping workload. Make sure to develop an integrated supply chain that will keep customers satisfied with shipping turnaround.
Using a distributed order management (DOM) system: For a business that wants to offer same-day delivery, it's essential to have a centralized DOM system. DOM systems prioritize automation and system integrations. Extensiv Order Manager functions on the principles of DOM, enabling companies to implement same-day supply chain logistics.
Studying past consumer habits: This data will determine which items should frequently ship via same-day shipping. This information will allow you to structure your warehouse to get those items out faster.
Establishing effective communication: You must streamline communications with your staff, couriers, and fulfillment partners. Firm up your internal process and protocols, and prioritize visibility into your operations for your entire staff.
Resources For Walmart's Inventory Management Practices
Amazon disrupted retail with a bang. As they dominated, Walmart slowly adopted innovative approaches to omnichannel retail. Now it is thriving with robust implementations and reorganization, all while making use of their physical prominence worldwide.
Amazon may be the current dominating marketplace, but Walmart is now a serious contender. Merchants are considering how Walmart fits within their strategies, as well as the resources it can provide.
Take a look at some additional resources to learn more about Walmart's inventory management and appeal for sellers: