I started my online retail business over 10 years ago and sold 50,000+ products since, on multiple sales channels.
The first marketplace I sold on was eBay, which at the time was the biggest online marketplace.
During the past 10 years Amazon grew to become the largest marketplace in the western world, so there's no better eBay alternative than Amazon.
To explain how dominant Amazon is consider the following figure:
Amazon was responsible for 44% of all U.S. eCommerce sales in 2017. - according to One Click Retail, an eCommerce analytics provider.
Moreover, Digital Commerce 360 found that 91.8% of surveyed consumers purchased from Amazon in the past year, compared to 72.4% from eBay.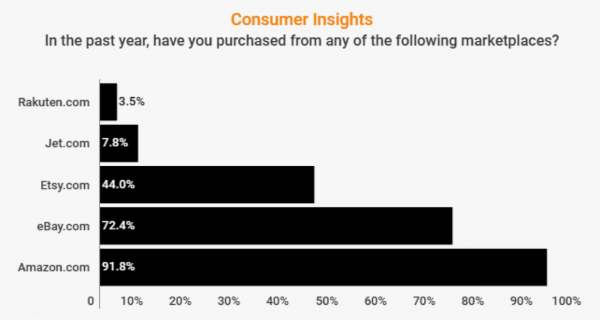 For savvy eBay sellers who are looking to expand their business Amazon seems like a natural expansion strategy, and rightfully so.
There are, however, differences between the two marketplaces which you must be aware of.
I'm going to explain the 5 most crucial differences between eBay and Amazon, without knowing them you're setting yourself up for failure.
#5: Amazon listings are structured completely differently (for now..)
This is one of the biggest visible differences between Amazon and eBay.
On eBay, every seller creates his own listings with his unique product descriptions and the eBay search engine (named "Cassini") arranges all the listings. Buyers will then find multiple listings for every item and decide from who to purchase.
On Amazon, on the other hand, products are only allowed to be listed once, so you must associate your products to an existing listing (check out our complete guide of Amazon listing tips for more helpful info on how to optimize your listings).
Here's an example of the an Apple MacBook Pro Laptop: on eBay you will find 18 different results (18 different sellers, each with his own listing), whereas on Amazon there is just one listing with 30 different sellers offering the same model.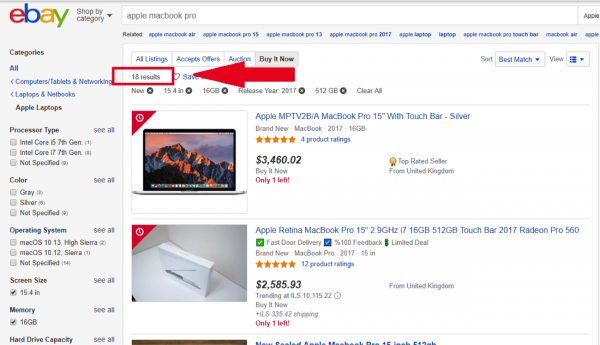 Only very large merchants get the option to have their own unique store on Amazon with additional listing design features.
Important note: eBay is currently in process of transitioning to the "Amazon structure", they call this project "product based shopping experience".
eBay realized that having to manually sort through 100's of listings offering the exact same item from different sellers is an outdated practice. The goal is to make shopping experience easier.
No one can tell how long the transition will take, eBay own estimates talk about few years until all the relevant product categories will be arranged this way.
Your takeaway: There is no listing design differentiation on Amazon and you won't have control over the listing. You will be one of many sellers offering the same product on the same listing, find your competitive advantage elsewhere.
#4: Amazon seller requirements more strict
Amazon is known to be a very safe marketplace for buyers, one of the main reasons for this is that Amazon is extremely strict with its sellers.
It starts with the approval process to become a business seller on Amazon, which involves a considerable amount of paperwork to be submitted in order to prove your identity and your business legitimacy.
The process is even stricter for other Amazon programs like FBA or Amazon Exclusive.
Side note: For relatively new eBay sellers this may sound familiar as eBay added similar requirements in the past few years but if you started selling on eBay over 10 years ago you may remember that it was as simple as creating an eBay account, connecting Paypal and listing products.
Once you've been approved as a business seller on Amazon you can start selling, but from there you must maintain your account health by complying with all the various Amazon seller policies:
Product detail page rules
Shipping policies
Policies and agreements
Selling Policies
Prohibited seller activities and actions
On top of that you have to reply consumer questions within 24 hours, Never ship late, handle returns promptly and avoid negative reviews.
Failing to withstand with one of the above may lead to a suspension, and suspensions by Amazon can easily be permanent. For more info on how to avoid Amazon suspension, check out our guide on Amazon suspension prevention.
Your Takeaway: Read all the Amazon seller policies and prepare your business to operate within the rules (if you cannot dispatch in 24 hours, don't set handling time to 1-day!)
#3: Amazon may turn to your direct competitor
This is a well known fact by now, but in case you didn't know: around 50% of Amazon's revenue comes from selling its own brands.
Since 2017, Amazon has gone on a private-label rampage by releasing at least 60 of its own brands predominantly in clothing, shoe, and jewelry categories.
Amazon now sells more than 100 of its own brands, competing directly with your products.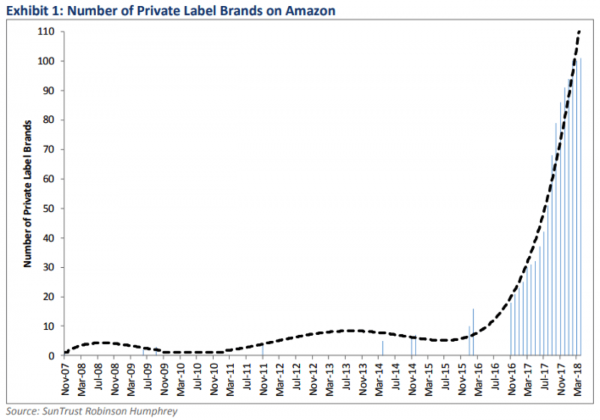 #2: Amazon seller fees are generally higher
eBay charges 10% Final value fee on most of its categories, while Amazon charges 15%.
On every sale on eBay you will have to pay Paypal fees which are usually 2.9% plus a flat rate of $0.30.
There are other fees on both platforms but they become less influential as you sell more so in general it is cheaper to sell on eBay.
Moreover, If you decide to use Amazon's FBA program your selling fees will go up substantially.
Your takeaway: calculate your profit margin on Amazon and decide on a pricing strategy to maintain profitability.
#1: Sync your inventory
I'm not going to explain why managing your inventory across multiple channels is crucial, I believe you're aware of that already.
What I am going to shed light on is how managing inventory affects on your bottom line, and the impact can be immense.
Consider this figure: $1.1 trillion in yearly revenue is lost due to over or out-of-stock issues.
Let's dive into the reasons:
First and foremost, inventory sync allows you to expose ALL of your inventory on ALL your sales channels thereby allowing you to maximize sales potential.
Managing inventory correctly can help lower the price of your product and increase how quickly you can deliver it. The reasoning behind this is if you are out of stock you may be forced to buy your missing products from a more expensive supplier in order to avoid order cancellations which may lead to negative feedback and losing the customer for good. Even if you are able to source the product, it will still take more time to deliver which may leave a negative impression with the customer.
Following this logic, when you deliver items quickly and efficiently your customer satisfaction goes up and this is more likely to turn them into repeat customers and motivates them to recommend your product to friends. And again, the reasoning is that when your stock is synced you are able to deliver products in a timely fashion since you only offer what is available.
Not properly keeping track of inventory can lead to demand outpacing supply which may cause you to up your prices or you buying from more expensive suppliers in order to meet demand – either scenario is bad for business and hurts your bottom line