What do you want to learn?
Benefits of inventory management
Options for inventory management software
More goods are being sold online than ever before, which is why it's increasingly important for businesses to know where their products are at all times, to organize their products effectively, and to understand when it's time to reorder so they can avoid frustrations with fulfillment.
Having a reliable ecommerce inventory management solution is foundational for any brand that wants to stay ahead of its competitors and delight its customers along the way.
What is ecommerce inventory management?
Ecommerce inventory management is the process of tracking the quantity, location, pricing and product mix of an ecommerce business across all channels. With ecommerce inventory management, businesses can easily identify which goods are in stock, understocked, overstocked or completely out of stock and adapt their operations accordingly.
Ecommerce acceleration has pushed brands and retailers to scale their warehouse footprint to accommodate a mix of new sales channels including marketplaces and big-box retailers. The days of a single internal warehouse are over. Modern ecommerce operators require visibility beyond their internal warehouses to include 3PLs, FBA, in-store inventory, dropshipping, and marketplace fulfillment centers.
By implementing good strategies and inventory management software, you can easily access information on which goods are in stock, overstocked, understocked, or out of stock completely preventing overselling, underselling, and marketplace fees.
Common challenges of ecommerce inventory management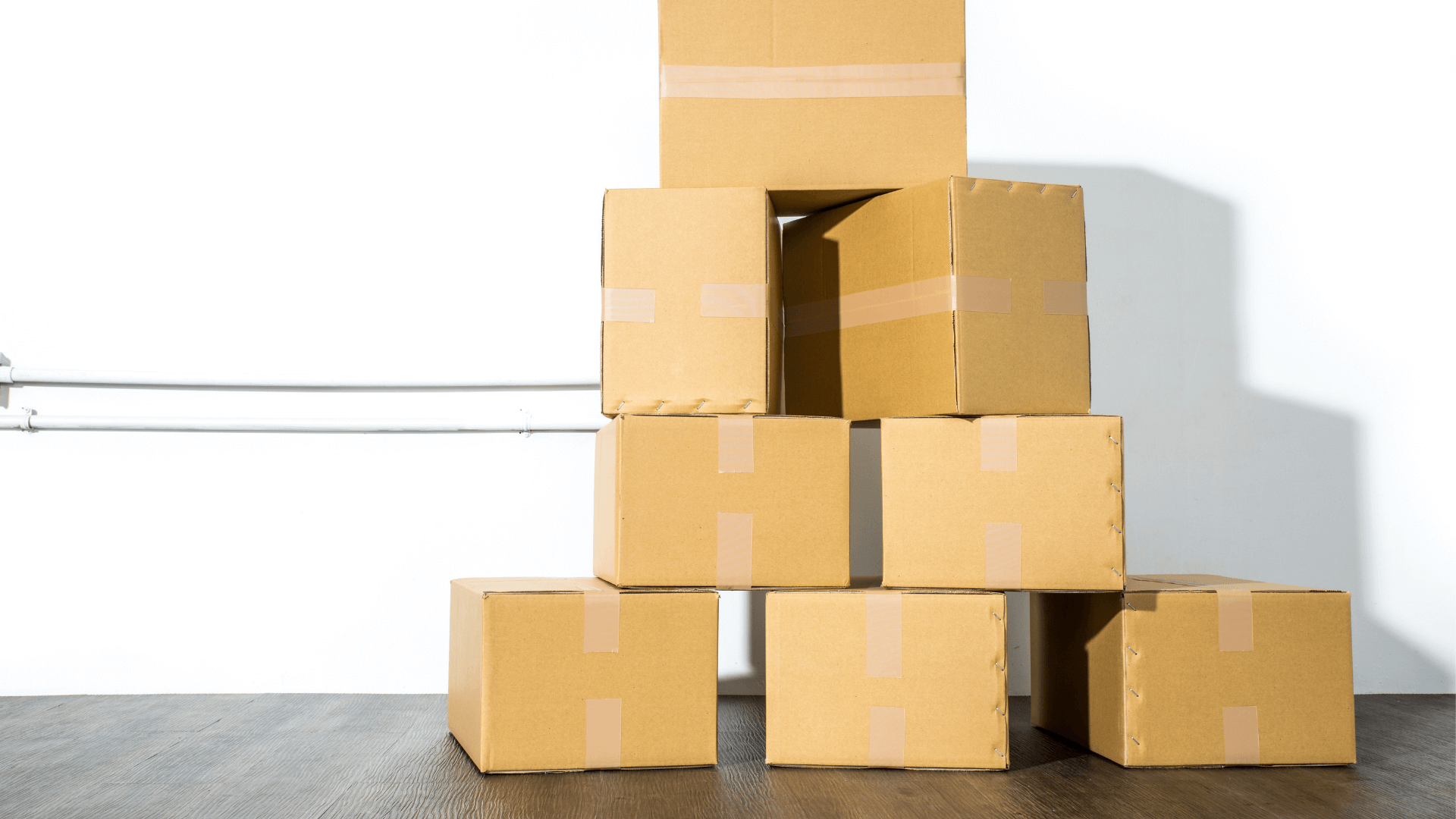 With the global nature of ecommerce, there is a major emphasis on inventory tracking at every stage of the supply chain process. Whether you're a new online store, a small business, or a veteran online retailer, it's imperative to recognize the pain points related to your inventory management process.
The following are a few of the key challenges ecommerce shops encounter when it comes to their inventory management.
Not having enough stock
If your business is facing a lot of demand but also facing consistent stockouts, you could have a big problem on your hands. Not having enough stock to fulfill sales orders is bound to have a few repercussions, whether it's shipping delays or disappointing your customer base.
Having too much stock
Overstocking is one of the most common challenges faced by ecommerce retailers. Having too much stock sitting in your warehouse could be caused by seasonality, certain variants selling better than others, or something else altogether. Regardless of the reason, overstocking is a significant risk to your bottom line, considering how much it costs to store unmoved goods.
Having stock in the wrong place
Does your company utilize multiple warehouses or fulfillment locations? If so, are you confident the inventory counts are consistent and accurate? When stock is in the wrong place, it can cause supply chain challenges by creating a bottleneck and slowing down the entire fulfillment process. It also costs more time and money to deliver products to your end-user when an inventory footprint is not optimized to match areas of high demand.
Having inconsistent safety stock
Safety stock is aptly titled, as it keeps your business safe in the event a huge wave of demand rolls in. If your safety stock isn't consistent (or if you lack any safety stock at all), it might be time to reevaluate your ecommerce inventory management strategy moving forward.
5 benefits of leveraging ecommerce inventory management software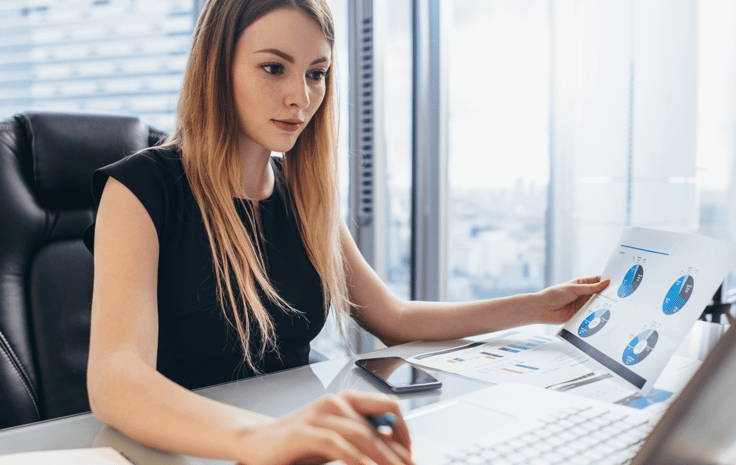 Running a successful inventory management operation can be a tough task; luckily, there are a number of systems out there that'll make things much easier on you. Inventory management software gives smaller businesses the ability to stay competitive, while also assisting larger companies with their more complex back-end processes such as new channel expansion, bundling and kitting, managing perishables, and reducing fulfillment and delivery times.
These are just five examples of the benefits ecommerce retailers can leverage when they incorporate management software into their day-to-day.
1. Consistent stock counts
Consistent stock counts are an important ingredient to ecommerce success, as this practice is known to increase gross profit, reduce loss, improve control of allowances, and minimize waste.
What's more, ecommerce inventory management software can conduct regular, real-time counts to aid in uncovering potential theft, improving your stock ordering process, finding flaws in your pricing strategies, and ensuring your company is meeting its ongoing goals or targets.
2. Safety stock level monitoring and setting
Maintaining sufficient levels of safety stock is a major boost to any online business. Safety stock helps to mitigate risks and ensures that once your cycle stock has run out, you're still prepared to fulfill orders should there be an unforeseen change in supply and demand.
And by using ecommerce inventory management software to monitor your safety stock, you can better compensate for inaccuracies in forecasting, prevent disruptions in manufacturing or deliveries, and avoid stock-outs to keep customer satisfaction high. You can also add automation rules to ensure once safety stock is depleted, a new purchase order is issued.
3. Automatic reorder points
Automatic reorder points are another incredible benefit of implementing ecommerce inventory management systems. With reorder point automation, retailers can avoid using the reorder point formula, receiving products too early, reduce their inventory costs, and optimize their warehouse spaces with ease.
Additionally, this feature supports replacing feelings with concrete facts and data and can save your team a great deal of time to then be used on value-added activities.
4. Accuracy across multi-sku inventory & multi-warehouse storage
Where would your company be without accuracy for its SKUs and storage? Although accuracy is a crucial component of your online business, it's too often overlooked or undervalued.
But thanks to ecommerce inventory management software, upholding accuracy across multi-sku inventory and multi-warehouse storage has never been easier. These systems help to manage demand across multiple spaces and can control inventory levels better (and simpler) as compared to manual programs or excel inventory management protocols.
5. No human error
Speaking of improving accuracy and moving away from manual systems, using ecommerce management software is the best approach to eliminating human error within your operations.
If your team continues to make inventory management mistakes, those can really start to add up and cost your company profits in the long run. Automated systems, on the other hand, deliver precise and reliable results, and demand less time and energy from your team, as well.

The best options for ecommerce inventory management software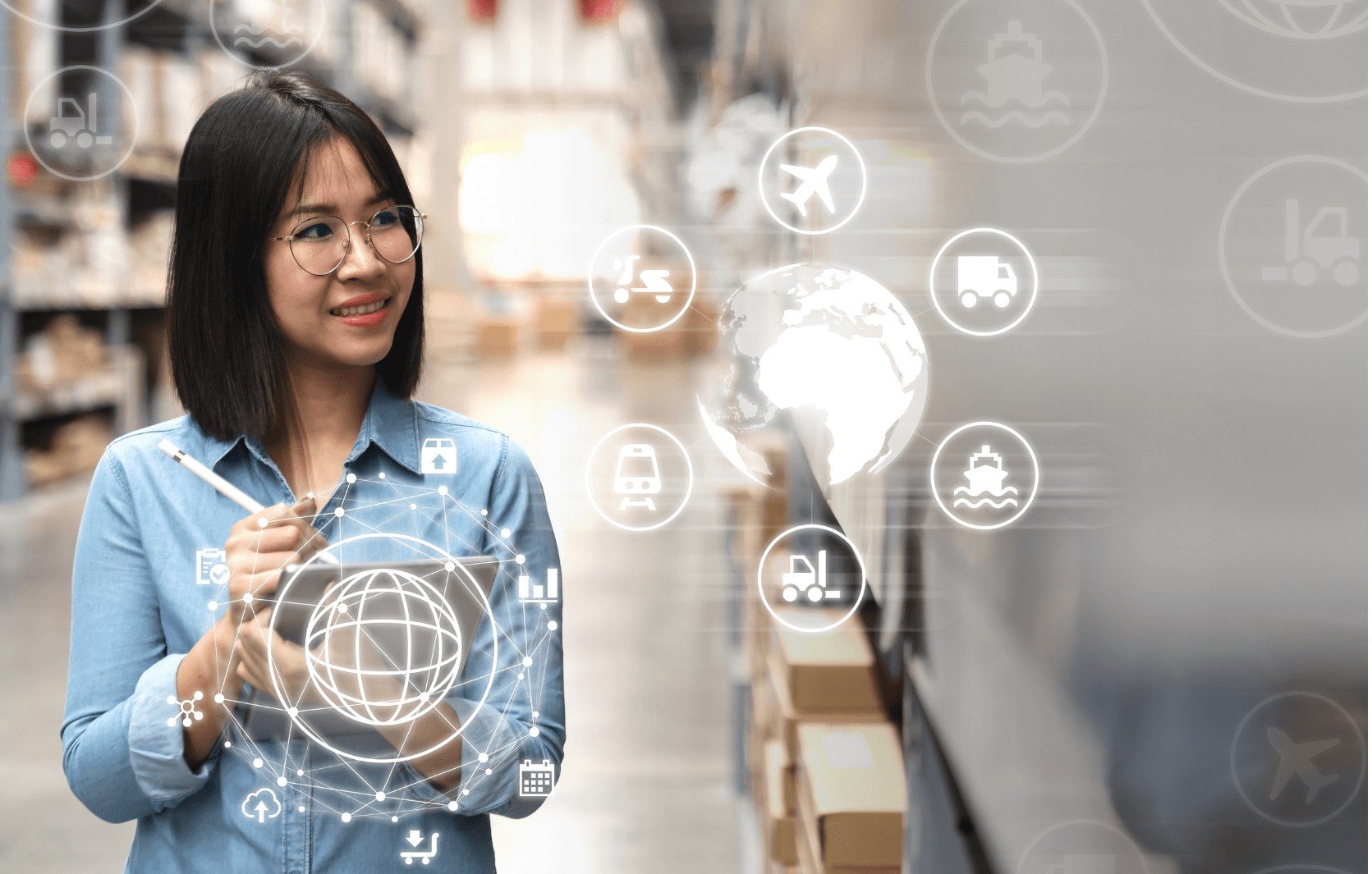 If customers aren't getting their products within the given time they anticipated, or if you're selling products at a faster rate than you're able to fulfill, you're inevitably damaging those relationships with shoppers and suppliers alike.
Ecommerce inventory management software can correct these common miscalculations, in addition to offering some much-needed insight into where products are at any stage of their life cycle. This list highlights the best management software in six different categories, each system with its own unique pros, cons, and reasons to purchase.
Best solution for multichannel inventory management: Extensiv Order Manager
Extensiv Order Manager is an operations platform that supports order fulfillment, inventory, and business intelligence for retailers who have their sights set on multichannel profitability and streamline operations.
With Extensiv Order Manager, businesses can synchronize their data from sales channels, warehouses, 3PLs, POS systems, purchase orders and more, which means merchants can instead focus on growing their brand and providing a superior customer experience. Extensiv Order Manage unifies real-time data from inbound orders to shipping rates. With a fully integrated App Store, and one-click integrations, ecommerce brands using Extensiv can connect to 3PLs, dropshipping solutions, barcoding tools, analytics providers, and more. Extensiv is also built with native integrations into Amazon, BigCommerce, Shopify, Etsy, Ebay, Walmart and more
With Extensiv, you can sell direct-to-everywhere. Unique to the platform are Orderbots that automate operational tasks to transform multichannel complexity into singular clarity. Real-time data helps minimize storage costs, eliminate deadstock, avoid stockouts and balance inventory turnover ratios. In-depth unified data allows operators to zoom into channel fees, velocities, profitability per SKU, FIFO serial tracking, and customer insights.
Best solution for inventory barcoding: Extensiv Warehouse Manager
Extensiv Warehouse Manager offers multiple cloud-based barcoding and warehousing tools for ecommerce businesses and online retailers struggling to secure visibility and validation across their inventory control operations. Its topShelf solution is designed to help warehouse managers print detailed barcode and tracking information for complete inventory control. Manage assets, bins, or SKU numbers for multiple warehouse locations and have all of that data seamlessly sync with your inventory management system.
Extensiv Warehouse Manager's convenient topShelf inventory management software, allows you to set up on-premise barcoding at all of your fulfillment locations. The topShelf system gives you the ability to manage your entire product catalog, generate barcode labels for specific products, and print directly from a smartphone or tablet wherever you are, whenever you like. Extensiv Warehouse Manager also supports add-ons like managing all of your warehouse locations (all at the same time) through your mobile device and delivering real-time inventory updates and alerts on potential problems before they occur.
Best solution for inventory analytics: Daasity
Daasity helps multichannel merchants unlock data and insights essential to the growth and optimization of their business. Their software offers inventory data analytics designed for non-technical users, meaning it's easy to understand and translate into real results. With Daasity, your online store can move beyond basic reporting, and utilize holistic sales data broken down into individual channels and fulfillment methods.
The Daasity platform empowers retailers to maximize their profits by cutting costs and driving revenue through omnichannel analysis for a more informed decision-making. This fast and flexible solution gives you a clear view into inventory performance across all channels and data sources. It can also be customized to meet the specific needs or requirements of your business or specialization. It is the perfect data solution for small, midsize and high-growth ecommerce businesses looking for a data partner that can integrate with their existing systems.
Best solution for inventory forecasting: Inventory Planner
As a leader in online inventory forecasting and inventory control, Inventory Planner is equipped with automatic replenishment recommendations to simplify the reordering process. Using unified sales and inventory data, it can compute sales forecasts for thousands of products in just minutes. Inventory Planner also identifies trends and provides powerful reports showing what's going on with your business, so you can invest your time and capital in the right places.
Inventory Planner saves valuable time on purchasing by sending purchase orders straight to suppliers based on velocity, lead time and other sales metrics. It also keeps track of outstanding orders, expected arrival dates (similarly to an arrival notice), and received inventory items. When it comes to optimizing your cash flow, you can view all of your sales trends and inventory needs in one place, making it easy to control what products need to be replenished at each warehouse, across every unique sales channel.
Best solution for warehouse dropshipping: Inventory Source
If you're a retail business in need of dropshipping automation and an integrated supplier network, you'll likely benefit from incorporating Inventory Source into your daily operations. When using this software, you can automatically upload products, sync inventory items, and route orders with dropship suppliers to nearly any ecommerce channel.
More specifically, you can integrate your supplier's inventory to instantly upload product data and connect inventory quantities with over 25 different online stores, marketplaces, and multichannel management platforms. And since the Inventory Source app gives you mobile access to a handy user interface and reliable integrations, you'll start seeing results in no time - wherever you are.
How to maximize your growth: Extensiv Order Manager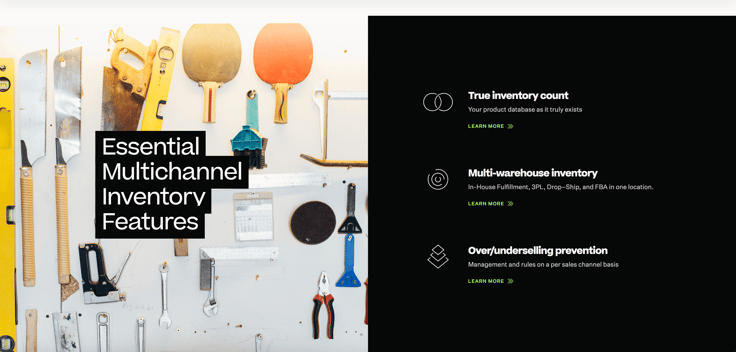 Unify
A unified platform brings clarity to everything you do, and one of the best ways for your ecommerce business to achieve unity is by partnering with Extensiv. In addition to tracking pricing, minimum order quantities, and production lead time across every supplier, Extensiv can also unite your entire multichannel landscape within just one dashboard.
This single dashboard can reduce friction and inefficiency among your team, while also identifying patterns and opportunities your company can lean into for continued growth.
Automate
When you automate your processes with Extensiv Order Manager, you'll be amazed at how much better your supply chain and fulfillment flows. Extensiv Order Manager's automated inventory software can enhance a variety of daily operations, whether you're a retailer or a DTC business.
Automations are currently available for replenishment and purchase orders, delivery of customer orders, inventory tracking across multiple warehouses, multichannel inventory management, and syncing order and fulfillment data from every sales channel.
Grow
What business doesn't want to experience growth, surpass their goals, and exceed customer expectations? To attain quality, scalable growth, you have to pair intentional effort with the right tools. Fortunately, Extensiv Order Managers cloud-based system has all the functionality your company needs to consolidate analytics, maximize your best channels, and grow at every level.
The forecasting features from Extensiv will help your business increase its profits across every warehouse and channel, all the way down to the SKU. Plus, users can find profits, track savings, and discover new opportunities to improve their bottom line.
If you run an ecommerce store, effective inventory management is a must — and Extensiv can simplify every step of the process. Extensiv serves as a single home for everything you sell, provides tools to organize your orders, and offers data insights that'll power your growth.
See for yourself, by booking a free demo from Extensiv today!
Conclusion
Ecommerce and multichannel selling is much more involved than operating brick-and-mortar retail, which is why it's so important to incorporate the right technology to help you understand what your supply chain looks like.
With ecommerce inventory management software, retailers can stay on top of all the details that tend to slip through the cracks, and achieve greater success in both the short and long-term.
Keeping up with your inventory is a big job, and it's likely to bring about a few questions from time to time. If you've ever wondered how to manage your physical inventory, or whether Extensiv can pair with your ecommerce platform, read on to learn more.