Freed from the confines of conventional retail outlets, online merchants have a decent number of marketplace options to flex their sales muscles on.
But ask for their preference, and you'll only hear a few names. Perhaps just one if you asked a few years ago… Amazon.
Over the years, Amazon.com has dominated the e-commerce space, aggressively competing on high-ticket, high-volume items, while enabling marketplace sellers to fill digital shelves it intentionally leaves empty.
But, though Amazon still dominates the marketplace selling space, you might be surprised to learn that many sellers are looking at how Walmart works vs. Amazon.
Walmart.com For Sellers
Walmart has entered the long game by rewriting its e-commerce strategy. Mid-2016, Walmart.com was the second-most-popular e-commerce site in the US in terms of traffic, with 88 million unique visitors per month, and the third largest in terms of sales. It also acquired Jet.com to widen its product assortment and expand its reach while improving infrastructure for order management and delivery.
The retail giant hosts items from more than 1,000 sellers, mostly US-based merchants and global sellers that handle and fulfill stock from the US. Walmart.com sells more than 15 million varieties of items, and about 1 million items are added to the assortment per month. Walmart's superior supply chain management has allowed them to generate revenue from seamless inventory management and restocking.
While its seller portal has a lot of catching up to do on Amazon's Seller Central, the plethora of upgrades and new developments (especially regarding Walmart inventory management) have forced online sellers to give a thought to Walmart marketplace. Less competition seems to be an added benefit.
Listing Items on Walmart
Before anything else, you need to sign up on the Walmart Marketplace platform. Walmart selects sellers based on sales projections, reputation and alignment with their values. Your sales records, order defect rate, return policy, customer support, Buy Box success, and seller ratings on other online marketplaces will be taken into consideration.
Also important: Walmart favors brand owners over retailers, so if you have products to sell with your ownership and brand name, Walmart will give you more preference over other sellers. If you are a general merchant, you will gain bonus points by assuring the lowest price for your offerings.
Start by analyzing your SKU distribution, then go to marketplace.walmart.com to request an invite. You may have to queue up for some time before Walmart inducts you into its marketplace.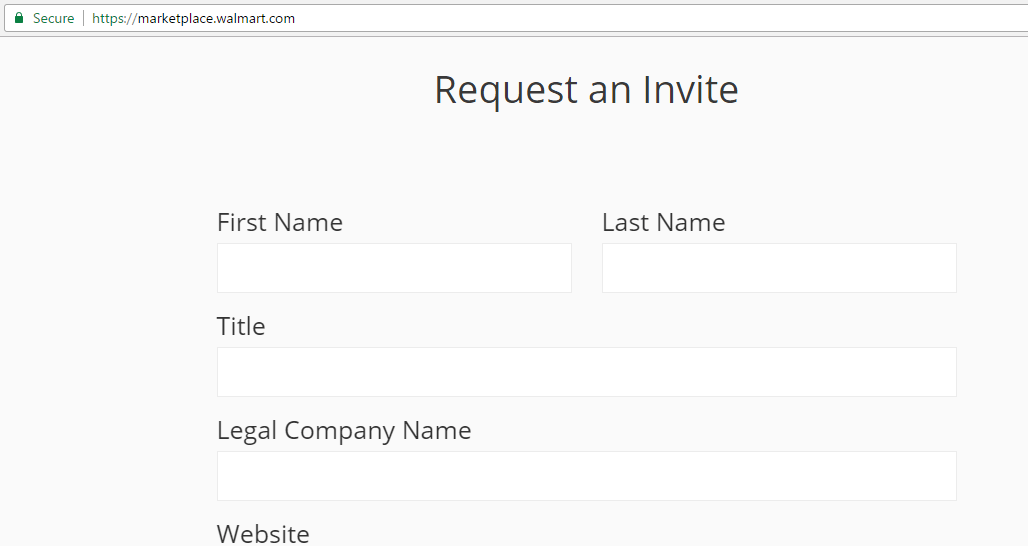 Amazon, on the other hand, doesn't have a rigorous application process, and isn't invite only. However, it costs $39.99 a month to sell on Amazon. Both Walmart and Amazon take commission on sales.
Once you gain access to Walmart's Marketplace Seller Center, you can take advantage of the following features:
Settings Management
Reporting & Analytics
Bulk File Uploads & APIs for integration
Seller Tools & Support
Knowledge Base
Customer Feedback
Campaigns & Promotions
And more.
However, complete your seller setup first. Log into the Seller Center to choose your integration method. Walmart offers API and Bulk Upload integration. Select the former if you have a large catalog of items to list and some technical know-how. The Bulk Upload method requires you to insert catalog information in Excel; most sellers are familiar with this integration process. Sellers with a limited catalog should choose this option. The Excel file needs to be uploaded in the "Add New Items" section.
Once done with integration, you can move to item setup. For the purpose, you'll need to…
1. Choose a Category & Subcategory for Your Products
Walmart offers 24 categories that describe the specific attributes needed for an item inclusion. Be sure to choose the right category for your items.
2. Store Images on a Publicly Accessible Server
While you're setting up items, Walmart.com requires the URLs of your product images to be stored on a publicly accessible server. It also gives an option to host images with Walmart. In either scenario, your images should meet the Walmart image guidelines to go live.
3. Insert the Details of Your Items in the Item Setup Feed
Walmart APIs Portal will enable you to download XSD template according to your items' category. In case of Bulk Upload, item feed information needs to be sent in Excel files. Visit the Seller Center to download the template based on your items' category. Read this if you want to create variant groups or list refurbished products.
4. Upload Item Feed Files
Sellers with technical know-how can use API authentication to upload the item feed files. For Bulk Upload, the item feed file should be uploaded to the Seller Center. If any items fail to upload, or you find a data error, fix the issue and re-upload. System errors aren't your headache; contact support if you experience these.
5. Preview Items & Test before Publishing Your Listings
After the setup, preview your items to know what your product descriptions and pricing will look like to a customer before you publish your entire catalog on Walmart.com. You'll also be able to see the Buy Box price, so the preview gives you the opportunity to adjust pricing.

For order testing, you can publish specific items. Once you're done with reviewing the published items and testing orders, select "Mark as Done" for "Complete Item & Order Testing" in the Seller Center. Your item listings will then go live.
Getting Ranking Traction on Walmart – Recommended Practices
Getting accepted as a seller and listing products on Walmart is far easier than getting noticed by your target audience. Below is a list of recommended measures to help you manage your presence on Walmart.com profitably.
1. Optimize Item Descriptions
Like on Amazon, item descriptions play an essential role in helping prospects find your products when they enter a related keyword or phrase in search engines. SEO (search engine optimization) will play an important role because the higher your listing is ranked, the more likely prospects are going to come across it.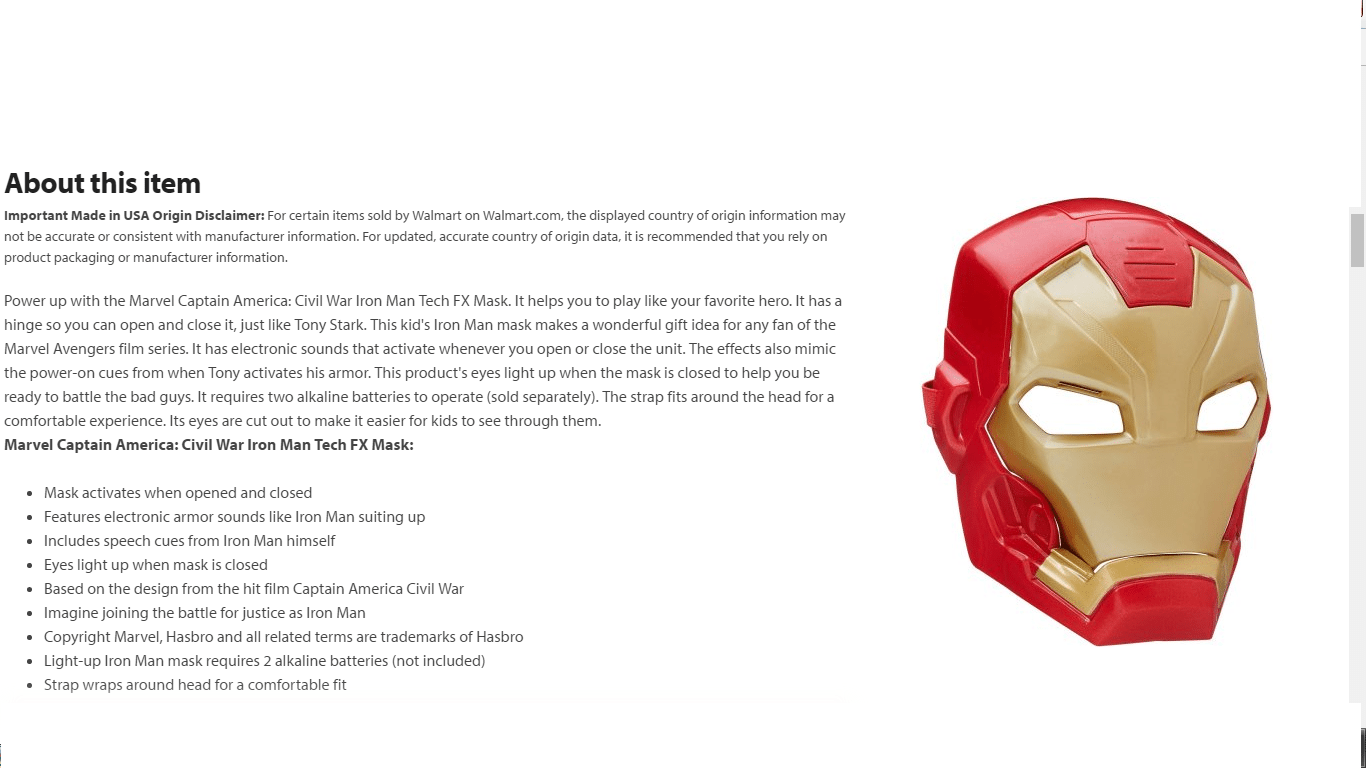 Therefore, your item descriptions should include important keywords, but ensure you're using a tone that humans can relate to, as in the image above. In addition, you should add multiple images for the product; people want to view items from different angles to get a 360-degree insight on its physical aspect.
Additional tips to implement:
Mention the brand, item name, and keywords describing the product's advantages and features. Also, include related phrases customers may search for.
Don't be afraid to include facts and tips. Doing so will show your credibility and expertise.
Search relevant attributes for your products on Walmart.com and include them to help users find your items when they navigate through the Walmart marketplace.
2. Practice Competitive Pricing
The price is one of the factors that impact your ranking on Walmart.com. It is also taken into consideration when determining the Buy Box winner. With that in mind, ensure that your landed price - i.e. item value + shipping - is competitive.
As mentioned earlier, you'll be able to see the Buy Box prices when you preview items, and adjust your prices accordingly. If you've already published an item's price and you want to adjust it later, you can follow the steps here to do so.
3. Achieve and Maintain Positive Reviews + Ratings
Walmart invites customers to rate and review the items they buy from its marketplace. Positive reviews with a picture or video of your item could work wonders for your ranking. If you know buyers who have enjoyed your item, encourage them to rate and review.
Also, proactively monitor the average rating of your seller profile (it's a breakdown of the number of reviews you've received). If you see negative comments from buyers, reach out to them to address their concerns as quickly as you can. Be polite while offering a solution, and you may manage to turn things around.
4. Achieve Greater Than 99% On-Time Shipment Rate
On-Time Shipment is a metric that impacts your ranking and seller scorecard. Walmart wants you to confirm order shipping on or before the ESD (expected shipping date). Late shipping will negatively impact your on-time shipment rate as well as increase negative feedback. Read this guide to know more about estimated shipping and delivery dates.
The orders that impact the on-time shipment rate include units that were not shipped, units that shipped a day or more late, and units that shipped late by less than 24 hours after ESD. In the fulfillment section inside the Seller Scorecard (this can be accessed via the Insights and Analytics section in the Seller Center), you'll be able to identify the orders that negatively impact your on-time shipping rate.
5. Unit & Sales Cancellation Rate Should Be Less Than 1.5%
Unit cancellation indicates what percentage of sold units have been cancelled. The sale cancellation metric specifies what percentage of overall sales have been cancelled. More than 1.5 percent shows that there is room to improve your inventory.
In addition, try to reduce your refund rate. You can see refund requests in the order management tab in the Seller Center. If customers are requesting a refund due to product quality, selling price or accuracy of content, you can perform checks on these areas to ensure you're not inviting order refunds. For instance, a quality check can be performed on the inventory to ensure you're meeting quality standards.
Some Other Ranking Factors
Conversion Rate: The number of people who bought the item over the number of people who viewed the item page. You can achieve a higher conversion rate by increasing the inventory of best-selling items. The Best Sellers report can be accessed from the Insights and Analytics tab in the Summary Report link.
Sales Revenue Record: You can see the total retail sales you make in a particular year. While Walmart doesn't define how overall sales impact a seller's rank, it is likely that a seller whose sales grow year after year will be given ranking preference over a merchant whose sales continue to decline.
Outside Views: Though it may not have a major impact on rankings, pageviews and impressions coming from social media websites, forums, etc. are taken into account to some extent. They imply that a seller has authority outside of the marketplace as well.

Driving Traffic to Walmart Listings
The beauty of online marketplaces is that they give you access to a massive customer base, and most of those people are already in a shopping mood. Nevertheless, you can increase profitability by driving traffic from outside sources to your Walmart listings. Here are some tried and tested strategies to boost external traffic to your product pages.
1. Utilize Google Adwords
If you have a Gmail account, you can login to Google Adwords to create ad campaigns. Focus on long tail keywords and the brand name you're selling on Walmart. Make sure your ad includes important details about the product, such as the material used, the color available, and the product type.
Apart from Google Adwords, you can also utilize online advertising networks such as Outbrain and Taboola. You may end up paying more for the ads you create on these networks, but they'll be posted on credible websites. This could give your products some authority as consumers see them displayed on renowned sites.
2. Leverage Facebook Ads
Many sellers have concerns about the time, cost and effort needed to learn how to market on Facebook. In reality, however, it is a straightforward process and the ROI can be immense. You just need to setup a Facebook brand / business page, and create ads by going into the advertising manager.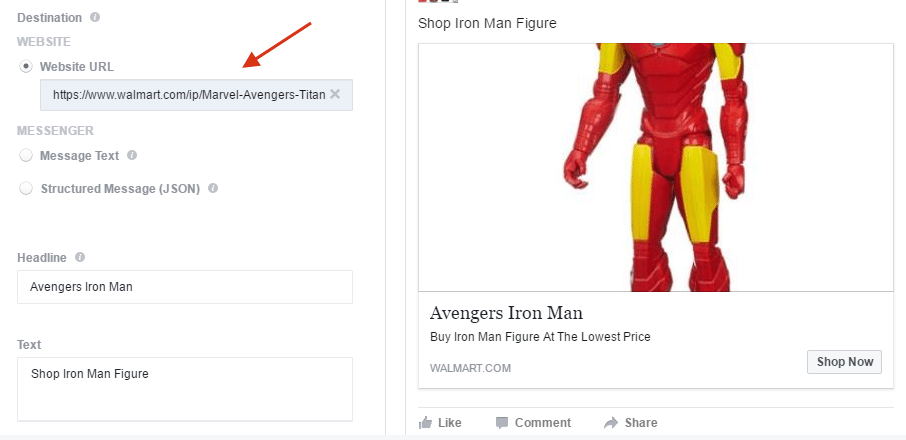 Choose "Traffic" as the campaign's objective to send people to your Walmart listings. This will require you to enter the URL of your Walmart item pages in the URL / landing page section of the ad creative. You can create different variations of adverts (videos, images, slideshow, carousel, etc.) and experiment to see which ad variant results in the highest conversion.
3. Host a Giveaway
Walmart doesn't offer a giveaway feature to sellers in the Seller Center, but they can host one externally on social media. If you have a website, create a separate landing page for the giveaway. Tools like AgoraPulse will allow you to easily create and host contests.
Ask your target audience to complete a list of steps to be eligible to win. For instance, you can ask them to share your item page on social media or subscribe to your email list. The latter option gives you the opportunity to reach subscribers directly. Design an interesting newsletter that includes your Walmart URLs and send it to your subscribers.
4. Collaborate With Influencers
Influencer marketing enables you to utilize the authority of bloggers and social media personalities to drive traffic to your Walmart product pages. You can use Buzzoole and other similar platforms to search for influencers and then work with them to build creative campaigns.
For instance, if you're selling cosmetics on Walmart, you can collaborate with influencers from the "makeup & beauty" niche. Send your influencers a few samples to review and inform them that you want your items' links to go up in the caption / blog post they make.
You can implement these traffic building strategies individually or simultaneously depending on the time and resources you have.
Key Differences: Walmart vs. Amazon Platform
The obvious difference is the time it takes to create a presence. Walmart is invite-only, and it can take 2-4 weeks before your application is approved. Also, you should have a good history of marketplace selling as Walmart is looking for credible sellers. Amazon, on the other hand, allows anyone to create a seller profile. Merchants pay $39.99 a month to have a presence on Amazon.
Another key difference is that Walmart has a smaller SKU footprint. Even though it's adding a million each month, it's quite small compared to Amazon's 260 million and growing SKUs. However, Walmart is growing at a fast pace, and the brand is recognizable all over the world. Therefore, the difference shouldn't be a worry for Walmart marketplace sellers.
Also, less SKUs combined with an invite-only rule means there is less competition on Walmart. If you manage to get in, you have a good opportunity to stand out, especially if you follow the recommended practices to increase rankings. Amazon has more than 2 million third-party sellers, so it is a more competitive marketplace.
In addition, the Walmart Buy Box just requires you to offer competitive pricing and that your products are in stock. In contrast, the Amazon Buy Box accounts for a merchant's price, sales performance, order defect rate, fulfillment, and several other factors. The Walmart Buy Box may get more sophisticated later, but as it stands, winning it is easier than winning the Buy Box on Amazon.
Then there's the difference of fulfillment. Unlike Amazon's FBA options, where Amazon fulfills a part or all of your inventory, Walmart sellers are solely responsible for fulfillment, including managing shipping, returns, customer service inquiries, refunds, etc. Though this enables Walmart to be more comfortable when it comes to scaling its merchant program, it is looking at offering something similar to Amazon's FBA to third-party merchants, according to a report.
Lastly, there aren't as many third-party software or methods that work for Walmart as are for Amazon. For instance, if you sell on Amazon, you can use FeedbackFive or another similar software to proactively manage feedback score, solicit feedback automatically, monitor trends, request negative feedback removal, and even manage product reviews. There isn't any such option available for Walmart's third-party sellers at the moment.
Extensiv Integrates With Walmart & Amazon
Extensiv Order Manager's software integrates with the API of Walmart and Amazon with a click of a button. You get a dashboard that enables you to manage your inventory across either marketplace, automate the fulfillment process from checkout to fulfillment, including shipments and order management, manage sales, prevent overselling, and monitor and control your inventory with the help of analytics. Over time, Extensiv Order Manager can help you improve profits as you streamline your operational processes.