Let's bust the myth of the Amazon Buy Box. Repricing is not a race to the bottom. At XSellco, our team of data analysts set out to prove that the lowest price does not always win the Buy Box.
In the first week of using XSellco's Amazon repricer, data experts discovered that sellers experienced a one percent decrease in their selling price, but after 30 weeks the selling price always increased, as did their profits. What this study uncovered was that Amazon's algorithm looked at the overall experience - not just the price - by considering other factors that impact on the customer experience.
If you find that your products are locked into a price war on Amazon, you need to work to your strengths and use the other weapons in your armory - customer support, feedback, and fulfillment. High performance across the board allows you to win the Buy Box at higher prices and complete the sale with a higher net margin, and thus avoid a price war.
How does repricing work?
Repricing is a simple process that helps online sellers win the Buy Box by ensuring that they are always selling at a competitive rate. Outlined below are the steps to winning the Buy Box, as carried out by XSellco's Amazon repricer.
You or your competitor makes a price change
Amazon notifies your integrated repricer of the change
Your repricer calculates the new price
Background safety checks are carried out to protect minimum and maximum prices
Your repricer notifies Amazon of the price change
Amazon's Pricing Error System checks the new price
The new price is updated on Amazon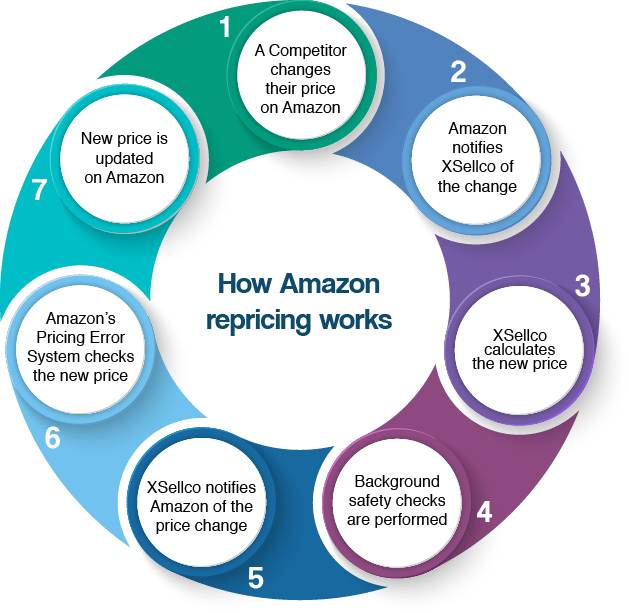 How fast do price changes occur with an Amazon repricer?
Repricers vary, ranging from hourly to 15 minutes to real-time. Here's an example how a price change occurs with an automated repricer.
It all starts with a price change, which is activated either by you, or one of your competitors. Amazon notes the price change and this is picked up by your repricer. The price manager checks your rules, then carries out safety checks on your minimum and maximum prices. The repricer then adjusts your price to compete. For Xsellco, this all happens in under 100 seconds.
Win the Buy Box and always make a profit
When the final sale price is constantly changing in reaction to competitor price changes, and when your cost of sales, including Amazon fees and sales tax, depends on your landed sales price, you can run the risk of selling at a loss. However, we are not here to win the Buy Box at any cost - we are here to make more profit. Net margins are critical to any business success, so this is something you would need to consider when choosing a repricing tool. Repricers should manage your net margin, so you never make a loss, and always ensure a profitable return on your sales.
Pro-Tip: The key to success on Amazon is consistency. Amazon top sellers have a proven track record of high-performance metrics, and they consistently deliver an excellent customer experience alongside a smart pricing strategy.
The XSellco repricer prices both up and down - a unique feature for an Amazon repricer. With high seller metrics, online sellers can afford to price higher than their competitors. With high seller ratings and a reputation for great customer support, you can manipulate your pricing to reflect your high standards of service.
Amazon top sellers never follow the price dive
Be a leader
The way to be a leader on Amazon is to avoid getting too caught up in price wars. Drive more sales based on your strengths, and how well you know your competitors. Is your competitor eligible to win the Buy Box? If your rival has low-performance metrics, you can still win a share of the Buy Box - at a higher price.
Be patient
Don't jump onto the sinking ship when other sellers are descending rapidly below your minimum price. The wise seller will wait until their competitor runs out of stock, and will be confident that their high operational standards will pay off to make them more profit. You can set competitor rules to ignore out-of-bounds sellers with low seller ratings who go below your minimum price. There is no sense in participating in a pricing war that decreases your profit margin when you can own a portion of the Buy Box share based on your high seller metrics.
Be on the lookout for competitors who may be discontinuing the product - don't get involved in plummeting your prices by thinking short-term. When that seller has sold their inventory, you have one less competitor which is a bonus - wait it out and let them sell out at their discounted rate. You can jump back in when the opportunity is there to sell at a rate you are comfortable with.
Know your competitors
Track your competitors' pricing trends, so that you know how low they are willing to price. You don't want to lower your prices to the minimum selling price constantly, and if you optimize your Buy Box share with high-performance ratings, you won't need to. You might also learn that one particular product has too much competition at a price below your margin - in this case use insights to make better business decisions on your current inventory.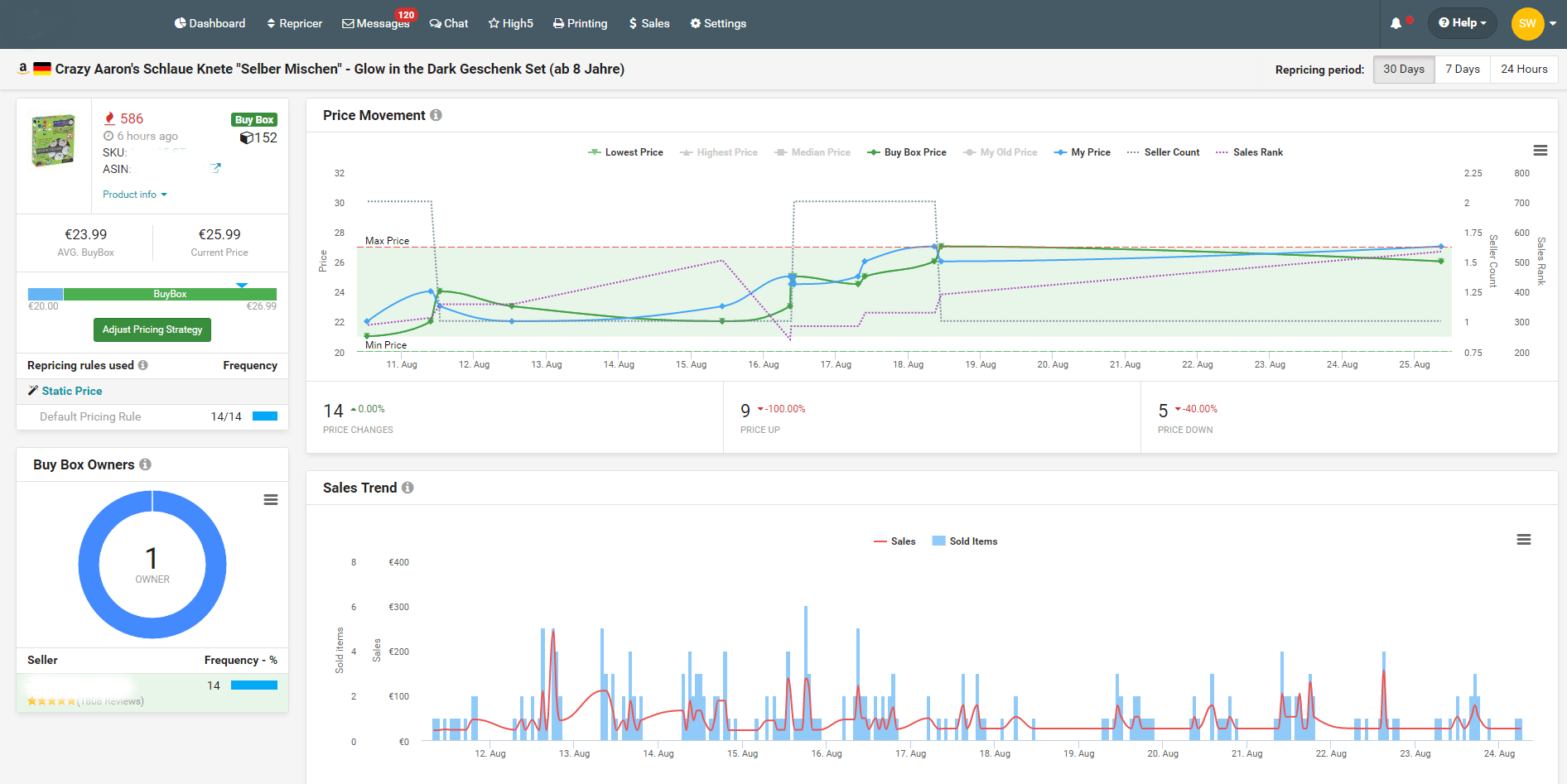 Smart targeting
You can't win the Buy Box on price alone. Look for a repricer with a complete set of competitor rules that allows your repricer to ignore out-of-bound sellers. This means that you won't have to compete with sellers at a price that would damage your profit margin. Consider some of the performance metrics that best apply to your business strengths and use these competitor rules to combat your rivals.
Fulfillment - FBA (Fulfillment by Amazon) sellers can beat FBM (Fulfillment by Merchant) to the Buy Box at a higher price.
Feedback - negative feedback must be below 5%.
Seller rating - score as close to 100 as possible, a rating above 95 is recommended.
Domestic v international shipping - customers prefer to order from domestic sellers. Domestic sellers can win the Buy Box at a higher price than international sellers.
Stock levels - price higher than your competitors when they are low on stock.
And there are many more ways to target your competitors...
Using data to win the Buy Box
Sellers who understand the dynamics of pricing on Amazon can make better decisions. The ability to see your competitors' pricing trends helps you to outpace them in a highly competitive environment. The right data will remove the complexity from knowing what your next step should be, and will help you to make the right decisions when setting up pricing strategies and rules.
Don't reprice blindly. Make informed decisions, by discovering what products are selling well and which ones are taking up valuable stock room space. Storage doesn't come cheap, so with the right answers, you can make the smart decision to re-stock profitable products to sell.
The right data will give you the answers you need to drive your business in the right direction. In order to get the necessary insights from the data, you need to ask the right questions.
Who is currently winning the Buy Box and how many times have they won?
What is my pricing history on each product and at what price have I won the Buy Box?
Why am I losing the Buy Box to another competitor?
How many sellers are competing on my product?
The top sellers on Amazon realize the strength that data presents to their business. Guesswork can be dangerous at any level, but if you can answer those key questions you can see the full picture and identify the opportunities that are available to you. With intelligence on the pricing movements of your competitors, your chance of winning the Buy Box is heightened.
Win the Buy Box with an intelligent repricing strategy
When you create a targeted repricing strategy based on your own business insights, you have the power to yield so much more profit from the many sales you make through the Amazon Buy Box. Test out your seller strengths with XSellco's Amazon repricer and discover how Price Manager users saw an average increase of 145% in sales in just 30 weeks.