For any ecommerce business looking to stand out in a crowded and competitive marketplace, the cloud is where it's at. In fact, more and more companies are moving on from their traditional in-house servers and software, to instead adopt cloud-based inventory management solutions. That's because cloud-based tools are superior in their speed and functionality, and likewise eliminate the errors (and headaches) related to singular, on-premise systems.
Read on to learn about the extensive benefits of cloud-based inventory management, as well as the best software on the market right now.
What is cloud-based inventory management?
Cloud-based inventory management is a way for businesses to monitor and maintain inventory levels online. Cloud-based inventory management is gaining popularity over traditional licensed solutions due to the flexibility it offers as users can access inventory data from anywhere and on any mobile or desktop device as long as they have Internet access.
Cloud-based inventory vs. traditional inventory management solutions
The core difference between traditional management tools and cloud-based inventory management has to do with location. Cloud services are hosted off-site, meaning your team can access the programs they need from wherever they are, so long as they have a solid internet connection. This off-site potential allows for more flexibility within your workflow, and lets distributed teams work together seamlessly.
What's more, cloud inventory management offers greater functionality and data integrity as compared to traditional systems. Cloud software supports better reliability, reduced costs, and more opportunities for customization, which lets ecommerce businesses simplify their daily operations and supply chain processes like never before.
5 reasons to use cloud-based inventory management for your business
The benefits of cloud-based inventory management are wide-reaching and highly-effective. When you leverage cloud solutions, you'll experience perpetual inventory updates, real-time inventory tracking, increased accuracy among inventory counts, and valuable integrations with your existing tech stack to drive results even further.
1. Set reorder points
Setting accurate reorder points for each of your inventory items is an integral part of running a successful retail business or supplier warehouse. Reorder points not only help you avoid low stock levels or stockouts, but they give a boost to your financial decision-making in both the short and long-term. Cloud-based inventory management systems calculate and automate your reorder points with ease, so your shelves stay full and your inventory is always organized.
2. Automate inventory processes
Since we're talking about automations, it seems like a good idea to mention the other processes cloud inventory management software can streamline. The ideal platforms will automate your data flow in real-time for the most up-to-date inventory counts, inventory tracking, and order routing across multiple channels. On top of that, cloud-based solutions can also issue purchase orders automatically, based on your current sales velocity, lead times, and even seasonality.
3. Accessible data & analytics
Data and analytic actions like integration, storage, and reporting are performed much quicker when using cloud-based tools. Cloud metrics help optimize business intelligence by using enhanced gathering, analyzing, and presenting of the insights essential to your growth. Additional advantages of cloud-based reporting include the absence of hardware-related costs, the seamless scalability, and the impressive depth and scope of your various data sets.
4. Accuracy & reliability
What's the use in a management software that doesn't deliver accurate results? With a cloud-based ERP, retailers can enjoy the most accurate and reliable results possible. In contrast to the errors associated with manual entry and static inventory systems, cloud software is able to forecast, count, update, and track inventory in real-time, with the utmost precision. For this reason, cloud solutions enable incredible growth not seen with traditional inventory methods.
5. Integrations with your tech stack
Cloud software can easily integrate with the rest of your tech stack for the most productive supply chain management, the most polished order fulfillment, and the most efficient warehousing imaginable. Using cloud-based integrations, online brands can achieve a more well-rounded approach to their business, by covering all their bases related to inventory control, order management, and every ecommerce need in between.
10 best cloud-based inventory management solutions compared
The best cloud-based inventory management solutions will offer ample backups and updates, lower your overhead costs, and help you create customizations with ease. We've rounded up ten of the leading cloud software for your ecommerce company, each with their own specialties to meet your current business needs and accelerate your success moving forward.
1. Extensiv Order Manager (formerly Skubana)
Extensiv Order Manager (formerly Skubana) is an all-in-one ecommerce operations software, which supports businesses in synchronizing their inventory data from sales channels, warehouses, 3PLs, POS systems, purchase orders, and more. With the help of Extensiv Order Manager, online retailers can truly sell direct-to-everywhere, thanks to unique Orderbots that automate operational tasks and transform multichannel complexity into singular clarity.
The real-time updates minimize storage costs, eliminate dead stock, avoid stockouts, and even balance inventory turnover ratios. In addition, Extensiv is also built with native integrations into Amazon, BigCommerce, Shopify, eBay, Walmart (and the list goes on).
2. Daasity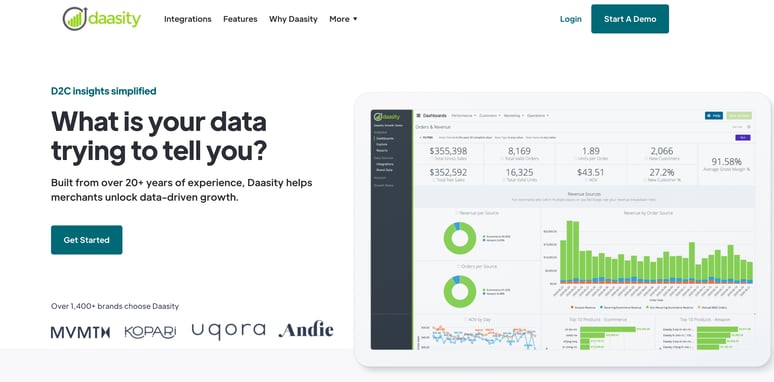 Daasity is the only ecommerce analytics platform that's geared exclusively toward DTC brands. With Daasity, retailers can use their operations data to generate powerful analytics designed for both beginners and experts alike. Moreover, Daasity can be customized to meet your specific needs or requirements. What this means is, your online store can move beyond basic reporting, and instead use comprehensive sales data for accurate insights that lead to scalable growth.
3. Inventory Planner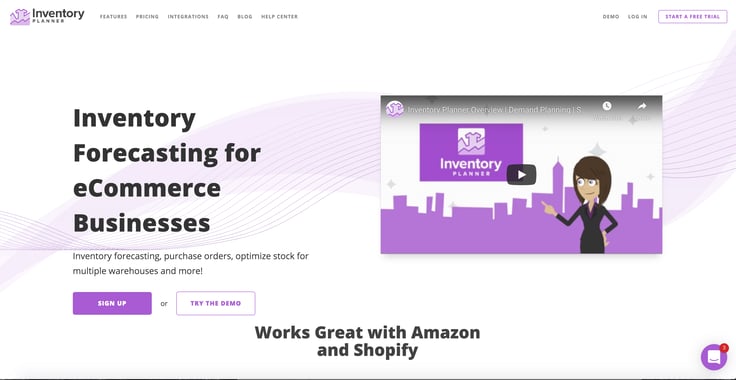 Inventory Planner is a leader in inventory control and forecasting, and is equipped with automatic replenishment recommendations to simplify reordering. This platform is great for tackling forecasting challenges, since merchants can utilize current data based on their sales trends and vendor lead times. With Inventory Planner, business owners can really optimize their profitability and reclaim time wasted on manual inventory management processes.

4. TrueCommerce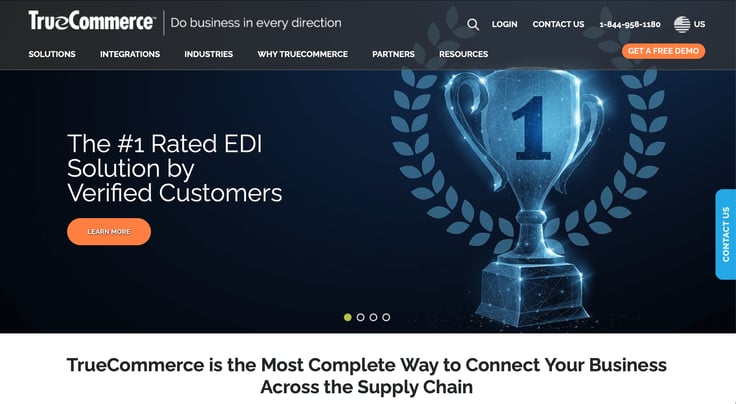 TrueCommerce from B2B Gateway is a cloud-based, fully-integrated EDI and API connectivity solution. This software encourages a continuous exchange of business documents like purchase orders, sales orders, inventory updates, and advanced shipping notices (via any communication method). Because TrueCommerce is maintained by its own developers, it gives them the ability to meet each client exactly where they are, and meet their exact needs.
5. Anvyl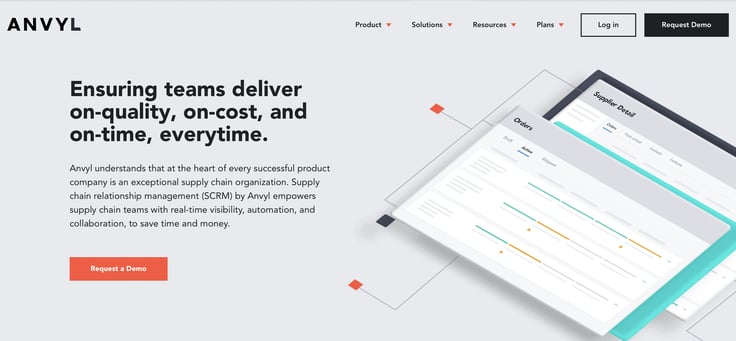 Anvyl is a supplier relationship management software that gives companies an opportunity to not only manage suppliers, but to oversee production and house historical product data from initial acquisition to its final fulfillment. With Anvyl's supply chain organization, brands can enjoy improved visibility, automation, and collaboration across all channels.This software eliminates the need for time-consuming and error-prone manual processes to save time and money.
6. Alloy
Alloy is an integration and automation platform that can supercharge your preferred software solutions. This system comes with layers of powerful drag and drop automation to connect your online storefront with plugins for enterprise resource planning, product management tools, 3PLs, email marketing, SMS, and more. Alloy specializes in ecommerce website automation for storefronts built on Shopify, Shopify Plus, BigCommerce, and Webflow.
7. QuickBooks Online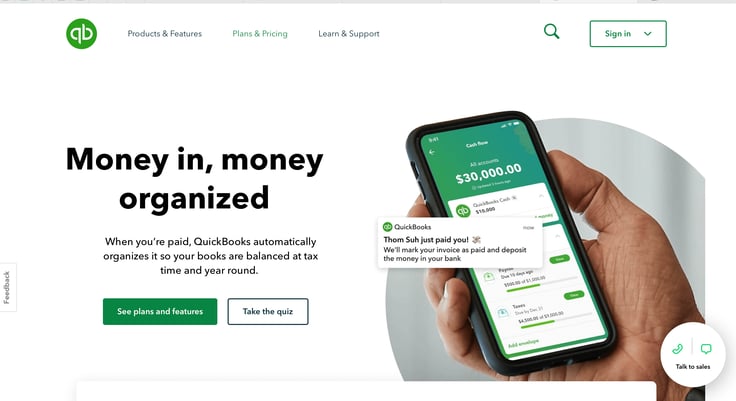 With the cloud-based accounting software from QuickBooks Online, ecommerce retailers can greatly reduce the amount of hours spent managing their finances. QuickBooks can help your company with a whole range of tasks, from creating estimates and invoices, to tracking sales and your ingoing/outgoing cashflow. QBO integrates with a number of third-party apps to help with various functions like accounts backup, invoice management, expense management, taxes, and much more. The accounting system from QuickBooks is especially useful for small businesses who need extra assistance with bookkeeping accuracy. Read more on the types of QuickBooks online reports.
8. StoreAutomator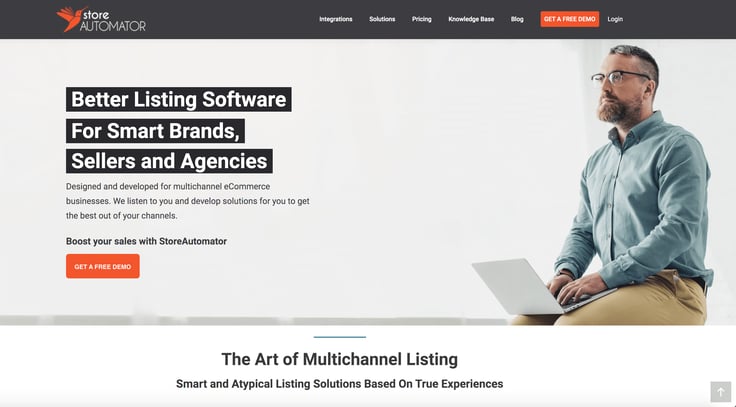 StoreAutomator's cloud-based platform offers advanced multichannel listing functionality that has a direct impact on ecommerce sales growth. Its main features include things like description and title templates, channel-based overriding, and alias (or alternate) SKUs. Using StoreAutomator's multichannel listing management, retailers can take full control of their product catalog and pricing, and create effective product listings within one unified dashboard.
9. ShipMonk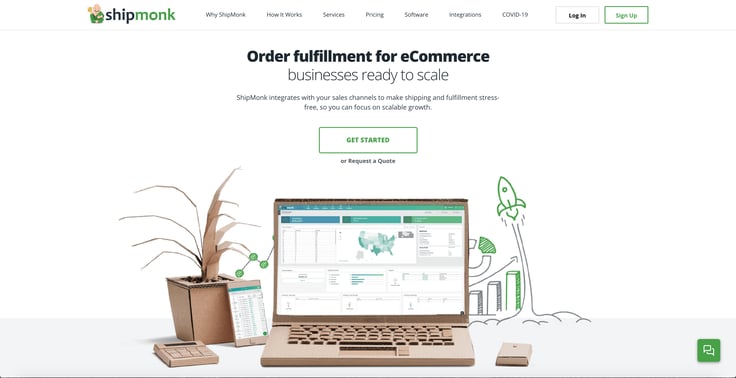 ShipMonk is a third-party logistics provider that's applicable to ecommerce businesses of all sizes. This software fuses powerful inventory, order, and warehouse management technology with enterprise-level order fulfillment and warehousing services. With facilities strategically located all over the United States, ShipMonk enables companies everywhere to efficiently execute on their fulfillment and to scale their operations in a more sustainable way.
10. Returnly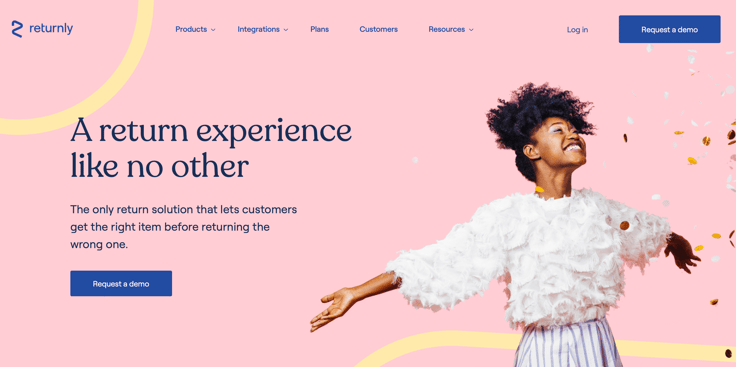 While not technically Inventory software, Returnly works with ecommerce merchants to give instant credit to shoppers who return inventory, and its the only platform that allows customers to receive the right item before returning the wrong one. What's more, Returnly can readily integrate with Extensiv for enhanced functionality and a five-star post-purchase experience within a multichannel landscape.
When it comes to quality inventory management, cloud-based software is now the industry standard. If you're curious about making the shift to a cloud-based system, take a peek at our FAQs to discover the ins and outs of these online tools.