Ecommerce is the place to be for young, scrappy direct-to-consumer brands. By going down the non-traditional route, these ecommerce businesses bypass the middleman and have the opportunity to focus on the customer alone.
What Are Direct To Consumer (DTC) Brands?
Direct-to-consumer (DTC/D2C) brands sell products directly to customers instead of going through third-party retailers and wholesalers — making it a win-win for everyone due to lowered costs and pricing. Some examples of top DTC brands include Casper, Glossier, and Warby Parker (but more about those a bit later).
Direct-to-consumer can be beneficial because brands are positioned to respond more attentively to customer feedback and collect first-party customer data to make better business decisions. Even though some DTC brands are known for creating pop-up shops and even having physical locations, their core business resides online.
How Is the Direct-To-Consumer Industry Changing?
The direct-to-consumer world is in a constant state of flux, both in terms of product offerings and operational practices. One of the most prominent trends impacting this industry is the blurring between the digital world and the real world we live in.
The division between shopping experiences in brick-and-mortar channels and those in digital environments — including websites, online marketplaces, and social networks like Instagram and Facebook — is quickly dissolving.
Today's customers want to connect with brands in a variety of ways. So if a brand isn't exactly where customers expect to find them, they're going to miss out on establishing meaningful relationships with those consumers.
The evidence of this trend is abundant, and the latest branding statistics support it, as well.
A Harvard Business Review survey of more than 46,000 customers found that 73% used multiple channels during their shopping journeys before deciding to make a purchase.
Accenture found that 88% of consumers engage in 'webrooming' — browsing and choosing products online and then opting to buy them in-store.
With that said, wholesale partnerships and brick-and-mortar expansion present a whole new set of challenges for direct-to-consumer companies. Still, there are several prominent brands who are tackling this challenge head-on and redefining what direct-to-consumer means by embracing the broader concept of 'direct-to-everywhere.'
DTC Statistics and Trends for 2023
Despite largely being marked by the pandemic, 2021 was a big year for native DTC brands. And 2023 holds the potential for even greater growth if these retailers play their cards right.
One of the biggest trends for D2C scalability and safeguarding revenue is using a subscription pricing strategy. A subscription model is where ecommerce platforms charge a monthly fee for their products, and then ship recurring orders to customers who've signed up for this service.
This approach works especially well for brands that sell pantry supplies, cleaning products, and skincare essentials (many of which are detailed below).
Another big retail trend to pay attention to is flexible payment options. This DTC strategy addresses card abandonment head-on, which is a major challenge for brands in every industry. In fact, the average cart abandonment rate currently hovers around 70% — meaning roughly "7 out of every 10 shoppers won't complete their transaction."
These statistics are a very real concern for modern ecommerce retailers, which is where flexible payment options come to the rescue. By allowing your customers to buy now, pay later (BNPL), they can receive their orders as scheduled while only paying a fraction of the cost upfront.
This is especially enticing for expensive products that customers might pass on if they're made to pay the full amount from the start. So customer acquisition goes up, cart abandonment goes down, and your company increases its sales without having to mark items at a discount.
Lastly, while branded mobile apps are still on the cusp (and have yet to gain mainstream popularity), they're likely to see major growth in 2023 and beyond. When ecommerce merchants create their own mobile shopping apps, it gives them another opportunity to form connections with their customers by providing exclusive, app-only deals or offering personalized recommendations for what to buy.
Allbirds — a well-loved, sustainable shoe brand (& one of the best Shopify stores) — recently developed their own app where customers can stay in the know on new product drops and color options on their bestselling styles. Essentially, Allbirds has created a space where customers can have more direct communication with their company and a more bespoke experience overall.
While branded mobile apps aren't the norm for most ecommerce retailers at this point, they're definitely something to watch out for in the months and years to come.
DTC Tips You Should Know in 2023
In light of these trends and predictions for 2023, we'd like to offer a few tips that'll help you reach the next level as a successful DTC brand. Here's some of the most useful advice your company can implement to get ahead (and stay ahead) in the competitive retail market.
Develop a subscription service for your products if you don't have one already. By 2023, it's expected that 75% of DTC businesses will offer subscriptions for their customers.
Get on board with buy now, pay later platforms like Klarna, Afterpay, and Affirm to generate more sales and achieve greater customer retention. Klarna alone drove $80B gross merchandise value (GMV) for its retail partners last year.
Target millennials and Gen Z by leveraging TikTok and Instagram to your advantage. Modern social media allows smaller brands to sell online in a matter of seconds.
Expand into new product categories customers have traditionally purchased from a physical store. For example, give shoppers the chance to buy novel products like snacks, beverages, and cleaning supplies directly from your digital channels.
Elevate the customer experience with customer-centric features like free shipping, free and easy returns, and a knowledgeable support staff that can address any issues.
Incorporate chat bots into the customer experience, as well. Brands that use chatbots can streamline their customer service efforts in a big way. According to Drift, 37% of consumers seek help from chatbots in emergency situations.
Optimize your website with a clean and accessible UX design. and improve the branding design, the logo design, and the slogan. This means your site is easy to navigate and accommodates those with visual impairments or other disabilities.
The Ultimate List of Direct-To-Consumer (DTC) Brands
Here, we've put together the ultimate list of our top direct-to-consumer brands. To make navigating this list a little easier, we've split up all 140 brands into 8 different product categories: accessories, clothing, shoes, food and beverages, home, travel, personal care, and others.
Accessory Direct-To-Consumer Brands
The following companies have changed the game on accessories for the better, by selling affordable and trendy pieces that don't sacrifice on quality.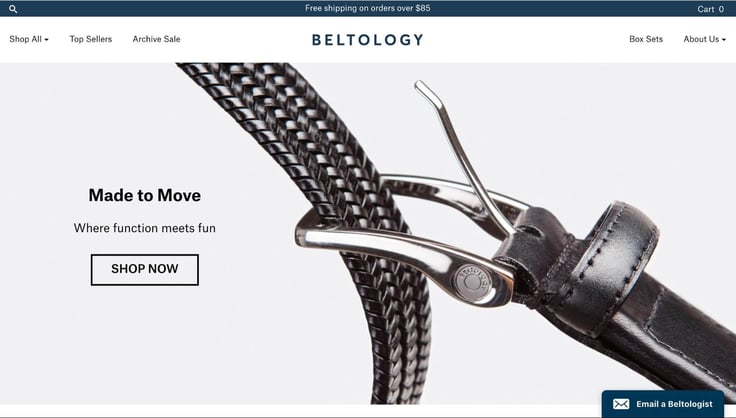 Beltology's belts are more than just a means to an end. Each design is eye-catching, fashion-forward, and helps you stand out among the crowd. Plus, they've created a digitally-driven experience that makes it easy to find what you're looking for. If for any reason your purchase doesn't work out, Beltology gives you 100 days to return or exchange (no questions asked).
Find Beltology on Facebook and Instagram.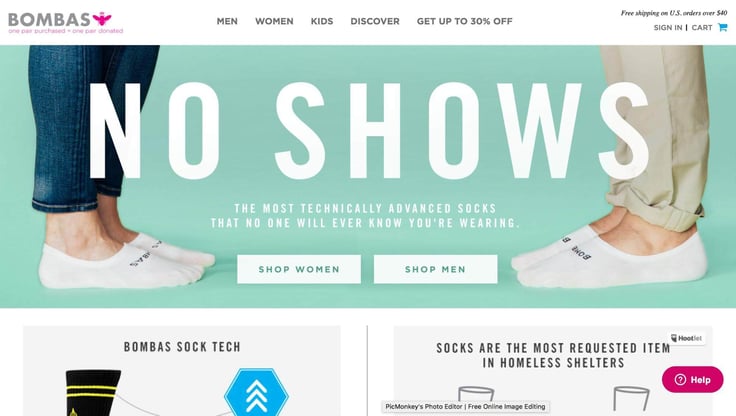 Bombas sells high-quality athleisure socks that help you give back. For every pair of socks you purchase, Bombas will donate a pair of socks to someone in need. In addition, any socks that are returned are also donated to someone who needs them. In that way, everything about the customer experience has a feel-good factor that'll make you proud to purchase from this brand.

Find Bombas on Facebook, Instagram, and Twitter.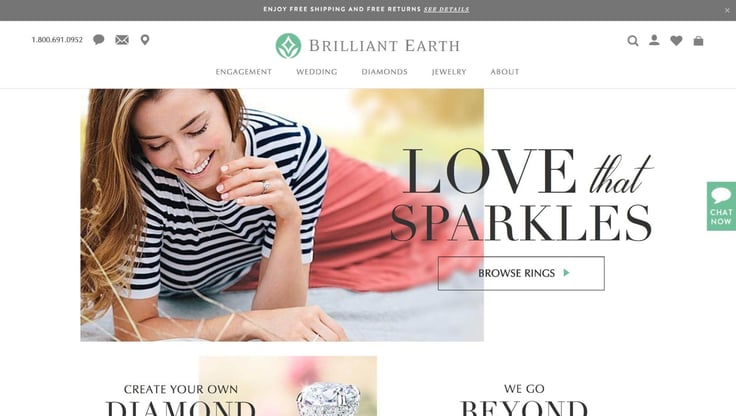 Brilliant Earth makes it easy for shoppers to find conflict-free diamonds. In fact, Brilliant Earth goes beyond current industry standards by ethically sourcing its diamonds from mines that follow strict labor, trade, and environmental practices. Over the last few years, they've become a go-to brand for ethical purchases that protect the planet and support underserved communities.
Find Brilliant Earth on Facebook, Instagram, and Twitter.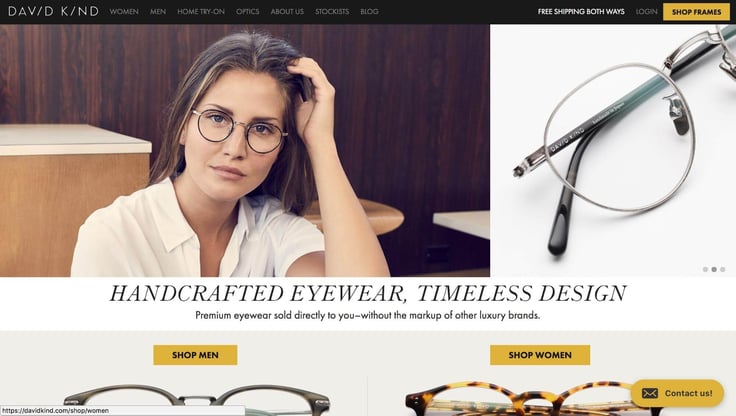 David Kind specializes in gorgeous eyewear without the markup. That's because when you shop with David Kind, you're paying for quality frames — not celebrity salaries. Customers can pick out six frames, have them shipped directly to their home, and then try them all on to find the perfect pair. The best part? Shipping is free both ways, with zero obligation for you to buy.
Find David Kind on Facebook, Instagram, and Twitter.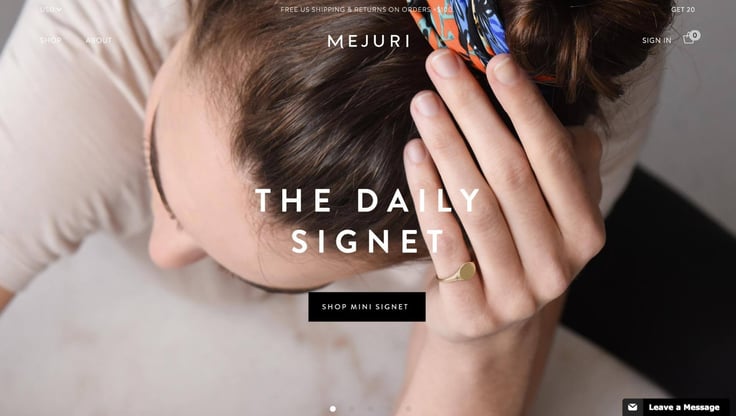 Mejuri believes jewelry should be an expression of self, meaning you should wear jewelry whenever/wherever you want. Their line of necklaces, rings, and earrings are a beautiful alternative to cheap, costume pieces — yet they're priced for the average buyer. Mejuri has cut out the middlemen and uses their own designers to create exceptional, affordable classics.
Find Mejuri on Facebook, Instagram, and Twitter.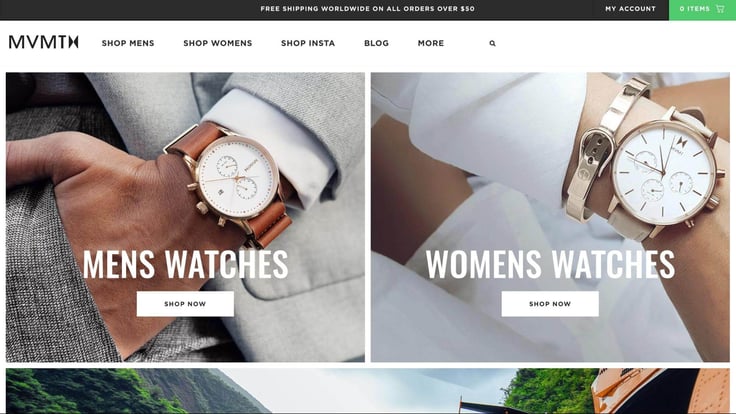 MVMT sells beautifully crafted, hard-wearing watches that'll go anywhere you do. Their designs are equally classic and versatile and are priced in a way that won't break the bank or make you afraid to wear them (for fear of scratches). When you buy from MVMT, you can feel confident you're getting a premium product that's sure to earn you quite a few compliments.
Find MVMT on Facebook, Instagram, and Twitter.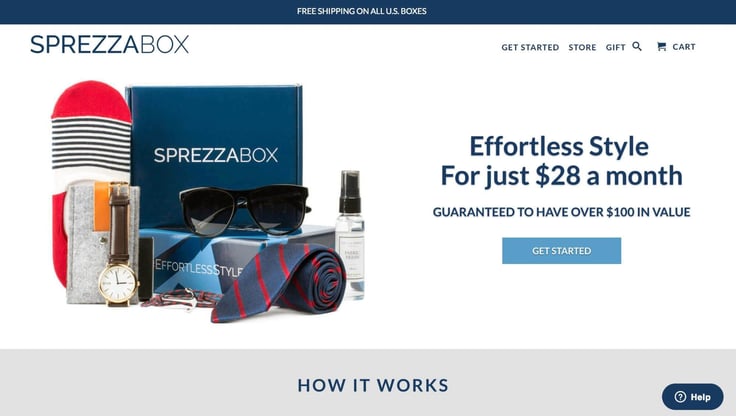 SprezzaBox is a subscription service that's catered towards the modern man. Their monthly boxes are full of curated goods and accessories like ties, pocket squares, socks, and grooming products. Signing up for a SprezzaBox subscription is a fantastic way to try something new and push your fashion boundaries without having to make any purchase decisions for yourself.
Find SprezzaBox on Facebook, Instagram, and Twitter.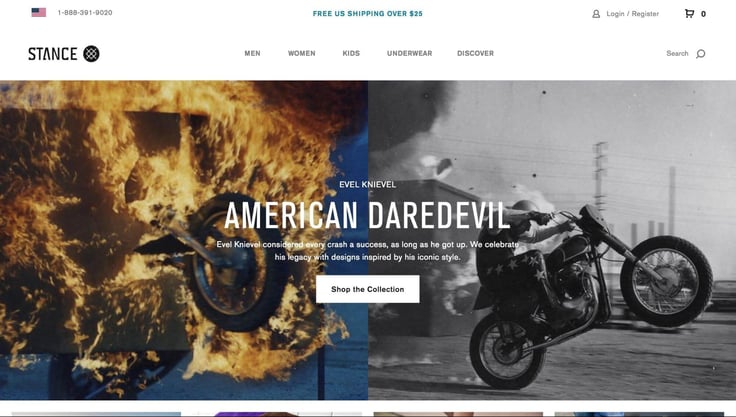 Stance helps customers make a statement with their socks. This brand is known for its original, uncommon designs that feature fun colors, patterns, and even some expressive illustrations. There's no doubt Stance has a unique perspective compared to other retailers, but they still manage to deliver high-performing products that are made to last wear after wear.
Find Stance on Facebook, Instagram, and Twitter.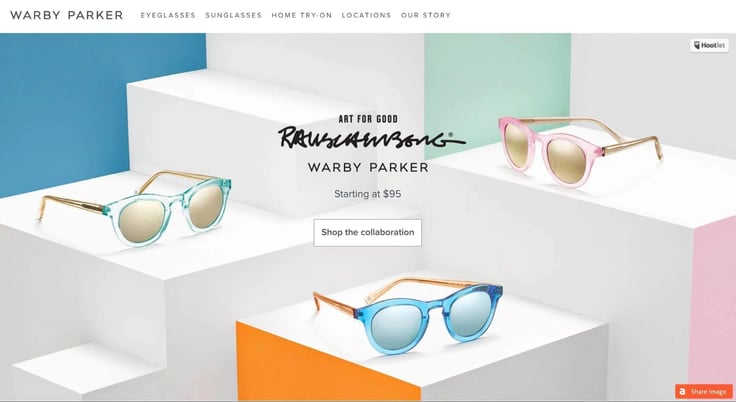 Warby Parker has been a leader in the DTC eyewear market since 2010. From Warby's perspective, you shouldn't have to take multiple trips to the optometrist to find frames you love. That's why their in-house design team makes chic frames for the modern consumer, all of which can be tried on from the comfort of your own home. And they even throw in free shipping, too!
Find Warby Parker on Facebook, Instagram, and Twitter.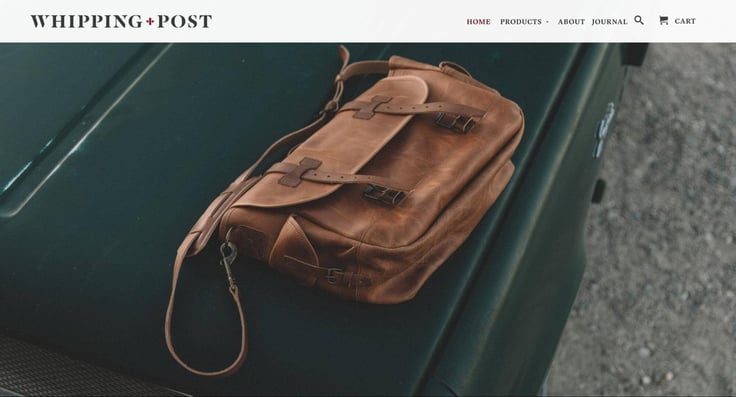 WP Standard is a purveyor of luxury leather bags and accessories that help you go places. Each of their products is made from full-grain leather that's built to last — meaning you can take them with you on any adventure you have planned. What's more, WP Standard offers free shipping and returns, guaranteeing a great customer experience any way you look at it.
Find WP Standard on Facebook, Instagram, and Twitter.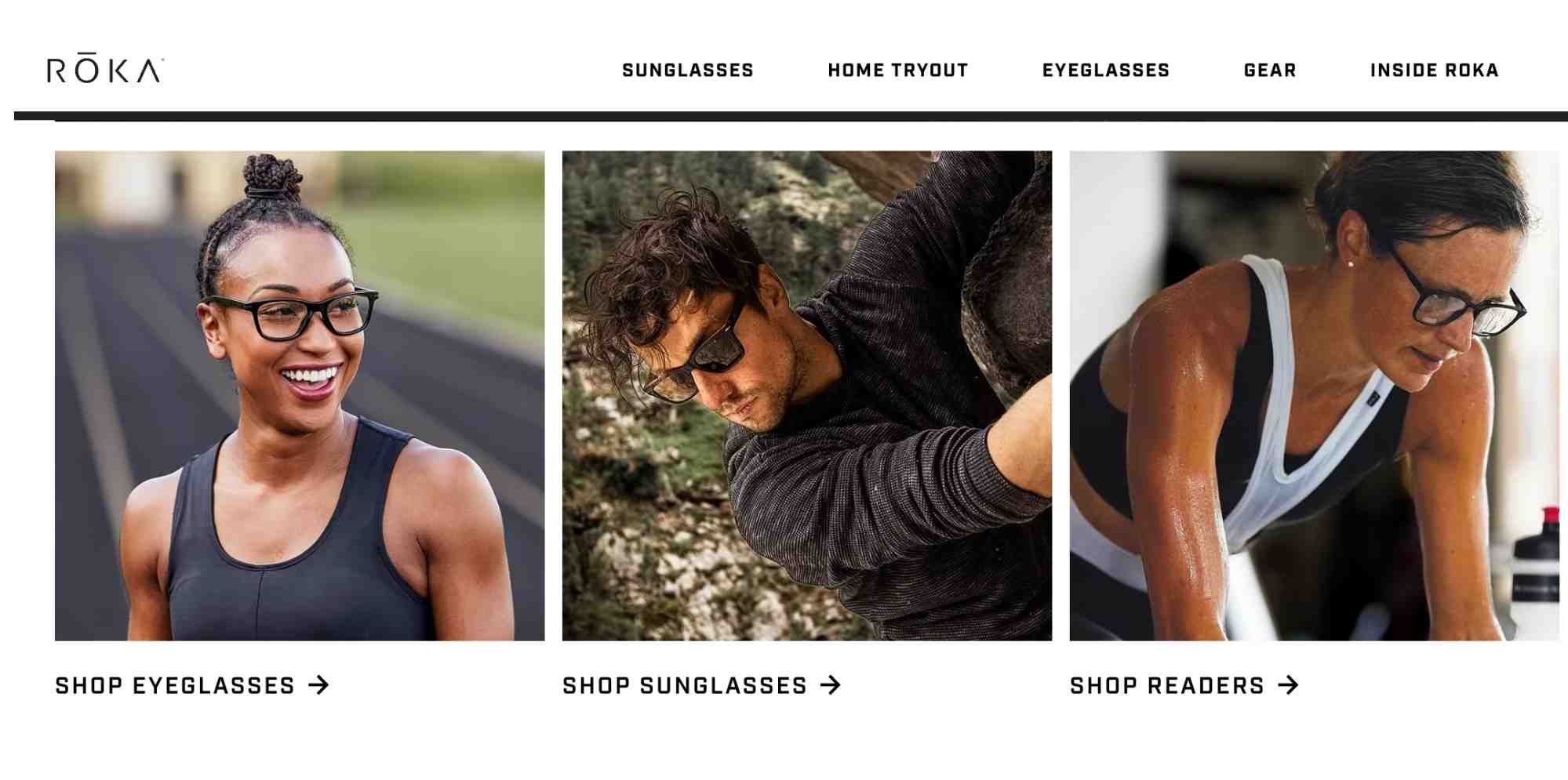 ROKA designs and builds some of the finest performance eyewear and technical gear on the planet. While they have a variety of styles for their eyeglasses — single vision, progressives, readers, etc — ROKA also sells men's and women's sunglasses, as well. All of their products are raved about for their quality, durability, and especially their versatility of wear.
Find ROKA on Instagram or Twitter.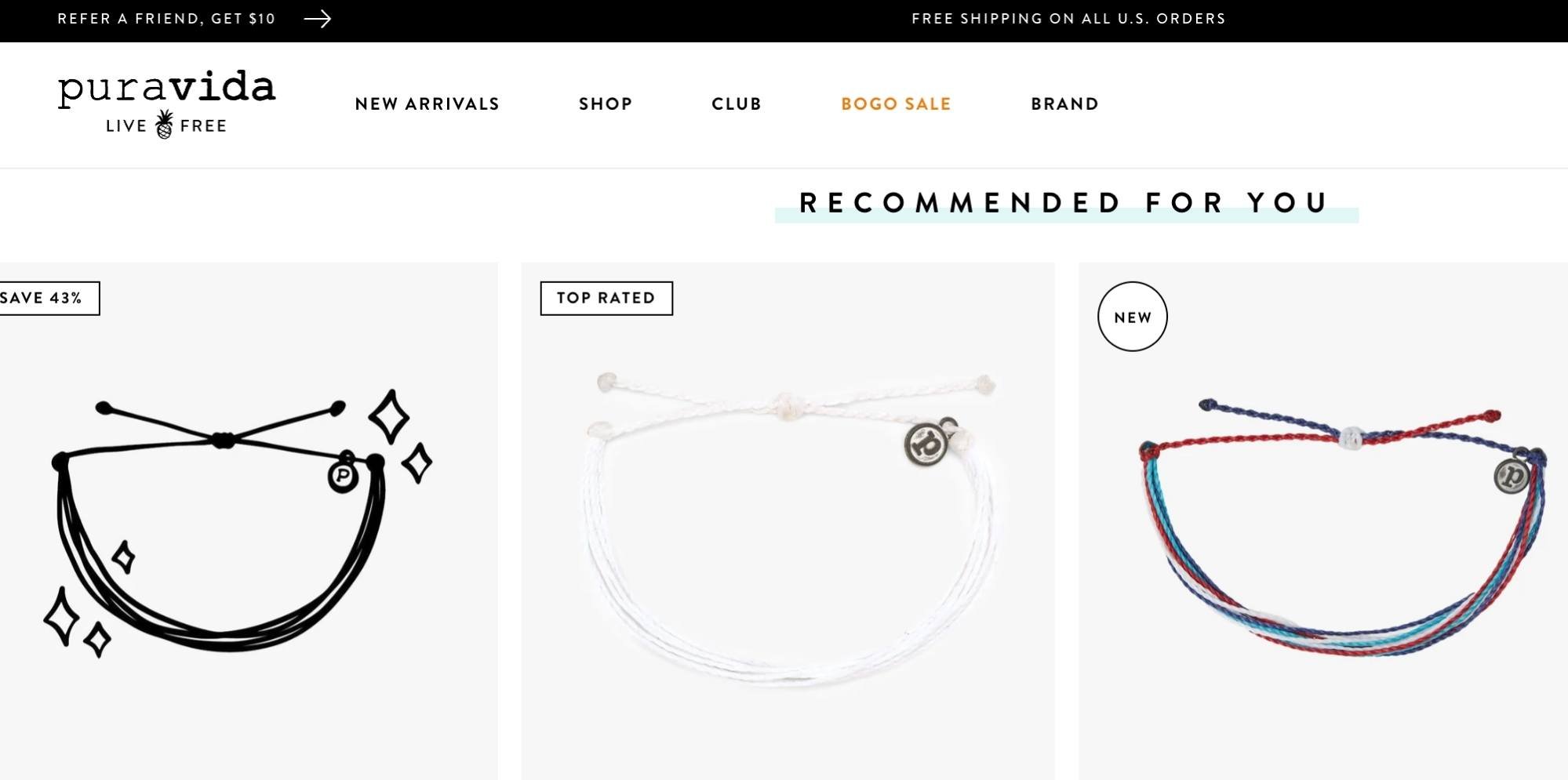 Pura Vida is a DTC retailer whose jewelry is handmade by artisans in Central America (namely Costa Rica and El Salvador). Over the last few years, this brand has cultivated a strong reputation for their unique, yet recognizable bracelets, rings, charms, and more. And because they sell directly to consumers, most of Pura Vida's products cost just $50 or less.
Find Pura Vida on Facebook, Instagram, and Twitter.
Clothing Direct-To-Consumer Brands
Unsatisfied with the status quo (and the low quality) of so many other apparel brands, these clothing retailers broke the mold and changed the way we shop for good.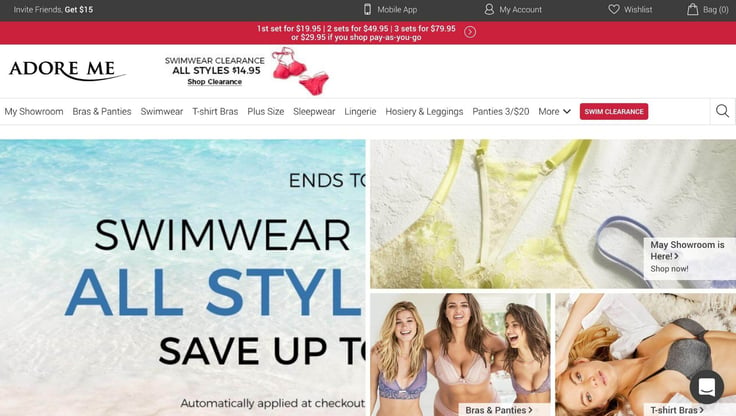 Adore Me is a lingerie brand that combines all the aspects of an exceptional customer experience: free shipping, free and easy returns, a great introductory offer, and quality member rewards (every sixth lingerie set is free). They also offer a style quiz that helps you figure out what to buy, which captures customer details while delivering value at the same time.
Find Adore Me on Facebook, Instagram, and Twitter.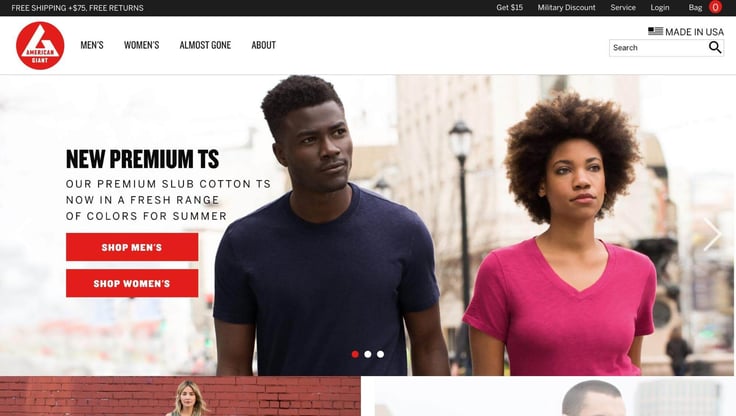 American Giant has a clear brand identity: they sell American-made clothing at a fair price for their customers. When this brand started out, they were solely producing hoodies. But today, they sell pants, joggers, t-shirts, outerwear (and so much more). Though they have just a few retail stores, ecommerce is really where American Giant really shines and is continuing to grow.
Find American Giant on Facebook, Instagram, and Twitter.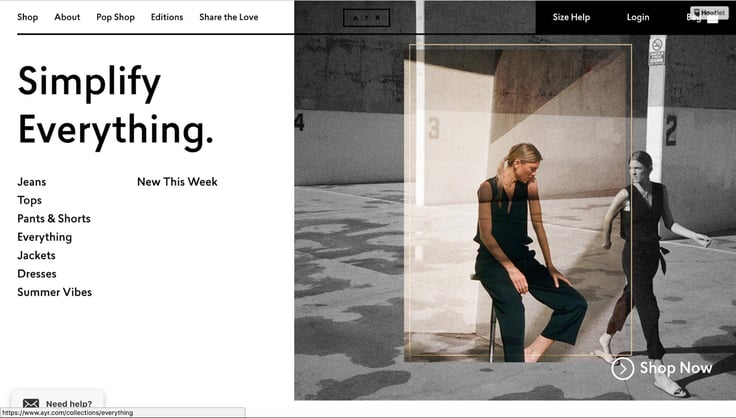 AYR stands for All Year Round and is rooted in the idea that good design is always in season. This brand was founded as an alternative to fast fashion; they create practical pieces for women who are going places. From AYR's perspective, clothes should help you lead the life you want, not hinder it — and everything from their website to their marketing is based around this ethos.
Find AYR on Facebook, Instagram, and Twitter.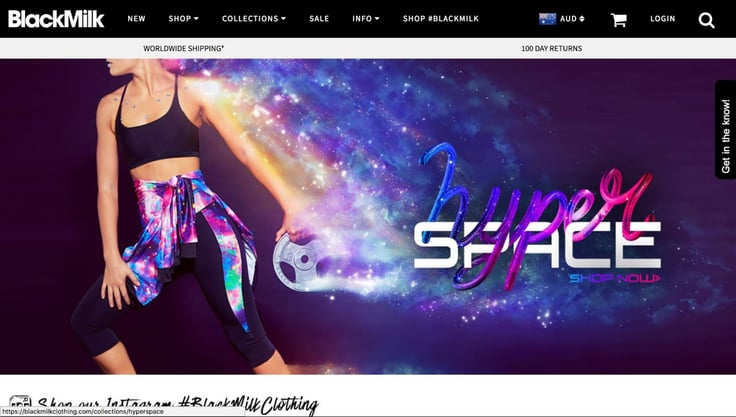 BlackMilk sells "awesome gear for those who aren't afraid to stand out." Their collections are full of colorful patterns and loud designs that'll help you make waves in a sea of neutrals. The BlackMilk brand was largely built through direct marketing, which continues to help them reach customers to this day. Check out their website to see why this retailer has such a cult following.
Find BlackMilk on Facebook, Instagram, and Twitter.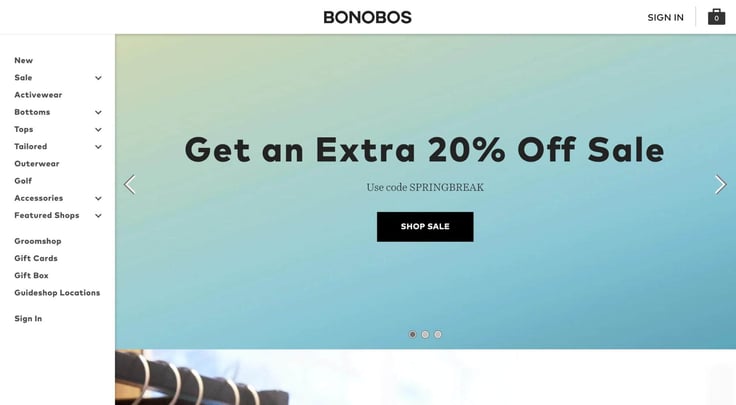 Bonobos is a men's clothing label that prides itself on the perfect fit. Their online experience helps shoppers select exactly the right size, color, length, and fit that'll have them looking (and feeling) their best. What's more, Bonobos offers free shipping and free returns/exchanges, and they have a world-class service team who can help you at any stage of the customer journey.

Find Bonobos on Facebook, Instagram, and Twitter.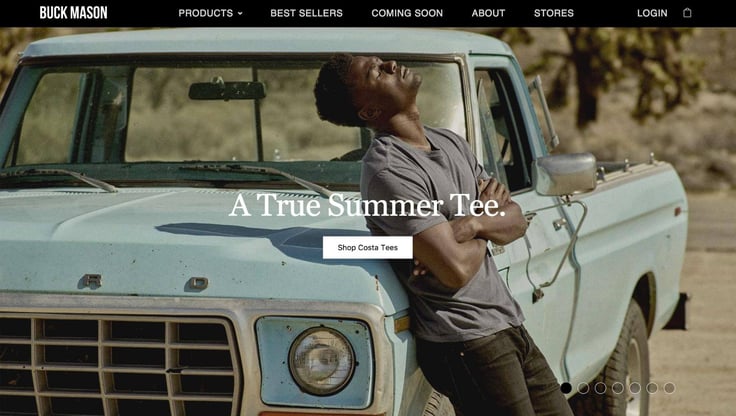 Buck Mason designs clean, quality basics for shoppers with a minimalist aesthetic. All of Buck Mason's garments are made from premium materials and come with a high level of durability. Still, their pricing remains affordable since this brand rejects expensive ads and ridiculous markups. In short, Buck Mason is all about premium clothing at budget-conscious prices.
Find Buck Mason on Facebook, Instagram, and Twitter.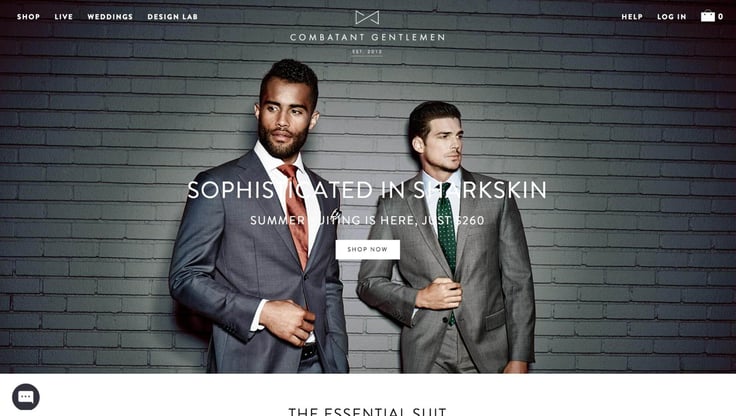 Combatant Gentlemen is making high-quality, tailored suits that won't break the bank. By skipping over the middleman and going straight to the consumer, Combatant Gentlemen is able to offer premium tailoring and luxe fabrics at affordable prices. But in addition to suits, tuxedos, and dress pants, this brand also sells top-notch accessories like socks, ties, and belts.
Find Combatant Gentlemen on Instagram and Twitter.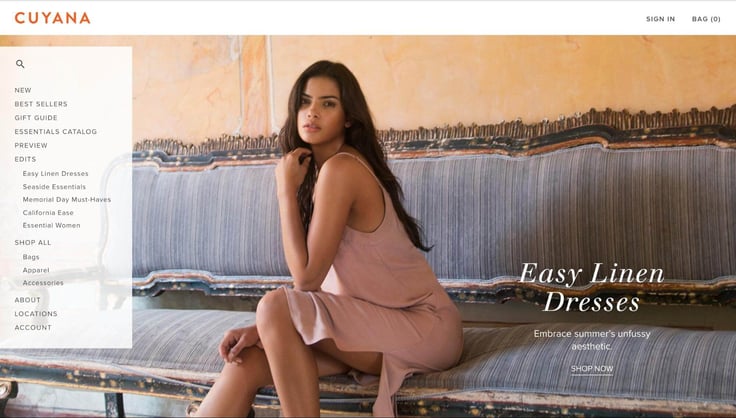 Cuyana embraces the idea of a lean closet — one that has fewer, but better quality items. In contrast to fast fashion, Cuyana creates premium basics with a luxe feel and a chic silhouette. This is a women-built brand whose collections embody timeless design as well as sustainability. When you buy from Cuyana, you can trust your garment will be made and delivered with love.
Find Cuyana on Facebook, Instagram, and Twitter.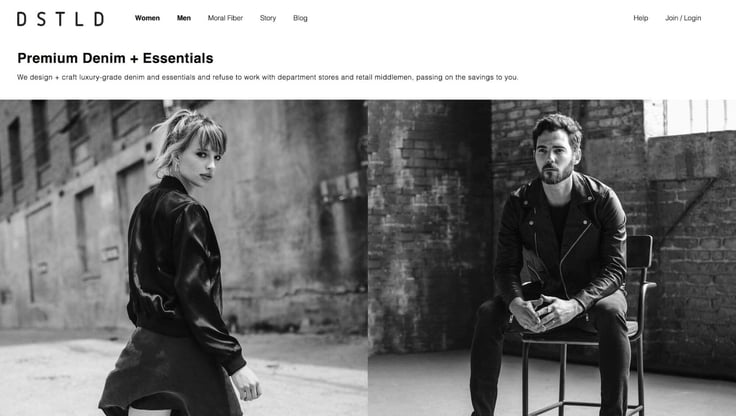 DSTLD doesn't sell at a single brick-and-mortar location. Instead, their outerwear and denim designs are exclusively sold online to an ecommerce audience. With this approach, DSTLD can eliminate waste and refine their luxury styles so they're available to any customers who want them. Whenever possible, DSTLD uses materials that are ethically sourced and ethically priced.
Find DSTLD on Facebook, Instagram, and Twitter.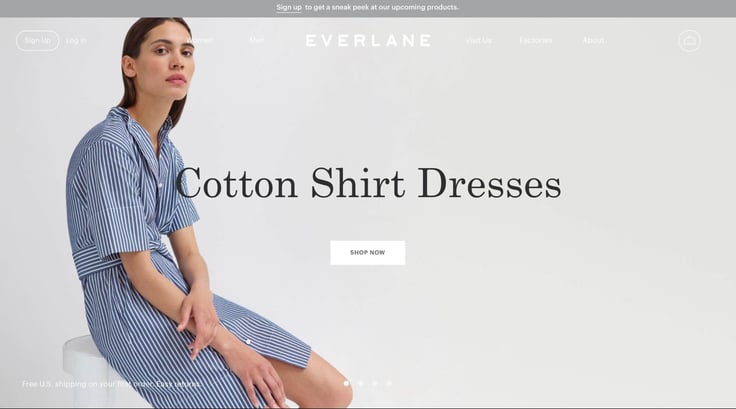 Everlane started out selling $100 cashmere sweaters they designed in-house. Once these sweaters took off, Everlane expanded its line into just about every product category. Today, they're a luxe clothing brand that prizes radical transparency, great customer service, ethical sourcing, and a minimalist aesthetic — there's no extras or excess when it comes to Everlane.
Find Everlane on Facebook, Instagram, and Twitter.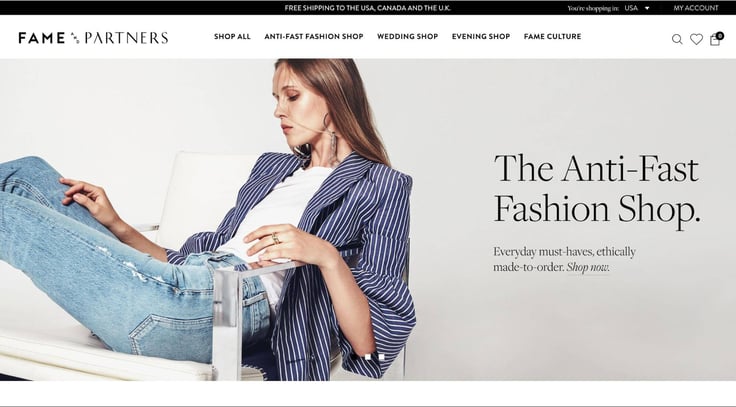 Fame and Partners is the world's first mass, made-to-order label. They create customized garments for women who not only care about what they wear, but where it comes from. In that way, Fame and Partners is like a personal atelier. After you take their shopping quiz, this brand curates items based on your individual preferences (i.e. everything is done with you in mind).
Find Fame and Partners on Facebook, Instagram, and Twitter.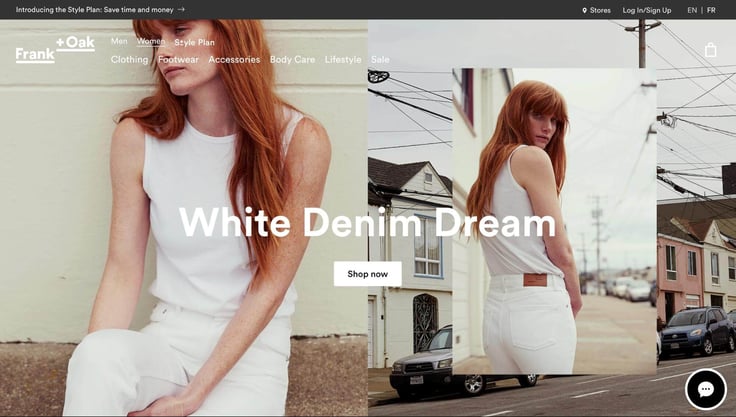 Frank And Oak hopes to "inspire a better way of living" by creating conscious clothing that's made to last a lifetime. This retailer marries innovation with eco-friendly processes, and in turn, helps to shape a cleaner, healthier, and more mindful planet. But it's Frank And Oak's custom recommendations and real-time style advice that really helps this Canadian brand stand out.
Find Frank And Oak on Facebook, Instagram, and Twitter.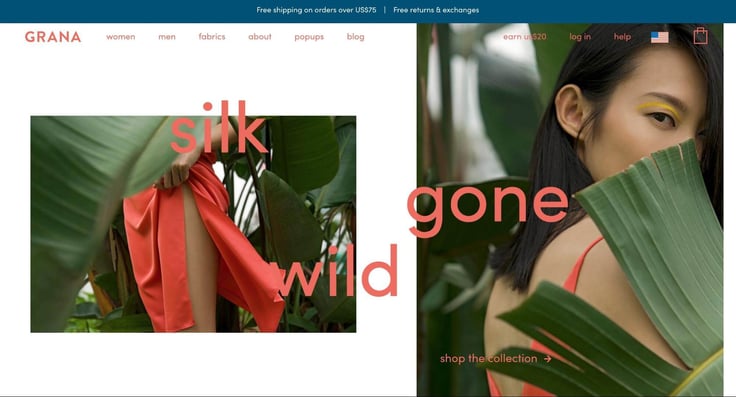 GRANA's strength comes from its exceptional materials and ethical manufacturing. More specifically, GRANA produces ethical, sustainable clothing that won't bust your budget. To keep their prices where customers can afford them, GRANA leverages digital marketing and bespoke customer service to raise brand awareness and create a fantastic customer experience.
Find GRANA on Facebook, Instagram, and Twitter.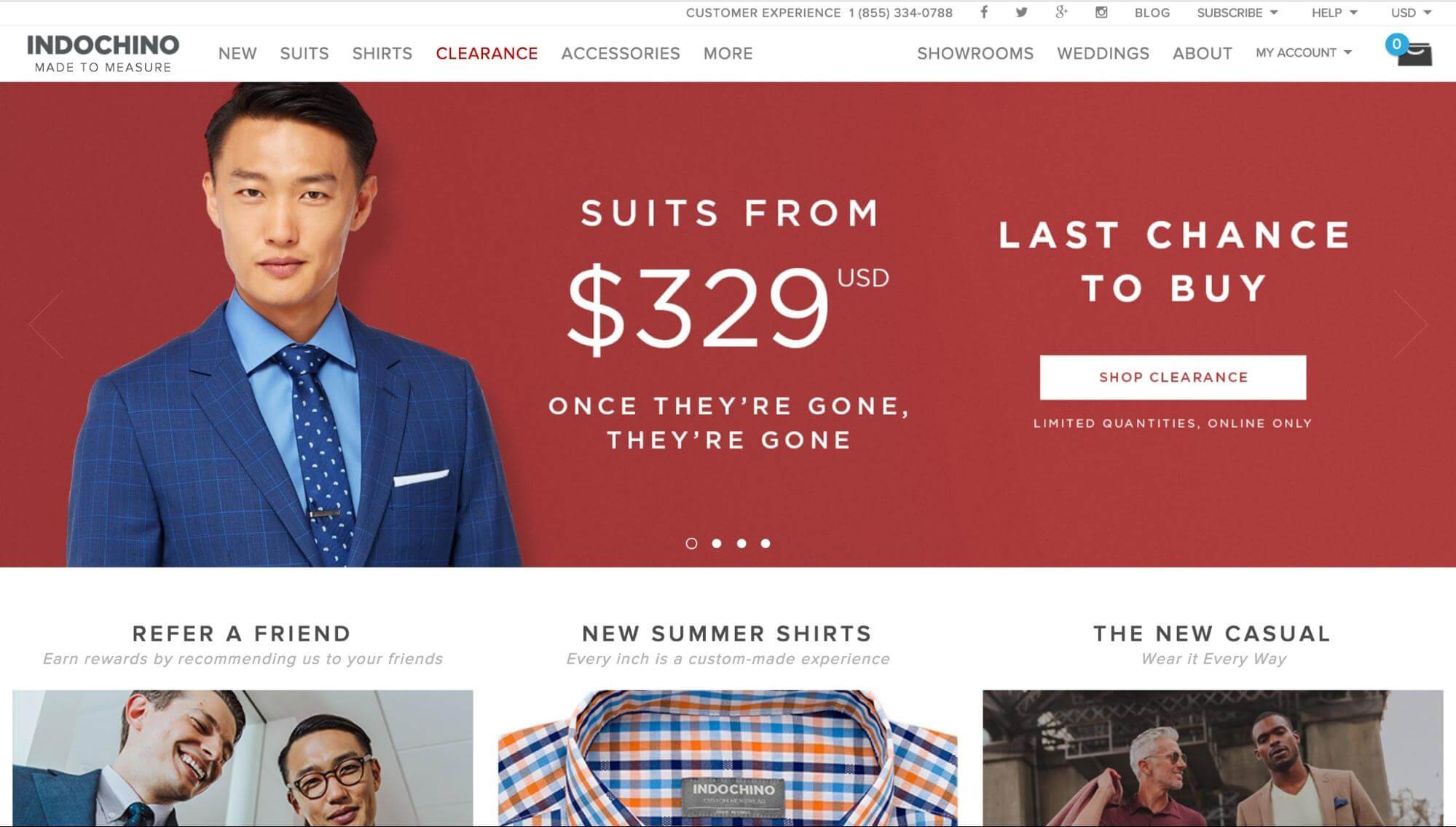 Indochino allows customers to find their measurements, select their fabric, and customize their very own suit design online. That's right, there's no tailor required when you team up with Indochino — you can order a premium suit with the perfect fit in just a few clicks. This streamlined process makes for an easy experience with a highly customized product.

Find Indochino on Facebook, Instagram, and Twitter.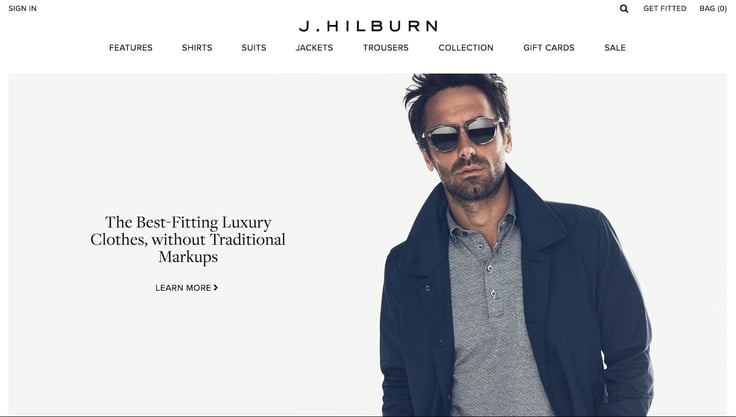 J.Hilburn is a luxury clothing brand that's managed to cut down on its overhead by selling directly to the consumer. On top of using high-quality fabrics, J.Hilburn engages with personal stylists who can help customers design the exact wardrobe they want. Gone are the days of ill-fitting shirts, especially with J.Hilburn's 90-day fit guarantee (plus a lenient return policy).
Find J.Hilburn on Facebook, Instagram, and Twitter.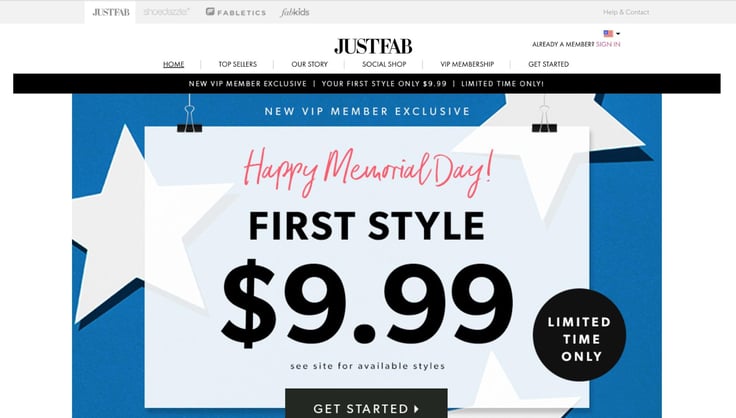 JustFab offers a membership service that allows customers to enjoy great clothing from a number of different retailers. Better yet, VIP members get special access to exclusive pieces, cheaper prices, and more. Becoming a JustFab VIP is super easy, too — all you need to do is take a short quiz, and you'll be receiving personalized recommendations in no time at all.
Find JustFab on Facebook, Instagram, and Twitter.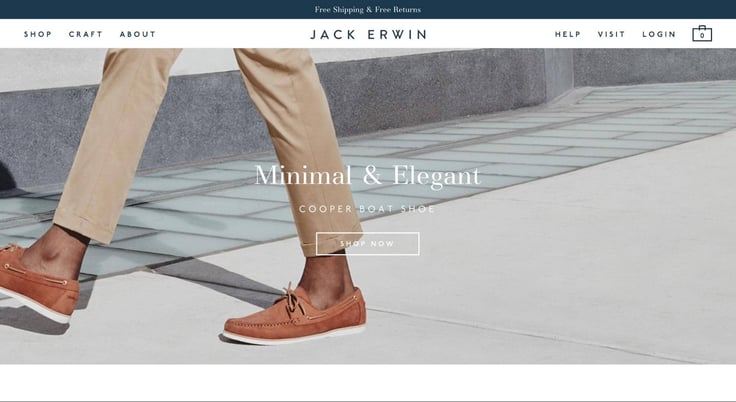 Quality, comfortable dress shoes can make a suit, and they can make your day. But, how do you find the right pair without wasting precious hours trying on countless shoes at the mall? By going to Jack Erwin. Crafted in Spain from high-quality materials, this is more than just a shoe. It's a commitment to a better life.
You can follow Jack Erwin on Twitter @JackErwin, Instagram, Pinterest or Facebook.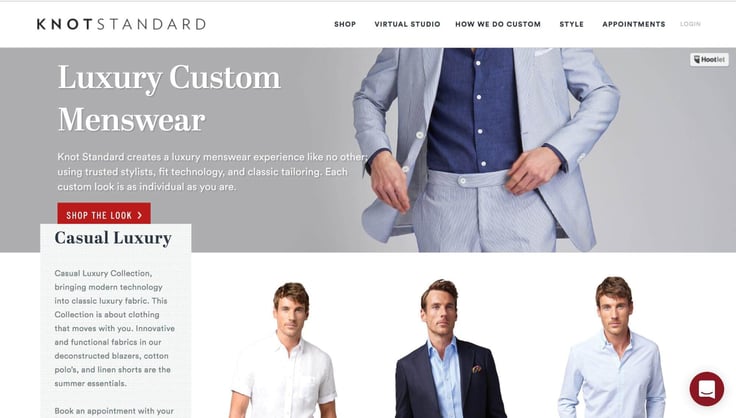 Knot Standard's online studio lets customers build a 3D wireframe of their body with all the proper measurements, dimensions, and so on. Then, the Knot Standard team designs a suit that'll perfectly fit the customer once it's been cut and assembled to their specifications. A custom suit delivered right to your door? It's not standard practice, but we think it should be.
Find Knot Standard on Facebook, Instagram, and Twitter.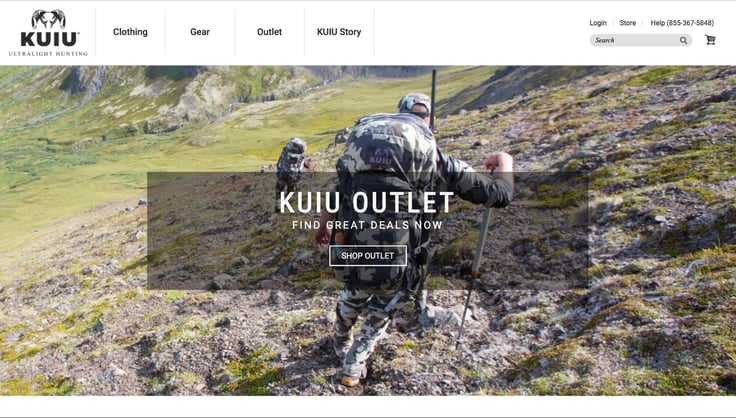 KUIU makes first-rate hunting gear that's incredibly durable in all kinds of conditions, yet it still allows for unrestricted range of motion. This brand is committed to creating equipment that won't let you down but will support you in whatever you're trying to do. KUIU is all about delivering customer-focused products without the markup or price gouging of other retailers.

Find KUIU on Facebook, Instagram, and Twitter.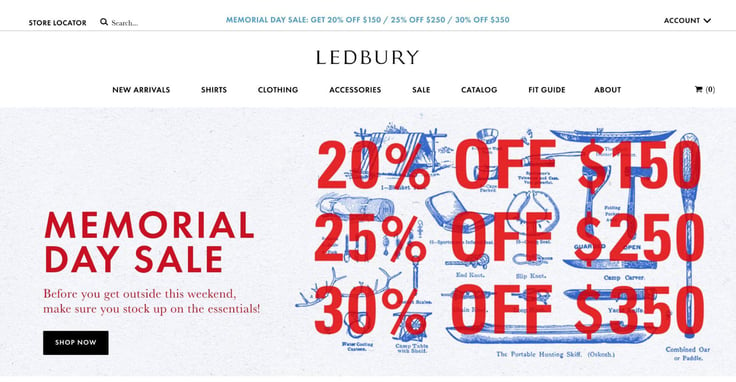 Ledbury believes that finding the right shirt shouldn't be a hassle. That's why they've removed the middlemen in the supply chain and work directly with consumers to enhance the overall customer experience. Ledbury specializes in men's dress shirts, polos, and business casual attire, though they've recently added made-to-order products on their website, as well.
Find Ledbury on Facebook, Instagram, and Twitter.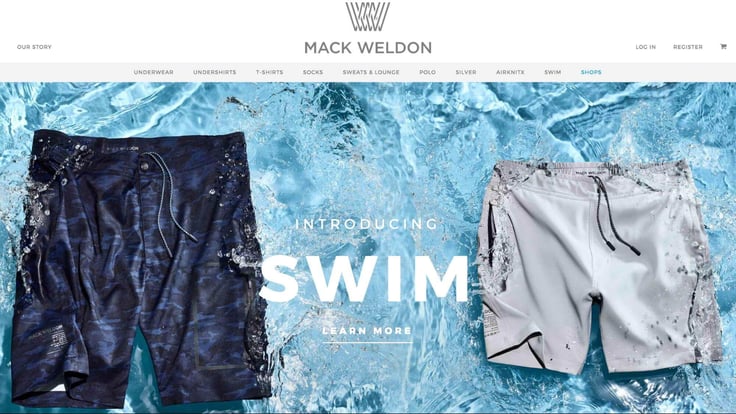 Mack Weldon is synonymous with polo shirts, chino shorts, and clothing for the modern man's workday. This DTC brand not only creates premium basics for men, but they operate on an easy-to-use, streamlined ordering system that definitely has the customer in mind. With the click of a button, Mack Weldon's products go from their fulfillment center right to your front door.
Find Mack Weldon on Facebook, Instagram, and Twitter.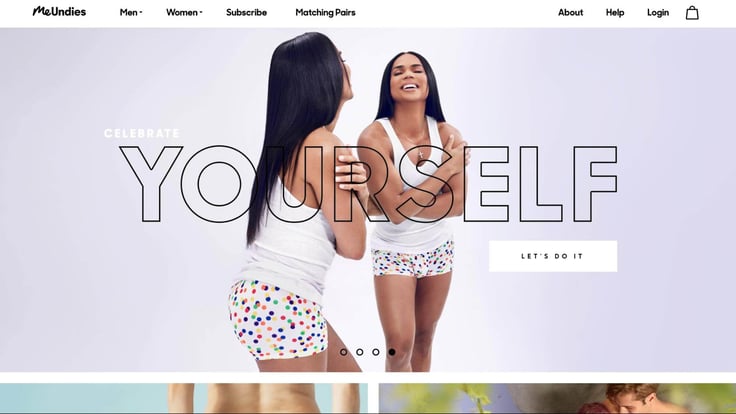 MeUndies turns out high-performance underwear in classic colors and kitschy patterns. Many customers shop with MeUndies because of their ethical production processes; this brand only partners with state-of-the-art factories that meet their standards for fair trade and transparency. Comfortable underwear that helps make the world a better place — what's not to like?
Find MeUndies on Facebook, Instagram, and Twitter.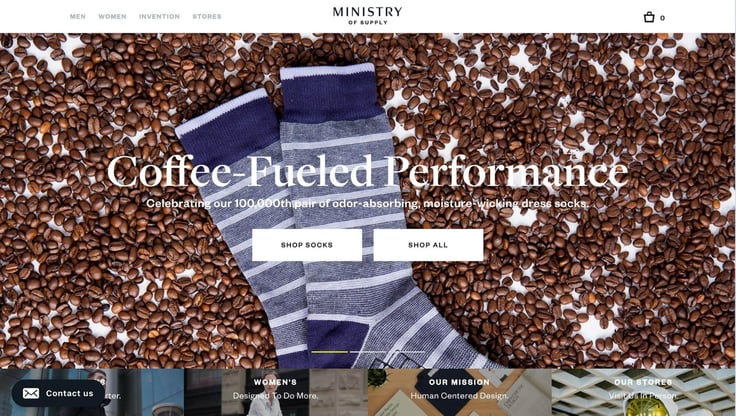 Ministry of Supply is a Boston-based label that delivers high-quality business fashion. This brand was started by former Massachusetts Institute of Technology (MIT) students who wanted to make professional apparel that merged high-tech performance with a luxury feel. That's why their clothing won't wrinkle or require dry-cleaning; it simply works hard, just like you.
Find Ministry of Supply on Facebook, Instagram, and Twitter.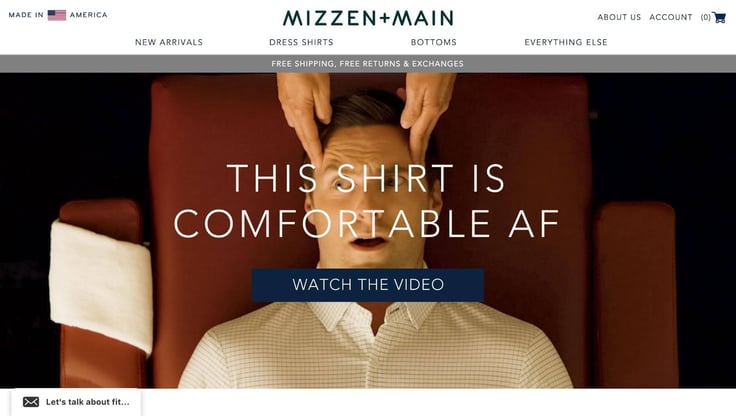 Mizzen+Main has declared themselves "the makers of the best damn dress shirt." From Mizzen+Main's perspective, the ideal shirt begins with the materials you use — which is why they've created their own proprietary fabrics that are moving menswear into its next era of comfort. Their shirts are easy to wear, easy to order, and machine washable to boot.
Find Mizzen+Main on Facebook and Instagram.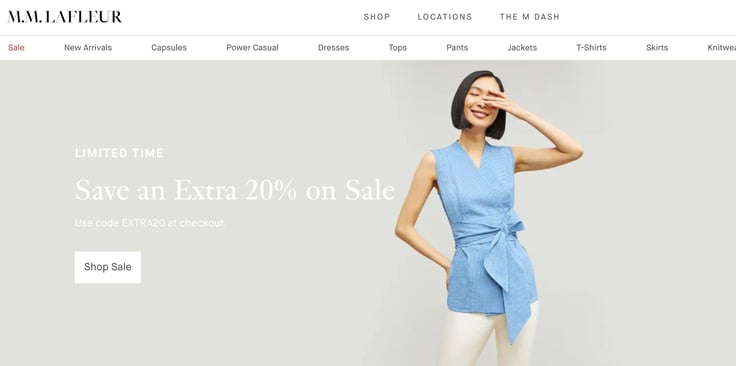 M.M.LaFleur prioritizes simple, elegant workwear for women who want to look great without spending ages deciding what to wear. This brand has created a unique work uniform for women that's similar to what suiting does for men. In addition, M.M.LaFleur has made ordering a breeze by asking questions about your style and then sending you a box full of pieces you'll love.

Find M.M.LaFleur on Facebook, Instagram, and Twitter.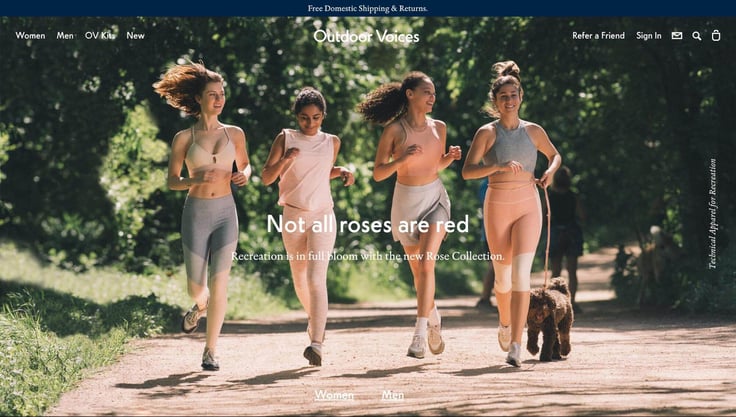 Outdoor Voices could teach a master class in fashionable athleisure. In addition to their signature leggings and bras, Outdoor Voices also offers a wide range of jackets, shorts, and dresses that can double as workout wear or a casual daytime look. If you want leisurewear that performs well but doesn't come with a high price tag, then Outdoor Voices is where it's at.
Find Outdoor Voices on Facebook, Instagram, and Twitter.
Pact's organic clothing is designed to have a minimal impact on the environment — which is why they've labeled themselves "Earth's favorite clothing company." They use sustainable crops, organic farms, and chemical-free dyes to ensure all their fibers support the planet from seed to tee. Shoppers who value sustainability should definitely look into what Pact has to offer.
Find Pact on Facebook, Instagram and Twitter.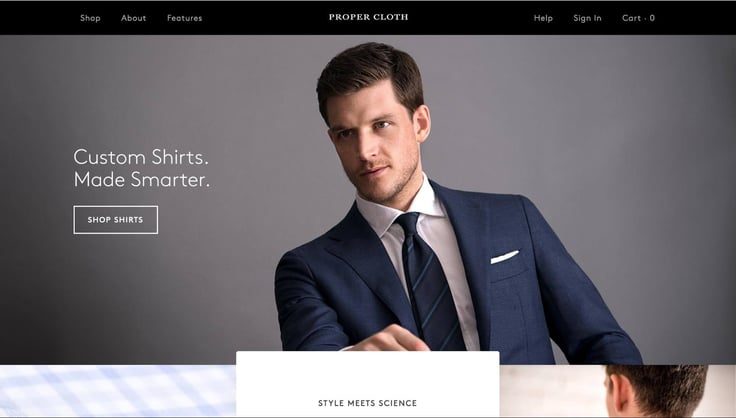 Proper Cloth helps you find a perfectly sized dress shirt with the help of their short interactive quiz. The great thing about this quiz is that it mimics an in-store experience, except it's a lot more relaxed than having to go shopping in person. The Proper Cloth brand combines classic style with this data analysis to create high-functioning shirts that'll fit and flatter every time.
Find Proper Cloth on Facebook, Instagram, and Twitter.
Ratio Clothing produces handcrafted, custom dress shirts that are made in the USA. When you buy a shirt from Ratio Clothing, you can trust that it's well-designed, made using premium materials, and is perfectly tailored to your exact shape/sizing. Ratio provides a complimentary fit report for every new customer, and they offer free U.S. shipping on your initial purchase.
Find Ratio Clothing on Facebook, Instagram, and Twitter.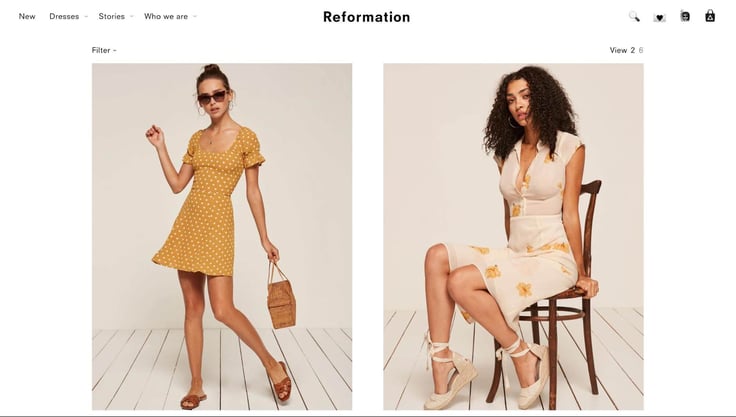 Reformation proves that direct-to-consumer can still mean special and limited edition. While this brand began selling vintage clothing out of a small Los Angeles storefront, they quickly began making their own items via sustainable practices. These days, Reformation sources eco-friendly fabrics and ensures that all their garments are made using responsible manufacturing.
Find Reformation on Facebook and Instagram.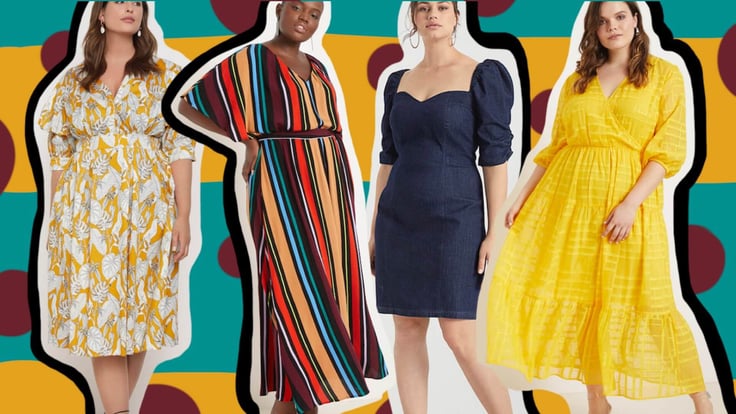 ELOQUII sells women's clothing for sizes 14 through 28. They bring trend-driven and feminine styles directly from the runway to their customers, and operate on a compressed design cycle that allows them to drop new styles every week. The ELOQUII brand carries everything from dresses to jackets to swimsuits, and they've even thrown in some accessories options, too.
Find ELOQUII on Facebook, Instagram , and Twitter.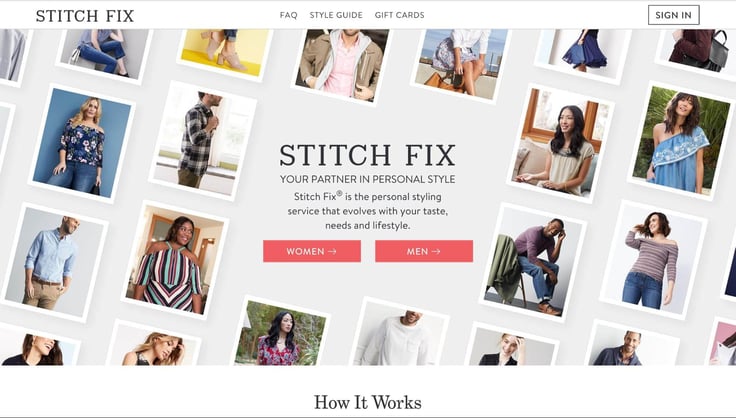 Stitch Fix takes the pressure out of getting dressed by having customers fill out a style profile. Once this profile is complete, Stitch Fix will pair you with a personal stylist who selects specific pieces they think you'll love (which are then sent directly to your home address). You get to keep what you like, and simply send back the rest — no commitment or upfront funds required.
Find Stitch Fix on Facebook, Instagram, and Twitter.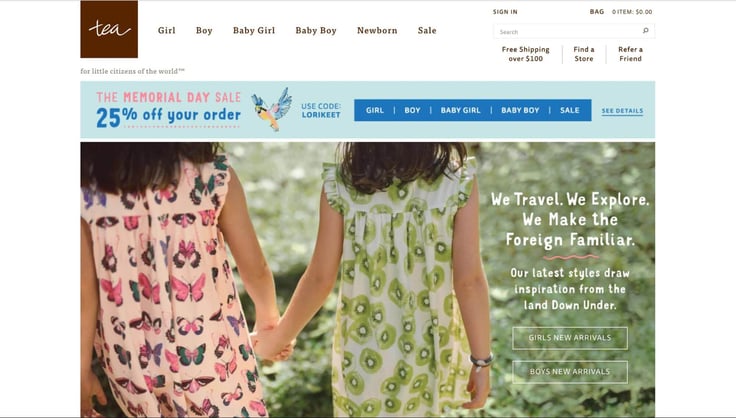 Tea Collection is a children's clothing brand with sizes for toddlers as well as growing girls and boys. This brand is inspired by international designs and uses that inspiration to create unique clothes that reflect global attitudes and appeal to kids from all over the world. Parents looking for quality, affordable, and functional children's clothes can always count on Tea Collection.
Find Tea Collection on Facebook, Instagram, and Twitter.
Tentree's selling model doesn't work in a traditional retail environment, but it shines online. For every item purchased, Tentree plants — you guessed it — ten trees. This brand is committed to making the world a better place, and they're certainly on the right track. As a customer, you can see exactly how many trees have been planted based on your own purchasing behavior.

Find Tentree on Facebook, Instagram, and Twitter.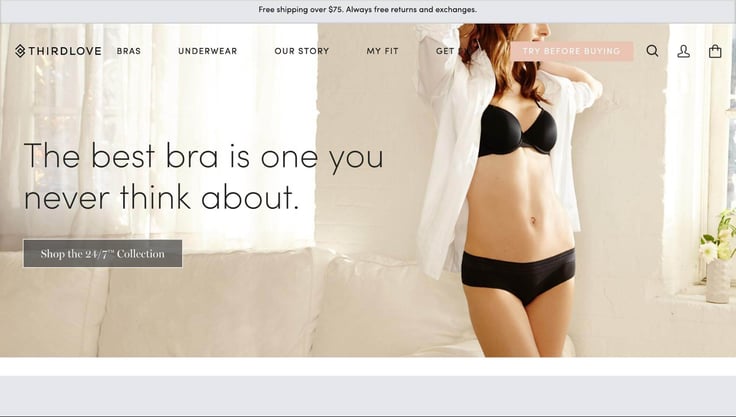 ThirdLove revolutionized the undergarment industry by creating bras for all different body types, and by venturing into the untapped world of half sizes. Unlike their competitors, ThirdLove went the extra mile by conducting extensive market research, gathering measurement data, and creating a proprietary material that's hyper-comfortable (and well-fitted) for the wearer.
Find ThirdLove on Facebook, Instagram, and Twitter.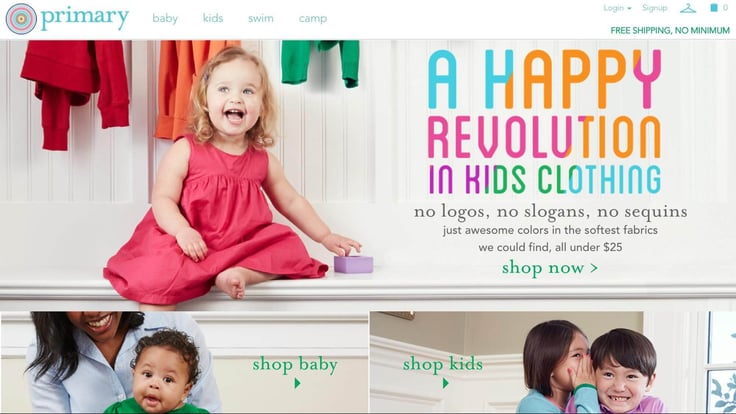 Primary has set itself apart by selling clothes for babies, kids, and grown-ups all on the very same site. With that said, Primary mainly carries children's sizing, and excels at making kids' clothes that are both comfortable and long-wearing. This brand offers free shipping (with no minimum order amount) and has hassle-free returns for a super easy shopping experience.
Find Primary on Facebook, Instagram, or Twitter.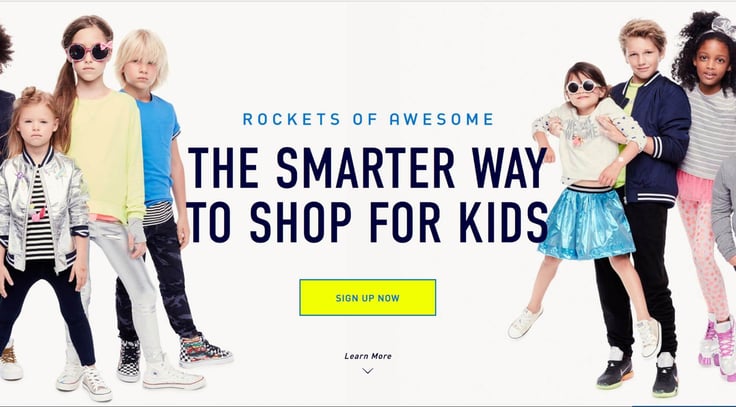 Rockets of Awesome has a subscription program where customers can receive a quarterly box delivered right to their door. Each box is packed full with items your kids will love since you have to fill out a little survey about their interests before receiving your first box. Hang onto the clothes your kids like, and return the rest. With Rockets of Awesome, it's really that simple!
Find Rockets of Awesome on Facebook, Instagram, and Twitter.
TomboyX makes high-quality underwear for customers who crave comfort. When TomboyX noticed a gap in the underwear market, they took it upon themselves to deliver what modern consumers are looking for. Since those early days, TomboyX has expanded into loungewear and swimwear, though all of their products are still created using eco-friendly practices.
Find TomboyX on Facebook, Instagram, and Twitter.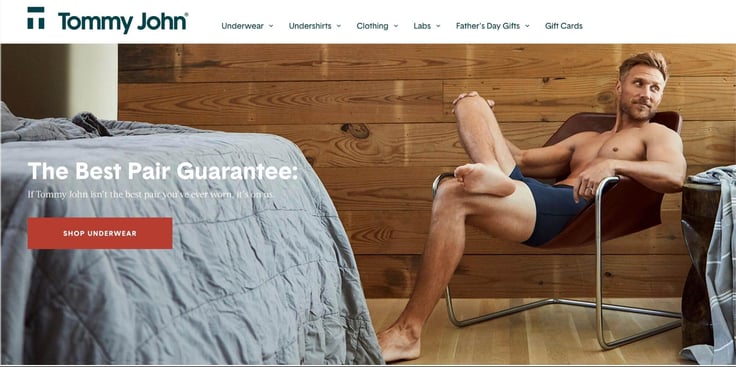 Tommy John's designs are all about comfort, through and through. Their underwear and loungewear promises no bunching, pinching, or tugging — and there definitely aren't any cheap fabrics involved. Each of Tommy John's pieces are created by expert tailors who use premium materials to ensure comfortable all-day wear, anywhere the day might take you.
Find Tommy John on Facebook, Instagram, and Twitter.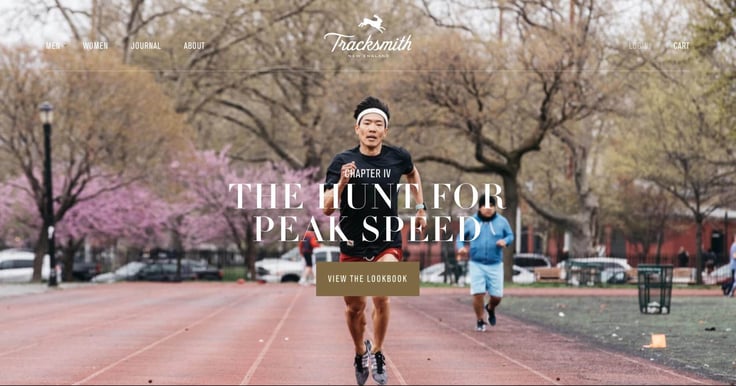 Tracksmith believes that your running gear should fully support you as you run. In other words, it shouldn't chafe, but instead feel like a second skin. That's why this brand creates running clothes that work with you to help you achieve your goals. And that's also why Tracksmith's symbol is the hare — the fast, relentless runner that leaves room for fun while they race.
Find Tracksmith on Facebook, Instagram, and Twitter.
True&Co is focused on designing underwear that puts your comfort at the forefront. Gone are the days of playing around with a measuring tape, because True&Co has created an innovative fit quiz that customers can fill out in a matter of minutes. But the real reason their bras sell so well? All of True&Co's products are weightless and wireless for the ultimate ease of wear.
Find True&Co on Facebook, Instagram, and Twitter.
Chubbies' clothes are ideal for a lazy afternoon or a day spent by the water. This brand makes weekend-inspired, beach-inspired clothing that's best paired with a warm summer day. But on top of helping you make a big style statement, Chubbies offers free shipping, free exchanges, and simple returns within a 90-day window. We call that a breezy buying experience!
Find Chubbies on Facebook, Instagram, and Twitter.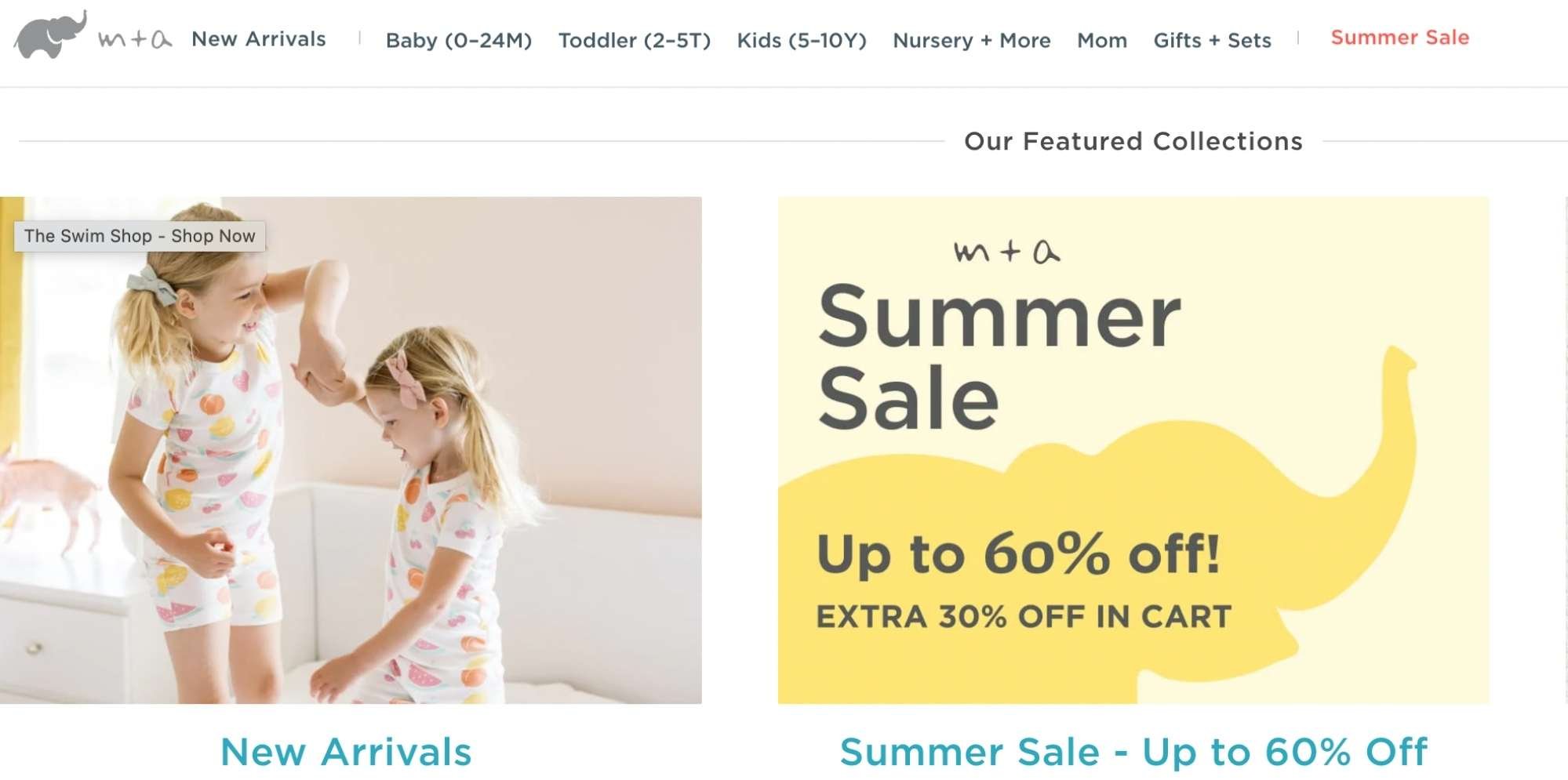 Monica + Andy is known for their organic baby products that are free of chemicals and other additives you're better off to avoid. On Monica + Andy's website, you'll find quality clothes for babies, toddlers, and kids ages 5 through 10 — as well as furniture and decor to help fill out a nursery. What's more convenient for busy moms than buying everything they need online?
Find Monica + Andy on Facebook and Instagram.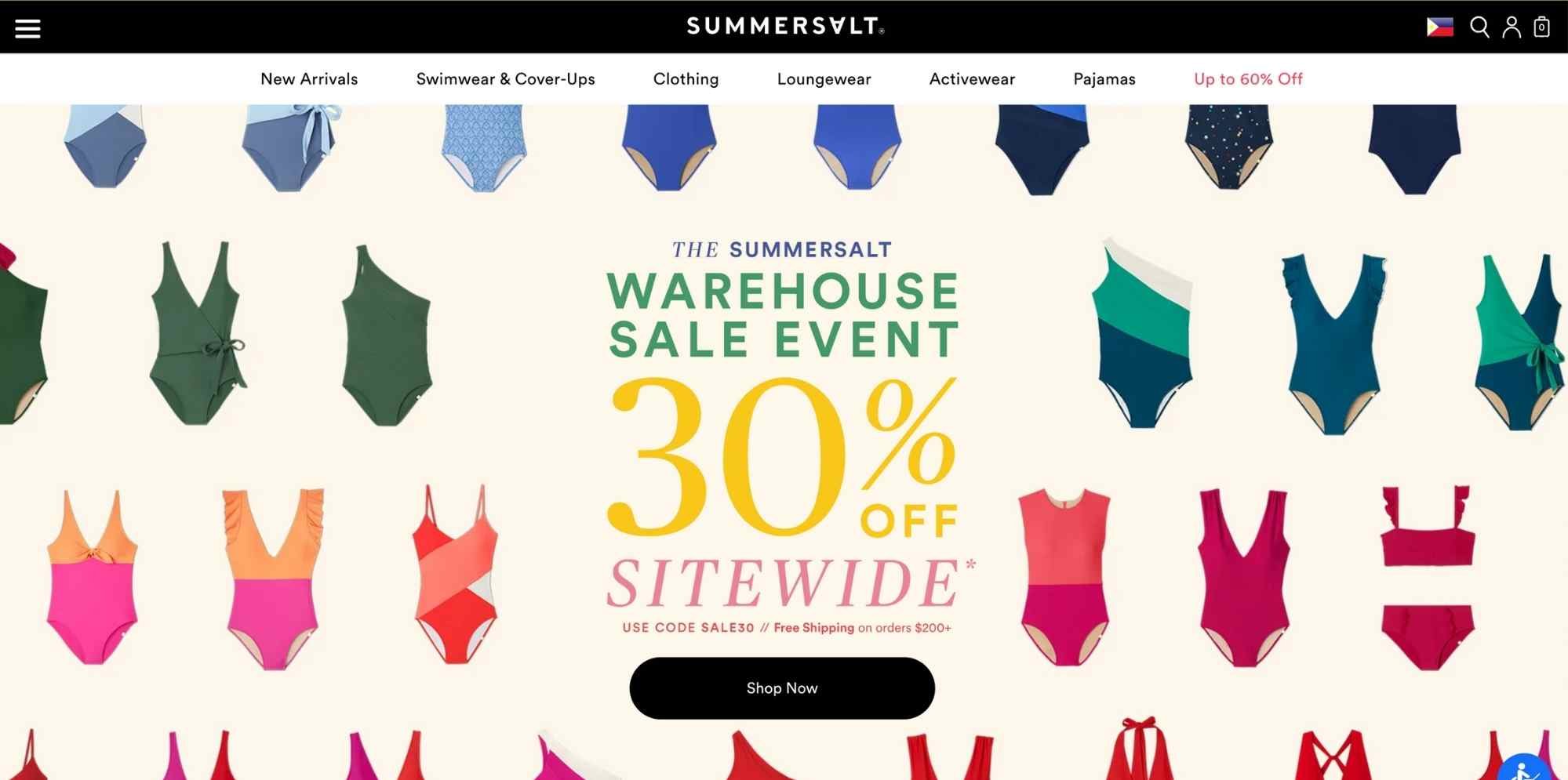 Summersalt has grown quite a following thanks to their flattering swimwear that's designed to fit the customer (not the other way around). Their online store has more than 250 designer swimwear styles, not to mention tons of tops, dresses, and cover-ups alike. Summersalt is an inclusive, innovative brand that's making quality pieces without the luxury price tag.
Find Summersalt on Facebook, Instagram, and Twitter.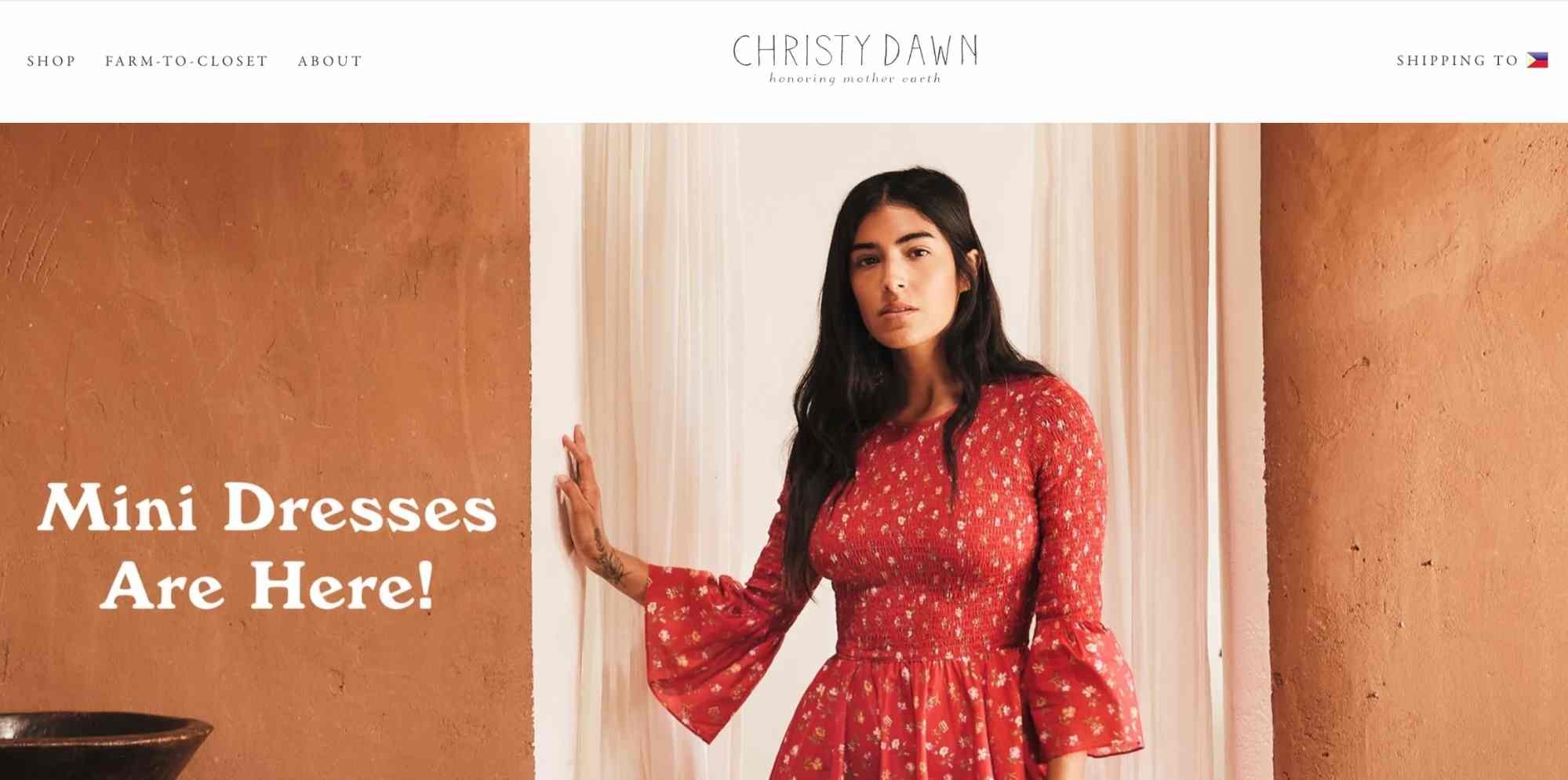 Christy Dawn is a sustainable clothing brand known for its timeless, prairie chic dresses. Their garments utilize deadstock fabric — that is, the excess fabric that normally goes to waste — and turns it into beautiful designs that have a positive impact on the planet. In addition, Christy Dawn only makes a limited number of each piece (in sharp contrast to mass-produced fashion).
Find Christy Dawn on Facebook and Instagram.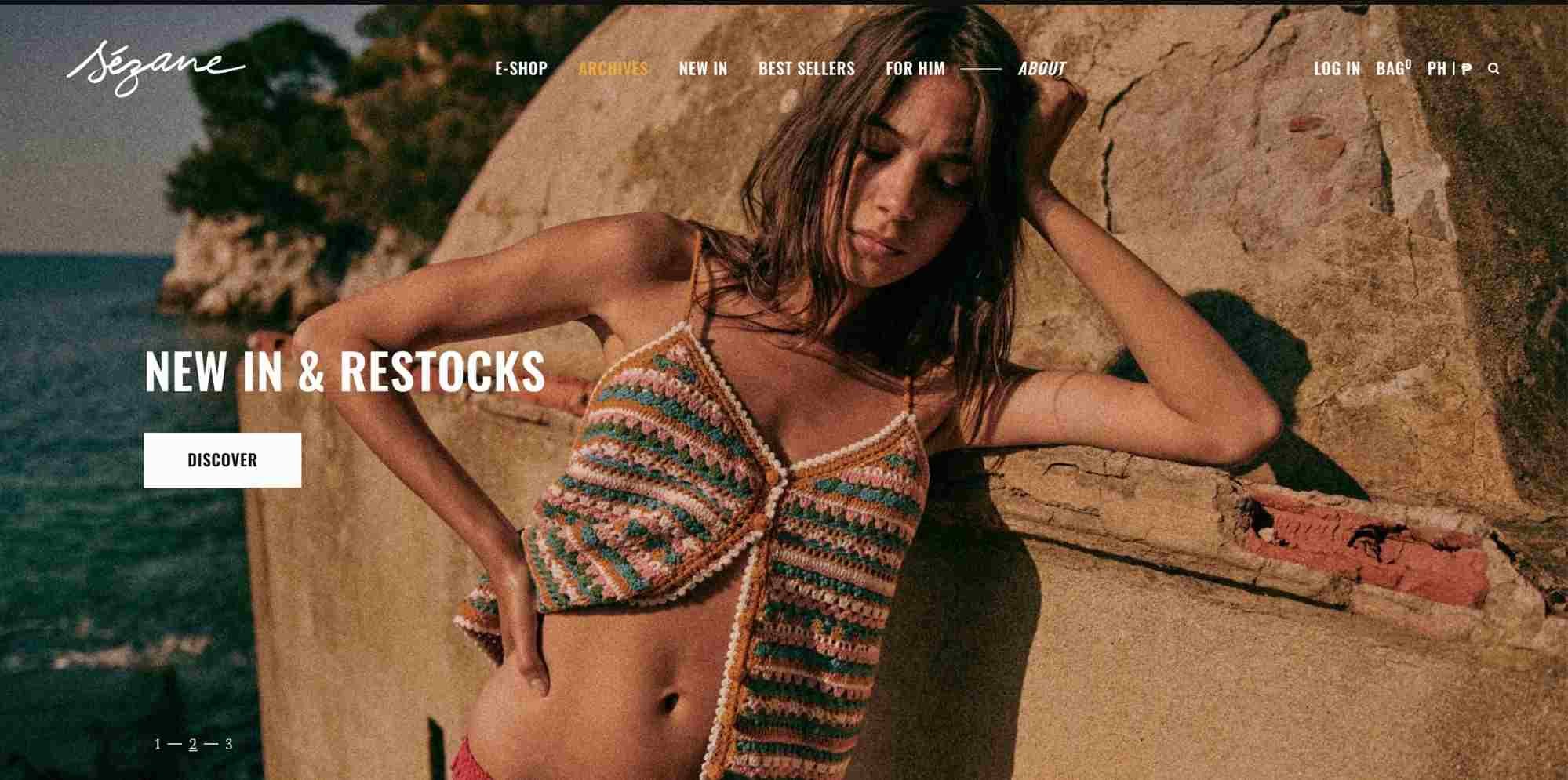 Sézane is a French label that was born entirely online, and sells quality clothing and elevated staples at accessible prices. Since the beginning, they've operated on a lean production model that's based entirely off of customer demand. This way, Sézane avoids overproduction and overpricing to keep their customers happy and cut down on waste at the same time.
Find Sézane on Facebook, Instagram, and Twitter.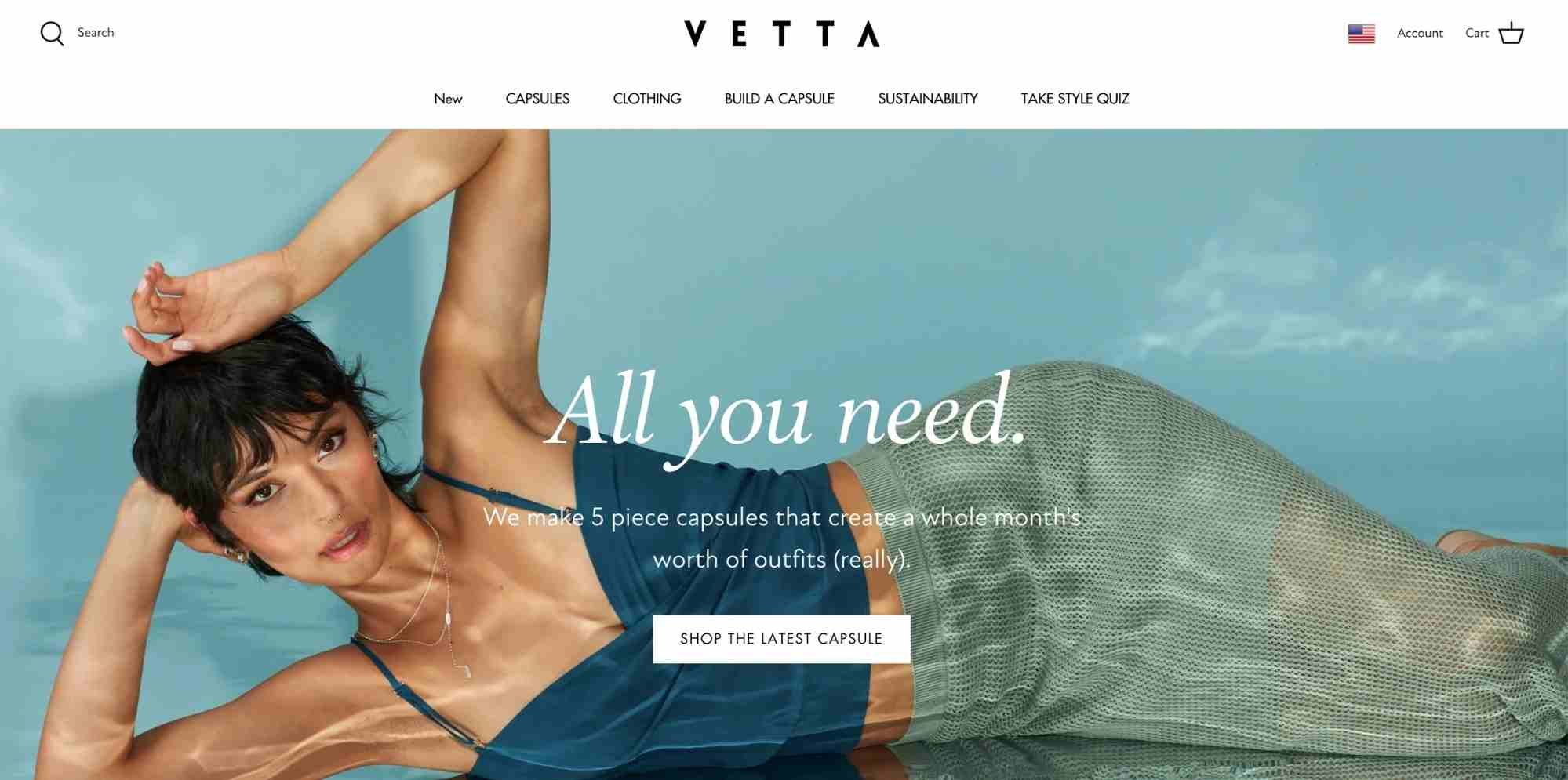 VETTA creates five-piece capsule collections that can be mixed and matched to create 30 different outfits. You read that right — just five garments give customers a whole month's worth of outfits. In addition, VETTA's clothing is all made in responsible factories using high-quality, sustainable fabrics. Explains why they've become a go-to brand for sustainable staples!
Find VETTA on Facebook, Instagram, and Twitter.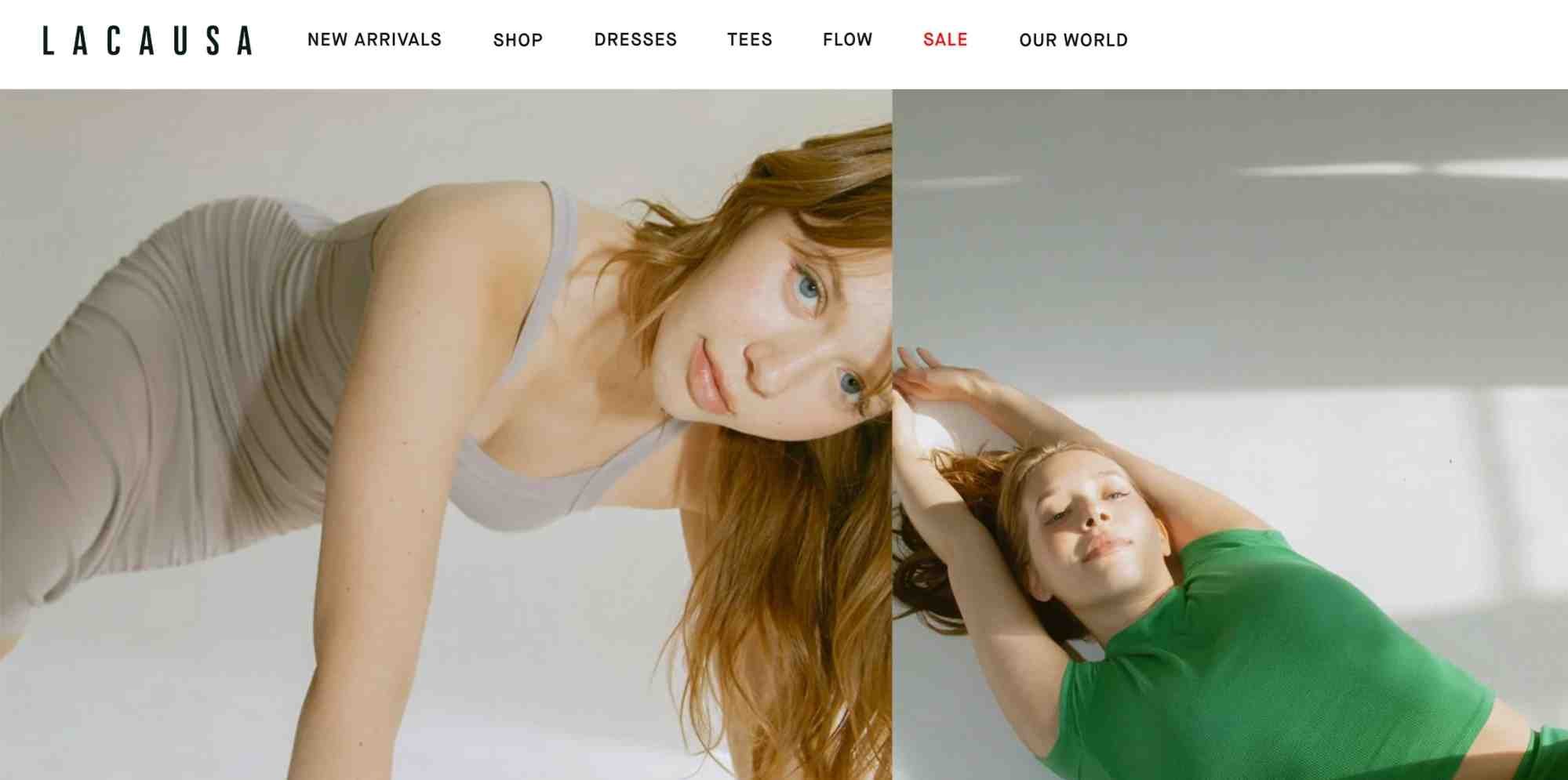 Lacausa's cotton clothing has a laid-back, West coast aesthetic that their customers love. But while they sell a lot of classic styles in neutral tones, they also have items that incorporate stripes, tie dye, and even some floral patterns. Although they only offer free shipping on orders over $150, Lacausa does have a pretty generous return policy in case any of your items don't work out.
Find Lacausa on Facebook, Instagram, and Twitter.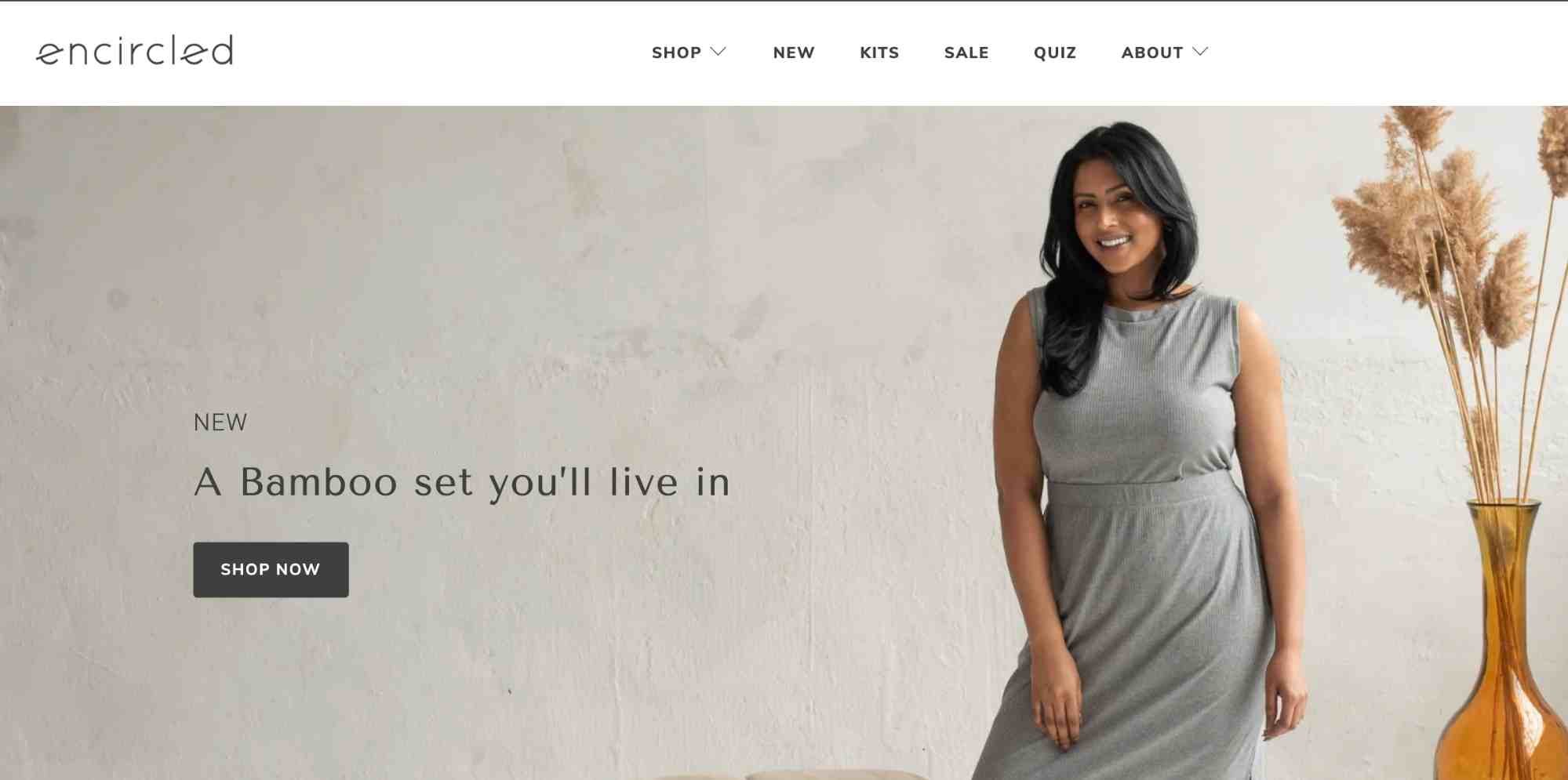 Encircled is a women's fashion brand out of Toronto, Canada. Their whole design philosophy is based around the idea of doing more with less — which is probably why they sell directly to consumers online and list their clothing at reasonable price points. In addition, the fabrics Encircled uses are sustainable in nature and make a minimal impact on the environment.
Find Encircled on Facebook, Instagram, and Twitter.
Shoe Direct-To-Consumer Brands
We all wear shoes every day, which is why it's so important to invest in quality footwear you can trust. These shoe brands have all become leaders in their industry for good reason.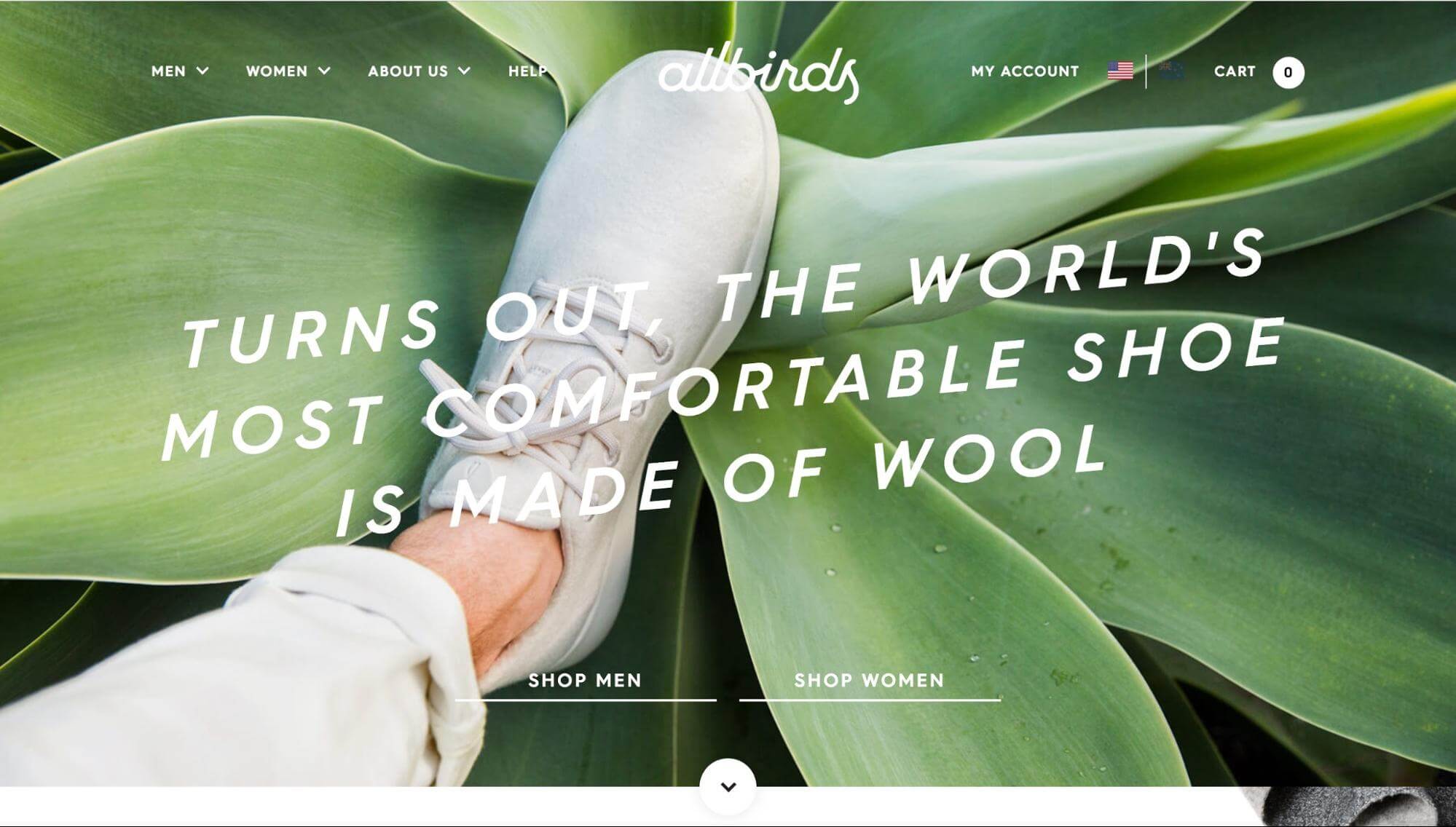 Allbirds is a New Zealand-based brand that makes sustainable, fashionable footwear for both men and women. This brand carries everything from running shoes to sandals and several styles in between. The great thing about purchasing from Allbirds — aside from supporting their eco-friendly practices — is that they offer a free 30-day trial on every pair, no questions asked.
Find Allbirds on Facebook, Instagram, and Twitter.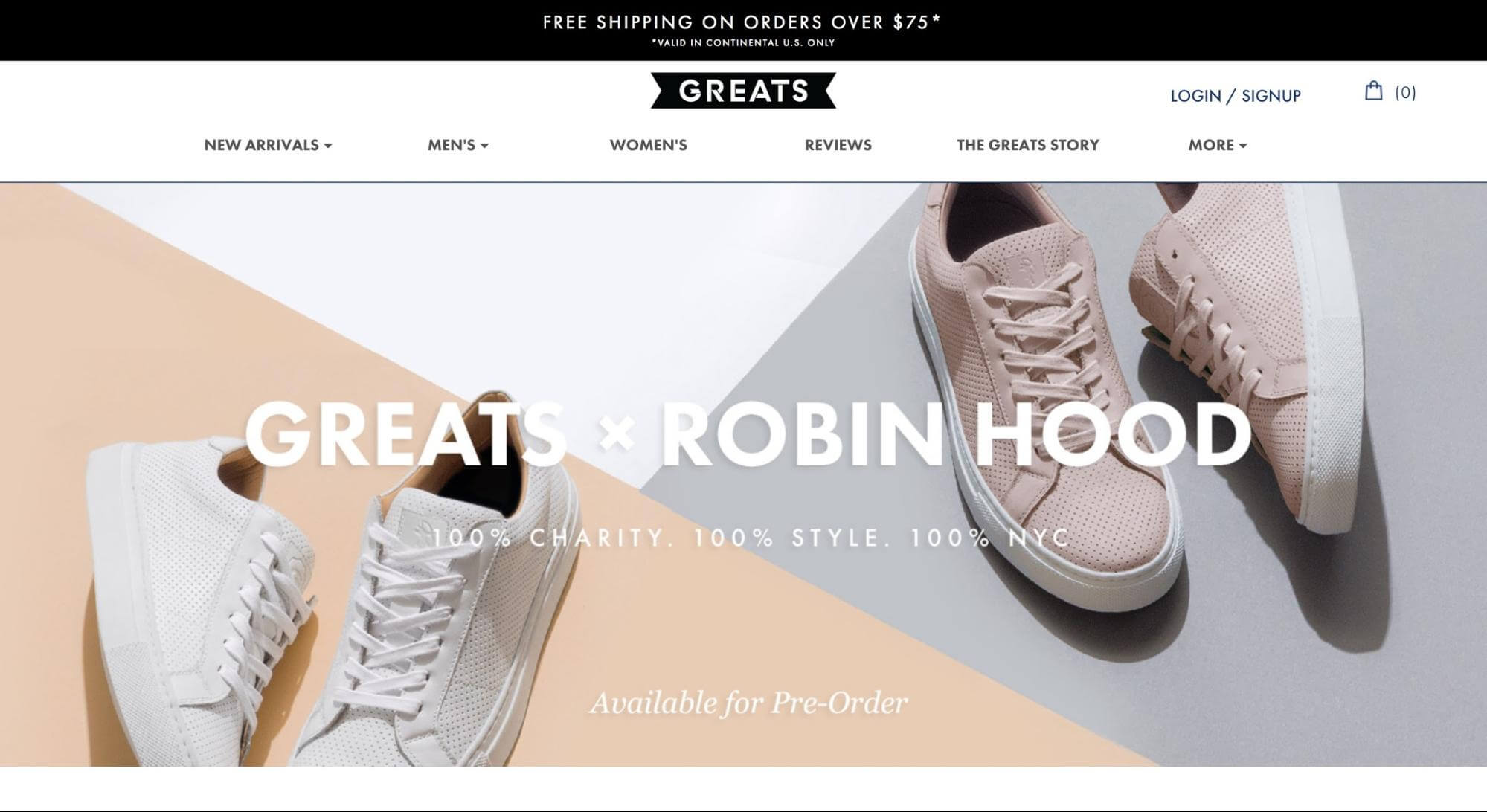 GREATS has found a way to use their story and values to connect with their customer base. To that end, GREATS is the first sneaker brand born in Brooklyn, New York. Since 2014, GREATS has been committed to creating sneakers "with a superior fit and feel that's built to last." There's no doubt this brand is disrupting the industry and gaining more and more fans along the way.
Find GREATS on Facebook, Instagram, and Twitter.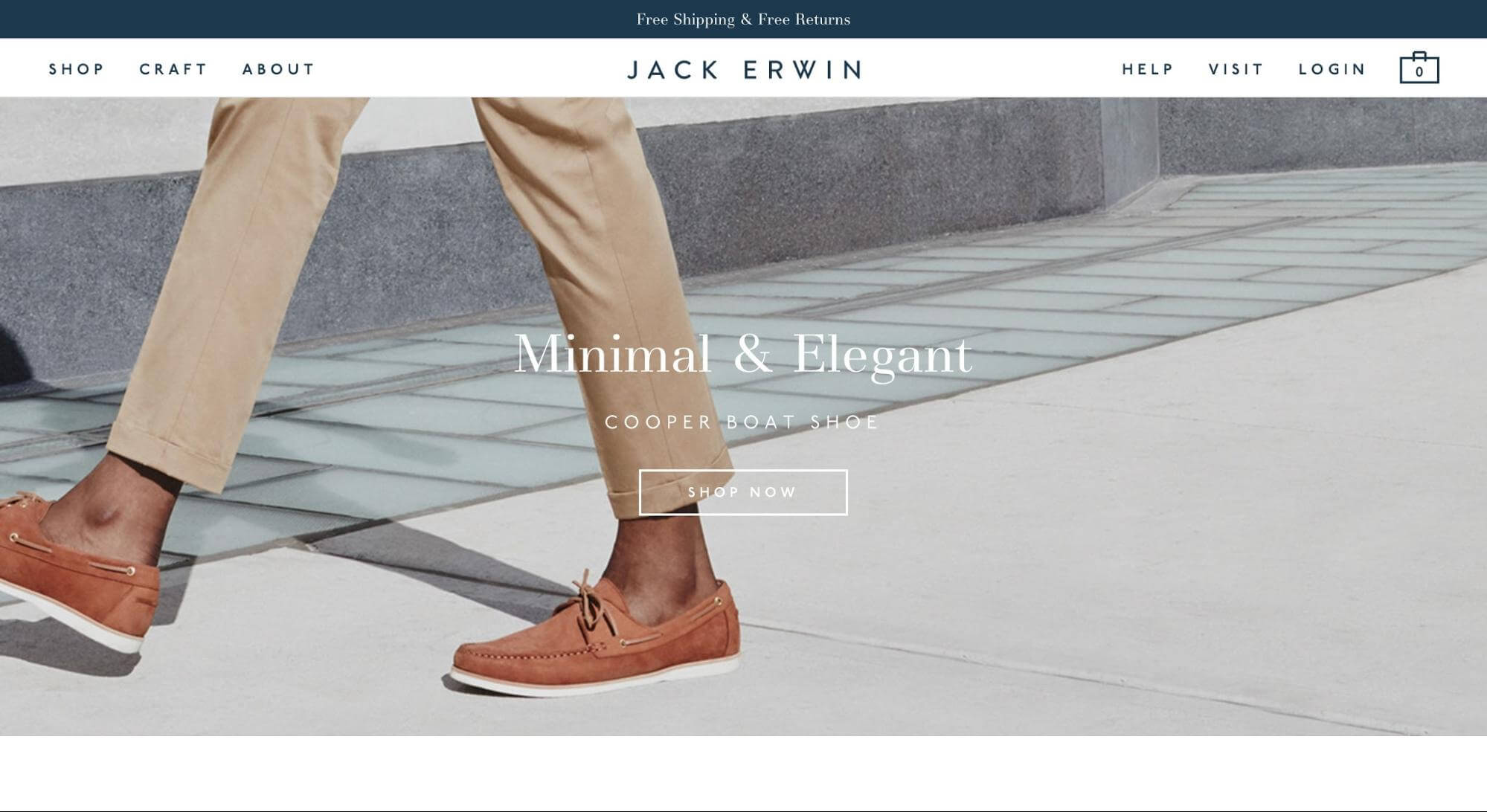 Jack Erwin makes comfortable dress shoes in classic styles like loafers, mules, and lace-ups. All of their shoes are carefully crafted in Spain using high-quality materials that'll look and feel great once they're finally on your feet. It's not hard to see why Jack Erwin has become a favorite brand among shoppers who appreciate minimal aesthetics paired with functional elegance.
Find Jack Erwin on Facebook, Instagram, and Twitter.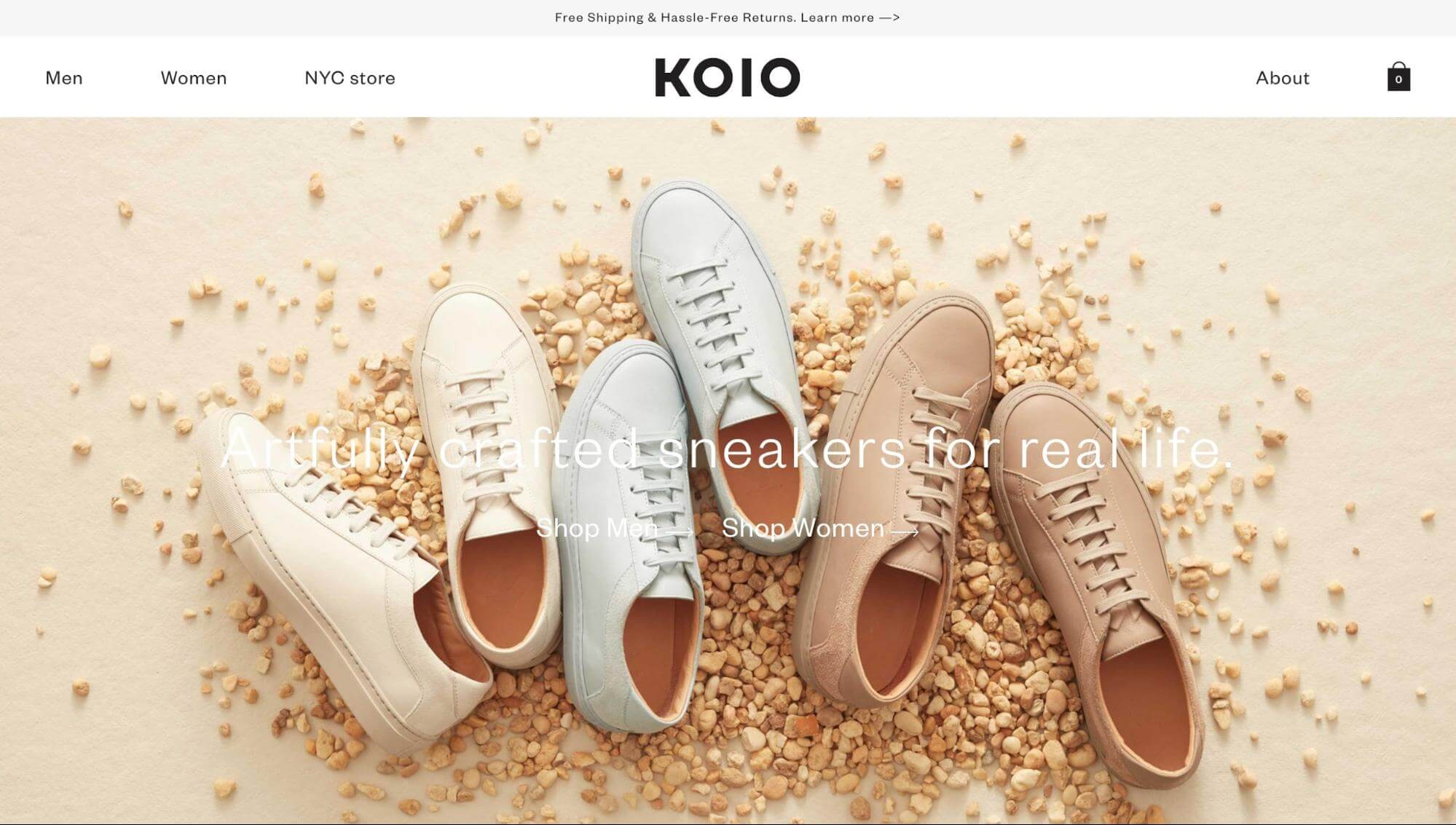 Koio is known for its handmade Italian sneakers that combine functionality and beauty into a modern leather shoe. They sell high-tops, low-tops, and boots for both men and women — and you can trust that all their styles live up to the same quality standard. Koio offers free shipping on all domestic orders, so you can try their shoes on before you make a final decision.
Find Koio on Facebook, Instagram, and Twitter.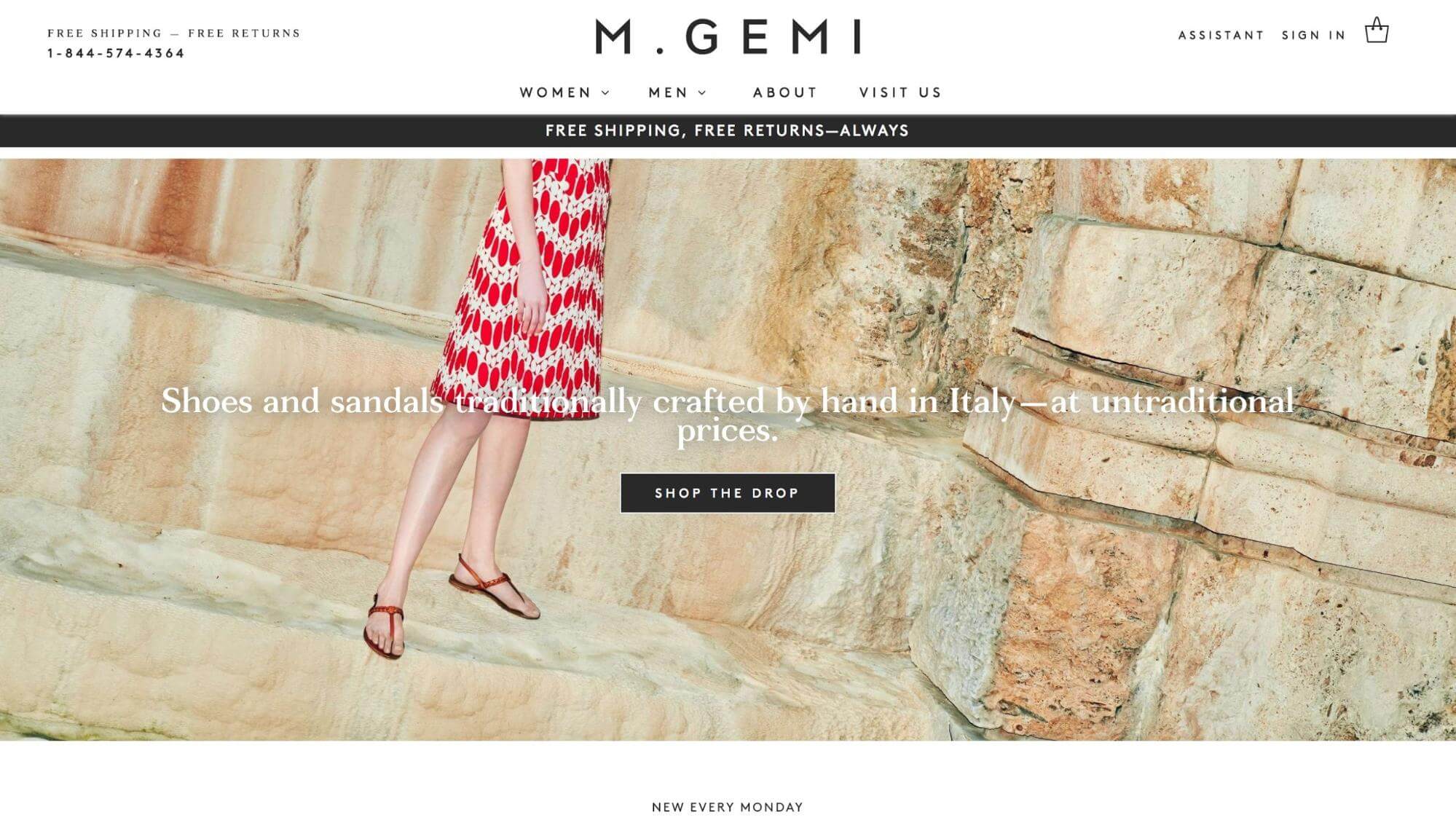 M.Gemi creates handcrafted Italian shoes and sandals that are delivered straight to the customer's doorstep. Think of their shoes like convenience in a box! M.Gemi understands that to provide a luxury product customers can afford, you need to cut out the go-betweens and excess steps in the supply chain — which is exactly what this brand has managed to do.
Find M.Gemi on Facebook, Instagram, and Twitter.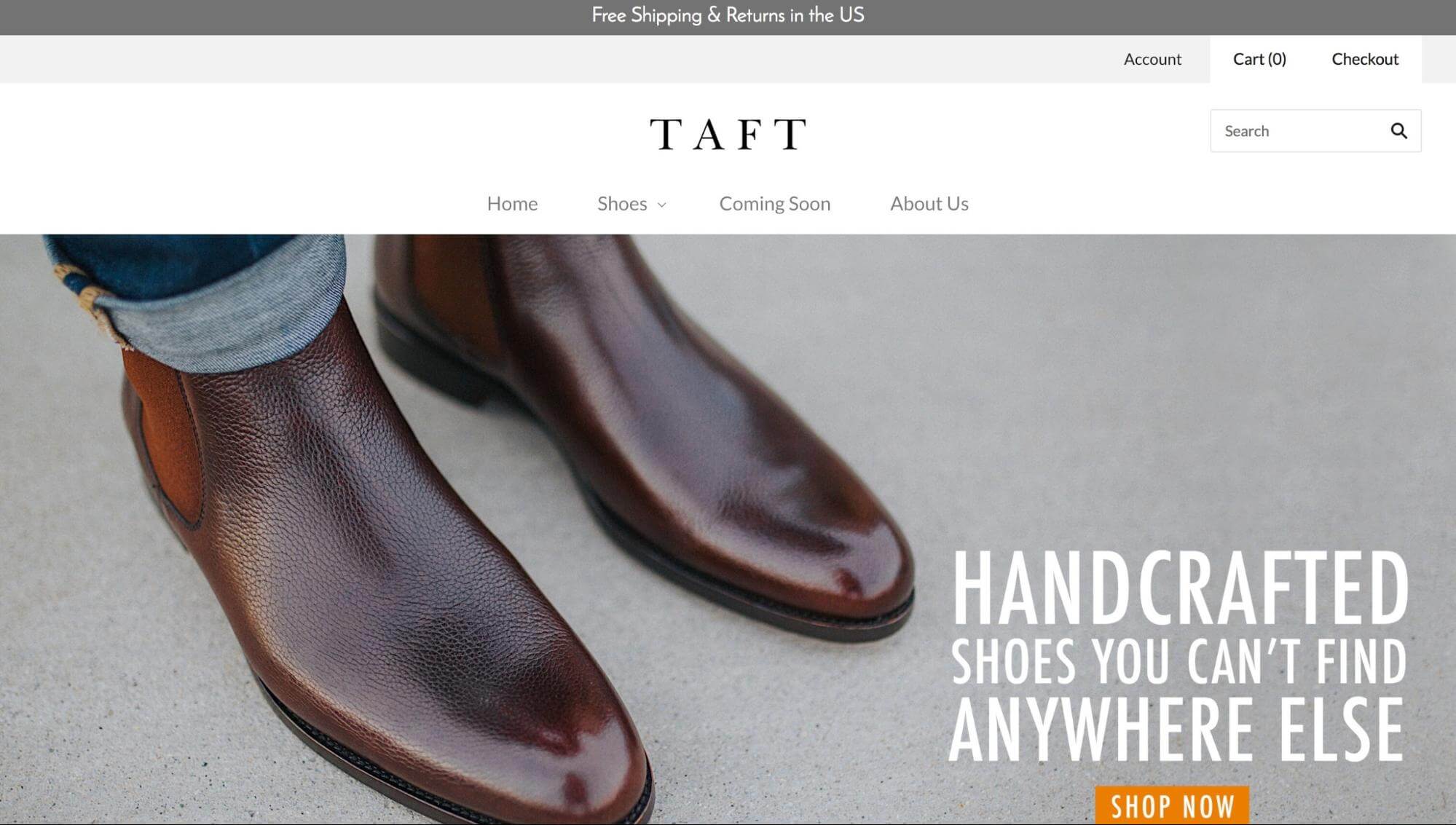 TAFT makes stylish shoes and boots that are handcrafted in Spain. Simply put, TAFT's shoes aren't the type of footwear you'll find in a run-of-the-mill store. These products have a superior quality in their craftsmanship and materials, well beyond what you'd see with mass-produced boots or sneakers. TAFT's shoes are unique and bold, and their prices clearly reflect that.
Find TAFT on Facebook, Instagram, and Twitter.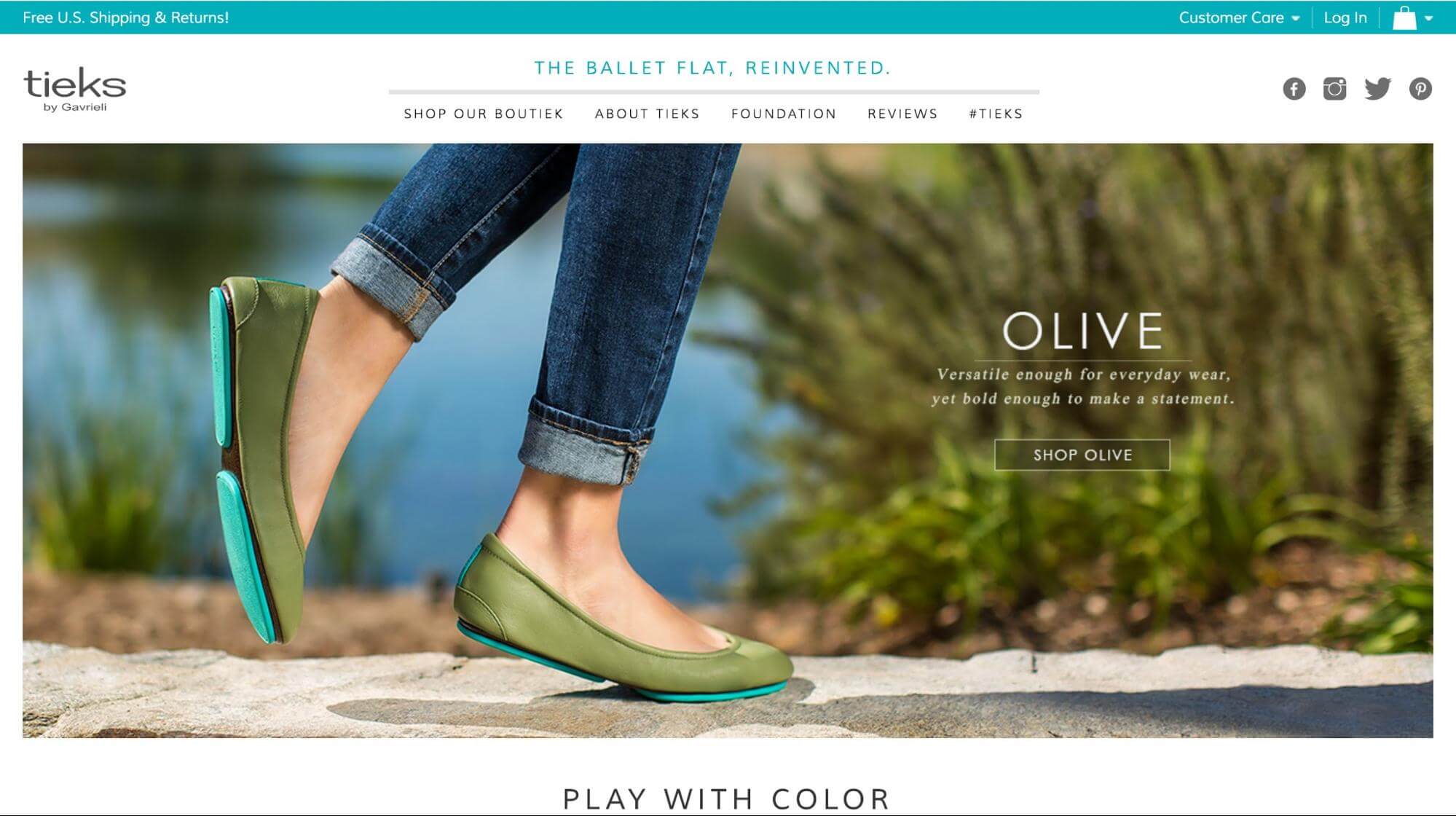 Tieks has reinvented the ballet flat to be the epitome of class and comfort. Their bold, versatile, and high-quality flats have a strong sole that'll hold up to all kinds of wear and tear. Plus, these shoes won't hurt your feet (but instead give you some major style credentials). Even more impressive? Each pair of ballet flats requires three days and more than 150 steps to complete.
Find Tieks on Facebook, Instagram, and Twitter.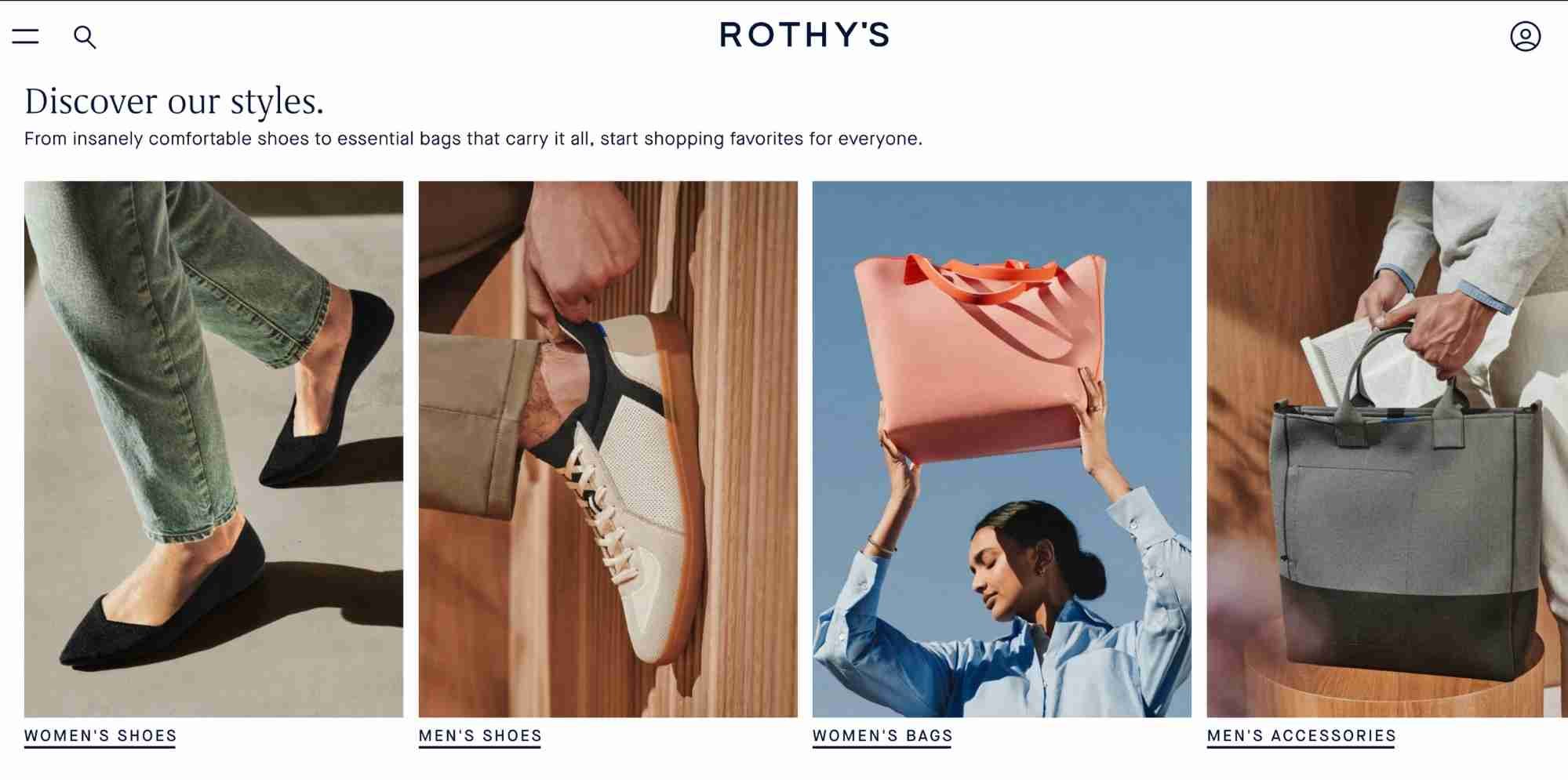 Rothy's prioritizes sustainability in everything that they do. From their recycled materials and sustainable packaging, to their vegan options and fair labor practices, Rothy's is a true leader in sustainable footwear. But they've also set themselves apart in the production process — all their shoes are shaped by 3D knitting, where a digital design turns into a tangible piece of clothing.
Find Rothy's on Facebook, Instagram, and Twitter.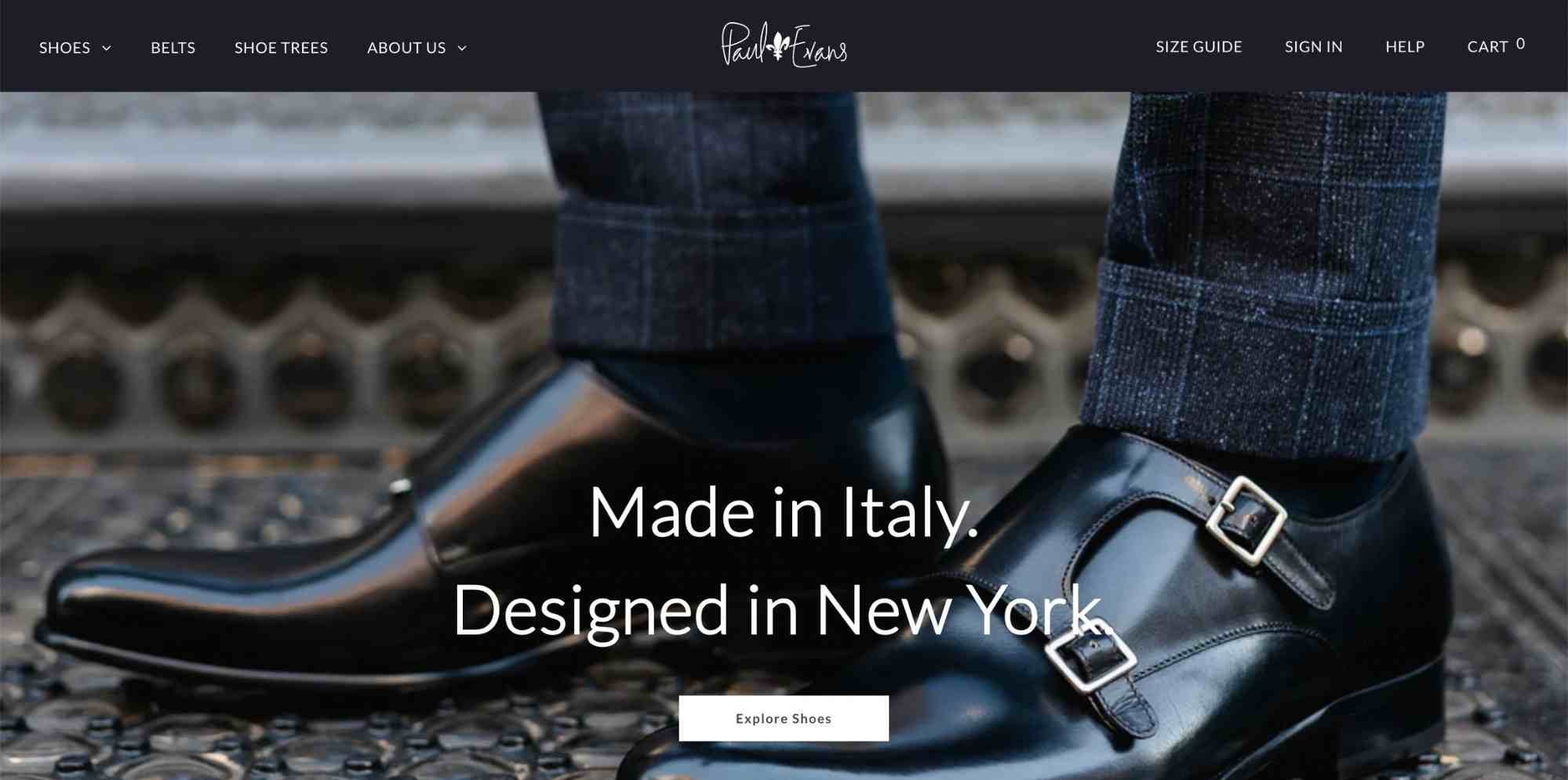 Paul Evans has an interesting business model, in that their leather shoes are designed in New York but then handcrafted in Italy. Their gorgeous Oxfords, loafers, and boots come in classic shades and extended sizing to help them reach an even wider audience. And if their glowing reviews are any indication, Paul Evans continues to put out quality products, one after the next. Find Paul Evans on Instagram and Twitter.
Food and Beverage Direct-To-Consumer Brands
Eating healthy doesn't have to be a hassle or cost you a fortune. These food and beverage brands have made it possible to eat well without busting your budget.
Aloha knows that protein powder isn't just for bodybuilders and CrossFit enthusiasts. And that's why they've developed organic, sustainable, and plant-based protein that can be enjoyed by everybody/every body. This commitment to plant-based products is seen throughout the Aloha brand, appearing on everything from website copy to their overarching mission statement.
Find Aloha on Facebook, Instagram, and Twitter.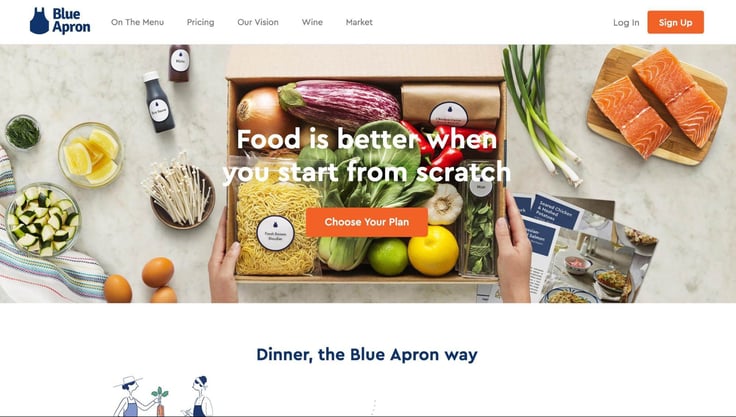 Blue Apron has optimized the end-to-end cooking experience. The Blue Apron team works with reputable farms and farmers to source local, high-quality food that's delivered to your door on a subscription basis. Along with their commitment to a natural food system, Blue Apron makes it easy and convenient for customers to have healthy choices when it comes to mealtime.
Find Blue Apron on Facebook, Instagram, and Twitter.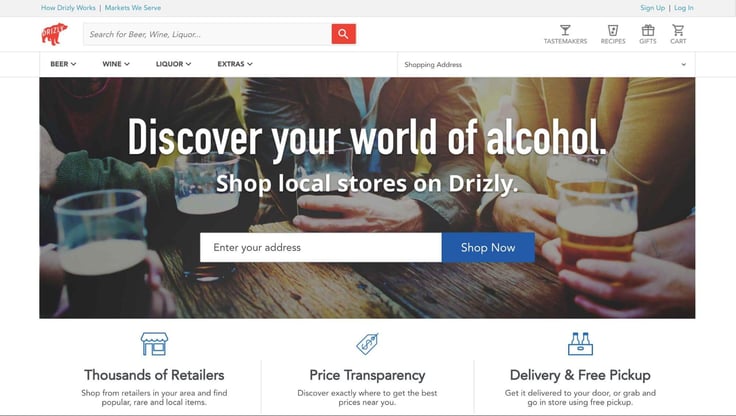 Drizly is the largest online marketplace for alcohol in North America. According to their website, Drizly is "committed to life's moments and the people who create them." That could help explain why they've partnered with thousands of retailers in over 1,400 cities — and why their alcohol (and alcohol delivery service) is now available to more than 100M+ customers and counting.
Find Drizly on Facebook, Instagram, and Twitter.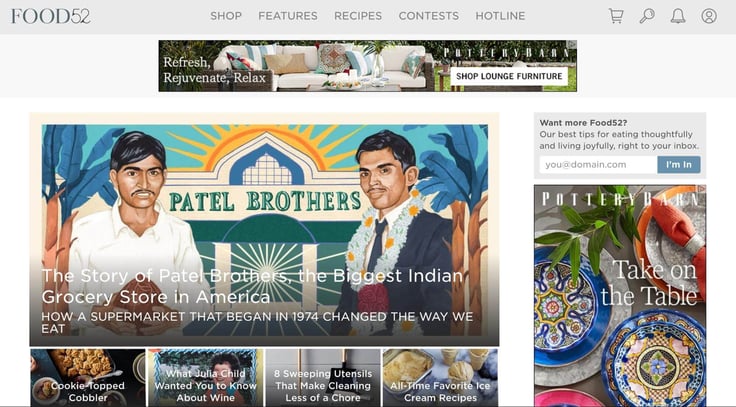 Food52 wants to inspire their customers to eat thoughtfully and live joyfully. That manifesto can truly be felt throughout every part of their ecommerce business. With Food52, you can buy all the cookware, appliances, and kitchen gadgets you need to create a joyful kitchen. Other features of Food52 include their recipes, contests, and articles on food-related content.
Find Food52 on Facebook, Instagram, and Twitter.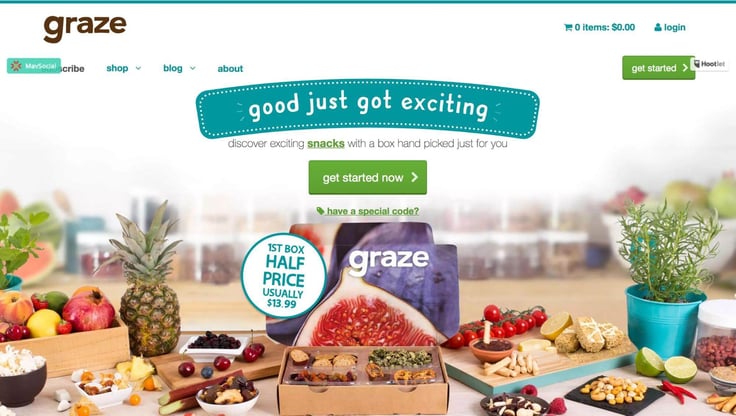 Graze knows that snacking helps to keep your hunger at bay, but they also recognize that it can be difficult to make healthy snacking decisions. Luckily, Graze has made healthy snacking a whole lot easier, by creating delicious and nutritious snacks that can be delivered to your home or office. Tell the Graze team what you like, and they'll create a custom box just for you.
Find Graze on Facebook, Instagram, and Twitter.
Hint has asserted themselves as "the water that makes you love water." Their refreshing flavored drinks — that is, naturally flavored water — help you to avoid soda and keep up with a healthy lifestyle. When you drink Hint water, you don't have to spend hours reading the label or checking the ingredients on their website; you can trust it's a clean, health-focused product.
Find Hint on Facebook, Instagram, and Twitter.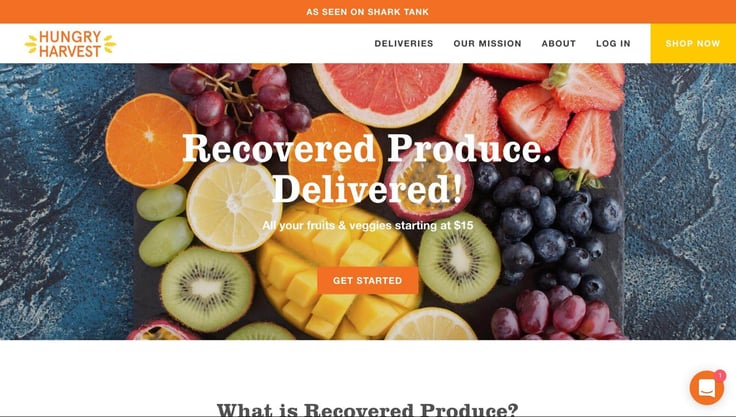 Hungry Harvest started after its co-founders noticed how much produce went to waste because of small, visual imperfections. Now, Hungry Harvest delivers imperfect produce directly to their customers (and in turn, cuts down on food waste in a big way). Every harvest they ship saves at least 10 pounds of food from going to waste while reducing customers' environmental impact.
Find Hungry Harvest on Facebook, Instagram, and Twitter.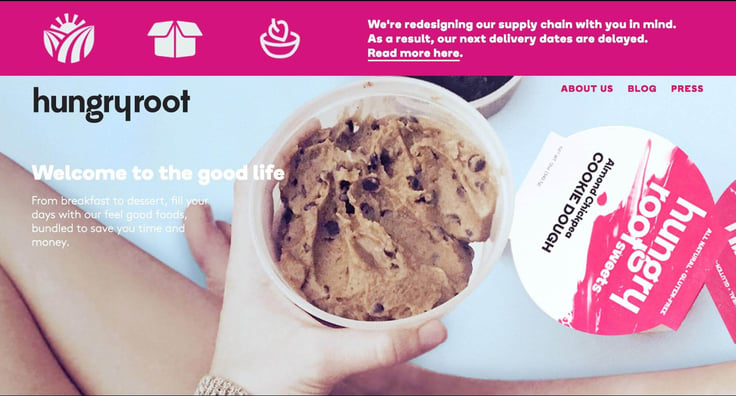 Hungryroot makes it super simple to stay on track with your health goals. After taking a quick quiz, Hungryroot will recommend good-for-you groceries that work best for you and your diet — whether that's gluten-free, pescatarian, vegan (or something else). Along with those custom recommendations, Hungryroot also offers nutritious recipes and practical meal-planning tips.
Find Hungryroot on Facebook, Instagram, and Twitter.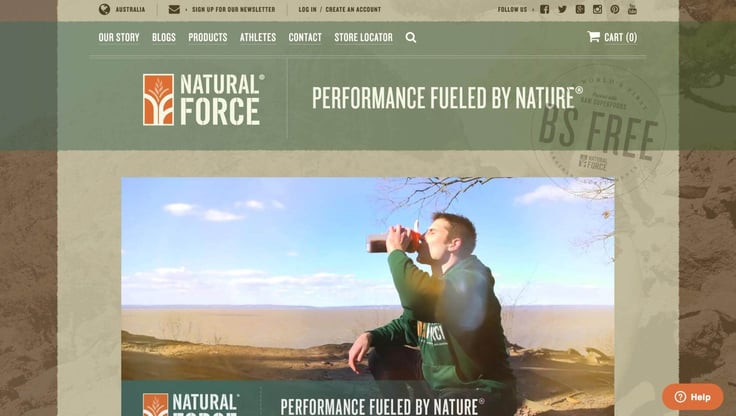 Natural Force delivers dietary supplements for clean living and improved athletic performance. All of their products are made from clean, organic ingredients (like herbs and superfoods) that give you an extra burst of energy without the dreaded crash. Natural Force makes sure you have all the supplements you need to support your training or your personal health journey.

Find Natural Force on Facebook, Instagram, and Twitter.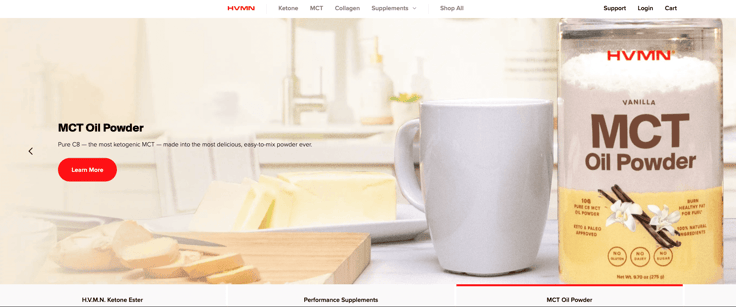 HVMN has developed a proprietary beverage known as Ketone-IQ™. As its name suggests, this drink is made of ketones — which are proven to support your body's energy and endurance. With that said, Ketone-IQ™ doesn't contain any caffeine, sugar, or other unnecessary additives. It only uses clean, natural energy to give a boost to your physical and cognitive abilities.
Find HVMN on Facebook, Instagram, and Twitter.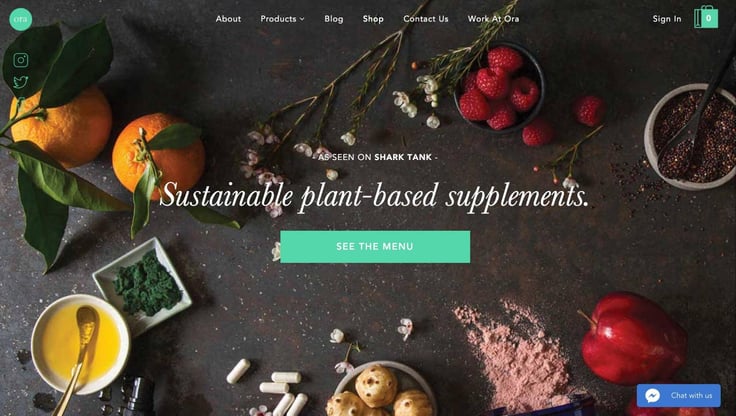 Ora sells organic, non-GMO, and gluten-free supplements that are entirely plant-based. This brand is on a mission to improve customers' health through the power of plants by providing the ultimate "plant-forward nutrition experience." And because Ora operates on a DTC model, they can deliver superior customer service with every single order and online interaction.
Find Ora on Facebook, Instagram, and Twitter.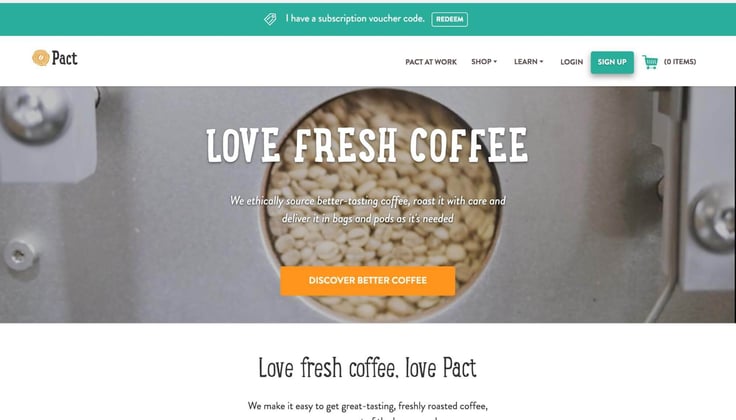 Pact Coffee wants to help you kickstart your morning routine with their flexible coffee subscription packages. The Pact brand sources all their coffee directly from farmers, and pays them an average of 65% above the Fairtrade base price. In other words, they're prioritizing sustainable, ethical business practices while offering a top-tier product at the very same time.
Find Pact Coffee on Facebook, Instagram, and Twitter.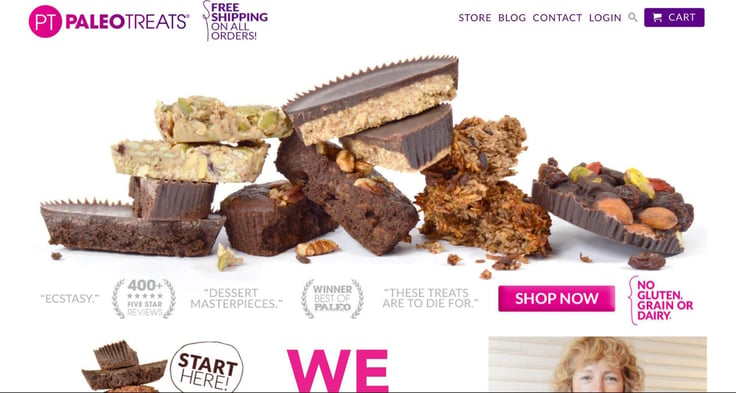 Paleo Treats creates premium snacks that are gluten, grain, and dairy free — but still full of flavor for a feel good experience. For anyone following a Keto or plant-based diet, Paleo Treats has made it possible to indulge in dessert without it being a detriment to your health. Plus, they ship their sampler boxes and subscription orders straight to your door for total convenience.
Find Paleo Treats on Facebook, Instagram, and Twitter.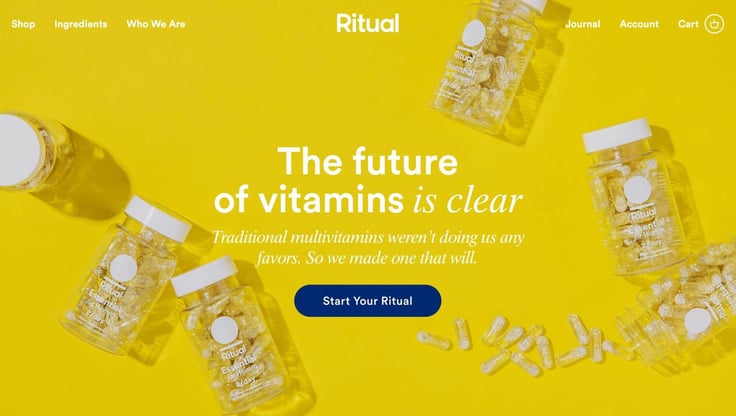 Ritual has reimagined the multivitamin by combining sustainable practices, clean ingredients, and transparent communication with its customer base. In fact, Ritual has simplified the entire approach to supplements by creating an all-in-one vegan vitamin that's delivered right to your doorstep on a recurring, monthly basis. Staying healthy has never been easier!
Find Ritual on Facebook, Instagram, and Twitter.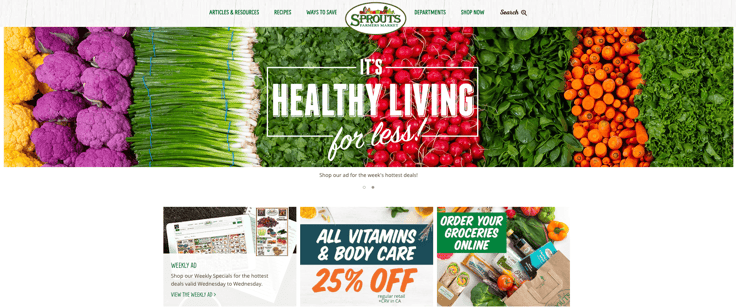 Sprouts is dedicated to responsibly and ethically sourcing all of the food they sell, which includes everything from their farm-fresh produce to their hormone-free meat. This company offers a wide range of healthy, affordable, and sustainable products at reasonable prices — making it easier for consumers to get fresh, delicious food within just a few clicks.
Find Sprouts Farmers Market on Facebook, Instagram, and Twitter.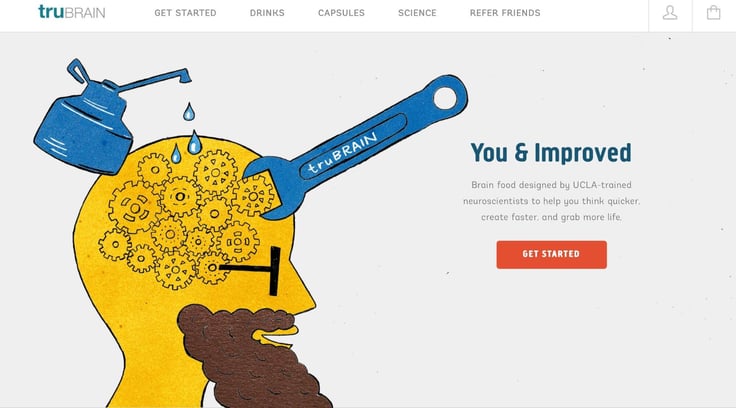 TruBrain sells 'brain food' that's been specially designed by UCLA-trained neuroscientists to help you grab onto more life. Their products span the likes of capsules, to custom drinks, to powder sticks you can add to your water on the go. Regardless of which item(s) you purchase from TruBrain, they're guaranteed to enhance your mental agility to a notable degree.
Find TruBrain on Facebook, Instagram, and Twitter.
Home Direct-To-Consumer Brands
These DTC brands are helping customers turn their homes into the coziest, most comfortable, and most inviting space to be.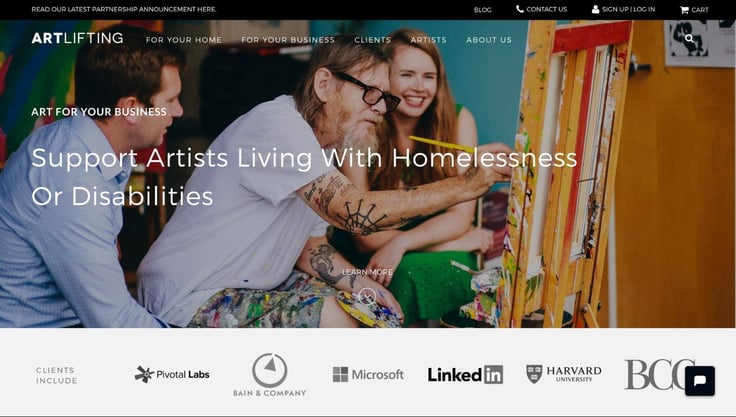 ArtLifting knows that artists come in all shapes and sizes and from all walks of life. And that's why they've set out to help consumers support artists who are living in shelters and disability centers. ArtLifting acts as a professional art gallery, managing and promoting the work of these artists. But to make your purchase risk free, ArtLifting also offers free returns and exchanges.
Find ArtLifting on Facebook, Instagram, and Twitter.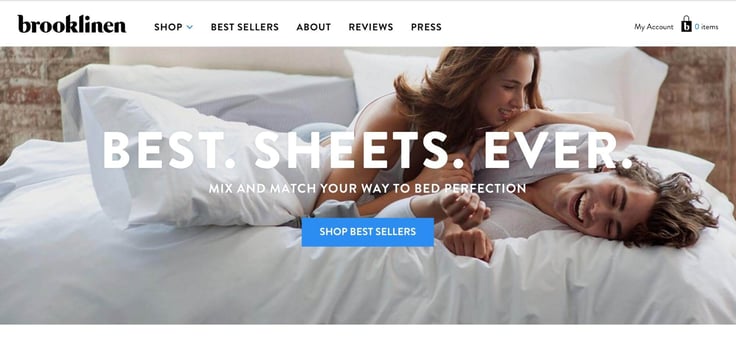 Brooklinen helps customers make their sleeping arrangements as comfortable as possible. They sell simple, ultra-comfortable bed sheets — all of which are responsibly made from quality materials. Brooklinen aims to create a superior product and seamless shopping experience by curating options that work for your needs (like a lifetime warranty and hassle-free returns).
Find Brooklinen on Facebook, Instagram, and Twitter.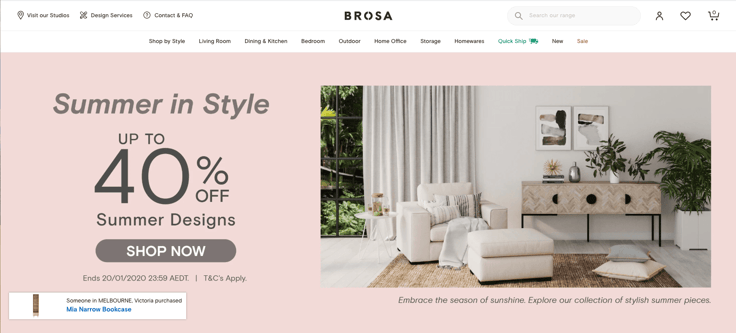 Brosa has formed partnerships with furniture designers to give their customers special, one-of-a-kind pieces without paying the typical retail premium. Essentially, they run on a customer-powered model. Every month, the Brosa team shares their top design proposals, and then customers go online to vote on which pieces will be manufactured and become a reality.
Find Brosa on Facebook, Instagram, and Twitter.
Bob's is a DTC company that's dedicated to offering a great selection of quality, sustainable furniture that's also quite comfortable and stylish. But their mission extends beyond providing excellent furniture at everyday low prices — Bob's also helps the communities where their stores are located through the Bob's Discount Furniture Charitable Foundation.
Find Bob's Discount Furniture on Facebook, Instagram, and Twitter.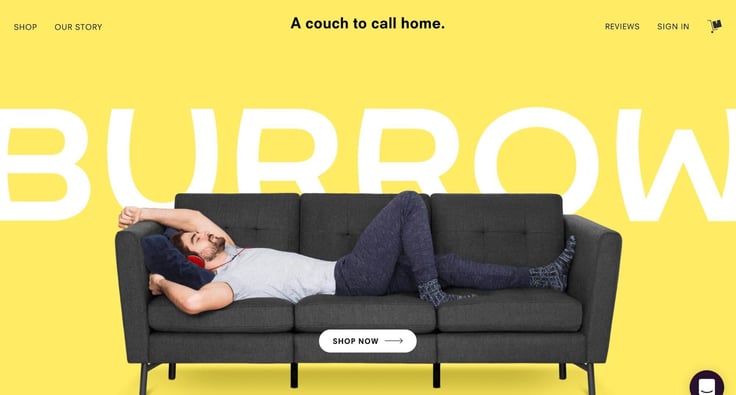 Burrow's custom furniture combines a lightweight frame with a timeless design — meaning you can easily move your couch, desk, or headboard anytime/anywhere you like. Their ready-to-ship products arrive with simple assembly instructions, and without any tools you have to decipher (or worry about losing). Shipping is always free, and you're even allowed a 100-day trial period.
Find Burrow on Facebook, Instagram, and Twitter.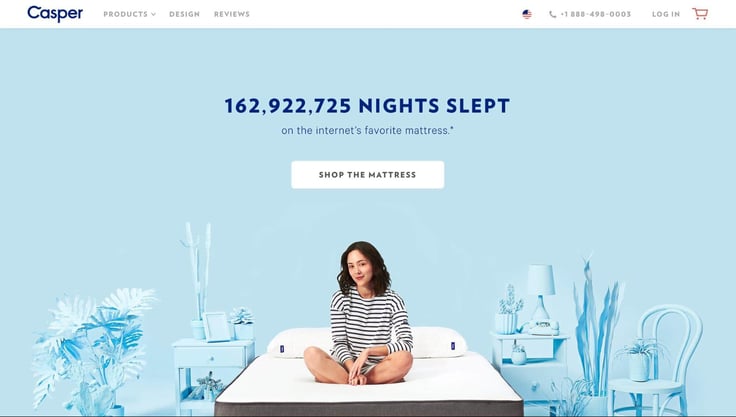 Casper disrupted the mattress industry several years ago when they started delivering mattresses straight to your door (and shipped in a box you could actually move). Before Casper came along, buying a mattress was a lot harder than it should have been. But fortunately, this brand has made it a breeze to buy a new bed you'll want to spend virtually all your time in.
Find Casper on Facebook, Instagram, and Twitter.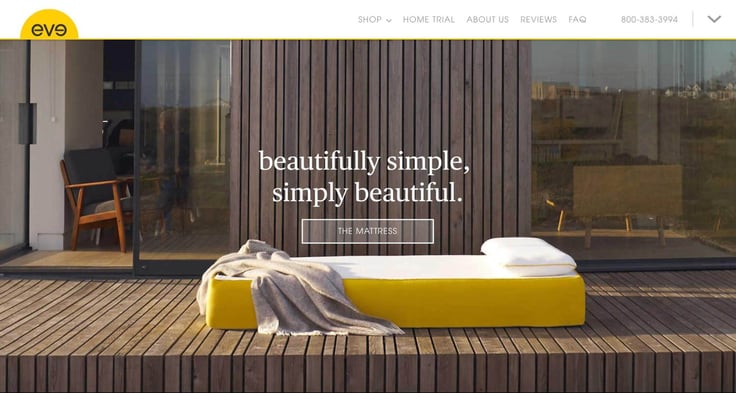 Eve Sleep sells what they like to call "the original hybrid mattress." Their simple, well-designed product is made from a new memory foam that's guaranteed to transform your sleep from night one. But along with their innovative mattresses, Eve Sleep also sells bed frames, pillows, and all kinds of bedding (linens, duvets, etc.) to give you a totally fresh take on your bedroom setup.
Find Sleep Eve on Facebook, Instagram, and Twitter.
8. Floyd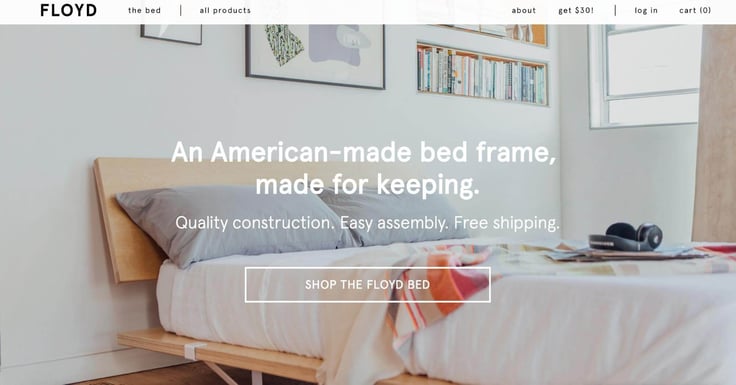 Floyd sells American-made, quality furniture that's shipped to your door with super easy assembly. This DTC brand makes beds, sofas, tables, and more — all of which you can purchase and put together in a cinch. Floyd has removed the headaches and hassle associated with furniture shopping, and replaced it with a seamless experience reviewers are raving about.
Find Floyd on Facebook, Instagram, and Twitter.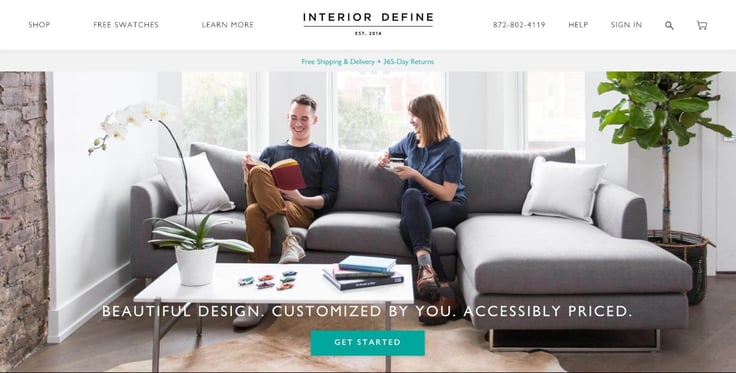 Interior Define provides affordable, custom sofas for people who are tired of the high price tag on designer pieces (or the poor quality of mass-produced items). This brand's origins are rooted in building relationships with their partners, which turned into designing customizable furniture. Did we mention each piece is built-to-order and delivered right to your door? Now that's luxury!
Find Interior Define on Facebook, Instagram, and Twitter.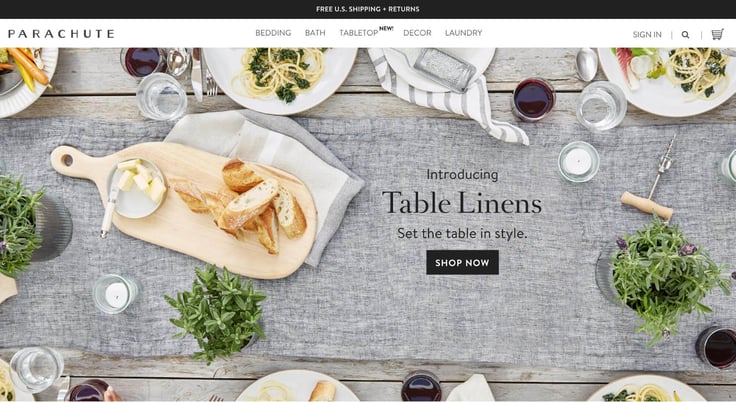 Parachute is a direct-to-consumer alternative to mass retailers and big box stores. Their bedding and linens aren't just high-quality, but they're also responsibly manufactured and made from sustainable materials (giving customers another reason to feel good about their purchase). Choose from bedding separates, or bundle your order to take advantage of some cost savings.
Find Parachute on Facebook, Instagram, and Twitter.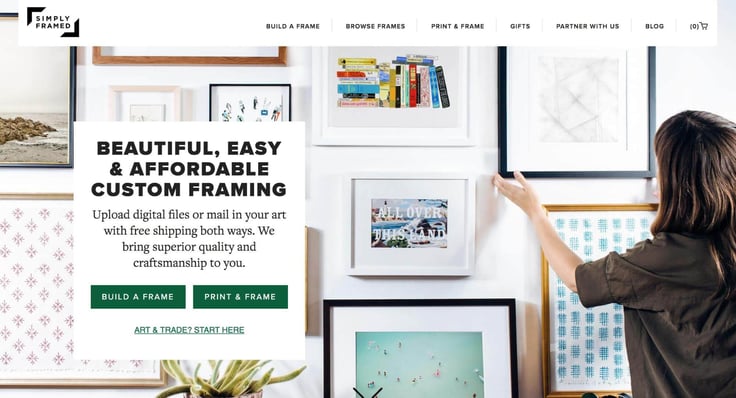 Simply Framed knows that a beautiful piece of art can tie your whole room together. And they also know that sometimes, there's nothing quite as special as getting a customized frame to show it all off. Luckily, Simply Framed makes this process effortless — all customers have to do is upload a digital file, choose their frame, and their order will be in the mail in no time.
Find Simply Framed on Facebook, Instagram, and Twitter.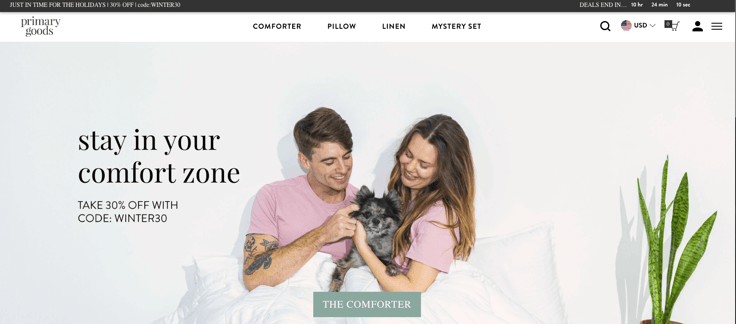 Primary Goods is creating better bedding for everyone who understands (and appreciates) the importance of a good night's rest. It's safe to say Primary Goods is leading the way in quality materials and craftsmanship that set just the right mood for falling asleep. Even better, this brand offers a 100-day free trial of their bedding because they're so sure customers will love it.

Find Primary Goods on Facebook, Instagram, and Twitter.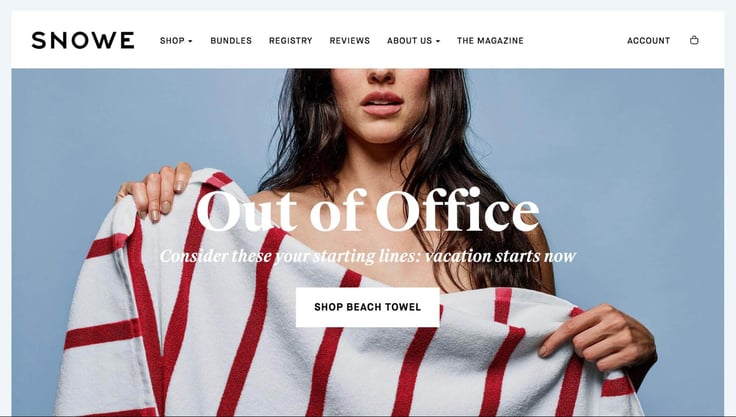 Snowe sells quality home essentials you can use over and over (and over) again. It's true — Snowe's home goods and accessories are thoughtfully designed for "every moment and milestone" you encounter throughout your life. They sell everything from towels and robes, to pillows and comforters, and they even offer some items to spruce up your kitchen, as well.
Find Snowe on Facebook, Instagram, and Twitter.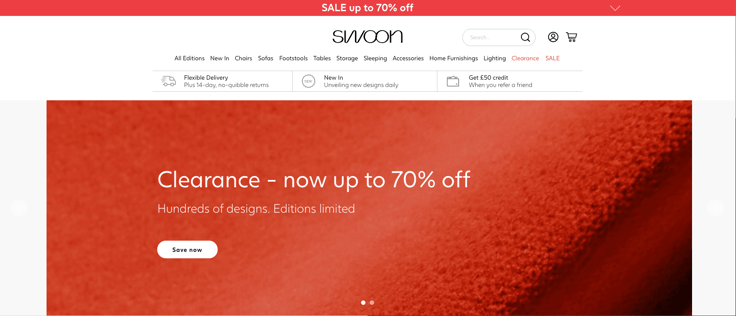 Swoon can help you find the unique furniture you've always dreamed about. That's because Swoon carries handcrafted furniture you can actually afford. Since this brand has cut out all the middlemen, they can work directly with designers and artisans to deliver exceptional quality at a fair price for the customer. The best part? They have furniture for every room in your home!
Find Swoon on Facebook and Instagram.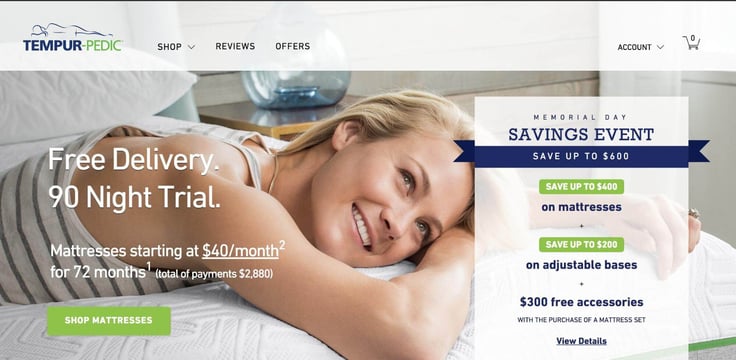 Tempur-Pedic has long established itself as a household name. In fact, their brand name is basically synonymous with high-quality mattresses at this point. Their innovative designs actually contour to your body and respond to your weight, shape, and temperature to give you a premium sleeping experience. Fall asleep faster and stay asleep longer with Tempur-Pedic.
Find Tempur-Pedic on Facebook, Instagram, and Twitter.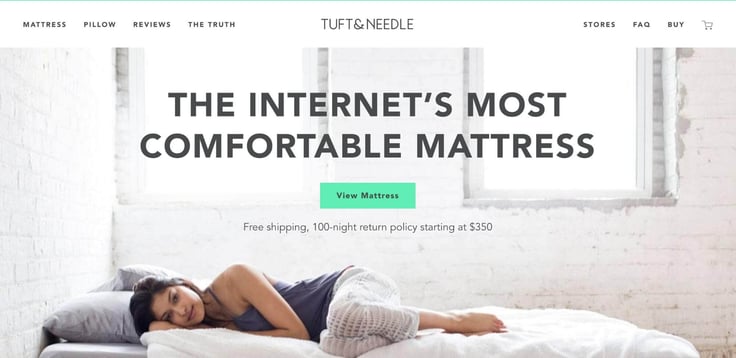 Tuft & Needle mattresses are made in the U.S. and designed to give you a superior night of sleep. When they noticed the extravagant pricing in the mattress industry, Tuft & Needle decided to flip the script and create a killer product the average consumer could actually afford. Since then, they've really made a name for themselves within the world of bedroom furniture.
Find Tuft & Needle on Facebook, Instagram, and Twitter.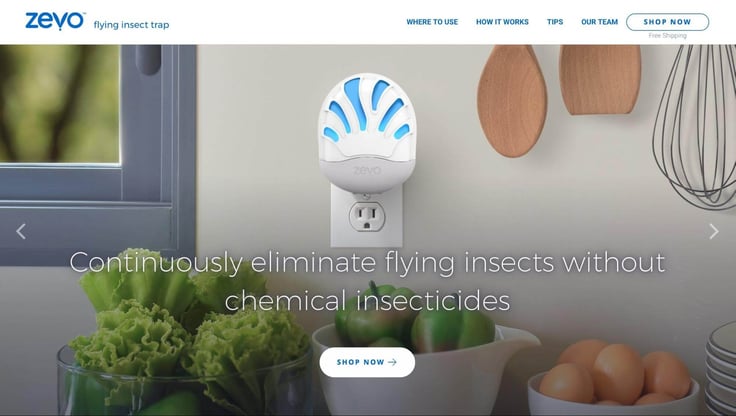 Zevo makes people-friendly, bug-deadly products that keep pests from flying, crawling, or stinging your family while you're trying to enjoy some time at home. Their bug sprays and plug-in traps come very highly rated because they actually do what they say they're going to do. With the help of Zevo, you can rest assured no bugs are ever allowed in your space.
Find Zevo on Facebook and Instagram.
Travel Direct-To-Consumer Brands
There's nothing quite like packing your bag and setting off to see the world. Each of these DTC brands is making travel more practical and a whole lot more fun.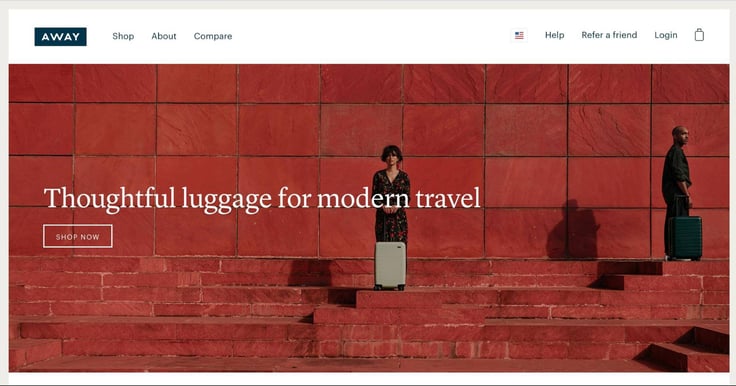 Away's luggage and accessories are made with the modern traveler in mind. Each of their suitcases boast unbreakable shells and handy extras like interior compression, zipper expansion, and even USB chargers built right in. Not only is ground shipping included when you purchase from Away, but they also allow you to try out their products for 100 days, risk-free.

Find Away on Facebook, Instagram, and Twitter.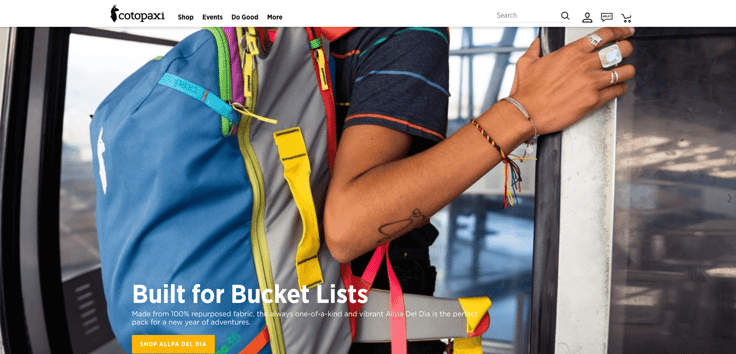 Cotopaxi is a DTC outdoor brand with a unique twist. Cotopaxi believes that the products that help us explore the world should also make a positive impact on other people's lives. And that's why their sustainably-designed outdoor gear fuels both adventure and global change, by dedicating a percentage of their revenue to nonprofits working to improve the human condition.
Find Cotopaxi on Facebook, Instagram, and Twitter.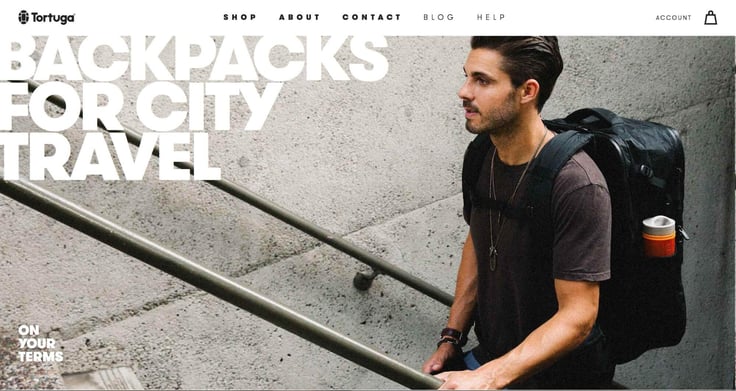 Tortuga sells travel backpacks that are well-suited to any and all kinds of adventures. What makes Tortuga's designs so special is that they offer ample space, prioritize comfort, and are durable enough to withstand even the toughest conditions. While the Outbreaker Backpack is definitely their signature style, Tortuga sells a daypack and some handy packing cubes, as well.
Find Tortuga on Facebook, Instagram, and Twitter.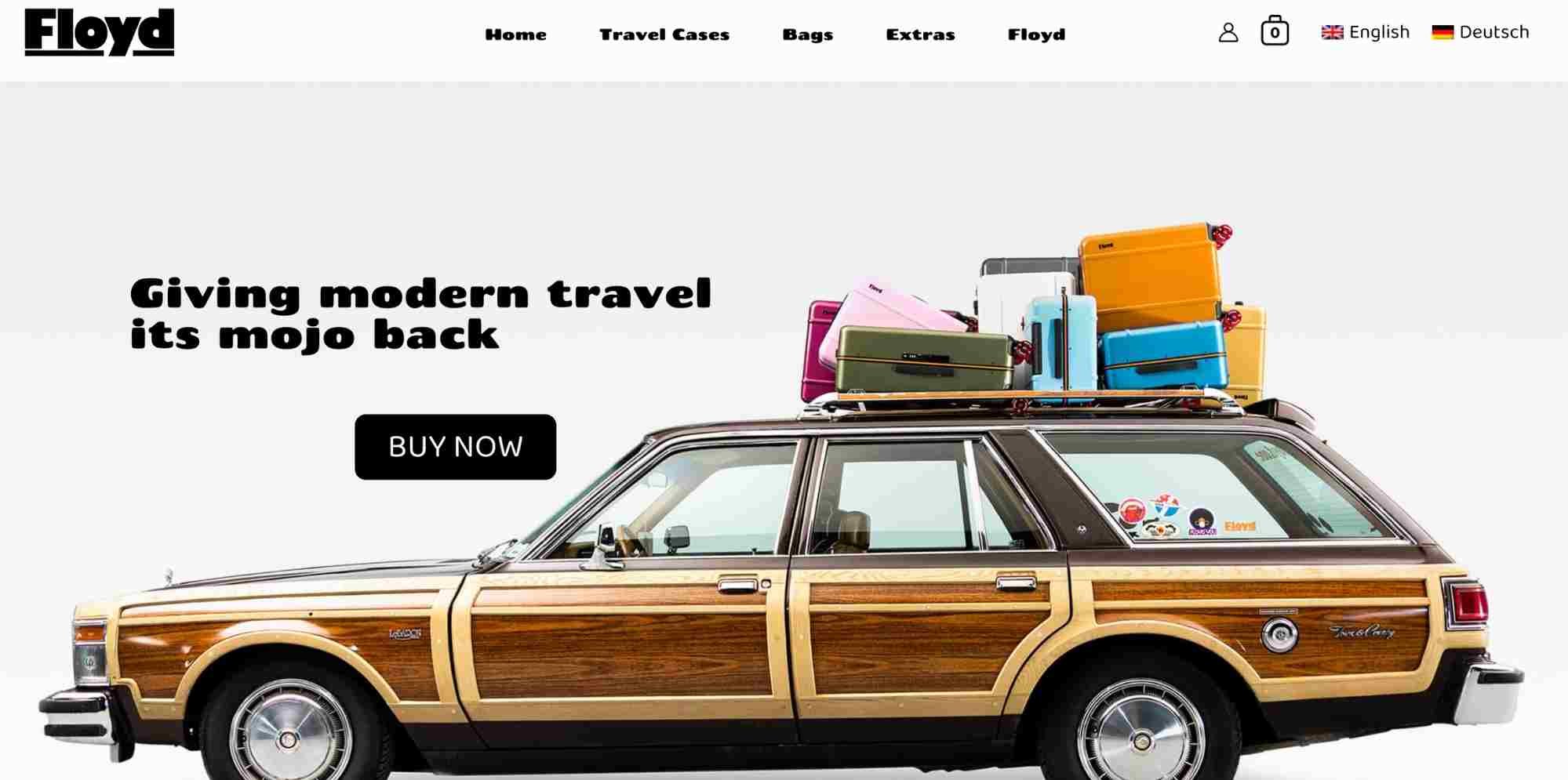 Floyd's travel cases will excite even the most experienced travelers. Their rolling luggage is loved the world over for its supreme quality, clever packaging, and strong attention to detail. Among the highlights of Floyd's suitcases are their exchangeable wheels, two-way zippers, multiple compartments, and sturdy exterior that'll withstand some serious wear and tear.
Find Floyd on Facebook and Instagram.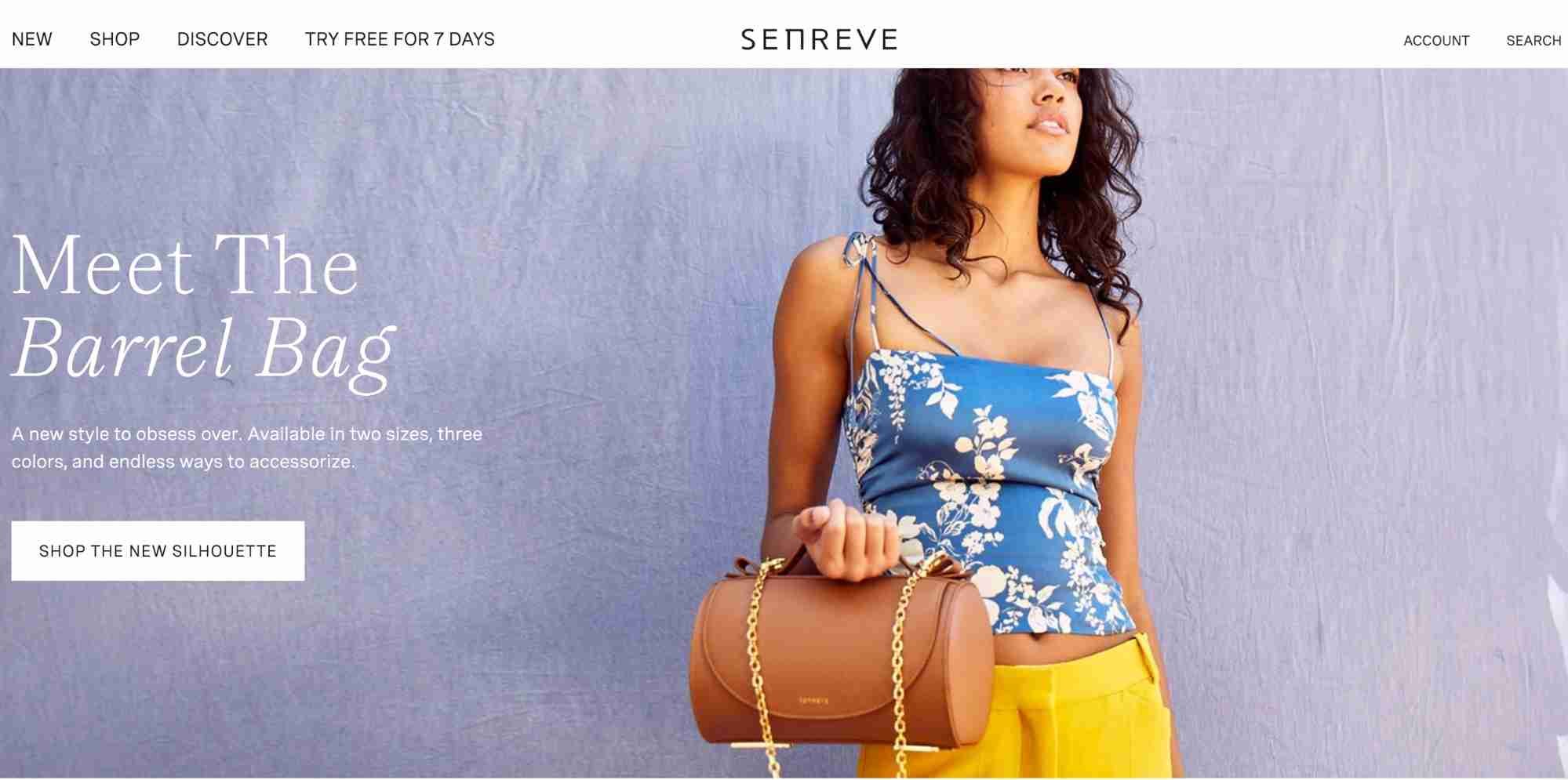 Senreve's bags are designed for everyday versatility. But because their products are handmade in Spain and Italy, they do come at a higher price point than other travel bags on the market. Still, for consumers who want a little more luxury in their lives, Senreve is a trusted brand for bags that can really do it all (while making a distinct fashion statement at the same time).
Find Senreve on Facebook, Instagram, and Twitter.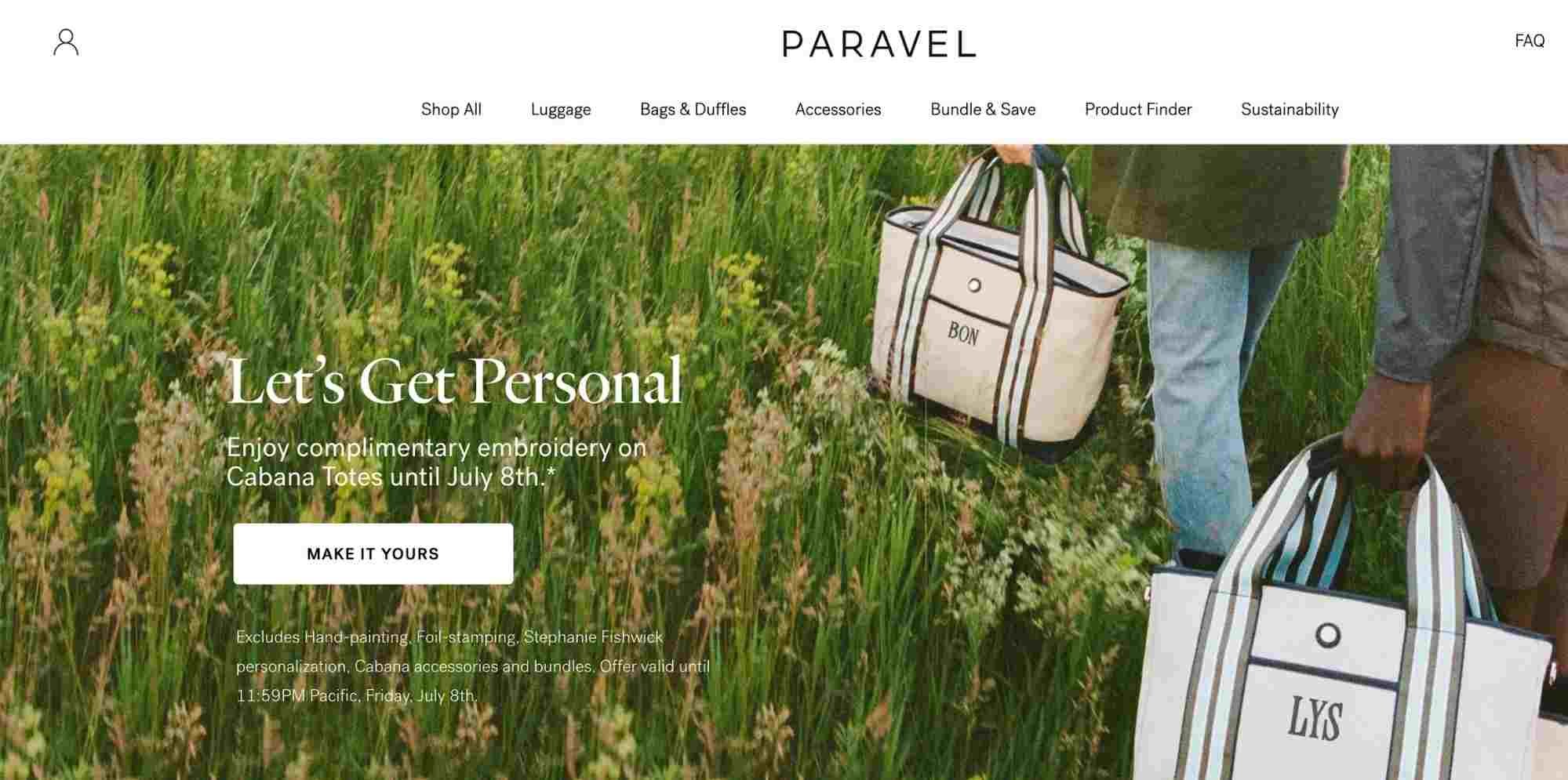 Paraval's travel products range from luggage and packing cubes to passport cases and foldable backpacks. But despite this incredible diversity, all of Paravel's goods have an important detail in common — they're made using recycled and upcycled materials that have been thoroughly vetted and certified by top industry standards like OEKO-TEX®, Cleaner Leather, and more.
Find Paravel on Facebook, Instagram, and Twitter.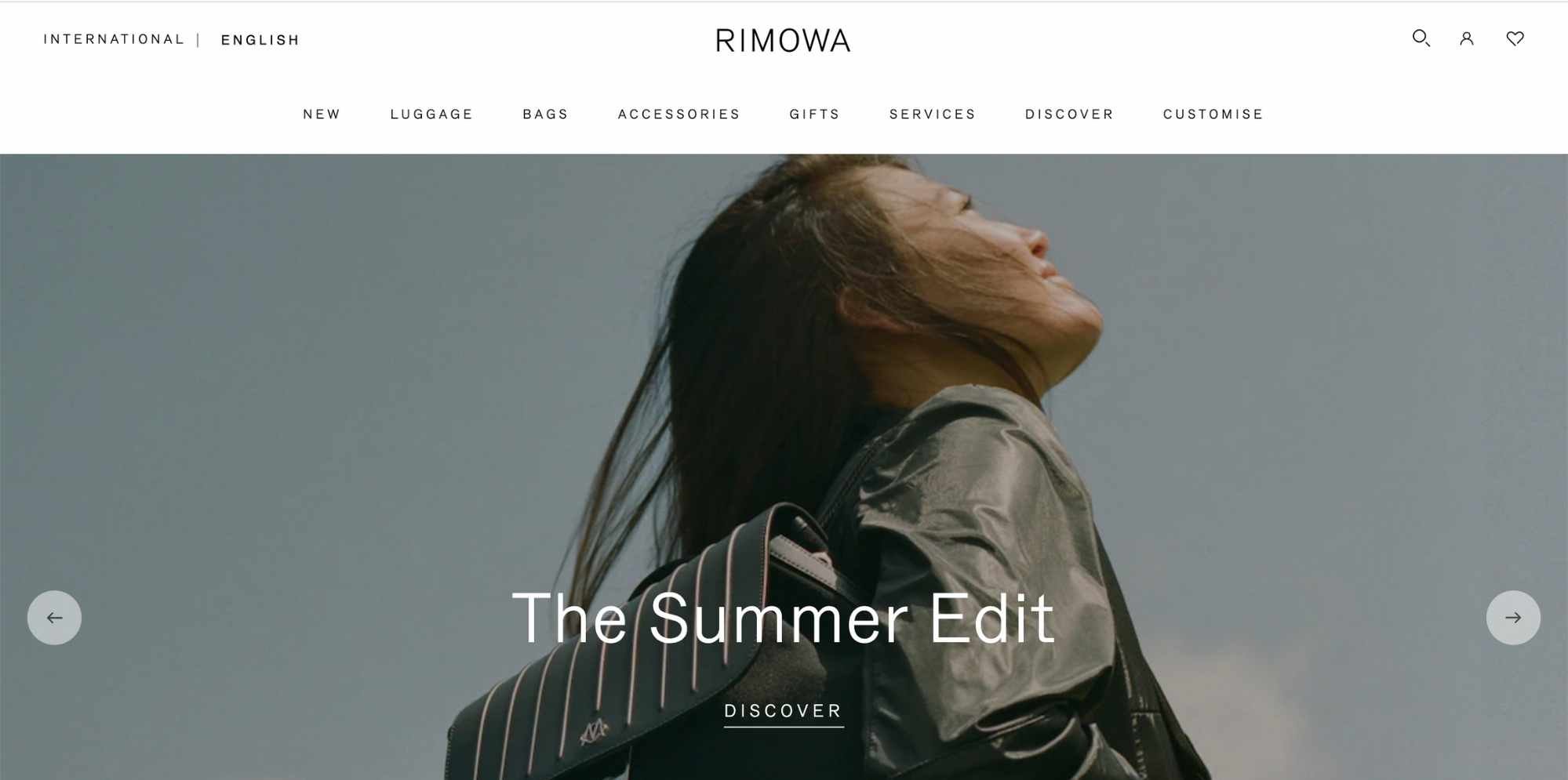 Rimowa is a high-quality luggage manufacturer that dates all the way back to 1898. Today, Rimowa's designs have become somewhat iconic, thanks in large part to their parallel aluminum grooves which have become a real trademark for the brand. Customers love Rimowa for its functional and minimal aesthetic, and their durable bags that are surprisingly lightweight.

Find Rimowa on Facebook, Instagram, and Twitter.
Personal Care
The beauty and personal care market now totals around $88 billion globally, and yet these brands have managed to really make a name for themselves despite so much competition.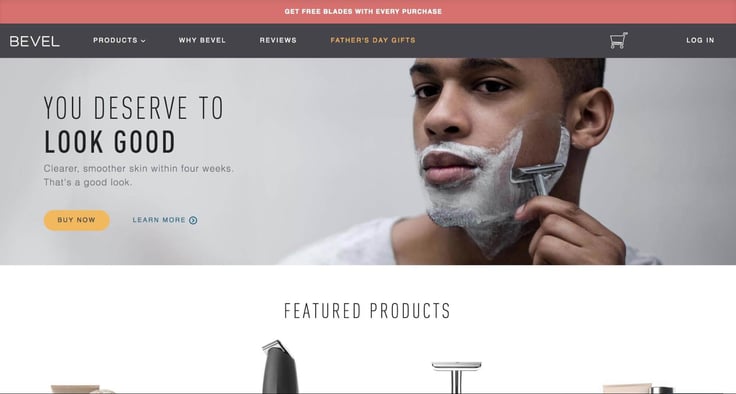 Bevel's sophisticated grooming products are designed to help men get the close shave they deserve (but without risking ingrown hairs). Everything they sell caters to men with coarse, curly hair who've had to put up with poor quality products for years. But now, with Bevel, these same men can achieve their smoothest/best looking shave with ease and without irritation.
Find Bevel on Facebook, Instagram, and Twitter.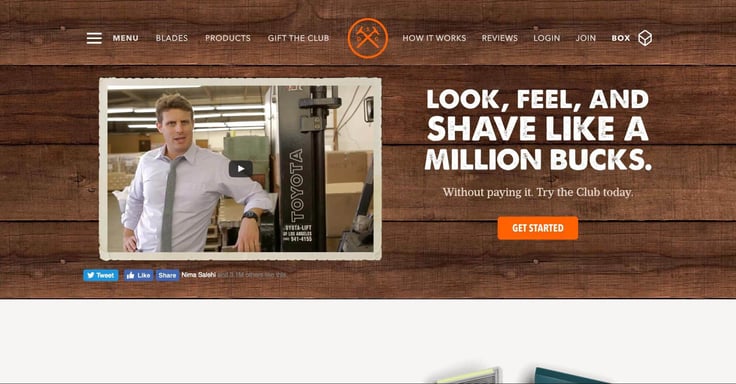 Dollar Shave Club is a trailblazer when it comes to direct-to-consumer, subscription-based personal care items. This brand's business model eliminates the need for customers to remember to buy new blades — since they're shipped on a recurring basis — and helps save a lot of money and trips to the store. Easy, efficient, and affordable all rolled into one!
Find Dollar Shave Club on Facebook, Instagram, and Twitter.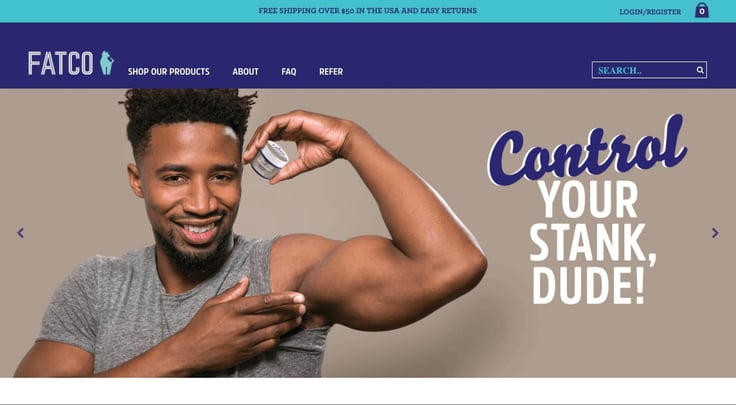 FATCO makes products to nourish your face, body, and hair. Their organic and chemical-free offerings are a great choice for all skin types and/or all skin concerns. And because FATCO sells DTC, they can keep their prices reasonably low to serve an even larger audience. Though it may be a small brand, FATCO is still making some pretty big waves in its industry.
Find FATCO on Facebook, Instagram, and Twitter.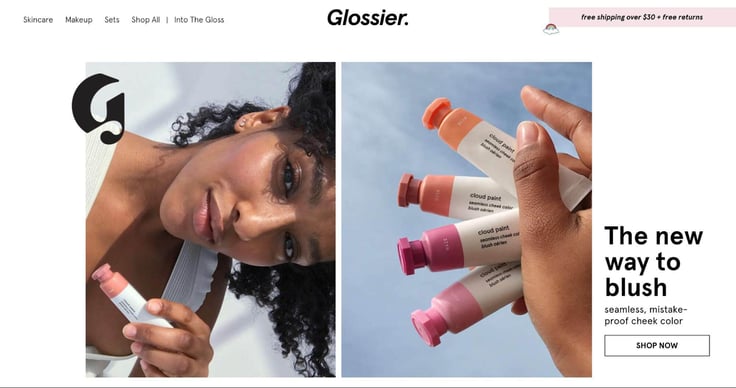 Glossier has been a household name for several years now, thanks to its signature beauty products that enhance your skin's natural glow. Since its beginnings, Glossier has found a way to stand out with its minimalist packaging, sleek marketing, and exceptional customer service. There's no doubt they've solidified themselves as a go-to brand for all things skincare.
Find Glossier on Facebook, Instagram, and Twitter.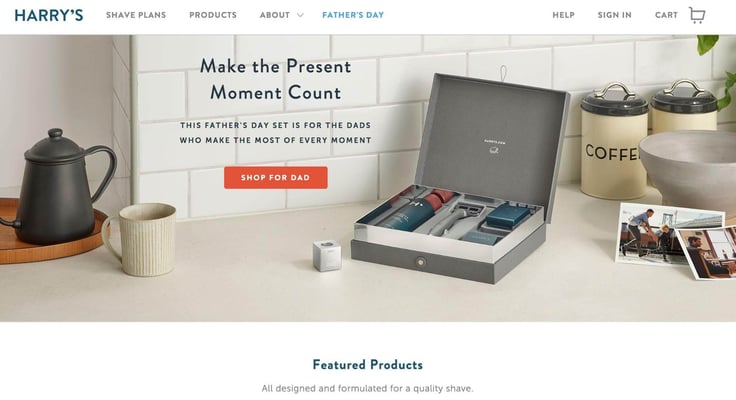 Harry's wants to help you put your best face forward. All of their grooming products come with quality construction, affordable blades, and a monthly shave plan that makes it easy for you to stay smooth. Along with shaving essentials, Harry's has recently expanded their product offerings to include deodorants, hair care, and body care items (like soaps and lotions).
Find Harry's on Facebook, Instagram, and Twitter.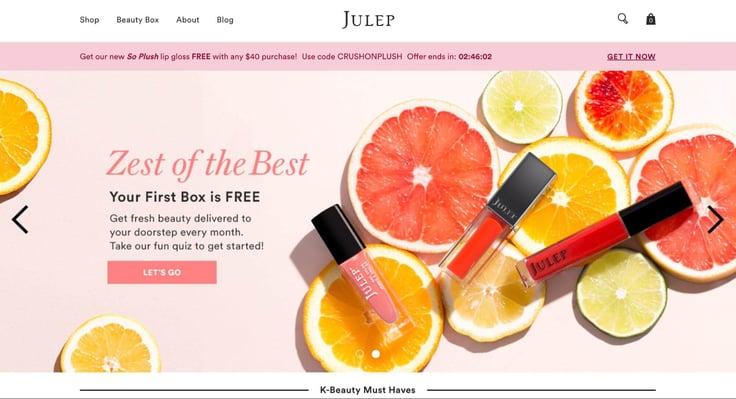 Julep's cosmetics and skincare products are all made using clean, high-quality ingredients that are non-irritating and guaranteed to be gentle on your skin. Their DTC business model helps this brand keep their prices within an affordable range — meaning no sticker shock or buyer's remorse here. And Julep even offers value sets to help you save more on the retail price.
Find Julep on Facebook, Instagram, and Twitter.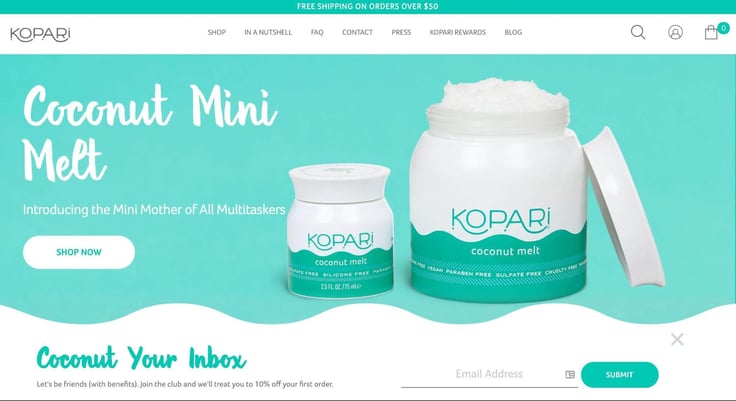 Kopari Beauty uses 100% organic coconut oil in developing and manufacturing their natural beauty products. Their vegan, consciously-made skincare will have you covered from head to toe — they sell everything from cleansers and moisturizers to deodorant and SPF. Plus, their online platform allows for easy ordering, and they provide free shipping on U.S. orders over $39.
Find Kopari Beauty on Facebook, Instagram, and Twitter.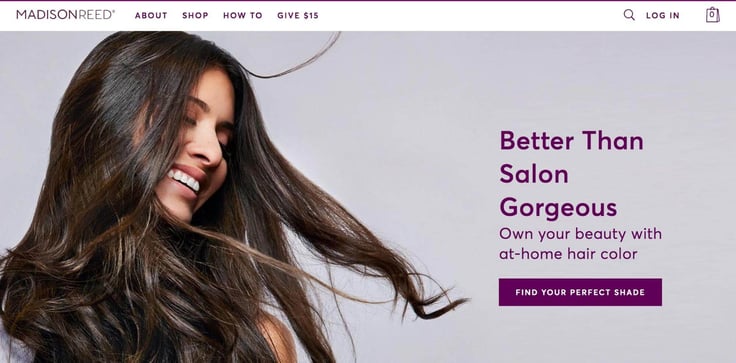 Madison Reed helps you achieve professional hair color right from the comfort of your own home. Once customers take the 'perfect shade' quiz, Madison Reed will recommend the perfect, custom color for gorgeous hair made easy. What's more, customers can get in touch with a stylist at any time (just in case they have questions about application or upkeep).
Find Madison Reed on Facebook, Instagram, and Twitter.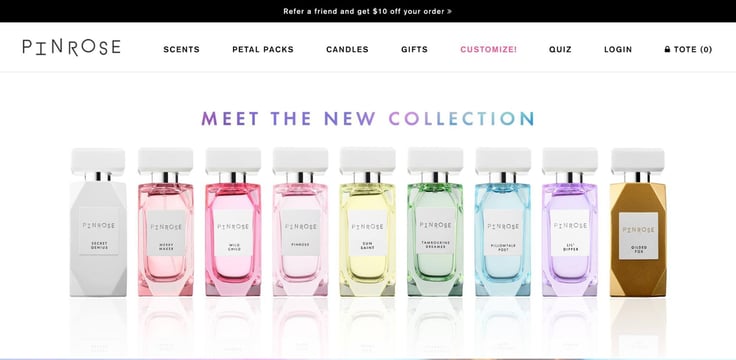 Pinrose really brought the perfume industry into the 21st century with its high-quality, effortless scents that celebrate accessible luxury. With so many amazing scents to choose from, it might be hard to know which one you want to purchase. Well, that's exactly why Pinrose created their scent quiz, to help customers find a fragrance that really suits their taste.
Find Pinrose on Facebook, Instagram, and Twitter.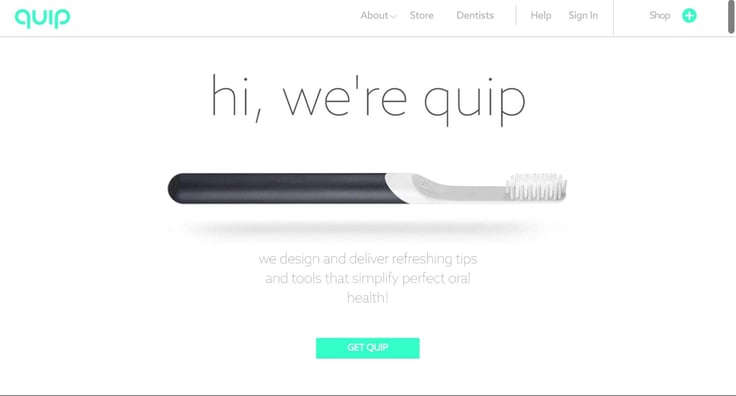 Quip's electric toothbrushes come with all the features your teeth might need (but without any of the wires or bulky charging ports). That's right — their innovative brushes are equipped with timed sonic vibrations, 3-month battery life, travel cover (that doubles as a mirror mount), and the American Dental Association seal of approval. Welcome to the new world of dental health!
Find Quip on Facebook, Instagram, and Twitter.
Rodan + Fields has created a wide array of derm-inspired skincare that address nearly every topical concern you can imagine. They have products for fine lines, wrinkles, acne, dark spots, uneven tone, and so much more. Plus, shoppers can get paired up with a skincare consultant to receive personalized recommendations and really ramp up their daily skincare routine.
Find Rodan + Fields on Facebook, Instagram, and Twitter.
Blume came on the skincare scene in 2014 and has been gaining more and more loyal customers ever since. This is an ecommerce startup whose focus has always been on providing safe, sustainable products that are good for you and good for the environment. These days, Blume sells a wide variety of skincare and bodycare to help customers feel their very best.
Find Blume on Facebook, Instagram, and Twitter.
Other Direct-To-Consumer Brands
These brands are all excellent at what they do, they just happen to be a little harder to classify.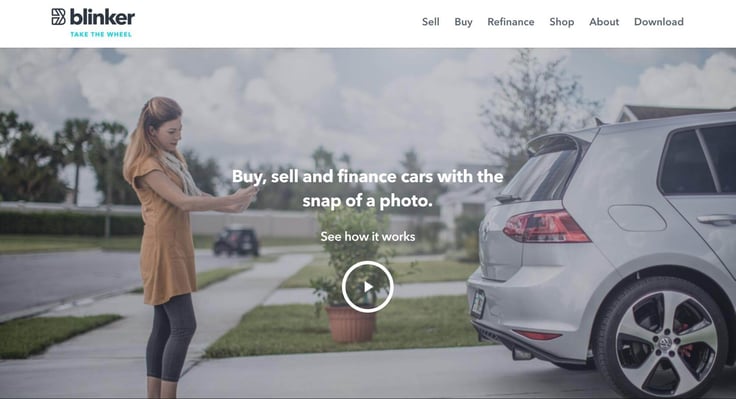 Blinker is a mobile app that's revolutionizing the way you "discover, sell, and purchase cars." Their listing process is super simple — all you need to do is snap a photo of a car and Blinker will instantly pull up all the details on that make and model (including its Black Book value to help set a fair price). Then, just add a description, and you're ready to start accepting offers.
Find Blinker on Facebook, Instagram, and Twitter.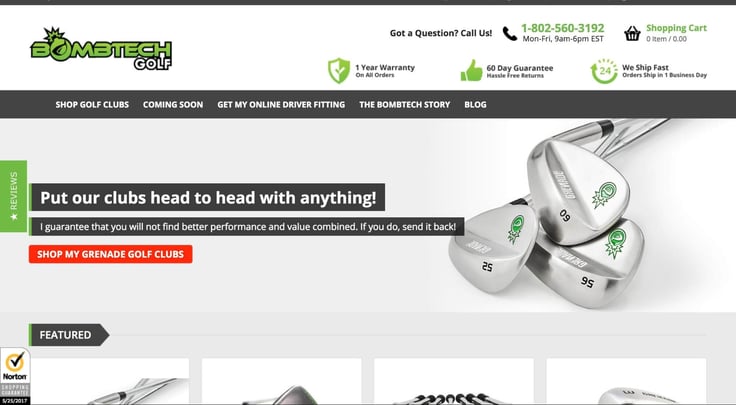 BombTech Golf is making it easier for consumers to get in the game. This brand's online-only model helps keep prices for their golf clubs to a minimum, and ensures a better customer experience overall. BombTech also offers fast shipping (in under one business day), as well as
60-day hassle-free returns and a 1-year warranty on all orders. Talk about exceptional service!
Find BombTech Golf on Facebook, Instagram, and Twitter.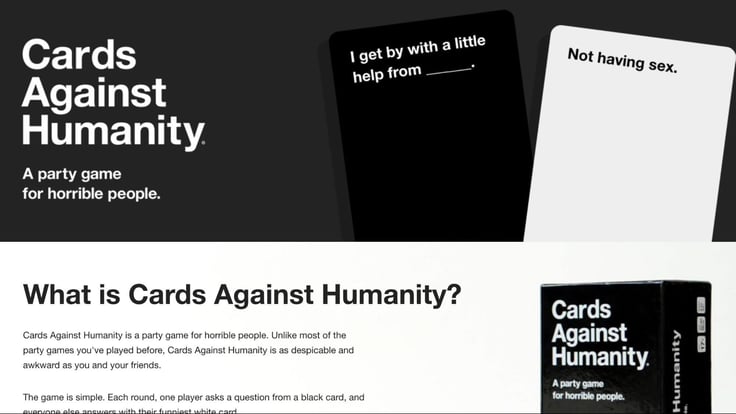 Cards Against Humanity is an infamous card game that's outshined all the other digital games and entertainment options available today. These days, you can either buy a premade deck or design one of your own for a totally unique take. The greatest thing about Cards Against Humanity is that no two games are ever the same, but they're all guaranteed to be hilarious.
Find Cards Against Humanity on Facebook, Instagram, and Twitter.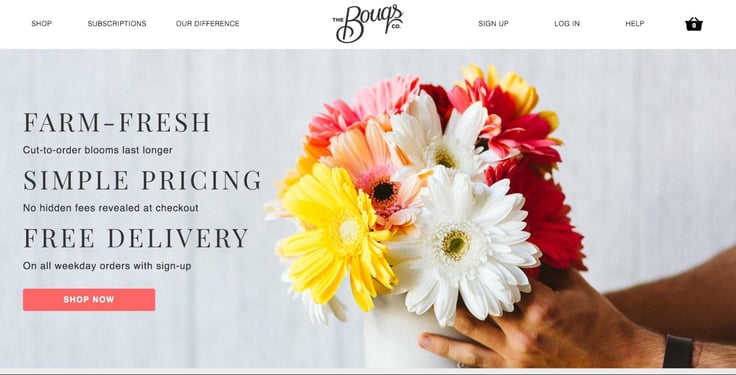 The Bouqs Co. is an online florist and gift shop that specializes in eco-friendly floral arrangements and plant delivery. They ship farm-fresh, sustainably-sourced flowers to celebrate birthdays and weddings or offer condolences to someone who's experienced loss. When you purchase from The Bouqs Co., you're truly getting a one-of-a-kind, artisan bouquet.
Find The Bouqs Co. on Facebook, Instagram, and Twitter.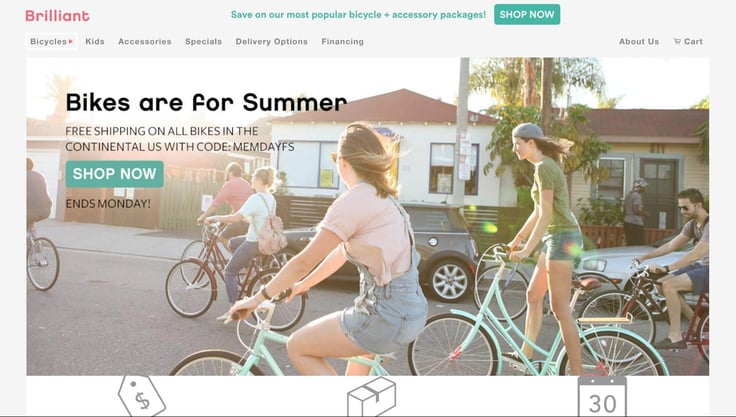 Brilliant Bicycle Co. helps consumers find the perfect bike for commuting to work or just cruising around town. Not only do their bikes start at a really reasonable price, but this brand also offers fast and free shipping within the continental United States. And if you're not totally satisfied with your Brilliant Bicycle Co. purchase, you can opt to send it back within 30 days for a full refund.
Find Brilliant Bicycle Co. on Facebook, Instagram, and Twitter.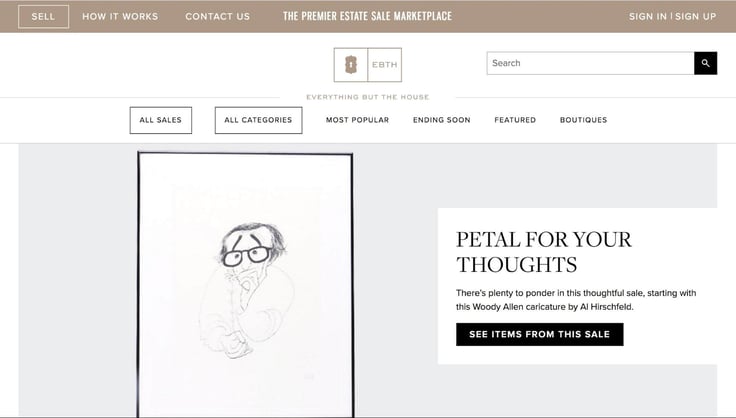 Everything But The House is taking estate sales online, by helping both sellers and buyers navigate a virtual estate sale experience. This retailer has a wide variety of items for sale on their marketplace, which shoppers from around the world can view and/or bid on. Once customers have created an account, they can shop from nearly 20 different product categories.
Find EBTH on Facebook, Instagram, and Twitter.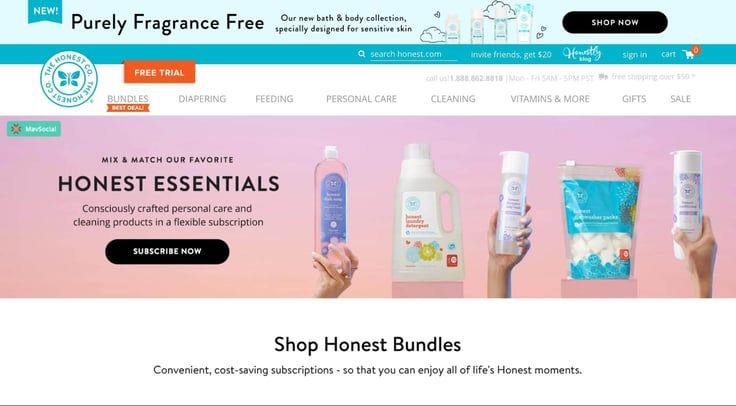 The Honest Company is perhaps best known for being founded by Jessica Alba, but there's a lot more to this brand than its celebrity ties. This company creates sustainable, ethical, and effective products that keep you and your family healthy and happy. All their ingredient lists are available online, and you can either buy individual products or sign up for recurring bundles.
Find The Honest Company on Facebook, Instagram, and Twitter.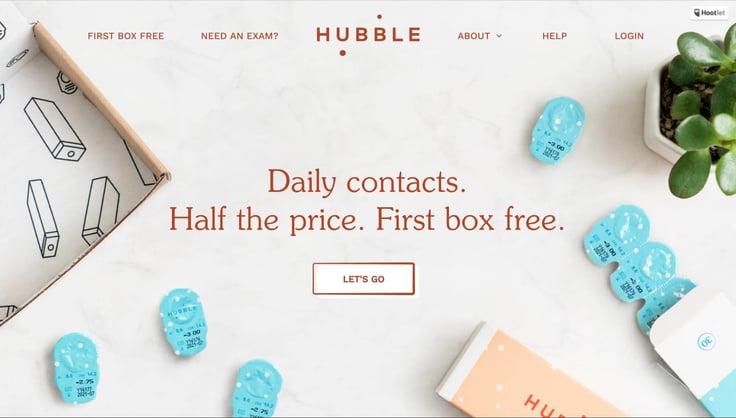 Hubble makes buying contacts as simple and seamless as possible. Their user-friendly online platform eliminates the back-and-forth with your optometrist and instead ships a month's worth of contacts right to your door. This way, you don't have to remember to reorder every 30 days or worry that you might run out of your lenses altogether. Hubble does all the heavy lifting for you!
Find Hubble Contacts on Facebook, Instagram, and Twitter.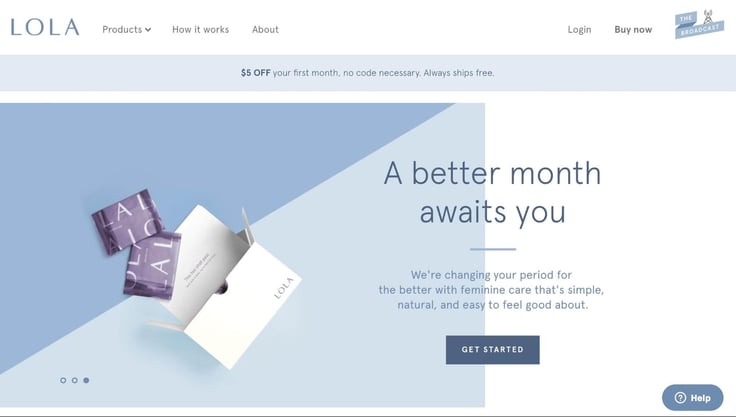 LOLA sells budget-friendly feminine products that are also 100% organic. By adopting a direct-to-consumer model, LOLA was able to move beyond the giants in the industry (Always, Tampax, etc) and offer conscious consumers the innovative solutions they'd been looking for. LOLA also has bundles, kits, and value packs for anyone in need of additional savings.
Find LOLA on Facebook, Instagram, and Twitter.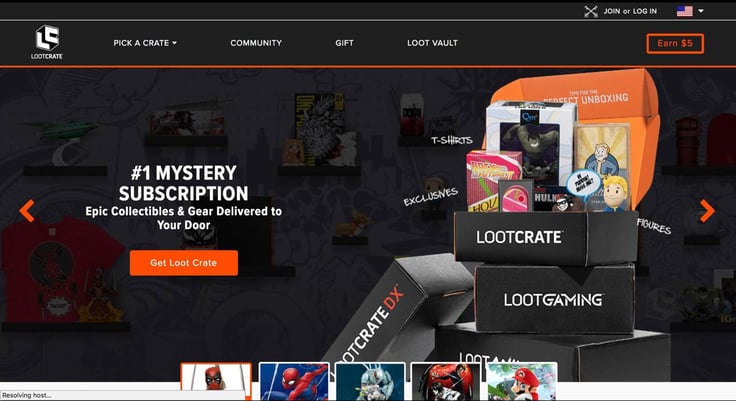 Loot Crate brings in-game magic into the real world by creating exclusive loot boxes based on customers' specific interests and likes. Their limited edition and artist crates contain things like apparel, collectibles, and gear you won't find anywhere else. And because Loot Crate ships straight to your door, customers never have to lose out on any of their game time.
Find Loot Crate on Facebook, Instagram, and Twitter.
Moment is a Seattle-based company that calls itself "the marketplace for everything creative" (and we're inclined to agree). This brand sells tons of cameras and camera gear like lenses, film, bags, and more. Essentially, Moment is a one-stop shop for mobile photographers, content creators, or anyone else who wants a better way to capture their memories.
Find Moment on Facebook, Instagram, and Twitter.


If you're working for a legacy brand that's looking to enter D2C for the first time, you can check out these steps to launching your direct-to-consumer site.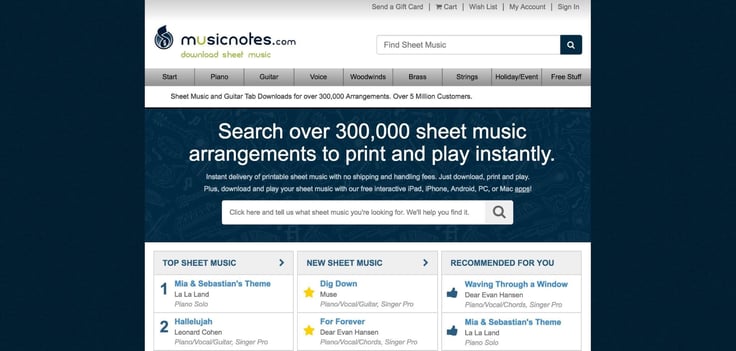 Musicnotes helps their customers find and download printable sheet music instantly. With Musicnotes, there's no shipping, wait times, or endless searches to find what you're looking for. Instead, you simply go to their website, browse the music library (or type in something specific), and purchase the song of your choosing. Print out the sheet music, and you're ready to play!
Find Musicnotes on Facebook, Instagram, and Twitter.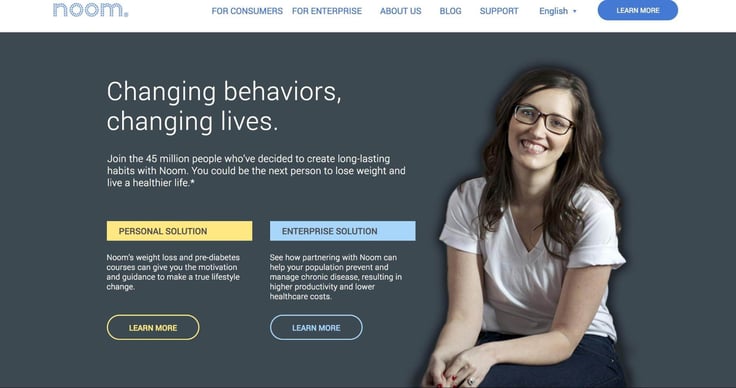 Noom has revolutionized the way people approach weight loss. They've created an online community that makes the process of losing weight a whole lot easier, and that reminds people they're never on this road alone. By creating an account and teaming up with Noom, customers have an opportunity to change how they think, how they eat, and how they feel for the better.
Find Noom on Facebook, Instagram, and Twitter.
Prepd is bringing non-stick convenience to cast-iron quality with their line of beautiful and functional skillets. Their signature products are polished smooth and meticulously seasoned to be naturally non-stick (regardless of what you're cooking in them). It's safe to say Prepd's skillets have mastered the art of performance, versatility, and durability all rolled into one.
Find Prepd on Facebook, Instagram, and Twitter.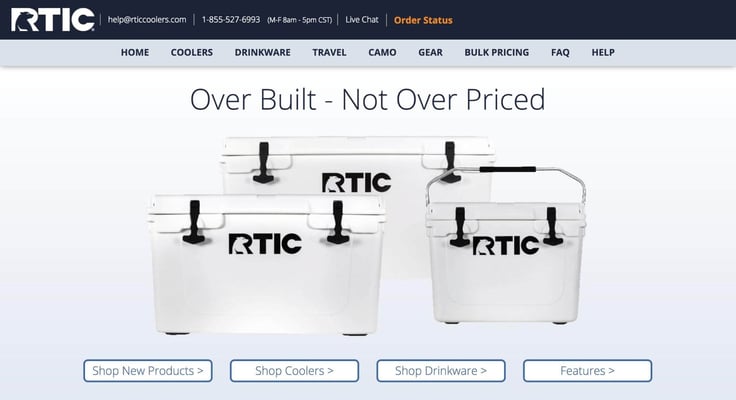 RTIC Outdoors makes coolers that help you spend more time outside. If you've ever wished for a cooler that keeps your snacks and beverages cold for days on end, then RTIC is for you. Their innovative designs hold ice for up to 10 days by using an integrated locking system combined with a rapid draining system. And as an added bonus, their coolers keep the critters out, too!
Find RTIC Outdoors on Facebook, Instagram, and Twitter.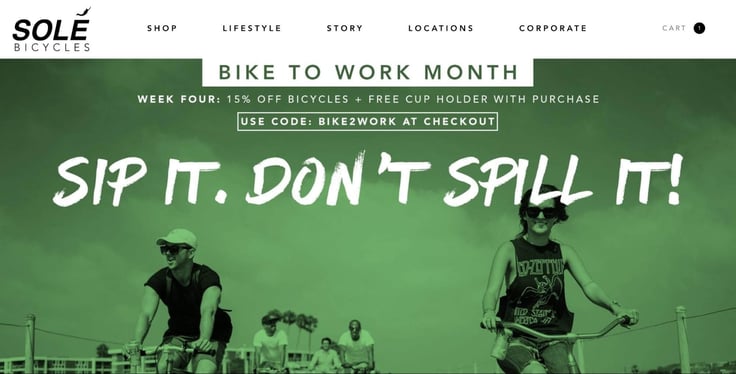 Solé Bicycles has the perfect bike for all your commuter needs. Whether you want a lightweight single speed, a city cruiser, or a Dutch step through design, Solé has it all. If the only thing standing between you and achieving your cycling dreams is finding an affordable bike, Solé is sure to have just what you're looking for — plus home delivery and very little assembly.
Find Solé Bicycles on Facebook, Instagram, and Twitter.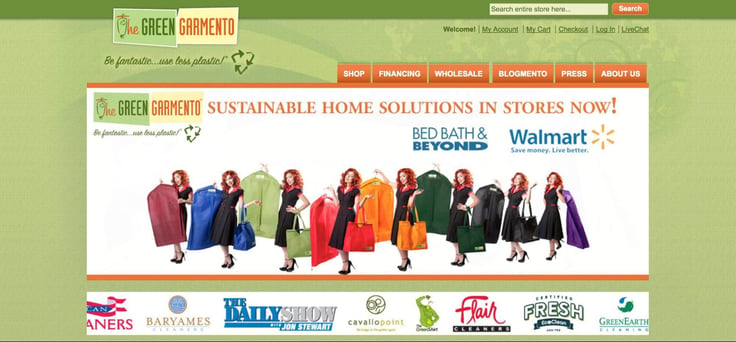 The Green Garmento creates reusable, recyclable dry cleaner bags that help consumers minimize single-use plastic. But not only is buying from The Green Garmento better for the planet, you're likely to use their bags over and over again. So even when you need your clothes professionally cleaned, you can feel good about the conscious choices you're making.
Find The Green Garmento on Facebook, Instagram, and Twitter.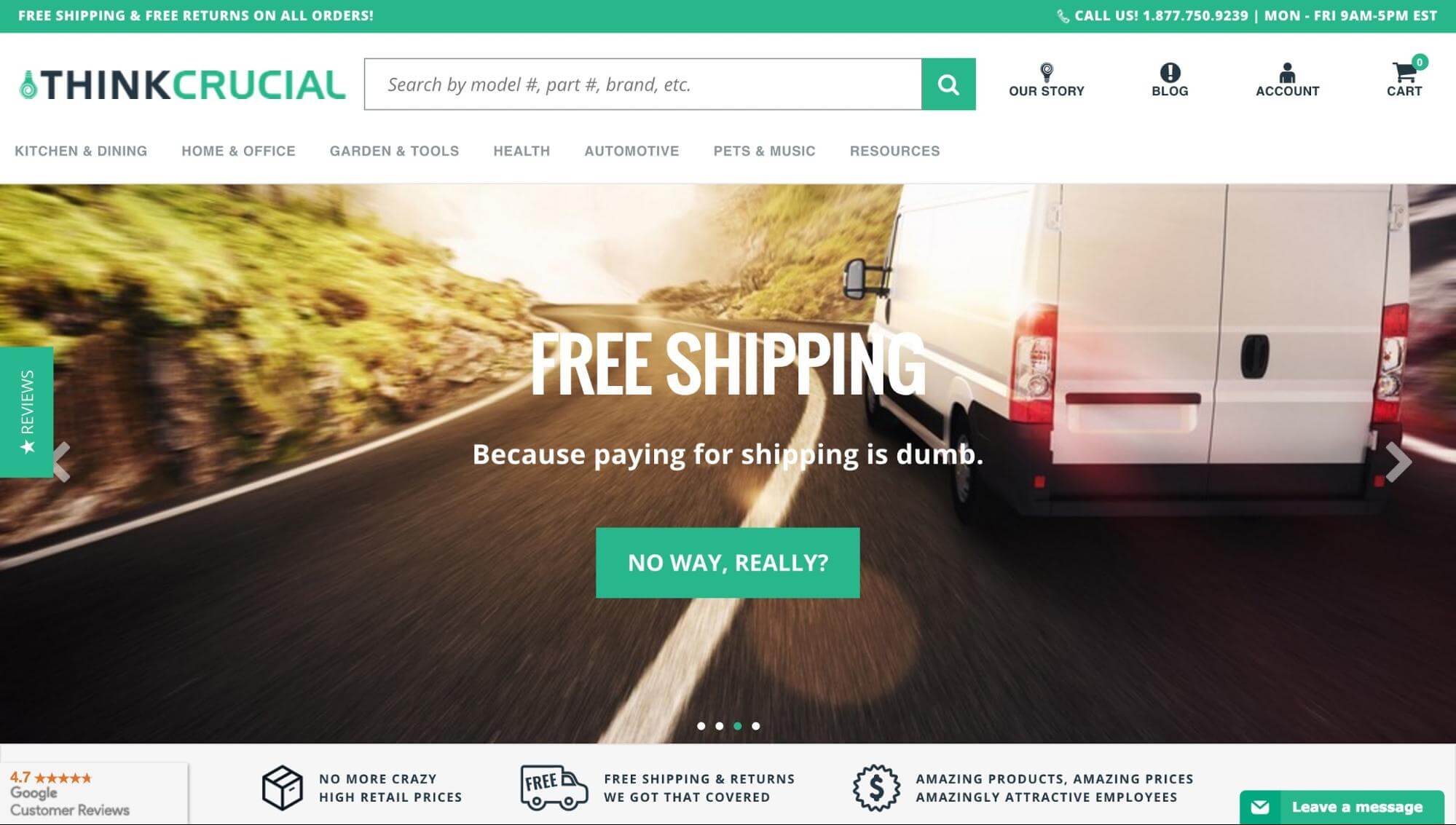 Think Crucial sells nearly everything you need for your home, all in one organized and easy-to-use platform. More specifically, Think Crucial carries accessories and replacement parts from brands like Kenmore, Dyson, Maytag, and more. Think Crucial's website cuts through the retail red tape and helps consumers purchase the products they need as effortlessly as possible.
Find Think Crucial on Facebook and Instagram.
Touch of Modern is a "curated, online shopping destination" where men can discover special products to elevate their lifestyle. This is a members-only hub that connects customers with quality products in the lifestyle, fashion, and accessories categories. Since their start in 2012, Touch of Modern has created an exclusive shopping experience that no doubt sparks curiosity.
Find Touch of Modern on Facebook, Instagram, and Twitter.
Your favorite brands
Phew. That was a long list! But at Extensiv, we really feel that each of these companies earned its spot and is doing an incredible job connecting with consumers.
If you're interested in learning more, check out this article on CPG industry trends and opportunities that brands are currently capitalizing on to find the most profitable products to sell.
Are there any DTC brands you love that we might've missed? Let us know in the comments!