When you don't know where your inventory is, how much you have available, what your ordering needs look like, or how to plan for the future, you're bound to waste time, money, and miss out on pivotal opportunities to expand where you sell (and who you sell to). Thankfully, inventory management software has been developed that can help you meet your company's specific inventory needs, and more.
We're taking a look at the ten best inventory management apps for your online business, so you can find the right fit and start reaping the rewards of these applications as soon as possible.
Key features to look for in an inventory management app
While each inventory management app comes equipped with its own key features and functionality, there are a few qualities that seem to be more useful than others. From marketplace compatibility to reorder point setting, we've compiled a list of the most constructive components and simple inventory solutions that the leading inventory apps have to offer.
Real-time inventory tracking
Real-time inventory tracking via an inventory management app has a number of benefits and allows your business to make decisions with greater accuracy and confidence. With real-time tracking for your inventory items, you can optimize your supply chain, keep an eye on product movement, and improve performance at every level.
By analyzing real-time data, you can better schedule sales orders for raw materials, which then eliminates stock-out situations and lingering, excessive inventory. In other words, an inventory tracker reduces unnecessary spending, avoids fluctuations in inventory levels, and helps meet customers' fulfillment needs with ease.
Marketplace compatibility
Ecommerce brands often use online marketplaces — Amazon, Walmart, Etsy, eBay, Target Plus etc — to connect with consumers on a much broader scale. By partnering with influential marketplaces such as these, even small to mid-size companies can enjoy exponentially more exposure (and more sales) than their website offers on its own.
Inventory management apps provide incredible marketplace compatibility, meaning your business can effortlessly link up with major online platforms and start selling to a more diverse customer base in no time.
Demand forecasting
Demand forecasting is essential to a healthy inventory management system. With the help of forecasting, retailers can make predictions regarding the demand for goods and materials, and confirm they have the right products and product quantities available to satisfy customers (without creating a surplus).
Using historical order data whether that is from Shopify, BigCommerce, marketplaces, or point of sale transactions forecasting delivers definitive estimates for customer demand over a set period of time. Inventory management apps make demand forecasting even simpler, by facilitating these predictions and improving their overall accuracy.
Safety stock level setting
Safety stock describes the amount of extra stock that's maintained to mitigate the risk of stockouts caused by uncertainties in supply and demand. The less precise your demand forecasting (above), the more safety control is required to ensure fulfillment goes smoothly and your supply chain operates as scheduled.
Inventory management applications help determine the appropriate stock control for your particular business needs, so you can count on them to pertain to your exact situation. Preserving an adequate, on shelf volume of safety stock is necessary for avoiding overselling and guaranteeing customer satisfaction with every order.
Reorder point setting
A reorder point is the minimum unit quantity a company should have in available inventory before they need to reorder more product. Simply put, the reorder point triggers an action to replenish inventory before a stockout occurs; when stock falls to its designated minimum amount, those items must be reordered (as signaled by the reorder point setting and calculated by the reorder point formula).
As you can imagine, the reorder point is crucial to the success and sustainability of any ecommerce business. Fortunately, inventory management apps allow you to establish your own settings and boundaries, so the reorder point is activated at exactly the right time.
Mobile compatibility
For inventory management apps with mobile compatibility, you can access relevant data right from an IOS device like an iPad or iPhone, an Android device, or an actual barcode scanner. This comes in handy when you're working in a fast-paced environment and need updates on your inventory now, and can help you keep tabs on all of your supply chain processes from a remote location.
With that said, not all inventory management applications have mobile capabilities or mobile-friendly features. However, by visiting a qualified app store, you can still download numerous apps that enable you to scan and manage inventory through mobile devices. These apps will help to streamline your supply chain and boost efficiency across the board.
The 10 best inventory management apps for online marketplaces and stores
Every online business is unique and choosing the right inventory management app will depend on your business' complexity and need. The best inventory management apps will make good on their promises and exceed your expectations with their superior solutions and functionality. These ten applications are ready to help your company embrace optimization and bring about lasting success .
1. Extensiv for multichannel operations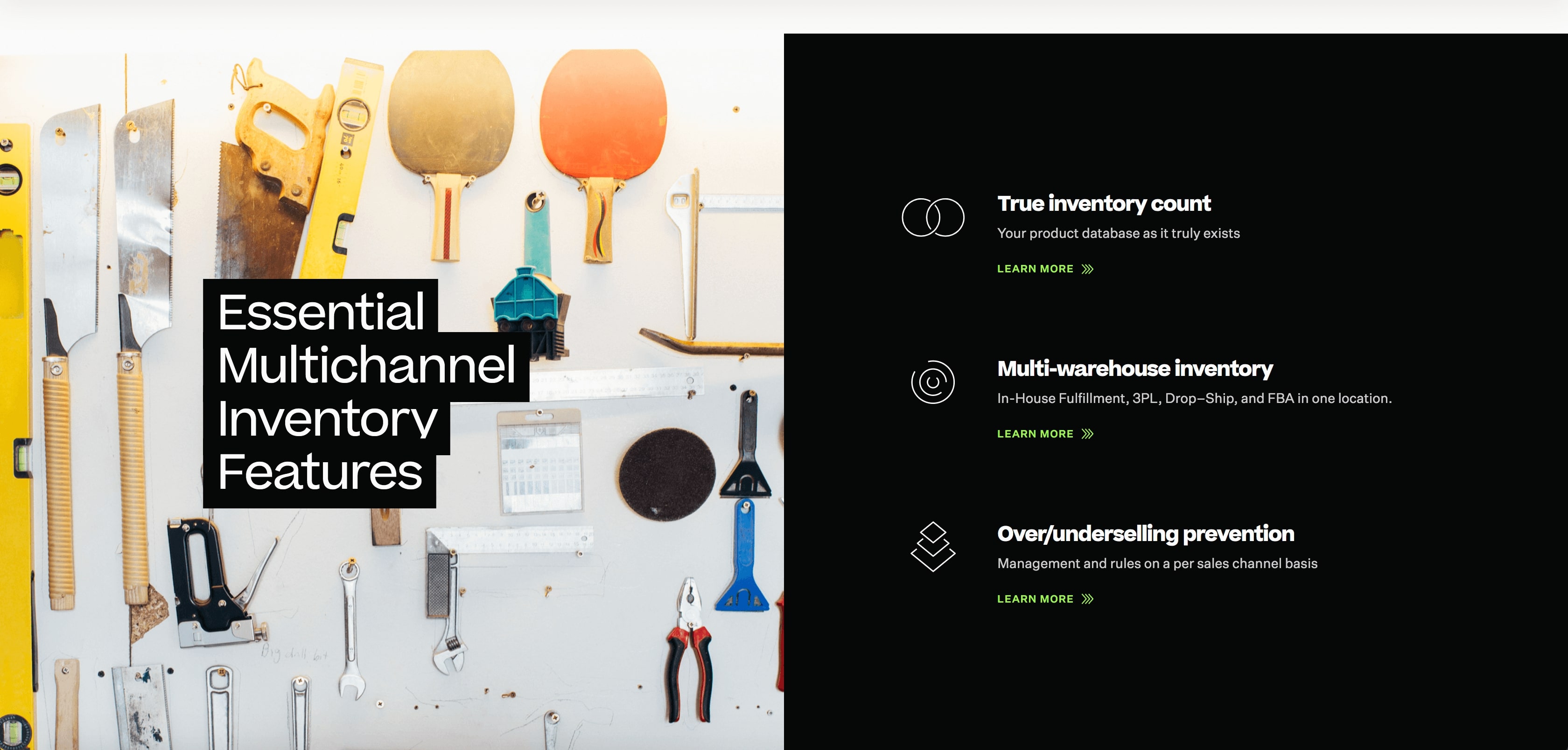 Extensiv is an inventory management and order management platform that powers inventory control, order fulfillment, and business intelligence for brands who want multichannel profitability. Extensiv Order Manager synchronizes data from sales channels, CRM, warehouses, 3PLs, and POS systems so retailers can minimize storage costs, free up capital, and provide the best possible customer experience.
Using Extensiv, companies can sell direct-to-everywhere, automate operational responsibilities, transform multichannel complexity into singular clarity, and so much more.
Get a demo to see if Extensiv is right for you.
Price: Contact Extensiv today for more info on pricing (and a personalized quote)!
Best for: Multichannel, multifulfillment sellers who need a holistic view of sales data, fulfillment data, and automated supply chain management for every SKU across every channel.
Reviews: "We spent a lot of money trying to find everything that Extensiv can do. I wish we found them earlier. The best part is to be able to forecast inventory needed across multiple fulfillment centers around the world. Best ERP...EVER!" — Nicholai J., CEO DTC Brand
2. Inventory Source for dropship sellers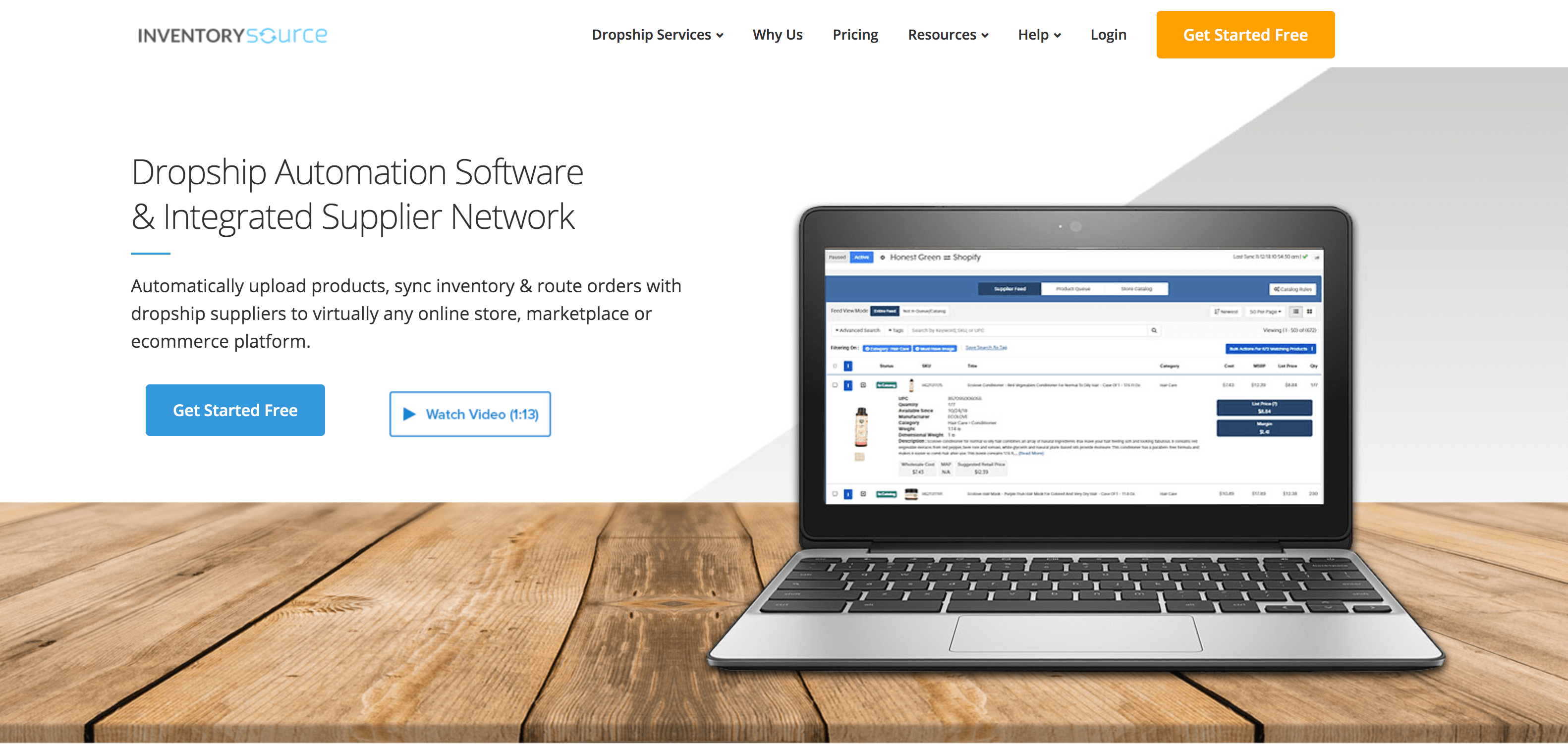 Inventory Source is a dropship inventory and order management solution that automatically uploads products, syncs inventory, and routes orders from dropship suppliers to virtually any online store, marketplace, or ecommerce platform. Although Inventory Source has more than 150 listings in its dropship supplier network, you can still opt to add your own private supplier.
Plus, with the app's ample automation, customizations, and flexible API you can forgo manual csv imports and instead auto-route your orders and unify shipment tracking like that.
Get Inventory Source from their website.
Price: Use the free plan to access their dropship directory, or select a paid package starting at $99/month.
Best for: Dropship sellers who need to streamline multi-warehouse order routing and inventory management to their suppliers and 3PL warehouses.
Reviews: "I am so impressed with Inventory Source. We are a very small operation and could not manage our suppliers any other way. The IS support team is amazing and was very helpful when setting up categories. You can not go wrong with Inventory Source!" — Allen Davis, verified Inventory Source user
How Inventory Source integrates with Extensiv: Inventory Source automatically uploads products, syncs inventory, and routes orders from your dropship suppliers or 3PL warehouses directly to Extensiv, no strings attached.
3. Barcoders QuickShip for brands with barcoding systems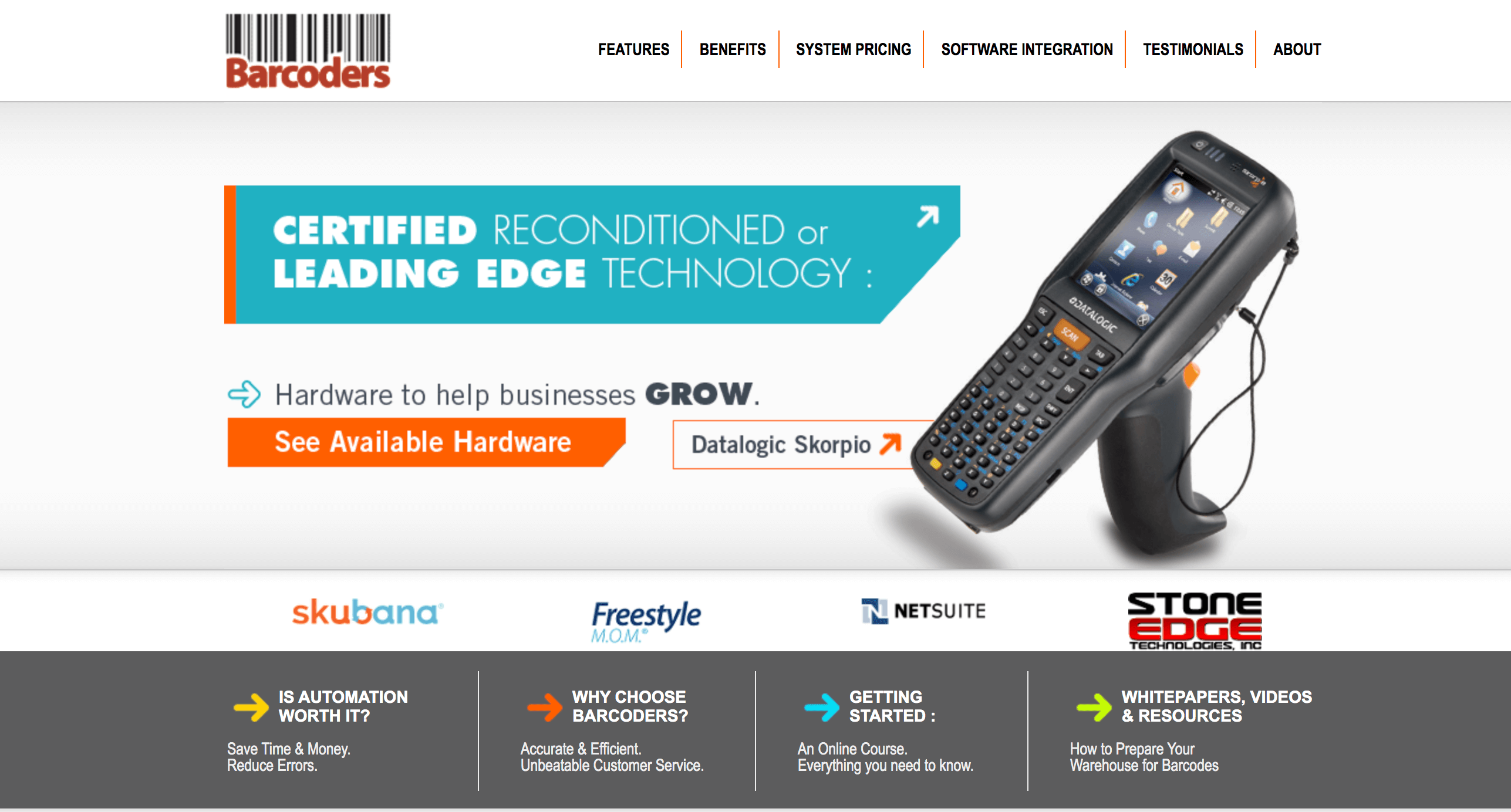 Barcoders QuickShip is the ideal solution for anyone needing to pick, verify, and manage inventory in an optimized fashion. Barcodes are scanned to assure the correct item is picked, and then those picked orders are verified to ensure accuracy. From there, portable barcode scanners assign new bin locations to each SKU, add quantity to the bin, move quantities between bins, or print SKU barcodes from an attached barcode printer.
The QuickShip app greatly increases the precision of order picking, while at the same time, improves inefficiencies and oversees employee productivity.
Download the QuickShip app on the Extensiv App Store
Price: Packages starting at $100/month for up to five shipping computers per warehouse and an unlimited number of packages per month.
Best for: Online merchants who have a number of in-house inventory fulfillment needs and who utilize a barcoding system for their products.
Reviews: *didn't know how/where to find this!
How QuickShip integrates with Extensiv: QuickShip allows you to easily integrate scanners, scales, and label printers into your Extensiv setup, translating to better workflows for commonly-repeated tasks (like weighing packages, shipping orders, and printing labels).
4. Scout topShelf for mobile inventory control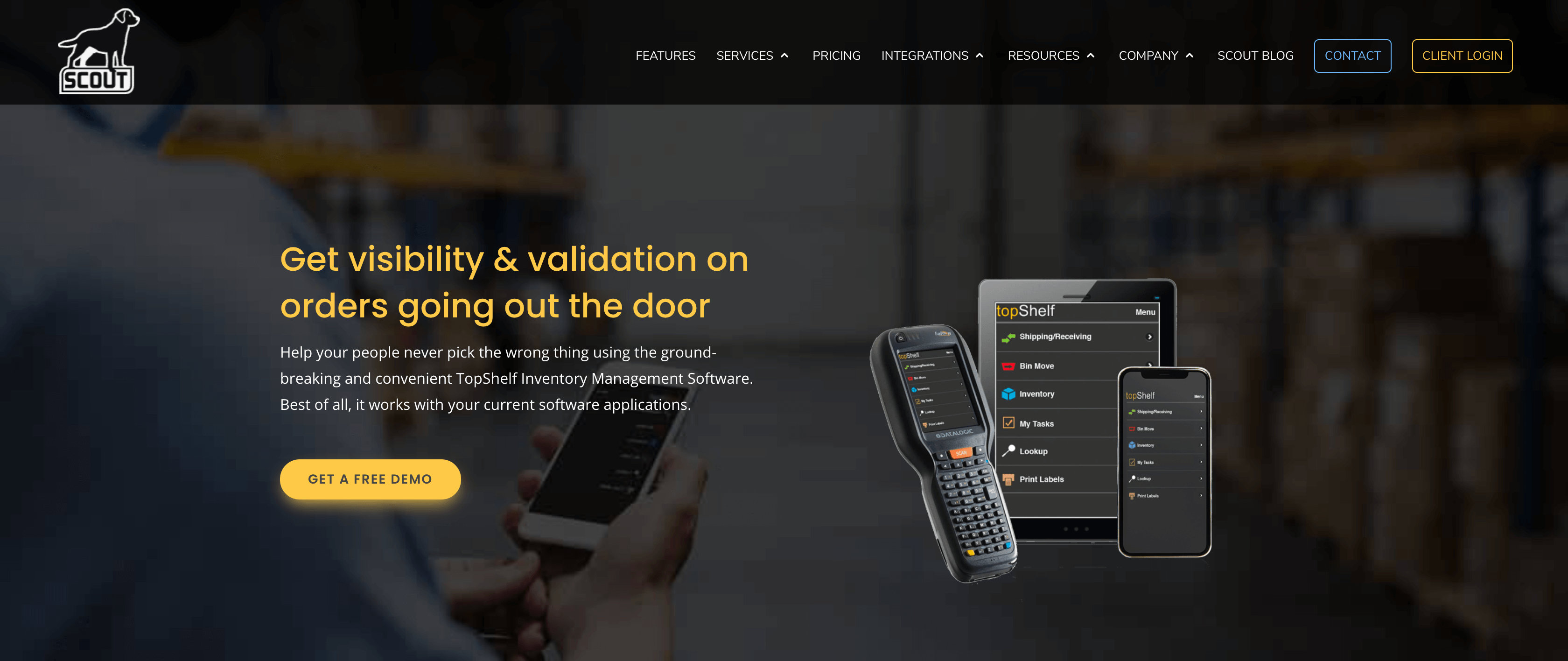 With Scout's convenient topShelf inventory management software, you can secure visibility and validation on every single order. This platform has a range of useful features, like barcode scanning, customer portal, work order management, RFID technology, and dynamic reporting.
The topShelf system supports you in managing your entire product catalog, generating barcode labels for specific products, and printing directly from a mobile device. Additionally, the app can deliver real-time inventory updates and check in on potential problems before they occur.
Download the Scout app.
Price: Packages starting at $90/month for topShelf Advanced.
Best for: Businesses of all sizes who need help with inventory barcoding and who want to exercise control over their inventory from anywhere.
Reviews: "Ease of use, straightforward, and not too complicated. The help section overviews are useful, too; a simple software that does the job." — Verified user in consumer goods
How Scout integrates with Extensiv: Scout's cloud-based system integrates with Extensiv to provide total oversight and control of all your active inventory items, whether you're on the go, at the office, or in one of your warehouse locations.
5. SkuVault to improve customer satisfaction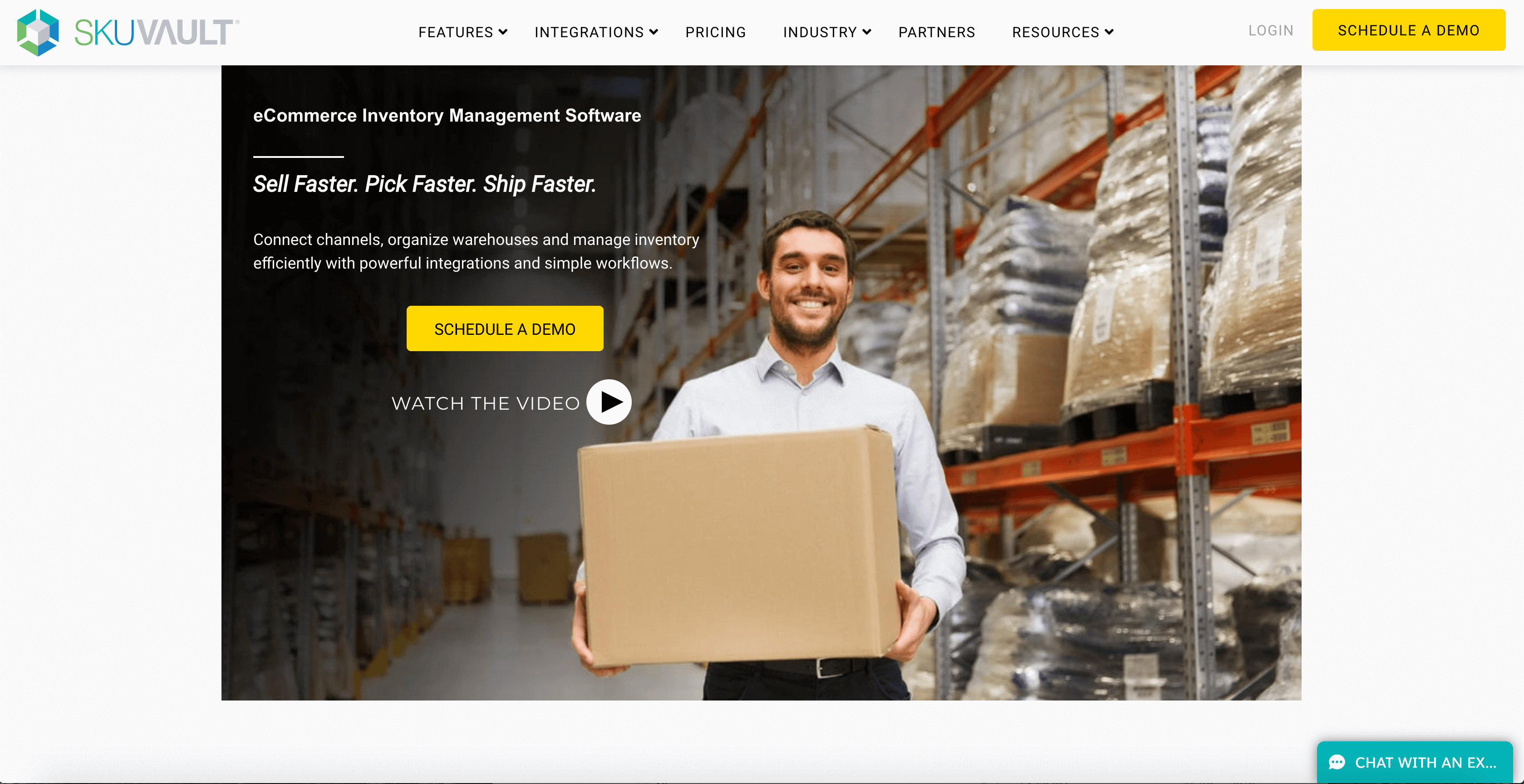 The SkuVault platform connects all of your channels, organizes your warehouses, and manages your inventory with powerful integrations and simple workflows. SkuVault's cloud-based sharing, data-driven decision-making, and increased accuracy can help your online store sell, pick, and ship faster to make sure the customer experience is at its best.
With the SkuVault app, your company can access vital inventory data to construct detailed reports and guarantee you never oversell or run out of stock on any product.
Download the SkuVault app.
Price: Packages starting at $269/month, contingent on the number of orders to be fulfilled.
Best for: Ecommerce merchants who need to upgrade their inventory control as a means to improve customer satisfaction and maintain consistent growth.
Reviews: "Handy and works well with multiple shops! Managing a vast floor of inventories across multiple channels has been greatly overhauled with very minimal manual effort required." — Aman V., Digital Marketing Coordinator for an automotive company
How SkuVault integrates with Extensiv: When SkuVault and Extensiv work together, you'll gain a high-quality control system that correctly fulfills customer orders and identifies any potential errors within the order fulfillment process.
6. Inventory Planner for a better reordering process
Inventory Planner is a leader in online inventory forecasting, due to its automatic replenishment recommendations that simplify the reordering process and compute the sales forecast for thousands of products in a snap. You can easily see what, how much, and when to order with the app's data-driven forecasts based on trends, lead times, and targeted stock alerts.
What's more, Inventory Planner delivers relevant reports showing you what's going on with your business, so you can put your resources in the right places.
Download the Inventory Planner app.
Price: Packages starting at $99/month for one connection or warehouse and 1000 SKUs.
Best for: Businesses with broad forecasting needs, who want to capitalize on reordering recommendations and streamline their incoming and outgoing stock.
Reviews: "Outstanding. For the price, the customer support, the training webinars, and YouTube videos, detailed documentation — it really is unrivaled and we have tried so many different systems. Thoroughly recommend!" — Ben S., Operations Manager for a retail company
How Inventory Planner integrates with Extensiv: Using Inventory Planner in conjunction with Extensiv can save you considerable time and money by sending purchase orders directly to suppliers, keeping track of outstanding orders and expected arrival dates, and displaying all your inventory needs in one place.
7. StoreAutomator for better listing management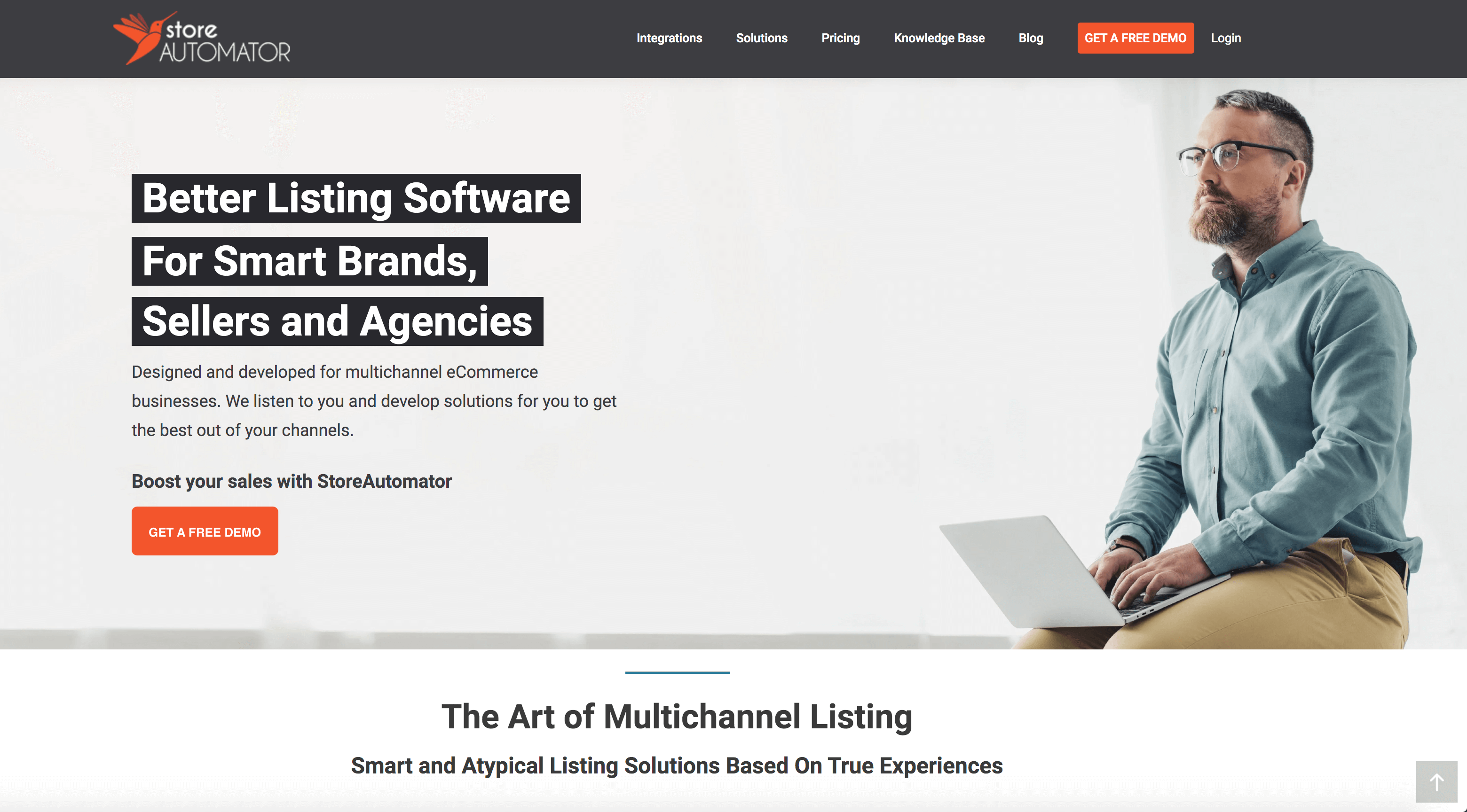 StoreAutomator's mission is to help ecommerce companies get the most out of their channels. This app lets merchants create product listings from scratch, enjoy flexible selling for inventory with multiple SKUs or listings, achieve inventory control with catalog management, and adapt to various marketplaces through data templates and mapping.
With StoreAutomater's sophisticated features and inventory manager opportunities, brands can create product listings on Amazon, eBay, Walmart, and Google Express (all of which can contribute to significant growth and customer acquisition).
Download the StoreAutomator app.
Price: Packages starting at $599/month, determined by the number of channels and SKUs.
Best for: Online merchants who need help with listings management and inventory repricing, especially those with multiple selling channels or outlets.
Reviews: "We all really love it at our company. Very easy to use, very customizable with lots of options. Easy to work with and implement, and one of the best listing softwares we have used." — Vladislav K., CEO for a retail company
How StoreAutomator integrates with Extensiv: StoreAutomator's native integration with Extensiv offers advanced listing solutions, which can have a direct impact on your sales growth. This partnership offers channel-based overriding, description and title templates, and alias and alternate SKUs to give your brand the boost it needs.

8. Daasity for multichannel analytics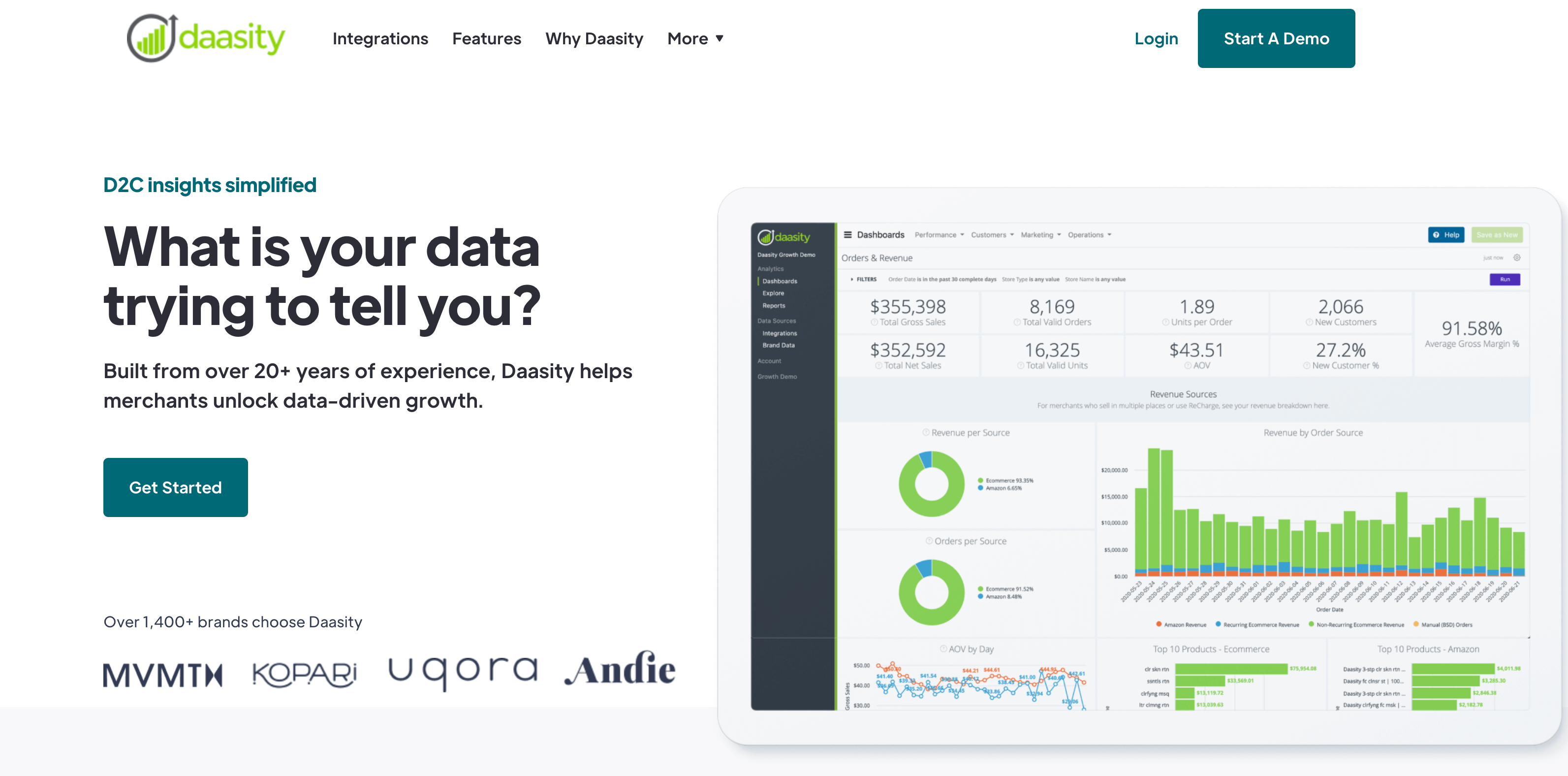 Daasity's software offers inventory data analytics that were designed for non-technical users, meaning they're easy to understand and translate into real results. With Daasity, your online store can move beyond basic reporting, and utilize holistic sales data (broken down into individual channels) to unlock insights essential to the growth of your business.
The Daasity app empowers companies to maximize their profits by cutting costs and driving revenue through omnichannel analysis for a more informed decision-making process.
Download the Daasity app.
Price: Packages starting at $199/month for custom reports and multichannel analytics.
Best for: Brands who want to enhance their inventory analytics for a clear view into their performance across all channels and data sources.
Reviews: "Before Daasity, we were manually updating Google Sheets on a daily or weekly basis to track inventory and marketing. Now, we have easy, automated dashboards that are saving a ton of valuable time so we can focus on running the business. — Sean Agatep, Co-founder of Vincero Watches
How Daasity integrates with Extensiv: When Daasity and Extensiv join forces, you can gather data into one complete view, so you can access accurate and comprehensive insights to drive strategic, sustained growth.
9. QuickBooks Online supports bookkeeping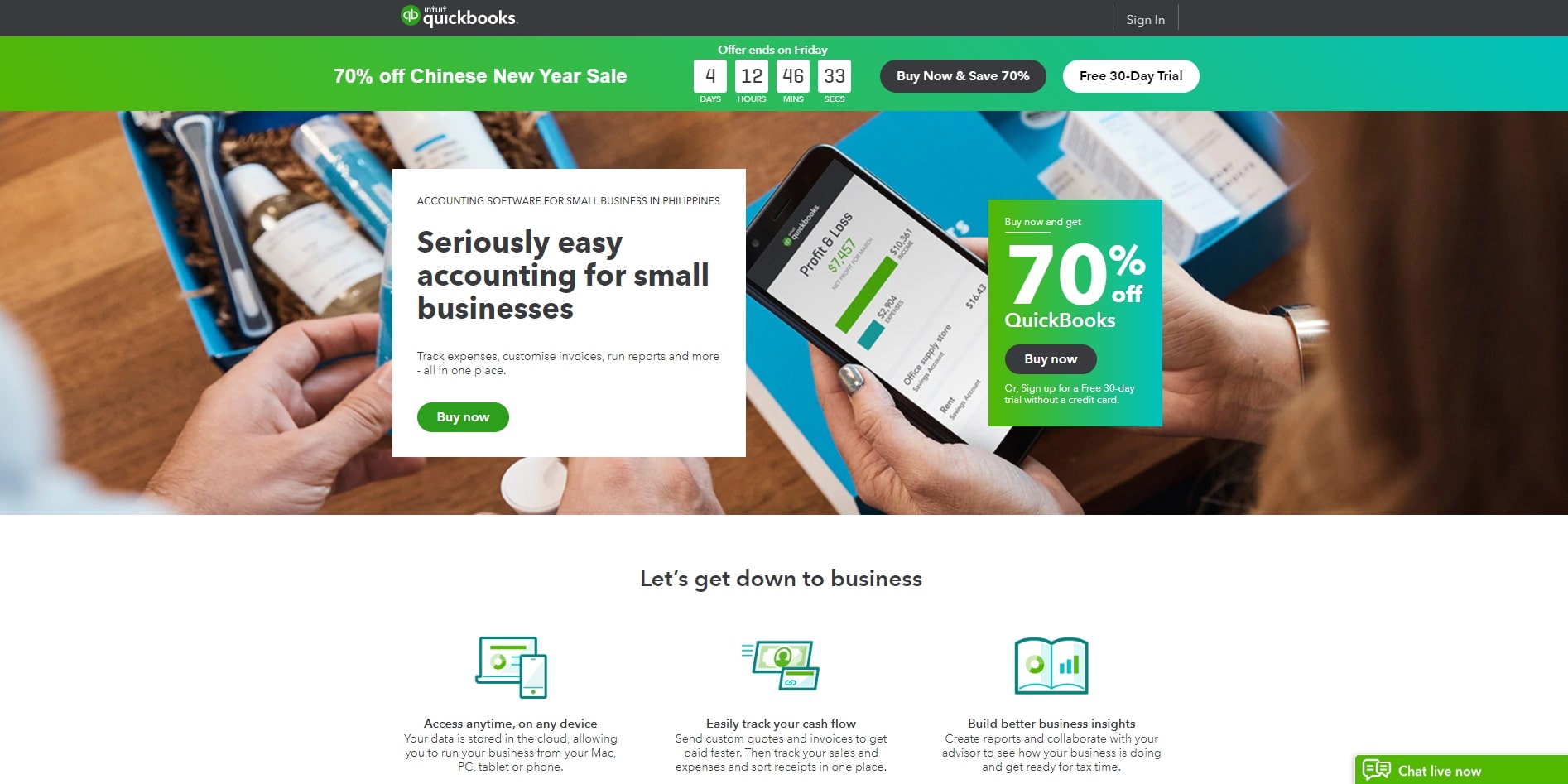 Your data is constantly changing, which means if you're working from a static spreadsheet, your information is likely already outdated. Without accurate data, you don't know the true value of your inventory, cost of goods, or when exactly to issue purchase orders.
But with the cloud-based software from QuickBooks, you can greatly reduce the amount of hours you spend managing your business finances. QuickBooks can help your company with a whole range of tasks, from creating estimates and invoices, to tracking sales and cashflow.
Download the QuickBooks Online app: https://quickbooks.intuit.com/online/apps/
Price: Packages starting at $7.50/month, or up to $75/month for advanced features.
Best for: Small businesses who need assistance with their accounting and financial services and/or an improvement in the accuracy of their bookkeeping.
Reviews: "My overall experience with the software has been overwhelmingly positive. I can use it to bill clients, attach timesheets, run payroll, connect to the bank and reconcile, and also connect the credit card to the system. It's been really handy." — Lisa N., Director of Accounting
How QuickBooks integrates with Extensiv: With Extensiv QBO Connector, you can automatically transfer financial data to QBO for precise reporting and easy reconciliation. You'll keep all your books tallied, while these systems provide you with the latest numbers on landed costs, inventory assets, and true profitability.
10. Shopify POS for tracking sales on mobile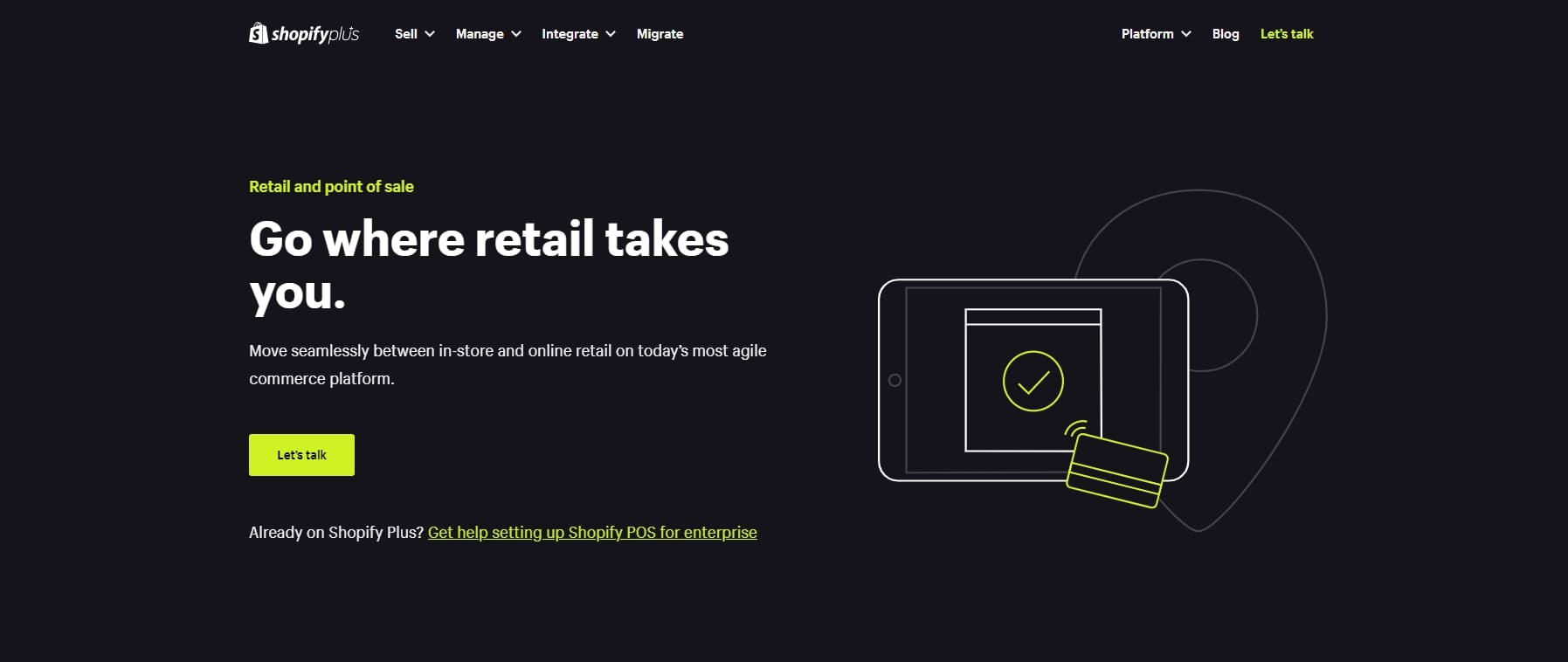 Shopify POS has the tools you need to manage your business, market to customers, and sell everywhere, all in one convenient place. With its advanced inventory features, Shopify users can generate POs and transfer stock based on inventory forecasts and previous performance.
In addition, the mobile app allows you to adapt to growing business trends with unified analytics that blend in-store and online sales. When you partner with Shopify POS, you'll have the ability to delegate with peace of mind and motivate your team to continually reach for that next level.
Download the Shopify POS app: https://www.shopify.com/install
Price: Shopify POS Lite is included with all Shopify plans, while Shopify POS Pro is an additional $89/month per location.
Best for: Retail companies who need a versatile POS system and mobile inventory platform to consolidate all of their sales (regardless of where the transactions occur).
Reviews: "Shopify POS is our main POS system for a large retail space. Easy to use and train all staff. Easy to integrate with other systems; great option for our business." — Lidia C., Marketing Manager for a retail company
How Shopify POS integrates with Extensiv: When you merge Extensiv with Shopify, you'll benefit from real-time, up-to-date information on sales, payments, and orders. You can also use Extensiv's cross-channel analytics to discover your most profitable products to sell on Shopify (a noteworthy asset not all integrations offer).
3 ways Extensiv's inventory management app helped these brands level up
Extensiv is an all-in-one ecommerce management tool, offering ERP, advanced inventory and order management, warehouse management, and automation in a streamlined, multi-user platform. Utilizing Extensiv is the best way to track inventory from raw materials to finished goods, automate every step of your supply chain, and increase efficiency like never before.
The following businesses have experienced tremendous success and growth by incorporating Extensiv inventory management application into their everyday operations.
Moonglow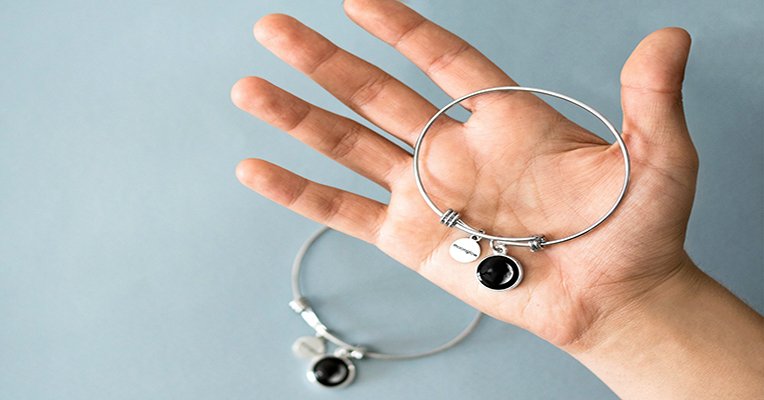 The year before Moonglow teamed up with Extensiv, they sold under a million dollars worth of inventory in Q4. At the same time, thousands of units were oversold for weeks, which caused negative reviews and unhappy customers. That's when they reached out to Extensiv.
"Extensiv (formerly Skubana) enabled us to hit $2.5 million in the next year for Q4. We would not have been able to handle the mess and the volume that would have been created from those additional sales if we didn't have this platform in place. With Extensiv, we were able to triple Q4 revenue. The ROI is just absolutely out of this world." — Calli Grace, Head of Operations at Moonglow
Specialist ID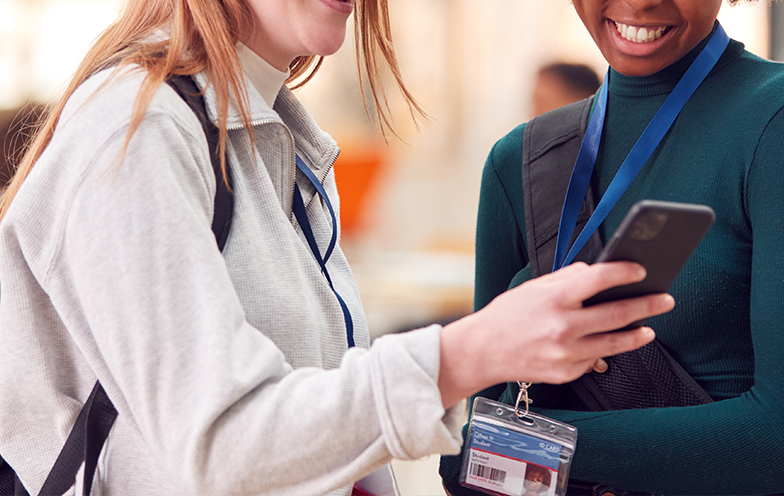 Fifteen years into the business, Specialist ID had reached a brick wall. They'd just passed $5 million in gross sales, but they were still doing things the same way they always had, with pretty much the same system in place. That is until Extensiv stepped in as the engine of their operations.
"[Extensiv] just made it easy to scale. We were at a point where we could not grow at all, and then when we got on Extensiv, we went and doubled the company without any pain. And if we were able to grow sales, we could take 10X from here and still keep scaling, and it wouldn't be stressful." — Patrick Barnhill, Co-founder, and President at Specialist ID
Tushy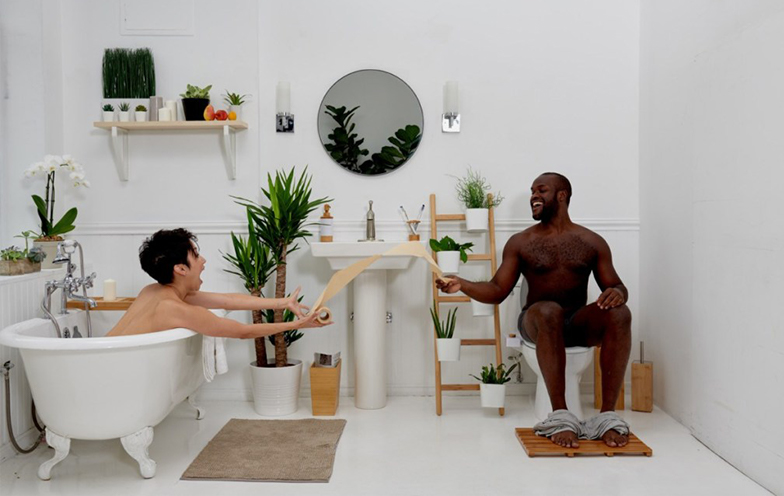 During the spring of 2020, as COVID cases were rising and toilet paper became scarce, households across the country started investing in alternative bathroom solutions. Tushy's bidets actually saw record-breaking sales, and with the help of Extensiv, they were able to pivot from an on-demand fulfillment company to a backorder company in just days.
"Extensiv has been essential in supporting us in a time of terrible uncertainty and scale. Not only have we scaled 10X in a matter of months, but we're navigating a completely different inbound and outbound supply chain. I point to Extensiv as one of the best decisions we've made in the last year and key to our success." — Justin Allen, Co-founder, and COO at Tushy
Conclusion
Product-based business owners know their inventory is their business, which is why it's so important to have a high-functioning, dependable inventory management app at your disposal.
While the benefits of these apps hinge on your business requirements and ongoing challenges, Extensiv is an all-in-one, user-friendly solution that's ready to help your company excel in its industry. Schedule a demo with Extensiv, and see for yourself how much room there is to grow!