The instant age of now, now, now is upon us with the desire for instant access and round-the-clock availability set to be the norm by 2026.
This has paved the way for the eCommerce world, where people can click and buy in a matter of seconds.
But this new-found love of instant gratification makes navigating the future of e-commerce more complicated: now, there are a slew of new eCommerce brands popping up every single day, making it difficult for businesses to stand out in an increasingly saturated industry.
Branding Gives You the Edge
Did you know even though eCommerce is growing at a rate of 23% every year, 46% of American small businesses still don't have a website.
By giving yourself an online presence, you're already ahead of many, but this is where branding comes in to give you the edge. Branding is so much more than a webpage and a logo (though it's worth bearing in mind that 38% of people will leave a website if they don't like the layout). In the article we'll cover:
What Goes Into a Brand?
Get Started With Branding Your eCommerce Business
Quick Tips for Branding Your eCommerce Business

What Goes Into a Brand?
When you think about the term branding, you probably think about everything visual, like the colors, the logo, and the design. But, while visuals are a component of branding, they aren't the be-all and end-all.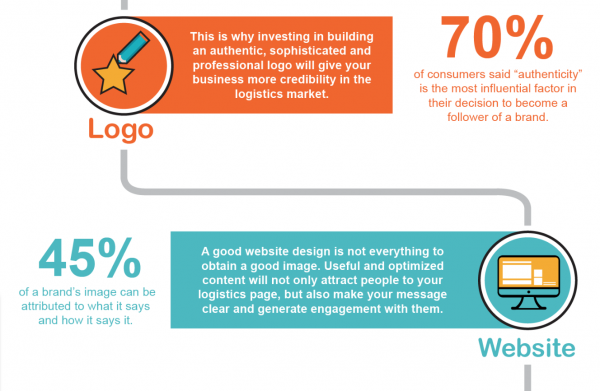 Branding also refers to the feelings or associations consumers have around your business. From a psychological standpoint, branding is how your products and business make a customer feel - is it good, bad, neutral?
When carried out in the right way, branding gives potential and past customers a clear idea of what you offer, your values, and what makes you different from the rest of the eCommerce brands they could buy from.
Get Started With Branding Your eCommerce Business
First things first, it's really important to define your target market. These are a group of people that you'll target with your marketing and who will buy from you over and over again.
When you know who it is you want to attract, you can develop a brand that speaks directly to them and, more importantly, resonates with them. Here, you want to think about the basics of your target market, like their age ranges, where they're from, and what kind of job they might have, but you also want to dig a bit deeper than that too, and consider their biggest dreams, fears, and challenges.
Then it's a good idea to mull over what it is you're eCommerce business is all about.
In a piece in Entrepreneur Magazine, there are four key questions to ask yourself about your brand to kicks things off:
What is your company's mission?
What are the benefits and features of your products or services?
What do people already think about your business?
What qualities do you want people to associate with your brand?
Once you can answer these questions with absolute certainty, you can move onto creating assets and branding elements that tie in solidly with how you want people to see your eCommerce business.

Quick Tips for Branding Your eCommerce Business
Develop Your Brand Message
Warby Parker promises to "offer designer eyewear at a revolutionary price". TOMs promises to "match every pair of shoes purchased with a pair of new shoes given to a child in need."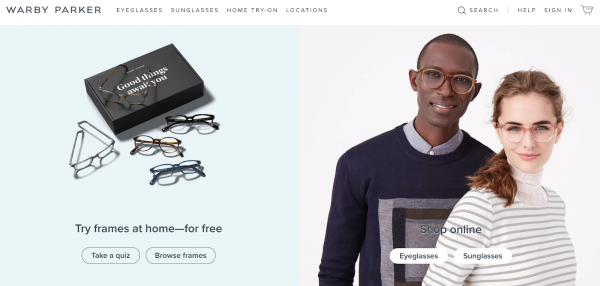 Your story is an incredibly important part of your brand; it essentially shares with visitors why you do what you do and why you want to help them in particular. What does your business promise to do?
Your "About Us" page is a great place to start with your story, although a lot of eCommerce brands even have a designated "Our Story" page.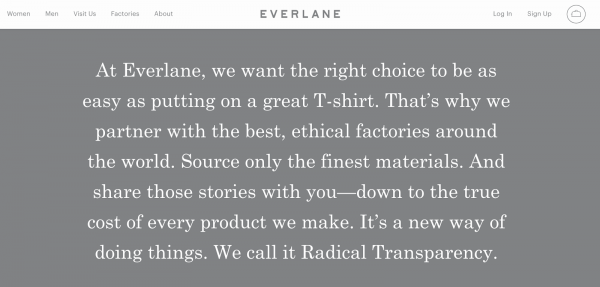 Everlane shares their message on their About Us page.
Think about what you're delivering to your customers and how your business will help them solve a problem or make them feel about themselves. This brand message will drive future marketing efforts, communications, and the visual aspects of your brand.
Match Your Visuals to Your Message
Now you've got your message, it's time to work on those visuals - we're talking logos, website design, social media graphics, and everything in between.
You want to make sure your visuals match the message you want to send out. For example, if you want people to feel joyous and happy when they think of your brand, you don't want to use a color palette of dark grays and black.
Make Everything Consistent
The key to a memorable brand is consistency. If people keep seeing different colors associated with your brand or they feel like they're getting mixed messages from your communications, they're going to struggle to know what you're about and to trust you.
When you've got your visuals and messages down pat, it's important that you use them over and over again: use your brand colors and imagery on banners, in emails, and across social media, and make sure your messaging is clear on your website.
Position Your Business
Positioning is everything if you want to stand out in a saturated market like the eCommerce world. And, to position yourself, you need to understand how your business is different from others in the same industry.
To do this, you want to think about what makes you a unique player.
For example, do you offer:
High quality goods at really reasonable prices?
Regular discounts and sales for your customers?
Charitable actions like TOMs?
The most expansive range of products in a certain area?
Get Feedback From Your Customers
To know if you're putting across the right message to your customers, it's best to go straight to the source.
Remember, your eCommerce business relies on its customers and, by making sure you're providing them with an excellent service time and time again, you're going to cement your brand in their minds.
Ask for feedback from existing customers and share stories, testimonials, and case studies from past buyers that solidify your message and attract new audiences. Creating a memorable brand is like creating a community where customers and future prospects feel like they're a part of something.
As well as asking directly, you can also use software and tools to get a detailed breakdown of your customer's behavior throughout the sales funnel.
Tools like JungleScout and Unicorn Smasher help you pick out products that are popular with your target market, while more comprehensive softwares like Extensiv Order Manager can measure orders, inventory, and other metrics that help you get to know your customers.
Being in the know about your customer's likes, dislikes, and behavior means you can better serve them. And, in the business world, customer service is inextricably tied into your branding and brand image.
Branding is Key For Ongoing Awareness
It's difficult to stand out in the eCommerce world today, but it's definitely doable. If you don't know where to begin with creating a brand that represents everything you want your business to be known for, it may be worth getting help from a marketing agency. Typically, they will share a branding questionnaire to get a better sense of your clients' wants and need. Your responses can help them craft a message for your business and turn that message into a visual brand with sleek graphics and an engaging website design.
Again, by thinking about how you want customers to feel, what makes you different from the rest, and the kind of message you want to put out there, you're solidifying your positioning in the eCommerce world and making your brand memorable for past and future buyers.
Key Takeaways
The eCommerce world is growing astronomically every single year
Branding your eCommerce business is incredibly important if you want to stand out in a saturated market
Your brand isn't limited to your logo and visuals, it also includes your messaging
Consistency is key in branding
Your customers are your most important asset - make them feel good