What do you want to learn?
Apps are the fundamental building blocks behind every great Shopify-powered store experience. Without a strong foundation of critical apps, you risk missing out on valuable features and potential sales opportunities.
On the other hand, downloading everything you see in the app store can push prospective customers away by extending site loading time, increasing operational costs, or creating recurrent bugs which can ultimately lower your search engine optimization or SEO score.
Don't have time to read the full article below? Download the full report to reference later on!
And if you're looking for tips on how to evaluate which Shopify apps work best for you, download our checklists now!
How To Choose The Right Shopify Apps for Your Store
Choosing the right apps for your ecommerce platform is a bit of an art form. However, there are a few steps you can take to make your decision-making process a bit more streamlined.
Define Your Shopify App Goals
The first step in choosing the right Shopify apps for your store is defining your goals. In this case, the more specific your goal setting, the better.
Do you want to boost sales by a certain amount in the next six months? Or would you like to cut shopping cart abandonment by half? Maybe you want to attract twice as many new customers by the end of the year?
You need a clear vision of where you'd headed in order to select apps that suit your needs. If you don't know the why behind your app integrations, you'll wind up wasting a lot of time, money, and effort on something that doesn't actually benefit your business.
Research Shopify App Options by Use Case
Once you know the end goals you'd like to accomplish, you can start researching Shopify app options by individual use case. If your goal is to increase sales within six months' time, then you may seek out an app to help with upselling or establishing a customer rewards program.
Alternatively, if your focus is on improving retention rates, you might like an app that can assist with retargeting or conversion marketing. The point is to consider how you want to interact with the app and/or what you need the app to do for you — and then dig into the details of what each platform can offer.
Compare Shopify App Reviews
If you've created a shortlist of apps you're most interested in, the next step will be to compare Shopify app reviews from other online stores. As you read through these customer reviews, pay attention to what they're saying about the app's usability, feature set, and overall value.
Reading through a handful of reviews can help you to better understand the pros and cons of each service, and will allow you to narrow down your options a little bit further.
Regularly Assess & Update Shopify App Use
Even after you've installed your Shopify apps and integrated them into your retail operations, it's important to regularly assess and update everything you're using. If the apps you've chosen aren't user-friendly, or they lack drag and drop features, or you'd like more room customization, you can always cut them loose (or swap them out).
There's such a wealth of apps out there to choose from, you have the flexibility to try out a few different programs before you decide which works best for your brand.
The Best Shopify Apps for Ecommerce Success in 2022
The Extensiv team has compiled the best Shopify apps to help you improve your ecommerce store — whether you're a small business or a full-fledged enterprise. For each app listed, we will include the use case, app description, key features, and pricing.
Use Case: Digital Marketing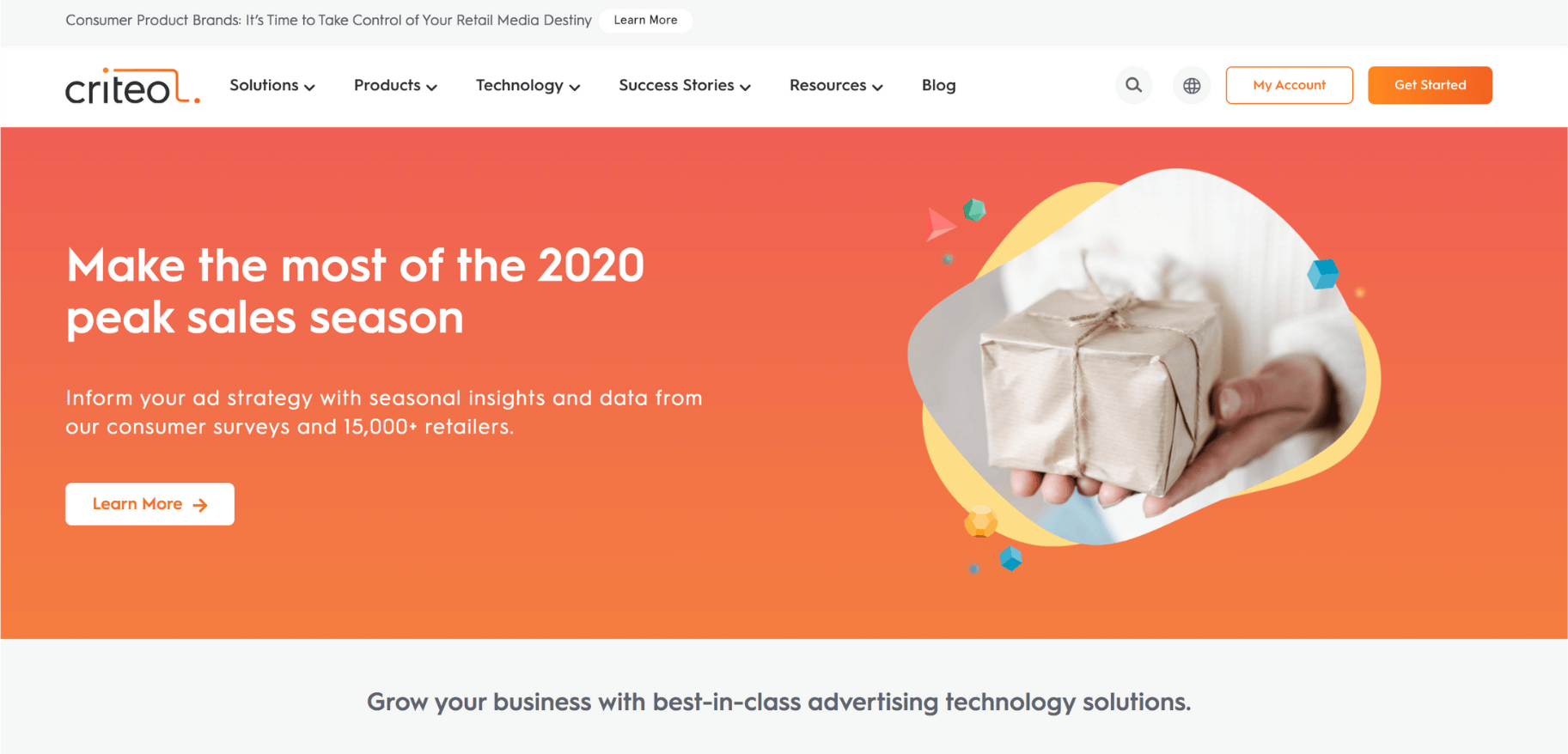 App Description:
Criteo gives business owners the tools to build and launch effective digital marketing campaigns. This application lets marketers design test content and optimize their messaging to fit any device, audience, or sales channel.

But in addition to campaign deployment, Criteo also includes robust analytics dashboards to inform your entire marketing and business strategy. This way, you know what messaging resonates with your audience, as well as which are the strongest landing pages to boost conversions and increase sales.
Key Features:
Targeted advertisements across publishers, content providers, and social media.
Greater return on ad spend (up to 13x) by keeping your brand top of mind.
Helps boost conversions, drive sales, and reach new audiences.
Implements machine learning based on data from over 1.2 billion active shoppers.
Pricing: contact Criteo for a custom quote
Use Case: Email Marketing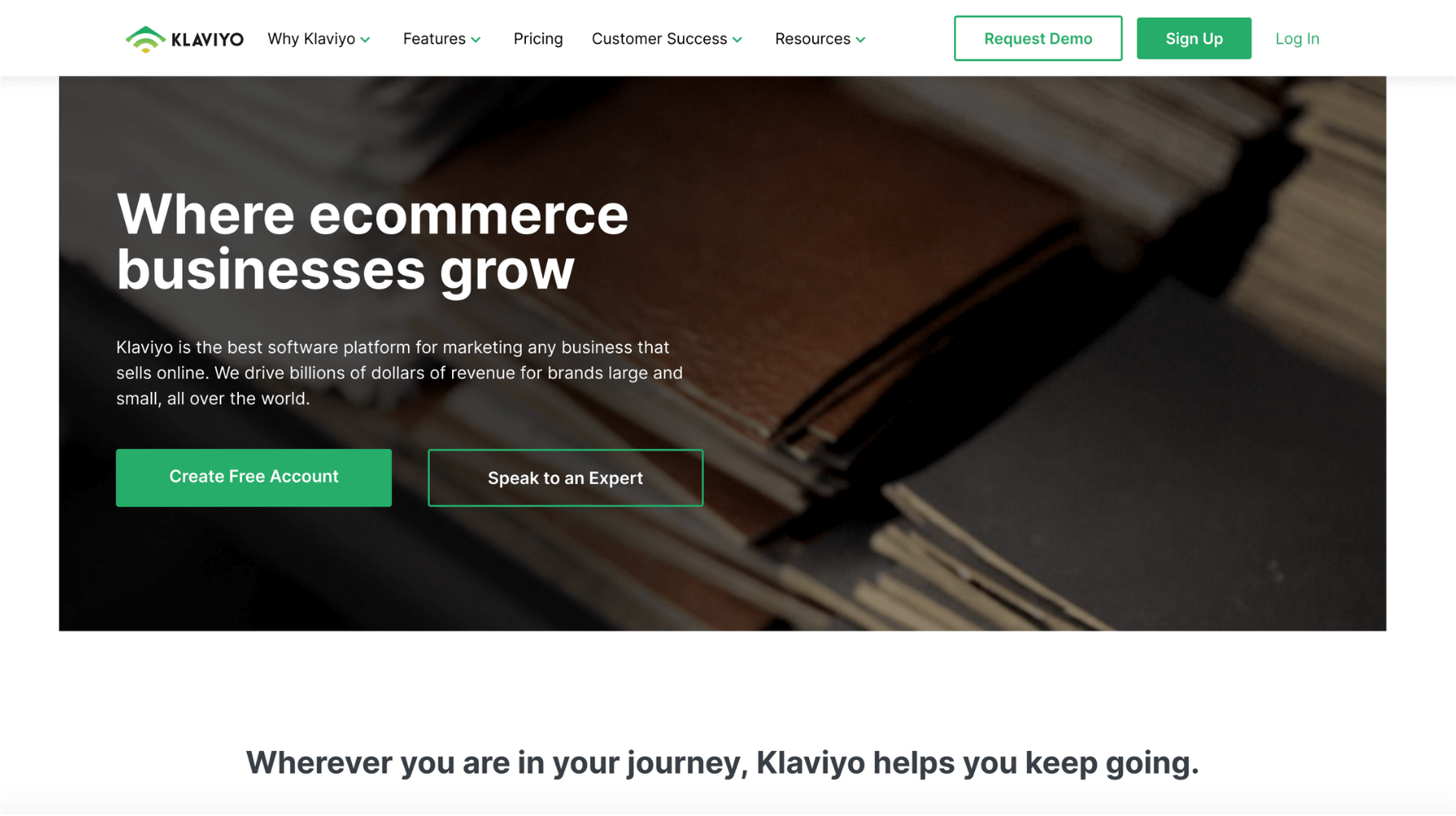 App description:
Klaviyo's SMS and email marketing app is designed to help ecommerce businesses create high-quality, personalized email campaigns that are based on both behavioral and transactional data. Klaviyo supports ecommerce marketers in building their email list and simplifying the creation, deployment, and measurement of their campaigns.
More specifically, Klaviyo comes with pre-built best practice techniques, A/B testing, segmentation capabilities, and in-depth reporting for your Shopify Plus site.
Key Features:
Compares past and present campaign success and the ROI of each campaign.
Details revenue per subscriber and comprehensive segment performance.
Integrations for CRM platforms, help desk software, payment, and rewards solutions.
Comes with a suite of other digital marketing tools for expanded functionality.
Pricing: Klaviyo is free for up to 250 active profiles
Use Case: Omnichannel marketing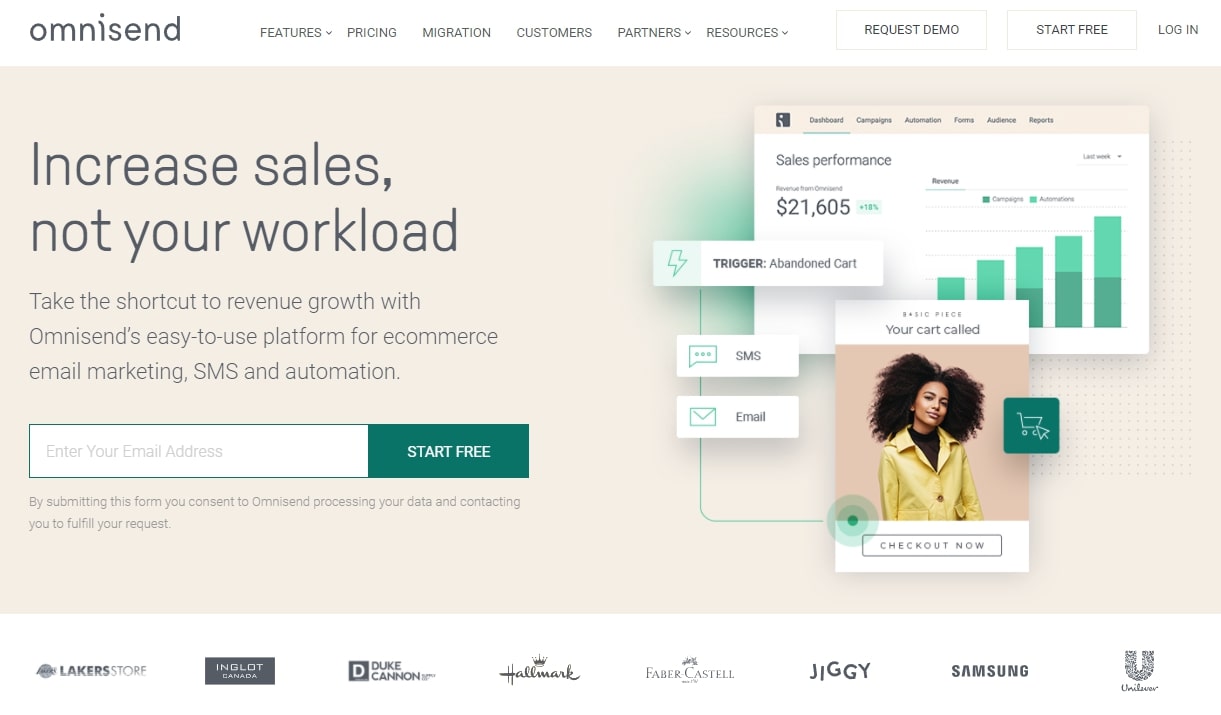 App description:
Omnisend operates on the idea that data integration among sales channels is the key to sending the right message at the right time (also known as omnichannel marketing). The Omnisend platform offers pre-created workflows for reaching subscribers at every stage along the customer journey, from brand introduction to retention efforts.
Plus, Omnisend has the ability to incorporate other tools — including SMS and web push notifications — for reaching an even wider audience of subscribers and customers.
Key Features:
Ensures all your messaging works together on multiple platforms.
SMS and push notifications can be added right alongside email messages.
Enables users to build custom, segmented, and

automated

workflows from scratch.
Reaches subscribers throughout the customer journey, from introduction to retention.
Pricing: Paid plans starting at $16/month
4. Refersion
Use Case: Affiliate Marketing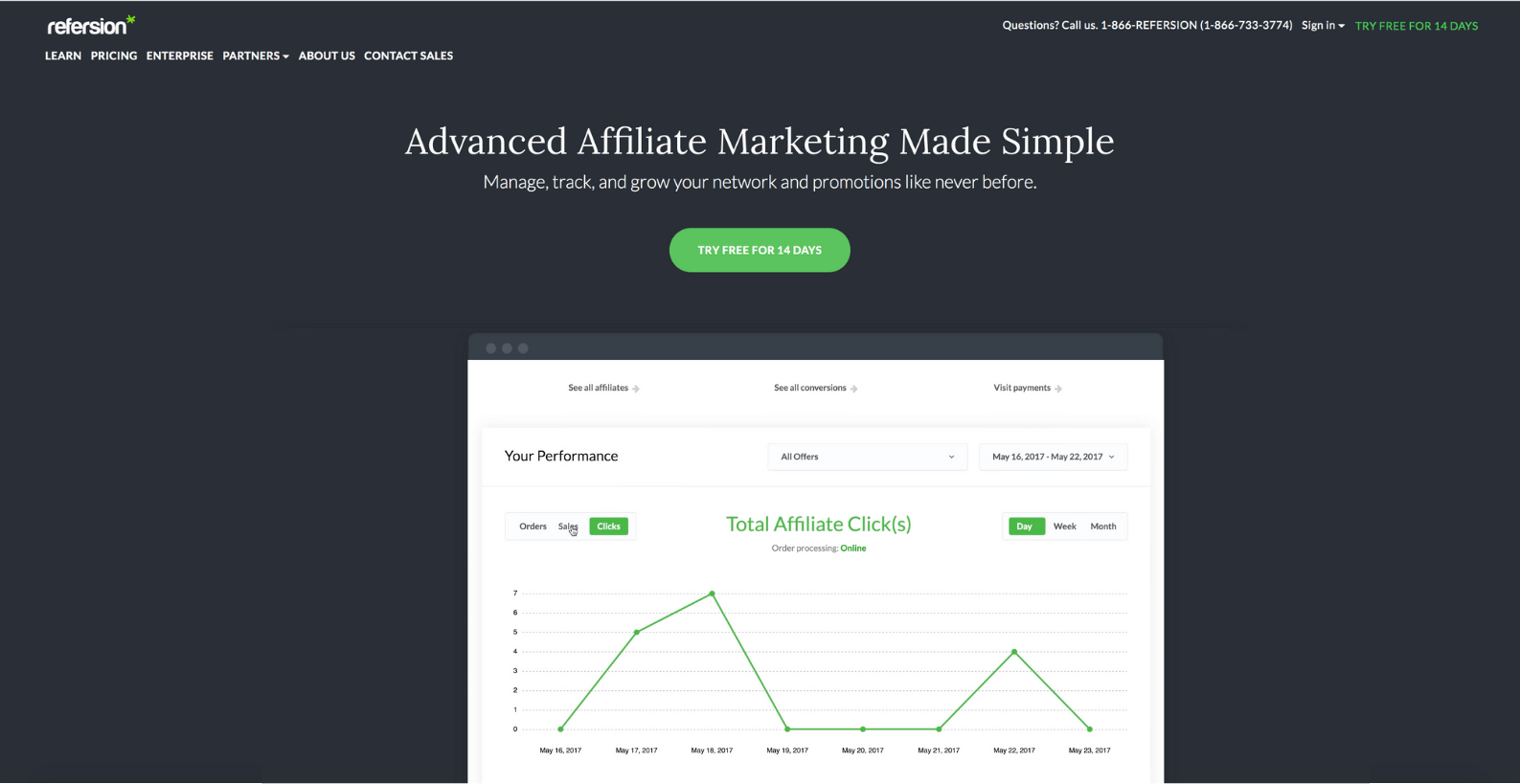 App description:
Refersion is a referral marketing app that connects your business with individuals that can help to promote your products. The purpose of this app is to capitalize on social media 'likes' by sponsoring content through affiliate or influencer networks.
Using Refersion, your brand can create and launch customized referral, affiliate, or promoter networks. This platform enables you to see clicks and conversions in real-time alongside channels and peak performance times, and to measure both revenue and engagement.
Key Features:
Manage affiliate and influencer payment in an easier, more transparent way.
Measures engagement, revenue, and conversion rates on a per affiliate basis.
Track referral sales driven by your affiliates and influencers through influencer marketing platforms.
Easy-to-read dashboards and reports to follow your program's performance.
Pricing: Paid plans starting at $89/month
Use Case: Affiliate and Referral Marketing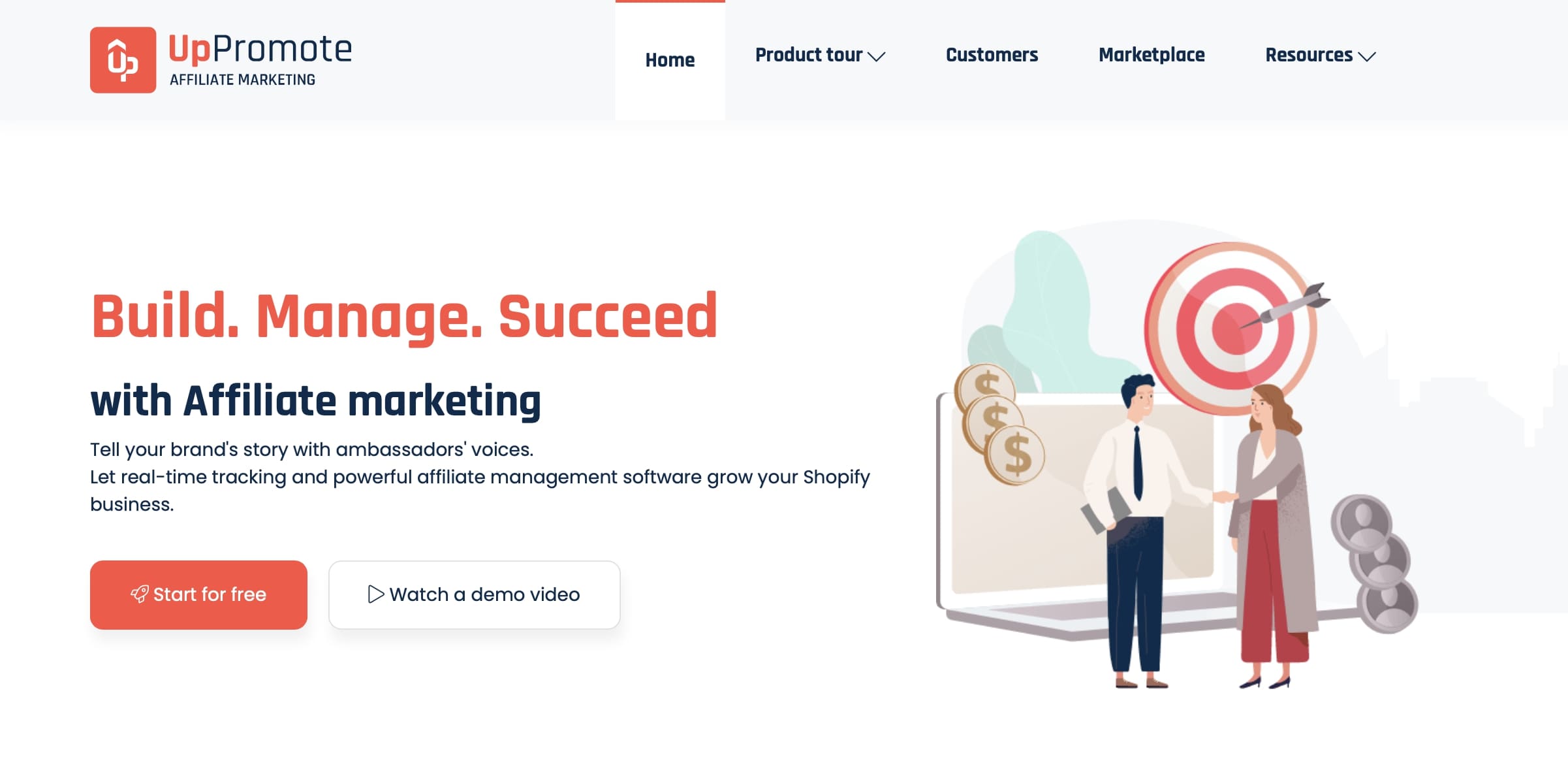 App description:
UpPromote Affiliate & Referral is the top-recommended affiliate/referral marketing app on Shopify App Store. It is an all-in-one app that helps brands maximize exposure and boost customer loyalty.
With UpPromote, businesses can tap into the power of affiliate, referral, and influencer marketing to find and manage partners and brand ambassadors. It allows users to customize everything from forms and links to coupons and affiliate portals to fit their brand. With flexible pricing options, UpPromote can accommodate the needs and expansion of any business, making it an ideal solution for brands of all sizes looking to enhance their marketing efforts and drive growth through affiliate and referral marketing.
Key Features:
Create custom affiliate programs featuring a range of commission options and incentives.
Seamlessly track referral orders via affiliate links, coupons, and connected emails
User-friendly dashboards and comprehensive reports to track the performance of your program.
Motivate affiliates with powerful options: bonuses, gifts, store credit, and MLM
Incentivize customers and their friends through Customer referral
Automate your payment process with Schedule auto-payment with PayPal
Pricing: Paid plans start at $29.99/month
Use Case: Ecommerce SEO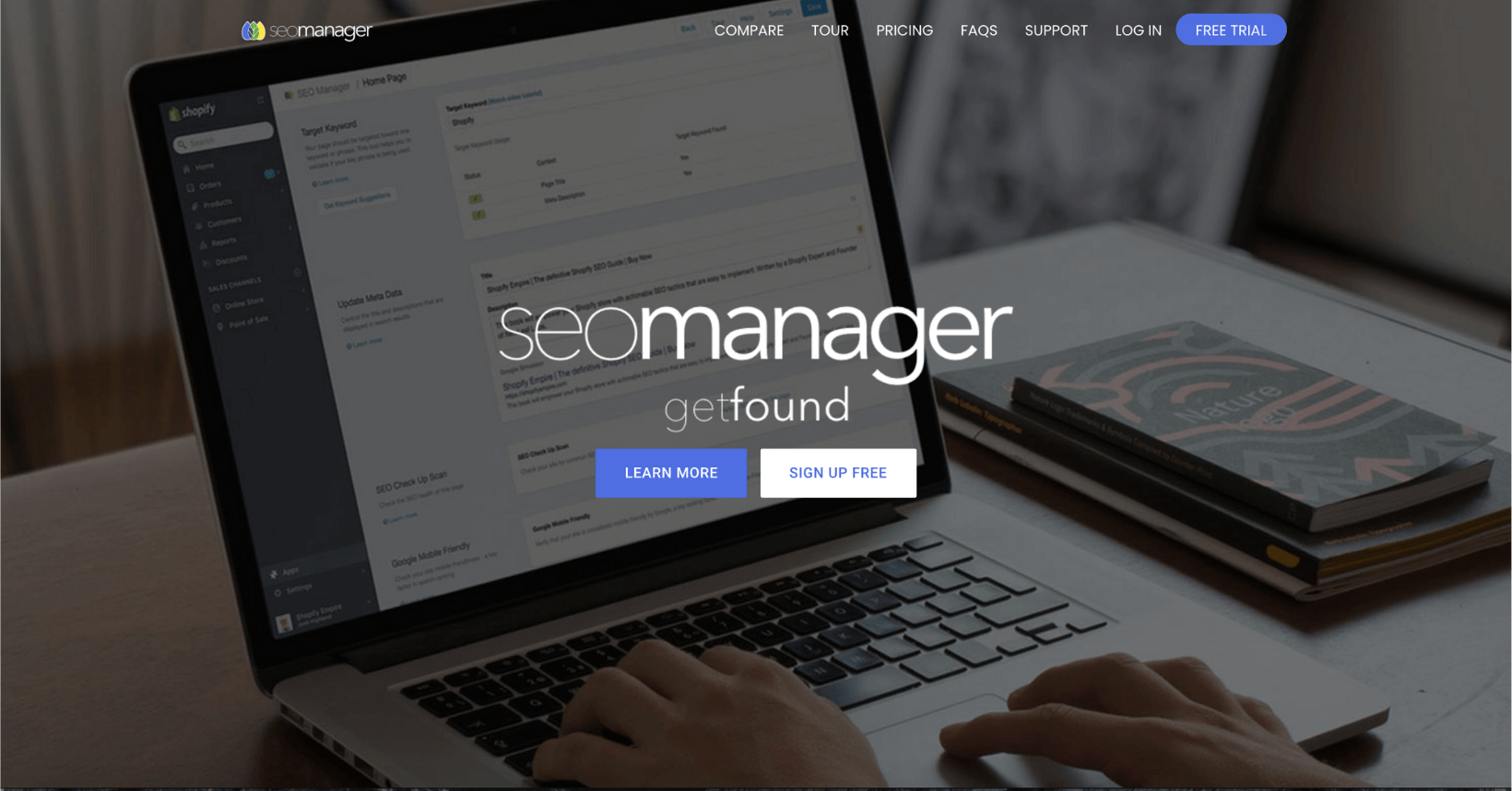 App description:
To be successful as an ecommerce brand, you need to optimize your storefront and drive traffic to your site. With SEO Manager, Shopify merchants can take control of how search engines see their store and review live feedback on the successes (and failures) of their SEO strategy.
SEO Manager makes it considerably easier to understand and implement SEO measures that'll help your brand achieve higher rankings across the board. In other words, you'll not only get your storefront noticed, but you'll also drive site traffic and create conversion opportunities.
Key Features:
Provides SEO scan, keyword suggestions, and Google search console connection.
Edit titles and descriptions, check for SEO issues, and redirect from stockouts.
Log and manage 404 errors and repair those errors in real-time.
Helps you land on the front page of Google Shopping to achieve greater visibility.
Pricing: Paid plans starting at $20/month
Use Case: Social media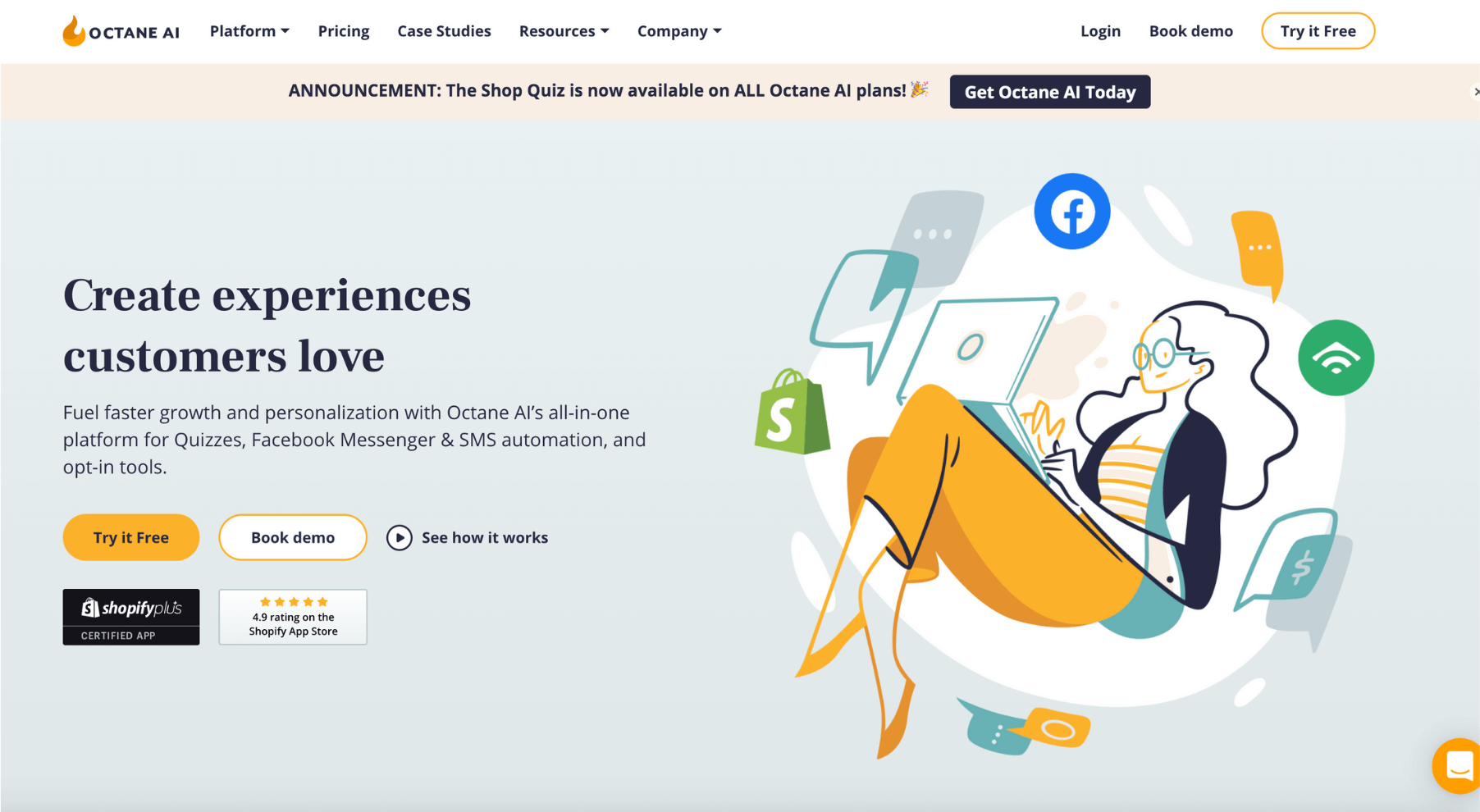 App description:
Social media apps connect your Shopify store to social platforms for two-way communication and customer insight. Octane AI is an all-in-one software for quizzes, data collection, and personalized Facebook Messenger and SMS automation for Shopify and Shopify Plus.
What's more, the Octane app interacts with your customers and prospects through Facebook Messenger to answer frequently asked questions, remind shoppers about their abandoned carts, announce new promotions, or provide transactional data (like order confirmation).
Key Features:
Send cart recovery messages plus receipt and shipping notifications.
Create automated, conversational responses to the most common customer questions.
Share follow-up messages at specified time intervals to targeted audience segments.
Determine customer segments and retarget them based on their responses.
Pricing: Paid plans starting at $49/month
Use Case: Website Optimization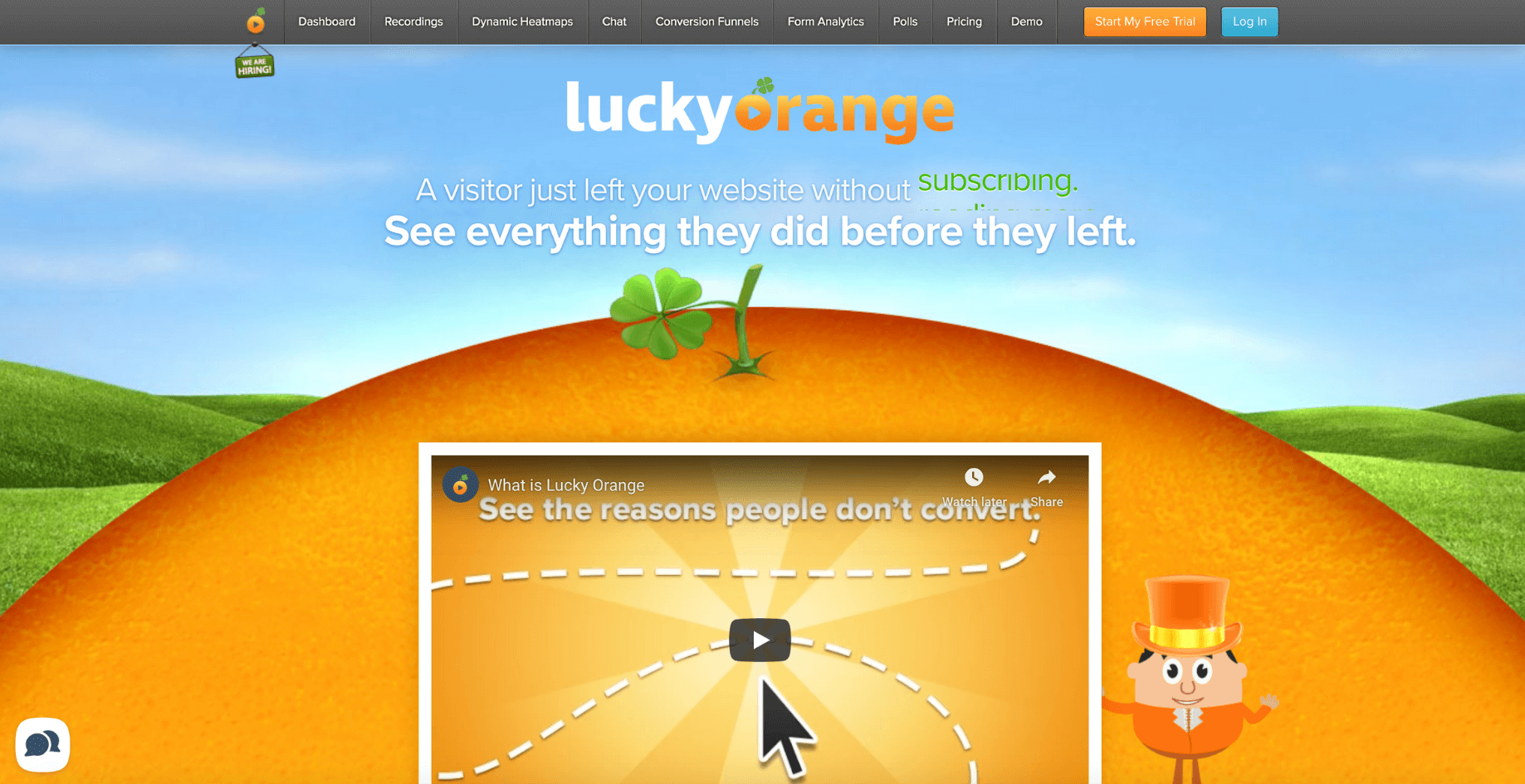 App description:
The Shopify app store has plenty of options when it comes to website optimization, but Lucky Orange continues to stand out. Lucky Orange knows why someone left your ecommerce store, and it gives you the opportunity to know the same. The app allows you to view your website through the eyes of your visitors and customers by digitally watching over their shoulders.
This app comes with form analytics, live chat, surveys, conversion funnels (and more), all of which add up to a powerful resource for connecting with customers and boosting conversions.
Key Features:
Session recordings with full replay, timeline view, and live view.
Dynamic heatmaps that allow you to explore your site just like a visitor.
Applicable visitor feedback to determine the cause of abandoned carts.
Visitor profiles to share an entire history of each customer's experience.
Pricing: Paid plans starting at $10/month
Use Case: Behavioral marketing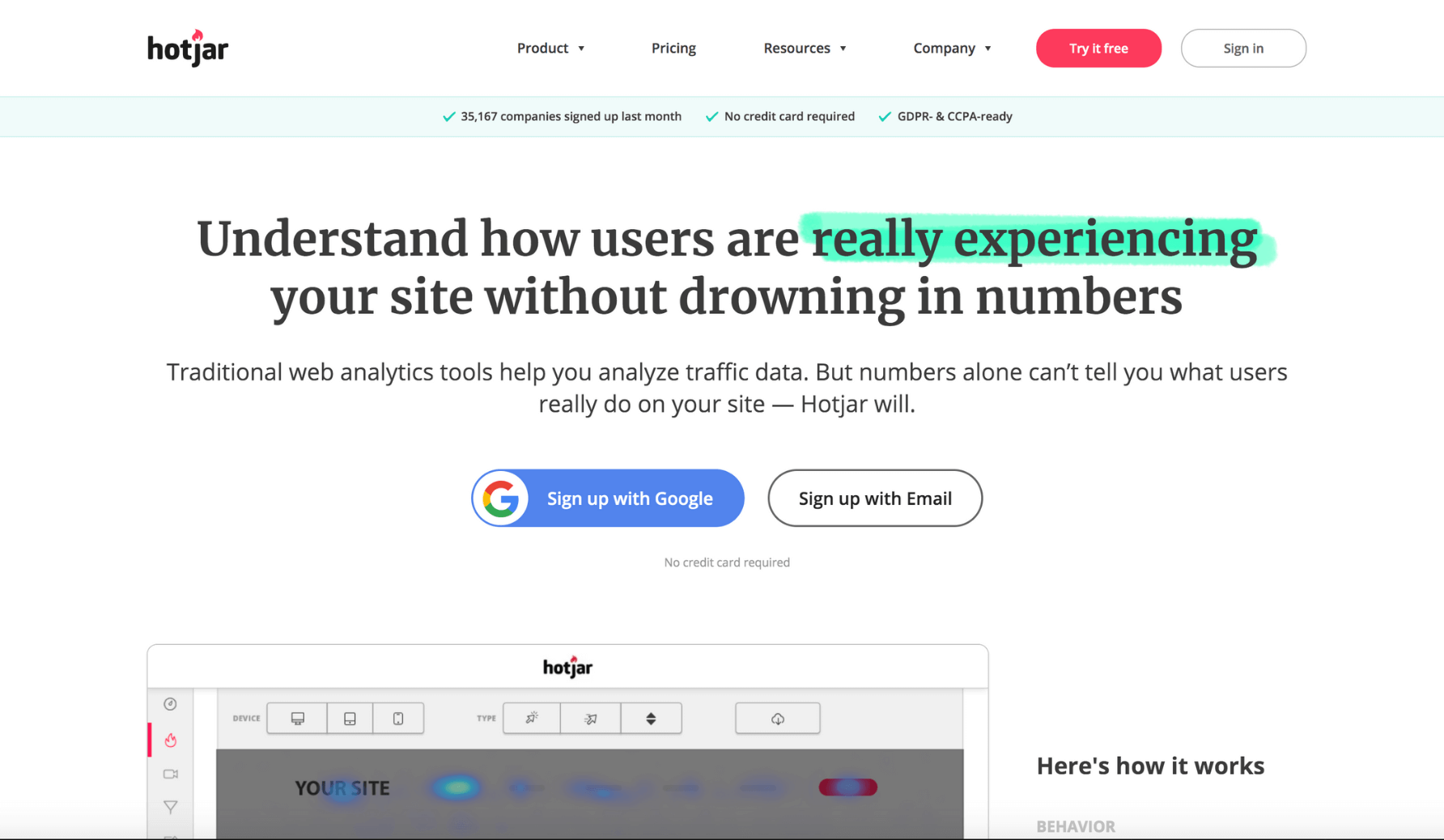 App description:
Customer behavior apps have a myriad of benefits — like tracking and monitoring engagement with your Shopify site, offering insight into customer interactions, and identifying areas that need improvement or deliver strong conversion rates. Not only is Hotjar the most used customer behavior app on Shopify, but it's relied on globally across 184 countries.
The Hotjar platform is known for its heatmap and conversion rate funnel technology, which helps merchants identify reasons for cart abandonment and low conversion.
Key Features:
Collect feedback through custom-designed surveys and user polls.
Heatmap analyses showing aggregated user behavior.
Session recordings of anonymous user visits to pinpoint site abandonment.
Integrations with thousands of other apps to help automate workflows.
Pricing: Paid plans starting at $31/month
Use Case: Retargeting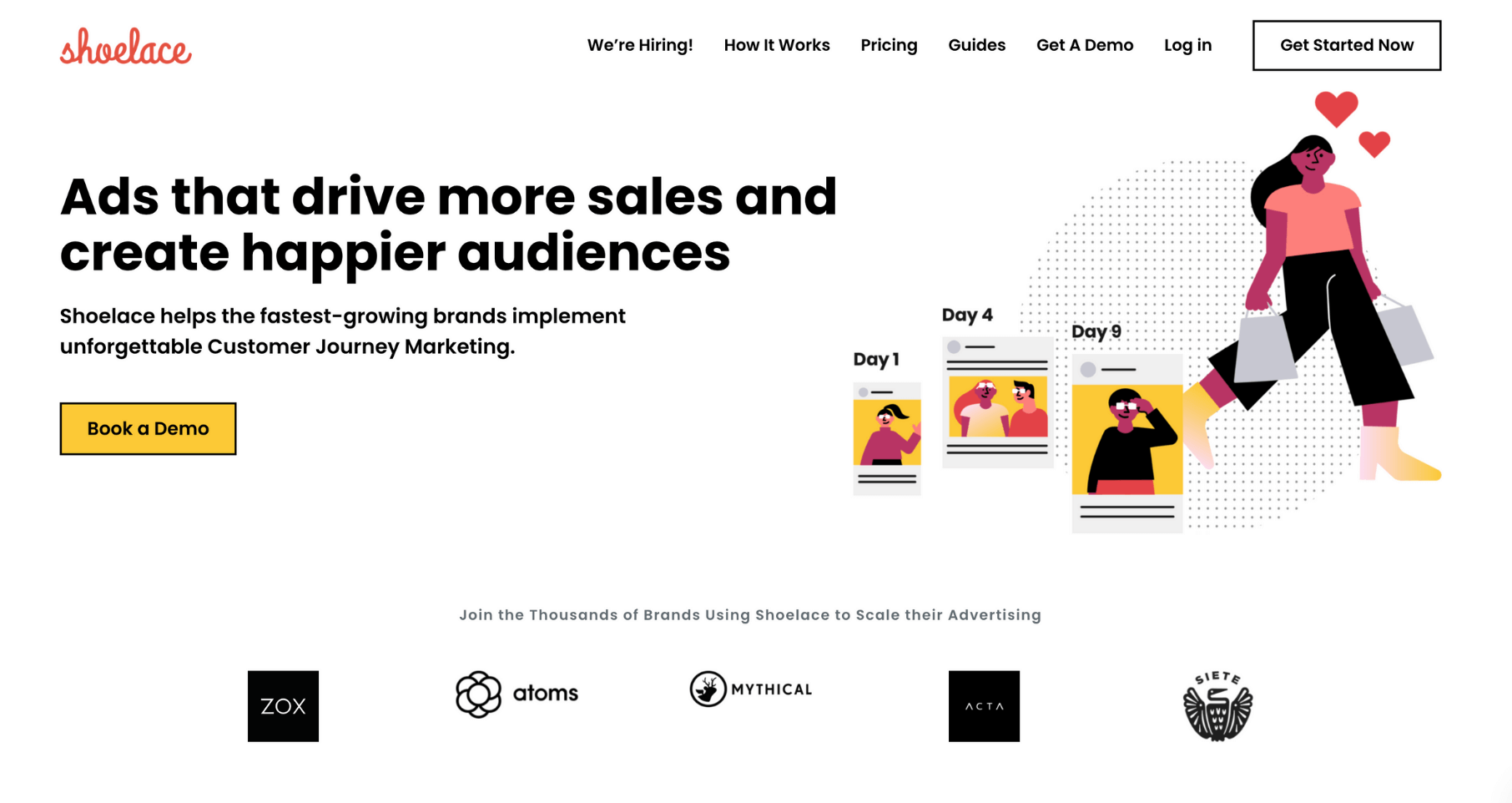 App description:
Retargeting apps focus on regaining 'lost' customers by serving ads that feature products they've either clicked on or placed in their cart. This sets retargeting apart from traditional digital marketing apps because the goal isn't to acquire new visitors, but to convert existing ones.
Using the Shoelace platform, online stores can deliver engaging retargeting experiences while also decreasing cart abandonment through automation, human touch, and insights from thousands of digital marketing campaigns.
Key Features:
Tells you whether a user showed interest, clicked 'add to cart,' or completed checkout.
Provides insights that support relevant messaging to the right person at the right time.
Integration library enables connections with YotPo, MailChimp, Swell, and more.
Custom segments, A/B testing, and a variety of flows proven to convert.
Pricing: contact Shoelace for a custom quote
Use Case: Conversion marketing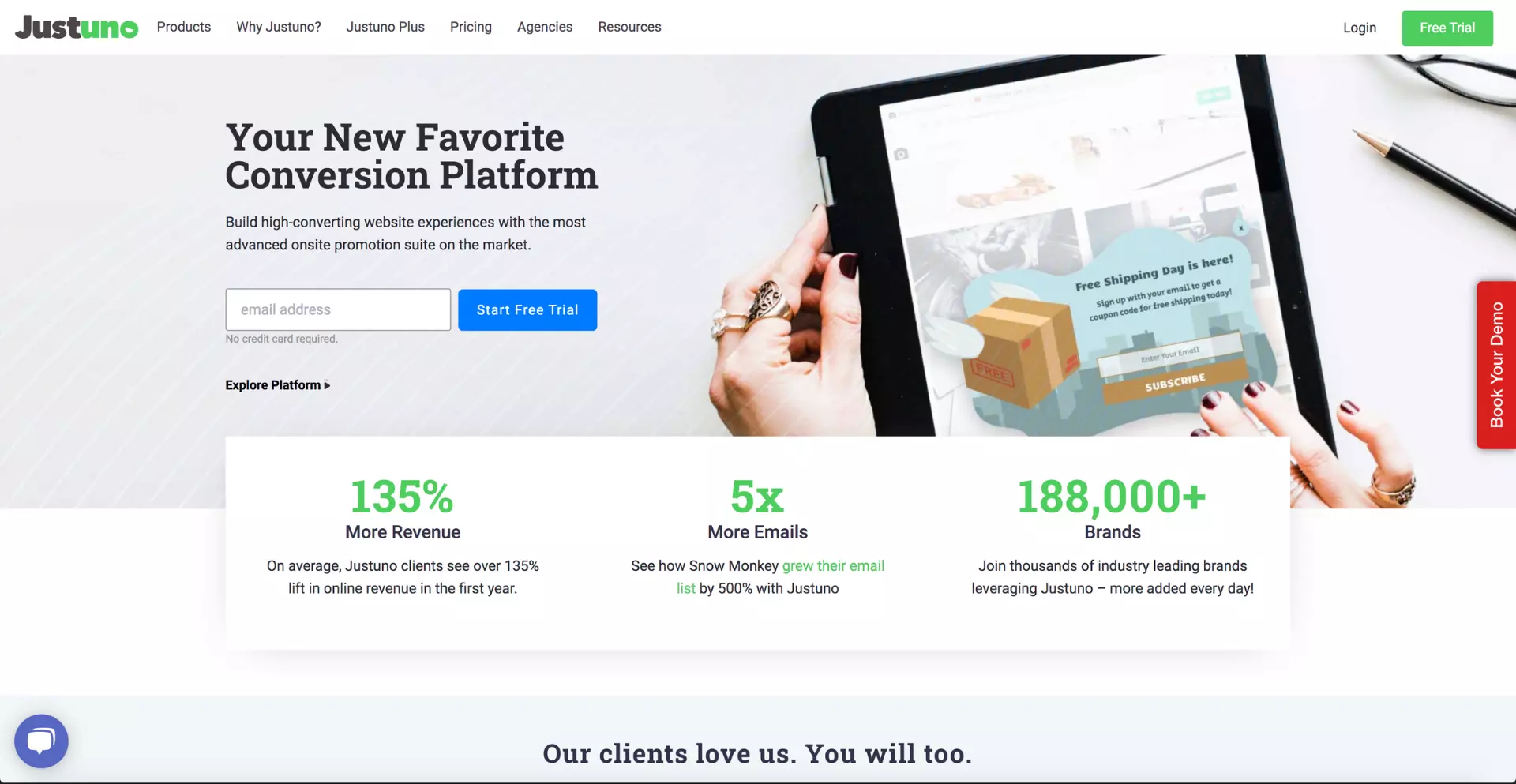 App description:
Conversion marketing apps get site visitors to take action. By giving insight into the messaging and channels that resonate with your visitors, these apps can also inform your overall business strategy. Justuno leverages artificial intelligence and billions of user sessions to create intelligent lead captures, personalized messages, and on-brand website content.
On top of that, Justuno offers exit-intent messaging to decrease cart abandonment, push notifications for sale reminders, and even gamification to increase conversions.
Key Features:
Personalized onsite messaging at every touchpoint to convert more customers.
Intelligence technology to boost sales and promote stronger customer experiences.
Utilizes predictive analytics (like demand forecasting) to drive informed decisions.
Creates highly engaging promotions for an interactive conversion experience.
Pricing: Paid plans starting at $25/month
Use Case: Upselling & cross-selling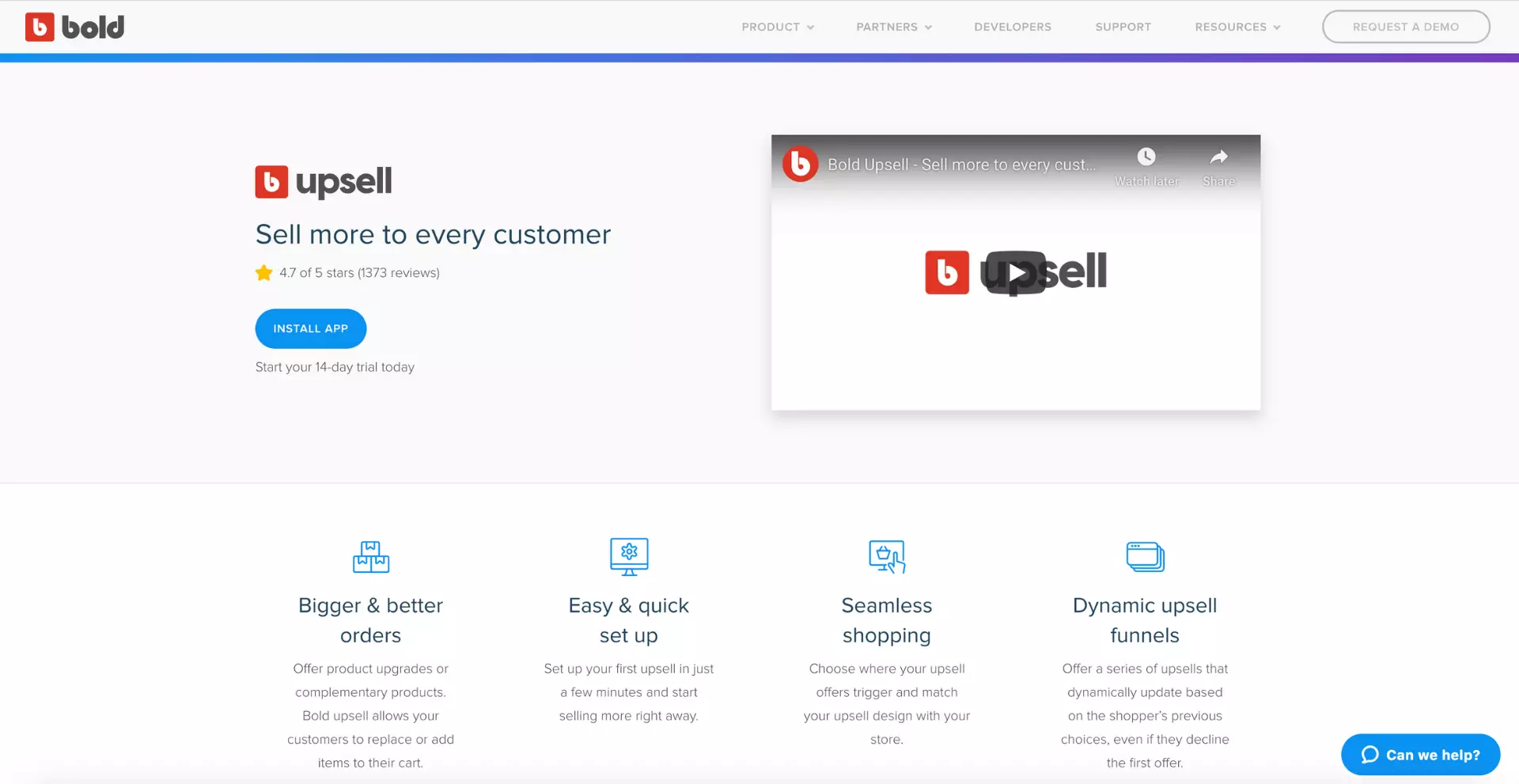 App description:
Both upselling and cross-selling identify opportunities to sell complementary (or superior) products. This way, your brand can drive more revenue and create a smarter shopping experience for every product in your online store.
Bold Upsell allows Shopify store owners to display upsell, cross-sell, or post-purchase pop-up offers that customers can quickly add to their cart with just one click. Plus, it's the only Shopify app to upgrade and replace the original item in the cart, while also offering a unique post-purchase upsell that allows customers to add a final deal after they've placed an order.
Key Features:
Use in-cart and post-purchase upsells and cross-sells to boost average order value.
Easy and quick set up for new users, getting started with upsells in mere minutes.
Choose where your upsell offers trigger and match your upsell design.
Updates based on the shopper's previous choices, even if they decline the first offer.
Pricing: Paid plans starting at $9.99/month
Use Case: Customer support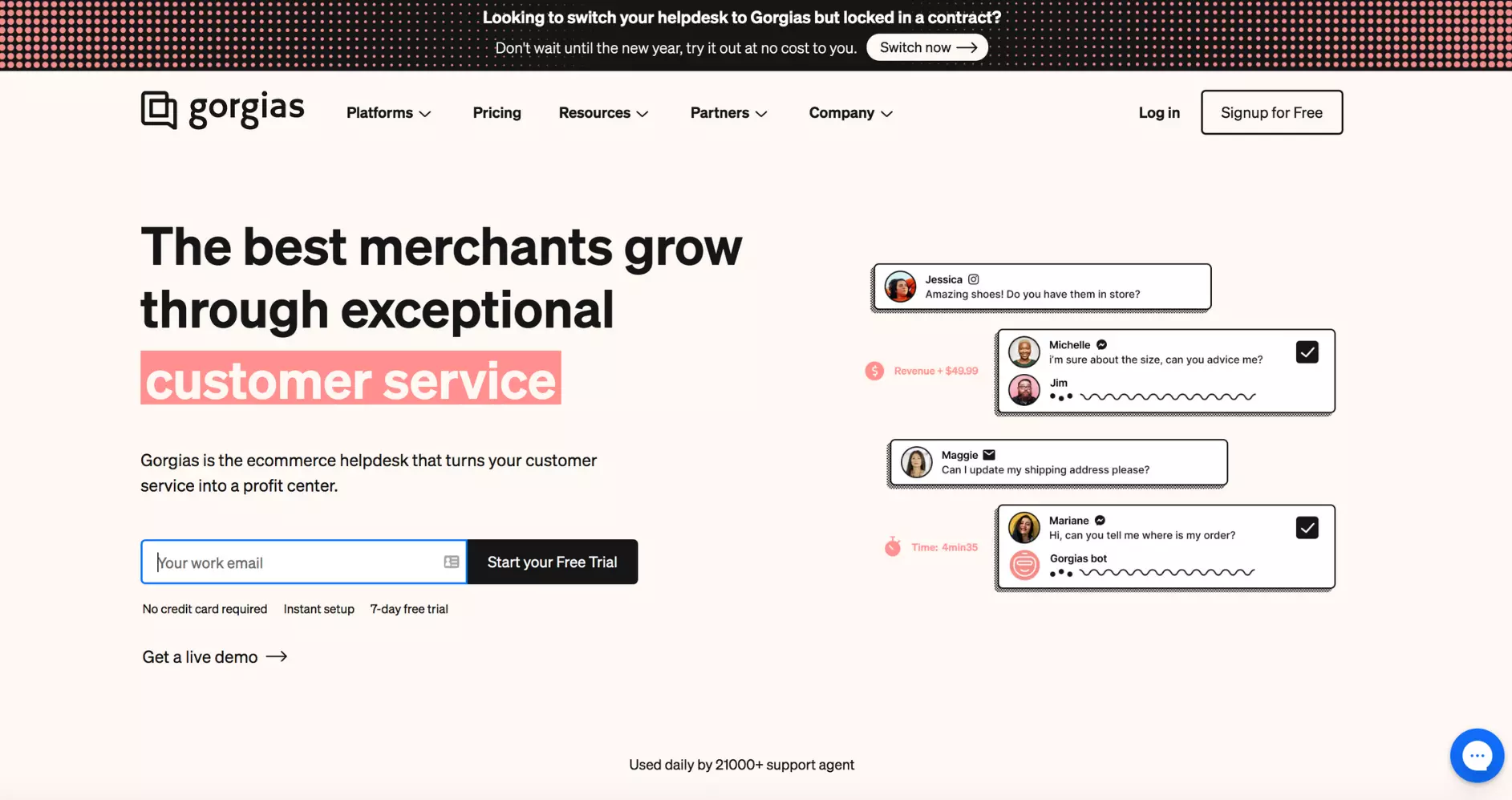 App description:
Customer support apps enable Shopify store owners to communicate with customers across a spectrum of messaging channels. However your customers prefer to contact you, it's important to have an open channel to address their questions, complaints, and concerns.
Gorgias allows Shopify customer support teams to manage all their channels in just one place. By seamlessly integrating with Shopify Plus, Facebook, Instagram, and email, Gorgias easily connects the dots between each channel to deliver a holistic view of your customer interactions.
Key Features:
Identifies persistent problems that require operational attention.
Provides qualitative customer data to understand persistent pain points and FAQs.
Chatbots can be programmed to answer product queries in just seconds.
Increases loyal customers by driving a more customer-centric experience.
Pricing: Paid plans starting at $50/month
Use Case: Customer rewards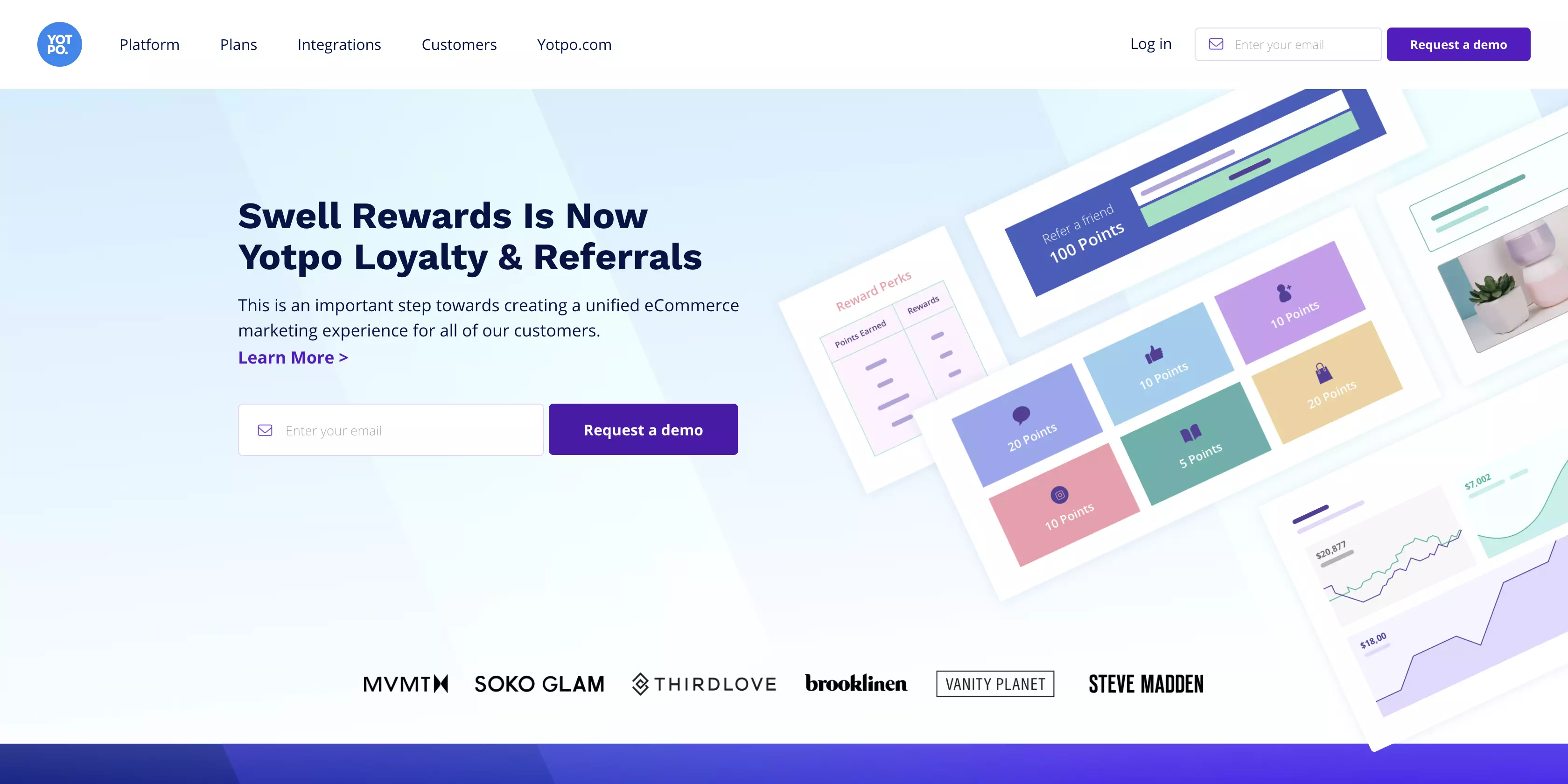 App description:
Loyalty programs are one of the best tools for driving retention, because they incentivize customers for ongoing engagement. Swell is an incentive-based Shopify Plus loyalty platform whose highly-customizable software helps thousands of merchants build engaging rewards, discounts, and referral programs (resulting in 9x ROI on average).
Swell turns shoppers into loyal advocates, by motivating them to build meaningful relationships with brands through social engagement, repeat purchasing, and product reviews.
Key Features:
Campaigns to reward customers for valuable actions (purchases, reviews, etc).
Benefits such as discount codes and free shipping to incentivize repeat purchases.
Target customer segments based on program-related data.
Time-sensitive campaigns to keep your loyalty program top of mind.
Pricing: Paid plans starting at $19/month
Use Case: Loyalty program

App description:
Growave is an all-in-one marketing automation platform that helps businesses reach, engage, and convert their customers. This app offers a wide variety of tools, such as Reviews, Wishlists, Q&A, Loyalty and Referral, Instagram galleries, and more.
The incredible multifunctionality of Growave makes it the ultimate platform for online store conversions and sales. In fact, it's as much as six times more cost-effective than any of the other loyalty apps on the market right now. Growave can help your brand replace 4 to 6 different apps you're currently using — and save you a ton of money at the same time.
Key Features:
Highly customizable loyalty program that makes an easy plugin for your website.
VIP tiers, points-based rewards programs, gift cards, and free products.
Automation tools to monitor your loyalty program members' point expiration.
Sends notifications to active users and helps you re-engage with inactive members.
Pricing: Paid plans starting at $9/month
Use Case: Shopify inventory management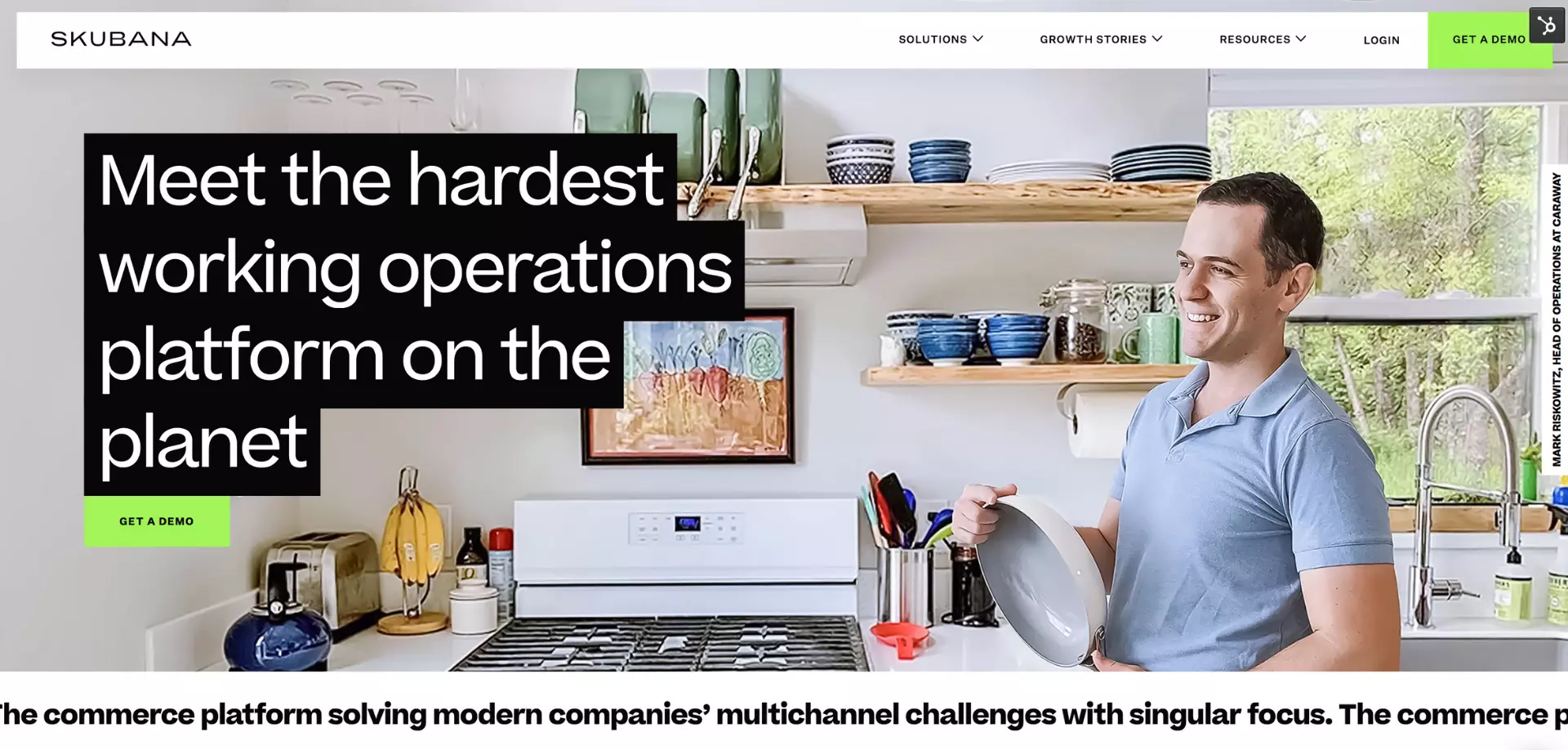 App description:
Having profitable products to sell online is the most critical aspect of your ecommerce business, because without products, there can be no sales. Today, consumer brands need to be everywhere potential customers are shopping, whether it's marketplaces, brand websites, or their Instagram feeds.
Extensiv was built to synchronize fulfillment, inventory, and product intelligence, giving consumer brands a unified view of their overall operations. Its robust product functionality automates redundancies and allows brands to sell across multiple sales channels, while also managing your inventory, purchase orders, and fulfillment processes.
Key Features:
Single source of truth for operational and logistics data, channel profitability, and more.
Automatic PO creation based on sales velocity and order lead times.
Integrates with multiple sales channels,

3PLs

, POS systems, and warehouses.
Helps brands automatically calculate shipping rates from a variety of couriers.
Pricing: contact Extensiv for a custom quote
Use Case: Dropshipping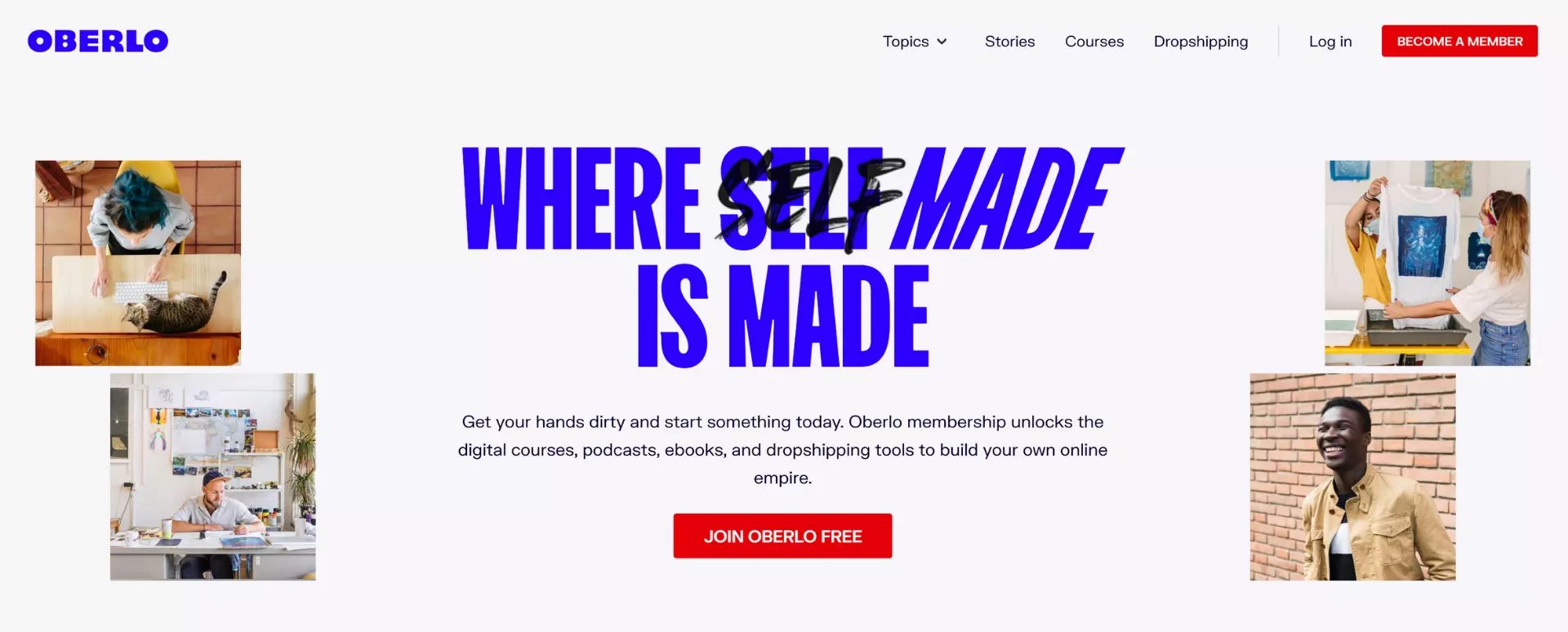 App description:
Dropshipping allows you to partner with suppliers and display their products in your store. With a dropshipping approach, you sell the supplier's goods while they keep inventory in their own warehouse until an item is ordered.
Oberlo is perhaps the best known dropshipping app available on Shopify. The Oberlo platform has been used to sell more than 100 million products, and continues to be a leader in its industry. If you're in search of a product to sell, Oberlo is ready to help you source a reputable, reliable supplier.
Key Features: ​​ ​
Comb through a virtual warehouse and import directly from your Shopify store.
Inventory is continuously updated so you only sell products when they're back in stock.
Innovative costs dashboard, allowing you to track your sales and profits in one location.
Works with multiple languages, multiple currencies, and worldwide shipping.
Pricing: Paid plans starting at $79.90/month
Use Case: Product reviews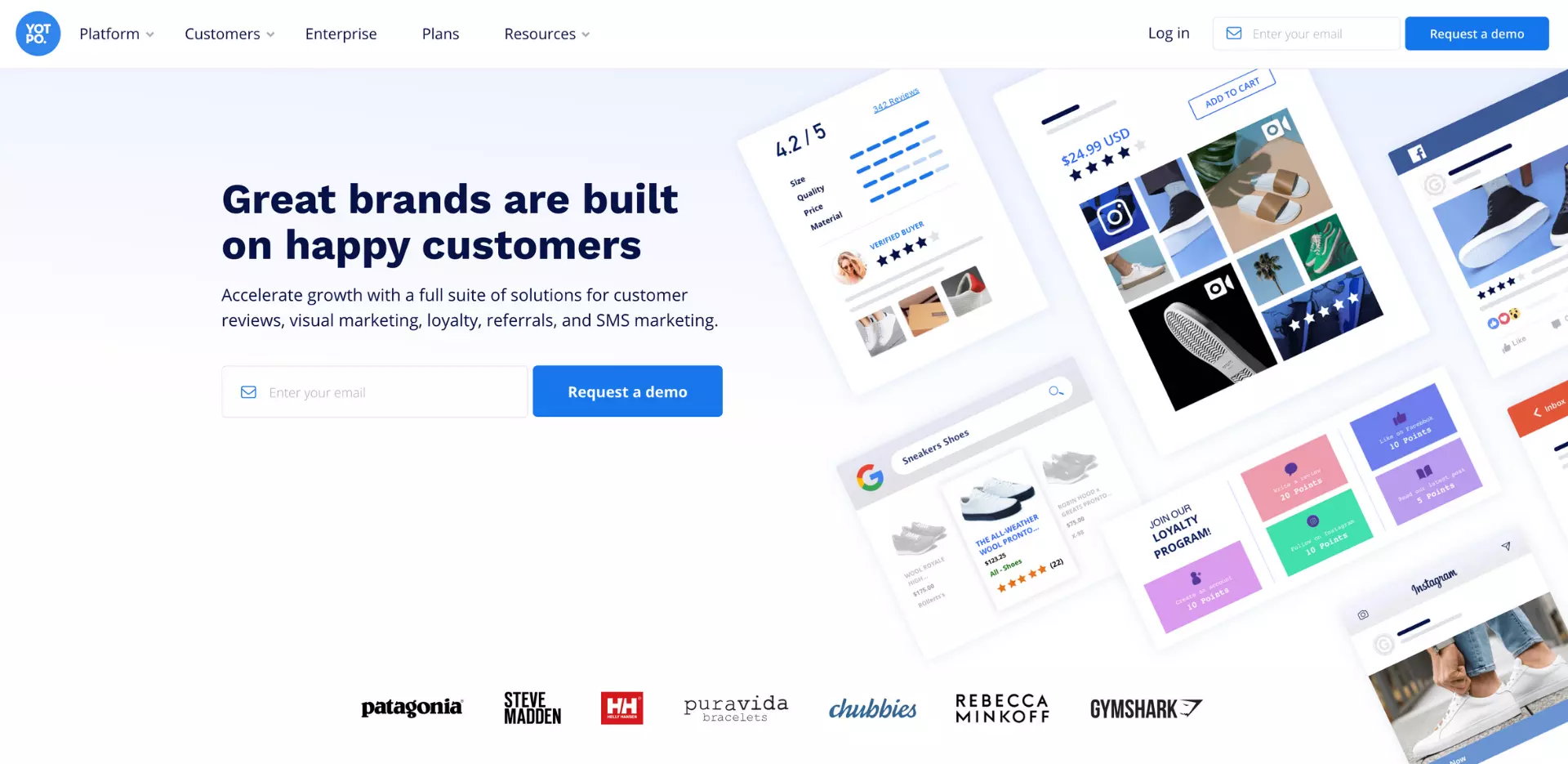 App description:
Reviews are a pivotal part of the ecommerce customer journey. Yotpo, our app of choice in this category, says the average conversion rate of visitors who saw a piece of user-generated content was 161% higher than those who didn't.
The Yotpo platform enables you to collect user-generated content and showcase it across the buyer journey via your website, email campaigns, digital advertisements, and social media channels. Yotpo's visual marketing tools allow Shopify sellers to repurpose reviews, social posts, product feedback, and even an FAQ or two to build trust and boost conversion.
Key Features:
Approved to syndicate both product and seller ratings on Shopping and Google Ads.
Supports discovery and brand awareness in organic search results.
Insight tools to identify sentiment analysis, trend forecasting, and benchmarking.
Capturing unique customer insights through targeted feedback.
Pricing: Paid plans starting at $19/month
Use Case: Shopping feed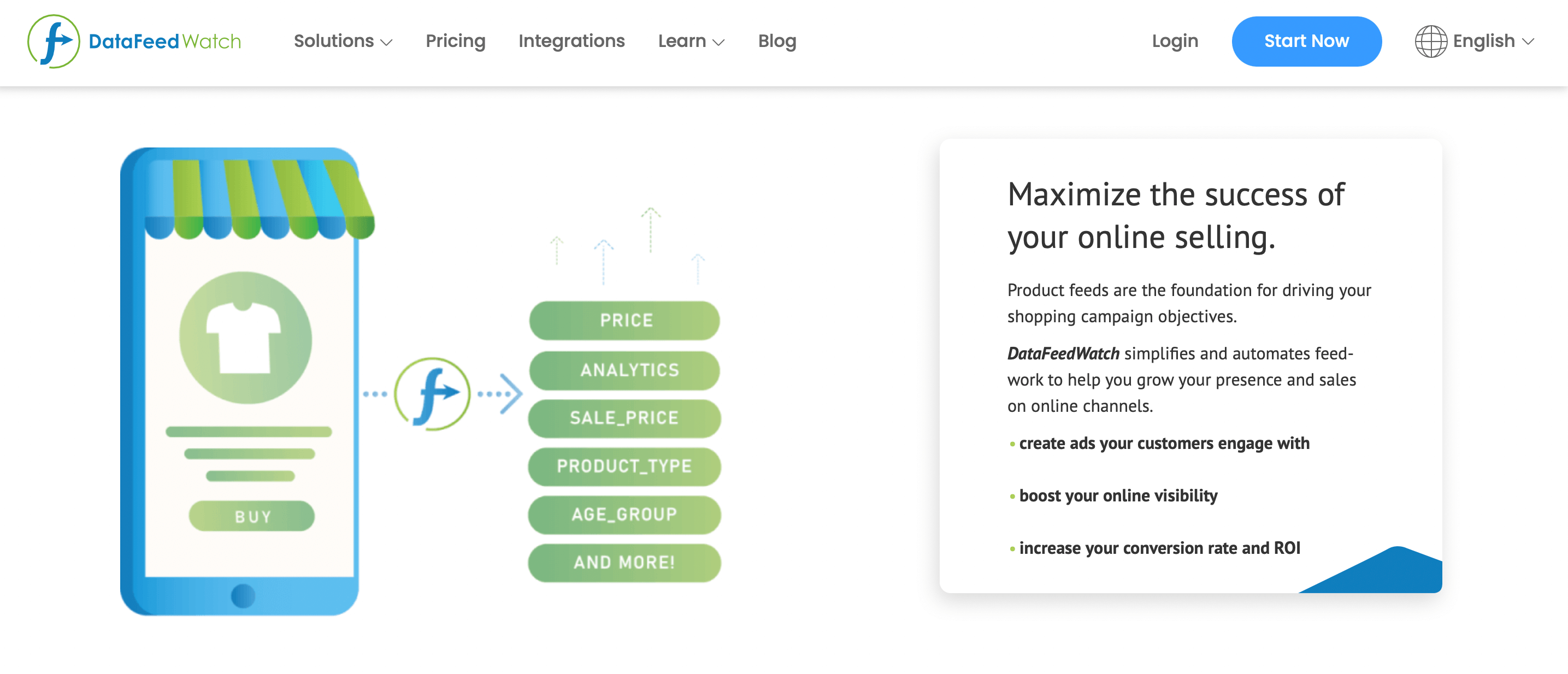 App description:
DataFeedWatch is a leading feed marketing solution available in over 50 countries and across more than 1,000 ecommerce channels. The goal of DataFeedWatch is to help merchants grow both locally and globally. Their dedicated Shopify integration opens the door to multichannel product listings and comprehensive data feed optimization.
Intuitive and easy to use, DataFeedWatch gives merchants the tools needed to achieve greater visibility and ROAS from their ecommerce campaigns on Google, Facebook, and Amazon.
Key Features:
Create, enhance, and distribute your product pages all from the same platform.
Integrate with marketplaces, sync orders, and optimize your listings.
Automatically create keywords and popups for all your product recommendations.
Gain insights into your ads' performance on a channel and product level.
Pricing: Paid plans starting at $59/month
Use Case: Profit tracking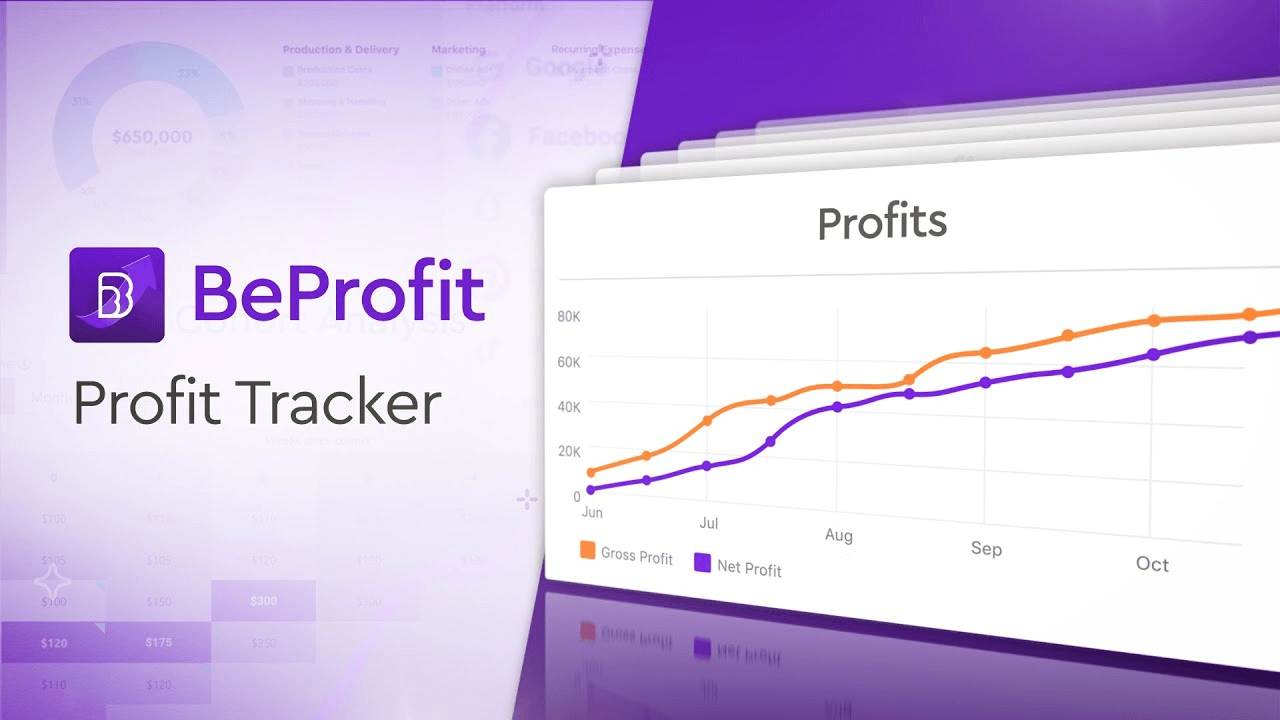 App description:
As an ecommerce owner, it's important to have a complete understanding of your profits and expenses to keep track of your finances and measure your store's overall health. BeProfit is Shopify's best profit calculator app, as it lets users track and analyze everything between expenses and profits, all in one intuitive dashboard.
The BeProfit platform presents data snippets in easy-to-digest project charts and graphs, so understanding complex business metrics is as easy as it gets.
Key Features:
Manages costs associated with orders, refunds, taxes, and cost of goods sold (COGS).
Cutting-edge cohort analysis for deep level insights on customer lifetime value (LTV).
Set your profit calculation preferences and enter variable and fixed expenses.
Create and export custom data reports and edit/add all of your store's data to your liking.
Pricing: Paid plans starting at $20/month
Use Case: Customer value optimization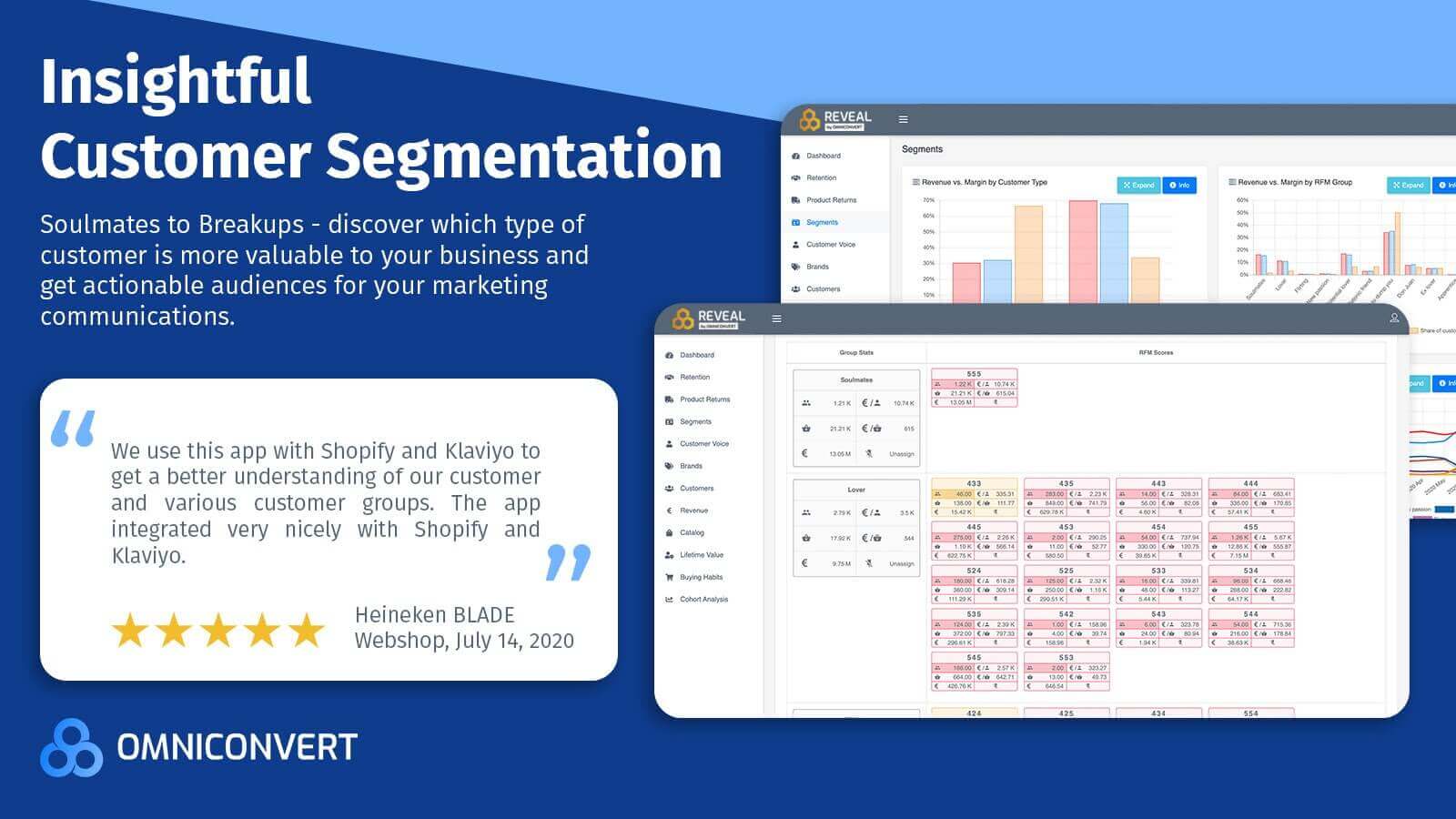 App description:
Customer retention is key to a company's growth and profitability, as a 5% increase in retention can increase profits by up to 95% for your company. For you to have an effective retention strategy, you need to understand your customers and what makes them act the way they do.
Reveal is a customer data software that analyzes your customers' behavior across different platforms. It presents real-time data of your customers' buying activity in an easy-to-understand format, which helps you understand how to acquire better customers and retain them while reducing CAC in the process.
Key Features:
Helps you monitor and improve your customer lifetime value and retention rate.
Segments customers based on buying behavior to create personalized campaigns.
Analyzes your best and worst products so you know what's causing churn.
Premium plan comes with advanced reports, API access, and extra integrations.
Pricing: Paid plans starting at $99/month
Grow Your Ecommerce Business With The Right Shopify Apps
You can't grow your revenue without the right tools, which is where Shopify apps really come to the rescue. Regardless if you're starting a new business or updating your existing site, Shopify apps make it simple to sell anything online and improve the performance of your store.

Utilizing these tools offers a wide range of benefits, from promoting your brand and selling your products, to rewarding your customers and streamlining your inventory processes. Whether you want to test out a free plan or you're ready to invest in one of the many available premium plans, Shopify apps can help you grow your business in no time at all.