The onset of ecommerce marketplaces fundamentally changed how we shopped. The constant disruption in retail and consumer purchasing pushed legendary retailers like Walmart to join its virtual competitors and participate in the online retail space.
After decades of market dominance, Walmart adapted to produce a competitive online marketplace alongside companies like eBay and Amazon.
Walmart is now one of the largest omnichannel retailers in the world. It receives over 110 million unique visitors each month and is proving as a fertile ground for sellers looking for the next platform to expand to.
Walmart's additional quality assurance of the marketplace is a detailed, yet streamlined application process where each seller undergoes a review before selling.
This article provides a comprehensive summary to sellers considering expanding their inventory to Walmart's online marketplace.
We will discuss Walmart's omnichannel approach to marketing strategy, a step-by-step onboarding process, the platform's appeal to buyers, listing optimization, and integrations to support your Walmart inventory management. After reading this piece, you should have a clear idea as to whether expanding your SKUs to Walmart is the best move to increase your sales and revenue.
Walmart's Rise as a Dominant Omnichannel Retail Force
Walmart's supply chain has been significantly restructured recently. The retailer focused on creating an interconnected operation between its online and brick-and-mortar marketplaces.
A recent study stated that Walmart was the most popular Buy-Online-Pick-Up-In-Store (BOPIS) retailer in the past year from the date of research in April 2019.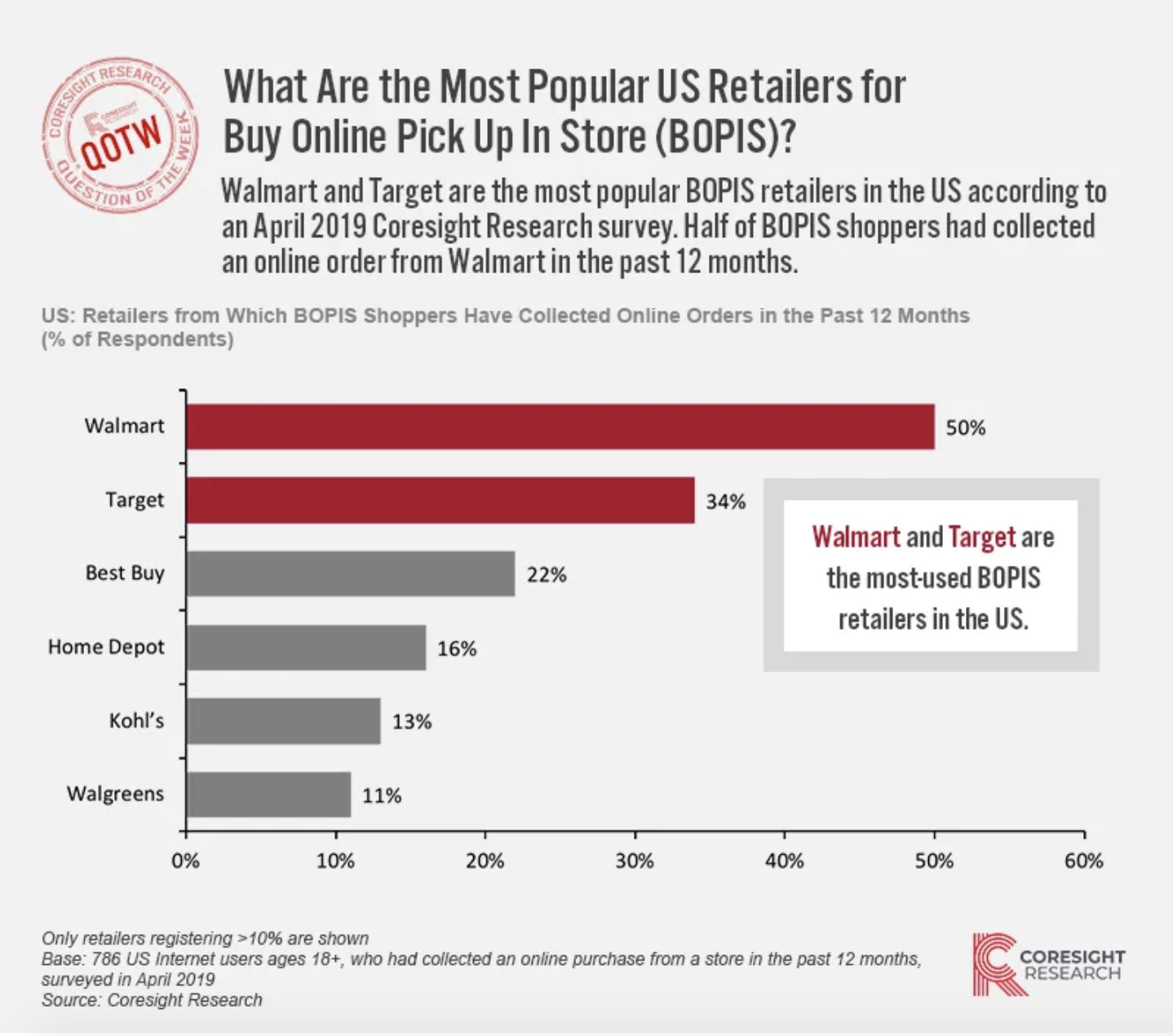 Considering the evident demand for online services by Walmart's customers, and the distribution of hundreds of pickup towers in 2018, this comes as no surprise. Creating a smoother correspondence between the on-land and digital supply chain is a well-considered strategic decision from Walmart.
The restructuring process consisted of new leadership dynamics, where executives in charge of logistics, ecommerce fulfillment, and inventory management strategy reported to Executive Vice President Greg Smith. Walmart's collective integration of the supply chain team has been a necessary step to creating what we might call the "ultimate" Walmart experience in-store and online.
These efforts from Walmart have raised interest among many mid-market retail brands. By taking an omnichannel approach, Walmart will follow in Amazon's footsteps by interconnecting warehouse and order management, packaging, shipping, and customer communication under one roof. In many ways, selling on Walmart vs. Amazon is a similar experience. Sellers with a solid omnichannel inventory management strategy can enjoy the benefits of this process as more and more Walmart-compatible integrations arise as a result of active, ongoing automation.


How Walmart Expands Your Business' Reach
The first question you might ask as a seller is, "why?" Why sell on Walmart? What can the platform offer buyers that others can't?
While Amazon boasts credible global popularity with over 145 million mobile users and 103 million Amazon Prime members in 2019, Walmart covers an entirely different customer demographic.
As we mentioned in our comparison of Walmart, eBay, and Amazon, Walmart has a total of 5,358 retail units across the United States. Moreover, they have over 11,000 stores globally, and over 275 million customers every week, many of whom have never shopped online, and have trusted Walmart as loyal customers for a lifetime.
In terms of product range, Walmart is equally as impressive with 75 million different products, while Amazon had a total of approximately 100 million products on Prime day in 2018. Seeing as Walmart has only just begun growing its online market share, the influx of sellers despite the lower product diversity indicates those numbers can easily match Amazon's soon.
Most importantly, becoming a Walmart partner provides access to a far less saturated market than Amazon, with untouched Walmart-loyal customers waiting to make purchases online.
Buyer Incentives
In addition to its existing infrastructure and large customer base, Walmart also offers free one and two-day shipping on selected orders over $35. Amazon provides a similar option, but only to those within its Prime subscription. Orders that don't qualify may either be eligible for free 3-5 day shipping or a pickup in-store arrangement.
Walmart is pushing hard to keep up with Amazon's customer-first approach and has achieved a score of 74 in a customer satisfaction survey in 2018 by ACSI -- a score that may improve when this year's results come through.
Getting Started With Walmart As a Seller
If you are not yet a listed seller on Walmart, this section will guide you through the application, registration, and listing process.
Walmart has its own Marketplace Sellers Guide. We took an in-depth look at this document and streamlined their ten stage process into six steps, and expanded on some details to simplify it for you.

1. Familiarize Yourself With Walmart's Marketplace Seller Qualifications
Becoming a Walmart partner requires you to meet specific conditions from the marketplace. Before you start your application process, you need to ensure you have the following in place:
US business tax identification number (no SSN)

US business address

W8 or W9 form

An employee identification number and verification letter from the Department of Treasury to verify your US business address (for more on this, see our article on ecommerce address verification).

Your planned integration method to integrate your product catalog

Walmart offers a list of

full-service solution providers

,

API integration guide

, and a

bulk import guide

List of core product categories, number of products, and relevant product information
Once you made sure that you have the above, you are ready to start the application process.
Aside from the application process, Walmart's guidelines for sellers are far tighter than competitors, and include:
Projections

: Walmart will inspect your product catalog's variety, quality, and pricing to determine the overall forecast of how you would perform as a Walmart partner.

Brand trust

: Walmart pays attention to your brand's trust and reputation. It only allows trusted and respected brands to join -- not necessarily large brands, but trusted brands.

Values:

As a closed marketplace with an invitation-only registration process, Walmart keeps a close eye on partners' company values to ensure its brands are representative of what it stands for.
2. Register As a Seller With Walmart
Head over to Walmart's application page and read the first page of the form to double-check you have the necessary information to complete the application.
The process should take no more than 10 to 15 minutes, providing you have everything outlined in Step 1.
Then, you need to fill in your personal information (name, contact details) along with your registered company's details, including mandatory fields like your business address, US tax ID, DBA (doing-business-as, or fictitious name), and legal company name. Some areas like your DUNS number are not marked compulsory, but it's advisable to fill them in if you have the information handy.
Next, you must fill in the requested information about your product catalog and your planned integration method, as well as your shipping and operations plans.
Walmart will ask you to review your application and submit it.
If you are approved, Walmart will provide you with their Retail Agreement to sign and begin getting you onboard.
3. Complete Your Partner Profile and Store Your API
Walmart will give you a Launch Checklist to help you ensure everything is in line for a smooth start. Take a good look at this.
Then, you need to complete your partner profile, the page which presents you as a brand and business to Walmart customers. You will need to fill in the following information to complete your partner profile:
Company info

: This includes your company name, description, and logo (PNG or JPG - 400x50 pixels)

Customer service

: Ways in which customers can contact your business' customer service representatives. You need to provide contact details as well as a description of your customer services policy.

Privacy policy

: A description of your handling of customer data.

Shipping info

: Methods, covered regions, pricing, and a description of your overall shipping process.

Return policy

: Methods, covered regions, pricing, and a description of your returns process.

Taxes

: A description of your tax policy, and information on fees that may apply to customers' purchases like shipping or sales taxes.
Reminder: Don't forget to store your Walmart API key in a safe place to make future integrations simpler and quicker.



4. Upload Products To Your Seller Profile
Uploading your products is simple, but you need to ensure that Walmart customers can buy and receive your items. Make sure your product bundles are also included in your upload.
You have four different ways of uploading products to your profile:
Solution provider

: Walmart has a list of

approved solutions providers

on its website. We will also offer other inventory management solution providers later on in this article.
API integrations

: Tech-savvy sellers or sellers with a developer at hand may wish to upload products via the

Walmart marketplace API

.

Bulk item upload

: A non-technical way of uploading items to Walmart is a bulk upload. You can use an Excel sheet and import your products with ease.

Single item upload

: If you don't have many products (which is rarely the case for new sellers), you can upload them one-by-one.
Make sure to fill in the essential details for each SKU. These include:
Product Name

ID Format

: The type of ID number you're using (UTC, EAN, or ISBN)

Product ID

SKU Code

Brand Name

Manufacturer Info

: The serial numbers of your products make and model. This field is optional.

Long Product Description

: Up to 4,000 words

Short Product Description

: Up to 1,000 words

Bullet Description

: A bullet point list of features and descriptions captured in Walmart's buy box.

Product Featured Image

URL: The URL for your product's featured image

Additional Asset URL

: URLs for media assets to showcase a product

Product Tax Code

: Get your products sales tax code from Walmart's

tax resource page

Price info

: Currency and amount

Shipping Info

: Weight, value, preferred weight-unit, method, regions, and price.

Variant Group ID

: For products with more than one variant in aspects like size or color

Variant Attribute Name

: The distinguishing description of the variant
5. Complete Your Order Testing and Launch Checklist
Once you set up your product list with descriptions via your chosen integration method, publish a small number of orders for testing purposes. Test your products and create test orders to ensure everything is in the right place.
Walmart will review your final product catalog before you can start selling live, so this is an excellent time to test the connection between Walmart and your inventory management system. Here is where your integration and fulfillment partners will come into play.
To help sellers keep up with this multi-step process, Walmart created a launch checklist to keep track of which to-dos you have and haven't completed.
6. Wait for Walmart's Approval and Start Selling
Once Walmart approves your product catalog and your integrations are in place to cater for the entire supply chain from end-to-end, you may start selling your products!
When you start selling, optimize your listings and list as many items from your catalog as you possibly can to hit your targets as early as possible. Next, we will discuss how you can optimize your Walmart listings to increase your sales and exposure.
Best Practices to Optimize Listings and Boost Walmart Sales
As we mentioned earlier, Walmart doesn't have the immense product and vendor saturation as Amazon's 100 million listings. The competition is far less fierce, and there are more opportunities to stand out to customers.
Not only can you rank your products, but you have a much larger market share of customers to tap into.
To maximize your Walmart marketplace SEO, here are a handful of best practices to keep in mind and experiment with:
Product Title
The allowance window for your product title is 50-75 words. This limit isn't much (less than Amazon's), so you're better off using any primary keywords you want the listing to rank for. Avoid unnecessary or subsidiary information in the title. You can try to create a mix of a few simple formulas (make, model, features, size, color, etc.) and test out which products do well, although there will be many other factors involved.
Short Product Description
This section allows you to describe your item with a character count of 500-1000. Similarly to the title, only pick out the keywords and information which you can expand on appropriately. Be clear and brief, and stay within the character count.
Long Product Description
Here you have a 4,000 character count, with a minimum requirement of 1,000. The use of this space entirely depends on the complexity of your product, though there is always useful information you can include here, however one-dimensional or straightforward products may seem. Here is where you can bring the most value to the products you're selling.
Keywords and Branding
Get smart with your keywords both for SEO optimization, and usefulness for when customers scan the page for relevant listings and information. Branding should also be something to keep in mind at all times. Every opportunity you get, use keywords, logos, and brand imaging to set the tone in a useful manner to make your content recognizable and practical for passing-by customers.
Remember the Golden Rule: Don't copy others. Keep your content original and unique.
Walmart also provides you with the following resources to help review and enhance your performance:
Seller's scorecard

: An analytic overview of your performance as a Walmart seller, giving you direct, measured insight into your performance.

Seller performance standards

: Generic guidelines created by Walmart to improve customer satisfaction across sellers on its marketplace.

Buy box report

: Walmart's buy box presents your item on pages of other vendors' SKUs as a similar alternative, as long as your product SEO is sharp. The buy box report will show you whether your item is ranking or not, as well as other buy box related performance metrics.
What Tools Do Walmart Sellers Use to Manage Inventory On Walmart's Marketplace?
To set up your Walmart seller account for success, you need to find the right integrations or use the Walmart API yourself.
There are several integrations available to support your Walmart inventory management. Here are the tools we think are most important to discuss:
We couldn't start on inventory management without mentioning our software, which directly integrates with Walmart Seller Central. Extensiv helps multichannel consumer brands synchronize fulfillment, inventory, and product intelligence. The platform's order routing and inventory automations streamline operations and provide the data needed to maximize profitability.
Deliverr is Walmart's outsourced fulfillment partner, so any seller who fulfills with Deliverr is pre-approved for the Walmart free 2-day shipping guarantee. That means you can start selling more quickly, safe in the knowledge that you will always meet delivery standards. Deliverr takes responsibility for the entire fulfillment process from order placement until delivery.
A comprehensive fulfillment provider with the ability to automate your dropshipping processes. This app connects you with over 180 suppliers and assists with inventory management metrics via integrations Walmart. Inventory Source also emphasizes inventory synchronization to avoid stock-outs and delays in data synchronization. For more info on Walmart drop-shipping, check out our article on questions to ask dropshipping suppliers.
Walmart prioritizes customer support when reviewing applications. xSellco is support software that integrates with Extensiv and the Walmart marketplace. The platform allows your support team to remain fully informed about inventory when customer queries or obstacles arise.
Automated workflows are another critical aspect of functional inventory management. It improves efficiency and allows you to focus on the pressing matters of daily business operations. Zapier is also compatible with Skubana (now Extensiv) so you can make use of it when dealing with your Walmart inventory administration.
All of the above integrations are also compatible with Skubana's inventory management software. Connecting these tools simplifies managing Walmart inventory through a network of integrated tools that automate workflows and oversee your supply chain.
The benefit of integrations is that you don't need to perform tedious tasks. And the above applications are only a few of the tools available to Walmart partners.
Is Selling On Walmart's Marketplace the Right Decision for Your Business?
Walmart has made a statement -- both with words and actions. It has buyers waiting in line to purchase products online, and the marketplace is invested in adding new sellers. With its selection of integrations, Walmart may be the best platform to include in your business' expansion.
If your company meets Walmart's requirements, and you have enough inventory to sell, explore registering.
If you want to read more about our thoughts on Walmart as an e-commerce platform, take a look at some of our other articles: