More Inventory Management Topics
Inventory Forecasting Solutions
The success of an ecommerce business depends on strong inventory, marketing, and fulfillment management. While each business is undeniably unique, the end goal remains the same: to perpetually balance demand (orders) with supply (inventory). At first, it may seem acceptable to continue using traditional spreadsheets and templates — but as your brand grows, it'll become impossible to manage everything without harnessing the power of innovative software.
Ecommerce inventory management software is specifically designed to automate repetitive tasks and reduce human labor requirements. Automation helps business owners efficiently manage the inflow of paperwork, sales orders, and product movement, while also reducing the need for extra hands on deck. There's no doubt you'll always need a team of skilled employees, but inventory management software allows them to focus on high-value tasks. In short, they'll spend less time counting stock, and more time building memorable customer experiences.
In addition, inventory management software has the capacity to greatly increase your company's profitability. That's because it seamlessly tracks inventory levels, FIFO, bundling, kitting, reorder points, and more. Not only that, but proficient software leverages your data to avoid overselling and prevent low stock (or stockout) events. Using inventory management software, you can oversee the product lifecycle, improve your margins, and elevate customer service in one fell swoop. In this article, we'll highlight several leading inventory management platforms that'll help you achieve scalable, sustainable results for your growing business.
Key takeaways: inventory management software
9 best inventory management software compared
The best inventory management systems make good growth possible. But before you implement any inventory software or app, you should consider your business needs and the inventory management features that'll help you reach your goals in the short and long-term.
Each of the following inventory management solutions offer their own advantages and functionality, and there are even some free inventory tools to help you get started. Remember, an inventory management system is critical for multichannel success, so make sure the system you choose integrates with the channels you plan to sell on. Otherwise, you'll get stuck with costly integrations and customizations that will quickly drain any profit gained in the first place.
1. Extensiv Order Manager (formerly Skubana)
Best for: Multichannel inventory management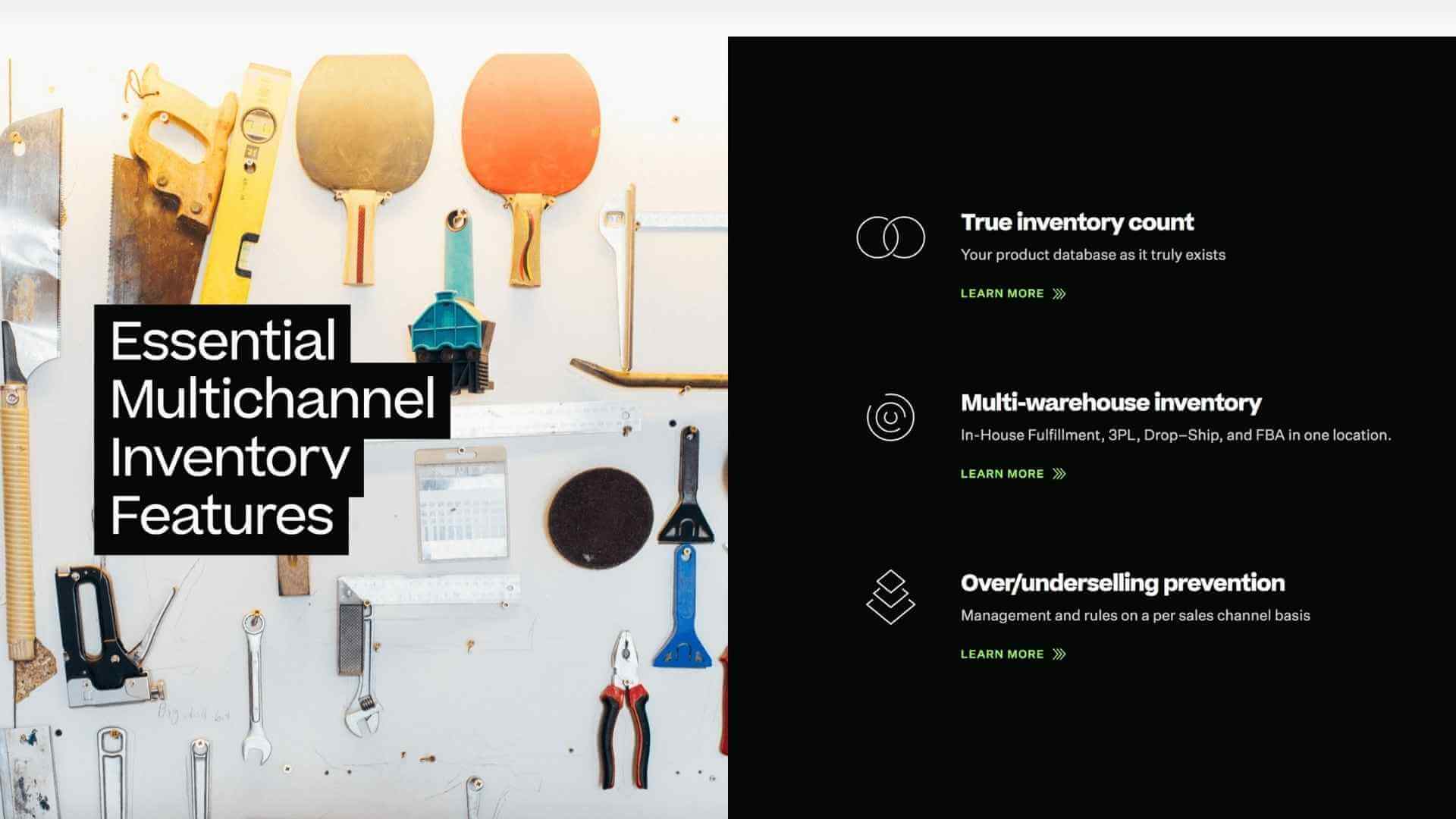 Core features:
Integrated dashboard for all channels, warehouses, and products
Every supplier found within one convenient database
Unified dashboard for visibility into all inventory operations
Multichannel revenue and inventory reporting
Real-time inventory tracking for the most accurate, up-to-date data
Cost: request a custom quote from Extensiv Order Manager following your free product demo
Multichannel selling is the best way to open up additional revenue streams and maximize your company's profitability. That's because this approach allows you to offset channel disruptions and gives you a broader net to capture new customers. But despite its numerous benefits, multichannel selling can become pretty overwhelming if it's not executed efficiently. Fortunately, that's where the experience and expertise of Extensiv Order Manager comes in.
Extensiv Order Manager's multichannel inventory management tools support both multi-warehouse and multi-fulfillment workflows. Extensiv Order Manager unifies and synchronizes retail data from online sales channels with inventory data from across your network of warehouses and fulfillment centers. Then, the system adds a layer of automation to unlock exponential growth. It uses automation to seamlessly transfer inventory, send alerts, and issue purchase orders when stock is running low, and even lets you set levels for available stock on each channel to drive artificial scarcity.
With Extensiv Order Manager, you can build, optimize, and breakdown bundles and kits into core components, monitor profitability on a SKU-by-SKU basis, and so much more. In other words, your sales, inventory, and analytics are all programmed within a single, comprehensive dashboard — thus removing the need for error-prone manual entry and periodic data transfers.
When you utilize Extensiv Order Manager's superior performance, open source API, and robust app store (for Android and iOS), you can improve your supply chain management across every sales channel and warehouse. This means faster order fulfillment, fewer sell outs, and no more lost sales due to backorders or shipping delays. Businesses who team up with Order Manager's advanced inventory management system benefit from real-time data and analytics across their entire product lifecycle, translating to reliability, efficiency, and more time to focus on building their brand.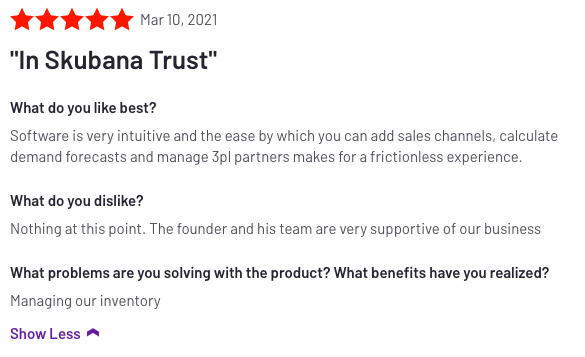 "Intuitive multichannel inventory management software review"
Earning a customer's trust is a tremendous honor for any software solution, and this reviewer proudly states that Extensiv Order Manager has done just that. They've raved about the ease of adding sales channels and calculating demand forecasts, and have yet to discover anything they dislike.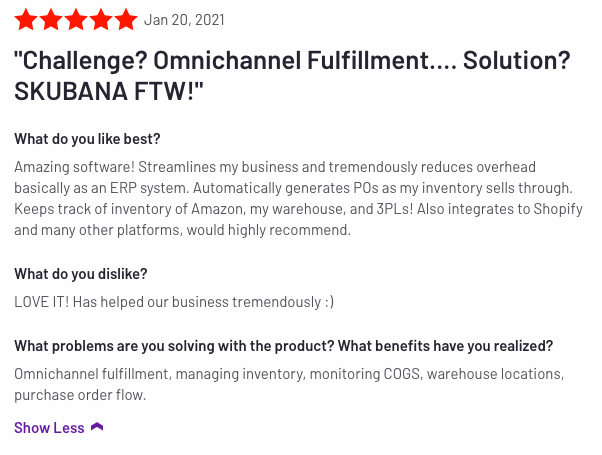 "Streamlined multichannel inventory management software review"
This seller needed help with a whole range of operational tasks: omnichannel fulfillment, managing inventory, monitoring COGS, and more. Fortunately, they found a great partner in Extensiv Order Manager, and were able to streamline their business and reduce overhead in a big way.
2. Scout
Best for: Inventory Barcoding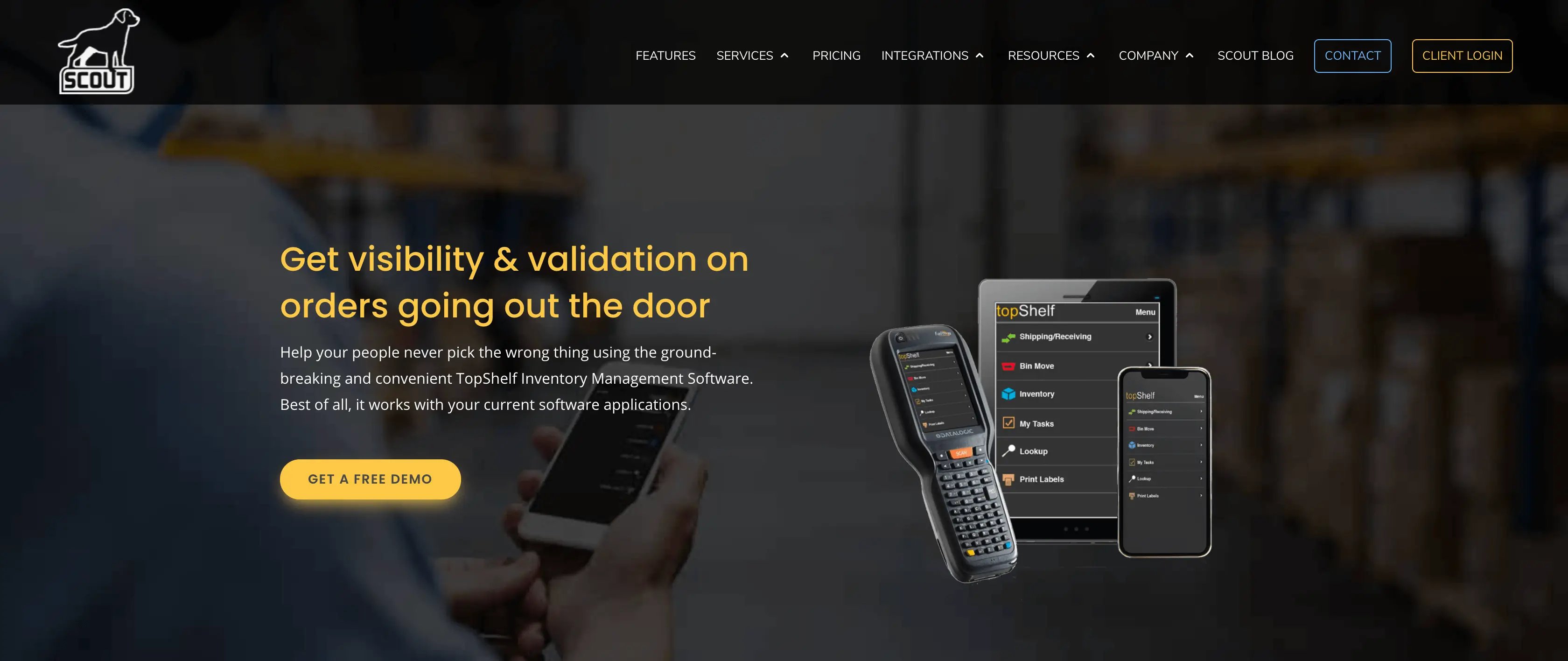 Core features:
Access from any tablet, smartphone, or mobile barcode scanner
Manage bins or SKU numbers for multiple warehouses
Generate barcode labels and print from any location.
Real-time alerts on low inventory levels
Cost: starting at $90/user per month for topShelf Advanced
Scout offers cloud-based barcoding solutions for ecommerce businesses struggling to secure visibility and validation on orders going out the door. Its topShelf software enables warehouse managers to print detailed barcode and tracking information for complete inventory control. Users can manage assets, bins, or SKU numbers for multiple warehouse locations, and have all of that data seamlessly sync with their inventory management system.
Scout's convenient topShelf inventory management software allows you to set up on-premise barcoding at each fulfillment location. You have the ability to manage your entire product catalog, generate barcode labels for specific products, and print directly from a smartphone or tablet wherever you are, whenever you like. Scout also supports add-ons like managing all of your warehouse locations at the same time (through your mobile device), and delivering real-time inventory updates and alerts on potential problems before they occur.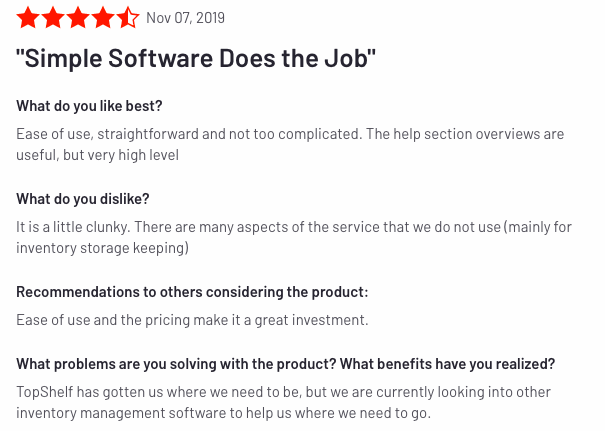 "Easy to use inventory barcoding software review"
While this user found Scout to be less complicated than other software solutions, they also noted it felt a bit clunky to operate. With that said, Scout's ease of use and pricing model are high points for them, enough so that they referred to the program as a 'great investment.'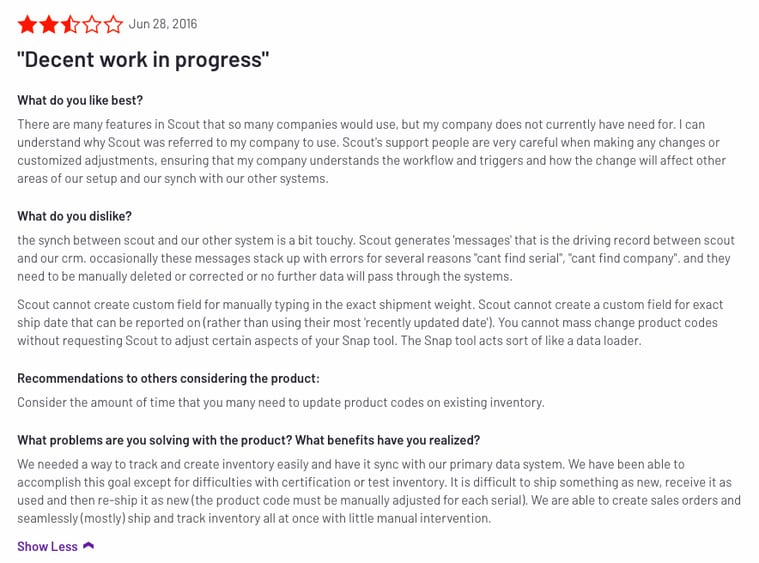 "Great support team inventory barcoding software review"
Calling Scout a 'decent work in progress' means there are aspects this platform does well, while also acknowledging there's some room to improve. This reviewer mentioned how thoughtful the support team is, but they also indicated Scout's limitations (i.e. syncing with other systems).
3. Daasity
Best for: Inventory analytics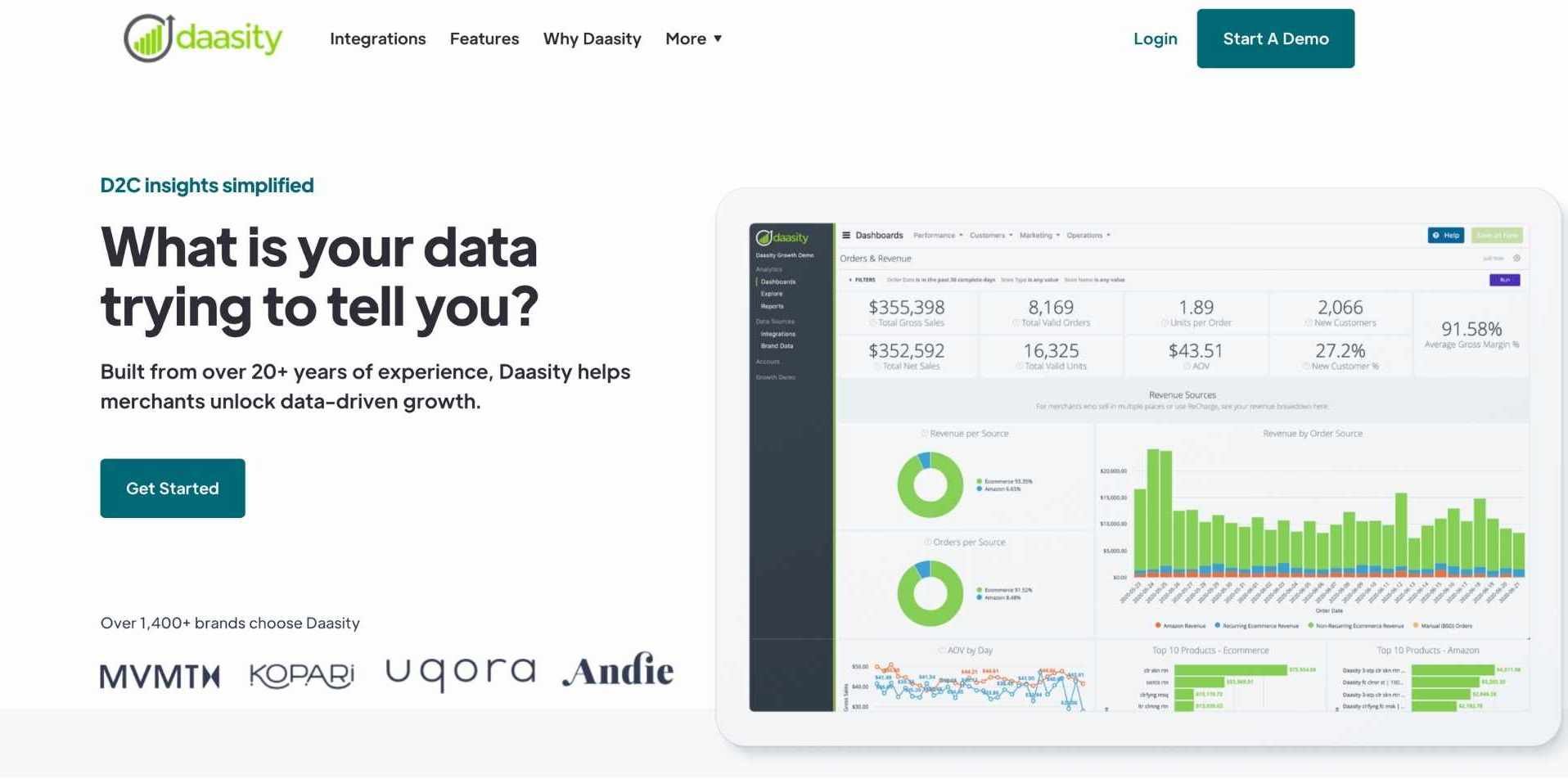 Core features:
Centralize data across your existing tech stack
Simplify inventory and fulfillment reporting
Use lifetime value learnings for customer acquisition
Track composition and performance of your site traffic
Cost: starting at $199/month for the Growth plan
Daasity helps merchants unlock data and insights essential to the growth of their business. This software offers inventory data analytics designed for non-technical users, meaning it's easy to understand and translate into real results. With Daasity, you can move beyond basic reporting, and utilize holistic sales data broken into individual channels and fulfillment methods.
The Daasity platform empowers retailers to maximize their profits by cutting costs and driving revenue through omnichannel analysis for more informed decision-making. This fast and flexible solution gives you a clear view into inventory performance across all channels and data sources. Plus, it can be customized to meet the specific needs and/or requirements of your brand or specialization. It's the ideal data solution for small, midsize, and high-growth ecommerce businesses who need a data partner that can integrate with their existing systems.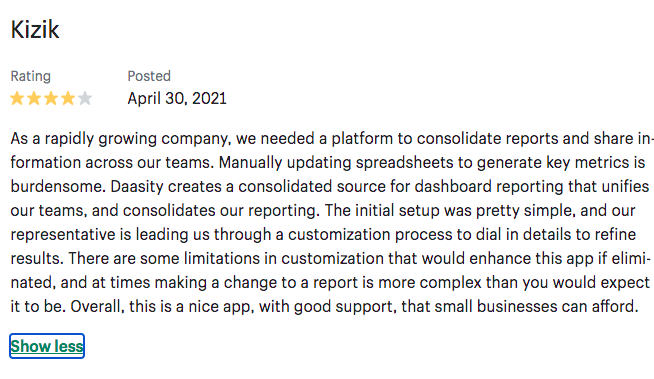 "Consolidated reporting inventory analytics software review"
This Daasity user was looking for a software to consolidate their reports and share information across various teams. Although Daasity delivered on both of these objectives, the reviewer does dock one star due to the limitations they encountered with some of the customizations.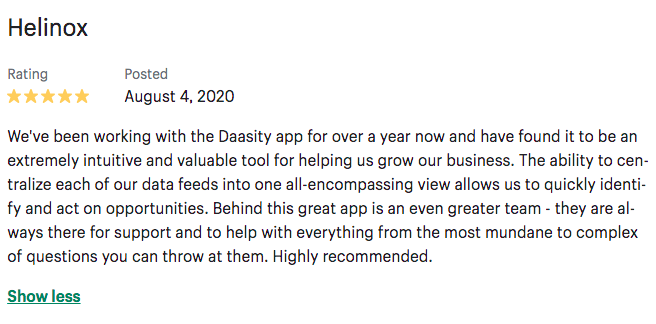 "Intuitive inventory analytics software review"
After awarding a five-star rating, this reviewer promotes Daasity as an 'extremely intuitive and valuable tool' for growing their business. Their favorite features on this platform include the centralized data feeds and the help they received from their customer support team.
4. Inventory Planner
Best for: Inventory forecasting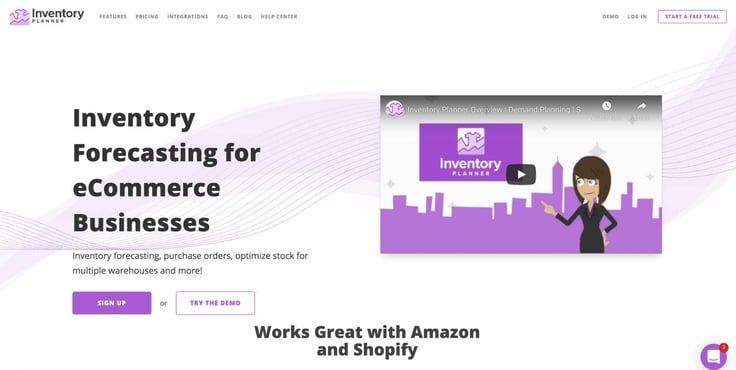 Core features:
Track outstanding orders, arrival dates, and received inventory
Automatic replenishment recommendations
Powerful reporting to identify trends
Create purchase orders in a single click
Cost: starting at $99/month for one warehouse and 1000 SKUs
As a leader in online inventory forecasting, Inventory Planner is equipped with automatic replenishment recommendations to simplify the reordering process. Using unified sales and inventory data, the system computes sales forecasts for thousands of products in just minutes. Inventory Planner also identifies trends and provides powerful reports showing what's going on with your business, so you can invest your time and capital in the right places.
Inventory Planner saves significant hours on purchasing by sending purchase orders straight to suppliers (based on velocity, lead time, and more). It also keeps track of outstanding orders, expected arrival dates, and received inventory items. When it comes to optimizing your cashflow, you can view all your sales trends and inventory needs in one place, making it easy to control what products need to be replenished at every warehouse, across every channel.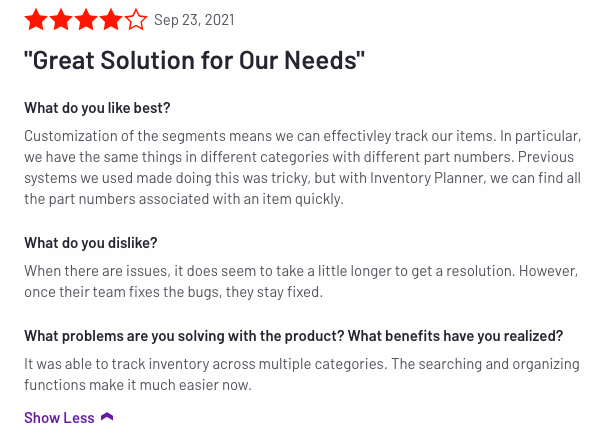 "Organized inventory forecasting software review"
Inventory Planner proved to be a 'great solution' for this reviewer, who was looking to better track inventory across multiple categories. They give a big thumbs up to the searching and organizing functions, but commented that bugs or fixes took considerable time to resolve.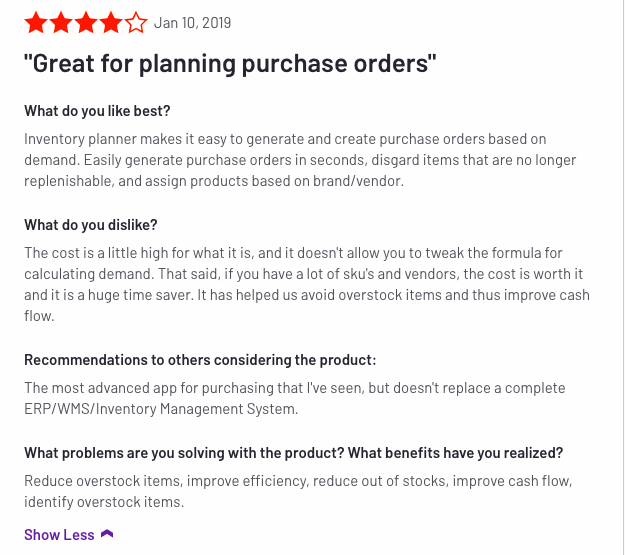 "PO creation inventory forecasting software review"
This four-star review speaks highly of the way Inventory Planner can create purchase orders on demand (that is, in a matter of seconds), and its ability to assign products based on brand or vendor. And yet, they also point out that the cost of the software is a 'little high for what it is.'
5. Barcoders QuickShip
Best for: Inventory fulfillment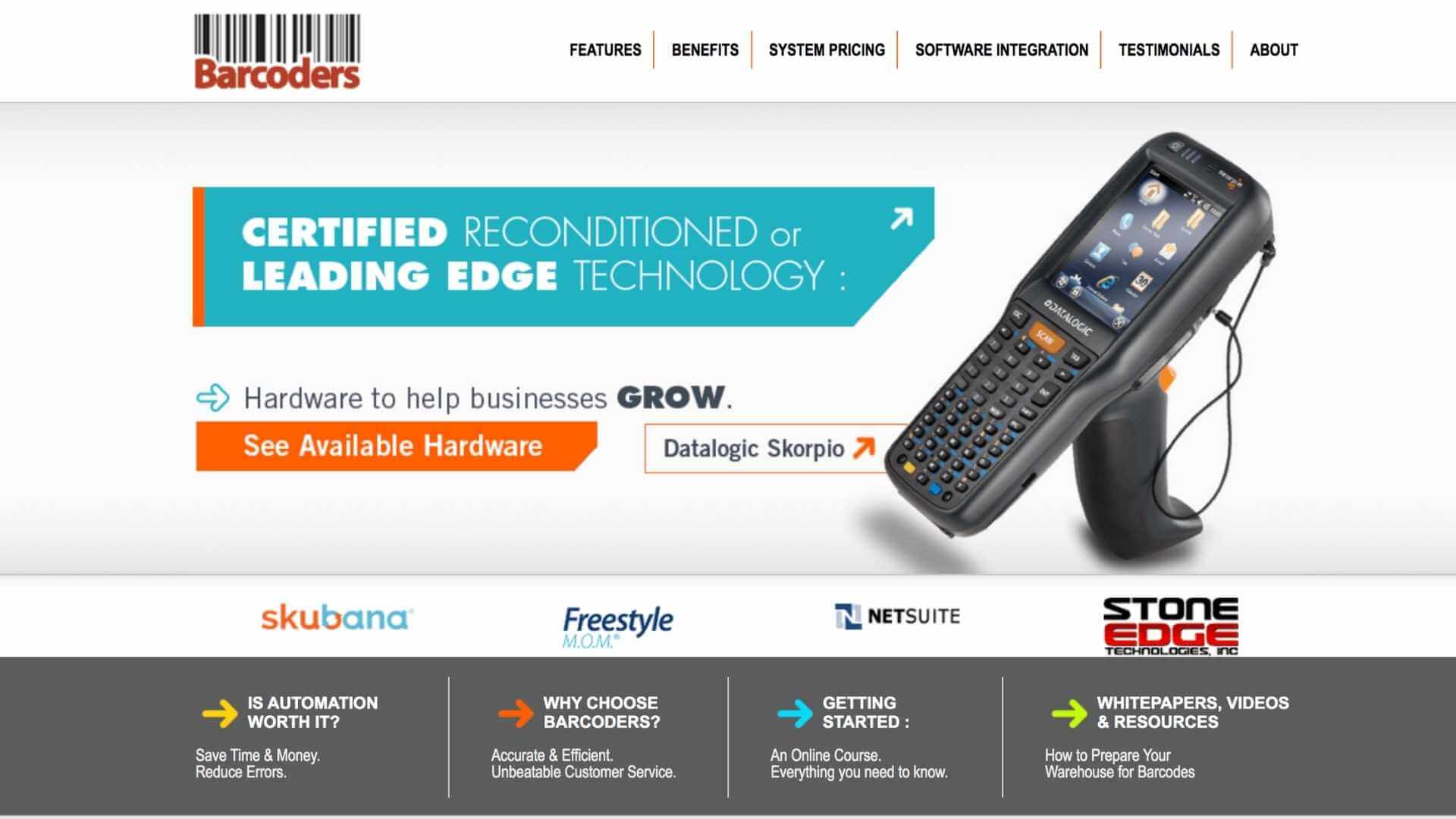 Core features:
Receive items directly into your order management system
Conduct a quick and accurate annual inventory count
Pick individual orders with a barcode scanner
Verify those picked orders to measure productivity
Cost: starting at $100/month for Extensiv Order Manager users
Retailers with in-house inventory fulfillment needs will find a friend in Barcoders QuickShip. This software can easily integrate scanners, scales, and label printers into an existing inventory management system setup, thus facilitating more effective workflows for commonly-repeated tasks. With flexible integrations into inventory management systems like Extensiv Order Manager, the only hardware you'll need is a reliable barcode scanner (or mobile phone). Although the weighing process still happens at a computer, the need for a keyboard or mouse is now eliminated; this enhanced efficiency allows one employee to enter weights for hundreds of orders an hour.
Additionally, with QuickShip installed, shipping labels and packing slips can be printed instantly. This eliminates the monotony of having to open, print, and close a PDF file from a web browser every time a package needs to go out the door — it really doesn't get much easier than that.

"Problem solving inventory fulfillment software review"
McKane Davis, the President of Scrapbook.com, had glowing remarks for the problem solving capabilities of Barcoders QuickShip. Before implementing this software, his company was shipping out wrong orders all the time, but now, they're enjoying leveled up accuracy.
"Most accurate inventory fulfillment software review"
Jim Stewart made a note that his company, Wholesale Marine, 'can't live without' the Barcoders QuickShip program. Not only has their order accuracy improved tremendously, but they've been able to expand their staff and complete new employee training in just a matter of hours.
6. StoreAutomator
Best for: Inventory repricing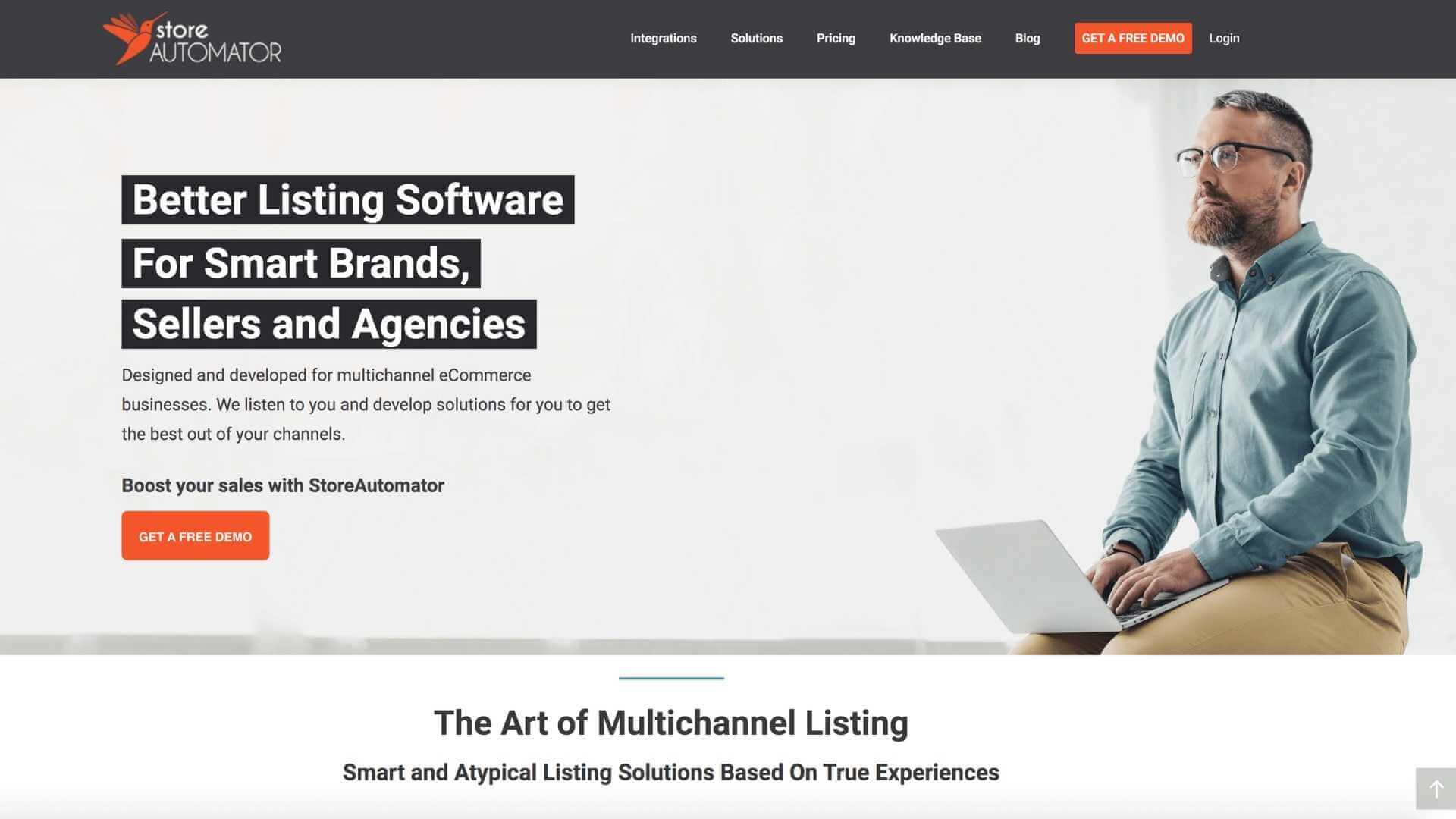 Core features:
Ability to create new products listings from scratch
Enables use of alternate or alias SKUs
Data templates and mapping for each product category
Multi-warehouse support and shipping management features
Cost: contact for more info on Growing, Scaling, and Enterprise plans
StoreAutomator's mission is to help merchants boost sales and get the most out of their selling channels. This platform lets you create product listings from scratch, enjoy flexible selling for inventory with multiple SKUs, implement an inventory control system with catalog management, and adapt to various marketplaces via data templates and retail-specific field mapping.
With StoreAutomator, you'll be able to sell your products to customers around the world using their sophisticated listing features and seamless inventory management integrations. What this means is, you can leverage this system to post product listings on Amazon, Walmart, Shopify, and more — all of which can contribute to significant growth and customer acquisition.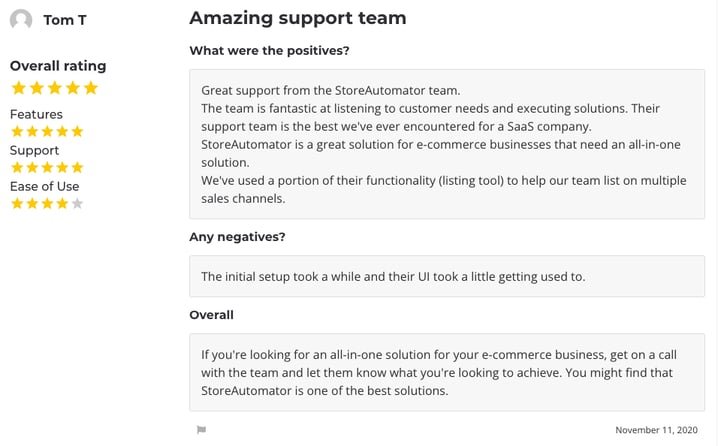 "Amazing support inventory repricing software review"
Reviewer Tom T. is a big proponent of the support team at StoreAutomator, having said they're 'fantastic at listening to customer needs and executing solutions.' However, this user did knock a start from the Ease of Use category, citing that the initial setup took considerable time.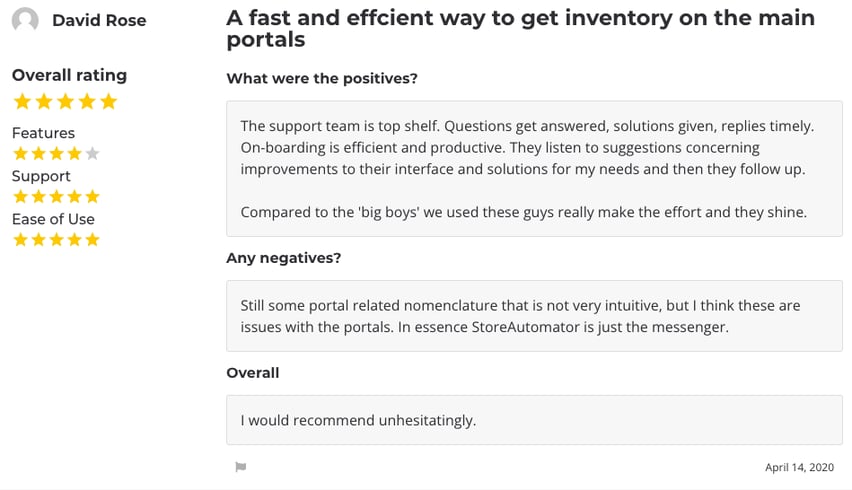 "Fast and efficient inventory repricing software review"
These positive comments from David Rose are centered around having his questions answered and solutions provided in a timely manner. The only negative he gives for StoreAutomator is that some of the navigation within their portal is not quite as intuitive as he would've liked.
7. Inventory Source
Best for: Warehouse dropshipping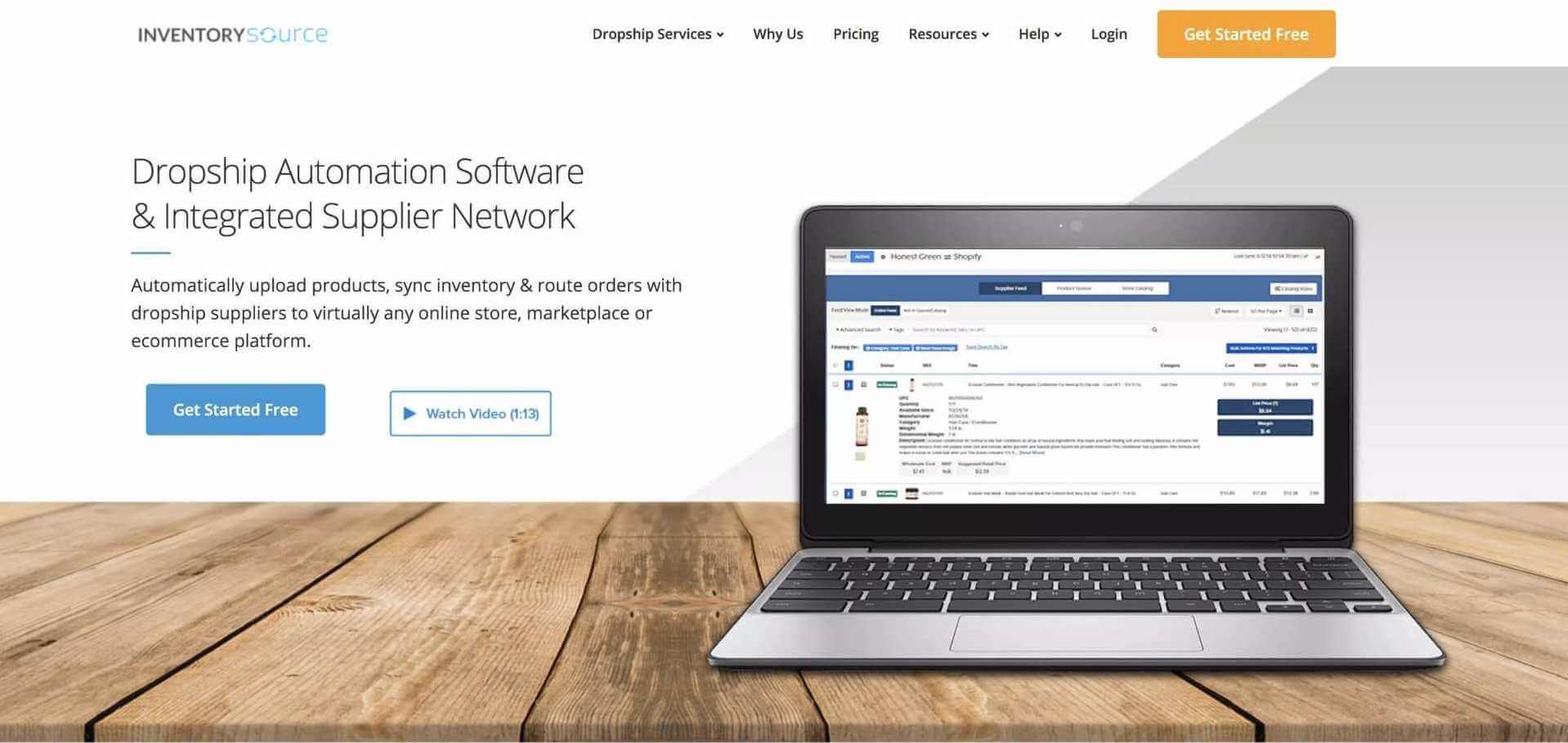 Core features:
Automatically uploads full product data
Syncs inventory quantities and dropship suppliers
Connection to 230+ dropship supplier network
Provides 24/7 customer support
Cost: starting at $99/month for the Inventory Automation plan
If you're a retail business in need of dropshipping automation and an integrated supplier network, you'll likely benefit from incorporating Inventory Source into your daily operations. When using this inventory management software, you can automatically upload products, sync inventory items, and route orders with dropship suppliers to nearly any ecommerce channel.
More specifically, you can integrate your supplier's inventory to instantly upload product data and connect inventory quantities with more than 25 different online stores, marketplaces, and multichannel platforms. And since the Inventory Source mobile app gives you access to a handy user interface and reliable integrations, you'll see results in no time — wherever you are.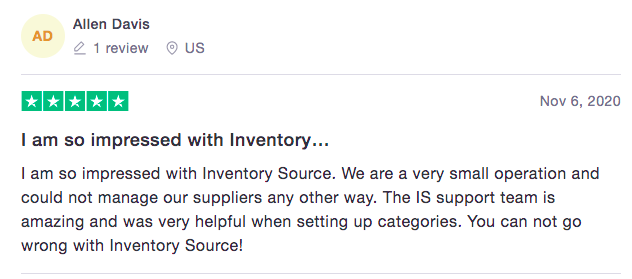 "Impressive warehouse dropshipping software review"
Reviewer Allen Davis has been 'so impressed with Inventory Source,' seeing as his small business would not be able to manage their suppliers without the help of this software. Additionally, he makes a point to compliment their customer support team, as well.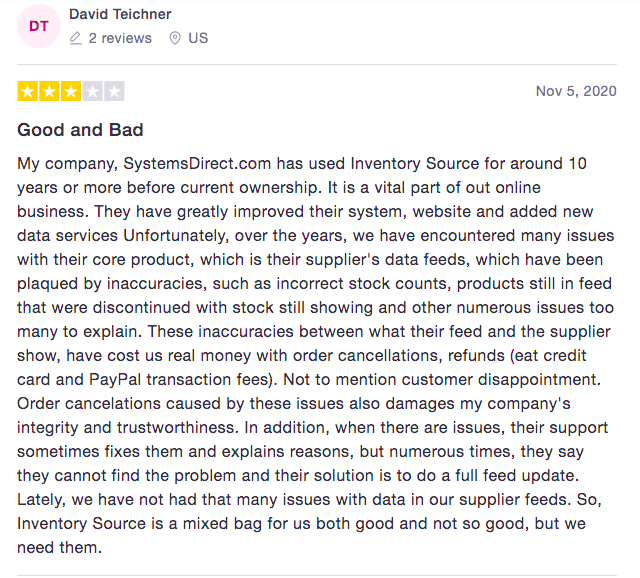 "Mixed bag warehouse dropshipping software review"
This reviewer's comments highlight both the positives and negatives they've encountered while working with Inventory Source. Although they call this system a 'vital part' of their online business, they're not shy in discussing the issues they've had over the last several years.
8. Fishbowl
Best for: Inventory manufacturing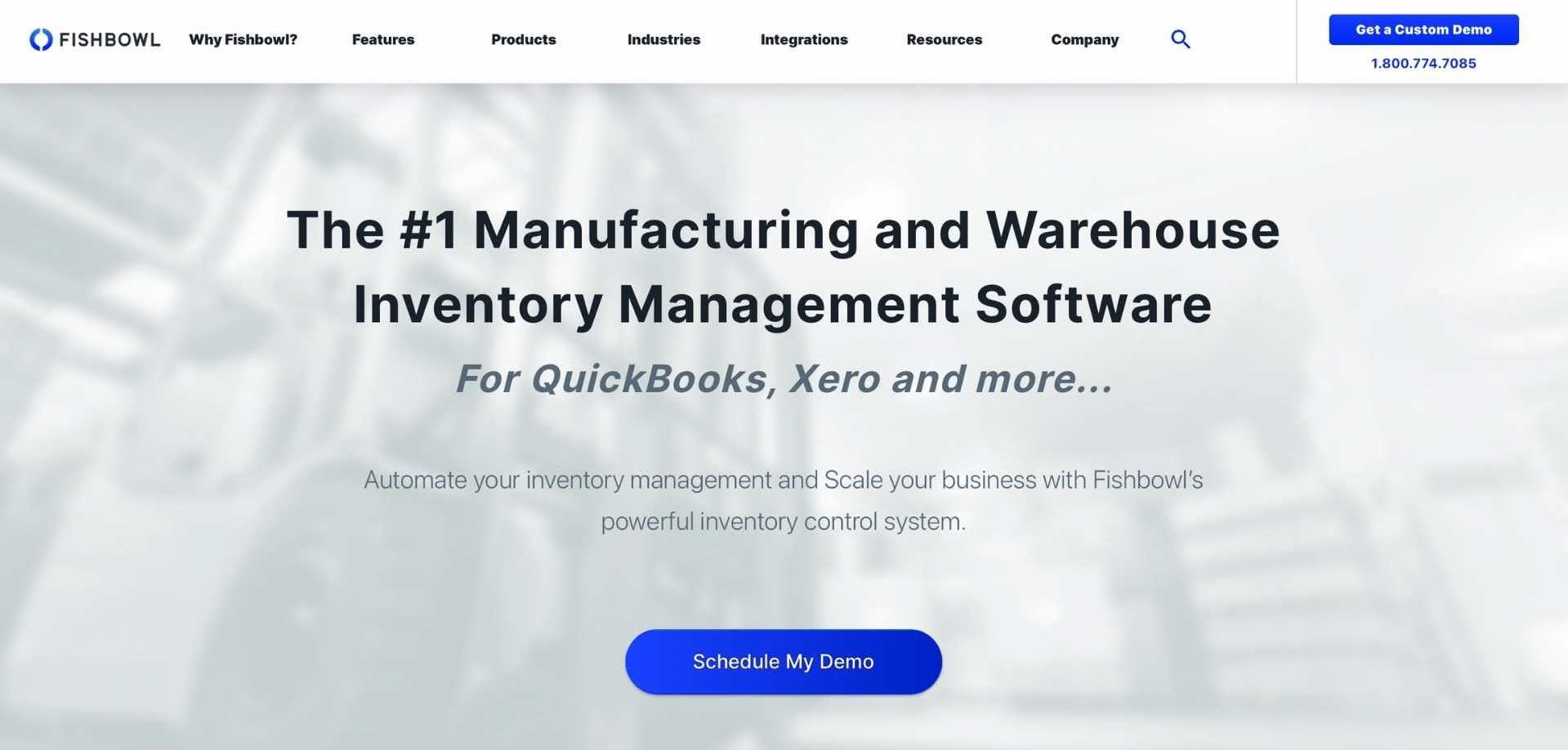 Core features:
Control manufacturing processes to prevent stockouts
Track inventory by serial, lot, batch, and revision numbers
Create both simple and complex bill of materials
Readily integrates with QuickBooks and Xero
Cost: starting at $4,395 for permanent ownership of the software
Fishbowl is a manufacturing and warehouse management solution that's specifically designed to meet the needs of small businesses and/or midsized companies. This platform offers a number of different tools to help cut down on overhead costs, automate common business processes, and ramp up efficiency to carry you through any operational challenge.
While largely recognized for its advancements in inventory control, the Fishbowl system is also quite skilled in work order management, material requirements planning (MRP), manufacturer orders, bill of materials, and more. By partnering with Fishbowl, you can reduce the total number of steps in your manufacturing process to save your company valuable time and money.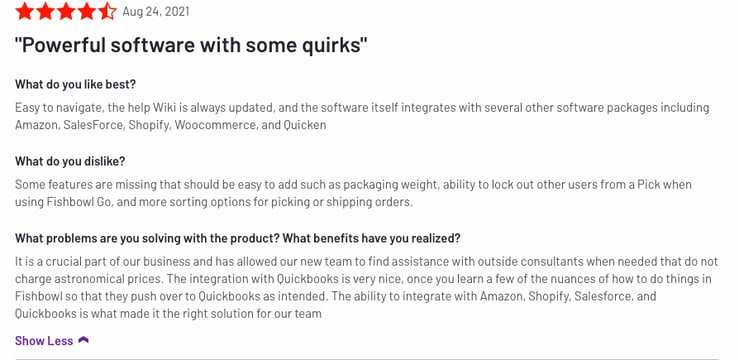 "Powerful inventory manufacturing software review"
Not quite a perfect rating, but still a positive review for Fishbowl Inventory here. From this user's perspective, the system was easy to navigate and quickly integrated with other popular sites (Amazon, Shopify, etc), but it could stand to improve on its sorting options for shipment.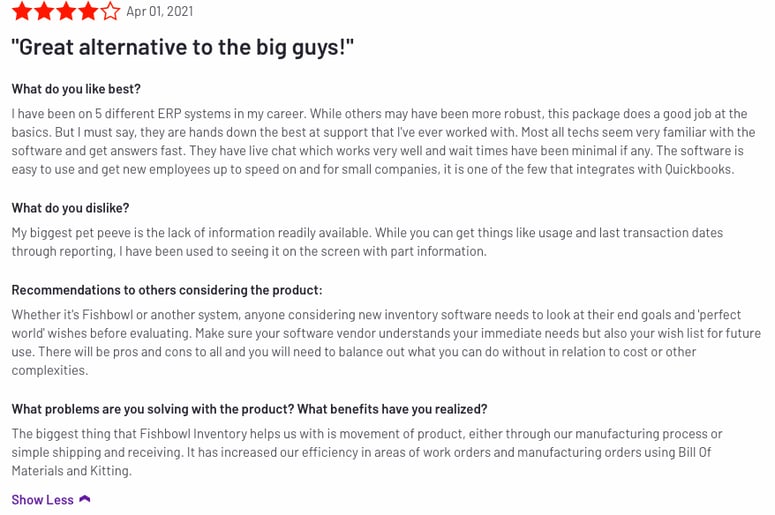 "Easy to use inventory manufacturing software review"
After using a variety of ERP software throughout their career, this reviewer found a good match in Fishbowl. They love how it does a good job with the basics and is equipped with a reliable support team, however, they did say there was a 'lack of information readily available.'
9. Zoho Inventory
Best for: Inventory control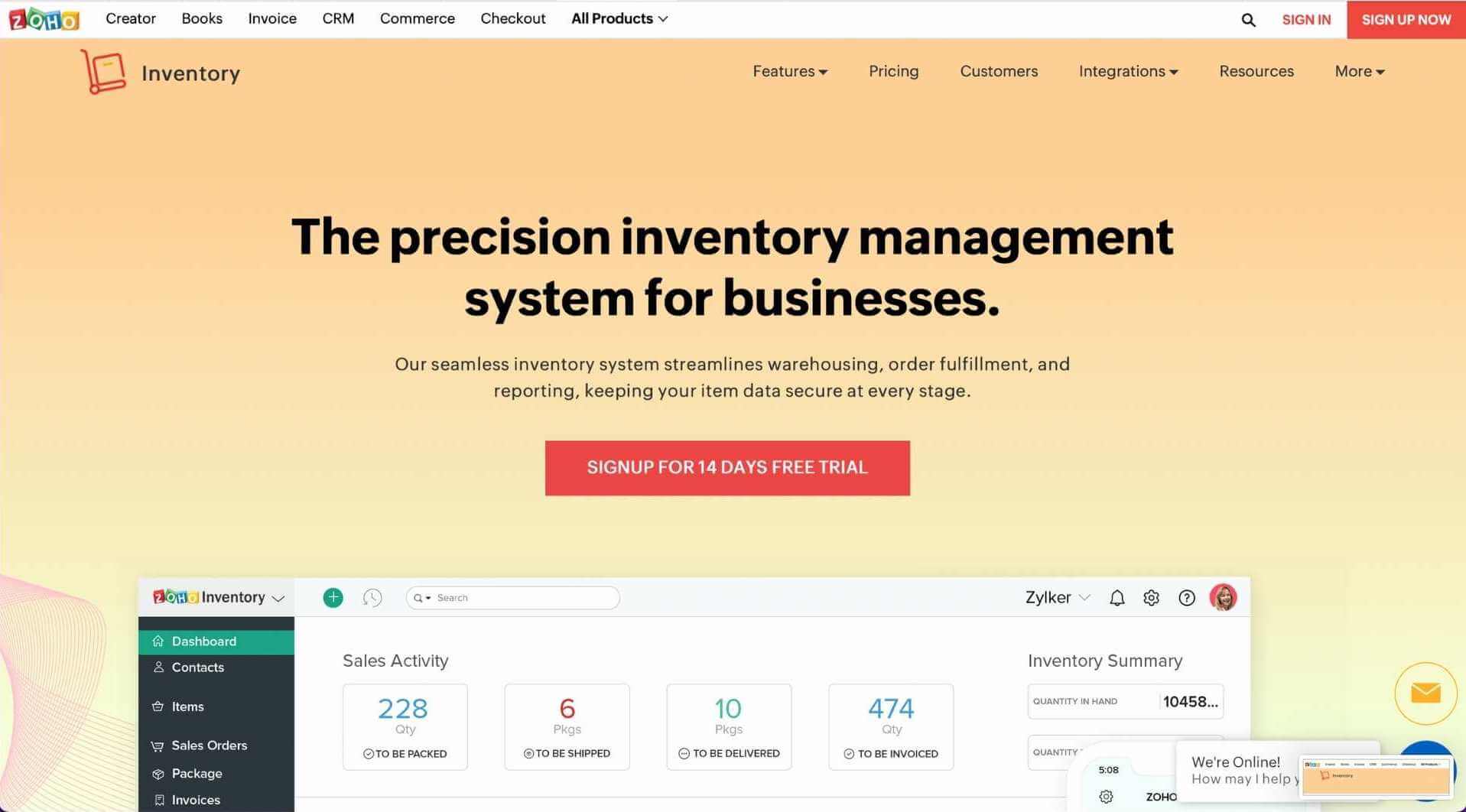 Core features:
Cloud-based inventory control system
Automatic updates across all selling channels
Create item variants based on custom attributes
Set reorder points and preferred vendors
Cost: starting at $59/organization per month for the Standard plan
The Zoho Inventory system enables ecommerce sellers to control their stock levels and manage customer orders with ease. Thanks to multichannel selling, shipping integrations, and powerful inventory control features, Zoho Inventory makes it possible to optimize your extensive inventory and order management processes — from purchases, to packing, to payments.
Using this cloud-based platform, business owners can create sales and purchase orders, track product movement, and integrate with major marketplaces like Amazon, eBay, and Etsy. On top of that, Zoho Inventory allows you to simplify your workflows and ship even faster with the help of their order fulfillment solutions (i.e. common dashboard, real-time rates, and more).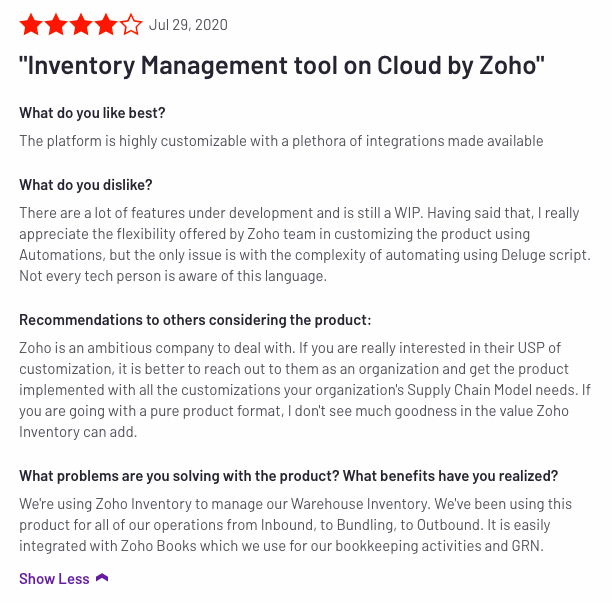 "Highly customizable inventory control software review"
Zoho Inventory earned four stars from this user for its ample customizations and 'plethora of integrations.' As far as what they disliked about the Zoho platform, they noticed a number of features were still under development, and called it a bit of a work in progress situation.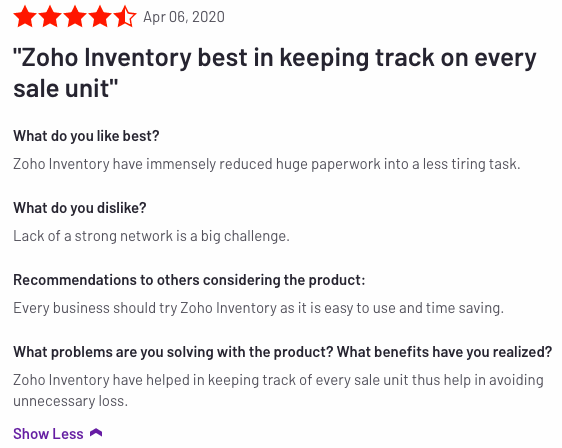 "Wide-reaching inventory control software review"
Product-based brands understand the importance of keeping track of every single SKU, something Zoho Inventory does quite well. This reviewer gave a nearly perfect score to this software, citing how it helped them to reduce their paperwork and avoid unnecessary loss.
Benefits of inventory management software
Save time on processes and management
Inventory management software is incredibly valuable for saving time and money, especially with tools like automation, barcode scanning, analytics, and automatic reorder points. Simply put, modern inventory management software helps you control your inventory and gives you more time to grow your brand and fulfill customer orders. Legacy ERP tools, on the other hand, are unable to support the multichannel needs of today's ecommerce businesses (and their implementation is notably time-consuming). Ecommerce expert David Romese weighs in:
"We are an ecommerce company that sells across four platforms — Shopify, Amazon, Walmart, and eBay. Before we got [Extensiv], I was going back and forth between these platforms to make sure everything was running smoothly, orders were imported correctly, and that tracking was updated with accurate inventory counts. We also use a 3PL for fulfillment, and Extensiv Order Manager has eliminated the need to 'babysit' those channels.
Another wonderful feature I utilize with [Extensiv Order Manager] is automatic PO generation; now, there's no more plugging numbers into Excel spreadsheets to see when I need to reorder. Extensiv takes a set period of previous sales and factors in current inventory, lead time, and minimum order quantities to auto-generate POs when needed. [Extensiv Order Manager] software has saved me 10+ hours per week, and is honestly like the assistant I never had." — David Romese, Operations Manager at Truth Company
Achieve inventory accountability


Inventory accountability means knowing exactly where your inventory is located, when it will sell out, and when it will lose value — which is crucial knowledge for achieving long-term profitability and growth. With proper inventory and supply chain management, you can ensure you're investing in the right areas, moving products quickly, pricing appropriately, monitoring FIFO, and accounting for every item in your inventory at all times. To achieve these objectives, inventory management software supports barcoding and RFID tags, serial number tracking, asset tracking, customization workarounds, and automatic purchasing.
"As a jewelry company, we need to take special care of inventory tracking and management. We have plenty of moving pieces — some no larger than a pair of earrings — that must be accounted for at all times. [Extensiv] helps ensure we always know where our inventory is, which pieces sell the best across multiple channels, and when it's time to reorder so that we never run out of stock." — Zeke Araki, Co-Founder, Pavoi
Simplify inventory management

Sustaining efficient management without a significant investment of time can be difficult, especially if your business doesn't have the resources to hire a full-time ecommerce manager. Inventory management software helps bridge this gap between your suppliers, wholesalers, and end-consumers by keeping data in order, using analytics and algorithms to perform calculations, and automatically generating paperwork to reduce time-consuming activities.
"[Extensiv] has key features that allow us to run our business without worrying about all the little details that normally bog down ecommerce stores with multiple warehouses and sales channels. The forecasting tool for our warehouse is a great asset, and works just as well as competitive tools. Our favorite feature is the automatic PO generation, because it saves us hours every week." — Cleaner Filters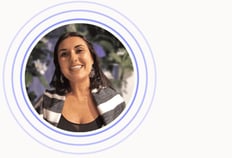 Automate orders and shipments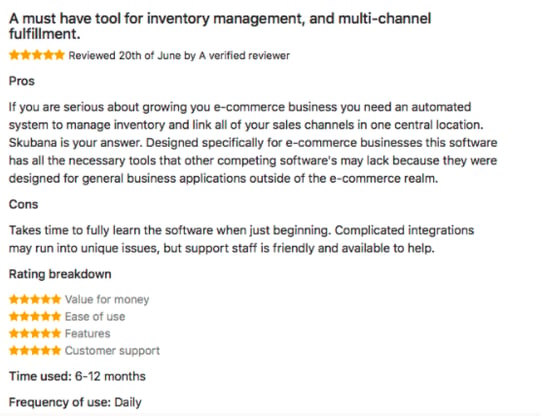 Automation enables you to reduce human error, minimize costs, and cut down on the hours spent handling inventory. Once properly implemented, inventory automation can flag products that aren't selling, track pricing and profitability, activate inventory reorder alerts, and update accounting records in real-time (for the ultimate convenience and accuracy).
PRO TIP: Extensiv Order Manager's Orderbots are powered by your real-time, multichannel data. With these Orderbots, you can leverage 'if-this-then-that' logic to complete endless inventory and fulfillment tasks, like filtering orders by point of sale or requesting confirmation from a distributor. Sam Shackleton of Cross Path Capital suggests ecommerce automation (from a system designed for ecommerce platforms) is the key to scaling your online business.
"If you're serious about growing your ecommerce business, you need an automated system to manage inventory and link all of your sales channels in one central location. [Extensiv] solved all of this for us, and then some. Designed specifically for ecommerce businesses, [the] software has all the necessary tools other systems may lack (if they were designed for general business applications outside of the ecommerce realm). [It] is exactly what we needed to automate repetitive, non-revenue generating tasks, and to free up more time to focus on scaling our business." — Sam Shackleton, Co-Founder, Cross Path Capital
Integrate across multiple channels
Sellers agree that knowing where (and how) you're making online sales is crucial to your company's continued multichannel success.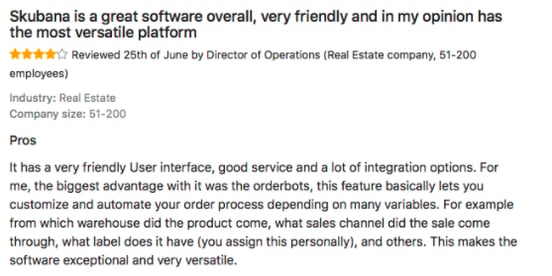 "For me, the biggest advantage with [Extensiv] was the Orderbots. This feature lets you customize and automate your order process depending on a number of variables. For example, you can customize which warehouse the product comes from, what sales channel the order comes through, and what label the order will have." — Kevin Aserraf, 4Wheelife
Improve inventory and warehouse control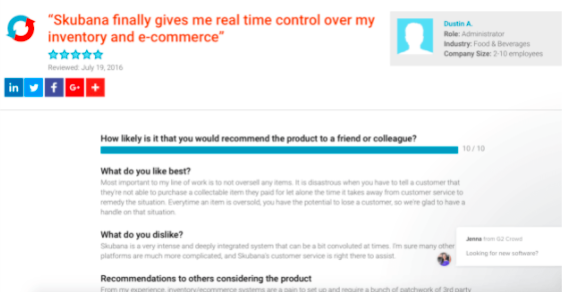 Inventory software boosts asset management and helps you maintain control over your stock levels and warehouse locations. Without knowing what you have, where it is, and whether it's costing or making you money, you can't make informed decisions to spur growth.
Quality software provides a clear picture of your inventory (and more), by providing precise information, identifying best sellers, tracking warehousing and storage costs, and showing you which inventory to cut. What's more, inventory management software helps scaling businesses prevent overselling, which can dramatically damage your reputation at a time when customer trust hinges on positive reviews of your product.
"The most important thing to my line of work is to avoid overselling any items. It's disastrous when you have to tell a customer they're not able to purchase a collectable item they paid for, let alone the time it takes away from customer service to remedy the situation. Every time an item is oversold, you have the potential to lose a customer, so we're glad to have that situation under control. With [Extensiv], we've been able to really manage inventory that's handled by our 3PL — no overselling, educated liquidations, and a bulletproof ordering process." — Dustin Alexander, Logistics Manager, Death Wish Coffee Company
Enjoy all-in-one solutions
When you find an all-in-one solution to meet multiple business needs — like order processing and shipping, in addition to inventory management — it can help reduce total costs and shrink your time investment. While all-in-one systems are not always the best option, they're often the most straightforward and cost-effective choice for large, midsize and small businesses alike.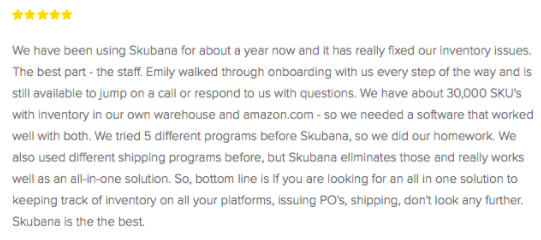 "We've been using [Extensiv] for about a year now, and it's really fixed our inventory issues. And the best part? The staff. Emily walked us through onboarding at every step of the way, and she's still available to jump on a call or respond to our questions. We have about 30,000 SKUs in our own warehouse and on Amazon, which is why we needed software that worked well with both.
We tried five different programs before [Extensiv], so we did our homework. We also used different shipping programs in the past, but [Extensiv] eliminates the need for those, and works really well as an all-in-one system. The bottom line is, if you're looking for an all-in-one solution to keep track of your inventory on all platforms, help issue POs, and assist with shipping tasks, don't look any further than [Extensiv]." — Philip Baron, Founder, Masontops
Grow revenue with better inventory management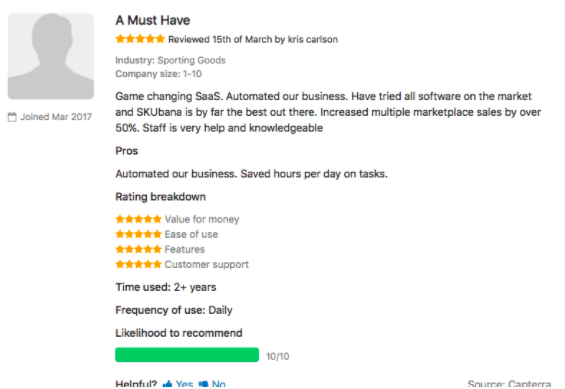 Improving your inventory management allows you to increase revenue and sales, because you know which products are selling and which are not. Over time, this enables you to make calculated decisions to increase the visibility of high-selling products, to improve marketing for low-selling ones, and to liquidate those that are costing you money. And, by automating your order processing and inventory updates, you can expand your ability to handle changing sales volumes without overwhelming staff.
"This is a game-changing SaaS that helped automate our business. We'd tried all the software on the market, and [Extensiv] is by far the best. With [Extensiv], we increased multiple marketplace sales by over 50%." — Kris Carlson, Nautical Brands
Do good business
Good business management means reducing costs, increasing efficiency, and providing better service to your customers. Inventory management software makes this possible by giving you the tools you need to handle more orders, process orders quickly, offer quality service, and track inventory costs on all active items.
"Our inventory management and analytics have greatly improved since we've been using [Extensiv]. Not only is our inventory control better, but our ability to scale has also increased dramatically since we can now fulfill more orders and sell more products.
The idea of an affordable, all-in-one tool seemed too good to be true, but we found that this software really works. We've been able to increase our business by over 30% without adding any overhead other than [Extensiv]. Additionally, through the use of inventory reports, we are able to see which SKUs we need to liquidate and which we need to place greater emphasis on."
— David Wolfe, President, Merchandise Mecca
Key takeaways: inventory management software
While the benefits of inventory software depend on your business needs and current challenges, successful ecommerce business owners agree that the right software positively affects your capacity to scale and control your earnings with confidence and ease.
Extensiv is an all-in-one inventory management tool and modern system that offers advanced inventory and order management, warehouse management, and automation in a streamlined, user-friendly package. Partnering with Extensiv is the best way to track inventory, add new sales channels, automate every step of the supply chain process, and strengthen your operations and relationships during any stage of growth.
Moreover, Extensiv can integrate with your favorite sales channels, CRMs, 3PLs, invoicing, or accounting software to really help you run your business from end-to-end. Schedule a demo today to see how Extensiv works, and decide if it's a good fit for your business!