As your online business expands and grows, it may be time to reevaluate your e-commerce platform to determine whether it still meets all your needs.
If your software no longer supports your success, it's time to make a switch. We put together a list of 5 things to look out for that could indicate it's time to upgrade your e-commerce platform, as well as how to do the research and find the best fit for you.
When Your E-commerce Operations Outgrow Your Software
As your customer base expands, you'll have to continuously reevaluate how well your e-commerce platform supports your increase in order volume. If you grow beyond what your software is capable of, you may run into problems that your customers will notice, such as late shipments and miscalculated inventory. Having too many issues can cause you to lose credibility as a seller, and create a poor customer experience that gets negative reviews.
5 Signs You've Outgrown Your E-Commerce Platform
Does your platform take a long time to complete tasks? Is there a disconnect between your integrations that causes inventory tracking problems? Are you still relying on manual processes to finish a single transaction? Here are some signs that you've outgrown your e-commerce platform.
1. It lowers your ATV
To identify your average transaction value (ATV), take the total value of each of your transactions from a specific timeframe and divide that figure by the total number of transactions your business had during the same timeframe.
An easy way to do this would be net sales for a time period divided by the number of transactions that happened during that time period.
The result will give you an average of how much each transaction was worth during the specified period. You're looking for a high ATV, since this indicates your company generates more income from each customer.
If your e-commerce platform takes too long to process transactions, this may affect your ATV and your company's reputation in the long run. According to this article from Invision, 88% of customers won't revisit a website if they had a bad experience.
When your existing platform takes longer than expected by your customers to complete a transaction, you should consider switching out. With so much competition online, it's important that your service works efficiently and effectively, because many of your competitors will have seamless operations.
2. It slows down your growth
As your business expands, you'll need to hire new employees, process more sales, and manage more inventory. If you find yourself limiting orders or stock because of the limitations of your e-commerce software, it's time to switch to a more robust e-commerce management solution. You want something that will take care of the day-to-day processes for you, such as POs and order management, so you can focus on growing your business.
3. It limits your third-party integration
Another cause for alarm is when you encounter any trouble with integration of data from different systems and sources. You never want to deal with patchwork integrations, or data will get lost and orders will get misplaced. If you find yourself with integrations that don't function properly, or a faulty integration process, you should explore other e-commerce platforms.
4. You don't get accurate reports
A growing business needs software that can create accurate reports that represent the current performance of your stock. That means you'll need an e-commerce platform that's able to flawlessly create detailed reports, no matter how many channels you sell on or what tools you use.
5. Operations-related performance is suffering
Take a look at your business performance. If demand has been going up but performance and operations are failing, there's something amiss with your logistics. If you have good reporting software, you'll be able to see the weak link in your e-commerce chain pretty quickly, but without those diagnostic tools, you'll have to evaluate elsewhere.
Use reviews and feedback to see if customers are satisfied with your website, delivery, and other operations-related services.
Readjust with the Right Platform
If you've found that your e-commerce platform no longer suits your needs, it's time to take a look at alternatives to compare and contrast. Let's take ChannelAdvisor and Extensiv as an example.
ChannelAdvisor is one of the traditional e-commerce platforms that has all the classic functions an e-commerce business needs. Extensiv is a multi-channel inventory management platform, with flexible features handy for growing e-commerce businesses.
Research your options: ChannelAdvisor vs Extensiv Order Manager
We compared Extensiv Order Manager (formerly Skubana) with Channel Advisor, another e-commerce platform, on GetApp. Here are the results.

As you can see in the list of features below, Extensiv Order Manager has more features and flexibility when it comes to supporting multi-channel operations.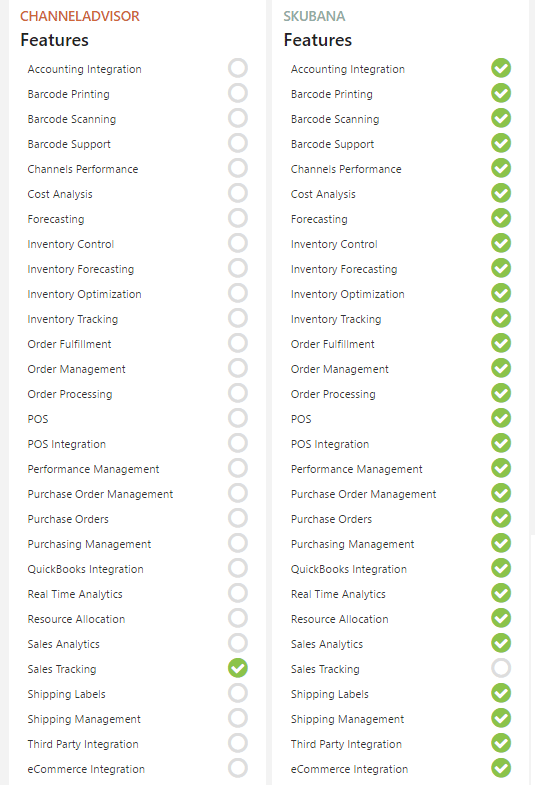 Keep your customers safe
Don't forget to look at security and payment options. Extensiv Order Manager offers POS integration and allows debit and credit cards since these are popular payment methods. If you want your customers to have a good user experience, then you have to make things convenient and secure for them. The better the user experience of your customers, the higher your website's conversion rates and ATVs will be. One of the best ways to determine the quality of your UX is with usability testing.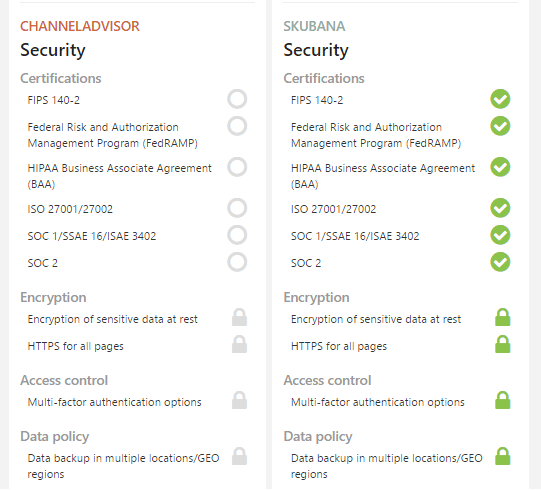 Your E-Commerce Platform Should Enable, Not Restrain
Ultimately, the goal of using an e-commerce platform is to enable your business to grow to its full potential. An operations management tool handles logistics like data entry, repricing, warehouse management, and more so that you can focus on growth. If you find yourself limiting sales because of your e-commerce software, it's time to change it.
Your e-commerce platform has to offer all the features you need and be able to handle your logistics, no matter how many warehouses you want to use, or how much volume you want to do.