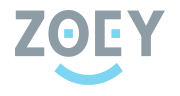 Zoey
Zoey helps B2B and wholesale businesses take orders online anytime, anywhere, with any device. Create and manage products, orders, for both the Zoey App and Zoey Web. Establish business rules, customer groups and more.
Franchisers: Provide your franchisees an easy online portal to order the products and supplies needed to keep their stores stocked.
Wholesalers: Manage large orders at volume with unique pricing and catalog lists, segmented by buyer type.
Brands: Make it easy for your dealers to place orders and re-orders, or get quotes for new items, while also selling B2C.
No extra fees.
All order sources are included with all plans.
---
Choose a destination to integrate with Zoey
Choose a source to integrate with Zoey
110+ Ecommerce Integrations, 80+ EDI Retail Partners, 90+ Warehouse Systems, 1000+ 3PL Integrations, Millions of Orders!
"3PL Central has taken a pivotal role in our growth — which was 247%. We are at maximum efficiency, 99.9% inventory accuracy, and customers are ecstatic."
— LMS Logistics Solutions
"3PL Central has taken a pivotal role in our growth — which was 247%. We are at maximum efficiency, 99.9% inventory accuracy, and customers are ecstatic."
— LMS Logistics Solutions