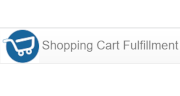 Shopping Cart Fulfillment
Shopping Cart Fulfillment is a cloud-based ecommerce fulfillment, warehouse management and multi-carrier shipping software provider. Each component works together to provide a comprehensive solution for the third-party logistics and warehousing industries. With Fulcrum you can batch orders, rate shop across multiple carriers and print integrated labels in a single click. We also integrate with ecommerce platforms to provide omni-channel retailing and fulfillment.
No extra fees.
All order sources are included with all plans.
---
About Extensiv's Shopping Cart Fulfillment Integration
Order Destination Integration Functions Supported:
Sales Order Download from Order Sources to Integration Manager
Sales Order Delivery from Integration Manager to Shopping Cart Fulfillment
Shipment Tracking and Inventory from Shopping Cart Fulfillment to Integration Manager
Shipment Tracking and Inventory from Integration Manager to Order Source
Choose a destination to integrate with Shopping Cart Fulfillment
Choose a source to integrate with Shopping Cart Fulfillment
110+ Ecommerce Integrations, 80+ EDI Retail Partners, 90+ Warehouse Systems, 1000+ 3PL Integrations, Millions of Orders!
"3PL Central has taken a pivotal role in our growth — which was 247%. We are at maximum efficiency, 99.9% inventory accuracy, and customers are ecstatic."
— LMS Logistics Solutions
"3PL Central has taken a pivotal role in our growth — which was 247%. We are at maximum efficiency, 99.9% inventory accuracy, and customers are ecstatic."
— LMS Logistics Solutions