There's no question Shopify reigns supreme when it comes to ecommerce usage distribution in the United States. In fact, Shopify's market share accounts for nearly one third (32%) of all ecommerce websites in the U.S. — and it's not showing any signs of slowing down. But despite its terrific popularity, fulfilling orders on Shopify (and the Shopify app) can feel overwhelming for new sellers, likely due to all the moving pieces and shipping methods to consider.
In this guide, we'll take a closer look at what Shopify order fulfillment entails, as well as the different fulfillment services your company can choose from. While more choices can seemingly make the decision more difficult, understanding each of your fulfillment options is paramount to your continued growth and success within the world of ecommerce.
What is Shopify order fulfillment?
Shopify order fulfillment is essentially what happens from the time a customer places an order with a Shopify store up until that item is shipped. A typical fulfillment workflow involves pulling products from your inventory, packing those products into an envelope or box, and then labeling the package in preparation for shipment. In Shopify, however, this process can take multiple forms — manual fulfillment, automatic fulfillment, and/or partial fulfillment status.
In addition, Shopify users can place holds on specific orders when they're offering upsell items or they think customers may want to add onto their purchase. Alternatively, Shopify can also accommodate a reverse order fulfillment process for times when customers return items they've already received. In this case, Shopify can create and track returns, send return shipping labels, restock returned goods, and offer refunds to the original form of payment.
The importance of Shopify order fulfillment

Order fulfillment certainly presents a challenge to product-based businesses, and yet, well-executed fulfillment pays dividends in both the short and long-term. Not only can Shopify order fulfillment optimize your inventory flow and enhance your revenue streams, but it also supports greater customer satisfaction — which in turn, means improved retention rates.
Optimized inventory flow
Companies who handle large volumes of physical inventory need a way to manage and monitor the flow of their merchandise throughout the supply chain. Luckily, with the help of Shopify order fulfillment, ecommerce business owners can better regulate (i.e. optimize) product movement through every stage of their operations. That's because Shopify order fulfillment provides tremendous visibility into critical inventory flow phases like SKU storage and transportation.
Enhanced revenue streams
Simply put, if your company can't deliver orders quickly, customers are apt to skip the checkout and look for a similar product sold by your competitors. That's why it's so important to have the appropriate systems in place to support your order management and fulfillment processes. By leveraging Shopify order fulfillment for your own store, you can ensure product availability and on-time deliveries to meet customer expectations (and keep your revenue more consistent).
Greater customer satisfaction
In line with the previous point, one of the most notable advantages of Shopify order fulfillment is that it promotes customer satisfaction with every sale. A comprehensive order fulfillment process is directly related to improved cart conversion, since customers can count on you to have what they want, when they want it. And while this obviously benefits your cashflow, it also influences retention, as customers will associate your business with quality service.
Multichannel fulfillment
If you sell products through channels other than Shopify — like Amazon or wholesale — you'll need a Shopify order fulfillment strategy that can keep up with multiple order sources. Without a multichannel strategy, there's a good chance you'll encounter unintended stockouts that can damage customer satisfaction and cause you to miss out on sales. But with a process that's supported by technology, you can prevent overselling when a well-performing channel takes off.
How does Shopify fulfillment work?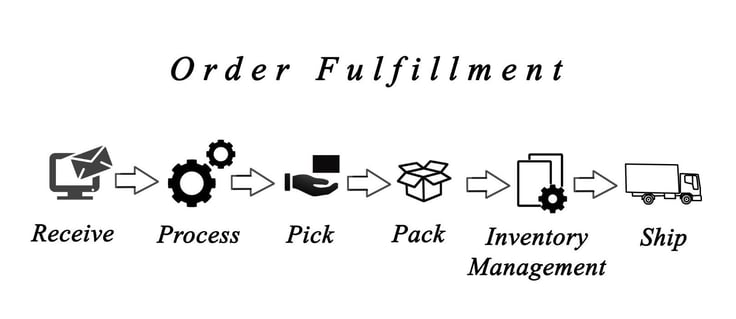 After a customer completes their purchase through your Shopify site, their order must be picked, packed, labeled, and shipped out as soon as possible. And, if you have multiple warehouses, you need to quickly route the order to the one that will get your package to the customer the fastest. Likewise, you'll need to quickly select a carrier that will get the package to your customer at the smallest cost to you.
To make the best use of your supply chain operations, Shopify lets you choose a fulfillment strategy that caters to your specific needs. In general, there are three different fulfillment routes you can take, each outlined below.
Manual order fulfillment
With manual order fulfillment, you can effectively track your inventory and control when an order is shipped. According to Shopify, manual fulfillment is recommended for businesses who:
Make products to order.
Allow customers to pre-order.
Occasionally run out of stock.
Offer a partial fulfillment option.
For many online stores, manual order fulfillment is the logical choice, since it gives them more authority over their order and inventory management. In other words, manual fulfillment is a hands-on style that lets shop owners play an active role in the ordering and shipping process.
Automatic order fulfillment
Using an automatic approach, once a customer has successfully placed their order, the order fulfillment process begins automatically (without any action on your part). Keep in mind, however, that automatic order fulfillment is best suited for ecommerce companies who:
Exclusively sell digital downloads or digital gift cards.
Use a third-party fulfillment service for all product offerings.
If either situation applies to your business, then automatic order fulfillment may be a good option for you; this method requires minimal involvement, but helps you ship much more efficiently. To set up automatic fulfillment for yourself, visit Shopify's order processing settings page.
Partial order fulfillment
The third type of Shopify order fulfillment occurs when stores fulfill part of an order via manual processes. For example, if a customer's purchase contains multiple items and one (or more) of those items is out of stock, companies can actually authorize separate shipments; part of the order will be fulfilled right away, while the rest of the items are shipped at a later date.
Partial order fulfillment can be especially helpful for companies who allow customers to place pre-orders on products that are not yet in stock. With that said, partial fulfillment has to be performed manually — meaning you cannot have automatic fulfillment enabled.
3 Shopify order fulfillment service options

Every Shopify admin has an opportunity to choose from three order fulfillment service options: (1) self-fulfillment, (2) outsourcing to a 3PL, and (3) dropshipping. While each strategy has its own distinct perks, there is likely one approach that's most appropriate for your business model.
1. Self-fulfillment
If your company is tackling unfulfilled orders at a private warehouse, you can leverage some unique advantages that other fulfillment options don't provide. By opting to fulfill items on your own, your store can maintain full quality control; you have the power to decide how and where your inventory is stored, which means you can make sure each shipment is in the best condition possible. Moreover, if/when any fulfillment errors crop up, you're right there to remedy the issue.
Bear in mind, though, self-fulfillment typically requires you to partner with an order management system (OMS) that can support your business in operating at its highest level. A good order management software will update you every step of the way, by delivering tracking numbers and notifications of an order's progress. On top of that, an OMS can also prevent costly stockouts by establishing reorder thresholds so you always have what you need, when you need it.
2. Outsourcing to a 3PL
Outsourcing to a third-party logistics (3PL) provider offers many of the same advantages of an in-house, self-fulfillment strategy, but without the same hassle and heavy lifting. Using 3PL fulfillment means your company is connected to a nationwide network of warehouses who can use their physical space — in conjunction with their tech stack — to streamline workflows, automate inventory processes, and ultimately, increase order fulfillment accuracy.
And because the leading 3PLs work with shipping carriers to negotiate reduced shipping rates, your company has a chance to offer more shipping options to its customers. So not only do you have access to your 3PL provider's expertise and vast shipping network, you can also further improve your profitability. That's probably why the majority of Shopify stores choose to outsource fulfillment, regardless of their size, location, or what they are selling.
3. Dropshipping
With a dropshipping strategy, every part of the fulfillment process is handled by your supplier or manufacturer. In that way, dropshipping simplifies a large part of the logistics value chain; you no longer have to worry about transporting goods from your manufacturer to another fulfillment center or interim warehouse location. Instead, each order moves straight from the manufacturer to the end customer without any middlemen or bottlenecks involved.
Dropshipping can be a solid option if you lock in reliable suppliers and commit to fostering those relationships. But be that as it may, many companies remain wary of dropshipping, seeing as it offers very little control over fulfillment. This means product quality is left to the discretion of your manufacturer — so if things go wrong, you're stuck on the outside looking in. Despite these drawbacks, a number of ecommerce platforms prefer dropshipping for its obvious convenience.
7 factors to consider when choosing a Shopify order fulfillment service

As you're deciding how you'll solve order fulfillment for your business, there are important items to consider before you make final arrangements. Among the most influential factors in choosing a Shopify order fulfillment service are: warehousing software, omnichannel fulfillment, multiple fulfillment methods, shipping speed, order fulfillment cost, integration, and customization.
Warehousing software
Whether you're fulfilling from your own private warehouse or working with a 3PL, warehousing software can make or break your fulfillment success. If you're going with a 3PL, make sure you approve of the warehouse management system (WMS) they use to control and monitor daily operations throughout their facility. Using a WMS is the best way for both private warehouses and 3PL providers to achieve consistent fulfillment across their entire distribution network.
Omnichannel fulfillment
Omnichannel fulfillment services have revolutionized modern selling, by giving online stores the ability to adapt to the fluctuating demands of their customer base. These days, omnichannel selling is more of a necessity than a fringe fulfillment option, given its direct impact on efficiency and profitability. Regardless if you're a small business or an established enterprise, having access to omnichannel fulfillment can deliver the revenue needed to secure long-term growth.
Multiple fulfillment methods
Online retailers should always be on the lookout for ways to increase sales while also delighting their customers. One of the most practical, yet customer-centric options is utilizing multiple fulfillment methods so you can keep more stock on hand and get goods out the door even faster. With the help of order processing automation, you can make sure orders are routed to the fulfillment center that's closest to their destination so shipping times are kept to a minimum.
Shipping speed
Like it or not, shipping speed has a big impact on customer satisfaction, in that modern consumers expect a very short delivery window. For this reason, you'll need to carefully review the shipping options from your prospective fulfillment partners. Ideally, you'd find someone who can provide a shipping service level agreement (SLA). Entering into an SLA is one of the best ways to cut down on cancellations and ensure customers receive their orders on time.
Order fulfillment cost
Today's leading 3PL companies work with a vast network of carrier partners (UPS, USPS, etc), plus hundreds — sometimes thousands — of ecommerce retailers. Because their domain is so wide-reaching, 3PLs have a leg up when it comes to negotiating bulk rates for both domestic and international shipping. So in essence, teaming up with a 3PL can significantly lower your order fulfillment costs and allow you to offer more shipping options or incentives.
Partner integration
Whether you sign on with a 3PL, dropshipper, or decide to go the self-fulfillment route, partner integration is critical for successful fulfillment outcomes. To really maximize the efficiency of your fulfillment service, you'll want to leverage integrations — that is, ecommerce technology solutions — to grow your business in a sustainable way. Similar to the importance of a WMS, an inventory management system will be paramount to achieving peak operational performance.
Customization
As is often the case for product-based brands, each item you sell could potentially have unique packaging needs. For example, some goods require precise wrapping and packing, while others can be safely shipped using a basic poly mailer. These days, the most trusted order fulfillment partners will offer customized packaging options to accommodate your business needs, as well as to provide your customers with a more memorable unboxing experience.
What next? Optimize your Shopify inventory management with Extensiv Order Manager
As you can tell, selecting the right Shopify fulfillment service for your business comes with its fair share of deliberation, given all the factors that can impact your productivity. Fortunately, investing in a consolidated system, like Extensiv Order Manager, can help streamline all the moving parts and inventory processes you have to deal with — including order fulfillment.
Extensiv Order Manager is the most dependable tool for unifying inventory flow for Shopify business owners, thanks to its ability to synchronize data on order status, inventory tracking information, and profitability metrics all in one convenient place. What's more, with Extensiv Order Manager's advanced automations and real-time inventory updates, you can stop overselling on your Shopify site and instead erase redundancies and speed up fulfillment at the same time.
But the best part? The Extensiv Order Manager + Shopify integration is a simple three-click process for the ultimate in ease and efficiency. Once implementation is complete, Extensiv Order Manager will keep all your Shopify channels in check with the help of cross-channel reporting and detailed insights on order line items and units sold. With such incredible functionality, there's no doubt that Extensiv Order Managercan transform your Shopify store into its most optimized and lucrative state.
Request a personalized demo today, and start experiencing the Extensiv difference for yourself.