Inventory management systems are the solution to overcoming operational hurdles, making your company more efficient, and bringing about scalable, sustained growth. In this article, we talk about common mistakes to avoid and how to overcome them with 11 actionable tips that you can implement right away to level up your inventory management. These tips will take your brand from merely surviving, to thriving in the competitive ecommerce arena.
7 common inventory management mistakes to avoid
Effective inventory management and optimized workflows don't just happen on their own; they require smart, savvy systems coupled with strategic and actionable insights. To be successful as an online retailer, you need a solid understanding of your supply chain processes, inventory counts, and inventory analytics across all channels.
The following are the most common ecommerce inventory management mistakes can negatively impact your bottom line and prevent your company from performing its best.
1. Overstocking to reduce costs
While this might seem like a logical strategy, overstocking negatively affects your cash flow. That's because when you buy more inventory than you can sell, you take a significant cut to your profits, and you spend money on the stock you won't earn back from selling. Not only that, if you are storing inventory with FBA, you will accrue fees from Amazon. Excess inventory is a textbook challenge to the inventory management process that too many brands accept as par for the ecommerce course.
But with the proper inventory management techniques in place, you can easily minimize storage costs, free up more capital, and decrease the numerous hassles overstocking creates. Support from an inventory management solution means you won't have to worry about dead stock taking up precious space in your stockroom, and instead, you'll get products out the door and into the customer's hands with ease.
2. Understocking to decrease risk
Understocking is commonly done to control risk. However, if not optimized, understocking your inventory frequently results in stockouts, unfulfilled orders, and disappointed customers. The challenge with understocking is, you may not be aware you're running low on inventory until it's too late, meaning these problems can start to compound and form an even bigger mess than you'd anticipated.
Inventory management systems help companies avoid overselling and guarantee satisfaction with every order. Not only will a reliable inventory management strategy alleviate the risk of not having certain items in stock, but it greatly reduces the stress that comes along with this situation, too. Less stress is an invaluable asset to any team and is sure to enhance productivity and deliver better results at the same time.
3. Running out of storage space by not optimizing your warehouse footprint
During peak season, it's likely your business will see an influx of new inventory items, resulting in much higher occupancy across all of your reserve storage spaces. Without proper capacity planning, there's a good chance you'll run out of storage space rather quickly. In this case, you'll need to rent or purchase additional space on short notice, meaning you're bound to pay a premium and, in turn, raise your cost of goods.
To avoid running out of space and truly maximize your warehouse footprint, you'll need to plan for increased capacity months prior to peak selling. This way, you can decide whether you need offsite storage, which SKUs or barcodes need to be restocked, and what type of logistics you'll need to accommodate a new fulfillment location.
4. Not using safety stock and distributed warehouses as a contingency plan
Does your business know what it would do in the event of a natural disaster that restricts your team from coming to work and keeps customer orders from being fulfilled? Without a solid contingency plan, any number of things can go wrong and completely upset your supply chain, order management, and more. Not to mention, in light of the ongoing global pandemic and its sudden consumer behavior shifts, these plans are now more relevant than ever.
Similarly, without adequate safety stock, you have little to no buffer against unexpected spikes in consumer demand, difficulties with distribution, or unforeseen delays in fulfillment. Safety stock — especially when spread out among distributed warehouses — can help eliminate the possibility of a stockout (and all the supplemental issues that arise as a result).
5. Not having enough staff to maintain optimal operations capacity
There's no doubt you've heard the old adage, 'it's so hard to find good help these days.' But the trouble isn't always in having a sufficient number of applicants; it often comes down to finding enough quality people you can trust to get the job done and represent your company well. Onboarding a well-trained, skilled staff is sometimes a roadblock to effective inventory management, but without it, your whole company suffers.
By casting a wider net as to where you advertise job listings, you'll have the potential to attract more quality candidates to your team. Plus, this will make it easier to hire early and ensure you're well-staffed just in time to tackle peak season fulfillment.
6. Inventory gaps that disrupt fulfilment
Failure to manage your stock levels and exercise inventory control is a recipe for inventory gaps and inconsistencies with fulfillment. And these gaps aren't to be taken lightly, as they can affect your credibility, ruin the customer experience, and lessen brand loyalty. When inventory gaps occur, shoppers will leave your online store and look for substitutions to the product they couldn't purchase (thus pushing them toward your competitor's site).
But the damage caused by unavailable inventory exceeds lost sales — failing to meet your customer's needs is a waste of time, energy, and resources for everyone, and could lead to a decline in retention in the long run.
7. Poor dock scheduling, slow cycle times, and dock capacity
The importance of inventory planning cannot be emphasized enough, and yet, too many business owners fall prey to mediocre planning (if any at all). Poor dock scheduling, slow cycle times, and dock capacity limits all present challenges to your inbound workflow and inventory management. Each of these concerns is avoidable, however, if you simply stay prepared and create a plan for your scheduling and cycle needs. Another suggestion is to use barcode scanners and avoid manual data entry. With the right tools and integrations in place, you can optimize your cycle times, and allow your warehouse staff to move quicker and more efficiently.
Before new products reach your fulfillment center, be sure to gather as much information and real-time data as you can. If you don't enforce this part of the process, you run the risk of supply chain disruptions, incorrect inventory counts, and general confusion across the board.
11 tips for more efficient inventory & warehouse management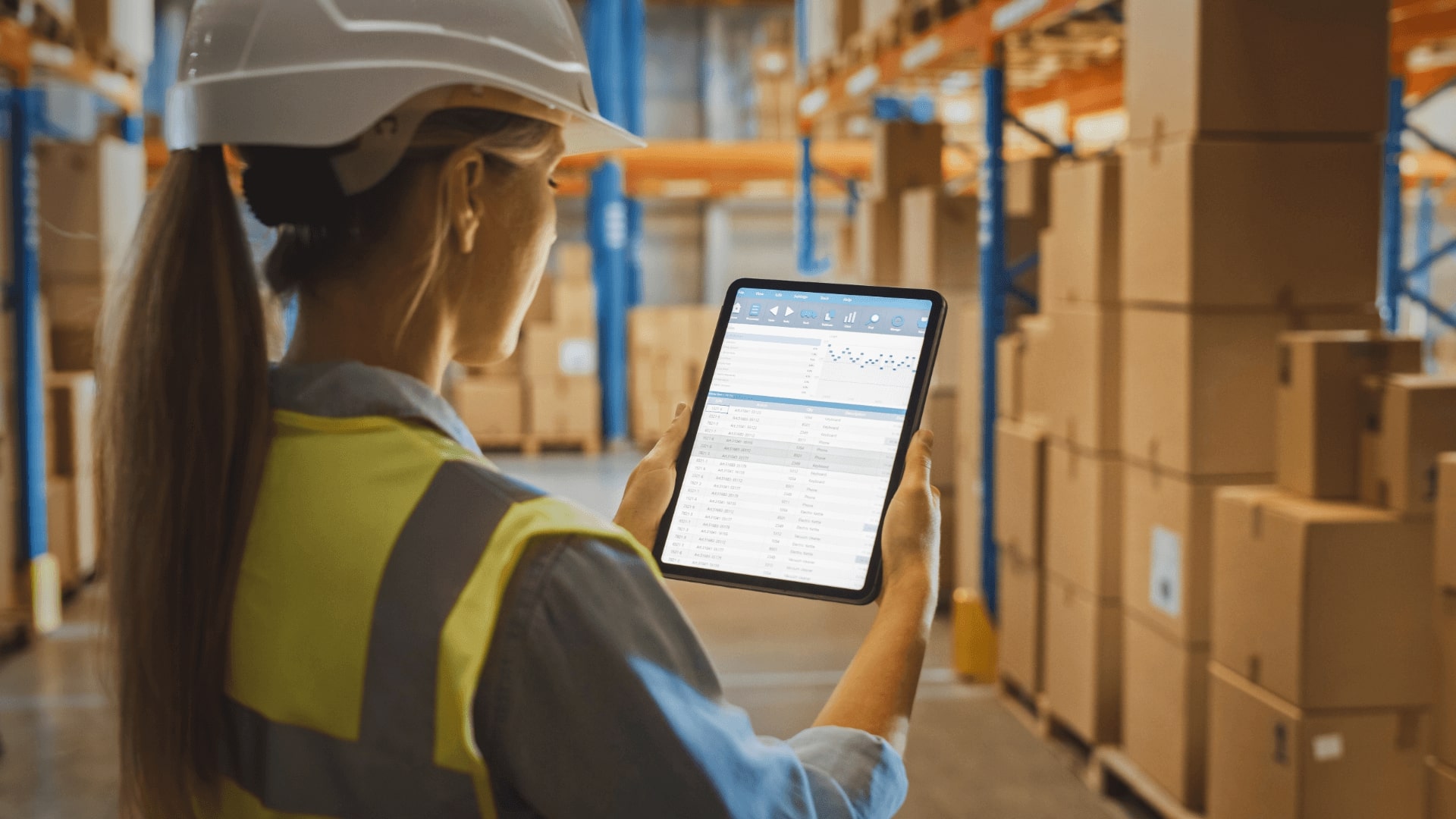 Implementing an inventory and warehouse management system is great, but it doesn't do you much good if you don't explore its functionality or all the possibilities for growth and profitability. By following these inventory management tips for more efficient inventory management, your company can boost its productivity and start seeing real results right away.
1. Use a slotting plan
When it comes to your reserve stock, high-volume inventory should be easily accessible in order to reduce warehouse congestion and improve fulfillment speeds. Using warehouse slotting, you can categorize and organize inventory throughout your warehouse or distribution center. A slotting plan will strengthen the overall efficiency of your operations and will save you tons of time to invest elsewhere in your business.
2. Sync promotions with inbound operations
Successful inventory management makes a point to sync inbound operations with corresponding marketing and promotional campaigns. That's why your company should keep an open line of communication between your supply chain management and marketing department (so the two can work together). This way, it'll be much easier to prioritize storage space and forecast fluctuations that result from sales, promotions, or seasonal discounts.
3. Use accurate inventory forecasting tools
Speaking of forecasting, the power of using inventory forecasting tools should not be underestimated. These tools can optimize your storage capacity and restocking process, in addition to helping you maintain healthy inventory levels (and avoiding increased carrying or holding costs). Forecasting tools also give you a holistic view of inventory within warehousing, 3PLs, or other fulfillment centers to balance your stock counts across all channels.
4. Use the right inventory management software
One of the best ways to phase out inventory management mistakes is to implement the right inventory management software. With proficient software, your company can forget about overselling, overstocking, encountering gaps, and so much more. Management software not only eliminates the human errors caused by manual fulfillment, but you'll stay organized, master lead times, and automate your operations in a snap.
5. Integrate your inventory management software with your other platforms
When you integrate your inventory management software with complementary platforms, the sky is really the limit on what you can achieve. Integrations offer a competitive edge that both large and small businesses can leverage to their advantage. Inventory management integrations can help you automate numerous time-consuming tasks and can streamline a variety of operations, like dropshipping, order routing, inventory tracking, and beyond.
6. Set mandatory inventory minimums
Inventory minimums are a 'precautionary' level of inventory, warning that an item is below the quantity you're required to keep on hand. If the delivery of raw materials or merchandise is going to take longer than the normal lead time, a mandatory minimum can save you from a headache down the road. Mandatory minimums signal it's time to reorder, and guarantee your inventory counts don't approach dangerous territory (regardless of demand or seasonality).
7. Allocate inventory safety stock
While inventory forecasting has become incredibly precise, keeping an appropriate amount of product (i.e. safety stock) on your shelves is still a necessity. Safety stock offers protection against abrupt variations in consumer demand, and will dramatically limit stockouts from occurring. By allocating safety stock among your warehouses, you'll feel confident you're ready to fulfill customer orders at any volume.
8. Audit your inventory before & during peak season
An inventory audit can be as simple as counting your physical inventory to confirm it matches your accounting records. Alternatively, you can also use cycle counts, wherein a small subset of inventory (in a specified location) is counted on a specific day. Cycle counting before and during peak season is a great way to verify your financials, pinpoint shrinkage, and certify you have enough (but not too much) available stock at any time. We recommend you consider implementing FIFO or first-in-first-out inventory control when it comes to auditing inventory. This way older stock gets sold first, and you don't have to worry about aging inventory.
9. Audit your suppliers
A successful supplier audit has the ability to identify, address, and prevent disputes related to a supplier's product quality or production processes. Conducting regular audits helps you get ahead of problems before they spread, and ensures the supplier is consistently meeting expectations. Audits are a good business practice for companies of all sizes, as they keep suppliers accountable for the many areas they oversee.
10. Automate replenishment
Understanding your reorder threshold and knowing the right time to place purchase orders can help you bypass inventory shortages, overselling fees, and protect your brand's reputation. Inventory management systems source historical data — including lead times and sales velocity — so you can plan your stock volume and order quantity accordingly.
Then, you can determine your reorder point settings, and activate automatic replenishments to make sure you always have the right amount of inventory in stock.
11. Leverate perpetual inventory
A perpetual inventory system works by continuously updating your inventory counts as goods are both bought and sold. This is especially important if you are a multichannel seller with various channels from marketplaces, Shopify stores, or even brick and mortar POS. This platform is essentially an accounting method that provides a more efficient way to keep track of inventory at any point in the year. Perpetual inventory is more accurate and less advanced than a periodic inventory system and can save your company from experiencing unfortunate overstock or stockout situations.