Warehousing capacity continues to be constrained as inventory levels remain high across the United States. This has led to record-level rent increases in 2022, though that may start to stabilize in 2023.
Third-party logistics (3PL) warehouses cover 40% of warehouse space in the U.S., with general retail and wholesale covering roughly an additional 32% according to a recent webinar with CBRE. Furthermore, the 2022 Third-Party Logistics Warehouse Benchmark Report asserts that low vacancies and higher rent may limit some 3PLs' ability to grow, especially as brands increase inventory levels. Taking on larger inventory positions may help to buffer retailers against future supply shocks and stockouts, which were frequent during the pandemic.
Rents Expected to Remain High as Demand for Warehouse Space Grows
While rent growth in 2023 should slow from 2022's record pace, experts believe it will remain elevated–and already has increased relative to last year. According to CBRE, the world's largest commercial real estate services and investments firm, the asking rent for warehouse space across the US has increased by $9.91 Per Square Foot per year, as compared to last year.
In a recent study, CBRE found that 21 markets held a vacancy rate under 3% in the first quarter of 2023. Savannah, Charleston, and Orange County were the 3 markets that had the lowest vacancy rates: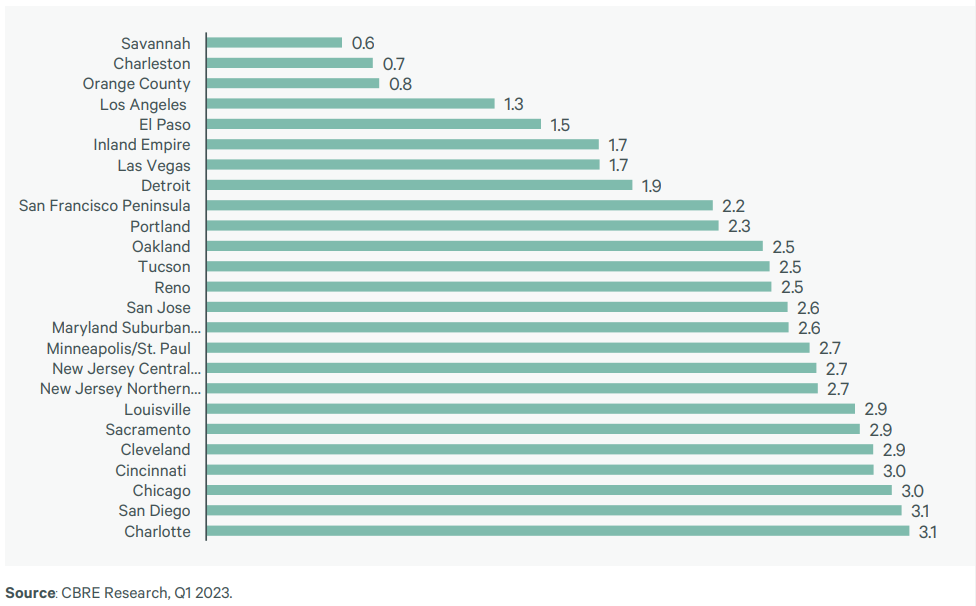 Southern California has some of the lowest vacancy rates in the nation, with the Inland Empire, Los Angeles, and Orange County taking up 3 of the top 10 markets with the lowest vacancy in the U.S.
The 2022 3PL Benchmark Report found that nearly 60% of warehouses are utilizing more than 90% of their space with another 28% running between 80%-89%, posing a significant risk to 3PLs looking to keep up with customer growth and inventory levels.
According CBRE, vacancy rates did increase modestly to 3.5% vs. Q4 of last year, though this is still well below the 10-year historical average vacancy rate of 5%.
Unsurprisingly, the 2022 3PL Benchmark Report found that 39% of 3PLs identified adding warehouses in new locations as one of the most significant opportunities in the coming year, while 35% identified finding available warehouse space as one of their biggest challenges. This is forcing 3PLs to find creative solutions for optimizing the use of their warehouse space, which includes racking and micro-fulfillment.
On the brands side, ecommerce platforms are requiring incremental inventories to be positioned closer to the end consumer in order to meet tight delivery schedules, according to Freight Waves.
Other Factors Limiting Supply of Warehouse Space
COVID-era supply chain interruptions may still be impacting the availability of building and construction materials, as much of the products used in building had been outsourced to places like Mexico, Puerto Rico, and Asia. ITS Logistics reports transportation delays of those products across national borders, in addition to the rationing of concrete and roof insulation, further slowed down the pace of construction for new warehouses. Adding to those challenges during COVID was the labor shortage caused by construction workers not getting steady work and moving onto new projects.
The impact of inflation cannot be ignored, as interest rate increases are expected to continue the current trend of aggressive leasing activity, low vacancy rates, and higher than average rents. Federal interest rates have had a dampening effect on new warehouse construction projects, with many entrepreneurs taking a more cautious 'wait and see' approach in 2023. As one industry expert states, it's becoming harder to make the returns needed without knowing where rental and debt rates will land in the near future. That being said, they're not ruling out the possibility of new construction projects gaining velocity later this year, especially if tenant demand continues to grow.
Increasing Supply Through Expansion into Secondary Markets
Even with a robust construction pipeline that has many projects set to deliver in the coming year, JLL reports warehouse construction firms may find themselves unable to keep up with the rapidly increasing demand as the backlog of current projects will force new requests to be delayed. Many tenants are being forced to expand or relocate to secondary and tertiary markets.
For companies looking to build warehouse facilities in new markets, access and proximity to viable labor is a key factor to determining the viability of a new market.
Below are the top growth markets and those with the highest square footage of warehouse space under construction, according to CBRE: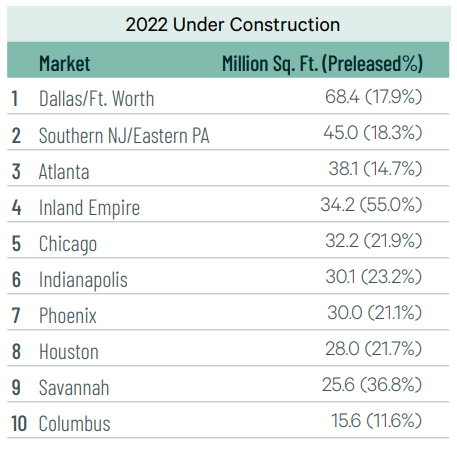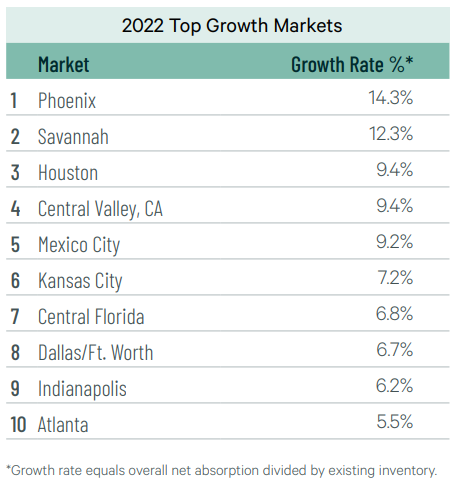 With ecommerce requiring three times the space of traditional through-put distribution, low vacancy rates and high rent costs mean that both 3PL and private warehouses will need to embrace creative solutions in order to expand their footprint.
For 3PLs seeking to expand warehouse space, a viable and less risky alternative to renting warehouse space in a different location is by partnering with other 3PLs. The 2023 State of the Third-Party Logistics Industry Report named the growth of 4PLs as one of our top trends of the year thanks to new technologies that make it easier to coordinate inventory and warehouse transactions across a 4PL network, including Extensiv Network Manager. Furthermore, you can use Extensiv's Fulfillment Marketplace to find 3PLs in complementary geographies so you can extend your geographic footprint to reduce shipping costs and shorten delivery times for orders in other parts of the country.
Interested in learning more about warehouse & industrial real estate market trends and tips on how to tackle warehouse capacity challenges? Watch our webinar with CBRE on Warehouse Real Estate Trends.