Your eCommerce business is expanding. You've found a reliable supplier and have established comfortable margins on your products. You may have even implemented Extensiv Order Manager's inventory management and analytics software. Your product reviews are on the rise and revenue is steadily increasing. So what is key to continued growth? Your supply chain.
The Basics
A streamlined supply chain is fundamental to the success of any importer or exporter's enterprise. From purchase order to delivery, shippers need to ensure that each point in the process is executed timely and flawlessly. Any hiccups along the way can cost thousands in lost sales. Your product availability and continued growth can be quickly diminished by unforeseen events in your supply chain.
The foundation of a strong supply chain is a forwarder and broker who understand your shipping needs from start to finish. Will you need your cargo reworked at the time of import to meet delivery requirements? Do you have questions about what is required to expand a foreign marketplace? What about the changing partner government agency requirements for US importers? A shipping partner who understands the needs of growing shippers is invaluable to your enterprise expansion; it's not just about getting your goods from A to B, but also how best to get them there. Whether you are looking for advice on how to bring your funds home at the best exchange rate or need an alternative fulfillment solution, you'll want the trusted advice of an experienced partner.
What to Measure?
(Most) Details Matter "Not everything that counts can be counted, and not everything that can be counted counts." When it comes to your supply chain, Einstein's simple yet profound advice rings true. There are innumerable events you could choose to measure when evaluating your supply chain. Let's look at something seemingly simple - your commercial documents. Does your supplier provide accurate documents on time? If so, you're in luck. If not, you may be looking at several delays caused by one event. Your Importer Security Filing (ISF) could be delayed after reviewing with your broker to correct the Harmonized Tariff Schedule (HTS) code. Missing weights can delay customs clearance if the HTS requires the net weights to be reported; a delayed customs clearance means storage. Each of these delays relates back to the supplier's documents and indicates improvement is needed. When looking at metrics, it is important to identify an issue and its subsequent effect. We'll focus on two key areas to target when evaluating your supply chain. Key performance indicators can measure each milestone and can help you identify strengths and pinpoint weaknesses to allow you to optimize your processes.
Vendor Performance
Does your vendor meet your cargo ready deadlines to keep your inventory in stock? Is your supplier able to package your cargo to specified requirements? Are you incurring additional fees because they do not have an export license?
Each of these, among many other key performance indicators, can either expedite or delay your shipment booking. A missed cargo ready date may require you to switch from a cost-effective all-water service to a costlier rail or air option to get your goods to your destination to meet your deadlines. If you are coordinating multiple suppliers under FOB terms, a missed cargo ready date could delay not only one supplier's order but several. An incomplete ISF could put you at risk for a customs penalty or delay your shipment to the next sailing.
Determining which metrics to evaluate can seem daunting. For new shippers it may be best to start with easily identifiable objectives:
Cargo ready date accuracy
Quantity booked v. quantity purchased
Document turnover
These are quantifiable metrics that can easily evaluate your suppliers' performance. As you expand, you can then fine tune the data further.
Setting clear expectations for your vendor's production lead times allows for performance analysis and adjustments to set production attainable goals. Utilizing this data, you will be better able to forecast your lead times for accurate shipping planning. Finally, by implementing vendor performance metrics, you will be able to hold suppliers accountable to meet production requirements and address any service issues quickly.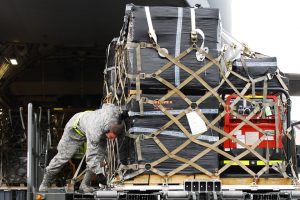 Your Freight Forwarder & Customs Broker: Metrics for the Middleman
Your shipping partner is paramount to the success of your supply chain – after all, they are the party responsible for getting your goods from point A to point B! How well do they do this? Measuring your forwarder's performance is equally important. Here are some things to consider when determining what matters: • What is the time between shipment approval v. shipment sailing? • Is entry submitted 5 days prior to vessel arrival (indicated in the arrival notice)? • Are your goods available and picked up prior to Last Free Day to avoid storage? Your supply chain depends on a reliable shipping partner – from shipment booking to delivery, and every step along the way, you need your forwarder to execute each shipment perfectly. Any delays along the way cost you money.
Transparency within your supply chain gives you the visibility you need to ensure smooth sailing. You'll want to work with a shipping partner that can provide you the information you need when you need it. Shapiro 360 not only delivers 24/7 shipment tracking but also in-depth reporting to analyze your shipment data. By understanding your seasonal freight spend and duty costs versus market trends, our services help you better predict and manage your supply chain budget.
Together, your vendors and logistics partners are key to your expansion as an eCommerce entrepreneur. In understanding their strengths and weaknesses, you can take control of your supply chain. While the key milestones may vary from shipper to shipper, the overall benefit of defining metrics and goals for your vendors is clear.
With over 100 years of shipping experience combined with our cutting-edge technology, Shapiro is the trusted freight forwarder for the modern shipping era. Our services are designed to provide you complete transparency throughout the shipping process while giving you the data needed to make strategic decisions for your enterprise. With our GlobalFlex network and VendorLand partners, we can help you expand your enterprise in any one of the growing international eCommerce markets.
Whether your company is just starting to expand, or you are an established eCommerce veteran, our services can be tailored to your individual needs to take your business to the next level.
Let's start the conversation. Email us ecomm@shapiro.com to see how Shapiro can help you grow your eCommerce enterprise.