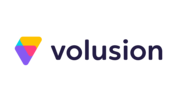 Volusion
Volusion is a leading ecommerce solution for small businesses. With its powerful shopping cart software, Volusion has helped thousands of merchants profit from their passions worldwide. Shoppers have spent more than $28 billion in transactions and placed over 185 million orders on Volusion stores. In fact, merchants earn 2.8x more on Volusion thanthe leading competitor.
Volusion's shopping cart software includes features for product merchandising, site design, search engine optimization, online marketing and order processing. Other notable features include mCommerce, drag-and-drop content builder, style editor, affiliate marketing and a loyalty rewards program. Volusion also offers additional services including Volusion payments, credit card processing, fraud protection and the full spectrum of digital marketing and design services. Volusion has been PCI certified for over 10 years, marking its commitment to merchant security. It's also listed on Visa's approved provider list.
No extra fees.
All order sources are included with all plans.
---
Choose a destination to integrate with Volusion
Choose a source to integrate with Volusion
110+ Ecommerce Integrations, 80+ EDI Retail Partners, 90+ Warehouse Systems, 1000+ 3PL Integrations, Millions of Orders!
"3PL Central has taken a pivotal role in our growth — which was 247%. We are at maximum efficiency, 99.9% inventory accuracy, and customers are ecstatic."
— LMS Logistics Solutions
"3PL Central has taken a pivotal role in our growth — which was 247%. We are at maximum efficiency, 99.9% inventory accuracy, and customers are ecstatic."
— LMS Logistics Solutions