Over the past few months, many of us are still trying to get used to this "new reality" of stay-at-home orders and business closures. Recently, Extensiv hosted a group of experts to discuss how to manage the changes impacting the logistics and ecommerce industry, how this is affecting 3PLs, and how to maintain operational excellence.
Whatever you call it, this new landscape has drastically changed how we buy things and our delivery expectations.
Declining B2B Retail Sales
While consumers turn to ecommerce options to stock refrigerators and pantries, March saw an 8.7% decline in retail sales with clothing and accessories stores seeing a plunge of 50.5% in sales. Just yesterday, J.Crew Group became the first national U.S. retailer to file for bankruptcy since the coronavirus pandemic. However, during the past few years we have seen a number of retailers go out of business such as Toys "R" Us, Sports Authority, Payless Shoe Source, and Gymboree.
In fact, retailers will be some of the hardest hit this year with an anticipated 77% downside in sales.
Accelerating Digital Engagement and Ecommerce Activity
Buying online isn't necessarily a new trend. Last year, Amazon had $7.16 billion in estimated gross sales on Amazon Prime Day alone and an average of 41% of consumers receiving one to two packages from them per week. While Amazon may have paved the way to shape online consumer expectations, there is a silver lining for omnichannel retailers looking to take advantage of this latest landscape. Walmart and Target are just a few retailers who now offer curbside delivery in addition to an increase in online sales. Expectations are that these trends will continue with a 420% increase in shoppers saying they will buy online with store pick up compared to what they currently do.
As consumers continue to develop their online shopping behaviors, third-party logistics warehouses must prepare to support these new buying trends for their customers. Most can accomplish this by reducing manual processes for small parcel picking, packing, and shipping by implementing paperless best practices. As online shopping rises, so does the need for 3PLs to quickly fulfill higher order volumes with repeatable and scalable workflows.
In addition to the need to support omnichannel buying habits, there has been a noticeable change in not only how they buy but what they buy.
COVID-19 Changed Ecommerce Buying Habits
Many of us have heard of, or even experienced, the hoarding buying habits for certain items such as toilet paper, canned food, paper towels, household cleaning products, and bottled water. But what about the surges in home fitness products, computer accessories, and office furniture? With work-from-home policies still in full effect for most of the country, the need to work comfortably and stay fit has impacted buying habits.
Some changes seem expected like the increases in-home entertainment, food delivery, and take-out. The same can be said of declines in travel, public transportation, or apparel. However, there have been some unexpected changes as well. These include bread machines (+652%), digestion and nausea medicine (+144%), or ping pong tables (+89%).
Warehouses who support a variety of customers must prepare to handle unexpected surges in order volume for even the most unlikely of items. In fact, these unforeseen buying habits can impact a 3PL just like a peak season when a warehouse must deliver optimized and efficient results under pressure.
Be Prepared with WMS Connectivity
In today's buying climate, warehouses need to support their customers wherever they sell, and they must do so seamlessly. 3PLs must integrate their warehouse management system (WMS) with shopping carts, shipping labels, accounting software, transportation management systems (TMS), and more in order to stay competitive.
And no one knows that more than our customers who are experiencing an 81% increase in order volume compared to this time last year.
If you're interested in speaking with one of our 3PL logistics experts contact us today to schedule a time to chat.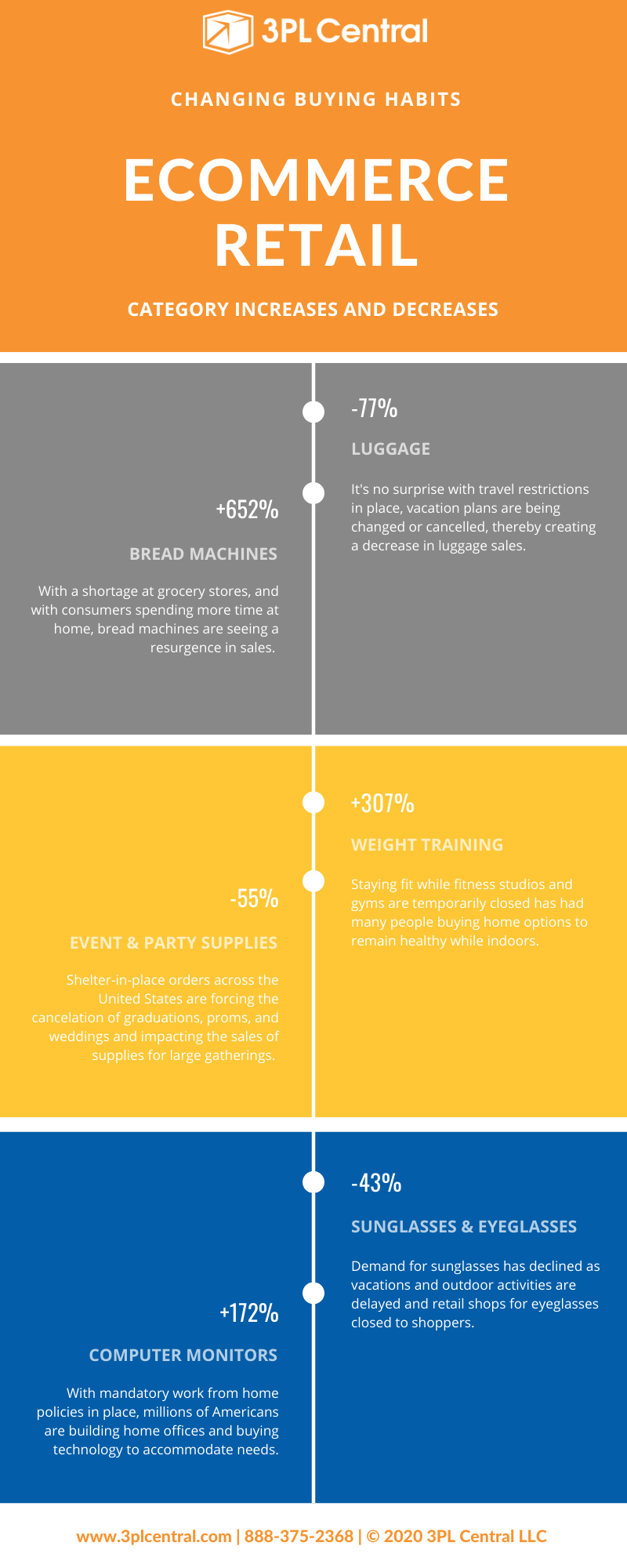 Share this Image On Your Site