Last week, I moderated a live conversation, The Changing State of the Third-Party Logistics Industry, to discuss how to manage the rapidly evolving ecommerce landscape impacting warehouses and consumers during the coronavirus pandemic. David Miller, General Manager of Extensiv, Brandon Burns, Director of Business Development, and Steve Oakley, Vice President, Northwest Region of Javelin Logistics joined the call to share their insights on the changing ecommerce landscape for 3PLs.
With this unprecedented, and extremely complex, environment, many 3PLs are trying to navigate this "new reality" while continuing to best serve their customers. For many warehouses, this has been challenging considering that only 38% of attendees we polled during our conversation did not have a contingency plan in place and 23% had something in progress but it wasn't yet completed.
Order Volume Growth for 3PLs
Despite this challenge, many 3PLs see increasing order volume. In fact, 72% of warehouse attendees said their order volume was up with only 27% seeing a decrease. This isn't too surprising considering that ecommerce revenue increased 37% and ecommerce orders jumped 54% in just the past seven days.
These represent positive changes for those who have embraced ecommerce and diversified their warehouse. However, don't fret—there is still time to take advantage of this growing industry. Currently, with Americans sheltering-in-place, studies show people embracing how to best use ecommerce. Last year only 4% of Americans purchased groceries online, while 41% are doing it for the first time this year, with continued stay at home orders offering ample time for people to get the hang of how and what to order. Plus, with many people over 60 buying online, this will add to the nearly 40% of consumers, born after 1995, who already heavily use ecommerce.
This shift to ecommerce isn't good news for everyone. Many retail businesses who did not develop ecommerce capabilities will shut down brick-and-mortar stores due to the coronavirus. With retail sales in the United States seeing the deepest drop since 1992 at 8.7%, there is a silver lining for 3PLs who can help retailers by guiding them through the transition to ecommerce and increased online sales. For example, we're seeing unprecedented rises in warehouse customers who have "hot" or popular inventory items and must efficiently ship these online purchases. On the other hand, there have been some obvious drops in certain categories, such as camera's sales down -63% and bridal purchases -64%, while others are up like disposable gloves by +670% and cough and cold products by +535%. In any case, 3PLs have an opportunity to help their customers navigate this quickly changing environment.
Is Your 3PL Prepared for Ecommerce Fulfillment
While 3PL warehouses prepare to best support the immediate needs of their customers with their current technology, we have received many questions around how to best automate these warehouse processes to enable growth. As millions of shoppers start to learn how to best use ecommerce, 3PLs should consider how permanent this change may be. Since January of this year, online orders have already skyrocketed by 80%, even prior to COVID-19.
As mentioned above, it is not too late for 3PLs to begin to audit their ecommerce warehouse processes, implement best practices, and align customer expectations to take advantage of ecommerce fulfillment. Of the 27% of retail stores temporarily closing, warehouses must be ready to support these customers online if these stores don't reopen.
If you have any questions about how to improve your WMS software, including ecommerce fulfillment, and diversify your 3PL, please reach out to speak with one our experts. You can also check out our infographic below for the latest stats and trends.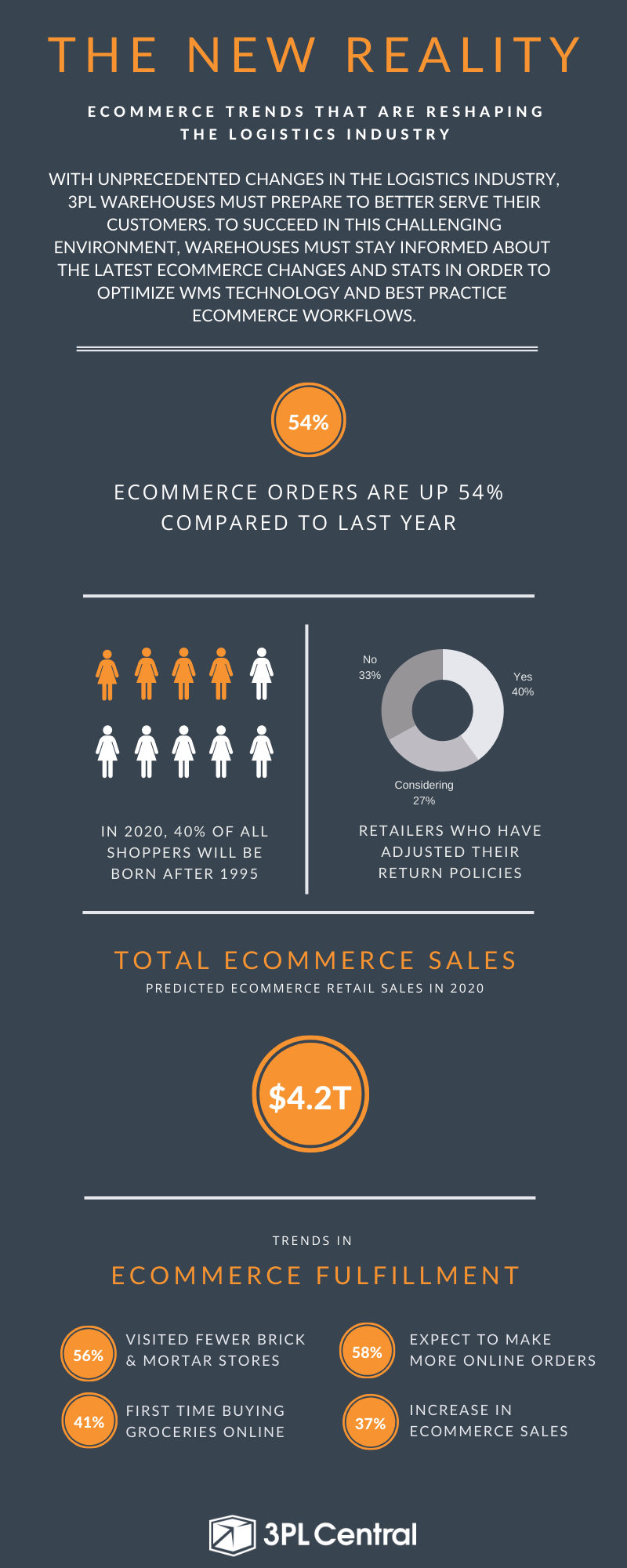 Feel free to share on your own website using the code below. All we ask is to please include attribution to 3plcentral.com with this graphic.
Share this Image On Your Site