"You may no longer sell on Amazon.com."
I'll never forget reading that message.
My business relies on selling on Amazon. It's where a majority of my income comes from, and although I have diversified, most of my eggs were in one basket.

I read and re-read the email, hoping to find something to relieve the fear coursing through my body, but all I saw was an option to appeal their decision. They had suspended me, stating that our credit card was associated to another account (which it wasn't). Having multiple accounts is not allowed on Amazon, and was grounds for suspension.
How could this have happened?
I decided it was time to go for a run. Running always helps me think, and I definitely needed to consider how to respond.
I like to move strategically, and not lose my calm. I feel that overreacting gets in the way of an effective message, and would lead to me being portrayed as erratic and careless.
Since I was already 'in trouble' so to speak, I didn't want to give them any reason to see me more negatively than before.
After a quick shower, I spoke to the team and wrote my response to Amazon.
We could only think of one instance that might lead to the suspension. It was careless perhaps, but we didn't really do anything wrong.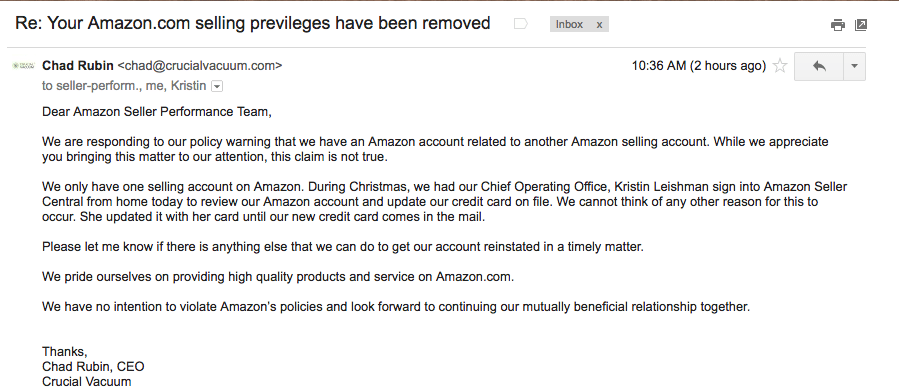 I thought that surely, they would see their mistake and take care of this matter immediately. But I was wrong…
My answer came back quickly and it wasn't in our favor. It was time to come up with a damn good plan of action. I needed to recover my Amazon selling privileges, my business, my team, my life depended on it.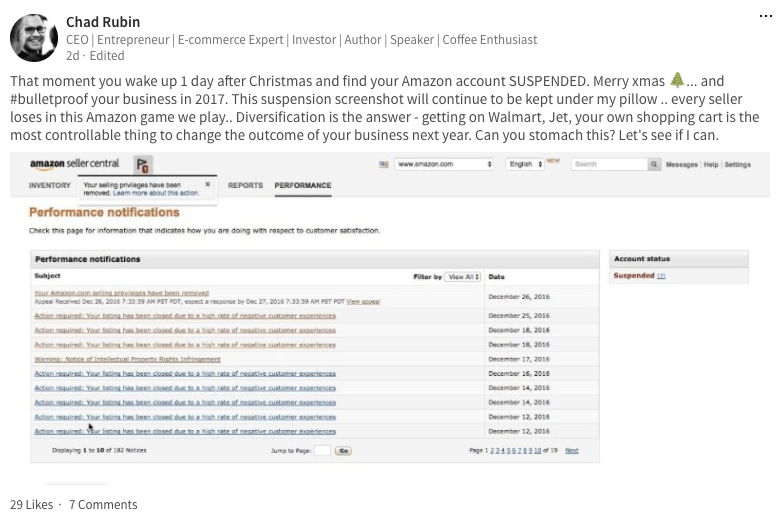 Research Mode
I started looking for every suspension story I could.
I searched Google, and I ran through multiple searches on Linkedin for Amazon Seller Performance, Amazon seller support, and Amazon's TRMS.
I'm not the kind of person who gives up easily. I face a challenge head on and do not take no for an answer.
To be honest, this isn't even the first time my account with Amazon had been suspended, it just happened to be the first time it made such an incredible impact on my business. It was a scary impact that made me realize how in the future, I'd better get some diversity in my business practices.
I spent all day reaching out to anyone that seemed to have any experience working with Amazon suspensions, if there was a person that could help, I would find them.
In the meantime, I uncovered a lot of information, such as:
Amazon sellers get suspended quite often.
Others are looking for ways to get their accounts unsuspended, too.
There are good ways to respond, and bad.
Understanding why you are suspended is the root of figuring out how to fix it.
It doesn't matter how much volume you sell, big sellers are suspended, too.
Most suspensions take 40-60 days for account recovery.
I also discovered the following consultants that can assist during a suspension.
I specifically enjoyed finding the community Ed Rosenberg has developed, and spent a lot of time reading through the information there about similar issues. I also found this great article about Amazon seller suspensions that goes over best practices for selling and avoiding suspension.
As noted in the article above, you can re-appeal the Amazon decisions, and of course I worked on doing that. The ironic thing is, during the time my account was suspended, counterfeiters had hijacked my listings.
Diversification
The one thing that stuck out to me during all of this research and fear was the major dependence my business had on Amazon. I had little else in place that would allow my business to keep going if Amazon never reinstated me.
I was looking at months without revenue and I had nothing to fall back on. I spent some time with my team and we began developing plans to diversify the business, but even then it would be awhile before we would see revenue from this.
I re-appealed Amazon's decision, carefully explained our stance, and asked for information on how to proceed.
To try to get the business up and going, I also spent some time looking into being an Amazon vendor, as opposed to being just a seller.
Finally, after an exhausting day I went to bed.
Account reinstatement after 1 day
The next morning, I received another email from Amazon. My account was reinstated, and the team apologized for any inconvenience caused.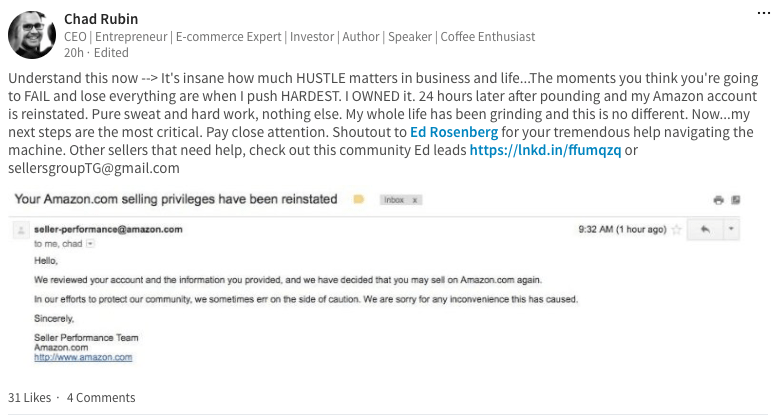 I posted about it on Linkedin to express my excitement and gratitude.
What I Learned
While I had been suspended before, this was an incredible experience. I'd never heard of someone being reinstated so quickly. Whereas most suspensions take 40 to 60 days to deal with, mine was reinstated in a mere 30 hours.
Despite the speed with which this issue was resolved, I lost a lot of money during that day. Plus, it could have lasted longer, even years. Because of that, my team and I have spent a considerable amount of time working on our business plans, and diversifying revenue streams.
We still rely on Amazon, but now have more systems in place to keep things going if something like this ever happens again.
What to do if you're ever suspended on Amazon
If you're in the same situation, here's some advice on what to do next.
Don't answer right away. Go for a run or take a shower while you develop a thoughtful response.
Reach out to people who can help you, and ask for advice.
Do your online research to find next steps and rules. You could reach out to my list of consultants above for help.
Diversify, so that you aren't 100% reliant on Amazon.
Have you ever been suspended? What are your backup plans?
For more info on this topic, check out our guide on Amazon suspension prevention.