The centuries old blessing "may you live in interesting times" holds as much promise as it does a threat. The 2022 holiday season is certainly setting up to be "interesting" for ecommerce vendors and brands as they face unprecedented shipping costs, record inflation, and sky-high customer expectations for fast and free delivery.
Research reveals that marketplaces are the largest and fastest growing component of ecommerce. Amazon Marketplace accounted for 64% of Amazon Gross Merchandise Volume (GMV) in 2021, up from 61% the year before.
Marketplaces capturing an increasing percentage of overall ecommerce order volumes comes as analysts are predicting record Q3 ecommerce revenue levels. For example, a new report from FTI Consulting projects that ecommerce will hit the $1 trillion mark in Q3 of 2022, three years earlier than the firm previously predicted. FTI's report says the ecommerce share of retail sale will hit 22.1% this year, up from 20.8% in 2021 and 15.2% in 2019.
Each week, Extensiv publishes Amazon, Shopify, and other marketplace ecommerce order volume trends on Extensiv Market Insights. The site provides year-over-year and week-over-week changes in average order volumes across thousands of merchants processing millions of orders. This data helps merchants correlate the trends in their own business with the broader market, enabling them to quickly adapt within a rapidly changing marketplace.
Our data is updated weekly, but we've taken a step back and looked at the data from the entire 3rd quarter (weeks 27–39) to offer guidance for brands as they head into the holiday season.
Data Highlights
Amazon Marketplace
Week-to-week marketplace ecommerce order volume on the Amazon Marketplace in the 3rd quarter was mostly flat, with a slight increase in the average weekly movement.
Amazon Marketplace saw an average weekly gain of 1.4% in the 3rd quarter. However, the average number of sellers was down (-10%).
Since this data only covers Q3, it doesn't include data from the October Prime Day event.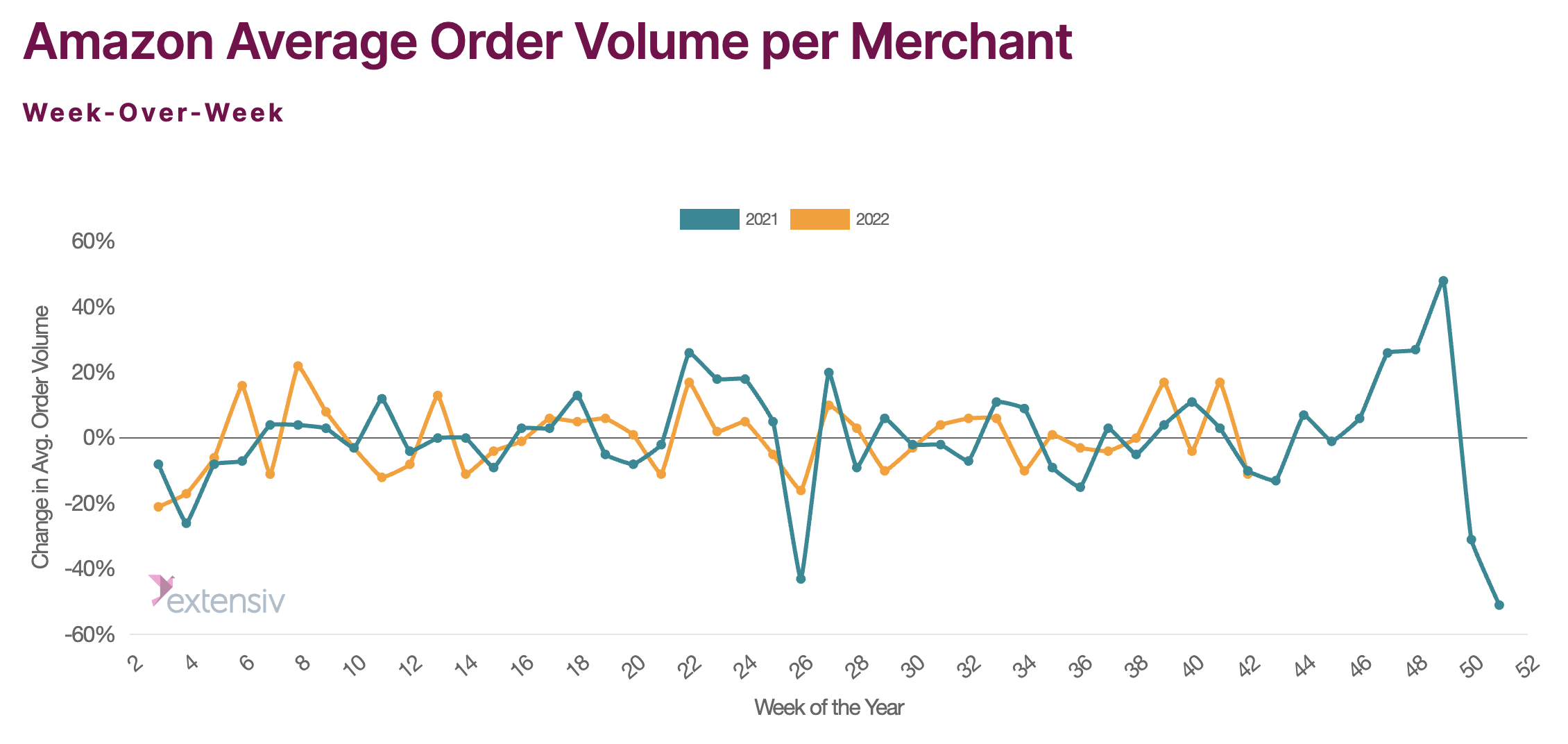 Shopify
Week-to-week ecommerce order volume through Shopify was also mostly flat, but with a slight decline.
Shopify saw an average drop of .15% each week in the 3rd quarter.
Shopify is massively down when compared to pre-COVID levels (-36% vs Q3 2019) although the number of sellers has tripled in the same time period, which may indicate many new smaller sellers without loyal consumer bases are leveraging Shopify to build their brands.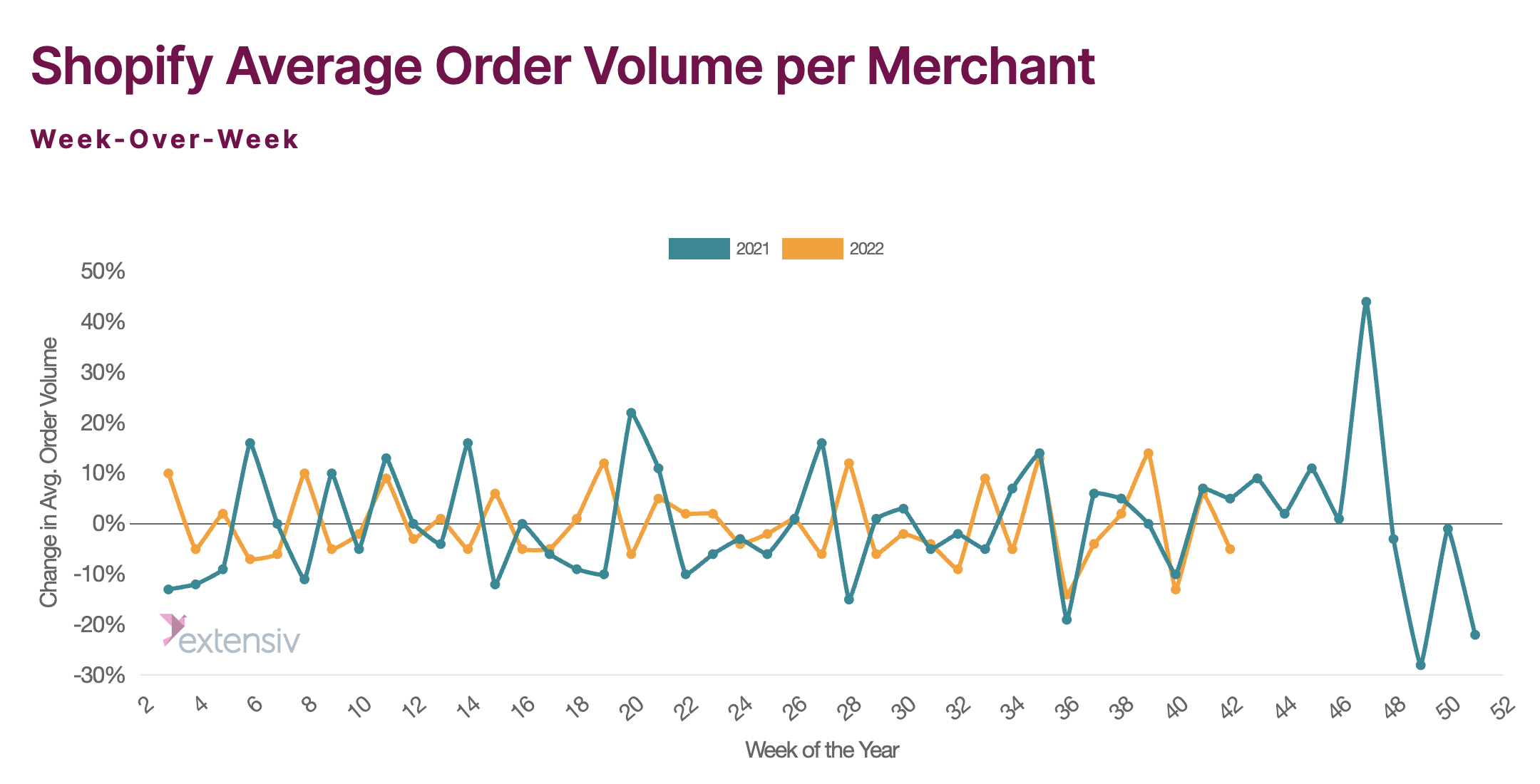 Other Marketplaces
There are dozens of other marketplaces (such as Google Shopping, Etsy, Rakuten, Groupon Goods, and more). Overall, these saw significant volatility and variability from week to week.

Changes to order volumes can range from a 35% increase one week to a 17% decrease several weeks later.
Netted out in Q3, other marketplaces saw the highest average gain of 1.5%.
The number of sellers in other marketplaces remains stable over Q3 2022 and has seen a massive uptick since COVID.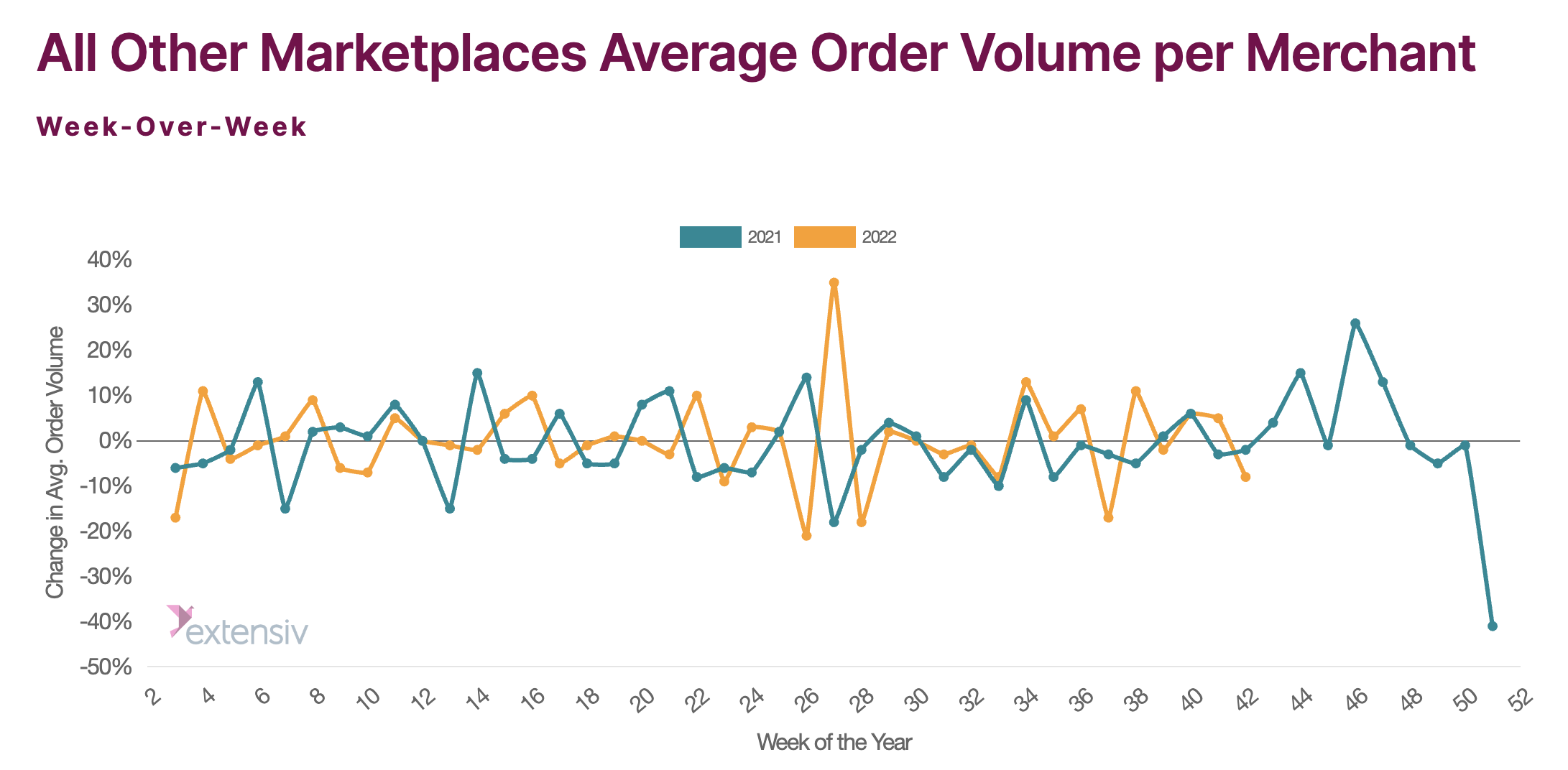 What Does All of This Mean?
It's a good time to sell high-end, luxury products
If ecommerce revenues are at an all-time high, yet order volume is flat, that indicates that people continue to buy and sell high-end (expensive) products online. This could also point to higher average price points as inflation impacts average price per order and prioritization of consumer spending.
Cheaper products are getting squeezed
Conversely, this could mean many less expensive products are getting squeezed online. This makes sense, as shipping costs continue to rise as the same customer expectations for fast delivery are increasing.
Lower end stocking stuffers might move to brick-and-mortar stores
With inflation and high fuel costs, "stocking stuffer" type items may be too expensive to order online and we anticipate more consumers returning to brick-and-mortar stores and shopping discount sales rather than ordering online and absorbing the rising shipping costs.
---
To learn more about how to automate your organization's fulfillment strategies, download the Fulfillment Automation Guide and check out our blog, Tools and Tips to Help You Prepare for the Final Stretch into Black Friday and Cyber Monday.
To stay up to date on the latest Market Insights, please subscribe to our blog.