Amazon has launched a new self-service tool for customers to host giveaways directly on Amazon's site. With this announcement the e-commerce giant is putting itself in the position of becoming a promotions platform that could become quite handy for sellers.
Normally the word 'giveaway' is reserved for various social media sites, such as Facebook, Twitter, YouTube and Instagram as a handy way to raise awareness, but now with this new tool Amazon will be playing a major role in cross-channel promotional marketing.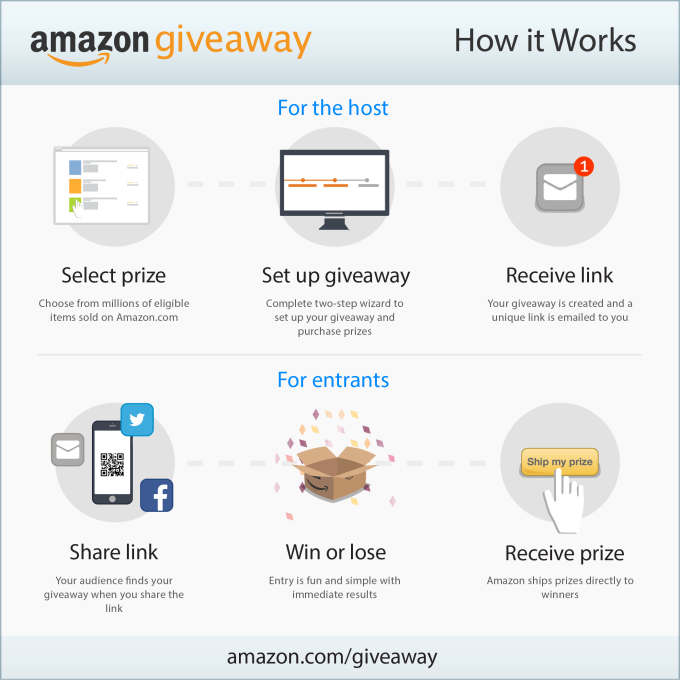 This new giveaway tool would directly utilize Amazon's optimized shipping abilities. Amazon would see to shipping the prizes for the giveaways directly to winners.
Prizes themselves would come from Amazon product pages, where the user could set up a giveaway with just a few clicks of a button. Ease of use is definitely an aim for Amazon in general, and this tool is no different. A giveaway can be set up in just a few minutes time.
Hosting is free, only costing you the price of the prize itself, making it rather appealing for online sellers and eCommerce companies.
Amazon does control all restrictions for the giveaway since they're responsible for logistics of the prize. These restrictions include:
Only open to residents of the 50 US States
If the prize value goes over $500, it is not open to residents of Rhode Island.
Amazon automatically sets the expiration date of the campaign
Amazon does not let you edit a campaign after you set it up, so if there's a mistake,there's no editing it.
The giveaway cannot be embedded on your own site.
You must use Amazon's designated link, which is hosted by Amazon (There is no using your own link)
Host is responsible for shipping costs of the items
Giveaway hosts will not be receiving the entrant's information.
For further details see Amazon's Giveaway FAQs
Do you think this new tool could benefit you as a seller, or your e-commerce company? Cross-channel promotional marketing, when managed properly, can provide any company with tremendous results. Whether you're looking to increase brand awareness, or get attention on slow-moving inventory there's plenty of room for opportunity.
To learn more about Extensiv click here.