In just a couple of decades, China has become the most popular market to source products from. And as with any widely popular product sourcing movement, there are plenty of entrepreneurs and companies buying all kinds of stuff.
Global sourcing & business expert Rahul Sarkar shared a graph depicting the US Imports data (from 2006-2015) in absolute $ value from China and India. It shows that China is continuing to lead the way as the go-to country for sourcing products.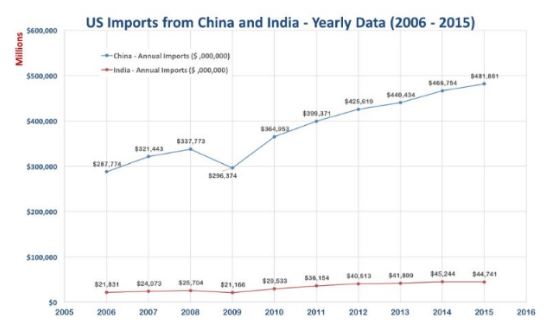 Is it late for you to jump in? Evidence suggests the contrary – that many started in recent years, an indication of continued opportunity. However, you do need to prepare yourself for distinct challenges of sourcing products from China, especially if you don't plan on visiting the country.
The thing is, the path to successful sourcing from China is paved with dodgy suppliers, broken dreams and one-sided relationships. Many wonder if it's even possible to find the right suppliers without visiting mainland. They've heard the horror stories:
It's reasonable to have second thoughts, but know that there's no best way of sourcing products from China. Your success will depend on your level of knowledge about sellers, your product niche, negotiation skills, relationship building ability and many other factors.
Advantages & Disadvantages of Sourcing Products from China without Visiting
Before you learn how to profitably navigate the product sourcing process, you should be aware of the pros and cons of sourcing products from China without physically going there.
Pros
Easy To Compare Suppliers:

When you'll use platforms like

Alibaba

and

Made-in-China

to find suppliers for your product, you'll get a list. It's easy to compare suppliers on the basis of ratings, reviews, prices, shipment time and other similar factors when you see their profiles and offerings in one place.

Cheaper Sourcing:

You'll benefit from cost-effective product sourcing if you analyze suppliers and place orders online. You'll end up saving on airplane tickets, accommodation, food and other expenses associated with visiting a factory in China. The time and money could be spent on finding the next big thing in your niche.

Early engagement:

WeChat and

other messaging tools

have made it easy to contact suppliers quickly and chat with them in real-time. Merchants can engage suppliers early than setting up official meetings in China. Communication tools will enable you to speak about product features on the fly.

Entitlement to Samples:

Because you'll not be visiting the supplier's factory/warehouse, you would be in a good position to request samples for a product you're interested in. A smart move would be to request samples from 3-5 suppliers you're considering. Merchants that receive samples can take note of the delivery times, damage, import costs, etc. to get a rough idea on how shipments might play out in the future.
Cons
Can't Build Deep Relationships:

Online sourcing doesn't give you the opportunity to meet suppliers in person. As a result, you may not be able to develop deep relationships as is possible over lunch/dinner meetings, bar retreats, city tours, etc. This may also limit your ability to negotiate a lower price. Real-time communication tools work well, but just can't match the level of in-person relationship building.

Risk of Scam:

You can be a victim of

a plethora of scams

when sourcing products from China without going to the country. For instance, the suppliers you choose to work with may not have a factory in reality, but portray themselves are credible wholesalers. You'll need to conduct a lot of due diligence to eliminate the risk. The next section of this post will prepare you for the worst.

Higher Minimum Order Quantity:

Chinese suppliers aim for big profits; as a result they might not be interested in buyers who order less than 10 pieces for expensive items or less than 100 pieces for lower-priced items. Therefore, you may have to deal with higher minimums, which could be out of your budget. Frequent visits to their factory is key to making them reduce the minimum order quantity threshold.

Long Waiting Times:

Most Chinese vendors won't consider manufacturing your product until an actual order is placed. Some may demand a small down payment to cover material costs. If you request samples, then you would experience twice the waiting time (first for the sample, then for the actual order), unless the vendor does expedited shipping. Also, vendors don't take online buyers as seriously as customers making inquiries face-to-face, so they may not present solutions to reduce waiting times
The Secrets to Sourcing Products from China with Minimum Risk
Overall, sourcing from China is not easy and there's a risk of money being lost and deals going bad. Fortunately, there are actionable ways to reduce this risk. Below we've listed the most effective measures to source products from China with minimum risk.
Picking the Right Product to Sell
You've likely received advice that you should source and sell products that you're passionate about. In reality, that is the biggest mistake you could make. In fact, you may end up focusing on products that are too saturated or whose imports have been ramped up by eCommerce giants.
Don't let your personal preferences of passion bias your thinking!
Instead, take these product guidelines to heart when deciding what to sell.
Avoid Counterfeit / Fake Branded Products:

You may end up with a big expense in settlement fees (several times bigger than the profits you make by selling counterfeit items) if you source products that are copycats of branded products. Luxury brands have already sued Alibaba over counterfeits, so don't start a venture that's associated with questionable legality.

Read this guide

on how to identify counterfeit items.

Seasonable Is a BIG No:

Don't pick products that have high demand during particular times of the year. If you're going to sell Christmas-themed items or Fourth of July related products, you could end up with loads of worthless inventory. A better approach is to select products that have consistent demand throughout the year.

The Product Should Be Easy To Ship:

If you're going to carry inventory, choose items that ship easily. Select products that are lightweight and fit into small or medium-sized packages.

High shipping costs

for products like washing machines and refrigerators can eat your margins alive.

Consider Items That Are Simple To Make: Consider products that are easy to manufacture and allow for a good margin of error. Remember, most Chinese suppliers don't implement the highest quality standards or configure to order options when manufacturing, so the less technicalities involved in manufacturing your product's design and features, the better (as you won't be traveling to analyze the manufacturing process or labor skills).
Niche Products Are Solid Gold:

It's unlikely that you'll be able to compete in the eCommerce market for commonplace goods. Big eCommerce merchants have monopolies in these items, so sourcing common electronics, clothes, and other essentials won't be a smart move. You really have to niche down your selection to run a sustainable business.
After reviewing these guidelines, you can move towards picking a product. Below is a list of resources you can use to find a niche.
1. Websites
You can explore:
Amazon
Use Amazon's "
Best Sellers
" and "
Movers and Shakers
" to search niche products. Specialty items like LED-gloves and hoverboard accessories are less likely to have a lot of importers, so it would be easier for you to compete in the market. Keep an eye out for unique things.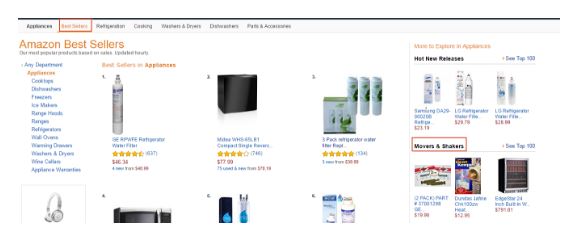 A paid tool called Jungle Scout can also be used for Amazon product research. Its technology will help you find profitable niche products to sell based on monthly sales, number of reviews, and other features.
Alibaba
Alibaba is not just useful for finding suppliers; it's also a great resource for finding niche products. Scrutinize the best-selling category for product ideas and use keywords to see what different types of product you could sell potentially.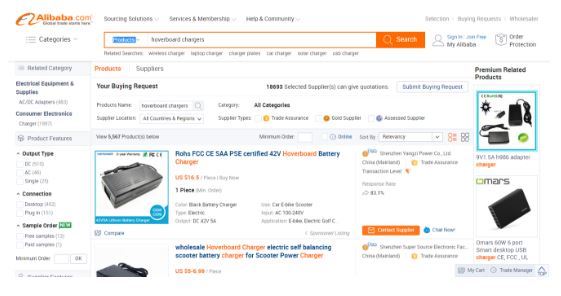 You can also utilize product filters like style, material and pattern to see if you can find a niche based on a particular feature. Also, see if there's potential to private-label a product while conducting research on Alibaba.
Shopzilla
This comparison shopping engine can be a goldmine of valuable product ideas, if used correctly. Use the "Trending Now" tab to see what items people are currently interested in, and then look for alternatives or related items to narrow down your niche.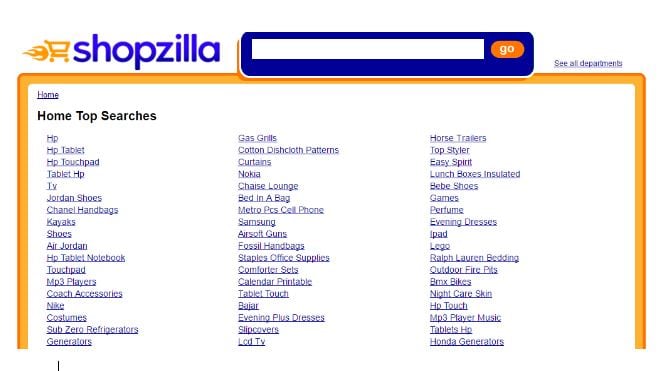 In addition, find out which products and item categories are being searched for actively through "Shopzilla Top Searches" link in the website's footer. After you choose a product category, it shows which items have the most potential.
A few more websites to research are Global Sources, eBay and Etsy.
2. Tools
In addition to websites, you can use a variety of research tools to find a niche product to source. We recommend these:
Google Keyword Planner
You can use this tool if you have a Google Adwords account, free of charge. Start researching by entering some primary keywords like LED shoes , and then niche down into long tail keywords that are receiving searches, like light up sneakers for adults or toddler light up shoes.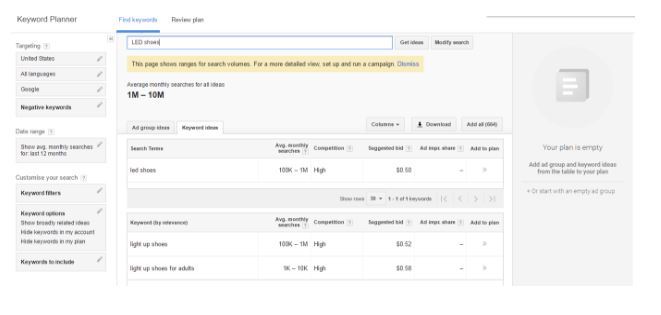 You'll mostly use the "Keyword Ideas" tab. However, the keywords will also be organized in Ad group ideas. Scan that tab to make sure you're not missing out on any hidden gems when it comes to product ideas.
Sellics
Looking for a quicker way to finding profitable product ideas? This pay-to-use tool gives you a product database that includes the top 5,000 Amazon best sellers from each category. You can then use filters like number of reviews, estimated sales and more to find profitable items to sell.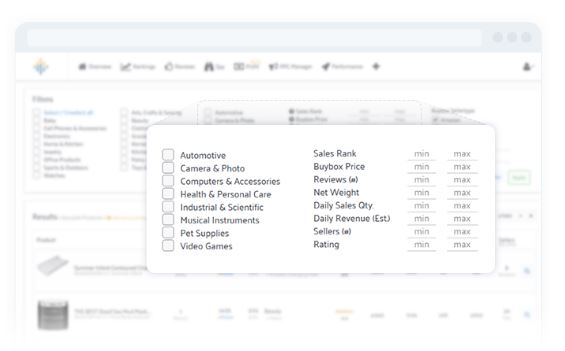 It also includes a "niche analyzer" that will tell you how challenging it will be for you to compete in a particular niche. Another feature called "product spy" will give you actual sales volume of your target item, so that you don't end up investing in unsold inventory.
A few more options to research product ideas are WordStream Keyword Research Tool and Profit Scraper.
3. Social Media & Product Review Platforms
You can get product ideas from these platforms by exploring what new offerings are attracting consumers these days.
Social Media Platforms
Examine what products are trending on social media for product ideas. For example, you can see what product images receive the most engagement on
Instagram
. Likewise, explore what products are being shared and discussed on
Polyvore
.
Wanelo
,
Pinterest
and
Fancy
are also great sources for product ideas. In addition, you can use hashtags to see what consumers think about a particular product; whether or not there's enough conversation about it, and if most of the word is positive or negative.

Product Review Platforms


Product review sites/platforms offer insights into trending things. Subscribe to one of these sites to get information about new products in your inbox.
Shortly after, you'll be able to see a list of cool items. People who run these sites work with trend scouts who're always searching for the hottest products.

Reddit
(Bonus)
Reddit has a section called "subreddits" that are niches with discussions on interesting areas. It's within these sub-categories you'll find niche products that could become the next big thing. The social news aggregator offers several "subreddits" to explore.
Hence, browse Reddit deeply, and you'll find subreddits with great product ideas. For example, Shut Up and Take My Money often includes discussions on products that are on their way to break norms and take the market by storm.
Finding Credible Suppliers (Manufacturers/Wholesalers/Traders)
After you have an idea of what you're going to sell, start looking for suppliers. Ideally, the web is a great place to start, but a few particular resources and tips can complement your search.
Please note that it would take some time to find good suppliers on the internet compared to hunting suppliers in person at the Canton Fair and other trade shows in China.
This directory is the behemoth that you should first consider. Alibaba is the largest online marketplace with a plethora of Chinese suppliers. However, it also has a lot of trading companies, middlemen, and bad apples. We've listed some considerations below to help you sift through the mess.
Consider Established *Gold Suppliers*
Alibaba suppliers with a "gold supplier" sign are a much safer bet than suppliers without one. Always consider gold suppliers for product sourcing. Then, see the number at the top right of the gold supplier status to find out how long has a supplier been registered on Alibaba.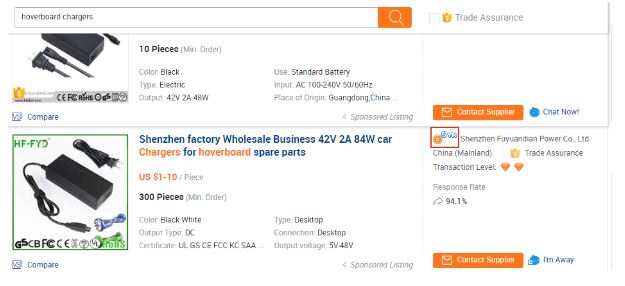 Companies registered on Alibaba since 3-5 years can be considered more trustable over companies that are in their 1st year of registration.
AliBaba has its own verification programs. Verification badges will appear on the profiles of suppliers that have gone through this programs. Visit this link to know more about checking supplier verification.

There are also third party services in China that verify the product and supplier quality for international merchants for a few hundred dollars. Verifications ensure that the company's onsite operations at their stated location really exist.
Look At Their External Presence
Usually credible suppliers always have an external presence on the web. A quick Google Search will give you the supplier's website. Browse it to know more about the company and its offerings.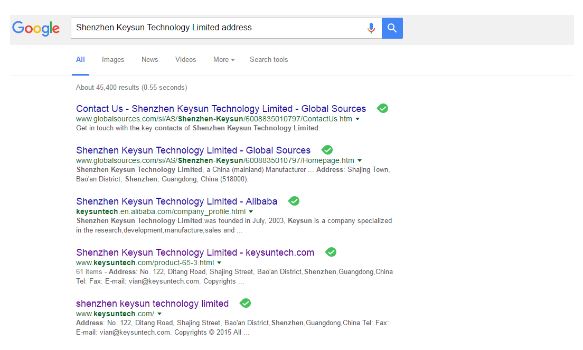 Keywords like "history" and "address" will allow you to double check the supplier's presence and learn more about their trading history.
Communicate To Get a Feel of Things
Question suppliers about their products and company. Be wary of answers that are way off from what other suppliers have said. For instance, if someone says we don't have a product fact sheet at the moment and other suppliers selling the same product are willing to give out one, end contact with that supplier. Always be open to walking away from a deal if something doesn't seem right.
Also, after the initial contact, access the response time of the supplier as well as how serious they're taking your communication. At the beginning, suppliers won't have an idea of how big an order you're going to place, so their customer service in the initial stages will be a good indicator of how they'll do business in the future.
Get samples from different suppliers and take note of import costs, shipping times, etc. Make the item go through some stress, analyze it from every aspect, adopting the mindset of the end customer. The item should be of good quality if you are going to associate your brand with it.
If any supplier says they can't do single sample units, they're probably doing fraud. You can also double-check the intent of the suppliers you like by contacting them through a fictitious company name and getting another sample delivered so you can compare quality.
Send a Request For Quote (RFQ) email to suppliers that communicated promptly. Use the RFQ to inquire about the following things:
MOQ (Minimum Order Quantity):

Usually, the MOQ listed by Alibaba suppliers is much higher than what most merchants can afford, so you'll want to know if a supplier can negotiate the minimum. Some suppliers are willing to go through several hoops to work with merchants on minimum order quantity.

Unit Pricing/ FOB pricing:

You want to know the cost per unit for your products. Most Alibaba suppliers give a price per unit range (e.g. $0.5 to $2 per unit), but it's always better know the exact cost to figure out your potential selling margin.

Payment Terms: Most suppliers will request a full upfront payment for an order if you're a new business, when established there can be a net 60 payment term for example

. But you can try negotiating the payment terms. For instance, you can offer 70% upfront payment, and make the rest after you receive the shipment.





Go to this link to see

RFQ email templates

.


See Payment Options
After understanding the RFQ, find out what types of payments are accepted by the supplier. Suppliers that accept Escrow are the safest to do business with, as your money will be held by a third party and only transferred to the supplier's account after confirmed delivery of their shipment. Escrow protects both the supplier and buyer.
Another safe payment option is PayPal, but it's not accepted by many suppliers because of high tax rates and potential charge backs from adverse buyers.
Upfront TT and Western Union transfer are the riskiest payment methods. The supplier will receive full / majority of the payment before starting production. There is little recourse to get your funds back if the supplier turns out to be a scam. These payment methods shouldn't ever be used, unless you know a supplier really well.
Take these measures to source a reliable supplier from Alibaba.
Note: You can also give a shot to Global Sources. The quality of suppliers on this website is higher, and they're experienced in the export market.
Resources beyond Alibaba.


For small volume orders, you may have better luck with DHgate and AliExpress. Minimum Order Quantities are on the lower end, and some suppliers even offer free shipping. The price, however, is going to be 20% to 30% higher per unit than what you'd pay to a supplier on Alibaba.
Also, you'll mostly deal with middlemen on these sites, so it'll be difficult to identify the direct manufacturer. Still, they're viable for merchants who want to order lower quantities to test their waters. Escrow payment protection makes both AliExpress and DHgate a safe bet.
Social media groups are another gateway to suppliers. LinkedIn groups like China Sourcing and China Import & Export can put you in touch with credible suppliers.
In addition to online commerce, referrals can be used to find credible suppliers. Ask Business acquaintances and monitor social media conversations to find hidden gems. Also, if you already know some suppliers in China, ask them if they know anyone that supplies your targeted product.
A more expensive option is hiring a sourcing agent. They can utilize their networks to find better suppliers, and may be able to negotiate better terms with manufacturers.
Whatever route you take, be clear in your communication with suppliers. And get the supplier's acknowledgement on a signed agreement. Once you have the document, proactively monitor every aspect of quality control to ensure your customers receive the best products.
Selling Products via Third Party & Self-Owned Channels
Start selling through existing channels as soon as your order arrives at your doorstep/warehouse. Leverage existing channels to find customers.
Sell on Amazon, eBay and Etsy
It's easy to set up a storefront on all these marketplaces. Analyze what others are doing and then try to create better listings. Within a few days after you list items, you should start receiving orders. Here are some tips to maximize your sales potential.
Be a professional seller



The professional seller membership costs $39.95 a month

on Amazon

. Pro sellers are charged 15% instead of

99¢ on each sale. You also get to create m

ultiple listings, private label products, and more. Merchants may also benefit from order management and bulk listing tools in this package.



eBay offers

3 different packages

to sellers starting from $24.95 a month, with the premium package providing more or less the same benefits as Amazon's premium package. Etsy allows merchants to create a shop free of charge,

but takes

$0.20 USD for every listing, and 3.5% commission on each sale.

Optimize Product Description & Images



Product description seems like a no-brainer, but even a slight difference in what you described and what the customer received will cause problems. Describe the product accurately using keywords and bullet points to help buyers scan the specifications and other important details quickly. You can use one or two adjectives like "solid" and "bright" to attract eyeballs.





Also, if you have competitors, read their descriptions to find out what they're not talking about, and include the missing piece of information in your product descriptions. For images, choose large photos which showcase your product on a plain white background. You can edit the background on Photoshop or buy a small light box for the purpose.

Consider Third Party Fulfilment



Third party fulfillment is whereby you send all the inventory to a fulfillment company, and they handle the shipping for you. Amazon offers its own fulfillment service called

Fulfillment by Amazon

(FBA). The company also handles the returns and refunds, communications and customer service. This is expensive than the merchant fulfillment model, but saves you from the hassle of individually wrapping and shipping multiple orders in a day. You get more time for high-value tasks such as sourcing and marketing.





eBay and Etsy don't have native fulfillment programs, but merchants can get their eBay and Etsy orders shipped via multi-channel fulfillment.

Extensiv Order Manager

, for instance, offers multi-channel inventory and fulfillment options for these platforms. You then don't have to use Fulfillment by Amazon as multi-channel fulfillment will also accommodate your Amazon orders.
Sell Via Social Media Channels
With social media commerce on the rise, merchants have a prime opportunity to win business through Facebook, Instagram, Pinterest, etc.
For instance, you can use Facebook's Shop Section feature to start selling products. It enables you showcase products and images, manage listings, advertise, and do a lot more. Shopify also allows you to create your own Facebook store.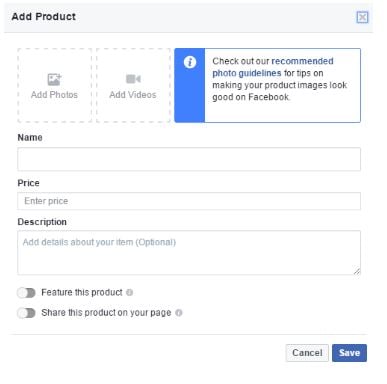 But you would have to build an audience and advertise to get customers. People usually search for products on marketplaces, and rarely use social media for the purpose (the trend is changing, VERY SLOWLY), so it may take you a while to see good sale numbers.
Instagram and Pinterest also have potential for eCommerce merchants. Both have integrated commerce features such as the Buy Now button to help merchants attract buyers.
However, these platforms usually work well if you're selling certain kinds of products, like fashion items and unique consumer electronics. Depending on what you source from China, they may or may not be useful in your case.
Sell Through Your Own Website
Sell the products you source from China through your own online store. If you don't have an eCommerce shop, eCommerce vendors like Shopify and Weebly will allow you to create one for a set, monthly fee. The drag-and-drop website builder, robust apps, and top-notch customer support makes it easy to setup a store.
Having your own eCommerce website grants you control over the store and its layout, is good for branding, and makes customization easier. In addition, you avoid the listing and transaction fees. Some eCommerce solutions allow you to accept payments without needing a payment gateway. Shopify, for instance, allows merchants to accept Stripe payments directly.
But eCommerce store owners have to deal with fulfillment and returned items, unless they opt for a third-party fulfillment solution. Double-check that your eCommerce service provider offers built-in tools that let you easily restock your inventory, dispatch items and replace returned items.
Be Prepared To Scale
It's easy to keep all the plates spinning yourself when you're dealing with 10-20 orders per day, but things can get overwhelming once that number swells to 40, 50, 100 sales per day. Therefore, it's always better to focus on processes that support growth and optimization sooner rather than later.
The interesting bit of it? Beefing up for more sales is less about increasing staff bodies and more about tuning up technology and processes that allow seamless transactions. Extensiv Order Manager offers a business intelligence and automation solution to merchants who are doing 1,000 or more orders per month.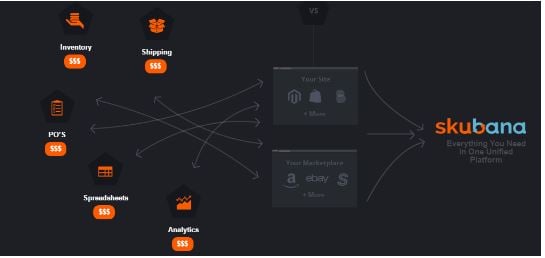 Our solution is scalable and allows you to sell everywhere: any channel, any marketplace, any shopping cart. Features such as auto-generated purchase orders, orderbot order automation, multi-channel fulfillment and channel inventory allocation rules allow merchants to unify their operations. As a result, you can grow with confidence when it's time to scale.
Conclusion
Actual learning takes place when you experience the sourcing processes and it does require you to jump into the importing game. As you get a feel of things, use the above-mentioned guidelines to ensure you're working with the right people and selling products that keep your business afloat.
Have you tried sourcing products from China without going there? What kind of experiences did you have? Got any tips that helped you along the way? We'd love to hear from you.
Also, for more info on manufacturing and importing from China check out our guide on funnel sourcing techniques and our page on how to manufacture a product.