Today I'm going to show you EXACTLY how Chinese e-commerce sellers have grown from hawking "knock-offs" to global ecommerce brands capable of dislodging well-established US rivals.
Chinese E-commerce Sellers have the secret sauce for winning at e-commerce:
1- The majority of products are already manufactured in China
2- Chinese factories have been manufacturing and exporting to the US for 40+ years
3- These suppliers know what's being sold, the cost to produce that product, and where it's being sold!
The only thing missing is HOW.
(If you're a large Amazon seller reading this and also using FBA (Fulfillment by Amazon) - have you thought about NOT letting your factory supplier do FBA workflow prep for you? If so, perhaps you were afraid they would learn the secrets of the FBA inbound shipping process?)

As successful Amazon sellers, we all have these fears, but rather than taking steps to deal with them, we dismiss them. In many ways, our (US Amazon seller's) quietest, most steadfast competitor is indifference.
Here's the other rhetoric we use to shrug off the threat of online Amazon sellers from China:
How could the Chinese set up a warehouse in the USA and not manage it?

How are they going to navigate the language barrier?

They don't understand American culture, so how could they sell to us?

Chinese sellers can't establish a brand online!
Despite the denial, it's happened. The fear is now a reality. It's thanks, in part, to Amazon's marketplace.
Chinese factories are rampantly selling direct-to-USA consumers through Amazon. Here, they can cut out U.S. middlemen "Branded" sellers, set up an Amazon storefront, and take the profit margin for themselves.

Direct-to-consumer (D2C) was just a stepping stone, prolonging the inevitability of factory-to-consumer (F2C).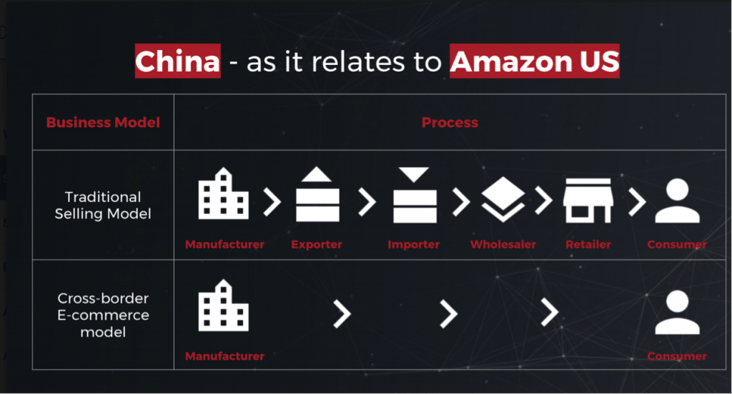 Amazon's third-party (3p) marketplace makes it easy for Chinese sellers to sell products directly, and they are flocking to the marketplace.
Over 250,000 Chinese Sellers joined Amazon's marketplace this year (

Marketplace Pulse

)
The RESULT: ⅓ of the active Amazon sellers are from China
Here's the truth - Chinese Amazon sellers have a MASSIVE advantage over US Amazon merchants:
Sales Tax Nexcess

(what Tax Nexcess?) - While large Amazon sellers are held accountable for Sales Tax by aggressive states like Pennsylvania and California who want US sellers to file forward but also be held for historical tax, Chinese sellers are except. If you didn't collect, well you still owe it, but Chinese sellers don't.

Shipping Rates –

Chinese sellers benefit from heavily discounted USPS Shipping Rates. The price to ship from China to Connecticut is the same as shipping from New Jersey to Connecticut.
Here's a look at the Top 10 Amazon sellers (according to Marketplace Pulse)

4 of the top 10 Amazon sellers (40%) are Chinese sellers. Digging deeper, with the exception of Spigen (can I say they are Asian & based in California), these are the ONLY brands (Amazon Private Labelers) in the Top Amazon Sellers list. The rest of the sellers listed are Amazon resellers AND they are all US based.
What can we learn from these sellers? We can learn a lot.
Today, I'm going to show you 8 tips Chinese Amazon sellers use to dominate markets, to help you increase your own following, product demand, and direct traffic. The blog is titled, "It's Time to Copy China - What You Can Learn From the Top Chinese Amazon Sellers" and we'll get started doing that now.
Tip #1: How Anker Leveraged Amazon's Third Party Marketplace to Build a GLOBAL Brand
You can see from the Google Trends analysis below that Anker's interest (search volume reflects consumer interest) has not only increased but surpassed Belkin for interest. The inflection point was in February 2016.

Anker has expanded — and continues to expand — WITHOUT spending crazy amounts of money on advertising or marketing (well, until the launch of Amazon Sponsored Ads).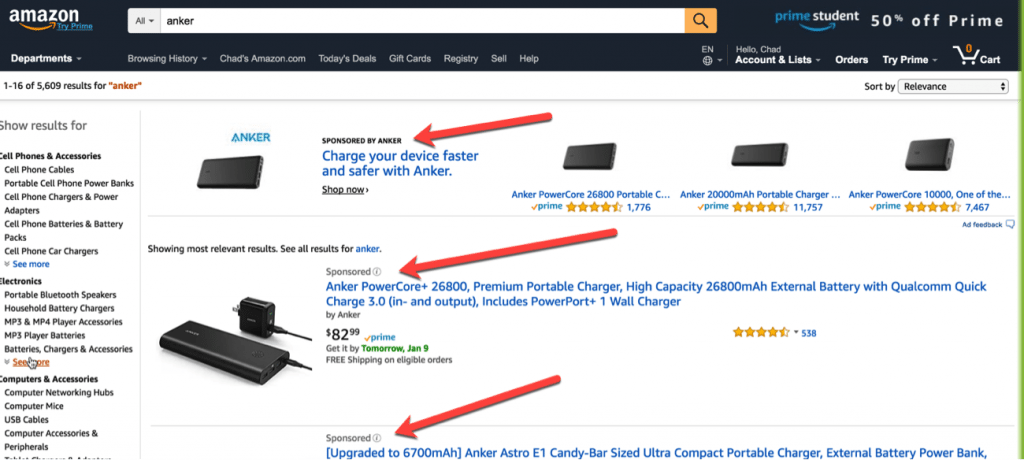 If Anker can do it on Amazon, anyone, including you, can do it too!
While Anker started off on Amazon, they have expanded to the Walmart Marketplace, Newegg marketplace, eBay, and Aliexpress. While they started on Amazon, they are selling multi-channel and multi-marketplace.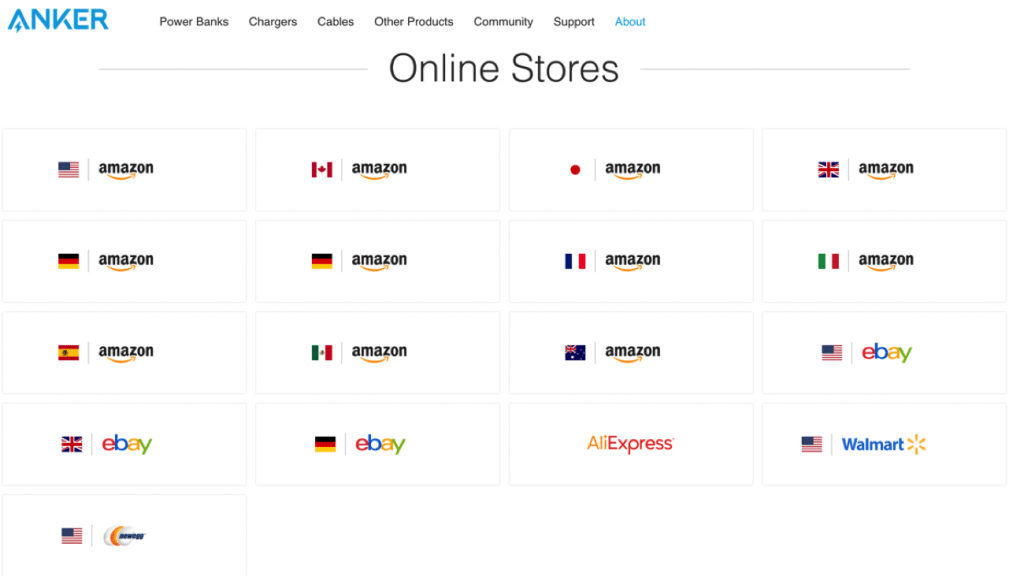 Anker also has its own website where you can buy direct. We've analyzed their site and discovered it's custom built so they are not running on Shopify or Magento.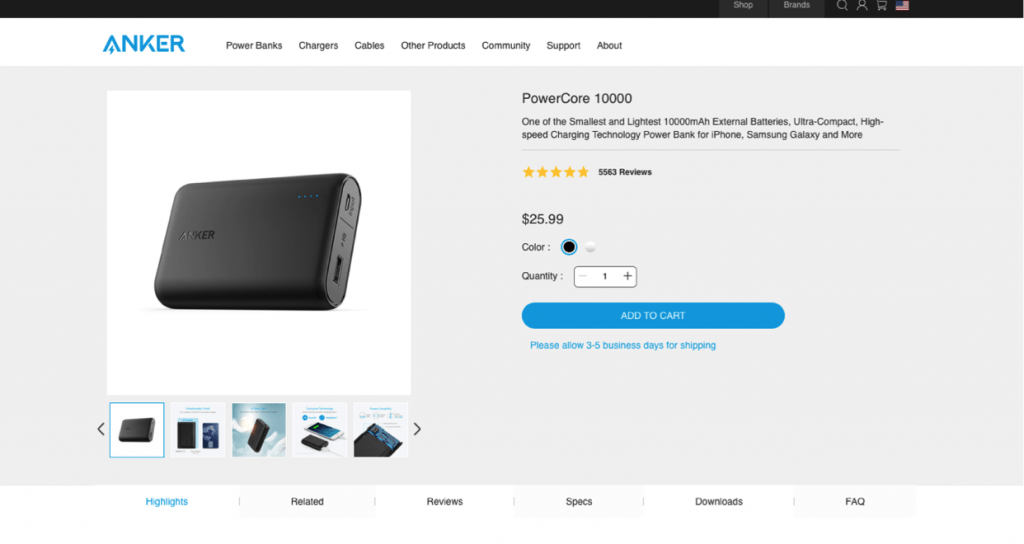 According to Alexa, here's their score:

Anker not only established itself as one of the top sellers on Amazon, it built a sustainable brand.
Comparing Anker's Alexa rank to Belkin: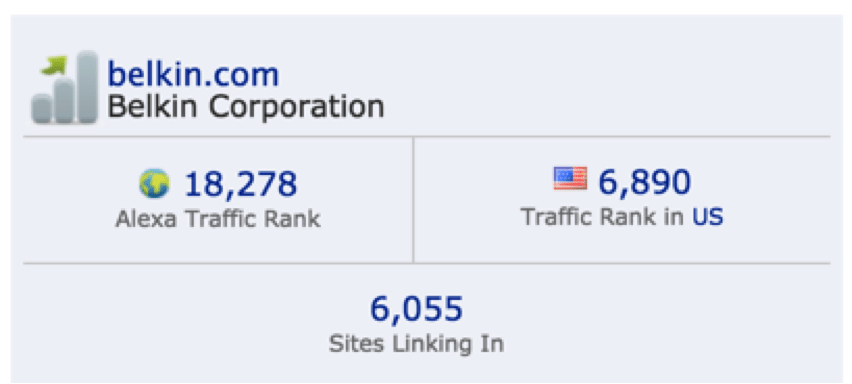 Belkin has a slightly higher US rank for traffic but Anker ranks higher globablly.
Let's look at the sheer volume of search results on Amazon just for the word "Anker."

Building a brand allows you to drive interest and revenue around a name. If people trust one of your products, they're significantly more likely to come back and buy again. And, because long-term customers drive a significantly higher profit margin, that means quality goods and a strong brand are more important than any low profit margin upfront.
Tip #2: Partner with the US Customer & Understand Customer Narrative:
Now, Anker is expanding beyond Amazon. Just look at their latest Indiegogo campaign where they raised over $1.2 million for their soda-can pocket projector.
Launching using Indiegogo allowed Anker to create an immediate feedback loop with U.S. consumers, while funding a new idea for the American market – without the risky investment of using their own capital.
It also allows them to quickly move ideas from concept to market – with proof of concept before production. On Indiegogo, Anker is able to showcase their ideas directly to consumers, take orders early in the product life cycle, and ultimately build relationships with their first customers.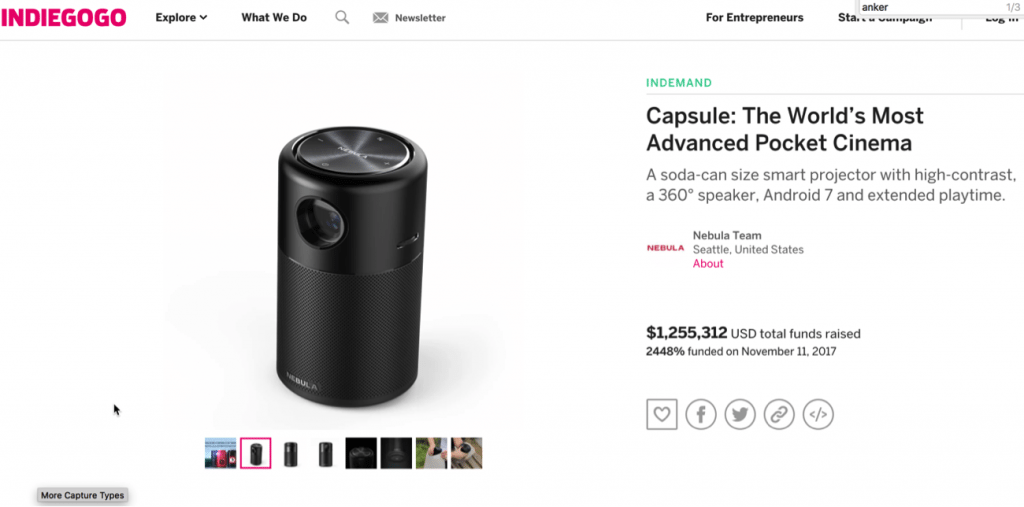 The Indiegogo page doesn't list that this is Anker, only that it is using "Anker's battery technology" but, with further research we found this:

The Indiegogo page does not say Nebula is owned by Anker, or that Capsule is an Anker product, but Anker is a trademark owner and manufacturer for the brand. You can also see Nebula on Anker's website.

What can you learn from this process? You have to position your product in the mind of your consumer. You also have to operate in relative stealth until you gain enough brand and product momentum. The most meaningful product changes and development will come from deep intuition and empathy with product users – and that's what will make you stand out with consumers.
Do both, test with your audience where you can, and develop products based on customer feedback and interaction when you can.

Tip #3: Beat Amazon At Its Own Game
We previously wrote about Amazon's private label brand, Amazon Basics, copying larger brands.
Looks like Anker pulled one out of Amazon's playbook.
Most of us are familiar with the Echo Dot, the cheapest Alexa enabled device offered by Amazon. But, despite its low price of $49.99, Anker's Eufy Genie drops that down to just $34.99 with all the same features – including access to Alexa and more than 15,000 voice commands.
What we have discovered will change how you approach private label on Amazon forever. You can learn from Amazon's private labeling model and improve your private labeling business. Anker's already done it, and there's no reason why you can't.
For example, you can use a tool like Merchant Words to look up the search velocity for products and capitalize on that!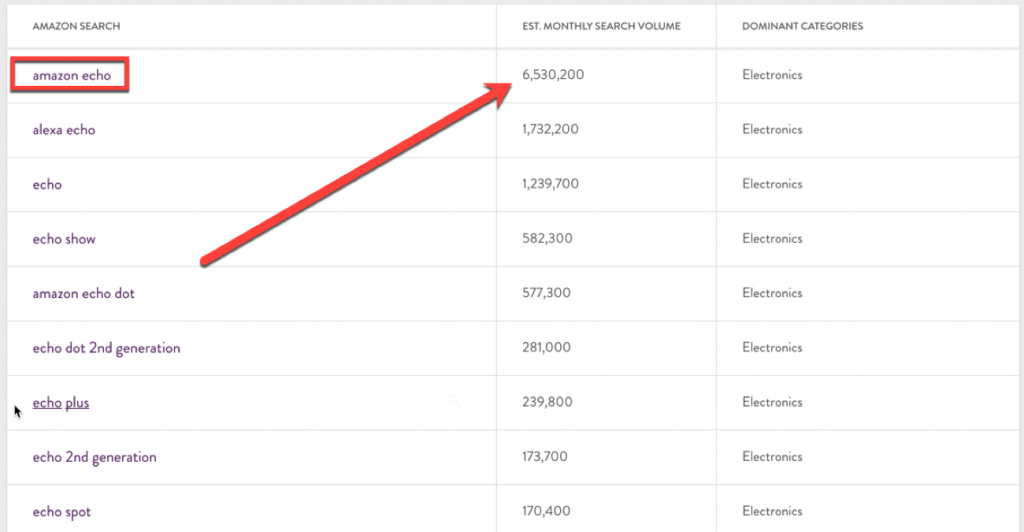 The Amazon Echo has over $6M searches - Anker capitalized on this data themselves.
You can take their example and use keyword searches to determine where to focus your efforts, choose product to sell, and then develop your own (hopefully better) version of the product. Even if you take 2% of Amazon Echo's monthly search volume, that's 130K searches a month, which is still fantastic. Now you just need to convert that traffic.
Tip #4: E-commerce Does Retail Better Than Retail
Amazon's also not the only brand moving from e-commerce to retail. A quick look at Anker's website shows that they already have 4 brand stores – and it pays off.
E-commerce stores transition more easily into retail than traditional retail stores adding an "e" to commerce – often doing retail better than the original. That pays off for you because retail stores advance the customer narrative.
Not only can customers touch and see products before buying, they can do their own sifting, make better choices, and visualize your company as a brand. With higher quality brand interaction, retail stores allow you to solidify your brand, connect with your customers, and make products more visible, amplifying your total brand footprint.
How can that pay off? E-commerce sensitizes customers to price, but Warby Parker drives about $2,500 per sq. foot of retail space selling glasses under $100 each. Tiffany's has about the same revenue per sq. foot.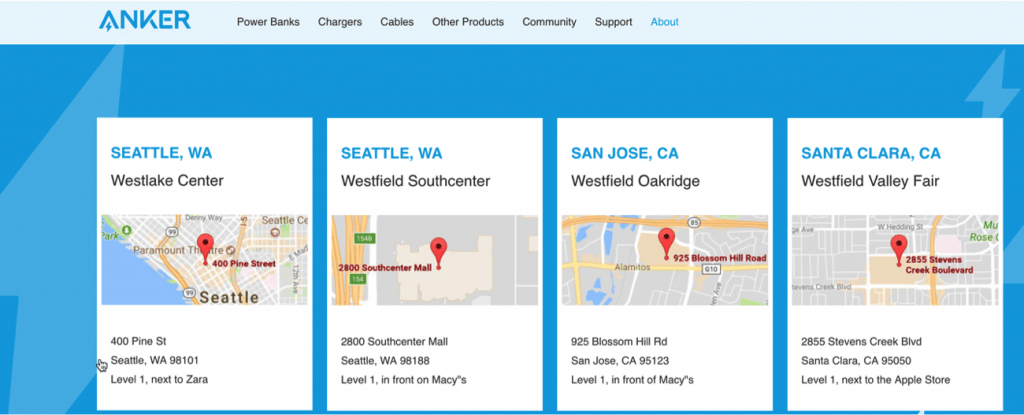 More importantly, in-store customers are three times as likely to buy again and become hyper-loyal customers. And, while you will have to account for some extra costs, you'll also save on returns, shipping, and logistics – while allowing customers to go right home with their product.
Of course, not every e-commerce store can move into retail but if your private label business is big enough and your brand strong enough, it's a smart option that can pay off.
Tip #5: The Riches Are In The Niches - Diversify What Your Brand Sells

Anker entered the e-commerce market as a budget phone-accessory brand, primarily selling phone charger cables. Today, they're much more diverse, dipping fingers and toes into tech ranging from batteries that perform better than OEM to smart-home systems that compete with Amazon products.
What's more, Anker has diversified into new brands, each offering their own technology and catering to a different niche.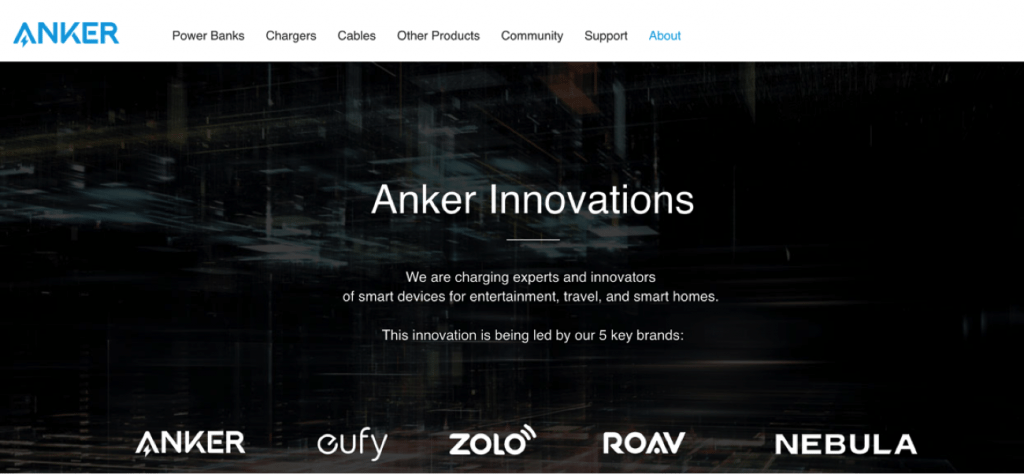 Each brand is known for what they do best. And, that's important. Anker could have chosen to diversify into an ever-expanding range of electronics, but they didn't. Why? People trust when brands do one thing and do it well. Creating new brands for each new niche allows Anker to position that brand at the top of a market, drawing customers who might see Anker and think, "Oh, a budget charging cable company".
Diversification draws attention from your primary brand, but it can allow you to position new products more strongly. Of course, it's not always necessary. Apple seamlessly moved from computers to computers and MP3 players, to phones and computers over the space of a few decades.
How can you make that work for your brand? If you have a new idea or see an opportunity, do your research. If it fits well into your existing niche and your current customers meet the demographic feel free to launch it with your existing brand. If it doesn't, consider diversifying and investing in a new brand that will better suit the product and its demographic.
Tip #6: Don't Forget Influencers
All of the biggest internet-launched brands have one thing in common. They know how to use the power of influencers to share and broadcast their brand. You might have seen it from brands like Under Armour who used social sharing to capitulate their brand to international fame.
Anker is no different. The company has consistently used influencers to share products and drive hype, offering free products and endorsements in exchange for reviews, mentions on social media, and brand promotion. Does it work?
Take a look at Anker's social media accounts, specifically Instagram with 55.9K followers.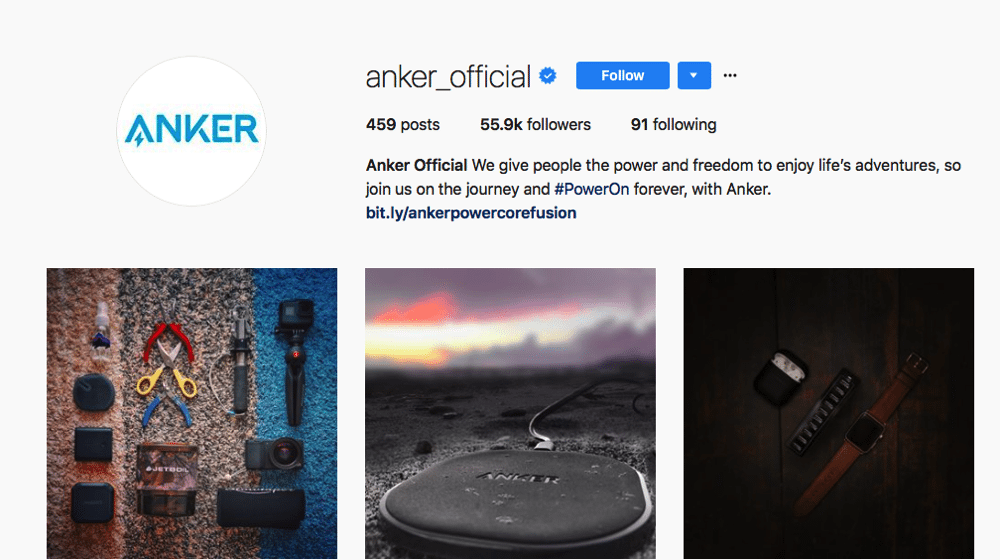 Facebook has almost 6x that of Instagram with 309 thousand likes: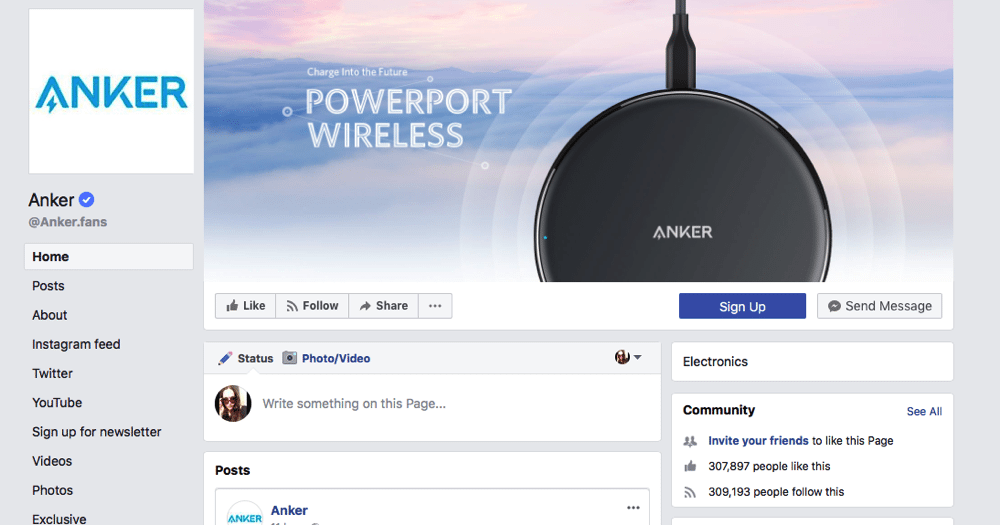 How big of a deal is 300,000 followers on a Facebook page? Whirlpool, one of the largest electronics manufacturers in the United States, only has 75,000.

Looking at Belkin's Facebook presence with 347 thousand Facebook Likes still puts Anker in the lead.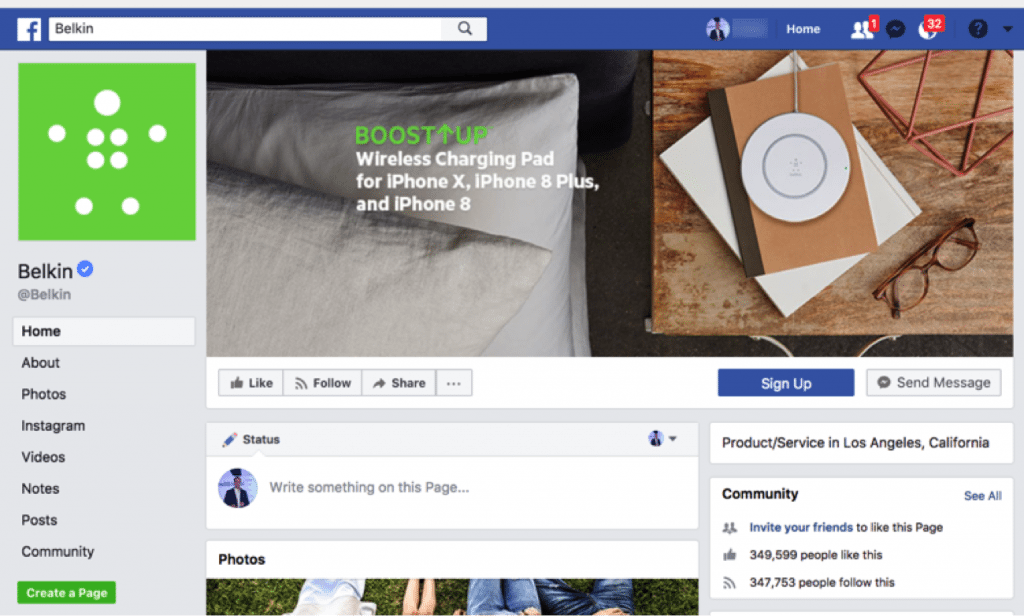 Social media is an increasingly important venue for marketing products, driving natural hype around products, and creating organic sales. Social media can help you to gain traction, even in heavily saturated markets, connect directly to your consumers, and organically acquire users.
Brand influencers, or social media users who already have a large following who are willing to promote your products, allow you to reach audiences cost-effectively and naturally so you can create an audience.
It's not just about Facebook likes, but it's what you do with those likes and how you engage your Facebook audience. Don't get caught up in numbers. Having a strong community of passionate users who share, use, and post about your products is more important than any number of zeroes.
Tip #7: Get a Distribution Advantage!
Anker may have headquarters located in China but the company distributes right from California. In addition to using FBA for fast international delivery, Anker maintains a warehouses on the west coast. Why? Importing to LAX from China takes as little as 12 days, versus the East Coast which can take 23-30 days transit times.
This translates into a massive pricing advantage and distribution advantage, because it's faster and cheaper to move products into the country – and faster to ship them out to buyers in the USA.
What can you do? Plan your warehousing and strategize. Investing in warehousing on the west coast can save you significantly if you're importing from China, but you may also benefit from solutions like third-party fulfillment and warehousing (i.e 3PLs = outsourced warehouses).
#8) Keeping it SUPER lean
If you think that the more employees you have, the bigger your company is, you're wrong. Anker, like many e-commerce brands, employees the bare minimum of employees to manage processes, outsources where needed to keep costs low, and has consistently raised their revenue, without increasing employees.
Look at the company's revenue per employee. In 2016, Anker earned over $300 million, with just over 150 employees.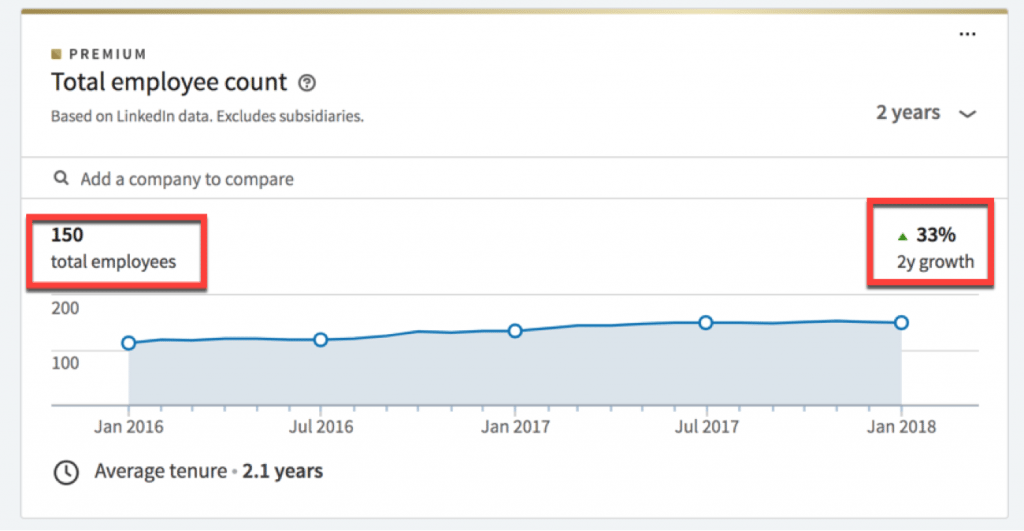 You don't need to invest in more staff to drive a high-quality company. Focus on automating low value repetitive tasks with technology. You can use Extensiv to do it.
Using the Extensiv Purchase Order Automator tool, you can automatically create Purchase orders awaiting your approval at the right time, with the correct vendor and at the correct price. Based on velocity, your minimum order quantity and lead time, your purchase orders change algorithmically based on the velocity across every e-commerce channel you sell on. That's what we call automation ;)
Key Takeaways
1) Distribution is more valuable than total reduced costs. Buyers value speed, returnability, and low costs. Import your products to the west coast or use a 3PL or FBA to drive a market advantage and cut costs. Add margin advantage to distribution advantage and you've got a winner.
2) A strong brand drives revenue. Copy successful internet brands and use influencers and social media to create a strong following of users who share your products. Don't be afraid to move to retail to further solidify – but be sure to deliver a strong brand experience if you do.
3) Things are moving a lot faster than you think. And, here's a bonus item: Take a page from Amazon and Anker, keep products under the radar while you develop them, crowd source and fund where you can, and hit the market hard with organic hype while you still have the market advantage. But don't stop there. You have an average of 6 months before other brands copycat you.
4) Quality allies & partners are more valuable than capital. If you can source a great product, you can always crowdfund and make it happen. A quality product and customer experience are the most important thing.
Chinese sellers are taking over U.S. markets, but there's no reason you can't use the same tactics to succeed. And, with better knowledge of consumers, more access to local suppliers and partners, and more access to what consumers are saying, you can surpass their successes.