In the Amazon marketplace battlefield, sellers have resorted to private labeling to reduce competition, and own the buy box.
As sellers, we fear the copycat private labelers – Amazon sellers that invade your product category with off-the-shelf products from China, and provide a poor quality knock-off version.
What we are not noticing, is the elephant in the room.

What if Amazon is YOUR largest private labeling copycat?
What if your main competitor is Amazon's private label brand, AmazonBasics?
Amazon private label sellers look to Amazon for the majority of their sales, and fight competition tooth and nail to dominate product categories on its marketplace.
AmazonBasics as a competitor. Scary thought right?
What we have discovered will change how you private label on Amazon forever. Let's learn from Amazon's private labeling model and better your private labeling business.
But First, Let's Get Down to Basics
AmazonBasics was officially launched in 2009. The trademark started simple: selling home replacement products such as batteries, blank DVD-Rs, and USB cables. Simple household, interchangeable products is what AmazonBasics was all about initially and from then on, AmazonBasics slept quietly as it retained data about other sellers' successes - including yours.

When we saw AmazonBasics products as best sellers in numerous categories, our stomachs dropped and started thinking, "we need to learn from them."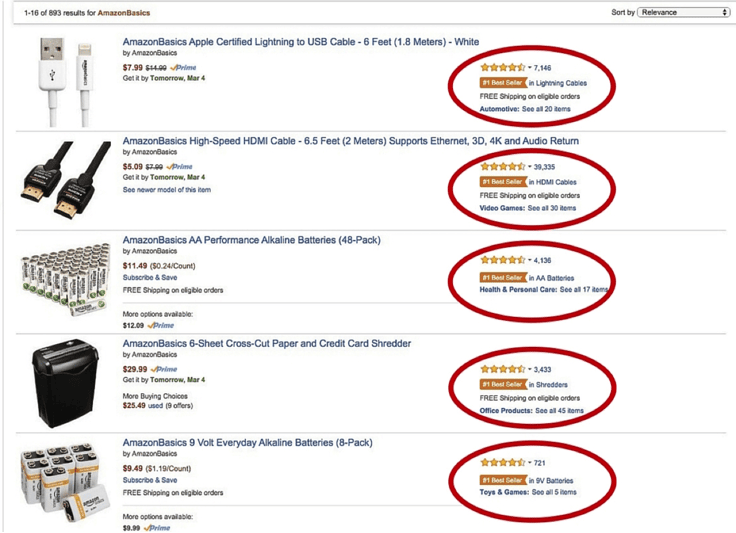 Amazon taught us to professionalize our selling game and hold us to a higher standard. Through their performance metrics, we as sellers learned to increase our consumer response times, shipping times, meeting delivery windows, and more with their seller performance analytics.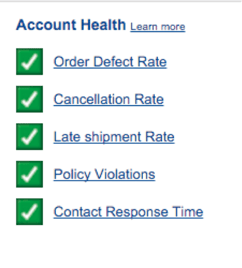 With these strong, customer-centric analytics, our businesses were able to efficiently optimize our customer retention.
We've established a strong defense, but now, by observing AmazonBasics we can develop a strong offense.
Amazon teaches us how to be better e-commerce entrepreneurs by building a better private label business by their standards.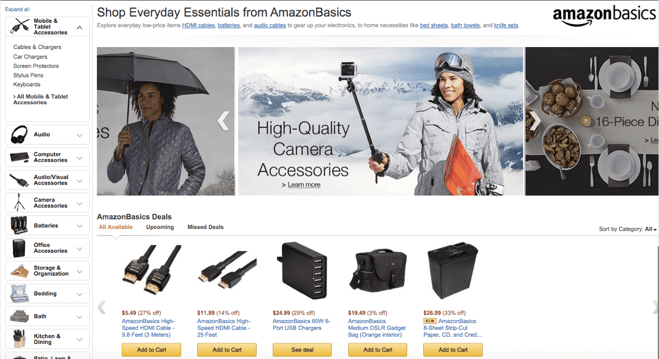 AmazonBasics now has a product list of about 916+ individual products. Thanks to Greg Mercer and the JungleScout team, they have provided us with an entire AmazonBasics product catalog from March 10, 2016. With this AmazonBasics catalog we have attained the following valuable insight:
- Insight: 96.72% of AmazonBasics products has at least one review. Anything without a review either receives more, or becomes "unavailable" after time has passed.

Action: This means each of your products must have at least one review! A product without a review is a product your consumer can't trust.
- Insight: 96.06% of AmazonBasics products has a rating between 3.5 to 5.0 stars.

Action: If your product is lower than 3.5 stars, then we have some bad news – you might as well liquidate. Finding an AmazonBasics product lower than 3.5 stars is either hard to find or you caught a product about to be liquidated. If you have a product that is lower than 3.5 stars, that product is dead to you and your customers. Liquidate and move on.
Star Review Breakdown of their Product Catalog



Notice the weight of their average ratings. Compare these statistics to that of your portfolio of products. AmazonBasics's sweet spot of 3.5 stars to 5 stars is their main goal.

P.S.: Do you know your catalog's star review breakdown? This is a great exercise to really gauge the performance of your sales channel. Compile your breakdown and identify where your products lie. If it isn't between at least 3.5 to 4.5 stars, you will have to dig deep into your products and optimize or liquidate.

However, this data is based on JungleScout's data pull from March 10th, 2016. As of March 15th, 2016 we have found most of the 3.5 stars and below either skyrocketed toward 4.5 stars and above, or were discontinued. We could not find unsuccessful products anywhere.
- Insight: About 284 products launched in 2015 -- which means Amazon has an avg. of 23 new products a month. The majority of their product launches occur in Q1 (81 products) and Q2 (106).

Action: Just as amazon, putting up about 17 products a month should be your target goal in order to stay relevant in the marketplace. Launch your products smart by releasing during peak seasons like the holidays. Hit that benchmark!

- Insight: About 41.38% of AmazonBasics's entire product catalog lands in the top 100 ranks of their respective categories.

Action: You're doing it wrong if you're not trying to climb the bestseller ranks. Your ranking is what defines your success on Amazon as it has a direct impact over your products' sales. Your goal should be to bring almost half of all of your products to the top 100 ranks of their categories to ensure their profitability. Otherwise, your products might be dead weight and raise your long-term storage fees.
- Insight: The Average Price of their products are at $22.30.
Action: Most e-commerce "gurus" claim that your product average price should be $7 to $11, well f*** that, perform just as or better than Amazon, the true e-commerce guru.
And, as of February 23rd 2016, Amazon is now expanding their private labeling game with a whole slew of fashion brands to, "fill in the 'gaps' left by other fashion brands." Just as Amazon has disrupted the book selling, marketplace selling game, staticians anticipate this giant to surpass top department stores like Macy's.


We had found another 2009 spawn of Amazon in our research. This one is called Pinzon. This private label store specializes in bedding and bath cloth materials. Pinzon follows the exact same prerequisites as AmazonBasics with their limited 68 products. However, not a single rating fell below 3.5 stars.

But also, put this into perspective: AmazonBasics and Pinzon aren't the only private label business Amazon has under their belt -- Amazon owns 500 other trademarked businesses.
The Methods of the Private Labeling King
Our contact Rachel Greer, an ex-Amazon employee who worked on AmazonBasics products from 2012-2014, provided insight into the processes Amazon devised to dominate the competition that would eventually develop into the processes for boosting her clients at Cascadia Seller Solutions. Cascadia is a boutique consulting firm which helps Amazon sellers build and grow their brands on Amazon.
With Amazon's trademarked businesses, Rachel told us one of the oft-practiced methods at Amazon at that time was a procedure known as "Benchmarking."
She went on to tell us, "AmazonBasics uses a 'benchmark' item with excellent reviews and sales rank and copies it, just like the generic products that one sees in a Target or Wal-Mart. However, where a brick and mortar store may need to make generic versions of many products to have a reasonable shelf presence and have credibility with the consumer. AmazonBasics seems to have a much more egalitarian approach to what products are private labeled, relying on reviews and sales rank rather than pursuing a holistic and comprehensive product selection in any given category or subcategory."
Amazon sees your product is doing very well, they have the retained performance data, and Amazon copies to their best of their ability as a "generic version." Through subtle advertising, and imitations of the successful attributes of your product, their product cuts straight to the top ranked in your categories.
The Chronicles of the mStand
What spurred this investigation into AmazonBasics began when we were shopping for a MacBook laptop stand.


We came across this product, the #1 best selling product in the Laptop Stand and two other office categories where they had thrived since their launch on September 14, 2004.
Noting its incredibly positive reviews and amazing design, we made our purchase – and it being on Amazon.com, it was on sale for about $17 less than retail. This is a well-crafted product by a private label seller named Rain Design. That is until Amazon got involved in the game.

On July 27, 2015, this product pops up. Amazon's "benchmarking" came in full swing as they:
1) Recognized the top seller of the category.
2) Copied its design.
3) Cut the price down.
4) Marketed the product with Amazon Sponsored Ads.
Here's the kicker, instead of Rain Design's signature raindrop, Amazon places their smile logo. Boom, and now you've got yourself a product that instantly shot straight to the top of the category.
What Happens if You Find Yourself Suddenly a Competitor of Amazon?
Just because your product is facing heavy competition on Amazon, don't lose hope as this does not mean that it has lost its profitability. Success on Amazon can seem like to be a road paved with gold, but if you sit on your laurels, especially on Amazon, soon enough a new usurper can change the tides of your business.
The fact to remember is: Amazon is a sales channel, not a business. And because it is a channel you should be exploring other avenues. Expose your competitive product on other sales channels where there are less competition and test if you're even more profitable there.
Why limit yourself to the highly competitive market of Amazon when you can have your store exist everywhere a customer may be?
Despite the Competition, Amazon is Our Greatest Teacher
Unlike most private label copycats, Amazon is one goliath David can't conquer. However, when we can't beat them, we grow from them. Amazon follows through with their specific benchmarks and prerequisites. These are the standards Amazon lives by, so we sellers should be following their standards as well.

We may be stressed about our private label copycats, or fear our products becoming benchmarked by Amazon. All-in-all, Amazon taught us to become better sellers by providing us with statistical insight into our businesses.

Through Amazon we learned how to become better entrepreneurs.
Through our research of AmazonBasics, we became better private label sellers.

This article was written by the Skubana Team: Chad Rubin, Tristan Clausell, and Jim Thompson.