Facebook gives e-commerce sellers a powerful opportunity to target audiences around the world. Their targeting and advertising opportunities are amazing for being so well focused; you can define age, education, interests, and even car ownership. All for a few dollars. Facebook will work whether you're selling B2B or B2C, and as of 2017 it's one of the top tools that you need to take advantage of.
This post outlines a few ways you should be taking advantage of Facebook for e-commerce sales.
Finding your audience
Put the Facebook Pixel on every single page of your website. The Facebook Pixel will remember every visitor who has come to your site for up to 6 months, whom you can then target, analyze, or reach out to. You can analyze and optimize your conversions, reassess your target audience, and more with this data.

If you run a Google Adwords campaign, the Facebook Pixel will be able to see who has come to your website from those ads and visit a certain page repeatedly. So if you see someone visiting a particular product page multiple times, you can run a targeted ad just for them.
Target profiles who are similar to those that convert. When someone makes a purchase, you can have Facebook analyze that user and find other profiles that are similar. This includes people in the same age group, with the same interests, and who live within the same geographical area.
Select your top customers and find more like them in order to raise your conversion rates, and get more ROI for your time investment.
Create a custom audience from your email list. The average open rate for emails in the marketing and advertising industry is 18.31% according to Smart Insights. Even if you round up and get a 20% open rate, that still means 80% of your newsletter audience isn't reading your emails.
You can upload your email list to Facebook and create a custom audience from it, then target and advertise to that group in order to raise your chances of getting in front of your target audience.
Create a lookalike of the profiles on your email list. This is more valuable than the similar profiles you create from those who land on your website, because the people who signed up for your email list are further along in their relationship with your brand.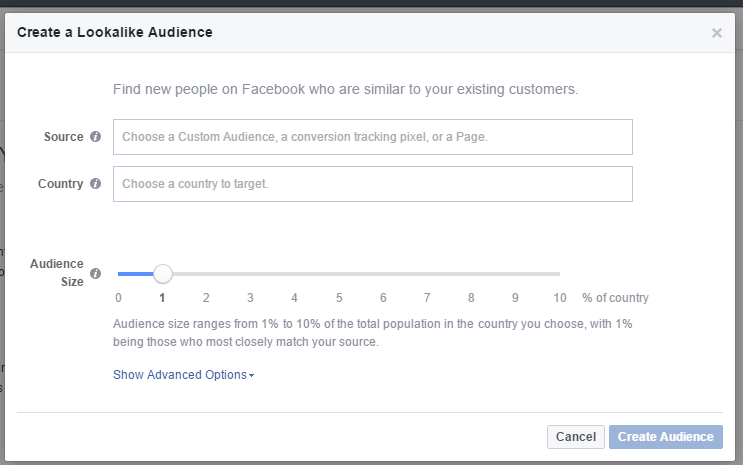 Upload, target, and create a lookalike list for all your buyers. These are all the people who have already invested in your brand. Upload their email addresses to help Facebook find their profiles, and then create a lookalike audience from their profiles. This is the most powerful list you have, because it's based off of those who have already converted.
Finally, create a custom audience based on how long someone stays on your website. You can target audiences who spend a long time browsing your website, but don't convert...yet. This Facebook feature allows you to analyze what separates browsers from buyers, and re-target relevant users for your ads.
Targeting and designing your ads for conversion
Use interest targeting and identify the interests of your target audience. That means once you dictate the interests that your ideal audience is interested in, Facebook can target whoever has interacted with those pages and interests.
There are plenty of teams that try to do copy, design, and graphics in-house. It's important to have copy done by a content professional, graphics done by a graphic designer, and get it optimized by a marketer.
You should have at least a 1% click-through ad for your Facebook ads. If your click-through rate is below 1%, Facebook will penalize you for putting out information people aren't interested in. If your ads get more than a 1% click-through rate, Facebook will bring your cost-per-click down as a reward for providing content that people want.
The purpose of an ad is to get a click. If your ads aren't converting, you not only have to check your targeting, but also your landing page.
Your landing page is the final step to conversion. Whereas your targeting and ad gets someone to click and interact with your brand, your landing page is there to close the deal.
Have you used Facebook for ecommerce before? We'd love to hear about it in the comments below.