A few weeks ago, Extensiv attended eTail West in Palm Springs, California. eTail is where the top minds in retail meet, collaborate, and learn about what's disrupting the industry today and what'll change tomorrow. At eTail, Extensiv showcased our Warehouse Manager, Order Manager, Network Manager, Fulfillment Marketplace, and the Market Insights Tool.
Read testimonies from some of Extensiv's attendees below to see what we experienced and learned at this year's conference: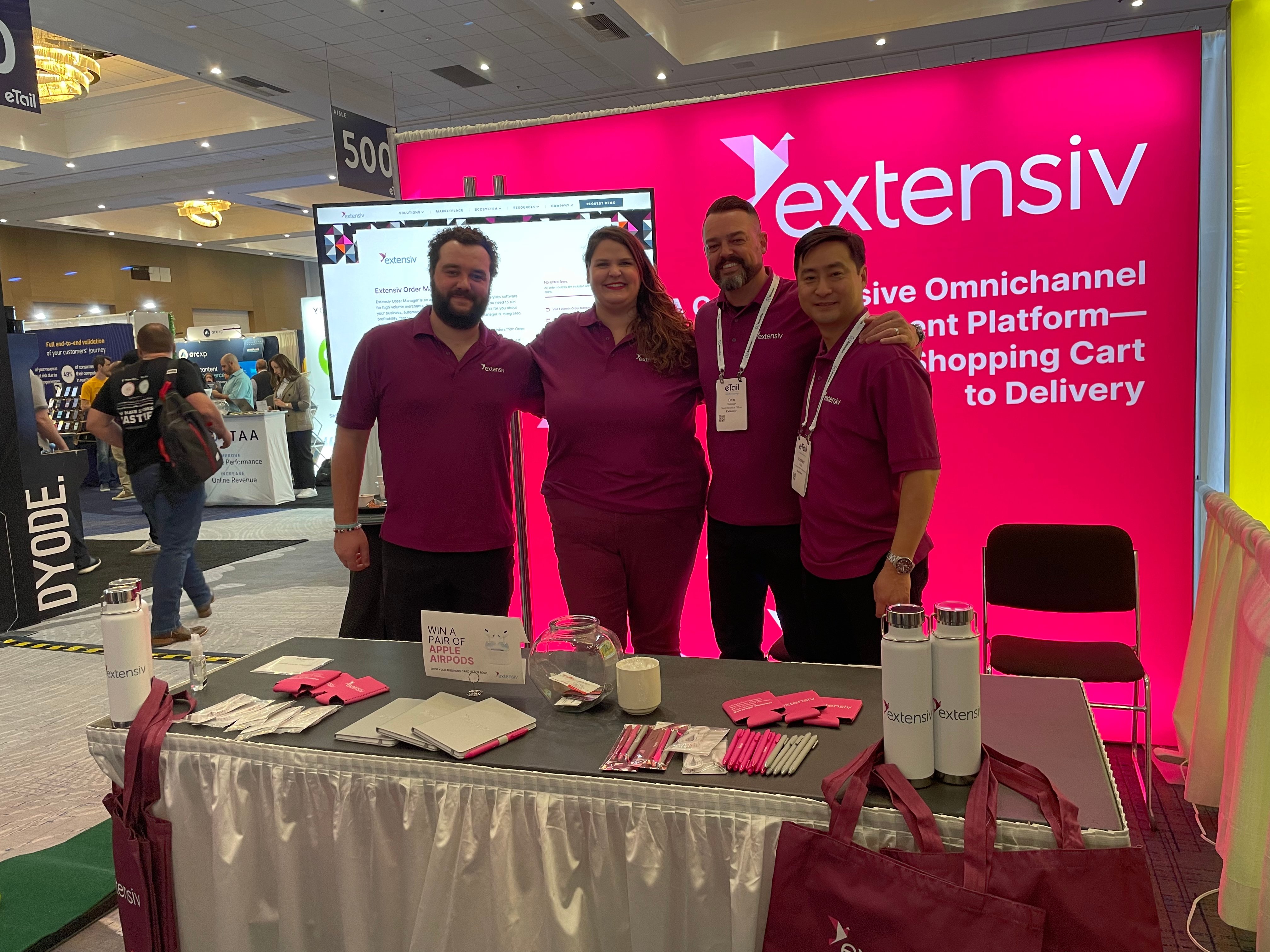 There's nothing better than being in person, so getting to attend and exhibit at eTail was energizing. It was my first event since pre-pandemic. 
eTail West was a great event for brands, retailers, and fulfillment and technology providers to gather and share experiences, thoughts, and in many cases, solutions on how we can all be successful in volatile economic conditions. Going back to basics was a big theme. 
Here are my top 3 takeaways on how brands and retailers are focusing on going back to the basics: 
Efficient Customer Acquistion: There were several sessions and conversations around how brands and retailers can improve marketing efforts by leveraging different channels and data to continue to get more efficient in their customer acquisition strategies. After all, efficiency, especially in uncertain economic times, is a key driver to success for any business. Brands and retailers know this and are putting forth a lot of energy to improve. 
Meeting customers where they are: It's no secret that competition for eyeballs and wallet share from consumers is front and center on the minds of brands and retailers. Leveraging technology to get to and measure where customers are, what they want, and what their propensity to buy is so important to a brand's success. 
Having the right fulfillment strategy: Consumer expectations are at the center of everything. Brands and retailers know this and are making decisions on how best to align themselves with the right technology and fulfillment partners to save on costs and deliver a winning customer experience.
I'm looking forward to attending eTail West again next year as well as other events in the near future to help contribute to the success of our customers and partners as we are all in it together. 
As a participant at eTail West this year, I couldn't help but compare it to my experience at its sister conference, eTail East (in Boston, MA) in August 2022. Much seemed to have changed, but yet much remained the same.
First, I was struck by the sheer difference in scale. With what seemed like more than 3X the number of attendees, everything was that much grander. A bigger venue, more exhibitors, bigger booths, and better parties strewn across the Marriott resort meant everything felt livelier and more vibrant. All of this seemed to punctuate the difference in the topics of conversation in the air. The pandemic and its effects on ecommerce and retail no longer seemed to permeate every discussion like it did in the Summer of 2022. Omnichannel and topics like buy online pickup in store (BOPIS) were now a given, and we need to move on to what is next. Instead, topics like Chat GPT, personalization, and the need for technology to supercharge our efforts made up the buzz in the air.
Still, meeting the evolving needs and expectations of customers was central. This had not changed and was still the bar we had set for ourselves. I was grateful to have enjoyed numerous thoughtful conversations with fellow attendees about the challenges they faced as they continued to grow to meet these demands.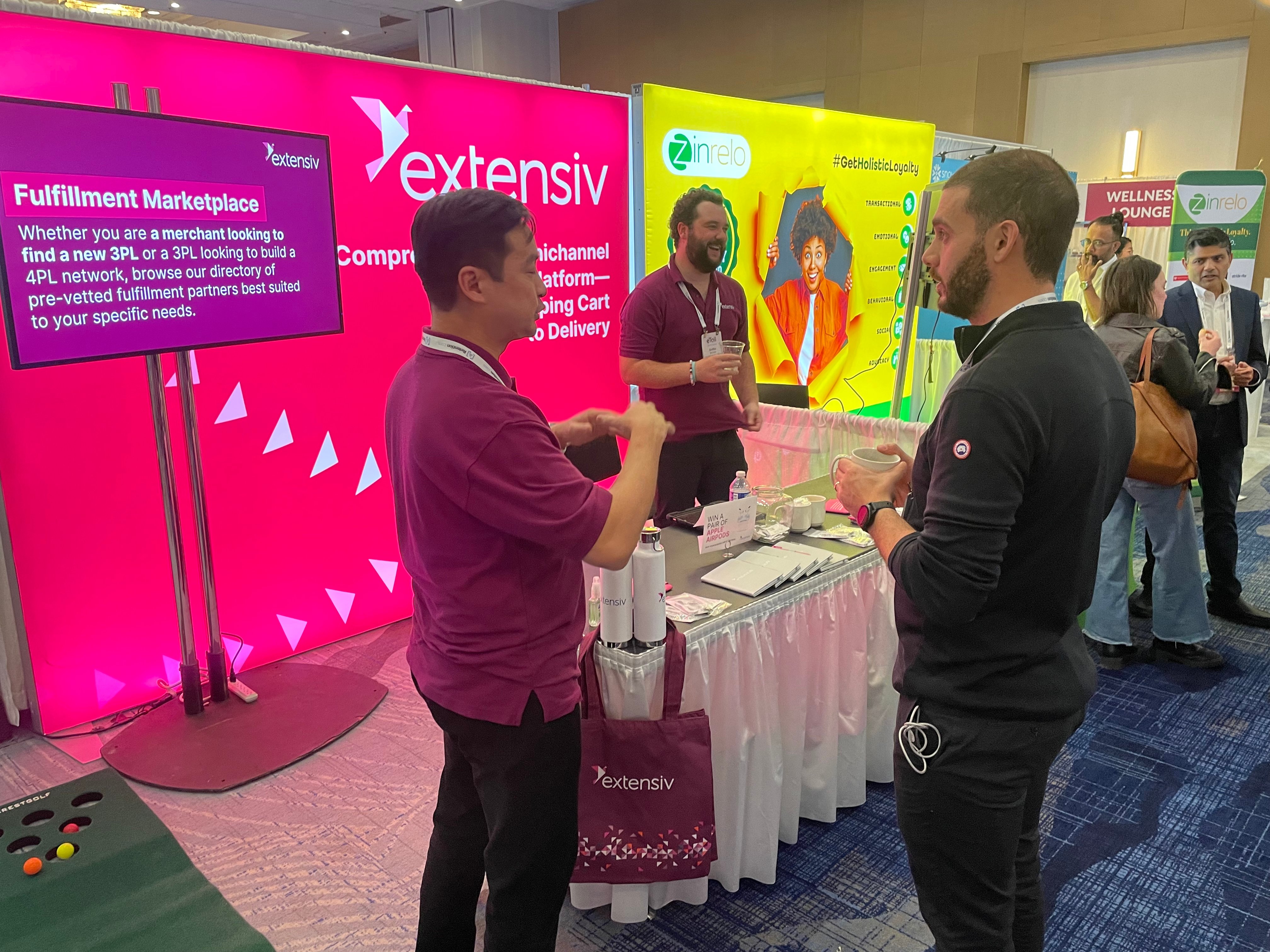 The Extensiv Fulfillment Marketplace was a popular topic amongst our conversations because it provides businesses with a wide range of fulfillment options from trusted providers all in one place. This can save businesses time and resources that would otherwise be spent searching for and vetting individual fulfillment providers. Several of the brands and merchants that are looking to streamline their fulfillment operations, optimize their costs, and improve their customer experience realized the true benefits of the Fulfillment Marketplace in our discussions at eTail.
A common topic at eTail was about customer experience. The customer experience is critical to the success of any business. In today's world of abundant choices, consumers have higher expectations than ever before. They want personalized experiences that meet their specific needs and desires. Failing to deliver on these expectations can lead to dissatisfied consumers, negative reviews, and lost business. This is why creating strategies for retention and loyalty is increasingly important. By building strong relationships with customers and providing them with exceptional experiences, businesses can increase customer satisfaction, loyalty, and advocacy. This can lead to higher customer lifetime value and improved business performance over the long term.
I was able to attend both eTail East and West this year, and it was very fascinating to see the different companies and brands that attended each show. Like eTail East, the many vast areas of the technical industry were represented in Palm Springs for eTail West. Again, we seemed to be the biggest omnichannel solution at the show. This was great because it led to conversations and honestly brought in a lot of interest in our Network Manager solution. One great thing for someone who has only been in the industry for a few years is how much I get to learn about the software sales industry and ecommerce solutions. This allows for great conversations with fellow companies represented at the show, and brands looking for solutions to help their business operate.
Summary
All in all, it was very refreshing for the conversations at eTail West to have moved beyond the doom and gloom of the pandemic, signaling brighter days ahead for the retail industry. If you missed us at eTail West, be sure to catch us at other trade shows throughout the year or schedule a demo from our website to learn about our omnichannel fulfillment software solutions!