Is there anything worse than an irrelevant email? Probably not - there's already enough going on in your inbox. But scrapping email altogether isn't a solution. For many businesses email is one of the most effective ways to reach out to customers and be heard. Luckily there's a demand for personalization.
80% of customers actually want to receive emails with product recommendations based on prior purchases. All you need to do is make sure your email communications include a personal touch, based on recent customer activity. It's a fantastic way to increase customer respect and retention, but it doesn't stop there.
Here are 8 other great ways to make your customers happy and increase the chances that they'll come back to your store - all wrapped up in the following infographic.

Take action today
So, as you can see, in addition to making sure your communication is relevant, there's a lot of value in upping your level of customer service by keeping things personal, recognizing customers, and finding ways to fit into the daily lives and routines of your customers.
1. Keep it personal
One way to increase trust and credibility is to optimize your store for quick-and-friendly customer service. If your store isn't already using a live chat software, consider implementing one as fast as you can. This tool lets you offer instantaneous answers and help. Look for a chat tool that provides insight on customers' activities in your store, which will allow your customer service team to step in if customers are having trouble anywhere along the browsing or buying process.
If your store already has live chat in place, analyze your current communications, making sure your brand ideals are coming through and ensuring that responses are quick, specific, friendly and professional. Get the job done quickly and try to make your customers smile at the same time.
2. Recognize and reward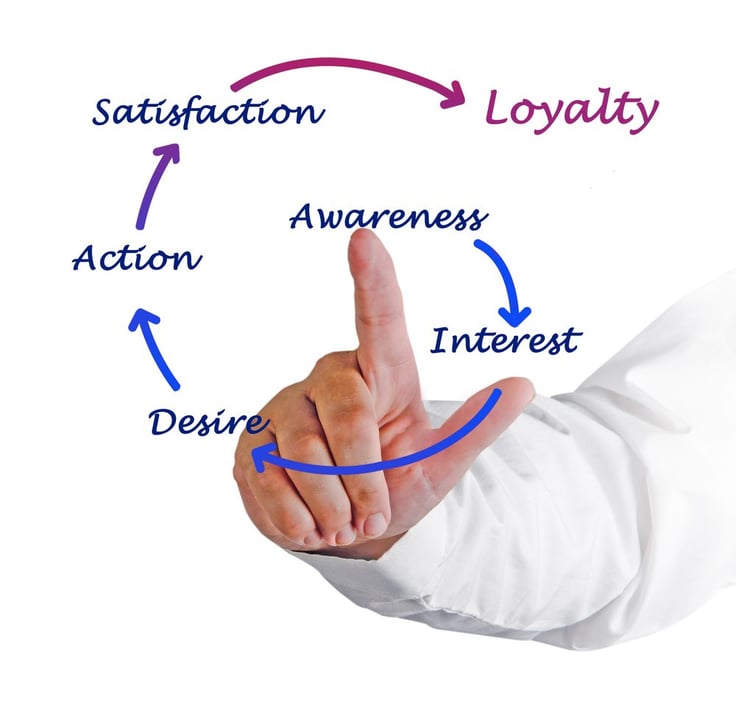 If you are seeing a lot of one-off purchase activity in your store, focus more of your marketing efforts on increasing customer retention. As you might have seen in the infographic, it is 7 times more expensive to acquire a new customer than to keep a current one, so it's worth the investment.
The key to running an ecommerce rewards program that keeps people interested is offering rewards for a multitude of actions. Find a points-based loyalty program, like Antavo, that includes the traditional function of rewarding customers for their purchases, but also rewards customers for taking other actions that you'd like to encourage in your store or on social media. These could be actions such as product page shares, Facebook follows or video views.
And don't forget referrals! A loyalty software that also rewards participants for inviting new customers is the perfect one-two punch for growing a loyal customer base.
3. Be a convenience

Convenience is everything in online shopping. That means that, as new technology is introduced, you should be looking for tools to make it easier to purchase on your store. Provide a seamless experience throughout the mobile and desktop shopping process by decreasing page load times, and reducing the steps that customers need to take in order to check out.
Dedicate your dev to impressing customers. If a brand is noticeably lagging on a certain platform, it creates an association of being "behind the times" or "inconvenient" - which is particularly difficult to reverse.
In 2016, m-commerce is increasingly important. Make sure you've got checkout under control with at least one form of mobile payment. Also, don't forget about guest checkout. In the race to get things done, the last thing you want to do is alienate buyers who would simply rather not take the time to register on your site.
These are some things you can start doing immediately to improve the buyer experience and increase customer retention. The investment on customer retention now, will help you improve brand perception and long-term sales.
About Antavo
Antavo is a loyalty marketing software for eCommerce companies to build reward programs. Increase customer retention through smart gamification and get 200% more returning customers.