New 3PL Intelligence Ecosystem for Partner and Developer Programs to Extend Value of the Extensiv Platform for Customers
Extensiv is excited to introduce the 3PL Intelligence Ecosystem with new partner and developer programs that build upon the Extensiv Platform. The 3PL Intelligence Ecosystem empowers customers, partners, and developers to grow and thrive in our dynamic industry by providing the means to build and control their fulfillment network through one interface. This announcement is part of our 3PL Intelligence Initiative, aiming to provide customers with all the right tools to move from paper-based workflows to a modern, paperless warehouse.
The 3PL Intelligence Ecosystem
Confidently Manage Your Fulfillment Network
The 3PL Intelligence Ecosystem is comprised of a powerful network of customers, partners, and developers built around the Extensiv Platform. Together, this ecosystem strives to enable intelligent distribution and drive growth for our customers.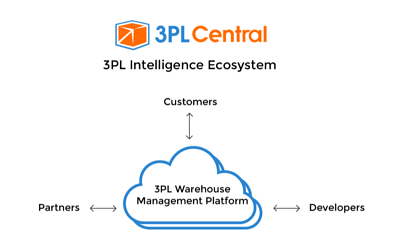 As third-party logistics warehouses scale their businesses, the need to inevitably support more orders and customers will require updates to their technology solutions and services. Systems that originally facilitated growth may not be enough to prepare warehouses for expansion while keeping operations efficient to meet growing demands. Many 3PLs will need to supplement services by partnering with industry leaders and implementing best practices – leveraging more solutions and services, integrations, and other resources.
Offering access to the resources needed to efficiently operate and scale, increase customer satisfaction, and quickly deliver value, the expanding 3PL Intelligence Ecosystem already includes:
"We leverage the 3PL Intelligence Ecosystem to integrate with other key players in logistics through one interface," said Manny Arriaza, head of management information systems at Woodland Group. "With pre-built connections to the largest shopping carts and retailers, our customers can start sending orders to our warehouse within minutes. It would take hundreds of hours for one of our staff to manage this through manual order entry."
The Proven Backbone of 3PL Operations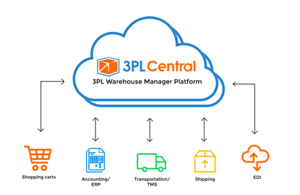 At the core of the 3PL Intelligent Ecosystem, the Extensiv Platform serves as the proven backbone of our customers' operations and quickly transforms paper-based, error-prone businesses into service leaders. Picture the platform as a hub or stable center of gravity, with connections to other solutions and services at its core. The value is derived not only from the platform's own robust capabilities, but from its ability to easily bind these products and services together, and orchestrate them in a common mission – to enable intelligent distribution and drive growth.

Currently, 600 access credentials have been issued to connect more than 7,000 different endpoints. Additionally, high-volume processors are creating hundreds of thousands of orders per day, and more than 250 customers are already connected to the Extensiv Platform through external API access and the 3PL Intelligence Ecosystem.
Extensiv Partner and Developer Programs
With the new programs, Extensiv further enables customers, partners, and developers to easily discover and effectively leverage best-of-breed solutions and services.
Extensiv for Partners – Extensiv collaborates with trusted partners to leverage the Extensiv Platform and deliver world-class programs, applications, and integrations. These are designed to help warehouses and their customers connect to the entire supply chain and scale at a record pace.

With the new Extensiv partner program, partners also receive additional benefits including access to documentation, collateral, exclusive-use APIs, dedicated technical support, and more, making connecting to the platform simple for developers and seamless for the customer.
Extensiv for Developers – Extensiv also hosts a thriving community of customer and third-party developers. They can tap into a network of expert help and peer support to interact and exchange ideas, challenges, and solutions. Programs and services for developers include:


The Developer Program - An introduction to the Extensiv Platform and foundation for increased development opportunities. This standard level includes benefits such as access to free API documentation and community support to learn about best practices, example code, and a network of external and internal API developers.
The Preferred Developer Program - For power users looking to build advanced connectivity or deploy a connection to multiple endpoints. The new Preferred Developer Program includes all the benefits of the Developer Program level, plus additional perks such as early-access to new API functions, exclusive use of APIs, and more. Membership to both the Developer and Preferred Developer Programs is free.
Developer Enablement Services - High-level consultative support to turbocharge development efforts and receive support for all API integration programs. These are paid services that offer priority access to live help. The new program is only available to direct Extensiv customers, but can be extended to their customers and third-party developers.
As the 3PL warehouse landscape continues to transform and evolve at a rapid pace, Extensiv is dedicated to keeping our customers, partners, and developers at the forefront of the industry. The 3PL Intelligence Ecosystem is designed to help them successfully navigate through the changes ahead and continue connecting the world through intelligent distribution.

Interested in learning more about the 3PL Ecosystem? Visit the 3PL Intelligence Ecosystem For Customers, Partners, and Developers.