Reporting and Analytics
Power Profitability and Growth Through Data
Identify and act on opportunities to cut costs and increase margins.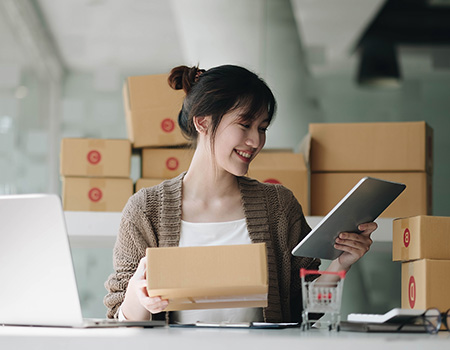 Take Action with Data-Driven Opportunities
Data is only helpful when you are able to digest the information and take action, but many systems leave you to decipher mountains of spreadsheets. Extensiv Order Manager summarizes important performance metrics with recommended actions to help you grow your business. Our software aggregates data across your entire operation looking for opportunities to cut costs and improve profitability, such as avoiding premium storage fees and bundling products based on high demand. Understand the ins and outs of your business with curated reports and dashboards built by sellers for sellers.
Real-Time Insight
Stay Updated Anytime, Anywhere
Track inventory and orders in real-time to meet customer expectations with fast and on time orders, not stock outs and overselling. Extensiv Order Manager helps sellers stay on top of inventory and orders at all times by providing instant access to available inventory with automatic updates as each order is submitted. Unify POs, warehouses, sales channels, and shopping carts into a single platform and have confidence in your ability to make critical business decisions that propel your business.
Dashboards
Unify Key Performance Metrics
Extensiv Order Manager summarizes key metrics into one dashboard to give you a single screen to evaluate current performance. Quickly view total sales, net profit, and your margins as a holistic business and dive into details to discover more. Capitalize on your data trends by analyzing performance trends over 30, 60, and 90-day periods to determine how to grow your business in the future.
Inventory Snapshots and Trends
Minimize Depreciation and Meet Demand
Managing inventory goes beyond calculating your current availability. Storage costs and product lifecycles can burn holes in your pockets if not accounted for. Extensiv Order Manager provides detailed visibility into current inventory, historical trends, and future forecasting. Analyze products by age, performance, and forecasted growth to determine whether storage costs and other fees will eat up profitability or if you're about to hit critically low levels with top selling products.
Product Profitability
Track and Improve Profitability
Total sales and profit margins often go hand-in-hand, but managing this relationship as your order volume increases becomes complex. Extensiv Order Manager was built by sellers for sellers with reports tailored for business growth and profitability. Ignore distracting data with a suite of reports enabling you to build on momentum by breaking down profitability by SKU listing and highlighting top sellers. Translate orders into actionable insights by analyzing trends and creating strategies to better position yourself in the market.
What's great is we have much better visibility, so the minute there are problems, we see them and try to fix them. Before Extensiv, that level of detail and insight was impossible.
— Tom Langdo
COO and CTO, Sterling Brands
Order Management
Effectively manage omnichannel order fulfillment with powerful automation tools
Learn More