Facebook Marketplace, Instagram Shoppable tags, and so much more seem to be exploding onto the scene with new features and interactions every day. All the kids are doing, and now companies are starting to wonder if they should too.
Gen Z is always on social media, and they're set to overtake even the Millennials as the largest global group within a year. They'll make up as much as 40% of consumers, and this group already has more than $140 billion in direct buying power.
Social media is also their favored channel to reach out to brands and to talk about products. So, from where we're setting, social is the future. Think that'll work for you?
To see if that is the right future for you, then it's time to look at social selling and see if it works, understand the advantages and disadvantages, and how to know if this is something you should try.
That's our mission in this article, and we think you'll likely find a reason to dive-in in a big way.
Getting Started
Perhaps the first place to start with social media shopping and selling is trust. Figure out the services you trust to meet your customers. You likely already have a presence on these, but if not it's time to start building that up before you engage in direct selling activities.
After you have a list of trusted sites, find a trusted person to run these efforts and free them up to focus on this for much of their time each week. Social requires a consistent presence and tone to represent your company. So, the trusted person needs to not only have skills for a variety of social media content, but you should trust them to represent your company appropriately at all times and even drive marketing strategy more broadly.
After you know which people and platforms you trust, it's time to start with a little homework. Make sure the social media services you like support the products you want to sell. Each will have some restrictions, as well as support for some interesting niches.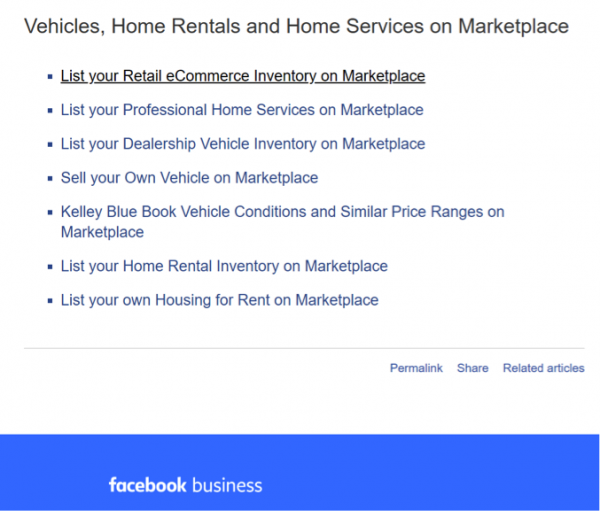 The Facebook Marketplace, for example, includes support for a variety of rental car options as well as your eCommerce inventory.
Your homework should also include any requirements for goods as well as for how well they can be discovered. Some services are designed for local shopping, so you might need to target inventory to communities around your distribution centers for it to show up in a search.
Facebook Marketplace
The Facebook Marketplace started out like a yard sale 3.0. It allowed people to find and buy, or sell, items within their local community. You could see everything from a laptop or iPad to antique tables and working cars. Marketplace even has its own messaging tab, so people can keep it separate from their normal Facebook activity.
The platform has a variety of categories and search functions, so the consumer can find a product they want that's close enough to get. You can also buy goods that need to be shipped, but for person-to-person sales, the company says no one should ship an item before full payment is received.
For eCommerce brands, this service makes amazing sense because Facebook has expanded its support for you. Not only does it have general tools for you to share your inventory for local sales, but the platform has built-in integration for BigCommerce, Shopify and potentially others.
Not everyone can get access right away. You'll want to have your page admin apply to get listed in the Marketplace. Even if you're thinking about this in the future, apply now to ahead of the curve on any potential wait.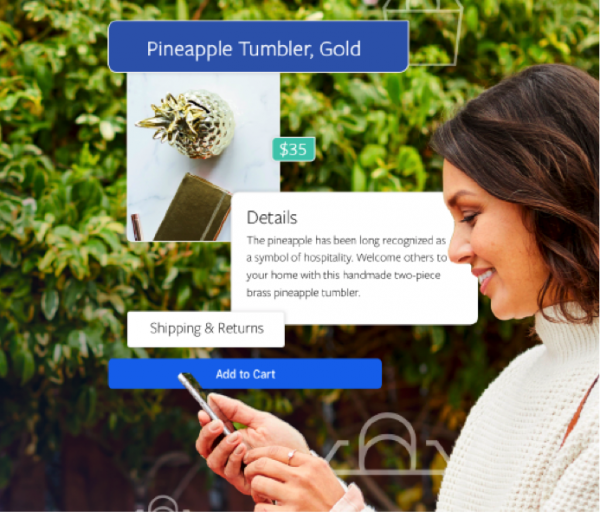 The company does charge a $0.30 fee and a 2.9% fee for any payments it processes, and this gets passed on to the payment processor.


Existing Limits from the Company
Facebook has a variety of requirements that can depend on your category and business location, but there are some that run the gamut for goods you put on its Marketplace:
Orders must be shipped within 3 days and received within 7 days. So, you or your fulfillment partner should be certain you can reach anywhere you sell to via the platform.
Returns must be accepted within 30 days of receipt.
You have to be a direct brand or authorized retailer, and you can only be in the U.S.
Product listings have a list of items that must be included, such as the name, description, images, and a specific thumbnail image that has its own list of requirements.
In some instances, these requirements can be used to boost your sales. For example, cars listed on its pages need to have mileage provided. This can often be a big selling point for dealers, and Facebook makes it easy to highlight.
Why You Might Love It
Facebook is pushing its Marketplace hard. The service has its own tab, it promotes items within the Newsfeed, and it allows for groups directly linked to different Marketplace locations and communities. The service drives traffic and engagement for Facebook, so it will likely continue to expand its capabilities. It's so good that you can find a variety of guides for specific industries that cover the service and related ads.
Speaking of those ads, any company can also start advertising on the Facebook Marketplace. You don't even need to change your existing ads in most cases. Run the same campaign to reach people looking to make a purchase. Or, give your ad inventory a refresh and specifically target the items you have listed on the Marketplace and make it extra-easy for customers to see, shop, and buy.
Facebook has roughly 214 million active monthly users in the U.S., which is plenty of people to reach with your products.
Instagram Shoppable Tags
Instagram started its Shop Now feature in 2015 and saw modest sales that continued to grow. The company has since had two major improvements: shoppable stickers for stories and Shopify integration. The Shopify news is some of the only direct integration and makes posts easy to add tags too via an outside platform.
All sellers with catalogs can make their posts shoppable and have been to for some time. What we want to focus on now is the addition of shoppable tags to Instagram Stories, because these are a massive driver of interactions and Instagram's users report that they rely on stories to stay in-the-know for what brands offer.
Instagram Stories Go Shopping
In June 2018, Instagram expanded its shopping system to include Instagram Stories as well as its feed. Businesses and users can add stickers with shopping bag icons that are tied to purchase information. It rolled out with some major partners but has since expanded to businesses just like yours.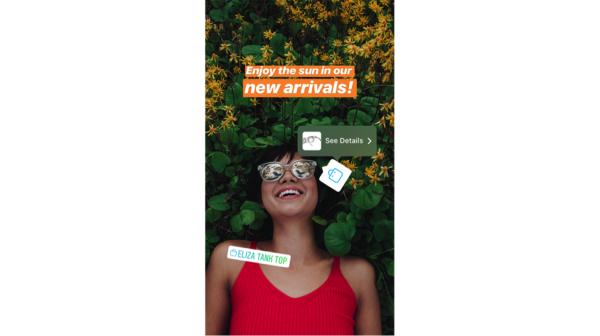 At the announcement, Instagram noted that 300 million people use its Stories every day. That's a big audience for your brand, especially if you're also partnering with Instagram influencers who can now tag your products and provide your purchase details within their stores.
Adding the tags to your Stories requires a few simple considerations:
Ensure you're in one of the countries Instagram shopping supports.
Your account needs to be a Business account, which also gives you access to its analytics
Make sure you meet the Facebook and Instagram merchant requirements.
Update your app to the latest version.
Create a product catalog on Facebook and ask for approval to tag products.
Get approved and start adding tags to your product catalog!
While that sounds like a lengthy process, it is fairly quick. Especially when you have the chance to make it easier by scheduling Instagram posts. The good thing about Facebook and Instagram merging is that you get access to both with some of the same steps.
Self Reported Success
One smart reason for jumping onto Instagram to sell your products is that the site's users say one reason they watch Stories is to stay on top of the brands they like and new products they want. Brands were early adopters of Stories and users have become accustomed to looking in this location to find goods. Now, you just have an easier way to sell too.
"On average, more than 1 in 3 self-reported daily active Instagrammers surveyed in BR, ID, UK and the US said they have become more interested in a brand or product after seeing it on Instagram Stories," the company says.
The company's same research shows that existing best practices for its mobile feed ads also improve Instagram Stories ads, including being relevant to the target audience, keeping things short and fast, showing product demos, and optimizing things for mobile.
So, your existing ads can be used to boost sales with these new tags. If you're new to Stories, there are still simple and effective ways to overlay product details onto your goodies. The company has made it simple, and it's where users are already headed.
In its marketing, Instagram notes that one customer increased traffic by 25% and social-selling related revenue by 8% due to the simplicity of Instagram's tools.
But You Can't Buy from a Tweet
Twitter will round out our look at the big three (though there are also sale options for Google+, Tumblr, Pinterest, and more) thanks to its purchase features that started in 2014 but have continued to increase consistently.
That is, until January 2017 when the company started phasing out its "Buy" buttons. The company wanted to shift back to more of a "what's happening" and interaction platform, so it shifted back to just selling ads and promotion options, where purchasing takes place off of the site.
We're looking at Twitter right now to understand some of the principles of social media selling that aren't platform specific, but instead look at the bigger picture of audience interaction. Social allows you to connect in a direct, fascinating way that you can capitalize on even without a flashing "Buy Now!" thrown in people's faces.
So, let's look at the marketing benefits of getting on social for your ecommerce business.
Direct Integrations
One of the bigger benefits of social selling is the ability to interact with customers immediately and about specific topics and products. You'll get a direct way for customers to contact you within the platform they're using — instead of having to open up an email app and then try to remember your contact address.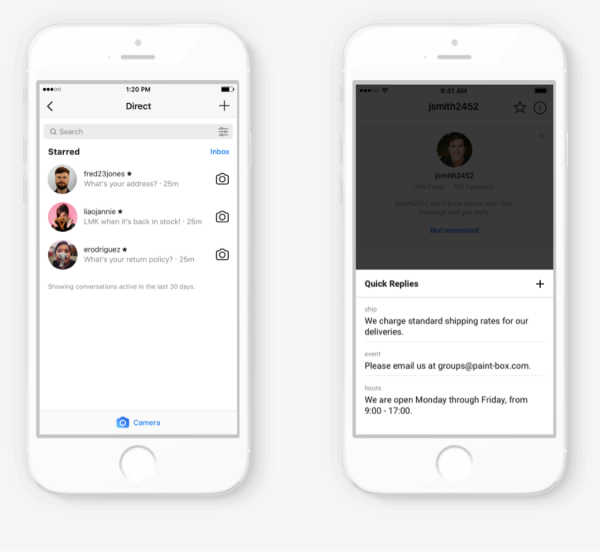 You can also leave specific information on your page or even generate replies to answer frequent questions. It comes from an account and feels like a real person is always answering.
Direct messaging options on Twitter, as well as services like LinkedIn and Facebook, make it easy to deliver quick service even if you need personal information.
Where Twitter shines is the ability for users to talk about you and tag you in ways that are very visible. This gives you a chance to respond and address concerns quickly, or even re-share the compliments so that more people can see.
Twitter communication is a terrific way to get a feel for how others see your brand.
Engaging Instead of Selling
Social listening allows sales teams and marketers to find prospects in a variety of ways. You can look for mentions of your products or your competitors, take out ads around target demographics and see who interacts, or look for people who are asking questions that your product or service can solve.
Once you find someone, social media supports a conversation where you can discuss the concern and offer general help, not just a sales pitch. You don't want to do the social version of cold calling. You want to share information and resources that genuinely help.
If you do it right, you can earn positive comments, likes, shares, and much more. All of this gives you more reach and can drive more people to your profile, ad, tweets, and your sales pages.
Positive interactions also have an added benefit for your website. You can screen grab comments and praise and then share them on related pages for your products. It's instant social proof and visitors will give it the benefit of the doubt as legitimate.
Stalk Your Competitors to Learn
Follow your competitors and their followers. Twitter and some other social sites make this easy. You can then use list-building tools on the platform to segment out these people and watch them for specific cues about what to do in your business.
It's effective and easy competitor research to watch out for deals, customer complaints, what people like, and much more. Plus, when you follow someone on social media, they get a notification. This could prompt them to look at your profile page and then decide to follow you too. These are warm leads and give you a good chance to capitalize on a hungry market.
Support Other Marketing
Hashtags have expanded beyond Twitter to be useful on Facebook, LinkedIn, Instagram, Pinterest, and even your SEO and search efforts. Use them to help drive your conversation, find interested parties, and even give your outside marketing a little boost.
Tweets can turn your thoughts into snackable bits, and a hashtag keeps it all unified. It'll help you drive traffic to your website, newsletter sign-up and more. Twitter's ads also can be used for retargeting around some keywords and some ad units even allow users to give their email address to you to join your lists.
It's just a start, and there's plenty more to do from here.
The Future of Social Selling
We'd argue that at the heart of all this is a new type of peer-to-peer social commerce that works well for ecommerce companies. Social media allows you to turn followers and strangers into advocates. They can drive interest and generate conversations around your company and products, sometimes without you even needing to prompt them.
Your company can sell to your entire network and beyond, even without ads. Advertising just expands this, and new units make it simpler for people to buy and share. Every customer and device becomes a potential sales platform or a new town crier to highlight you.
If you're not online and active, then you won't have much control over the message. If you are active, then you have the best chance of guiding the conversation, addressing problems, and sharing content that others then share to meet the ever-growing desire for cool new things on social media.