For any ecommerce business looking to stand out in a crowded and competitive marketplace, the cloud is where it's at. In fact, more and more companies are moving on from their traditional in-house servers and software, to instead adopt cloud-based inventory management solutions. That's because cloud-based tools are superior in their speed and functionality, and likewise eliminate the errors (and headaches) related to singular, on-premise systems.
What is order orchestration?
Order orchestration is a pretty simple concept — it's the automated sequence of fulfillment steps to process a customer order. In addition to helping with the flow of fulfillment, order orchestration also provides vital information on forward and backward planning, as well as how best to compensate for changes in this whole process.
While order orchestration is fairly straightforward, there's still a number of business rules and moving parts involved with getting a sales order delivered on time (and on budget). These business requirements will be discussed in more detail below.
Order orchestration vs order management
If you run an ecommerce brand, you might already be familiar with the concept of order management. Essentially, order management is everything that happens after someone clicks the 'buy' button on your website. More specifically, it's the receiving, tracking, and fulfilling of customer orders. The order management process begins as soon as order capture is complete, and it's finished whenever the customer receives their shipment.
As your business scales, it becomes increasingly important to automate your order management using a quality order management system (OMS). If you don't automate this process (and instead continue with manual practices), there's a good chance your brand will become overwhelmed by the volume of orders streaming in — leading to more errors and/or inaccuracies with your fulfillment.
With this understanding of order management and our previous definition for order orchestration, you may be noticing some similarities between the two. They're both tethered to the order fulfillment process, they both assist with the efficiency/organization of fulfillment, and they both incorporate the use of automation to achieve their desired outcomes.
Still, order orchestration sets itself apart in a few ways. Unlike order management, order orchestration works behind the scenes to automate the back end operations related to fulfillment. In other words, order orchestration unifies your stock at every touchpoint wherever it's located — from distribution centers, to supplier warehouses, and everywhere in between.
When it comes to optimizing orders and increasing profitability, orchestration is the way to go. By leveraging order orchestration, your brand has the ability to completely optimize its order processing from end-to-end. In turn, you'll be in a better position to avoid stockouts, reduce delivery times, minimize shipping costs, and boost your margins to a notable degree.
Order orchestration process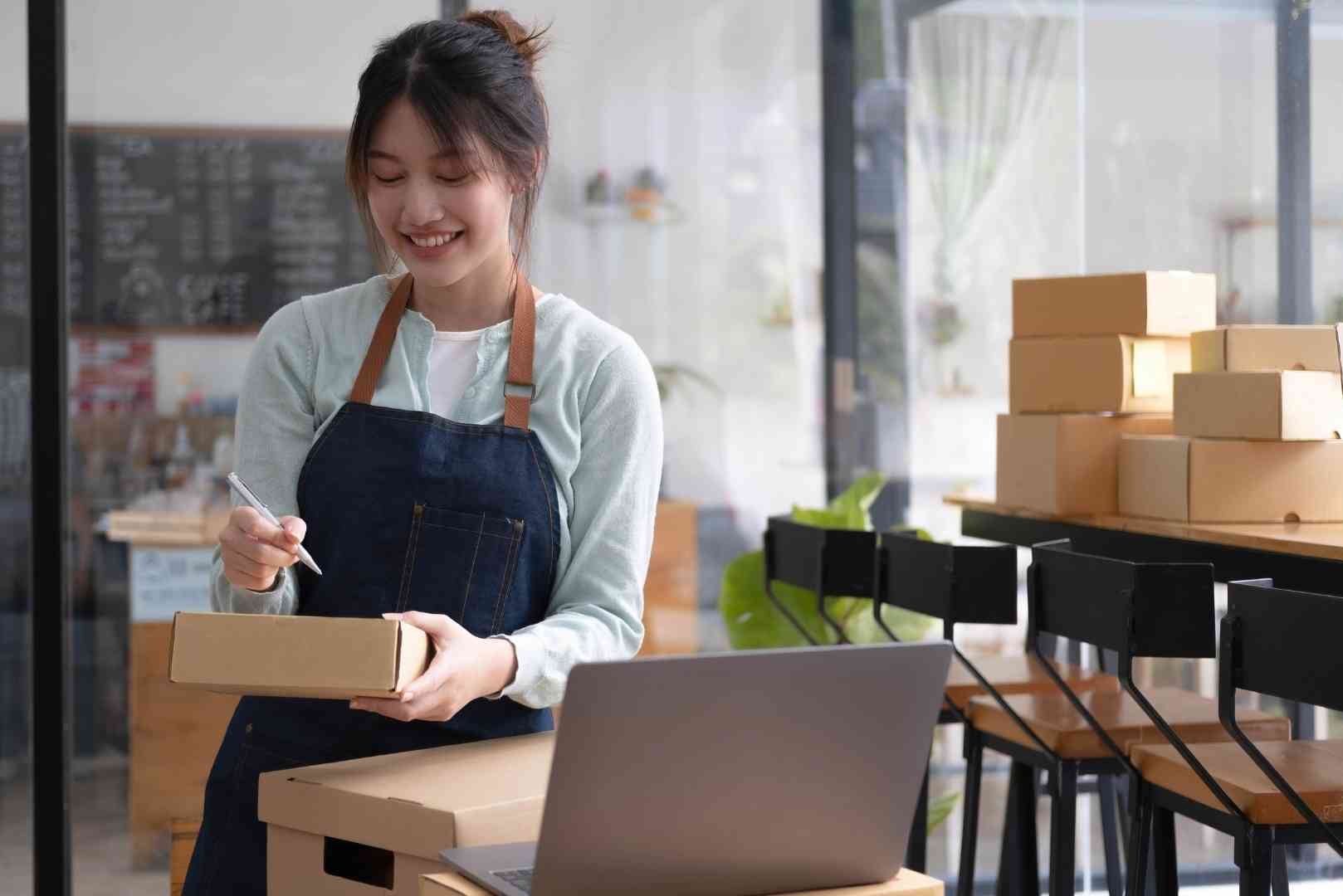 Order orchestration plays a vital role in omnichannel fulfillment systems, as this process helps to streamline (and automate) everything from picking and packing to shipping and receiving.
Order is made and processed
Once a customer has finalized their online purchase, order orchestration will then kick into gear. Your order management system will create an order number and take the necessary steps to prepare that order for fulfillment (by way of order processing). In short, your OMS will analyze the availability of products among all your different storage points including warehouses, fulfillment centers, or possibly even brick-and-mortar locations.
If certain order lines are available while other items are out-of-stock, this translates to something commonly known as distributed order orchestration (DOO). In this situation, the in-stock items can move forward with fulfillment, while the out-of-stock orders will need to pause shipment until the desired inventory is back at your warehouse.
Order is picked and packed
With an understanding of where products are located, the next step is to pick and pack those products from their designated storage space. Picking and packing — whether done by hand or with the help of warehouse automation — should always be performed carefully to ensure the right SKUs are selected and that all the necessary products are included in the shipment.
Order is shipped and received
After all items have been properly picked and packed, it'll be time to ship the order to the customer. Shipping can occur via land, sea, or air freight, though each method comes with its own particular set of advantages. Depending on the mode of transportation and the distance to be shipped, it may take a few days or several weeks for that order to be received.
Order promising often comes into play at this stage, by calculating the earliest ship and receipt dates (based on the delivery date control method). More simply, order promising helps your brand to reliably promise delivery dates to your customers — while also providing enough flexibility to help you meet those projected dates for every order.
Inventory is adjusted
The final step in order orchestration is to adjust your inventory. Inventory adjustments allow your company to change the number of units in stock so you don't sell products that aren't actually available. Although adjustments can be done manually, it's much easier (and more accurate) if your order management system automatically handles these updates on your behalf.
How to automate fulfillment with order orchestration from Skubana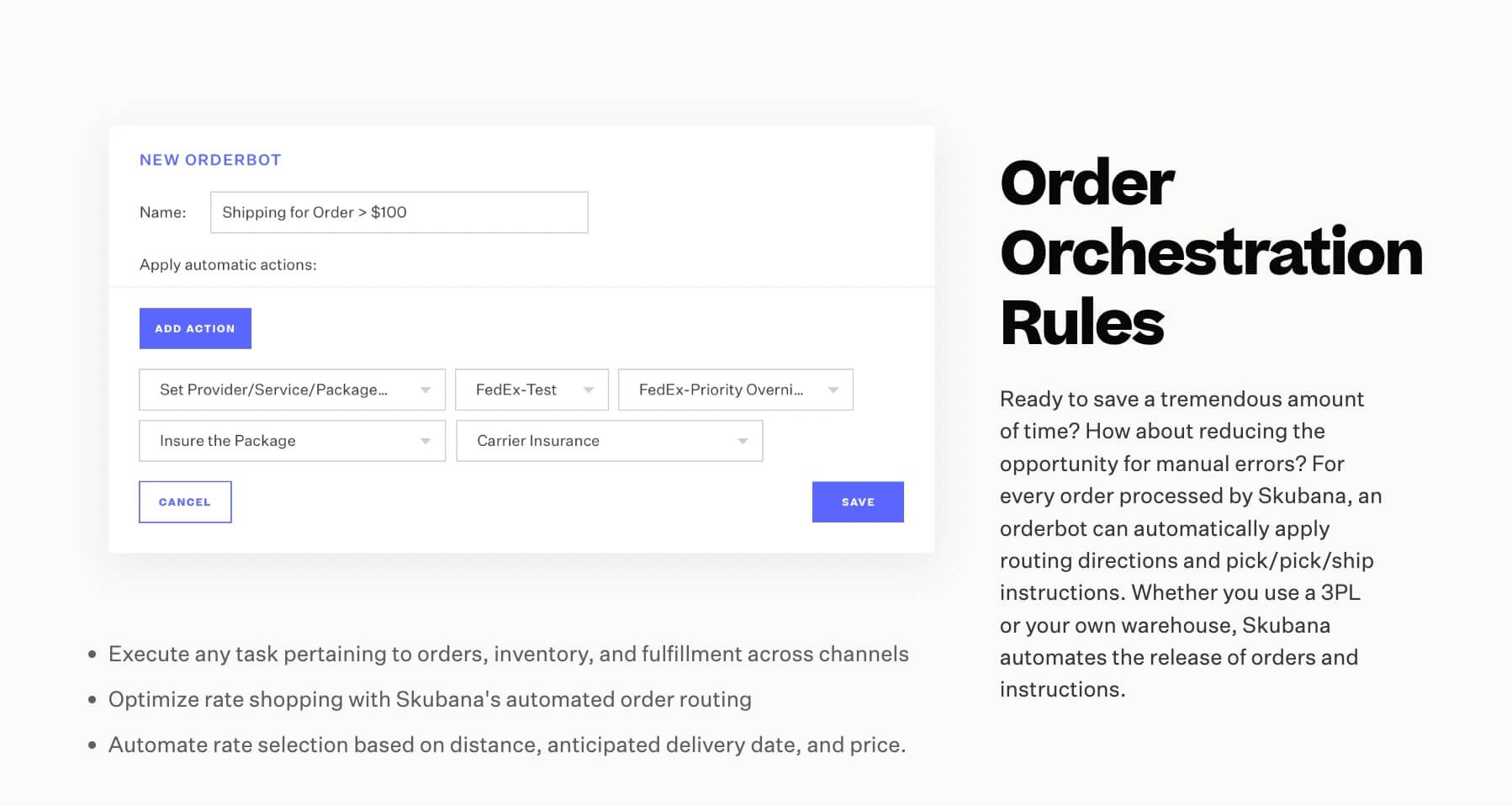 When order orchestration happens in real-time, order fulfillment becomes a lot more efficient and more reliable as a result. Extensiv's proprietary orderbots help retailers automate every stage of order orchestration for a totally hands-off process you can trust for its accuracy.
Split by Available Stock
Right out of the gate, Skubana's orderbots will split an order's items according to their availability. In-stock items will be included on one order, while out-of-stock items are placed on a separate order to maintain their Unresolved > Out of Stock status. From there, the in-stock orders can follow through with fulfillment, whereas the out-of-stock orders will wait to ship until inventory has been replenished/becomes available again.
Assign Domestic Backup
Skubana's Assign Domestic Backup orderbot is typically used in conjunction with the Split by Available Stock feature. With that said, Assign Domestic Backup should be used after the split orderbot so that once the split occurs, Extensiv can try and assign the out-of-stock items to a domestic backup warehouse. However, if for whatever reason the backup warehouse doesn't have the stock you need, the order will remain assigned to the original warehouse.
Configuring domestic backup warehouses can be done in Skubana's Settings Module (under warehouse settings). For more information on how to configure domestic backup warehouses, you can read this article from Skubana's support team.
Split by Product Label
The Split by Product Label orderbot is somewhat comparable to Split by Available Stock. The difference is, that instead of looking at the amount of stock in the assigned warehouse, Split by Product Label will split the order based on the label(s) assigned to the order. So if you plan to split orders based on multiple labels, you'll need to select all labels that require the split.
This orderbot can really come in handy if you're fulfilling different products from different warehouses — or if your brand is dropshipping in Skubana. Our recommendation is that you assign a product label to each item, and then after the order has been split per product label, you set up a second orderbot to assign the appropriate warehouse.
Route Orders to a Specific Warehouse
Extensiv will automatically route orders to different warehouses based on the Inventory Allocation Zones in Settings > Warehouses. If for any reason you need to route orders using other criteria, the Route Orders to a Specific Warehouse orderbot can help. In fact, you can use the filters section to determine which orders are sent to which warehouse(s).
Note that with this orderbot, whenever an order comes in from a B2B sales channel and it has 15 (or more) line items, the warehouse will automatically be set as National Fulfillment Services.
Set Shipping Carrier and Service
Along with this aforementioned functionality, Extensiv can also help you set a specific Carrier and Service based on different parameters/filters. You can reference this article on Setting Up Shipment & Carrier Mappings to help you set up a shipping carrier and service of your own.
Keep in mind that shipping carriers are specific to 3PL warehouses. If you're shipping from an in-house warehouse, Extensiv allows you to set the Shipping Provider and Service for all integrated providers. You can integrate shipping providers under Settings > Shipping Providers.
Mark Order as Shipped
The Mark Order as Shipped orderbot is useful for a myriad of reasons. For one, if you have virtual products that don't require physical shipment, Mark Order as Shipped is extremely helpful. Alternatively, you may also need to automatically mark POS orders as shipped.
For online-only products, you'll want to stick to the following steps:
Split the virtual products off from the original order using Master SKU or Product Label.
Assign all virtual product orders to a virtual warehouse where fake inventory is stored.
Use the Mark Order as Shipped bot to mark virtual orders as shipped (with faux tracking). Depending on the configuration, you can decide if you want to notify the sales channel of the 'shipped' products by selecting yes or no in the Update Channel field.
When marking your POS orders as shipped, the Order is POS Order filter can be set to true or false with the Mark Order as Shipped action. If you need additional insight or information, this article from Extensiv can give you more details about the Mark Order as Shipped functions.
Add Order Item
The Add Order Item orderbot allows retailers to add items to the order once it's been downloaded in Skubana. Adding an item might involve a promotional sample, specific packaging, or any other item that satisfies the order's needs. You can also select the specific sales channel, master SKU, unit price, quantity, and/or discount (as needed).
This article takes a deeper look at all the functionality of the Add Order Item orderbot.
Hold Orders
The last piece of the order orchestration puzzle is Skubana's Hold Orders orderbot. With this feature, you can place orders on hold for a certain period of time or until a specified date. Additionally, if you want to give customers the freedom to edit their orders for a designated time period (ahead of order fulfillment), then this orderbot can help you achieve that goal, as well.
Interested in order orchestration for your own fulfillment workflows? Request a free demo of Skubana's ERP to get started automating order fulfillment from beginning to end.