Omnichannel operations are becoming a necessity as more and more ecommerce businesses diversify their sales channels. So if your brand wants to gain a competitive edge (or just stay ahead of the curve), you should consider adopting an omnichannel software. This type of software brings clarity and connection to all your selling channels so customers have a cohesive, consistent experience with your brand–wherever they prefer to shop.
Keep reading to discover what omnichannel software is, why omnichannel commerce is necessary in 2023, and the top software options for every business type.
What is omnichannel software?
Omnichannel software helps ecommerce merchants provide a consistent customer experience across all selling channels—whether that's a website, mobile app, or brick-and-mortar store. Using omnichannel software, retailers can access real-time customer data from any channel and likewise connect with customers on any channel (via automation).
On top of that, omnichannel software leverages CRM data to deliver personalized touchpoints and unique user experiences on any channel along the customer journey. In other words, omnichannel platforms facilitate top tier engagement that keeps customers coming back to your store again and again. In fact, research indicates that omnichannel shoppers are the most loyal and profitable customers for ecommerce retailers today.
Why is an omnichannel strategy valuable in 2023?
There are a few key benefits of adopting an omnichannel strategy for your brand. Namely, omnichannel selling increases brand awareness, improves the ease of purchase, and elevates customer satisfaction to a significant degree.
Increases brand awareness
Modern consumers want access to your products anytime, anywhere—which can sound like a tall order if you're a small business owner. That said, selling on multiple websites and sales channels helps you introduce your brand (and your product listings) to a much wider customer base. The more brand awareness and visibility you create within the ecommerce landscape, the higher the chance to convert browsers into buyers (and the better your brand's image overall).
Improves ease of purchase
Customers appreciate convenience. Period. One of the best things about omnichannel selling is that it makes it a lot easier for customers to buy from you since your products are available on multiple channels at once. If customers can find your products on your brand's website, mobile app, social media, and Amazon webpage, they can complete their purchase wherever (and whenever) it's most convenient for them. That's a win for the customer and a win for your brand.
Elevates customer satisfaction
Customers have increasingly high expectations for their favorite brands, especially when it comes to product availability. With an omnichannel strategy, not only can you maintain a much larger SKU catalog, but you can deliver a cohesive customer experience across all selling channels. In that way, omnichannel solutions speak directly to customers' wants and needs, which improves customer engagement (and satisfaction) in both the short- and long-term.
Boosts sales and revenue
If your brand expands its channels and makes it easier for customers to complete a purchase, increased sales and revenue are sure to follow. That's because when shoppers can count on you to have what they want in stock and ready to ship, they're more apt to buy from your store rather than turning to a competitor. By selling on multiple channels, you can improve customer conversion, retention, and lifetime value—all of which boosts your revenue in a big way.
Builds customer loyalty
Omnichannel retail is a lot better at building customer loyalty as compared to selling on just one channel. An omnichannel strategy creates a consistent brand experience no matter how or where customers interact with your brand. The result? Customers trust you to have the products they want, meaning they're likely to stay loyal to your store. All in all, omnichannel selling delivers the seamless shopping experience today's customers love (and respond well to).
Best omnichannel software solutions for every business size
Looking for an omnichannel software that can meet your business needs? Below you'll find a list of the top 6 omnichannel software solutions for every business size.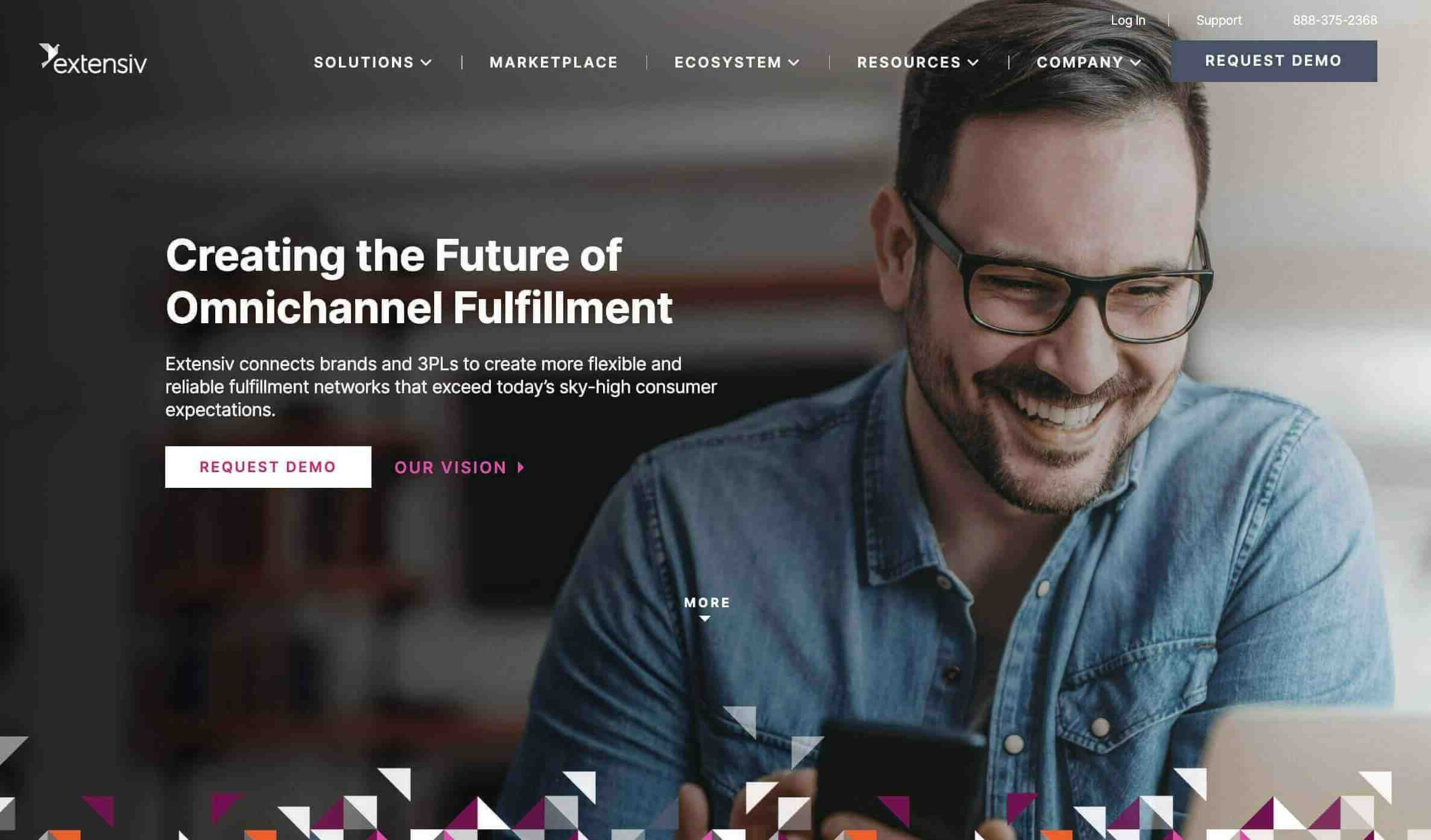 Extensiv's Order Manager allows you to see everything happening across every sales and fulfillment channel to support insightful decision-making and ensure your brand always has the products customers want in stock. If your store fulfills ecommerce, direct-to-consumer (DTC), retail replenishment, or omnichannel orders, Extensiv can help you maintain visibility and control over all your sales channels and inventory levels. On that note, Extensiv is like your all-in-one ecommerce mission control—helping your brand continually innovate, automate, and grow.
Key features: automated order management, robust integrations, demand forecasting
Pricing: call for a quote and demo
Suitable for: any size ecommerce brand who wants to optimize their operations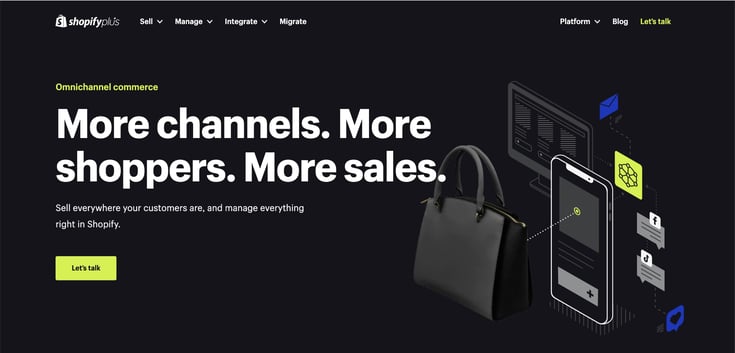 ShopifyPlus is an intuitive retail platform that helps ecommerce sellers launch, grow, and scale their online business. This cloud-based omnichannel software is designed for small- and medium-sized retailers—ShopifyPlus couples speed and agility with the scalable foundation these brands need to grow bigger, faster. The Shopify system offers unlimited extensibility, integrations, and customization through Shopify apps and partners. In addition, users can create localized customer experiences with global storefronts to reach a more diverse customer base.
Key features: scalable foundation, custom automations, API resources, invoicing
Pricing: plans starting at $2,000/month
Suitable for: new brands and small businesses looking to grow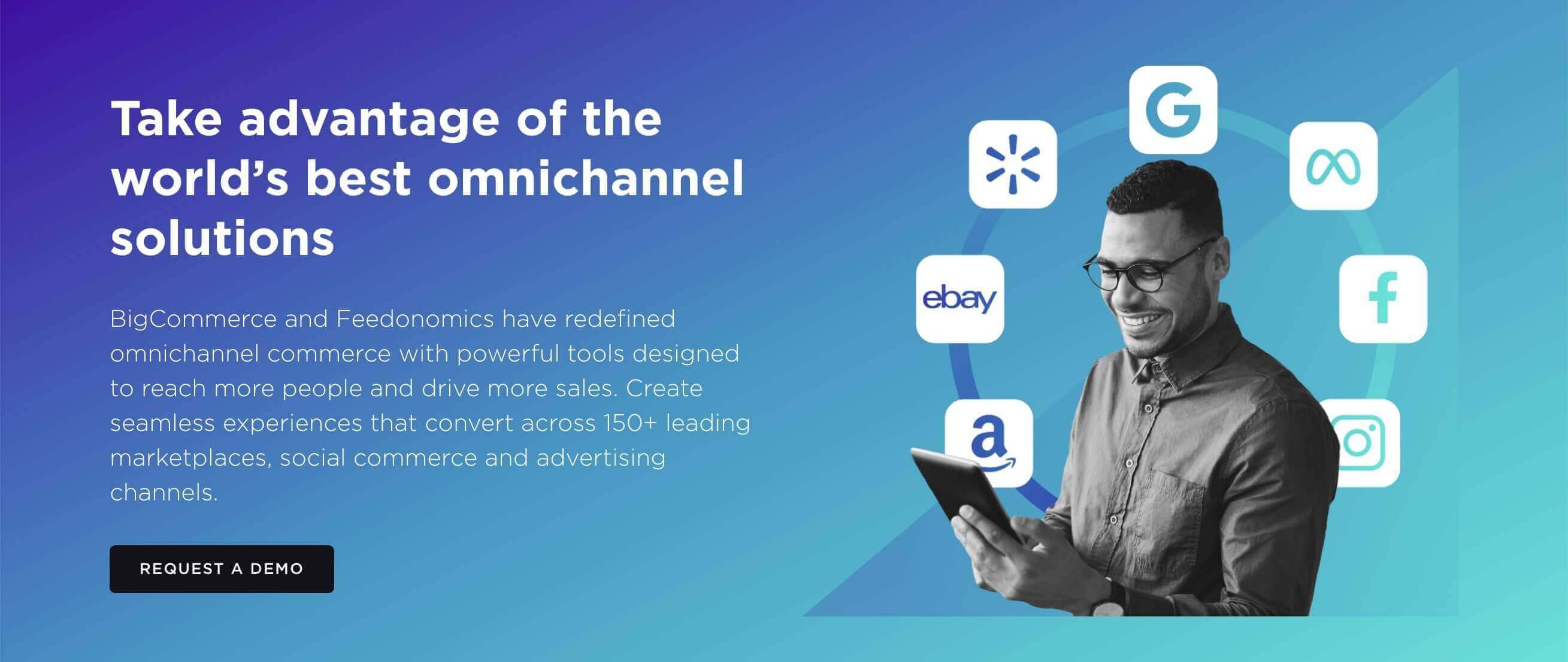 BigCommerce is a cloud commerce solution geared towards established brands and rapidly-growing businesses. The BigCommerce platform uses enterprise functionality, open architecture, and a broad app ecosystem to enable brands to grow their online sales with less cost and complexity. Along with that, BigCommerce offers omnichannel performance so your brand can reach its target audience everywhere they shop. Users can also take advantage of frictionless checkout options to increase sales and improve the customer experience.
Key features: channel management, activity dashboard, composable architecture
Pricing: plans starting at $29.95/month
Suitable for: established brands who are ready to take the next step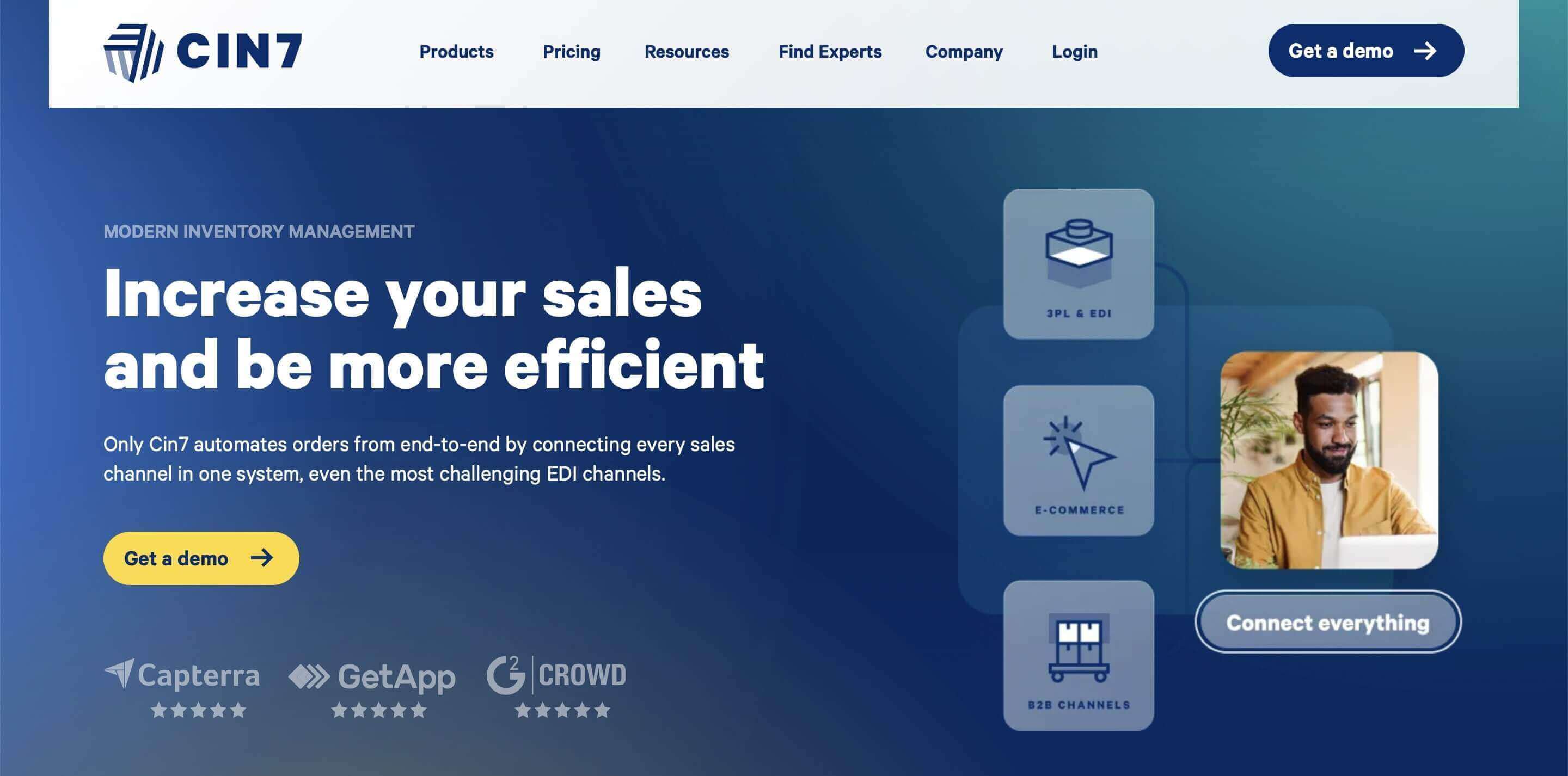 Cin7 is an integrated, cloud-based inventory management software that streamlines stock control across multiple selling channels. Thanks to Cin7 Omni, omnichannel retailers can sync all their sales channels and product information within a single, unified platform. Cin7 facilitates inventory and order management for every type of business: B2B, B2C, online stores, and even physical locations. In short, Cin7 connects (and tracks) all your products, sales channels, stock locations, orders, reports, and workflows within a comprehensive and automated solution.
Key features: real-time operating system, built-in EDI capabilities, inventory and order tracking
Pricing: plans starting at $325/month
Suitable for: established brands who are ready for serious growth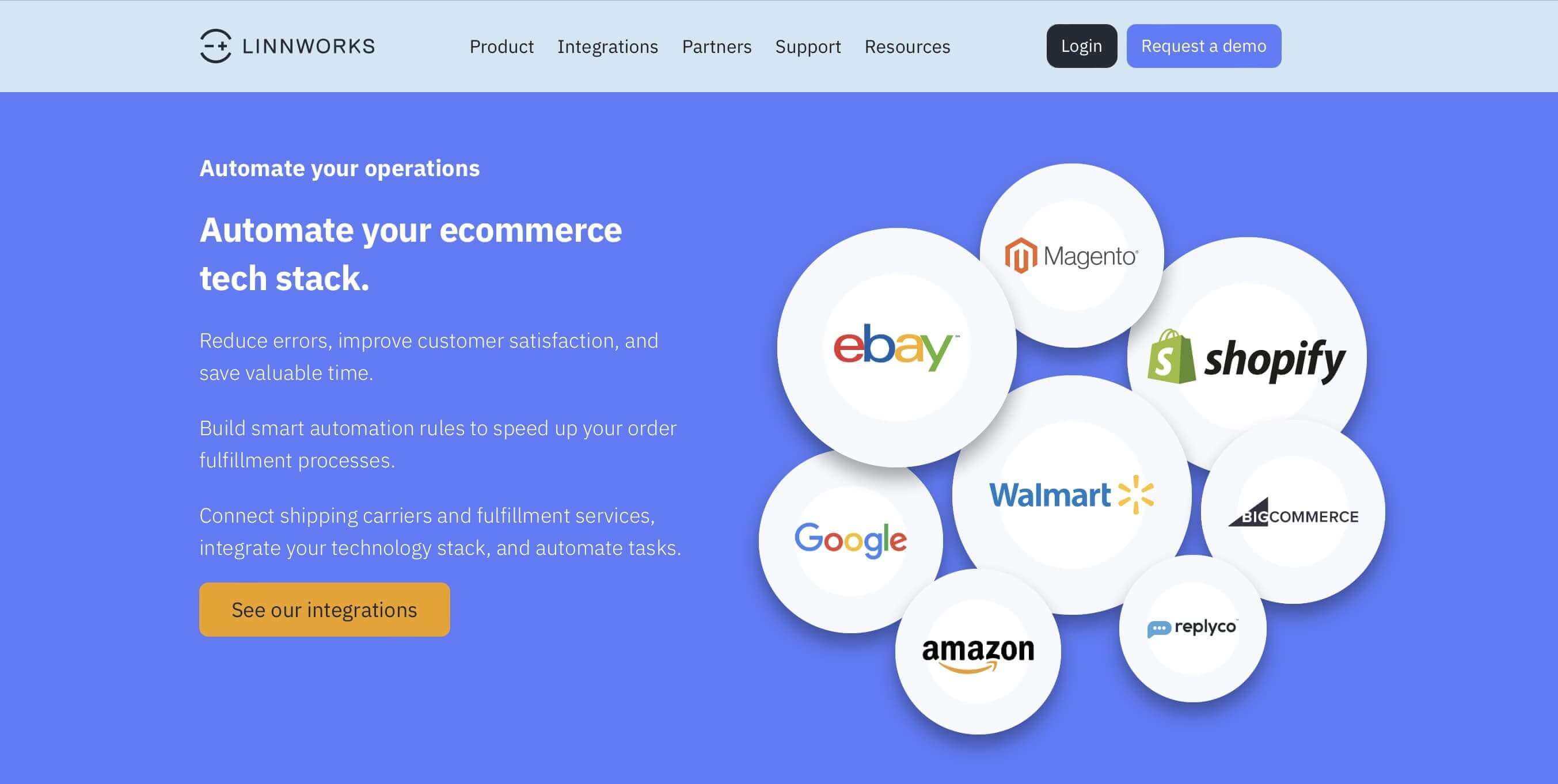 Linnworks is a SaaS ecommerce platform that ensures all your business systems are seamlessly connected so your brand has total control over its operations. The Linnworks platform syncs and automates a wide range of ecommerce activities related to omnichannel management. This software empowers online businesses to sell wherever their customers are located so they can capture every revenue opportunity available. Lastly, Linnworks helps with stock forecasting so your demand estimates are always as accurate as possible.
Key features: omnichannel listings, inventory management, demand forecasting
Pricing: contact Linnworks for a quote
Suitable for: small and midsize businesses within the ecommerce space

NetSuite is an enterprise resource planning (ERP) solution that's primarily focused on inventory management—meaning it gives brands a real-time view of their inventory levels across all selling channels. This visibility serves as an integral part of inventory and demand planning. Along those same lines, NetSuite supports your omnichannel retail strategy by combining ecommerce, point of sale (POS), and order management with your existing back office systems. For that reason, NetSuite implementations can help retailers grow their business in a more sustainable way.
Key features: inventory tracking, inventory visibility, automated inventory management
Pricing: plans starting at $999/month
Suitable for: bigger brands looking to scale even more
While there's tons of omnichannel software out there to choose from, Extensiv still outshines the rest. Extensiv's Order Manager gives omnichannel sellers unmatched visibility and control for all sales channels—and helps you deliver the flawless fulfillment your customers deserve.
Request a free demo from Extensiv to elevate your omnichannel sales in no time at all.