When it comes to being a retailer, your biggest investment is your inventory.
Unfortunately, it's your inventory that's often the hardest thing to manage; especially when trying to forecast and meet an increasingly demanding consumer expectations.
People want a seamless shopping experience. And they don't care if you just run a brick a mortar shop, just run an online shop, or sell across multiple channels, like Amazon and Shopify (which is where the most difficulty lies).
All people want is an excellent customer experience high-quality products and services, delivered on time, and for a reasonable price.
That said, according to a survey conducted by PwC, only 19% of business owners claim they can successfully operate omnichannel management and still maintain a profit.
If you ask me, that's pretty dismal.
So what exactly is the problem?
Well, omnichannel management is a complex trend that many retailers are trying to get a handle on.
But the short of it is technological advancements in the eCommerce world, tougher competition in oversaturated industries, and higher consumer expectations are making running a business harder than ever.
Not to mention, all retailers try to maintain a profit, have an optimal level of inventory on hand at all times (like the story of Goldilocks – not too much and not too little), and attempt to minimize the need to conduct markdowns (which wreak havoc on profitability).
And the truth is, all of those things play a role in how successful even the most established multi-channel retailers will be.
So, let's take a look at what's challenging omnichannel retailers and how they can optimize their omnichannel inventory management to get ahead of the competition.

What is Omnichannel Inventory Management?
Omnichannel inventory management is the management of inventory across multiple sales channels like brick and mortar stores, eCommerce online stores, mobile popups, and even social media businesses. Omnichannel inventory management software, like Extensiv Order Manager, allows retailers to track inventory levels, analyze data, and automate tasks across multiple sales channels from a single platform.
Challenges of OmniChannel Inventory Management
Managing inventory across multiple channels often proves to be difficult, despite the ambition retailers have when it comes to selling to their target audience no matter where they are.
Here are some common problems of omnichannel inventory management:
Customers are exerting more control over how, when, and where they want their orders fulfilled
Most retailers start with separate inventory management streams, so managing all of them as the business grows becomes challenging
There is a need to have inventory on the shelf at all times (but not having what a customers wants kills business)
There is also a need to make sure inventory isn't overstocked (which leads to too much product that must be sold at a discount)
The desire to buy in bulk for a better price is hard to curb, even if the inventory isn't needed
Being able to tell what customers want and when is nearly impossible when there is no streamlined inventory management system in place
A retailer's ability to meet their customers' needs, including the fulfillment of all orders with efficient order management, can mean the difference between retaining a loyal customer that comes back for more, or losing a disgruntled "almost customer" forever. Similarly, having a poorly synchronized supply chain that can't meet the needs of each sales channel will result in incomplete replenishment, stockouts, delays, and angry customers.
If you're a retailer that's looking for ways to fix the problems associated with omnichannel inventory management, keep reading.
We have plenty of actionable tips that are sure to satisfy your customers and your bottom line.


5 Ways to Optimize Omnichannel Inventory Management


1. Maintain Inventory Visibility
Remember when I said most retailers start with separate inventory management systems for each channel they sell on?
Imagine how hard it is to continue that system as your business grows and more people begin demanding what you have to offer.
Having enterprise-wide visibility of your company's inventory across all channels is the key to tackling every omnichannel challenge you face moving forward.
In fact, without visibility, everything else is sure to fall apart.
Think about it.
If you don't know what you have on hand in your brick and mortar shop, in your Facebook store, or even online through your business website, how in the world are you supposed to be able to help customers buy what they need?
Adding to that, how are you supposed to:
Promise customers product availability
Inform people when inventory will be restocked
Know what the available shipping and delivery dates are
Locate products in other channels that may be in stock
And how in the world are you supposed to monitor your inventory accurately to meet consumer demand on any given channel at any given time – if you can't see in one convenient place everything you have on hand?
That's right, you can't.
If you want to help your ROI, make customers happier, and just make your life all around easier as your business scales, you have to have a centralized inventory management system in place for all the channels you sell on.
It's the only way.
Make sure there's a centralized database, easy access, and real-time data.
And make sure you can manage the inventory levels in all channels, fulfill orders from any channel, and access detailed reports about all channels all from this centralized location so you don't miss a thing.
Don't make the mistake of having something available in your brick and mortar shop and telling online customers it's not available. You'll lose a sale, and possibly a long-term customer doing that.
And if word gets around that your inventory is all messed up, the effects can be devastating to your success.
Instead, make it easy on yourself and have everything available for everyone at all times.
2. Make Order Fulfillment Easy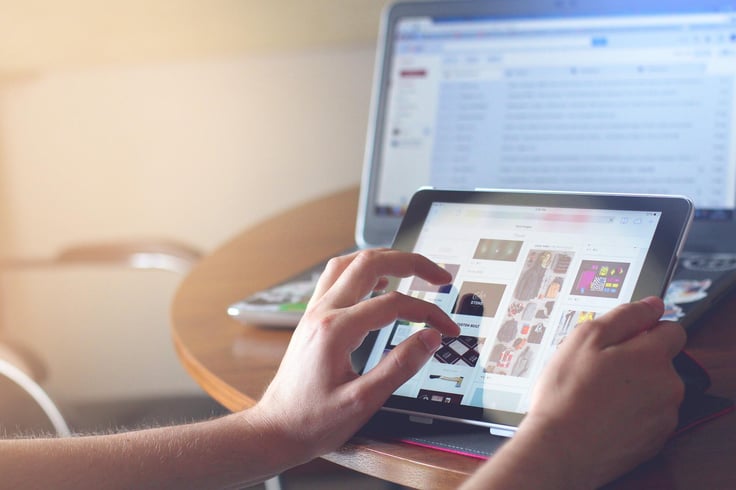 Being able to easily move inventory across channels will help your omnichannel inventory management problems in many ways.
To start, you can get ahead of demand.
As you see something flying off the shelves in eCommerce shop, you can easily add more product (without having to actually order more) from your physical shop to meet the demand. This simple but effective optimization strategy can keep the dough rolling in.
In addition, you can avoid (or at least reduce) the need to conduct huge markdown sales of inventory you can't even give away.
This is because as you learn to gauge customer interest (using those reports you should have access to) and move inventory based on demand across the channels, you won't have as much unwanted inventory left over to have to get rid of.
Make sure you assign someone to keep track of things like online searches, social media clicks, and site traffic to your online shops to stay ahead of the game.
While it's smart to move inventory across channels to keep up with demand without having to invest too much money into inventory that may not sell, you don't want to run out of inventory either.
Running out of stock across all channels can be deadly to your bottom line, since customers loathe seeing the "Out of Stock" message attached to something they love and want right now.
This is where careful monitoring of the customer journey, and inventory transparency across all channels, comes in handy.
But it only works if someone is paying attention.
Don't waste money and hurt your business' ROI by investing in an omnichannel inventory management system that has the all the data you need, and just let it sit.
3. Improve Your Return Policies
71% of retailers say that customer returns are the most costly aspect of their multi-channel process, but ecommerce return rates are much higher.
In fact, according to UPS, 30% of all online orders are returned (as compared to brick and mortar shops that experience a 9% return rate), and jumps significantly during the holidays, peaking at nearly 50%.
This not only eats into your profits, it increases your costs and causes a lot of frustration on both sides of the purchasing process.
So, why do people return items so much, you ask?
According to this infographic, 65% of all returns in retailing are because the seller made a mistake (yikes!):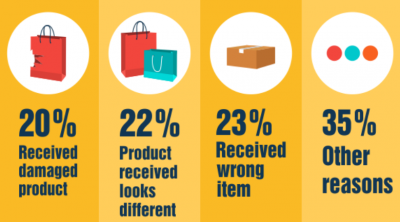 And the other 35%?
We don't know. They cite "other reasons" and of course, expect you to avoid doing what caused them to return your product, despite not knowing what the reason is.
It might have to do with the fact that you don't have a clear-cut return policy available for people to see when they make purchases.
Or maybe it's because you didn't allow enough time for people to return unwanted items.
Whatever the reasons are, people continue to return items they don't want, and you are stuck with processing them.
Because returns have such a negative effect on profitability, retailers are forced into doing one of two things:
Offset the cost of returns, especially of online items, by forcing customers to pay a return shipping fee
Absorb the cost and let it ruin their bottom line
Either way, you're going to end up with dissatisfied customers or an empty bank account when it comes to customer returns, both of which can break your business, no matter how established you are.
But don't worry, there are some solutions.
Encourage In-Store Returns
Having multiple channels to sell your products on gives you the advantage when it comes to reducing the costs of returns.
For example, if someone buys a shirt online, and after receiving it decides it doesn't fit right, encourage them to return it to your brick and mortar shop, just like Torrid does for their customers.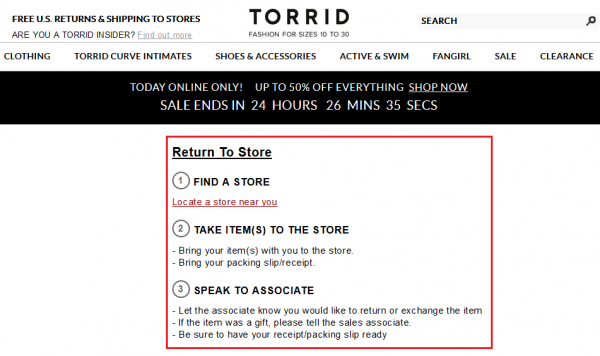 Not only does this cancel out the shipping costs of the return (that either your or your customer would have to pay for), it gives your customer a chance to find what they are looking for in your physical store.
As a result, you've offset the cost the shipping a return, satisfied the customer, and kept the sale.
If your customer decides against getting what they really want, you still offset the cost of shipping the return, and now have an opportunity to sell the returned item in-store (rather than send it back to your distribution center to be evaluated and re-listed online).
Rest assured this will work most of the time. After all, 62% of people admit they'll buy online if they have the option to return in-store.
It ends up being easier on them (and by default easier on you), so if you can, give your customers that option.
Have a Clear Return Policy
Though sometimes the terms of your return policy may turn some potential customers away, it's better to make your policy visible for those that are buying from you.
Add a link to it on your eCommerce shop's homepage as seen below on Nike.com, your physical store's paper receipts, and any customer correspondence you send (such as an email confirmation).

Doing this will put people at ease and make them want to buy more from you.
And what does this mean for you?
More sales of course.
Give Customers Time
There's nothing worse than buying something online, having it ship on a certain date and take 3 weeks to get to you, and seeing that the return policy only gives you 30 days from the ship date to make a return.
The truth is, no one likes to rush a return decision.
But if two-thirds of the return policy window was wasted away on being shipped and delivered, that leaves your customers with very little time to get the item, decide they don't want it, and make it to the post office to return it.
Try extending your returns window like L.L. Bean does and see what happens.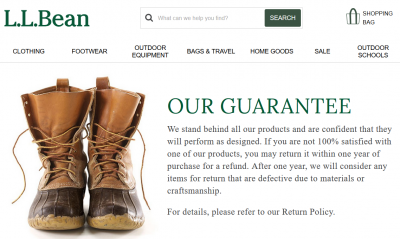 You may notice that returns go down.
Or, you may notice that people are just more comfortable buying from you knowing that if at any time they decide against their purchase, they can return it within a reasonable amount of time.
Either way, your brand has something to gain, especially when new customers hear about how lenient you are.
Have an Internal Return Process in Place
You may not think about this, but the amount of time and effort you put into accepting returns (no matter which channel they come from), sending them to your warehouse, evaluating them, and re-listing them for sale is usually a lot.
That means you're paying for shipping, labor, and relisting – all of which can hurt your profits if you're not doing it right.
No matter which channel you receive a return from, have a streamlined process in place for getting those items back into your shop. This will reduce costs and make inventory management a lot easier.
Not knowing which products are awaiting relisting as a result of a poor returns process can cause problems in all of your retail shops.
Making those returns visible, and getting them on the fast track back into your stores, is the best way to save money.
89% of people say they'll revisit an online store after a positive returns experience.
That means that even if people are returning your products, they're likely to purchase something they do want, which is always good for business.
4. Improve Customer Access to Products
Do you want an easy way to balance the inventory of your brick and mortar shop and eCommerce store, while also reducing costs?
Offer customers easier access to products offering a Click and Connect option like John Lewis does.

Click and Collect services gives online customers an easy way to get the items they purchase from a local store after being delivered from your warehouse.
Not only does this negate the need for them to pay any kind of shipping costs (which they love), it gives you a chance to simplify warehousing by combining your omnichannel inventory into one warehouse.
With enough visibility into this one unified warehouse, you can then deliver products to the stores as each customer requests, alongside other product that is going on display in the physical shop.
Again, this saves you shipping costs (you have to send physical inventory to your brick and mortar shops anyways) and makes the process a lot less disjointed.
Another helpful strategy is to inform customers during the buying process where any one product is available in a certain location, much like Schuh does: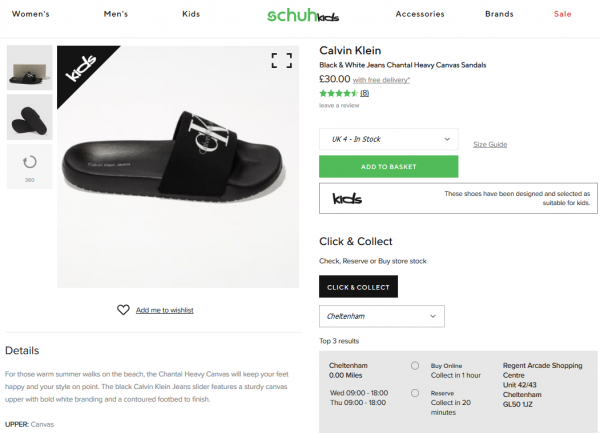 You can buy online and collect at your favorite store, reserve the product in-store and collect in 20 minutes, or use the traditional online purchasing process and have it delivered to your home.
These choices make managing inventory a lot easier and lets customers decide when and how they want their orders fulfilled, which meets their expectations.
5. Use a Reliable Omnichannel Inventory Management System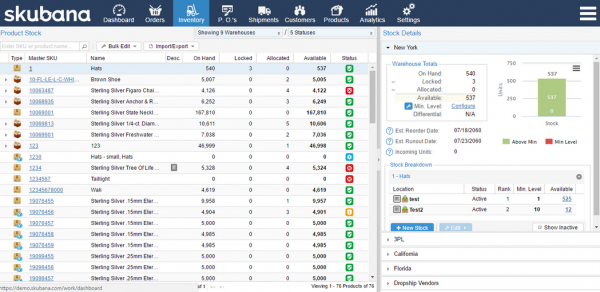 Knowing all of these useful tips doesn't do a whole lot of good if you don't have a trustworthy inventory management system in place.
That's why using Extensiv Order Manager – the leading multi-marketplace inventory management system around – is the way to go.
Whether you use your own warehouse, 3PL's, dropshippers, or FBA fulfillment centers, Extensiv (formerly Skubana) has the power and features you need to bring your channels together as one so you can monitor and manage inventory from one central location.
Here are some of the key features Extensiv Order Manager comes with to help you with multi-channel inventory management:
Inventory Counts. Create a centralized database with all physical inventory accounted for. Easily view all SKUs, no matter which channel they're in, and know that once something sells, the inventory counts will be automatically accounted for.
Core vs Bundle/Kit Inventory. Stop breaking down pre-packaged inventory to create bundles or kits. Instead, let Extensiv use core products to create bundles and kits first.
Multi-warehouse Inventory automation. Manage multiple warehouses from one location by automatically importing inventory, shipment, and exported order information.
Over and Underselling Prevention. Define percentages of available inventory to prevent over or underselling. That way your customers always have what they want, and you never have too much of one thing that just won't sell.
Multiple Pick Locations. Create multiple pick locations and use barcoding to pick, re-stock, and maintain inventory quantities as you see fit.
Final Thoughts
Having an inventory management strategy is crucial for many reasons. It prevents problems associated with having too much or too little of one product, keeps customer satisfaction high, builds brand recognition, and of course, generates you more revenue than ever before.
Not to mention, it saves you lots of headaches.
Unfortunately, many retailers continue to struggle to bring their multiple channels together and maintain a profit. Especially as consumer demand and expectation increase (and must be met if you want their business).
In this highly competitive retail world, no matter which channel you sell on, you'll need to manage inventory to stay ahead. In fact, poor inventory management can be the cause of your financial decline and ruin your business; if not now, sometime down the road.
So, take matters into your own hands and get a handle on your omnichannel inventory management.
In fact, schedule a demo and get your inventory management system in place so you can do what you originally set out to do – build a strong brand in your industry, meet consumer demand, and make some money.