If you're a 3PL that's quickly outgrowing paper and spreadsheets to manage your warehouse, you may be considering a Warehouse Management System (WMS) to automate processes. With limited time, multiple options from which to choose, and an inability to stop warehouse operations so you can install new systems, you may not know where to begin.

There are many varieties of warehouses operating in the logistics space today, and there are nearly as many varieties of software to choose from. Before your 3PL warehouse starts your search, you should first identify some key traits about your warehouse.
Here are the five questions you should answer before you start your warehouse automation search:
1. Is your warehouse private, public, or a mix of both?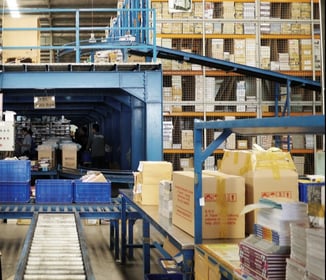 The biggest differentiator between warehouses involves the ownership of goods within that warehouse.
Are you a company that manufactures your own goods and will you be storing and distributing those goods yourself from this new warehouse? That's great - you're a private warehouse.
Does your warehouse take contracts to store goods for third-party ecommerce or retail customers? You're a public or third-party logistics (3PL) warehouse.
If you are currently storing both your own products while also taking on products from other clients when available, you would be considered a hybrid warehouse.
For warehouses that intend to do 3PL or hybrid warehousing, you will need a software solution that can automate billing, provide real-time inventory visibility and manage new value-added services - so you can focus on fulfilling orders.
2. How many customers do you have?
For warehouses that have one or multiple customers selling through different channels, you need to consider how you receive each customer's orders, store their inventory, and manage billing so it's separated from other customers.

Are you a 3PL that's focused on accommodating customers with unique workflows? If so, you will want to find a comprehensive solution that can be implemented quickly to better serve your customers.

3PLs who are currently serving customers but who need to automate processes to successfully scale the business should consider adding technology that helps them effectively and profitably grow. Did you know that an integrated WMS like Extensiv 3PL Warehouse Manager can bring together multiple technologies like: shopping carts, automated receiving processes, mobile device picking and shipping workflows, and billing?
3. How do you receive orders?
It will be important for you to connect with your customers and make sure you select a WMS that can accommodate how they will be placing orders.

Types of orders:
A. Manual: If you just have one or two customers who plan to call or email your office to place orders, this will work with most software systems - but consider the costs to your staff in performing manual entry and the risk of error which can affect your bottomline. Consider WMS software that can offer them a customer portal where they can check inventory and place orders directly into your system.
B. Spreadsheets: If your customer plans to send you CSV files or other Excel files, you will need to make sure you select a WMS that has an easy to use order import system.
C. API/Shopping Carts: If your warehouse has ecommerce or omnichannel customers, it's very likely that you will need to have the ability to add shopping cart integrations. Whether it is with Shopify, WooCommerce, Amazon, or ShipStation, a comprehensive WMS will be the way to go.
D. Retail/EDI: If you are handling product for a large retail customer, they will likely want you to establish an EDI connection. Some Warehouse Management Systems can handle this better than others, so you will want to be upfront about this during the selection process. At Extensiv, we have our own internal EDI team that can facilitate and manage these connections.
4. What types of products will you be storing?
Identify what kind of products are currently stored in your warehouse and what you'd like to store in the future. The more you know about which type of warehouse you want to be, the more specific you can be in your software selection process.

Are you doing grocery distribution? You may need a WMS that can track catch weights.

Pharmaceutical warehouse? You could require a WMS that can process advanced serialization and mobile scanning.

Makeup and beauty products that have an expiration date? You will probably want to have a WMS installed that can facilitate a First-In, First-Out (FIFO) distribution model.

Having a clear picture of what types of products your warehouse will store will help define which WMS can easily adapt to a variety of different scenarios. At Extensiv, we pride ourselves on being able to adapt to nearly any need of the third-party warehousing industry.
5. How will you be shipping?
Will you be focused on pallet in/pallet out, carton in/carton out, kitting and assembling? Having a WMS technology that can automate workflows and offer hands-free pick, pack, and shipping will ensure 100% order accuracy. With the rise of ecommerce, this service will be invaluable to your customers as you scale together.

At Extensiv, we partner with a variety of warehouses offering everything from basic pallet-in/pallet-out shipping model to small parcel shipping. To support a growing number of orders, we offer automated solutions like SmartPack™ and Small Parcel Suite, which will allow you to guarantee complete order accuracy with a Scan, Pack, Verify workflow, as well as print labels directly from the WMS during the packing process.

Choosing a WMS
Today's world of 3PL warehousing is evolving, and the reality is that your operations will likely change multiple times over the years. As a growing 3PL, your best option will be to find a WMS that will be able to adapt and change with your business. Learn more about how Extensiv can transform your 3PL Warehouse Business. Request a demo today and we can help you find a solution that can grow and adapt to you and your clients' needs.