With the consumer landscape rapidly changing, there is more pressure than ever on manufacturers, carriers, and warehouses to provide lightning-fast speed and efficiency to get items to consumers quicker than ever before. As warehouses, and specifically 3PLs, look to tighten their workflows to meet speed, efficiency, and accuracy customer service level agreements (SLAs), they can consider implementing a number of new processes into the ecommerce warehouse layout. The FAST principles focus on four main themes that can greatly increase the efficiency of any warehouse when paired with the right technology: Flow, Accessibility, Space, and Throughput.
When implemented, these best practice principles help warehouses get the most out of their valuable square footage as well as boost efficiency.
Principle: Flow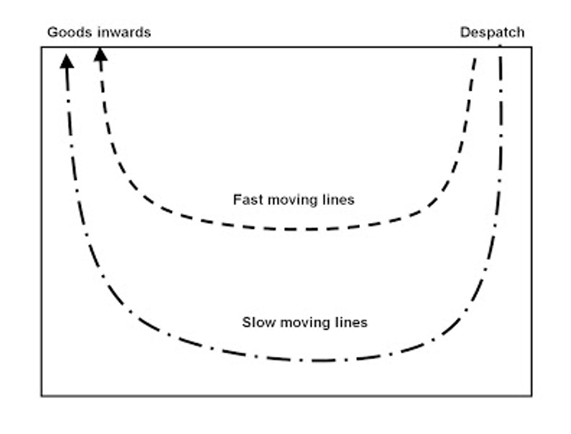 The first principle from FAST warehouse best practices focuses on the "Flow" of the warehouse operations. The flow of a given space ties into the processing considerations a fast warehouse needs to prevent bottlenecks. Warehouses looking to achieve optimal performance should place similar processes or subsequent inventory processes closer to each other. This means that if inventory is coming in through a staging location for a "Receipt Against ASN" (Advanced Shipping Notification) process and then into a work in progress (WIP) or kitting location, the WIP location is placed near the staging location to minimize the number of steps in the warehouse.
Principle: Accessibility
It's easy to think of accessibility as "how easy is it to retrieve or reach inventory?" However, for a 3PL, it also has to do with how you access different units of measure for a given item. Considering that your warehouse may have customers that you do B2B fulfillment services, as well as ecommerce work for, you may process orders for one type of item in pallet counts, case counts, or unit counts depending on the scenario. Optimizing for these functions by designating pick lines for a "pick to bin" ecommerce businesses workflow, and storage line processes for bulk inventory usually fulfills this requirement. For this process to work effectively, you have to have the right technology to handle these processes and multiple units of measures. If scalability is important, having a fast warehouse management system (WMS) built for your 3PL work that can track multiple units of measures, and various types of locations are necessary.
Principle: Space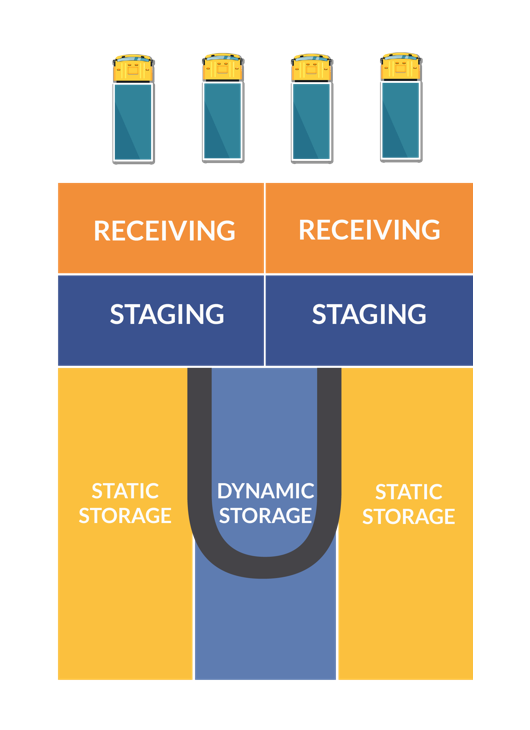 The third theme, "Space", has to do with space allocation in the ecommerce warehouse layout. Ecommerce warehouses should consider the ratio of pick lines to storage locations. For example, even though a pick line is meant to make your pick processes more efficient, allocating too much space or too much inventory to your pick location will increase pass-through time and reduce efficiency. In most cases, you will allocate as many cubic feet in the warehouse as possible for stock storage or stock processing purposes. Space utilization of admin, office areas as well as supply storage should be considered as well but minimized as much as possible. It goes without saying that a 3PL's bottom line is impacted by the inventory received, stored, and shipped for its customers, and so any space that does not cater to these fast warehouse functions should require a closer look.
Principle: Throughput
"Throughput" considers that you are flexible with your space and seasonality. For omnichannel fulfillment, you may see unforeseen spikes and dips in order volumes from particular channels. Though most can be planned, if your 3PL work is diverse, you are bound to run into a "Black Friday" or peak season type of situation where you need to be able to reconfigure ecommerce warehouse layouts to meet a high volume or lower phase for particular channels and workflows. For example, if you have bulk inventory, those warehouse processes and best practices differ greatly from ecommerce store pick and pack workstreams. How the warehouse would recalibrate or adjust to order volumes for different types of inventory defines if you have hit the mark when it comes to the "throughput" factor.
When you look to optimize your warehouse design operations with any of these processes, it's important to see how other processes are impacted. Establishing a comfortable balance of the above principles is key, but often depends on the tools you have in place. Implementing best practices when it comes to inventory management processes, reporting and tracking mechanisms, mobile scanning, as well as customer visibility can make the above principles easier to implement and streamline. In times like these, where 3PLs have seen massive volume increases in their ecommerce order volumes, consider the FAST warehouse method, your WMS system, and your relationship with strategic partners as the keys to your success.
To learn more about efficient ecommerce inventory processes for 3PL pick, pack, and ship operations, be sure to watch our webinar Inventory Best Practices for Ecommerce Warehouses.