Third-party ecommerce sellers are responsible for nearly 55 percent of units sold on Amazon. In revenue terms, Amazon earned 80.46 billion dollars through third-party sellers in 2020. In such a massive and competitive ecommerce marketplace, there is room to adapt and expand your customer base. You need to be agile and responsive to any changes made by your competitors.
The question then is how you can learn from your competitors. That's where competitive analysis comes into the picture. It helps you make better business decisions that ultimately boost your bottom line. It allows you to identify gaps within your strategies and make the most of those left by your competition.
Let's take a look at how you can analyze your competition and outpace them!
Identify Your Direct Competitors
Not every Amazon seller who lists a similar product is a direct competitor. When trying to find your direct competitors, you need to focus on a few key elements. These are some questions you need to ask.
Are the products similar in function and use?
What are the differences, if any, in pricing models?
Is their messaging and branding similar?
Are they reaching out to your target audience?
Would your competitors' customers be interested in buying your product?
Is it feasible to compete with them?
In a nutshell, if there is overlap in the target audience, pricing, products, and messaging, they are direct competitors. They have similar business goals and revenue models.
For instance, Pepsi is a direct competitor to Coca-Cola. However, Pepsi is not a direct competitor to a fresh juice product like Minute Maid. Even though a household can replace Pepsi with Minute Maid, the messaging and target audience is different for both brands.
Audit Competitors' Product Listings
Once you identify your direct competitors, it is time to take out your spreadsheets and do some competitor analysis. Amazon product listings are a treasure trove of information. So, the first thing you need to do is make a list of all your competitors' products.
Once you have compiled the list, you need to thoroughly analyze each element of every listing. It is vital to look at the product listings from the perspective of a customer.
On the search results page, customers usually notice two elements: the product title and product image. So, let's start with them.
Product title: What information are your competitors adding to the product title? Are they highlighting a specific function or benefit? An ideal product title is clear, concise, and information-rich. Is that true for your competitors' titles?
Product image: There is no strict definition of what constitutes a good product image. In most cases, you need high-quality images that draw the attention of the buyer. From your competitors' images, analyze the features they choose to highlight through images. If you find unique and compelling product images, you could even recreate them for your own product listing!
Once you've analyzed the title and image, you need to dive deeper. Now, you need to audit the Amazon listing copy.
Bullet points and product description: Identify the features that competitors choose to highlight. Check if they have mentioned a benefit that you have missed out on. In a nutshell, figure out the unique selling points (USP) that they are marketing. Use this information to devise a counter-strategy and incorporate them into your listings as well.
Customer questions and answers: Amazon shoppers often have specific queries about products. You can find all the questions that are raised by customers in this section. Analyzing it will help you cut the clutter and figure out exactly what shoppers are looking for in your product. This information can be used in your bullet points or product description to make it more accessible to your customers.
A+ content: Analyzing A+ content is a great way to gauge the messaging and branding of a product. You can get clues into the customer base that your competitor is targeting and the features they want to highlight.
Analyze Customer Reviews
Customer feedback and ratings can make or break your Amazon business. Honest feedback is also a source of insights into the strengths and drawbacks of a product. In a nutshell, there is a lot you can learn by analyzing customer reviews — whether it is for your product or your competitors'.
Here are some things you need to keep an eye out for:
Negative reviews: An honest and detailed negative review often focuses on the weaknesses and gaps in your competitors' products. You need to identify the reason for the negative review. Then, analyze whether your product has the same drawback. If it doesn't, you could highlight that fact in your listing. Otherwise, you need to check whether you can customize your product to solve the problem in question. A simple fix could turn out to be your product's new USP!
Positive reviews: This is a way to find out what customers love about your competition. You can figure out what drove Amazon customers to buy the product and uncover minute features that give them an edge. This information can be used as a competitive advantage to improve your product or your messaging.
Keywords: Amazon customer reviews are also a way to discover relevant keywords for your product. Pay close attention to how they describe a product and check whether the keywords they use have a high search volume.
Competitors' responses: It is a good idea to respond to negative reviews. You can use the opportunity to placate unhappy customers or provide clarity about product features. When it comes to competitor analysis, you need to pay close attention to how they respond to negative feedback. You could pick up on tricks that can help your team deal with unhappy customers in the future!
Comprehensive Keyword Analysis
You can identify relevant keywords from the product title, product description, and bullet points. However, this is an exhaustive process. On Amazon, keyword density does not affect search engine rankings. This means that keyword stuffing is uncommon. So, finding all the keywords that your competitor is targeting is difficult.
In this case, a tool like SellerApp can help. Using SellerApp's Chrome Extension, track every competitor product that you have identified. Once you track the product, use the Product Keyword feature to find relevant indexed keywords.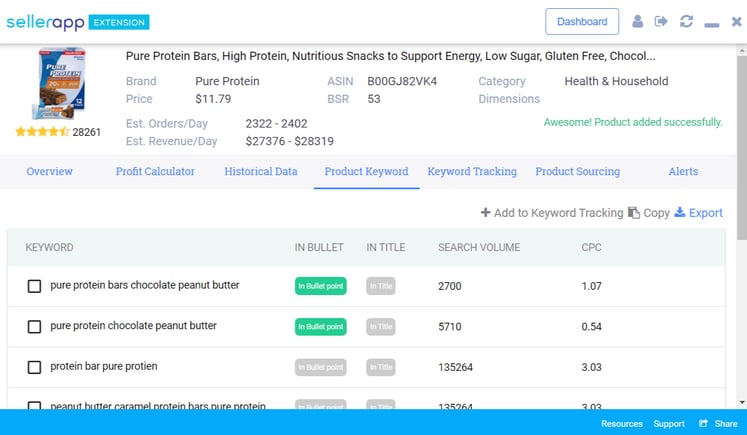 SellerApp will also give you search volume and cost-per-click (CPC) data for each relevant keyword. It will also tell you where the keyword is present - product title or bullet points. You get all this information straight from the Amazon product page!
Once you discover relevant keywords, you need to target them in your Amazon listings. You can add them as part of your backend search terms or include the keywords on your product page.
You can also leverage these keywords to run Amazon ads. This is an effective strategy to improve your market share.
Note: Your competitors may try to use the same Amazon advertising strategy against you. To protect your market share you should run sponsored ads targeting your brand keywords.
Evaluate Monthly Revenue and Sales Trends
Data doesn't lie. It is the best way to establish whether your competitors' strategies are working. Once again, you will need the right set of tools to find relevant data. This is another situation where SellerApp's Chrome extension provides a solution.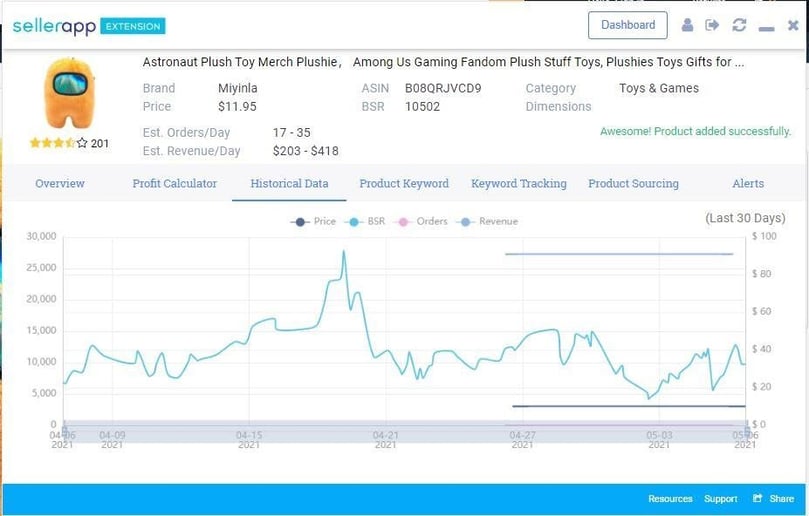 While on the Amazon product page, just open the extension to get estimated daily orders and revenue. If you track a product, you will also get access to in-depth product trends. Navigate to 'Historical Data' to get monthly trends for the following metrics:
This data will help you gauge the size of the market and the opportunity in front of you. Remember, if you manage to penetrate your competitors' customer base, you could be making the money they make today.
Monitoring Amazon product prices will also help you understand your competitors' pricing strategies. You can then create counter-strategies to undercut them. However, you need to ensure that your product is competitive and profitable. Be careful about engaging in price wars because it can cut down your margins.
You can also set price alerts to be notified whenever your competitor changes product price.
Final Thoughts
Your competitors will also be trying to adapt to the ecommerce marketplace and its various demands. That is why competitor analysis is an iterative process. You need to regularly monitor them and their strategies.
So, what are you waiting for? It is time to start analyzing your competitors!