The acceleration of technology has impacted every aspect of modern business, including how third-party logistics (3PL) warehouses function and provide services.
Improved warehouse technology solutions and automation offer the promises of greater efficiency, cost reduction, and increased profitability. Warehouse technology statistics provide a window into tomorrow and help 3PLs stay on their toes to provide better services to customers and consumers.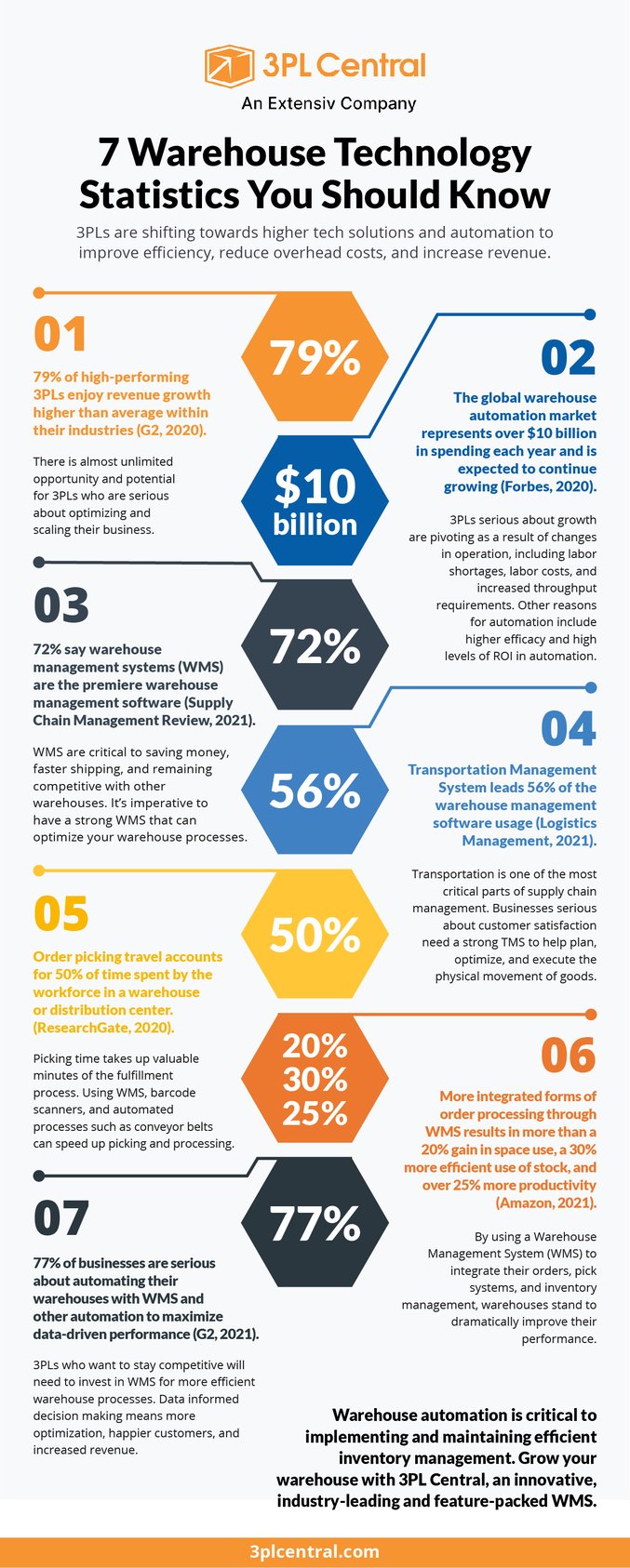 1. 79% of high-performing 3PLs enjoy revenue growth higher than average within their industries (G2, 2020).
Optimize and scale your 3PL business using innovative technology to even greater heights for optimum revenue growth. There is almost unlimited opportunity and potential for 3PLs who are serious about optimizing and scaling their business.
The key to success lies in the centralized management of the warehouse's flow of goods and services, which falls under the control of supply chain management (SCM). Research shows that 3PLs with optimum SCM experience three times faster cash-to-cash cycles while boasting a 15% reduction in supply chain costs.
Poor supply chain management quickly leads to trouble. The supply chain becomes overwhelmed due to the growth in inventory, created consumer orders, escalating consumer demands, last-mile issues, and the inability to rapidly replenish supply. A business starts to falter and can no longer focus on core functions or even try to encourage their customer base all due to inefficient SCM.
Every part of the supply chain acts as a strategic tool that helps further business objectives. When overseen properly, SCM enhances and streamlines business operations by maintaining healthy inventory levels, ensuring reliable and speedy delivery, and preserving healthy profit margins so the 3PL and all partners flourish.
2. The global warehouse automation market represents over $10 billion in spending each year and is expected to continue growing (Forbes, 2020).
Any 3PL that wants to continue growing needs to embrace automation or else experience going into a tailspin due to inefficiencies. The rapidly growing market in the last couple of years has spurred changes in operations, caused labor shortages, and increased labor costs.
To rise to the demands of the burgeoning ecommerce marketplace, warehouse logistics have to step up their game with modern automation to gain increased throughput to reach prominent levels of return on investment (ROI). Without turning to automation, a 3PL risks being left behind by the competition and faces a scaling deadlock.
3. 72% say warehouse management systems (WMS) are the premiere warehouse management software (Supply Chain Management Review, 2021).
A WMS saves money, provides faster shipping, and helps a 3PL remain competitive. A robust WMS optimizes all warehouse operations such as:
Warehouse management

Record keeping

Receiving

Putaway

Packing

Fulfillment

Picking

Shipping

Ownership of goods

Inventory monitoring
The WMS provides 3PLs with the ability to leverage omnichannel orders and meet increased volume demands. When working with ecommerce businesses, a WMS also offers integration with all systems such as:
Shopping cart platforms

Internal and external software systems

Order management systems

Barcode scanning systems

Supply chain management systems

Enterprise resource planning systems
All systems experience improved communication capabilities between suppliers, customers, and vendors.
4. Transportation Management Systems (TMS) lead 56% of warehouse management software usage (Logistics Management, 2021).
Transportation acts as the cornerstone of any supply chain. A strong warehouse tech stack that includes transportation management system software provides greater satisfaction by improving all aspects of the logistics process from planning and optimization to the physical movement of goods.
A transportation management system can provide the following:
Real-time track and trace
Order information
Greater visibility
Optimized planning
Freight billing and settlement
Documentation of the physical movement of incoming/outgoing goods
Shipping compliance
Real-time information for carriers, warehouses, distributors, and customers
Matching loads
Communication between carriers
Improved customer service
Proper export and import documentation for trade compliance
Optimized reports
Measurement and tracking of performance
Analytics
Transportation intelligence
Benefits of TMS include:
Lower costs
Simplification of all supply chain processes
Improved automation for faster and accurate documentation and billing
Greater visibility
Optimum security (especially during transit)
Tracking freight locally and globally via a single platform
Time savings with fewer manual steps
Avoiding delays
Providing faster delivery
Greater import and export compliance
Minimized penalties
Reduction in shipment delays
Scalability to meet demands
Fast on time shipments
5. Order picking travel accounts for 50% of time spent by the workforce in a warehouse or distribution center. (ResearchGate, 2020).
Picking time consumes an excessive amount of valuable minutes and is a time hog in the fulfillment process. Relying on a WMS coupled with barcode scanners and automated processes speeds up picking and processing.
A WMS effectively incorporates a great deal of picking systems so that a picker can rapidly fulfill orders in a timely manner. They can rapidly find the shortest route, perform repetitive tasks, and verify the items in each order. There are many different types of picking technology:
Pick-to-Light: A light directed warehouse picking process.
Voice Picking: Utilizes smart headsets to let the user quickly pick and choose items.
Vision Picking: Augmented reality creates a 100% error-free picking process by using a wearable PC, integrated camera and control software coupled which connect to the WMS.
Robotic Picking: Using cobots (collaborative robots) and autonomous mobile robots (AMRs) for robotic picking.
Tablet or Mobile Picking: Utilize tables or mobile scanners in combination with attached barcodes.
6. More integrated forms of order processing through WMS results in more than a 20% reduction in space use, a 30% more efficient use of stock, and over 25% more productivity (Amazon, 2021).
The use of a WMS system to rapidly integrate orders, pick, and perform inventory management helps improve the performance of the entire supply chain. The goal of any WMS is always to increase accuracy and efficiency across all processes.
Precise shipping and time management helps avoid delays and control expenses. A WMS becomes a critical component of any product management system by helping a 3PL manage speed and accuracy during spikes.
7. 77% of businesses are serious about automating their warehouses with WMS and other automation to maximize data-driven performance (G2, 2021).
Investing in a WMS has become critical for any 3PL that wants to remain competitive. Embracing data-driven optimization leads to satisfied customers and increased revenue.
Extensiv offers a warehouse management system to meet the needs of third-party logistcs warehouses and their customers. With the aid of a WMS, they can efficiently transform from manual, error-prone processes to an efficient, innovative supply chain that can quickly scale to outpace the competition. Contact Extensiv to learn more.