Spurred by record growth, the third-party logistics (3PL) industry is facing unprecedented challenges as they encounter labor shortages, a lack of warehouse space, and the need for cutting-edge technology. Navigating the future obstacles remains formidable due to growing competition, but the potential for massive profitability continues to fuel the industry to dizzying heights.
Staying ahead of the competition has never been more crucial. In the near future, 3PLs who lead the pack will survive and the others fade away as they are outpaced by their rivals. Knowing the current stats can give any business a leg up.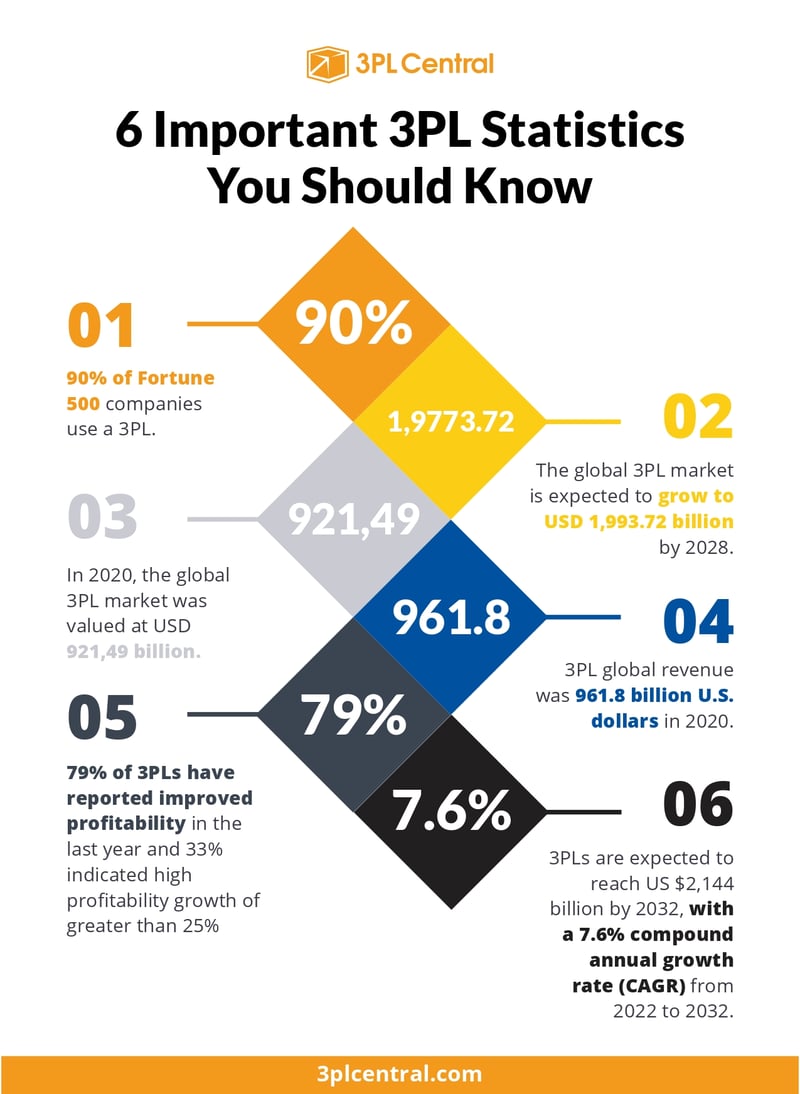 Who Uses a 3PL?
The term 3PL refers to third-party logistics. The function of a 3PL is to partner with retailers and ecommerce brands to ensure order fulfillment, needed warehouse solutions, inventory management, and shipping.
Depending on the 3PL, they might also offer the following services:
Kitting and assembly
Picking and packing
Returns management
2-day shipping
Brokerage and transportation
Reports show that 90 percent of companies who use 3PLs are Fortune 500 businesses, which is a significant increase from a decade ago when only 46% worked with 3PLs.
In 2020, the global 3PL market was valued at USD 921.49 billion.
Most who seek out 3PL services are ecommerce brands. Typically, moderate to large companies turn to 3PL services more often than their smaller counterparts. Outsourcing logistics functions help companies control costs while increasing supply chain efficiency.
The companies holding the largest market share of 3PLs include:
CH Robinson Worldwide Inc
UPS Supply Chain Solutions Inc.
Deutsche Post DHL Group
The Future of 3PLs
During 2021, the growth rate of the 3PLs in the United States was 3.2%. Over the past years, consumer spending plus trade and industrial output have clearly risen steadily with no slowdown in sight.
Market Research Future (MRFR), "3PL Market Research Report, Service, Mode of Transport, Application and Region - Forecast till 2028" projects a CAGR of 8.7 percent from 2021 to 2028 reaching USD 1,993.72 billion from USD 921.49 billion in 2020.
The significant growth is a result of the growing ecommerce market that only accelerated due to the COVID-19 pandemic. It shows no signs of slowing down now that buyers have discovered the ease of online shopping.
In the United States, sources indicate that the growth rate will finish out at around 3.2% for 2021.
With spending continually increasing, the volume of purchased goods needing shipping climbs. Companies turn to 3PLs for order fulfillment and warehousing.
IBISWorld predicts that spending will increase through 2022, which will continue to spur the 3PL expansion.
In 2020 to 2021, 79% of 3PLs have reported improved profitability and 33% indicated high profitability growth of greater than 25% according to the 2020 Third Party Logistics Study.
The focus of 3PLs is always to improve supply chain efficiency while lowering logistics costs. A 3PL stores inventory, fulfills orders, and keeps track of all logistics while streamlining everything in an affordable fashion.
Ecommerce businesses are not faced with paying for equipment, warehouse rent, certifications, packaging, and other materials; instead, the 3PL takes care of everything.
Due to the growing industry, ecommerce and logistics warehouse tenants have experienced a 10% rate increase. The escalating prices have sent many 3PLs seeking bare land to build warehouses or old buildings to renovate. However, with the 2021 real estate market being a red hot seller's market, 3PLs are faced with steep and inflated prices.
Long term forecasts remain strong. Reports show that 3PLs are expected to reach US $2,144 billion by 2032, with a 7.6% compound annual growth rate (CAGR) from 2022 to 2032.
Benefits of Large 3PLs
Large 3PLs allow ecommerce brands to ship inventory across multiple locations so they can control the price of shipping by not needing to ship to the most expensive shipping zones. Instead, the inventory is kept closer to customers which reduces the shipping costs and distances.
A skilled 3PL negotiates bulk discounts with the different shipping carriers to provide better rates for their customers/shippers for domestic and international shipping. The process becomes a win/win for everyone involved and just one of the many reasons why 3PLs are doing so well.
3PL warehouses spent 2021 expanding orders, profits, and customers to finish out the year with impressive numbers.
Extensiv reports the following factors that have pushed advancement of third-party logistics in the last year:
9% partnering with other 3PLs to expand their reach
37% increase in essential goods
48% increase in ecommerce orders
33% diversifying fulfillment types
71% new customer acquisition
2022 Challenges of 3PLs
Through 2022, 3PLs are facing many challenges. The growth of 3PLs has been unprecedented, but so are the disruptions occurring in the supply chain. In order to remain competitive in a market being inundated with new 3PLs emerging, warehouses will need to focus on ecommerce and omnichannel fulfillment.
3PLs must concentrate on expansion and improving their existing operations with innovation and automation to pave a pathway to new growth opportunities.
Labor Shortage
Much of the United States appears gripped in a labor shortage which presents problems for 3PLs.
57 percent of 3PLs list labor as making up 40% or more of their total costs.
18% say that labor accounts for 60% to 75% of their costs.
Clearly the worker shortage has impacted 3PLs.
Space Challenges
From 2020 to 2022, warehouse space has become a premium and is filling up with all-time low vacancy rates. As the demand has escalated, warehouse lease and purchase prices have also spiked which has made it difficult for 3PLs to find expansion opportunities.
21% of 3PLs report available warehouse space as one of their most pressing challenges.
Technology Advances
Technology adoption and integration is not just a consideration but a must have for any 3PL that plans to remain relevant, competitive, and expand. The reality of volume increases and labor shortages has made relying on technology a necessity to meet the workflow, improve efficiency and streamline the entire logistics process to meet the future challenges. Warehouse management systems (WMS) software is now the most implemented technology for 3PLs.
84% of third-party logistics providers use WMS.
53% are using mobile barcode scanning.
52% rely on an order management system (OMS).
With no easy solutions and spurred by a highly competitive market, labor shortages, warehouse limitations, and the need to stay ahead of technology will continue to be the acute issues faced by all 3PLs in near future. Staying abreast of the newest 3PL statistics helps you set your business game plan so you can stay ahead of the competition, grow your logistics warehouse business, and increase your bottom line.