One of the most common questions we hear from our customers and prospects is how can we accelerate our growth and add more new customers. If you are like a majority of companies, you've utilized traditional warehouse marketing strategies - placing ads in industry publications and relying heavily on referrals to drive your sales.
And you've likely found this 3PL strategy to be effective marketing when it comes to acquiring new customers while also retaining existing customers.
Third-party logistics (3PL) remains a growth industry, but it has become a fragmented industry with many warehouses chasing the same customers.
With more than 77% of 3PL warehouses planning to acquire new customers in 2021, how do you stand out from the rest of your competitors and make it easy for customers to choose to work with you?
The situation calls for smart, strategic marketing that helps your 3PL warehouse break through the clutter and creates awareness that leads to more opportunities and more sales.
Here are three 3PL marketing strategies you can implement this quarter to stay a step ahead.
Define

Y

our

P

ositioning

in the

M

arket
Have you ever watched little kids play soccer or hockey?
Now if you have watched them play, you'll know that the ball (or puck) is like a magnet that they follow, but not as an individual rather as one big pack. Every kid wants to score a goal and you can't score without the ball, right?
All the while, the coach on the sideline is yelling to play your position or that you are offsides (I constantly heard that and as a 6yr old I had no idea what offsides meant), I just knew that I needed to get to the ball.
But the coach knows that if we would all just pick out an area on the field and wait for the ball to come to us, our chances of scoring would increase substantially.
3PLs often make the same mistake as these young kids.
They want to be a part of every play.
But like we mentioned above, the industry has become increasingly competitive and a "we do everything for everyone" approach isn't going to resonate with your potential customers anymore.
They are smart enough to know that you can't be an expert at everything!
Be sure to define your positioning in the market and decide what area of the soccer field you want to occupy and control.
Smart brands are willing to sacrifice large parts of a market in order to win a larger share of a specific market segment.
With the global logistics market projected to be

$1,789.94 billion by 2027

, even small segments offer plenty of growth opportunities.
They want to be like the kids above and stand in the middle of the field so they are in the position to chase the ball to wherever it gets kicked.
The problem with this? Their messages remain general and undifferentiated.
And to your prospects? Too much of the same message and information causes confusion among potential companies to partner with.
If everyone says "we can provide 24/7 visibility" how does the prospect know who to buy from? So the end result is that a portion of your marketing budget is wasted and your message is ignored.
So how do you start defining your positioning?
First, look at the marketplace.
What trends are

impacting

your business or the markets you serve?

How do you stack up against competitors?
Then consider your customers.
What do they look like? (Your best prospects often look like your existing customers)

Why did they choose you?
Then understand the needs, wants, and frustrations of your target market.
Is there a need the marketplace

hasn't

solved for that you can address?
Finally, examine your own strengths and weaknesses.
What are the unique ways in which you drive value for specific customers?
The best market positioning for your company might be found where your unique value drivers intersect with the challenges your prospects need to overcome.
Use Inbound Marketing

I

nstead of a Shotgun

A

pproach
If your inbox is anything like mine, then a day doesn't go by that you aren't getting blasted with unsolicited promotional messages from a company that wants you to buy from them.
Or maybe you visit their website and the only option you are given is to talk to sales. But what if you are not ready to buy right now?
To this point, it doesn't look like you are having a good experience with the company.
Think about the last problem you had that you wanted to solve.
What was the first step you took?
It was probably to educate yourself on how to solve the problem and what providers had the right expertise to help you. And you probably used Google or reached out to your social network to get some help.
This research leads you to create a shortlist of pre-qualified providers that you think will be able to help you solve your problem.
Sound familiar?
Many 3PLs fail to recognize this seismic shift in how high-value services are bought. So they continue "selling" to generate sales leads.
News flash: your prospects don't care about you.
They care about solving their own supply chain challenges, and they're out there looking for answers. The best way to engage with them is to give prospects a reason to find you.
So instead of taking a shotgun approach, blasting out promotional messages hoping that you hit a company at the right time when they are searching for a service provider, think about creating content that's more like a magnet that can lead the best prospects to you at the right time.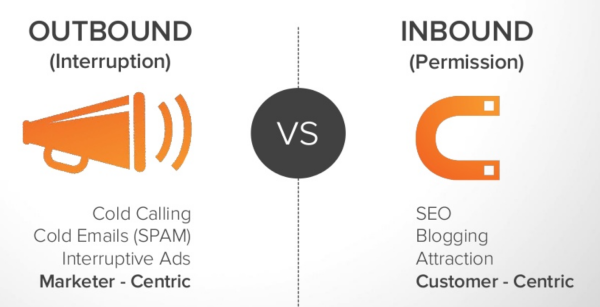 Source: http://1.bp.blogspot.com/-siM3aFJ_t-0/Vf73Fdpc1DI/AAAAAAAAMPA/CrQYtlbWefA/s640/outbound-vs-inbound-marketing-hubspot-academy-inbound-certification-sales-mike-schiemer.png
Create content about how to solve your prospect's biggest problems – articles, eBooks, videos, webinars, blog posts – and share that content, either directly or by posting it where your prospects are most likely to see it.
Think about how your expertise solves real problems, then stop selling to cold prospects and start educating.
This shift will demand time from your company's best minds and may pull them away from other important activities. In the end, it's a choice. Either invest to create content that will lead your best prospects to you, or load up the shotgun and fire away.
Invest in Being Remarkable
Ask salespeople, "Would you have more success if you had a superior product to sell or a superior marketing program?"
While they obviously want both, almost 100% will say it's the superior product.
In the logistics sector, where many providers perform similar services in the same way, it's much easier to convince people you're different than better.
Before investing more in sales and marketing to "sound" remarkable, first, invest in your product to actually "become" remarkable.
If your remarkable product generates remarkable results for your customers, word-of-mouth marketing plan will take over.
Your customers will become your best salespeople.
Growing your operations can be a challenge when considering the dynamic changes within the 3PL warehousing industry that are already driving warehouses to minimize expenses and maximize productivity.
But if your 3PL warehouse wants to grow and offer best-in-class customer service, you will need to outshine your competition.