Our Network of Partners
With the Extensiv Partner Program, trusted partners receive additional benefits including access to documentation, collateral, exclusive-use APIs, dedicated technical support, and more, making connecting to the platform simple for WMS partners and seamless for our customers.
Agencies
Above the Fray
Above The Fray is a Shopify Partner & Magento Certified end-to-end ecommerce agency built of highly experienced thinkers and doers.
Technology
Anvyl
Stay ahead of issues and delays with Anvyl. Centralize data, automate processes, and facilitate collaboration across your supply chain.
Technology
B2BGateway
Since 1999 TrueCommerce B2BGateway, a world leading EDI provider, has managed thousands of EDI relationships.
Technology
Barcoders
Barcoders.com offers innovative warehouse management systems, WMS, for ecommerce stores.
Fulfillment Hardware
Barcoding, Inc.
Barcoding is a supply chain automation and innovation company that helps organizations increase revenue, reduce operational costs, and improve their customers' experiences.
Technology
BigCommerce
BigCommerce powers your business with enterprise ecommerce capabilities—with lower cost and complexity.
Shipping
BUKU Ship
BUKU is the first complete software solution focused on the Shipping Customer Experience (CX). With this integration, 3PL WMS users will have access to enhanced high-volume processing, expanded domestic and international shipping options, and intelligent rate shopping.
Technology
ChannelAdvisor
ChannelAdvisor helps you increase your revenue, streamline your operations, and expand to new channels from a centralized, multichannel e-commerce platform.
Accounting-Financial Services
Clearco
Clearco is the fastest, most affordable way for founders to fund their business. Connect your sales and marketing accounts to get started.
Technology
Cogsy
Stockouts cost retailers ~$1T every year. With Cogsy, never go out of stock, generate 40% more revenue, and save 20+ hours a week managing your inventory.
Accounting-Financial Services
Countsy
Countsy provides Finance, Accounting, and HR Solutions to venture backed startups.
Technology
Daasity
Daasity is the only platform that enables brands to centralize their data across ecommerce, Amazon, retail, and wholesale channels.
Agencies
DigitlHaus
DigitlHaus is a full-service ecommerce agency that specializes in crafting award-winning shopping experiences that customers love.
Hardware
Emkat
Emkat, Inc. is a mobility solutions provider. Concentrating primarily on mobile hardware sales and service, Emkat presents customers of all industries with creative, cost-effective deployment solutions for RFID, barcoding, asset tracking, and other industry efficiency increasing projects.
Technology
EzCom
Our experts help your business grow with our EDI Solutions. Get started with simple order processing & EDI compliance on the Lingo platform.
Technology
Fuse Inventory
Inventory planning software for fast-growth brands. Save time on inventory planning with powerful integrations from every step of your supply chain.
Agencies
Gapstow
Gapstow specializes in Shopify development and ecommerce consulting for brands around the world.
Technology
Gorgias
The all-in-one helpdesk + live chat, designed for ecommerce stores. Start for free. One app to manage all your customer service channels: live chat, email, social media.
Technology
Loop
Loop helps Shopify's best brands optimize return costs, retain more revenue, and prevent return losses.
Technology
Magento
Sync orders from your site to Extensiv Warehouse Manager to be picked, packed, and shipped.
Agencies
Metacake
Metacake helps great ecommerce brands create massive growth through business strategy, website design, and growth marketing.
Technology
NetSuite
Our integration with NetSuite provides purchase order, sales order, and inventory integration for increased efficiency.
Agencies
OneRockwell
One Rockwell is a global ecommerce agency and Shopify Plus partner experienced in design and technical solutions for fashion, luxury, and lifestyle brands.
Shipping
Pitney Bowes
With the Pitney Bowes and Extensiv partnership, 3PLs of all sizes can optimize their shipping operations, better manage their cash flow, and access a cost-effective way to reach customers.
Agencies
Pra-ella
Praella is a full-service ecommerce agency that marries the beauty of user-driven design and intelligence of user data.
Technology
ReCharge
Recharge is the leading subscriptions payments platform designed for merchants to set up and manage dynamic recurring billing across web and mobile.
Technology
Returnly
With Returnly, customers can start a return anytime with automatic labels, variant exchanges, and gift return handling. Just set your policy, customize your brand, and start processing returns.
Technology
Salesforce
Get value fast, from discovery to delivery, on the platform trusted by industry-leading brands.
Technology
SellerApp
SellerApp is an AI-powered ecommerce intelligence platform that helps sellers and retailers maximize their potential on the biggest global marketplace.
Shipping
ShipEngine
ShipEngine is the standard in multi-carrier shipping and logistics. With our integration, we offer a wide range of carriers, rate shopping, and better support for high-volume shipping.
Fulfillment
Shipfusion
Shipfusion is a leading provider of retail fulfillment solutions for ecommerce companies throughout North America.
Technology
ShippingEasy
ShippingEasy puts all your orders in one place so you can ship faster and cheaper.
Shipping
ShipStation
Extensiv (formerly 3PL Central) is ShipStation's Preferred WMS Partner. With this direct integration, 3PL warehouses can fulfill their customers' orders wherever and whenever they sell online.
Technology
Shopify
Shopify is an all-in-one commerce platform that makes it easy to launch your dream business and start selling to your customers, wherever they are.
Technology
SkuVault
SkuVault ecommerce inventory management software allows you to sync your ecommerce sales channels, manage your inventory, and generate reports.
Integrations
SPS Commerce
The integrated solution enables 3PLs to rapidly comply with EDI or data requirements, eliminate rekeying of order and shipping information for improved accuracy, and direct visibility of inventory.
Technology
Stamps.com
Stamps.com is simple online shipping software that lets users purchase postage from the USPS or UPS from their home or office computer.
Technology
StoreAutomator
Grow beyond your goals with this flexible cloud-based commerce management solutions that connects your operations. Streamline, manage, and monitor product and catalog information and multichannel listings.
Integrations
Techdinamics
Techdinamics solves for data needs with endless integration points with a robust middleware application for EDI, Shopping Carts, ERPs, CRMs, and other order and accounting packages to automate nearly every part of your operations.
Agencies
Tinuiti
Tinuiti is the largest independent performance marketing firm across Streaming TV and the Triopoly of Google, Facebook, Amazon.
Technology
Ware2Go
Ware2Go, A UPS company, provides on-demand fulfillment and warehousing so merchants can get closer to their customers and provide 1-2-day shipping.
Technology
Zapier
Workflow automation for everyone. Zapier automates your work across 5000+ app integrations, so you can focus on what matters.
Agencies
Zehner
Zehner is a full-service digital agency that connects brands with consumers through strategic design and technology.
High-level Benefits for Extensiv Partners
As a leader in fulfillment software solutions, Extensiv partners with best-in-breed e-commerce and supply chain and logistics services. As a partner, you will gain access to the most successful 3PLs and brands looking to optimize operations and increase efficiency.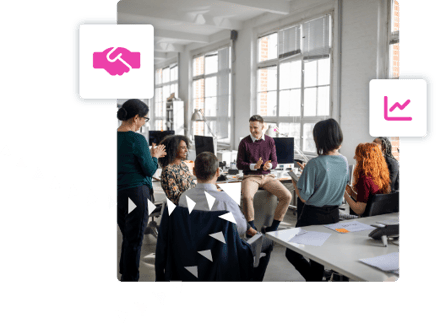 Careers on the Cutting Edge
Creating the future of omnichannel fulfillment is a tall order. Join our high-performance group of professionals to be part of a dynamic, diverse, and inclusive team.