Want to lower your cost per acquisition (CPA) on Facebook? Unless you hate money or the business you work for, I'm guessing the answer is YES!
One of the most underutilized ad formats right now is the collection ad format, and with the holidays just around the corner I'm going to show you how to lower your overall CPA using video collection ads.
In this article I'll reveal:
what collection ads are,
the advantages they offer over other ad formats, and
a three-step funnel that any e-commerce store can use to lower its CPA.
What are collection ads?
A collection ad is a new ad format that allows businesses to showcase a product or category of products using multiple images or videos that prospects can engage with on the newsfeed.
A collection ad has one main slide where you can place an image or video and four slots underneath to insert more products.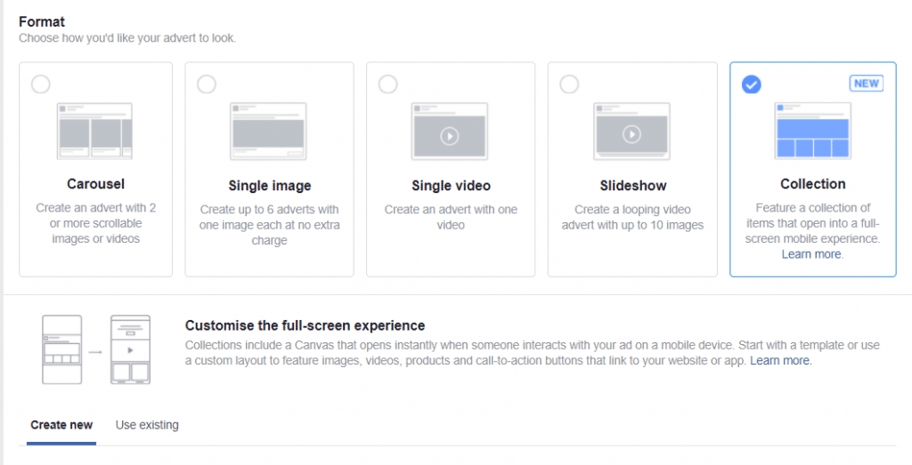 A collection ad is very similar to Canvas in that when a user clicks on a slide or product they are kept on Facebook where they can read more about the item description and price.
Only when viewing a product does the user have the option to click a link to your store where they can view the product in more detail.
Collection ads can only be served to mobile users via the newsfeed placement. You can use the following objectives:
Traffic (website clicks)
Conversions
Store visits
Advantages that collection ads offer over other ad formats
Collection ads were created specifically for e-commerce stores to showcase their products, yet very few e-commerce stores are actually using them.
They offer several benefits:
Video, video, video – The collection ad format is the first format in which you can include more than one video in a single ad. If you run Facebook ads to increase sales in the e-commerce space, I don't need to tell you the power that video has in terms of reach and holding attention.
With a collection ad, you can serve up to five videos at once.
This allows you to create video custom audiences around each one and serve visitors who watched 75% or more of a video with a customized offer further down your funnel.
I strongly advise you to keep your collection ad video-heavy to keep costs low and to ensure sharper retargeting later.
Cheap inventory – When you scroll through your Facebook feed, how many collection ads do you see? Very few.
Objectives, placement, or ad formats that aren't used in high demand end up costing you less in ad costs because there is less competition.
Facebook uses a machine learning algorithm, which means it uses past data to improve its algorithm. When Facebook releases a new tool, inventory is often much cheaper for the first 6-12 months as they want to build up data and encourage brands to try out the tool.
Once a collection ad is clicked, the ad opens into a Canvas with the prospect staying on Facebook.
It costs a lot less money to have a prospect view your Canvas than it does for them to visit your store.
Better user experience – As of 2016, 90% of Facebook's daily active users access the platform via mobile.
If they are using a mobile connection to access your store during their commute or while they are at work, they may end up having a poor experience if your site doesn't load fast enough because of problems with your website or their mobile connection.
Collection ads load 10 times faster than a website because the ad is hosted on Facebook, allowing you to engage with mobile users without having to worry about their Internet speed or website optimization issues.
They stick out like a pretty sore thumb – You have probably seen many cat photos, inspirational memes, and silly viral videos.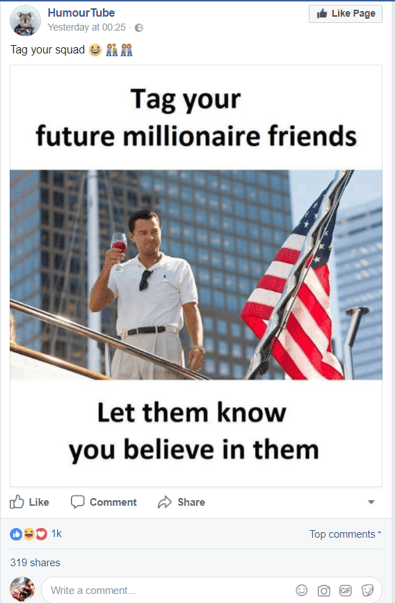 Consumers have seen thousands of video, link click, conversion, and carousel ad formats to the point that they have started to subconsciously skip content that isn't relevant to their needs.
Very few people have come across collection ads, and their visual look is nothing like other ads. If you target the right audience, you can gain two to five times more CTR over typical ad formats.
How to create a three-step funnel using collection ads to lower CPA
Collection ads can be used in a number of ways to reach various marketing goals.
Below, I have provided you with a three-step funnel to turn cold prospects into warm leads and, ultimately, customers by using collection ads while lowering your CPA.
Top of the funnel (cold audiences) – Video collection ads are one of the most cost-effective placements to reach and engage with a large number of new prospects.
When creating your first collection ad, Facebook provides a number of templates based on your goals.
If you don't want to create your own collection ad from scratch, you can choose between Get new customers, Sell products: lifestyle layout, and Sell products: grid layout templates.
For the top of the funnel, I like to use either the Get new customers or Sell products: lifestyle layout template.
My primary goal with prospects at the top of the funnel is to build awareness of the product or product category and ensure the collection ad achieves any or all of the following goals:
Displays trust for my brand
Benefits of owning the product
Before/after of someone using the product
Conveys a story that prospects can resonate with
Overcomes some sort of objective
96% of website visitors don't convert on their first attempt. For this reason, I would test collection ads that include a link to your website and one that doesn't.
If you can convert enough customers at the top of your funnel with this ad format, then great – scale it! If you cannot convert prospects at a profit, then remove any links to your site and retarget them like I suggest below.
The ability to run profitable collection ads at the top of the funnel varies from business to business and consists of hundreds of unique factors. This is why I suggest you test both methods.
Middle of the funnel (warm prospects) – Anyone in the middle of your funnel should be part of a website custom audience. There are two ways you can retarget users who have interacted with your collection ad. They are by using custom engagement audiences for:
a full-screen experience, and
video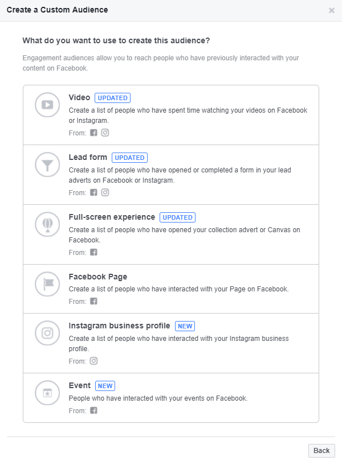 If your collection ad is focused on a single item, then retarget users based on the collection ad format they viewed. If your collection ad is made up of different products, you can retarget prospects by the video they watched with a relevant offer or another collection ad showing the product in more detail.
For prospects in the middle of the funnel, I would use any of the Sell products templates.
Bottom of the funnel (customers) – Collection ad formats can be combined with your product catalog to show dynamic collection ads. This is perfect to show to customers who have ordered with your business before.
Through the use of the collection ad format you can cross-sell customers with relevant products dynamically without having to spend hours each week creating ads. You can even use deep links to send them to your mobile app if they have it installed on their device.
By using this three-step collection ad funnel you will lower your overall CPA as well as being able to troubleshoot where your funnel is failing using this systematic approach.
Collection ads only work if you work
The collection ad format will only bring your campaigns a lower CPA if you're willing to get creative. Consider the following points when creating your next collection ad:
Create ample video content as it holds a user's attention for longer and allows you to retarget them.
Use holiday seasons or themes in your collection ads to help them stand out in the newsfeed.
Optimize the links within your collection ad to load faster on mobile. Consider using accelerated mobile pages (AMP) to improve speed.
Your cover video is the biggest asset in your collection ad. Make sure it tells the story behind the product or brand. The other videos can show the benefits of ownership, the trust factor, and ways to overcome buying objections.
5. 85% of videos on Facebook are watched without sound. Make sure your collection ad is just as compelling with and without sound.
The e-commerce stores that grow in this competitive market are the ones that are willing to try new things before their competitors, whether that's new and innovative message copy, ad platforms, or something as micro as new ad types like collection ads.
You'll notice that within this article I talked very little about images and focused primarily on videos. That's simply because videos hold more attention, cost less per engagement than images or link clicks, and can be re-purposed at various points of your sales funnel.
How are you using video collection ads to lower your CPA ?